Best Wedding Guest Dresses To Wear This Year
By
|
Achieve a fabulous look by sporting some of these summer dresses for weddings or I should say: wedding guest dresses. You have to discover our proposals for beautiful dresses for summer wedding. Don't spend a fortune on summer dress for wedding guest! Keep an eye on the offers of retail or designer stores. Make some savings! Buy online cute summer dresses for a wedding. Here are some nice dresses to wear to a wedding. I most confess that I love weddings on the beach. That's why my first proposal is for dresses for a beach wedding, but in the same time I love evening dresses, long elegant dresses and short cocktail dresses. I also thought that dresses for plus size women or evening dresses for godmothers are very useful examples for the dress code from a wedding. Enjoy our presentation for wedding guest dresses.
Wedding Guest Dresses for a beach wedding
The deep blue water, the sand and the romantic atmosphere offers you the chance to look amazing. Embrace the trend of long and fluid beach wedding guest dresses ideas. These summer dresses for beach are not only comfortable! They also contribute to the dream decor of this special event. Though you are not the main focus of attention, the bride will love you for wearing a unique and lovely frock to honor her big day. 🙂
Beach wedding guest dresses plus size
What to wear to a casual beach wedding? Our stylists recommend you to make sure you select 'the one' from the summer dresses that match the dress code of the event. Think tropical, minimalist. On the other hand, you may dream of an ultra-feminine and delicate look. Then we suggest you to take a peek from these examples of outfits. Plus size fashion became as versatile and spectacular as 'normal' size fashion. You'll find a range of maxi dresses with floral prints, tiny sequins and sparkling ornaments. We simply fell in love with the watercolor print.
www.asos.com
Beach wedding guest dress ideas
The season of beach weddings is fast approaching. This year embrace the trend of off-shoulder, breezy and high-slit wedding guest dresses. Channel a goddess look with long mono- or multicolored gowns. In case you prefer more comfy outfits that allow you to make your way through the sand, pick the midi or mini ones. Long-sleeved designs will offer protection against the wind and the burning sunlight. Whereas strapless models will steal the attention of guests.
www.nastygal.com
Elegant dresses for a wedding guest
In need of beautiful dresses to wear to a wedding, we provide you with a trend report for this year. Long pearlescent shade gowns are mesmerizing and add a refined vibe to your look. Midi flirty frocks also help you build the perfect festive ensemble. Pastels are extremely flattering and speak for your sophisticated sense of style. Finish the look off with a pair of strappy high-heel sandals or stilettos. Check out the pictures above with wedding guest dresses. Find some inspiration from the collection of 2016-2017 fall/winter trendy dresses ! 🙂
www.debenhams.com
Summer dresses for woman over 40
Besides dresses for ladys for weddings, you should definitely discover the offers of fashion stores for summer dresses for mature women. Are you looking forward to make a bold style statement? Count on the versatility of fab prints and unconventional tailoring. However, some of you might shy away from getting in the center of attention. There are plenty of summerish frocks ideal for casual and semi-formal events.
www.debenhams.com
Summer maxi dress for wedding
Leave suits at home this time. This season is all about elegance and glamour. Take a closer look at these examples of maxi dresses to wear to a summer wedding. Lightweight fabrics, posh details and volume. All of these, guarantee the success of your formal sets. Consider choosing long summer dresses with shades according to your preferences for the latest color trends. Once in a while you deserve to be a real princess. Avoid to wear white summer dress for wedding! Leave that special tone for the bride. 🙂 According to style experts, everyone can nail down a similar look. Accessories like footwear make a huge difference though.
www.badgleymischka.com
Evening dresses style
Instead of limiting yourself to one single trend, make sure you try on numerous designs for wedding guest dresses. Online shops are packed with gorgeous maxi gowns complemented with lace, prints and ornamental or precious rhinestones. Mono-color is not always boring.:) In fact celebrities also prefer gowns in a single shade over the ones with busy prints. A-line designs as well as straight dresses flatter all types of silhouettes. We also included a marble printed frock in our selection to diversify the options.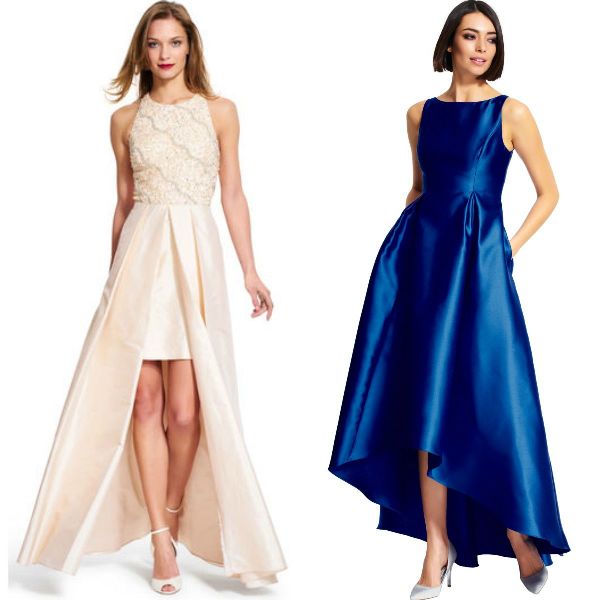 www.adriannapapell.com
Plus size dresses for weddings
Designers have come up with hundreds of unique constructions for plus size dresses. Fashion lovers fond of minimalism will find numerous frocks and long gowns that can help them get lost in the crowd. However, we decided to include in our gallery a few spectacular items sculpted from lace and other precious textures. Get the look that fits you best. Remember fluffy and voluminous textures are not the best alternatives to emphasize your curves.
shop.nordstrom.com
Evening dresses for godmother
Wear modern and at the same time elegant evening dresses for godmothers. Opt for the midi ones if you would like to show off your perfectly toned silhouette. The formal wear market provides you with a number of chic collections of dresses to wear for weddings and other prominent occasions. Stiff materials create the impression of architectural and mature looks. Whereas flowy textures radiate youth and a romantic flair. Lace and floral prints are essential details to offer a revitalized and summerish aura to your festive outfits. Leave granny style high-heel shoes at home and go for sandals with multiple straps in bold shades.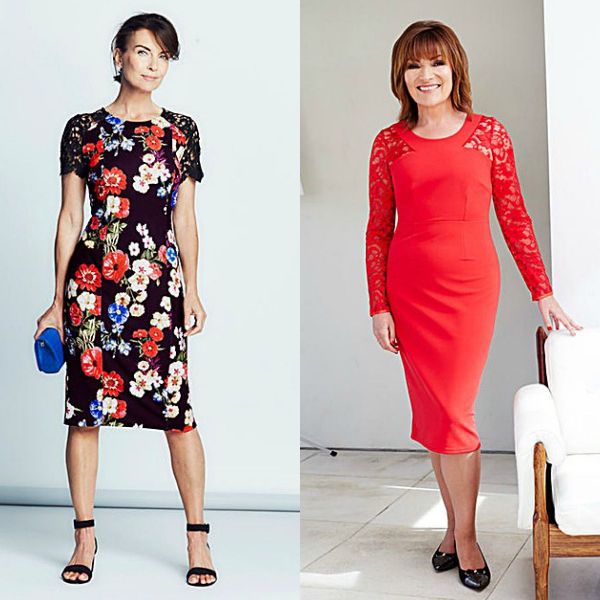 www.fiftyplus.co.uk
Mother of the bride dresses
In need of the perfect summer wedding outfits we advise you to take a look at the loveliest mother of the bride gowns and midi frocks. Don't let your age define you! 🙂 Attitude and how you can pull off a youngish and revitalized look is more important. Elegance is ageless! Though an LBD proves to be the simplest solution to achieve glamour, you should think of the season as the perfect opportunity to sport bright and vivacious colors. Yellow, pink and the many shades of lavender are only some of our favorite options. Complement your sets with a short blazer or a transparent cardigan if the weather is bad. Moreover, you can also experiment with summer floral dresses A-line or straight dresses that look refined and versatile. Accessorize your outfits with high-heel sandals in metallic, pastel or neutral shades.
www.ambrosewilson.com ; www.fiftyplus.co.uk
Short evening dresses for weddings
Minimalist as well as bolder and more provocative short evening dresses evoke a modern style. Mini frocks perfect for weddings and other special festivities like club outfits, are glammed up with sparkling sequins, cut-out sections and insertions of refined lace. Match your outfit to the season as well as the dress code defined by the bride or the young couple. You'll find hundreds of party dresses designs sculpted from fluffy and princess-like textures. On the other hand, if you think 'less is more' opt for the classy lace dress in various stylish tones. Don't forget mini summer dresses for women for weddings scream for a pair of cut-out or high-heel sandals.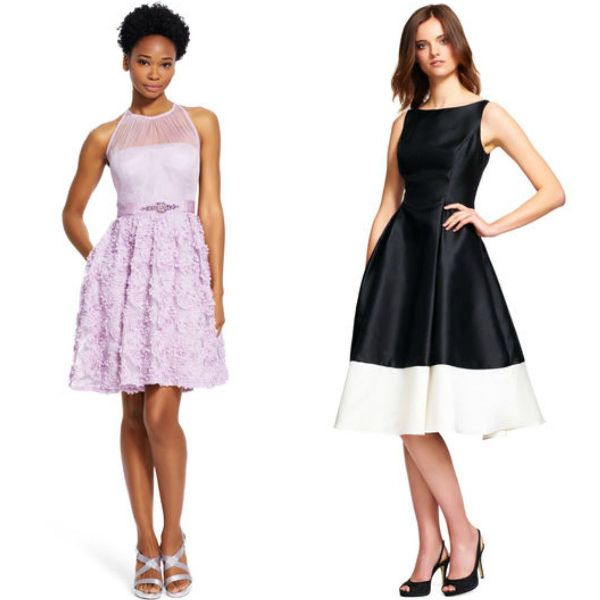 www.adriannapapell.com
Plus size formal straight dresses
Re-think your formal wardrobe and get rid of items that are boring and don't flatter your feminine curves. Nice dresses to wear to weddings that are straight can help you mask critical sections of your body. These types of frocks or gowns help you juggle with proportions. The chromatic palette is endless! 🙂 Indeed you'll find some adorable black dresses you can sport for a formal event, however, we encourage you to break out of monotony and shift your look from predictable to unpredictably refined and modern. In addition, heels will add length to your silhouette.
shop.nordstrom.com
Long wedding guest dresses
We just couldn't leave out the most exquisite wedding guest outfits with floor-length gowns. Keep on sticking to your dream look until you'll find the perfect dress that brings out the diva in you. Take a closer look at these examples before you start the hunt for the perfect item. Prices vary, fortunately, there are still hundreds of retailers that offer acceptable prices for these chic creations. Off-shoulder, strapless, halterneck you name it! 🙂 Decide according to your preferences for shades and tailoring.
www.badgleymischka.com
Bridesmaid dresses
If you're planning to become the loveliest bridesmaid, make sure you sport summer wedding guest dresses that suit your personality. Whether you are part of an army of bridesmaids or you have the honor to be the sole possessor of this title, your frock will tell tales about your refined style sense. Think of long mono-colored gowns if you're a fan of the nonchalant trend. On the other hand, you can also stand out from the crowd with a midi, breezy frock that allows you to show some skin. Lace and transparent layers of fabrics offer a vintage twist to your look. Whereas chiffon proves to be the favorite texture of designers to create ultra-delicate dresses. Take a look at these clothes for woman and choose one 🙂 .
shop.nordstrom.com ; www.asos.com
Please read also about trendy spring dresses 2017 , wedding dresses and club dresses. 🙂 Hope you'll like it.
In case you ever wonder, don't wear a sweater dress to a wedding. Is not suitable for this kind of event 🙂 . Don't forget to tell me your opinion about the best wedding guest dresses for summer or casual dresses for weddings.:) What do you think about my proposals for wedding guest dresses?
Credit photo: