42 Ideas For What To Wear On A Casual First Date
By
|
Do you believe in love at first site? I didn't ! Until I first met my love … In that moment, I wanted to do anything to look beautiful in his eyes and make him fall in love with me … I remember the struggling before our first date… standing in front of my closet and watching, trying clothes and wondering what to wear on a casual first date with the man I love! It seemed to me that nothing was good enough for that day…
I think that even a confident or trend-conscious fashionista is making a fuss about what to wear on first date with a man she likes. So, for those moments when you have a lack of inspiration or of knowledge to mix and match various style items, these pictures with cute first date outfits should come to your help.
Is difficult to find the right balance between too much and too little when it comes to first date outfit ideas. I studied the tricks that style experts are giving to ease our job and make sure we don't lose the enthusiasm before the big day.
The setting, the season are all important factors when selecting your first date outfit. Don't get me wrong! 🙂 I don't want you to lose your nonchalance and prepare excessively to the point it becomes a struggle or a burden.
Remember! Your personality is undoubtedly the extra you can add to your ensemble. Don't create the impression of being another person! Mini skirts, tights or extravagant clothes should be sported only if you feel comfortable wearing them. Minimalism is considered the safest option but you can play with colors and prints or accessories to put together a few unique cute first date outfits.
What to wear on a casual first date female
If you wonder what to wear on a first date, let me give you some suggestions. This time your mantra should definitely be 'less is more'! Don't try to dress like you are going to a summer festival. Try something more dressed up, maybe just like winter clubbing outfits!
1.Distressed jeans allow you to feel cool and comfortable. In case, you want to add a feminine touch to your outfit think of blazer and strappy or lace-up sandals.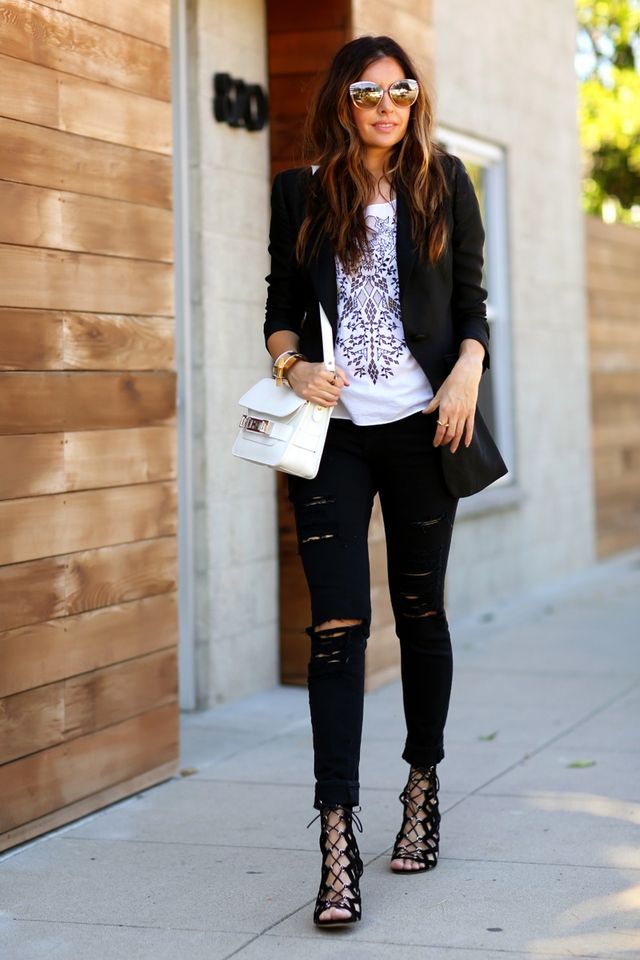 2.During the cold or rainy season a chic coat or jacket can easily perk up your minimalist jeans and T-shirt outfit. An oversized scarf will add romance to your cute date outfits.
3. Double-denim sets can be tricky and might look too utilitarian for a date. However, rolled up skinnies and high-heels will take your fall outfit from boring to fab. If you're not into stilettos consider kitten heels or ballerina flats.
Spring is the season when nature wakes up again as it should also be happening with your fashion style. You can start shy, but should put some color in your outfits, especially if you're out for a date. Advice: Make sure you know exactly where you are going. It will help you choose your clothing. Here's what I suggested you for a casual date outfit in spring.
4. Black shirt, jeans and high heels shoes. Undoubtedly, this is a special first date outfit. It's a stylish, not very pretentious outfit, which leaves neither too much nor to little sight. You can always use this picture as inspiration when searching for club outfits with jeans ideas.

5. Color is very important. This outfit will take you out of any shade of anonymity and will tell taht you are a strong woman who likes challenges.
6. Mid-day date or park walk? For these scenarios it's proper to put on clothes that are comfortable, so you can feel good but also sexy. Long sleeve shirt with bare shoulder is exactly what you need.
7. Perhaps your partner will chose a movie for the first date. I'm sure you want to impress with a generous cleavage, but I advise you to choose a feminine shirt like this. The cleavage is small enough to stir up any curiosity.
8. Details always make the difference, especially when we talk about a date. Choose summer business casual outfits like this one. Insist on the items that seem unimportant, but they are the keys to success.
9. It seems that you are going to a more special meeting? What to do? It's simple! Choose a simple piece of clothing that you will wear with the perfect pair of shoes and accessories.
10. When you feel good in your own skin everyone will feel it! You won't realize it! If you are the owner of an enviable pair of legs do not forget to use them in your favor at your date. Don't be shy! Wear something elegant casual with shorts. You can use this image to create club outfits with shorts.

11. Style influencers like celebrities know how to find the golden middle way to make an impression. Wear a mini or if you're a curvy girl a midi black leather skirt outfit with flattering sandals. Go for long-sleeve blazers or jackets to make sure you don't show too much on the first occasion.  
12. In case, you want to add length to your silhouette and wish to flash only a tiny portion of skin, match leather minis with thigh-high suede boots. The white T-shirt preserves the laid back allure of your set.
13. While not exactly clubish, this outfit is still a top recommendation. Instead of being cool, be feminine and elegant with this off-shoulder wrap top and white distressed jeans. This set is also an answer to your 'what to wear on a first date to a lounge?' question. You definitely can not include these high heels in your collection of women casual shoes to wear with jeans. They are too elegant, even if  they seem comfy.

Maybe, you would like to read also about:
Learn how to tame your excitement and enthusiasm by reading through these simple tricks. What to wear on a date during daytime? Or, are you looking for a first date outfit ideas summer? Dresses are among my favorites and simplest suggestions. However, you can embrace various pants trends too, like culottes and jeans.
14. Test-driving different tendencies is not the best idea for a date. Instead, go for a printed frock paired with a mid-length block-colored trench and a pair of elegant sandals or more casual flats.
15. Heat storms allow you to sport breezy summer dresses also to work. Tangerine is a shade that suits all skin tones and the loose texture will give you an instant confidence boost.
16. This pencil skirt and white shirt set is an answer for the question 'what to wear on a first date in your 40s?'. Go for a high-slit, if you have an athletic figure whereas curvy fashionistas should go for a less daring skirt.
17. In case you're on holiday and you have to plan what to wear on a first date in the summer I recommend you to invest in chic play suits. A strapless top saves you from a heat stroke whereas the flowy texture of the shorts is way more elegant than a fitting silhouette.
A lunch date might be shorter than a night-out one, however, you can still look exceptional. In case you have a dress code at work make sure you follow it regardless of having a meeting with the man of your dreams. This time rely on the details which will glam up your office chic attires in a second.
18. An animal print pencil skirt can become a central and interesting element of your work wardrobe. Maintain the elegance with a simple black top and matching black pumps or sandals.
19. Baroque print pencil skirts will give your date the impression that you mean business when it comes to diversity and trend-awareness. This outfit example will help you decide what to wear on a date lunch.
20. In case you don't have the silhouette to wear this mini pencil skirt for a date reinterpret it or let yourself be inspired by similar ideas of what to wear on a first date with a midi black pencil skirt outfit. The yellow stilettos add a dose of happiness and youth to your set.
21. Figure out how to feel comfortable and confident with similar examples of what to wear on a first date. One-shoulder blouses are extremely sophisticated especially with a pair of culottes and sandals.
Even if you're invited to an after-work or active date you can enhance your assets. Let me help you select the best outfit to wear on a brunch date or provide you with a few summer going out outfits you can't go wrong with. Be yourself and make a memorable impression!
22. If you are wondering what to wear on a casual first date, instead of limiting yourself to a pair of jeans and a T-shirt, perk things up a bit this time. Sport rolled up moderately distressed denim shorts, a pastel colored top, a gorgeous white blazer and high-heels or sandals. What do you think about this jean short outfit? It looks fantastic, doesn't it?
23. It's hot and you want to avoid a style meltdown? Go for a knee-length striped skirt matched with a chic tank top in a versatile shade. This time rely on the comfort flat sandals give you.
24. In summer make sure you take full advantage of the chromatic freedom the season offers you. Wear a nice white flared or straight pants with sandals and a breezy top. Opt for a tunic if you are not comfortable with short tops.
Are you preparing for a mid-day date? Don't forget to put some stylish tricks to protect yourself from heat. My suggestion? A straw hat. Is the coolest item of this summer.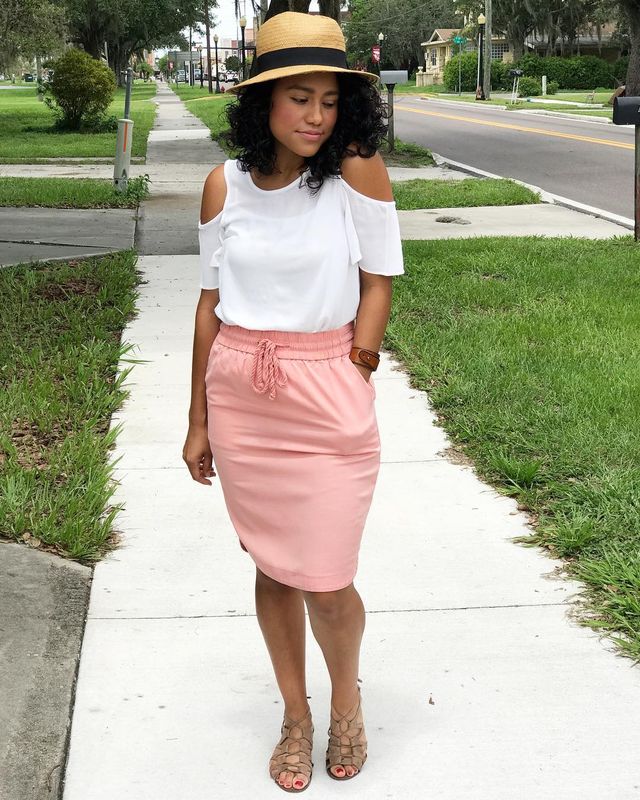 Let's not forget that spring days are a little bit capricious, which means it's proper to have a jacket with you. Along with the sports shoes and the fashionable bag, you will make an excellent first impression.
25. Denim is a no-brainer choice when it comes to daytime looks. Especially if you're in need of what to wear on a first date when its cold. Go for a long-sleeve denim shirt for an effortless set and a pair of black boots for casual going out outfit. Trench is needed if the weather is rainy or windy.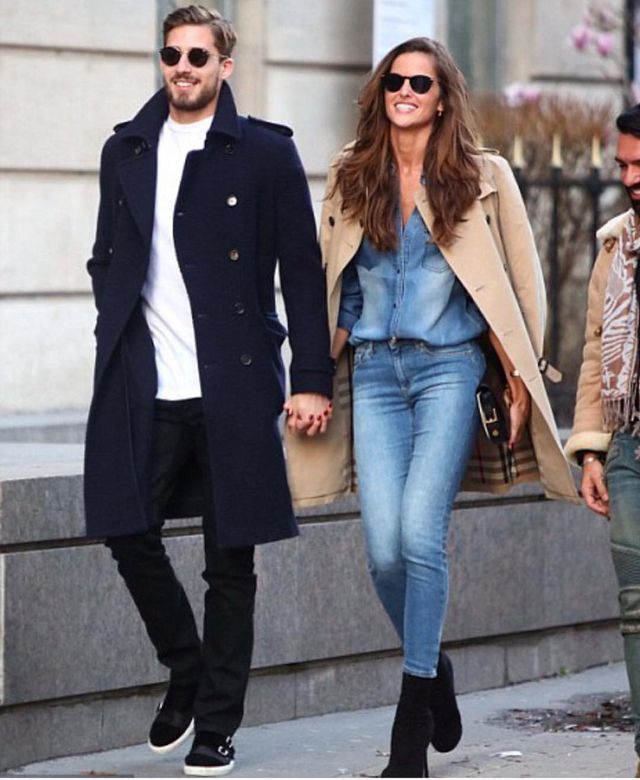 26. Do you meet for an outdoor date? The turtleneck sweater, a leather jacket and a pair of black pants is an easy-to-nail down idea for what to wear on a first date walk in the park.
27. The rule of thumb when it comes to dates is to avoid complicated mix-matching. Go for knit sweaters with cut-out shoulders, ripped skinny jeans and booties to adapt to cold season fashion trends. Find here more inspiration for cute outfits with skinny jeans.

28. There's nothing wrong in wearing style pieces you know and love. A baseball jacket, cropped black pants and fab loafers or flats are simply perfect for a breakfast date.
29. Choose this outfit if you feel comfortable nailing down a masculine and dandy style outfit. Wearing blazers on your shoulders is pretty dramatic. You can also replace the turtleneck sweater with a more feminine top with a nice V or boat neckline.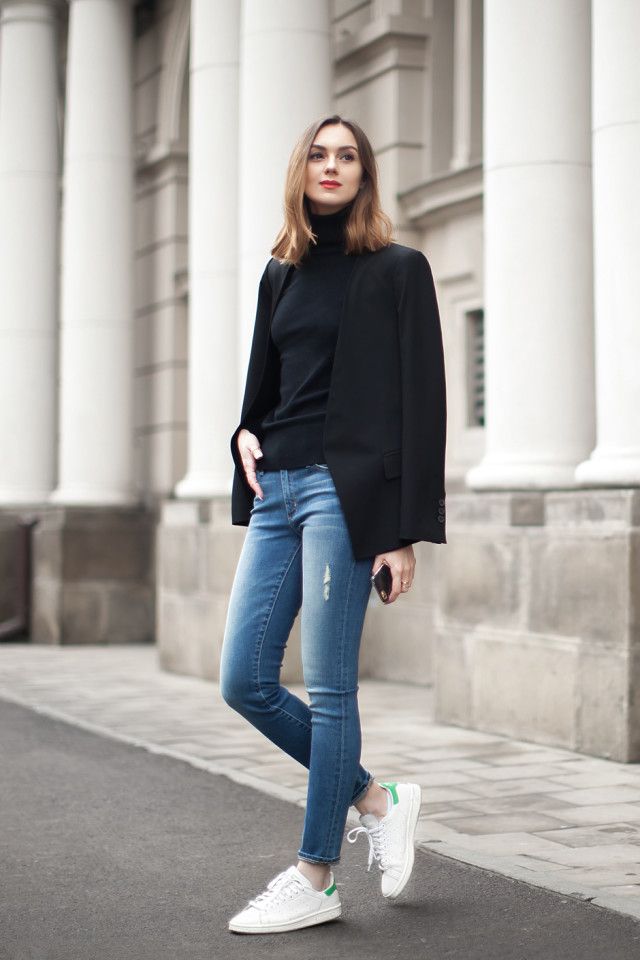 The way you dress for a blind date is crucial. Why? Because you want to bring out the most of your personal style and use various outfits to send a clear message. The secret to not feel over- or down dressed is to opt for a simple yet flirty set.
30. You don't put too much thought in what you want to rock for a date? If comfort is essential for you, make sure you put together a distressed jeans, minimalist top and cool leather jacket outfit you can crown with sneakers or slip-ons.
31. Build up a sleek and refined ensemble using a pair of distressed jeans, a white turtleneck top and a beautifully tailored velvet blazer. This would be the statement accessory to make sure you create a memorable impression.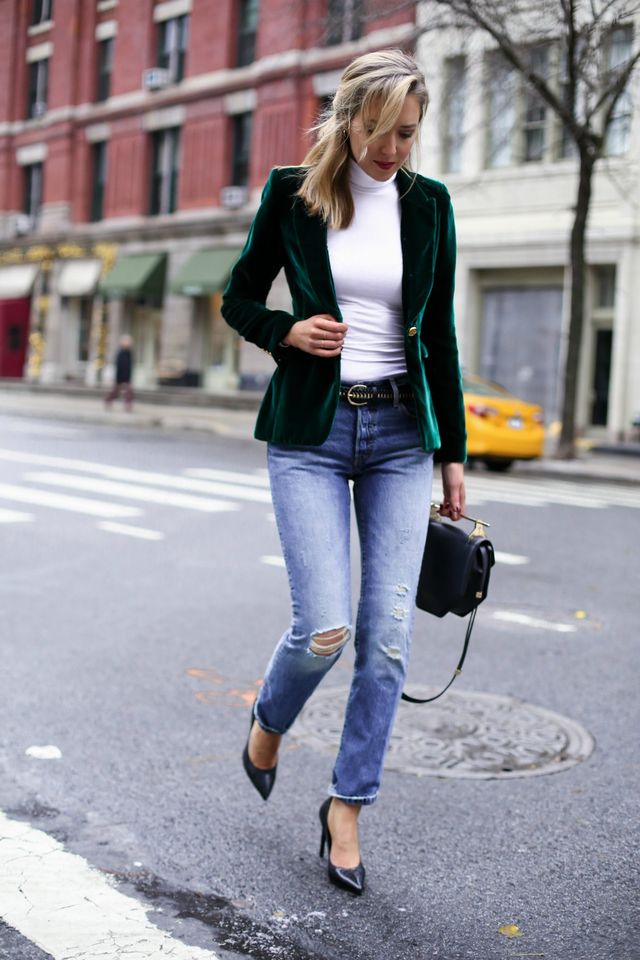 Maybe, you would like to read also about:
Avoid the risk of showing too much right on the first date. Cold weather allows you to adopt tendencies like long-sleeve knit dresses, oversized sweaters and beautiful coats. Whether you are heading for a walk in the city or a dinner date, discover a few outfit ideas to wear on a date cold weather.
32. This set is definitely an answer to your question ' what kind of dress to wear on a first date'. Opt for an LBD design that would not make you look out of the place. A neat silhouette complemented with high-heels.
33. Casual dates are perfect opportunities to flash a comfy and voguish look.  Create a white skirt outfit with a  nice dark colored sweater and to add a winterish, cozy feel a faux leather vest and knee-high boots. How creative and effortless is this winter outfit?
34. Find out what to wear on a first date outside in order to feel confident and attractive. Skinny or straight jeans are a top style choice you can pair with a neutral colored knit sweater, a baseball jacket and the coolest red pumps or flats.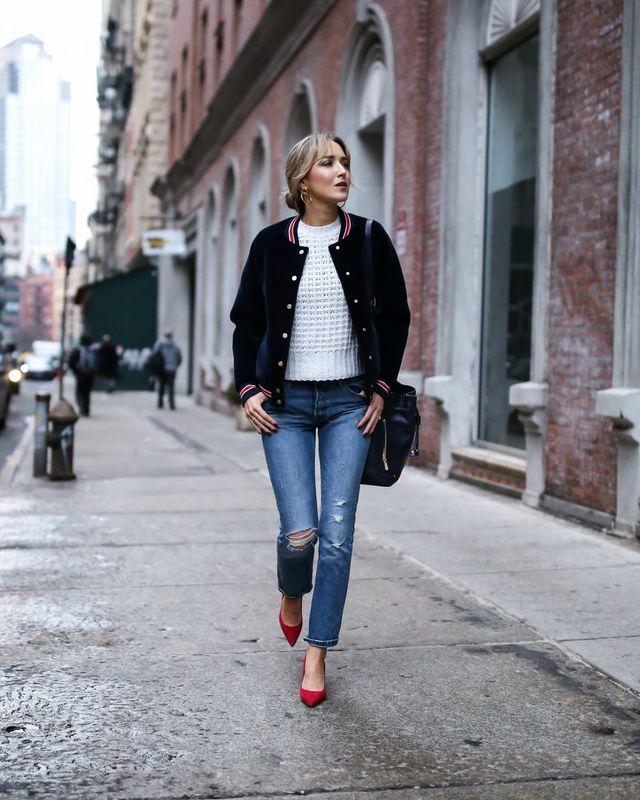 35. According to guys an approachable and laid back style is way more convincing than a too dressy and formal look. Therefore, I suggest you to stick to your favorite black skinnies, black turtleneck sweater, knee-high boots and a long coat.
36. I saw tens of plaid dress designs on the street and runway. Make sure you try on one of these casual frocks in a fitting or fit and flare design to emphasize your waist or curves. A flat boot will only strengthen the leisure factor.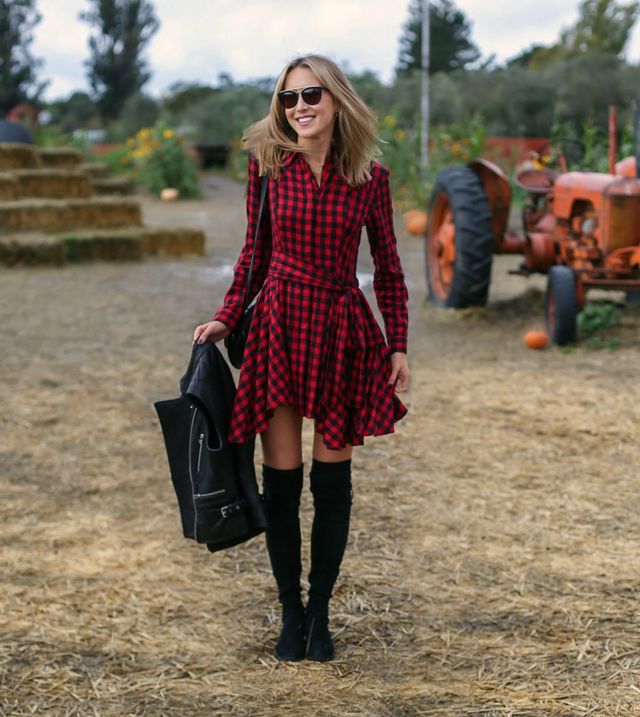 37. The colors for winter are more limited. But that should not be an obstacle to your imagination in fashion. If you chose a totally black outfit for the date you can break the monotony with a coat in a warmer tone. Use a pair of casual shoes if you want to be chic and feel comfortable.

38. So what if the temperatures are low! That does not mean you cannot be stylish anymore. Here's how you can add extra color and femininity to your casual date outfit.
Maybe, you would like to read also about:
Fight the personal confidence issues or discomfort a date might give you with an apparel that makes you feel stylish. A breakfast date can take place both in a fancy restaurant or a casual diner or pub. Consider your wardrobe options and the setting for guaranteed success. Enjoy these first date outfits.
39. A mini white denim dress matched with ankle boots is an ideal outfit for summer. In case the weather turns bad have a leather jacket at hand. Let's see some pictures with summer outfits for women.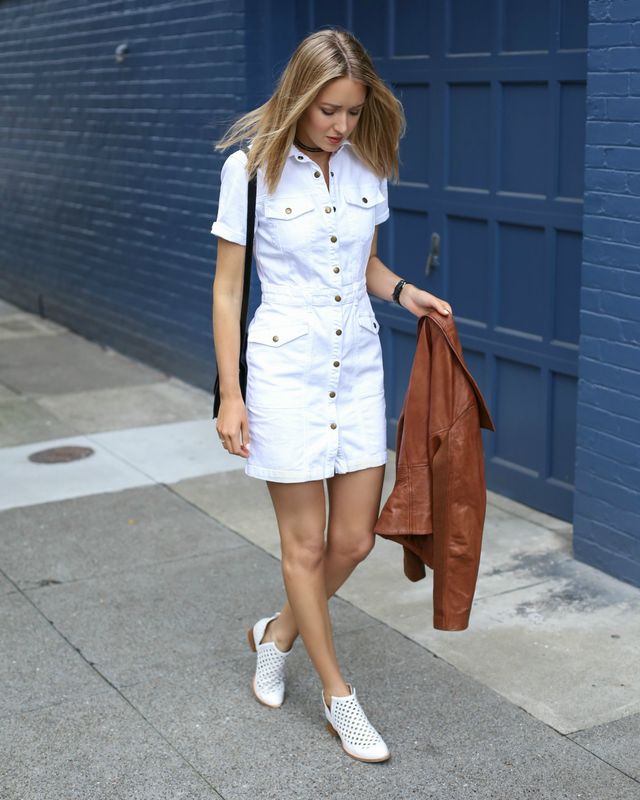 40. Master the art of the dating game and put on a white shirt with a feminine detail and a pair of knee-ripped jeans. The cool factor meets elegance if you refine you set with lace-up sandals.
Jeans preferably straight, flared or skinny and not boyfriend or mommy ones are considered a base for your win-win outfit. Make a lasting impression and have fun while selecting basic items or accessories. Scroll down to see a few casual date outfits to wear on a first date to a concert, lunch or a casual dinner.
41. A fabulous white blazer allows you to express your femininity without intimidating your date. The ripped jeans in a combo with a white stiletto fill your ensemble with personality. Enrich your wardrobe with new ideas for summer outfits with jeans like this one.

42. Associate alluring and pastel colored tops with Rock chic distressed jeans. The rest of the look is elegant but not too much for a breakfast or a daytime date.
43. Are you preparing for a date that requires a little more planning? Here's a peplum top teamed with a pair of cropped jeans you can wear regardless of the setting. Accessory selection depends on your personal style, be it smart chic, comfy or refined.
Maybe you would like to read about:
Nothing makes you look more confident than a pair of chic trousers or jeans and a nice top. In case you feel like adding a sophisticated air to your outfit, think of blazers, nice jackets and high-heels. Check the style of the restaurant or club beforehand before you decide what to wear on a first date for drinks ! 
Knowing how to dress your curves is just as important as knowing a bit about the style of the person you're gonna meet. What to wear on a first date has both an impact on your frame of mind or mood and also on the course of the whole event. Feel free to express your personality with either a bright colored dress and statement accessories or a minimalist and neat look. A simple upgrade or downgrade can turn your office set into a casual ensemble and back. I would love to know which outfit do you prefer and how you dress for a first date! Let me know your opinion about how to dress for a date, in a comment bellow 🙂 !
Source Featured image: iStockPhoto