26 Ideas For A Beautiful White Pencil Skirt Outfit
By
|
Learn how to wear your favorite white pencil skirt outfit with casual accessories. Diversify your clothing style. Create stylish outfits with white pencil skirts. Find the most flattering tailoring designs for white pencil skirts. Choose to wear a white lace pencil skirt, a white leather skirt or a midi white pencil skirt. Bring out the best of your silhouette wearing these sets.
White pencil skirt outfit | White lace pencil skirt
In spite of its simplicity and minimalist air, white became one of the power hues of the moments. If you're into modern and flirty looks team up your favorite lace pencil skirt with a pair of pumps or sandals. You just can't go wrong if you associate these statement items with a loose blouse or peplum top. Embrace this trend for special events to guarantee your memorable public appearance. On the other hand, street wear divas also teach you how to build up a nonchalant and less festive set with oversized sweaters, simple T-shirts and cropped tops.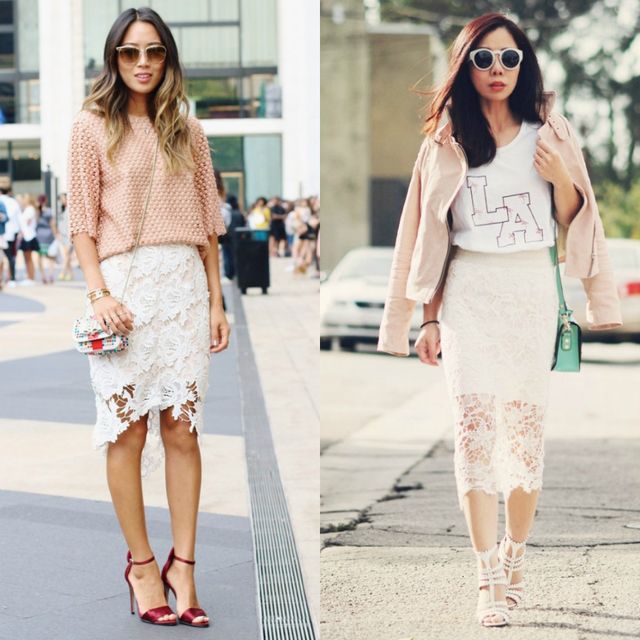 White leather pencil skirt
The majority of fashionistas decided to stick to the classiest trends from women's skirts. Black leather is indeed timeless, however, you can still experiment with the all white pencil skirt version that looks just as spectacular. Fashion experts have a number of tips and tricks to help you nail down a feminine and accessible outfit. The win-win black and white combo is still a fool-proof alternative. In addition to these shades we recommend you to try out burgundy, dark blue, pastel tones all paired with the various shades of white leather skirt. If you pay special attention to your accessories the cheeky effect of leather will be perfectly toned down. 🙂
White denim pencil skirt
Ditch the classy black or grey pencil skirt for women in favor of a white denim one. See these examples below to get an idea on how to match the tops with bottoms. This shade might not seem too practical for office wear, however, you can still sport it every once in a while with a nice shirt or breezy top. In case you have the privilege to wear laid-back outfits even during the working days make sure you try out the double denim trend. Choose items of different tones for a versatile effect. Off-shoulder tops, tunics and sweaters can be easily paired with ladies white skirts of mini or knee-length. Here are some of these pencil skirt outfits.
White midi pencil skirt
You'll find numerous outfit formulas for this year. The coolest white midi skirt designs can be spotted on the blogs of international trendsetters. In the past seasons, designers and fast-fashion stores gravitated toward high-waisted midi skirt styles that suit all types of silhouettes. Choose the form-fitting pieces to create a daring look. The loose and straight designs allow you to create the impression of a well-proportionate body. Admirers of an experimental style team up a midi pencil skirt in white with a short top or wildly printed sweaters. Our latest obsession are the all-white sets that look gorgeous irrespective of the season. 🙂
White maxi skirts
The style crowd is still a fan of long women's pencil skirts as well as flare designs. You can opt for the floor-length ones during the warm months whereas the ankle-length ones are ideal during autumn and winter. The items in question can be associated both with lovely shirts, t-shirts and fitting blouses. Besides allowing you to move freely these ladies skirts offer a feminine and elegant flair to your daily looks. Delicate fabrics, lace insertions and transparent texture layering make these staples one of a kind and so popular. If you want to show some skin in a mysterious and modern way, invest in a maxi white skirt or a tube skirt with a side or front-slit. 🙂
High waisted white skirt
The recipe to success when it comes to lady-like wear is sooo simple! 🙂 Juggling with various details like the high-waist gives you the opportunity to create the illusion of a narrower waist, longer legs and an hourglass silhouette. Indeed women who discovered the magic will never turn back to the outdated low-waist ladies skirts. If you're stepping on new territory, make sure you check the best offers of online stores and purchase at least one of these essential pieces. A midi pencil skirt in white can be the key to a refined and contemporary style. Add a touch of delicacy to your summer club outfits or to your casual summer outfits with midi or mini skirts.
Read also our editorials about:
If you want more of the latest pencil skirt trends or classy white pencil skirt trends come back for more outfit ideas! 🙂 Learn how to wear a white pencil skirt or how to create pencil skirts outfits. I would love to hear your opinion about these pencil skirt outfits.