Follow This Year Fall-Winter Shoe Trends
By
|
If you are craving for shoes that add a modern vibe to your outfits, this season trends are definitely to be followed. Certainly you will want to include in your wardrobe these women shoes inspired by the runway. You should check out the 2016-2017 fall-winter shoe trends. Choose to wear point shoes if you plan an elegant outfit or the platform shoes if you want to look taller or thinner. I always considered that velvet shoes with high heels gives an elegant note. I can say the same thing about suede shoes, if you choose to wear them, certainly your outfit will be stylish! Stilettos shoes are still in trend this year. High heels are not very comfortable but very elegant. Wear these accessories to define your outfit. For a plus of originality, sport a pair of ankle strap heels. 
Here are a few guidelines to make shopping easier. 
Straps
It's really hard to ignore the gorgeous designer evening shoes that appeared on the catwalk. Fashion houses like: Altuzarra, Anna Sui and Courreges are trying to combat the monotony of cold days. How they do it? Creating stylish items that boost our mood immediately. These fall 2016 shoes are not only elegant and refined. But are also appropriate to complete your holiday season sets with. Sport the loveliest dresses trends or stylish pants in a combo with stilettos in silver, gold, or neutral tones. Here are some of the best 2016-2017 fall-winter shoe trends.
This year fall winter shoe trends for point shoes
We've spotted our favorite celebrities and street style divas taking advantage of the latest pointed shoes for ladies trend. Make sure you test-drive this tendency. Try on a few pairs of these designs at your local fashion stores. According to experts, accessories like these are visually lengthen your legs. It also can be easily associated both with casual, office chic or party-perfect outfits. Our selection for 2016-2017 fall-winter shoe trends includes stilettos, ankle and high boots. Discover the inspiration for 2016-2017 fall winter trends for women offered by designers like: Alberta Ferretti and Jason Wu.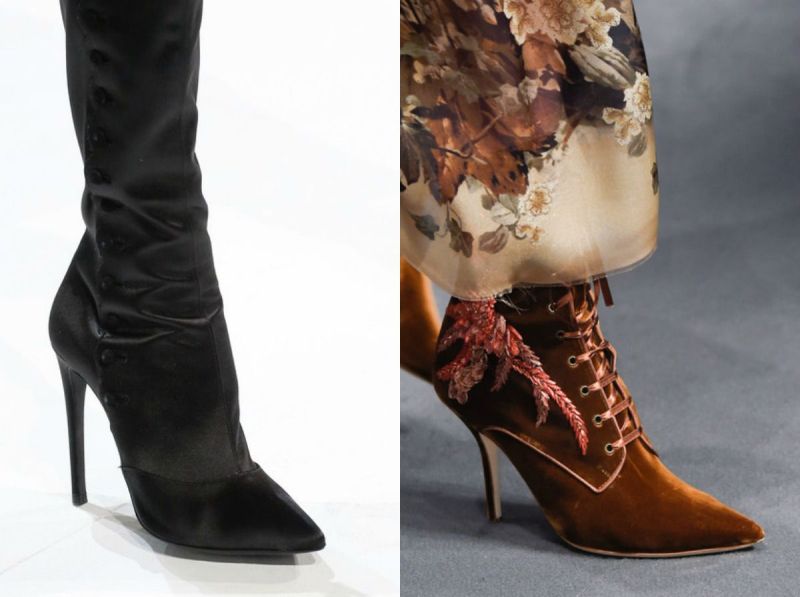 Shoes with block heels or square heels
Thanks to couturiers who appreciate comfort we can swap stiletto heels for square or block heels. The best fall shoe trends on the market include these essentials. The runway was packed with super-models sporting these high-heel footwear designs teamed up with flared pants, midi dresses and even eveningwear. Personalizing was the keyword! Narciso Rodriguez, Burberry Prorusm and Antonio Ortega were only some of the brands that re-invented this good old tendency. They added to it a unique and original touch.
Platform shoes or platform heels
The range of footwear designs and autumn winter 2016-2017 fashion trends can be at first really overwhelming. However, with a little help from our team of experts you'll find your way through the tendencies. You will choose what to adopt for the end of the year as well as the beginning of next year. Fashion houses like Charlotte Olympia, Mary Katranzou and Carven joined forces to fulfill our dreams. These fashion houses released fab collections of platform shoes in various shades and designs. Whether you prefer minimalist accessories or you have the courage to put on customized and extravagant winter fashion items, the idea is to know the height of the heel. But you have to know also the toe style that flatters your body shape. Watch our proposals for 2016-2017 fall-winter shoe trends.
Velvet shoes
This season has not been an exception when it comes to releasing real 'jewelry' pieces. Numerous designer teams decided to use velvet as the perfect texture to fabricate formal or casual shoes. If for the past few years or seasons you sported the coolest leather or suede boots and stilettos, it's time to put them aside. Invest in these exceptional accessories that speak for your refined fashion sense. Moreover, this fall shoe style will add a luxurious or Boho glam to your everyday or holiday looks. Take a closer look at the 2016-2017 fall-winter shoe trends below! 🙂
Shoes with prints
These versatile footwear designs were the ultimate choice for fashion accessories by experts. The collections presented on the runway convinced us to complete our wardrobe with ankle boots, platform shoes and stilettos. The items decorated with animal prints, stripes, and other glam patterns have to be also mentioned in 2016-2017 fall-winter shoe trends. We must admit that, you need courage to rock these staples! However, keep things simple and your eclectic and original style will not go unnoticed. Search for the real deal at designer stores or high-quality replicas at online shops. The leopard print flats or the leopard print shoes are the most populars these year. But don't forget to wear also floral shoes. These accessories are in trend these year.
Shoes with fabrics or texture applied
After purchasing the coolest jackets or coats, it's time to shift your attention to accessories. These shoes with fabrics or texture applied make all the difference. Fall 2016-2017 trends encourage you to complete your day wear with these multi-purpose essentials. Fortunately the bad weather can't stop you from sporting stilettos, boots and ankle booties with suede,  faux fur, velvet or metallic colored fabric insertions. Designers combined refined materials with waterproof leather or patent leather to save you from a style meltdown. You definitely need to check the collections of brands like: Christian Siriano, Custo Barcelona and Christopher Kane for more inspiration.
Cut out heels
You need a few shoes for autumn winter 2016 to match your outfits with? Cut-out heels might seem a thing for summer. However, plenty of collections included these footwear styles for the cold months. Therefore, we felt obliged to cover this subject too. 🙂 High-heels and boots were making an appearance on the runway associated with club and casual dresses as well as other outfit options. Do you wonder how you wear this trend in real life? Look for street style blogs and make these tendencies work for your own wardrobe. Try the gold heels or the silver heels, red heels or lace up heels.
Fantasy heels
Some couturiers consider the Fashion Week the greatest opportunity to live out their wildest fantasies. Breaking out of your style rut definitely means to try out the most eccentric autumn winter 2016/17 trends. Using patterns, metallic details and even sequins were the means designers used to add a creative touch to classy boots and stilettos. Now these footwear designs are populating the shelves of online and offline stores. Make sure you adopt the right attitude before purchasing any of these or similar products. 🙂
Suede shoes
We've been on the lookout for shoe trends for fall 2016 that can be embraced by fashionistas regardless of age and silhouette. Lucky for us we spotted the coolest suede footwear designs in the collections of: Balmain, Anna Sui and Ralph Lauren. Make selecting your outfit options for this season less boring and incorporate these booties, high-heel shoes and even loafers into your everyday, business or formal looks. Indeed, this fabric might deteriorate when exposed to humidity and cold. However, there are numerous products that help you clean and condition these accessories.
Combined materials
Shoes with combined materials are definitely having a moment. In spite of the bone-chilling temperatures outside designers still decided to get creative and come up with refined and fascinating shoe styles. Seasonal essentials include designs with leather and suede, leather and patent leather as well as velvet and other fabric pairings. Let these images below help you decide whether you want to jump on this autumn shoes 2016 trend. Choose from these 2016-2017 fall-winter shoe trends.
Stilettos shoes
We examined the latest fall shoe trends for 2016 that led us to the conclusion that stiletto shoes will never go out of style, ever! These timeless essentials continue to pop up in collections regardless of season. Despite the fact that, these accessories are not the comfiest items you can sport during the day, they still manage to convince fashionistas that they worth the investment. Indeed, our team was absolutely charmed by the diversity of pointed toe heels and booties released for this year. You'll find minimalist and elegant styles, printed and metallic designs in the collections of brands like: Oscar de la Renta, Schiaparelli and Miu Miu.
Kitten heels
We've anticipated that a spiring trendsetters got pretty addicted to kitten heels. Therefore, we also expected these footwear designs to stay in vogue for at least a few seasons. Our team was right! 🙂 A number of A-list fashion houses appealed to the need of women for comfortable staples. The examples included in this trend report offer you an overall image of the autumn shoes 2016 you must definitely take into consideration for your next shopping session. Kitten heel formal shoes as well as booties can be easily teamed up with jeans, midi or mini skirts as well as dresses.
Wedge shoes
You're not alone in your dilemma to choose 2016 fall shoe trends for womens that are accessible and flattering for all silhouettes. Our goal is to offer you inspiration using the images of couturier teams like: Agnes B, Dorhout Mees and Prada. These runway shows illustrate the enormous popularity of wedge shoes. Both among teens, women working in the business sphere as well as professionals from the world of the rich and famous. Style experts will never judge you if you swap stiletto heels for these comfortable designs. It is your right to select accessories that can be easily embedded into your day or formal wear.
Shoes with ankle strap heels
We have rounded up some of the major fall 2016/17 fashion trends and decided to make some room for shoes with ankle strap heels. Thanks to tens of fabulous runway collections our team could find a few illustrating images that provide you with chic outfit ideas. These stilettos and chunky heel shoes are the perfect staples to crown your unique sets. Be flexible when it comes to chromatic choices. Go for neutral shades if you have to adapt to a dress code at your workplace. On the other hand, if you are fortunate enough to have the freedom to express your originality, go for non-traditional footwear styles.
 2016-2017 fall-winter shoe trends for corset heels
Fashion girls use every opportunity to show off their modern style attitude. This season corset heels allow you to stand out from the crowd. The refined details radiate elegance and femininity. Look for the ones with a Goth girl touch or stick to styles that can be easily paired with trousers, jeans or knit dresses. Complete your party girl with similar stilettos and booties as the ones lined up in the collections of brands like: Marissa Webb, Proenza Schouler and Maiyet.
Shoes with fur
Ohhh…. you might think of these fall winter 2016 trends as the most non-traditional ones you could never pull off. However, make sure you don't skip this part as you might lose the chance to become a real trendsetter. Our favorite couturiers like: Simone Rocha, Gucci and A Detacher managed to work these essentials into their ready-to-wear and haute couture collections. Examine your existing wardrobe and see whether there are any staples or items you can match these booties or high-heel shoes with. Being fashion-forward means taking a few risks! 🙂
You might want to read also about:
Share with us your favorite 2016-2017 fall-winter shoe trends and send us a few outfit ideas we can also adopt for the cold season. 🙂 Tell us what do you think about these proposals for womens shoes. Do you agree with these 2016-2017 fall-winter shoe trends?