Spring Summer 2017 fashion trends
By
|
Start fresh with the latest spring summer 2017 fashion trends! Our guide will provide you with numerous outfit ideas you can re-create for the upcoming months. Sport various prints, lovely babydoll dresses and alluring jumpsuits in pastel and vibrant tones! Collections are getting more exciting and diversified. Embrace some of the top spring summer trends in 2017.
Pink for Spring Summer 2017 fashion trends
Some chromatic tendencies are here to stay. Wear the various tones of pink for the transition period and on to the spring months. Brands like Bottega Veneta, Delpozo and Monique Lhuillier demonstrate the elegance and delicacy these shades emanate. Along with the breathtaking gowns you'll find dozens of office-appropriate and even casual items you can incorporate into your wardrobe.
Numerous ateliers managed to strip off this color from its princess and too girly air. Fashionistas can put together inspiring and mature spring looks 2017 with the help of cropped pants, blazers and pencil skirts in pastel or vibrant pink. Let's see some pictures with the spring summer 2017 fashion trends.
Wearing yellow
On the other end of the chromatic palette we have the yellow tones that range from dark to daring and softer, light hues. The collections of Valentino, Lacoste and Moschino are the shows to keep an eye on. That, if you feel attracted to fashion trends 2017 that scream creativity and personality. 'Primrose yellow' is the name given by the Pantone Institute to define the ultimate shade that radiates warmth, vitality and enthusiasm.
Indeed, the period after the cold winter months might not delight us with too many sunny days. Therefore, some of us feel reluctant to sport yellow jackets, pants or dresses. Make sure you start with tops and sweaters. And when you feel ready experiment with a few of the coolest 2017 spring summer trends. Take a look at these spring summer 2017 fashion trends.
Metallic clothes
It's always a dilemma, how to integrate metallic fashion clothes into your daily sets. While athleisure and minimalist style gurus give you a few game-changing ideas, it is still complicated to nail down a streetwear or work-appropriate outfit. Fortunately, as the collections of Kenzo, Monique Lhuillier and Phelan illustrate, formal events and parties allow you to embrace some of the top spring summer trends.
Glam blue, gold and silverish tones take your traditional an even extravagant sets to the next level. Couturiers used refined sheer textures and sequins to achieve the spectacular aspect of these mini and midi frocks. Every now and then we see a unique reinterpretation of past trends. Welcome spring summer 2017 fashion trends with an open-minded attitude!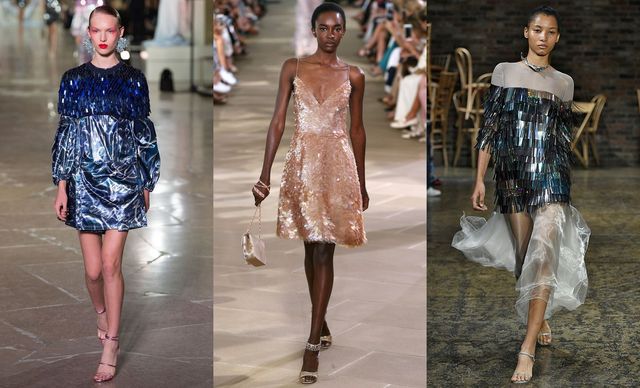 Round shoulders
There's hardly anything we can say to fuel the popularity of round shoulders. Instead of preaching, we wanted to provide you with a few outfit examples extracted from the A-list shows of Jil Sander, Gucci and Delpozo. Manipulating the different textures and tailoring techniques helps designers add a personal and unique note to their creations.
Oversized sweaters, ruffle dresses and outerwear designs were completed with this tried and tested detail. While statement shoulders might create the impression of a slender and well-proportioned body, round shoulders look more natural and seem to be more appealing to eye.
Oversized shoulders
Apparently the fashion trends spring summer 2017 are packed with contrasts and clashes between traditional and provocative interpretations. In case you have trendsetter aspirations, trying the oversized shoulder trend is a must. Take a glimpse at the sets promoted in the collections of Rodarte, Saint Laurent and Brandon Maxwell!
Then, start looking for similar pieces in virtual or offline stores. While some of the dresses and blazers you'll see on the runway are too artistic and impressive, you'll also find numerous toned down versions of this trend. Curvy fashionistas beware of the volume this details can add to your arms and upper body! 🙂
Trench coats
Fashion gurus let their fantasies run wild when it comes to trench coats. The newest denim and faux fur embellished versions of these 'it' cover-ups spread rapidly among celebrities and street style divas. Spring 2017 trends are about experiments and deconstruction.
Michael Kors likes to keep things feminine and traditional, on the other hand, there are other visionary couturiers working in ateliers like Veronique Leroy and Prada who found exciting new ways to make these office-chic and mature wardrobe essentials more attractive to younger generations. Distressed denim combined with a straight or A-line silhouette in tones like purple, gray and black results in a unique and practical design.
Flower prints
We always considered printed outfits real eye candies when it comes to spring and summer fashion trends 2017. Hundreds of dresses, coats, jumpsuits and pants all decorated with roses, lilies, psychedelic floral prints. Take a closer look at what you already have in your closet or purchase similar items as the ones lined-up in the collections of Michael Kors, Balenciaga and Salvatore Ferragamo.
Choose silhouettes that flatter your body type, find numerous occasions to wear these ensembles to work, school or casual events. Follow the fashion tips and the golden rule of small and oversized prints (small for curvy women, larger ones for athletic, hourglass and slimmer figures). Keep the rest of the outfit simple, let the eclectic and versatile pieces speak for your refined taste and trend-consciousness.
Graphic prints
If you have a similar mindset to use, you'll be hunting exceptional and out-of-the-ordinary outfit elements while skimming through collections. Among other details graphic prints are secret weapons of various brands to create a personalized and easy-to-recognize image. Juxtaposing classy patterns like stripes, dots and more visionary drawings and geometric forms is the key to sculpt memorable fashion items.
Let your outfits radiate confidence! Embrace the latest fashion for women by adjusting it to your personality. For a contemporary and inspired style take a glimpse at the collections of Ports 1961, Elie Saab and Temperley London. These ateliers always manage to captivate the attention of trendsetters due to the variations of tailoring designs and prints they use.
Jumpsuits
Fabulous jumpsuits continue to dominate the latest trends in fashion. Street wear and runway blogs provide you with numerous tips and tricks on how to nail down a similar delicate and feminine look. Whether you're a socialite with tens of parties to attend or you like comfy and practical items, we can promise you'll find at least 2-3 designs that satisfy your vestimentary needs and  flatter your silhouette.
Cut-out and strapless jumpsuits allow you to flesh some skin in a daring yet elegant way. Also, you have sets with a casual feel that look gorgeous when incorporated into nonchalant ensemble. The collections of visionary couturiers as Hellessy, Brandon Maxwell and Défilé Balmain are only some of our top recommendations. If you're in need of inspiration.
Leggings
So many fashionistas sport these iconic items. However, in our opinion and apparently designers agree, leggings look stylish either integrated in an elegant or a Moto and 'cool' girl chic outfit. Everything in between is problematic, let's put it that way. 🙂 In spite of the misconceptions that circulate, fitting pants can be sported both by hourglass and athletic figures as well as curvy women.
The thing is you always have to juggle with textures, length and shades. We continue to promote the staple status of classy black faux leather or denim leggings. In addition, A-list designers like Elisabetta Franchi and Marc Jacobs encourage you to leave the door open for animal and graphic prints and also vibrant hues like red. Fashion 2017 is diverse and sensational!
You can either break down your barriers and build a new clothing style or make a few meaningful changes to it by keeping an eye on the latest fashion trends.
Babydoll  dress
Mature elegance is just as predominant in the latest shows of spring and summer fashion 2017 as it is a younger and girly air. Especially when it comes to dresses. You'll have floor-sweeping velvet and sateen gowns and also a few lovely babydoll dresses in pastel or neutral tones. This silhouette, has something that charmed both designers and the fashion crowd.
Ruffles, layering of transparent and soft fabrics makes these frocks adorable and ideal both for semi-formal and more festive events. Chloé and Molly Goddard are some of the brands with collections to advertise the loveliness of babydoll dresses paired with high-heel sandals and minimalist accessories. Long-sleeved designs are perfect for the transition period. Wheres the short-sleeved ones allow you to feel the warm spring or summer breeze.
Patchwork
As it was obvious in the past seasons, style creators find extreme pleasure in matching different textures in various shades. The technique called 'patchwork' went from the couch where grandmas were creating beautiful blankets to the runway. We've seen hundreds of style items fabricated with this method. Indeed, the variations of these 2017 trends might not be for everyone.
If you feel like, you're still struggling with lack of confidence when it comes to statement pieces, leave this tendency for the brave ones. The latest collections of Antonio Marras, Marc Jacobs and Sonia Rykiel popularize coats, dresses and complete sets in patchwork style. Look for similar items online! So you can follow the spring summer 2017 fashion trends.
Leather
The presence of leather on the runway, regardless of the season is a statement made by couturiers. No fashionista wardrobe is complete without at least a jacket, a pair of pants or skirts manufactured from faux leather. Fortunately, thousands of women succeeded in losing some of the misconception related to these essentials. Mini skirts and chic jackets are no longer sported only by bikers or Goth fans. Knee-length flared skirts, leather leggings and trench coats managed to penetrate the collections of advocates of elegance.
Sonia Rykiel, Balenciaga and Christian Dior are some of the big names that give us a lesson in spring and summer trends. And especially on how to wear faux leather outfits. Here are some pictures with spring summer 2017 fashion trends for leather clothes.
You might want to read also about:
After reading about the spring summer 2017 fashion trends let us know which are the ones you like the most. Leave your comments below! 🙂 Or who knows, maybe you are curios to discover the spring summer 2018 fashion trends. 🙂