Trendy Skirts Spring Summer 2017
By
|
There's still enough time to get the scoop on the latest trendy skirts spring summer 2017. Refresh your wardrobe with a few statement pieces like a pencil skirt, a leather skirt or a denim skirt. Take a closer look at A-list fashion shows offering hundreds of seasonal outfit ideas with trendy skirts spring summer 2017. Hopefully we managed to exhaust all the important tendencies you can adopt for this year for skirts. 🙂
Prints is the new trend for spring summer 2017
Unquestionably pencil skirt designs sell faster than any other business chic items. However, this time we decided to provide you with a few examples of extravagant and unique creations that can add a creative touch to your outfits. Versace, Anna Sui, Au Jour Le Jour and Tadashi Shoji are some of the brands that encourage you to explore your femininity with the help of prints, delicate silhouettes and soft textures.
While chatting about this subject we came up with numerous combos of summer pencil skirts for work with classic mono-colored shirts and chic blouses. On the other hand, we have the gorgeous knit midis or multi-tonal summer skirt outfits that look absolutely fabulous when associated with cropped tops, deep V-neckline bodysuits and even T-shirts.
Maxi skirts are trendy in 2017
Whether you're drawn to designer creations or you are pleased with the purchase of a few lookalikes, long skirts for women are a 'must have' for this year. There are plenty of trendy skirts spring summer 2017 with a minimalist and neat aspect that can be matched both with mono-colored and eclectic tops. In addition, you also have a few eye-catching ankle- or floor-length ladies skirts with stripes, floral and exotic prints.
The sets included in the collections of Luisa Beccaria, Carolina Herrera, Milly and Tory Burch are proof of the never-fading admiration of couturiers for volume and luxurious forms. Consider teaming up your maxi skirts for spring 2017 with a bodysuit in black or other neutral tones to tone down the dramatic effect created by layers of fabric. Also, you can put together a more festive look with a refined lace or cotton shirt. Take a look at these images in order to discover what to wear with a maxi skirt during summer.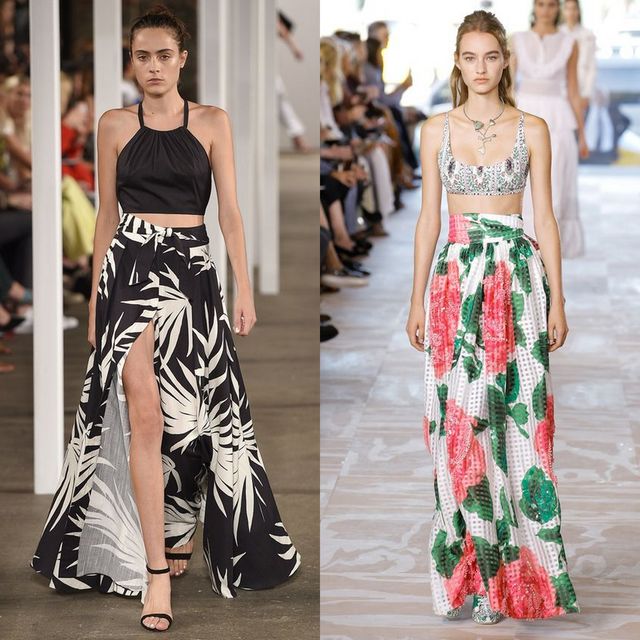 Fancy knee lenght designs for spring summer 2017 trends
Trust us, you don't want to skip the knee length skirts trend especially after seeing the loveliest designs presented in fashion shows of trendsetters like: Au Jour Le Jour, Giambattista Valli, Dries Van Noten and Maison Margiela. Wear these multi-functional skirts for spring to various informal or formal occasions. The ones decorated with 3D floral elements and glittery glam Swarovski crystals or sequins help you stand out from the crowd blinding others with your sophisticated look.
Midi pencil skirts and pleated skirts 2017 are also spotted on the catwalk, in their nonchalant and easy-to-wear aspect. Select the best item that can be easily incorporated into your warm season wardrobe. Learn how to wear midi skirts during summer.
2017 spring summer trends to follow for long skirts
When selecting the sub-points for this article we decided to treat maxi, floor-sweeping skirts and long skirts separately. Indeed, the visual effects these outfit elements create are different. Ankle or mid-calf length skirts design 2017 are so distinctive and stand out due to their exquisite and often bold aspect. Spend your money wisely and purchase a pleated, a bodycon skirt or straight skirt with high waist to create the impression of an hourglass figure.
Carolina Herrera,  Temperley, Anna Sui and Mary Katrantzou have the tendency to walk on the wild side and consider designing a form of art rather than a necessity to please the style crowd. Save your clothing style of becoming too predictable and banal with floral and Boho chic prints. Follow the footsteps of your favorite street style divas! 🙂
Trends for mini skirts
Mini skirts give us many headaches! We love to see them pop up on the fashion scene but we have too many reservations when it comes to wearing them regularly. Piano print? What?….Sooo Dolce & Gabbana! However when inspecting things closely we decided to go with the flow and embrace both the traditional and non-traditional designs.
This time we've selected examples of short skirts outfit from collections of fashion houses like: Andrew Gn, Dolce & Gabbana and Giambattista Valli, just to give you the inspo boost to consider adopting this trend. The length of these outfit staples varies from too short to just-above-the-knee length. Choose the design according to your confidence level and silhouette. Watch these beautiful inspiring trendy skirts spring summer 2017.
Denim is trendy in 2017
Denim especially in its softer version works particularly well during the warm seasons and the transition period. Therefore, we recommend you to prepare for spring by bringing some of your favorite shirts and denim skirts for women in your wardrobe from the back to the front. The latest collections of Altuzarra, Kenzo and Andrew Gn illustrate the versatility of these essentials. T
hanks to the multitude of trends, you'll find the same number of mini skirts and midi trendy skirts 2017 in the repertoire of style connoisseurs. Opt for a new tone, tailoring or designs decorated with floral embroidery or patches. Loose comfy T-shirts and blouses are top options to style with these denim skirts during summer. Accessorize your ensemble with high-heel sandals, sneakers or cool wedges.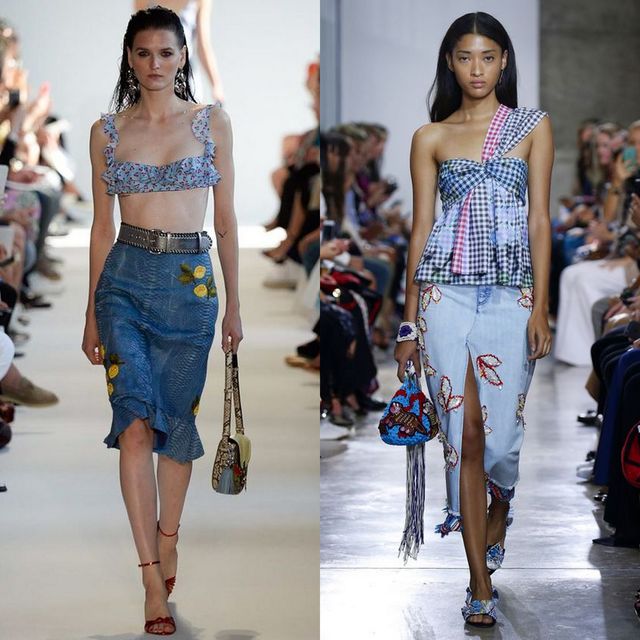 Be trendy and wear skirts made of faux leather
Swap out your regular pencil skirts with black skirts or brown leather skirts for women crafted for all body shapes and daily wear. Don't forget thicker textures offer you the necessary help to mask your imperfections as they create a fine line to your thighs and waist.
If you're not happy with dark and neutral tones go for pastels or shimmery shades that are mainstays of the past and the actual year. High street fast-fashion stores together with brands like Marissa Webb, Trussardi, Jil Sander and Dion Lee play a key role in the popularization of these skirts 2017 trends. Take a glimpse at these inspiring outfit ideas below! 🙂 . read also about red leather skirt outfits.
Cocktail skirts are reinvented this season
While numerous couturiers love to be pioneers in various trends others maintain a strong bond with the basics of fashion. Delpozo, Dolce & Gabbana and Yang Li continue to impress us with breath-taking floral skirt designs and skirts for ladies 2017. The A-line silhouette teamed up with prints, asymmetry and metallic tones is a real game-changer when it comes to a slightly monotonous wardrobe or clothing style.
The re-invention of this tendency is the secret weapon to increase the sales of fashion skirts 2017. Wear the midi versions for cocktail parties and festive events. The short skirt, on the other hand, looks stunning when matched with bodysuits, denim shirt and statement T-shirts. Let's take a look at these beautiful trendy skirts spring summer 2017.
Your skirt should be pleated this season to follow the trends
Hopefully, you're going through a new, refreshing phase with your wardrobe. In case you're looking for the best 2017 spring fashion trends to adopt, we strongly suggest you to join the club and fall for the loveliest or cheekiest pleated skirts. Are you curious? Check out the collections of  Haider Ackermann, Rochas and John Galliano.
The sets listed below illustrate how the school girl outfit staple was elevated to a more luxurious and elegant level. We stumbled upon both mini skirts as well as midi skirts spring 2017 in a limitless color palette. From metallic to pastels and neutrals you'll find hundreds of alternatives to choose from. Tap into this trend slowly! Start wearing pleated skirts with your favorite blouses and T-shirts for a fresh start.
Trendy Skirts Spring Summer 2017: lace
From time to time we must control ourselves to make long-term investments instead of emptying our pocket on temporary hits. Skirt trends 2017 provide you with ideas to make clever shopping options. Lace continues to dominate the runway, whether it's about dresses, jumpsuits or skirts.
For an injection of romance into your party-, work- or street-wear opt for similar items. Knee-length styles do a huge favor to your figure regardless of having a slimmer or curvier body. On the other hand, high waisted skirt outfits, minis and maxi skirts outfits land you in the spotlight especially when completed with high-heel sandals or pumps.
See which one of these skirt fashion 2017 trends work for you. Leave your outfit ideas and suggestions in the comment section below! 🙂 Hope you love these trendy skirts spring summer 2017 as much as I do.