47 Culotte Outfits To Copy And Look Like A Fashion Expert
By
|
Let me tell you a story about these culottes pants. I must confess that most of the time I like wearing pants, but I was not very familiar with this wide leg pants. Until few weeks ago when I saw on the street a stylish woman wearing a culottes outfit. She was so beautiful and I just wanted to look like her. I think you know that feeling 🙂 ! Searching on the internet, how to style culottes or wide leg pants with different structures, I was surprised to find so many interesting images with culotte outfits.
Wearing culottes seemed to be very comfortable, so, I shifted away from my routine and learn how to wear culottes pants this summer. 'It' girls already know that from time to time you have to make an effort to diversify your wardrobe.
Cropped pants dominate both the runway and the streets, especially during the warm season when bare legs are making a huge statement. The baggy silhouette might not be your favorite design. However, the right pair of sandals or stilettos allow you to create the impression of a slender and feminine figure. You have to take a look at these pictures to find out how to wear culottes or what to wear with culottes.
Moreover, fashionistas who are not comfortable wearing skirts or dresses will find solace in wearing a culottes pants. A-list designers and mass-market brands included in their collection a fabulous selection of minimalist and extremely elegant white culottes outfit or printed culottes outfit ideas. You will find inspiring these images if you want to know how to wear culotte pants.
In addition, you can embrace the leather or printed culottes trends which are utterly mind-blowing and need just a little courage to nail down. Thanks to the zillion different magazines and style blogs there's a constant flow of culottes images in a combo with matching cropped or oversized tops and chic accessories. In these images you will find what tops to wear with culottes or what to pair with culottes.
Scroll down to find a few impressive casual culotte outfits you can also incorporate into your traditional or ultra-modern clothing style! 🙂 Discover what to wear with culottes this year.
Denim culottes outfit
The coolest culottes pants in many shades of denim should occupy a central spot in your warm-weather wardrobe. The casual air of these pants give you the chance to associate them with laid-back T-shirts and tank tops as well as flowy blouses and shirts. When it comes to footwear I have just as much love for wedges as we have for strappy sandals.
1. How to style denim culottes? Put together a Boho look by mixing a flowy long-sleeve blouse, chic denim culottes and a pair of flat sandals. A picture about tops to wear with blue jeans.

2. Classy soft textured dark wash denim culottes are favorite pieces of women with an adult style. Pair them with a t-shirt and sandals with the same color and you will look gorgeous.

3. How to wear jean culottes? Flat slip-ons and a cute striped short top look gorgeous in a combo with culottes trousers especially if you have a feminine silhouette. Create beautiful casual outfits with jeans using a pair of culottes pants.

4. How to wear jeans culottes ? This outfit is definitely a top style option for the warm season, a chic shirt and wedges add a cool and nonchalant air to your look. Here is an example about how to wear a shirt with jeans.

5. Go for a flirty cropped top teamed up with voguish denim culottes and a pair of high-heel sandals with ankle straps. Embrace denim culottes street style. Discover what to wear with blue jeans.

6. When looking for the perfect warm-season work outfit, make sure you take into consideration this fab set of a minimalist white top, culottes and strappy sandals. Learn how to wear culottes at work. Love these denim culottes outfit ideas. This is the perfect exemple in case you were wondering what shoes to wear with culottes when you you are looking for a stylish and elegant outfit.

White culottes outfit
If you ask what are culottes? Well… these are the star pieces of the last seasons. White culottes are spotted on the streets of all fashion capitals. Build up an A-list look by relying on the alluring aura of an 'all-white' outfit. Match a block-colored blouse or off-shoulder top with cropped pants. In case you long for diversity, go for light blue, other pastel or vibrant tones mixed with white pants.
1.Black and white sets are extremely fashionable especially if you like neutral tones, you can't go wrong with.
2. Baggy trousers or culottes pants give you ultimate confort. Match with a fitting pastel tone tank top to create the perfect balance in your set.
3. Go glam with this 'top-to-toe' white ensemble and add a pop of color to your set with a pair of vibrant colored sandals.

4. No doubt, off-shoulder tops when associated with white culottes create a modern and romantic effect.
5. Put together a business casual outfit by adding a nice shirt to white cropped pants, a clutch and gorgeous high-heel sandals.
6. With a touch of pink when it comes to tops and accessories, you'll be able to bring out the most of your summer white culottes.
Culotte pants outfit
If during the summer your ultimate goal is to look stylish make sure you go for the safest outfit alternative. A black culottes outfit can solve all your problems and dilemmas. Take a closer look at the examples that teach you how to style culottes with a simple office chic white shirt, lace long-sleeve tops or a nice fail-proof tank top.
1. My favorite trendsetters still promote the 'less is more' mantra, wearing a white shirt and black culottes. You should definitely try this black culottes outfit.

2. Continue to incorporate feminine and refined items like this long-sleeve lace top and cropped pants into your casual or work outfit.
3. Transparency is also a major summer trend as it is illustrated in this gorgeous daytime outfit.
4. Work wear should not be boring and it is not, even if you go for an 'all black' set, check out this inspiring ensemble
5. In case, you might think landing in a street fashion blog takes a lot of effort, check this minimalist yet first class outfit with culottes.
6. Recreate this neutral colored outfit idea sporting a pair of black culottes with a sleeveless top and pure white sneakers.
I have selected a versatile selection of pictures of culottes for fashionistas who need a little guidance for the season. Navy is a favorite chromatic choice both for those who adore simple and contemporary trends and those who have a more experimental and an adventurous clothing style. These cropped pants can be perfectly associated with printed and youngish blouses and shirts as well as neutral colored striped sweaters or sleeveless tank tops.
1.Stripes in a combination with dark blue shades allow you to create the ideal vacation or 'riviera-appropriate' outfit.
2. Keep it cool and elegant even if you're staying 8 hours at your desk, see this nice sleeveless top and cropped pants mix for inspiration.
3. Exposing just a little portion of your shoulder is a nice trick to beat the heat and still keep your culottes trousers outfit neat.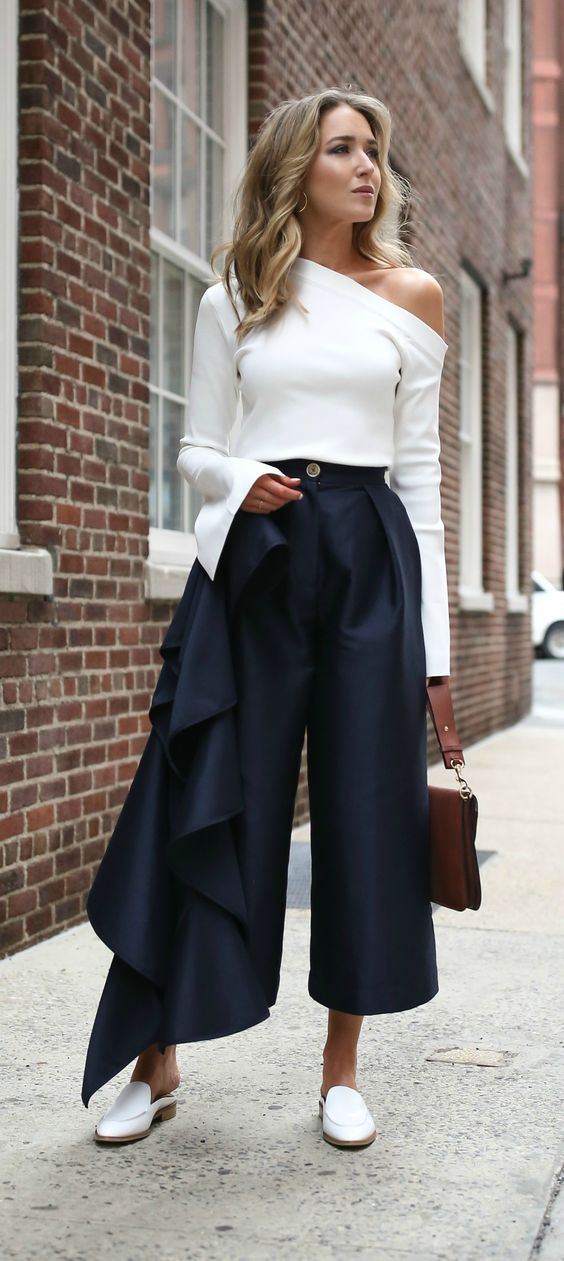 4. Match your high-waist cropped pants with a short top for a sleek alternative to your favorite urban chic outfit.
5. Slide sandals make a cute team with navy culottes especially if you top your outfit with a nice flirty short-sleeved blouse.
6. Sneakers are also on the list of 'hip' accessories trendsetters use to accessorize the culottes pants outfit.
Tops to wear with culottes
I've rounded up a few star outfits to offer an answer to hundreds of style admirer's question: what to wear with culottes? One of our top suggestions are all-time-favorite off-shoulder blouses and T-shirts. In addition, you can experiment with denim or plain white shirts for work and cropped tops to emphasize your perfectly-toned abs.
1. The beige culottes and matching wedges lend a casual and relaxed feel to this street chic outfit.
2. You should definitely give white culottes a try, especially if you prefer the black and white combos.
3. Preserve the simplicity of your casual ensembles with a pair of printed culottes and a nice block-colored T-shirt.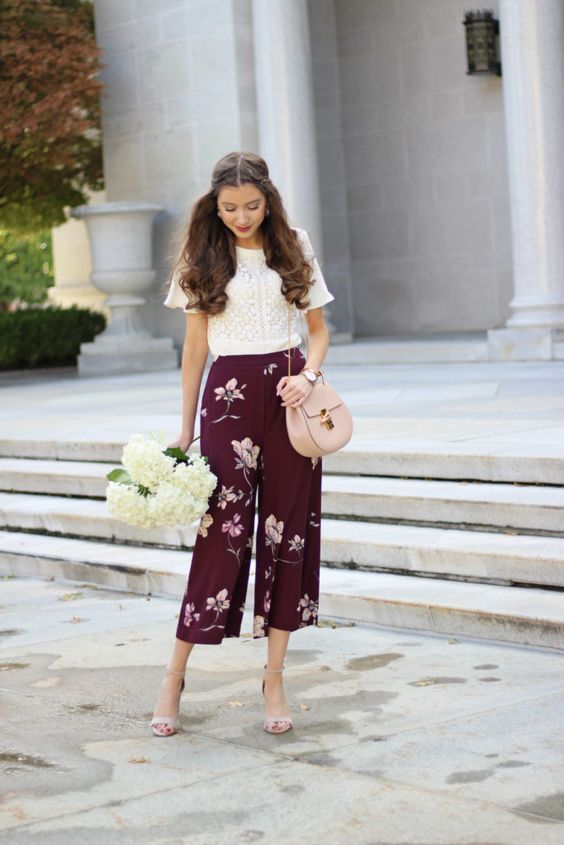 4. No wonder celebrities love to promote the bright colored cropped pants trend mixed with a white shirt and a pair of neutral or nude stilettos.
5. Pastel colored culottes are a real delight and look amazing when combined with a denim or light colored shirt.
6. Formal events give you the chance to get creative and attract the attention with a chic pair of culottes and a fitting lace cropped blouse.
Leather culotte outfits
Find a ways to incorporate these on trend leather culottes into your hot weather clothing style. Keep the rest of your ensembles simple to let these pants designs speak for themselves. When it comes to chromatic combination we simply adore the neatness of neutral tones.
1.Channel your girly glamor by sporting baggy culottes with a strapless bralet and 'must have' high-heel sandals.
2.Transparent alluring long-sleeve tops and leather cropped pants can be associated with romantic golden sandals.
3. Knee-length culottes are also a perfect style option for work if you top your outfit with block-heel sandals.
4. More and more street style divas are spotted rocking these minimalist leather culottes with sleeveless black tops.
5. White tennis shoes tone down the elegance of black leather cropped pants. Learn how to wear culottes with flats.

6. Less baggy culottes look gorgeous with oversized white T-shirt and a pair of vibrant colored slide sandals.
Printed culottes pants outfit
How to wear dress pants with traditional or psychedelic prints? I decided to provide you with a collection of outfit alternatives you can easily copy. Only your creativity can set limits to what kind of patterns you choose especially during the festival or vacation season. Take a look at these outfits with printed culottes pants.
1. Vertical stripes cropped pants flatter all silhouettes and look majestic with a white shirt and sandals.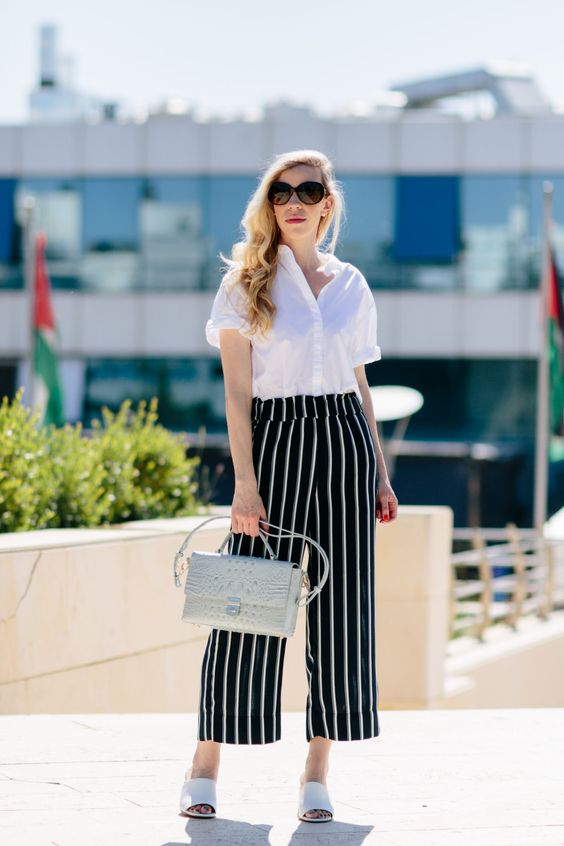 2. Fashion Week offers you a lot of inspo as this bird printed culottes outfit with cropped top.
3. Baroque or floral printed cropped trousers as this one radiate romance and refined taste.
4. It's not a surprise that plaid or printed culottes co-ords stole the heart of style influencers.
5. Vibrant shades continue to act like statement accessories especially when it comes to cropped pants and footwear.
Please read also about:
Do you like these outfits with culottes pants? Which culottes pant outfit is you favorite? I would love to know your opinion. Leave me a comment beloww! 🙂  How would you style a pair of culottes pants? What are your suggestions about how to wear culottes pants this summer?