I hear all the time that fashion at all ages should be effortless! But for me is not that easy, especially when the season is changing. I find myself wondering if my clothes are still in style or if they suit me or I should buy other clothes, just to be in trend. Casual is my style, but ageing makes me wonder what kind of casual outfits for 50 year old woman I should wear.
Searching on the internet I found many inspirational images with casual outfits. If you wonder 'am I too old for this?' when looking for various jeans or pants designs, I suggest you to get rid of the stress surrounding shopping. This year fashion will not age you, if you follow some style tips. Here and now you'll get an insight on how to hold on to your personality and put your physical assets in evidence.
However, fashion for women over 50 has become more versatile than you think. Moreover, casual style doesn't consist anymore in baggy clothes and neutral colored boring accessories. Realizing what clothes you have and then, incorporate them into, your wardrobe will not be a struggle anymore!
Furthermore, each age group has its own dilemmas. Trust me, casual outfits for 50 year old woman need just a little planning. Mix matching different shades can so easily be learned as well as the way you associate your silhouette with various tailoring designs. Looking fashionable should be your new year's resolution! Let these real trendsetters open the door for change and convince you that you only need a few essentials to be chic over 50.
I've compiled a fab collection of looks for 50 year old woman in order to create a casual style. In conclusion, striped or printed dresses, midi skirts and cropped or flared pants are more fashionable than ever. These women's clothes allow you to build up diverse and inspiring casual outfits for women over 50.
Outfits for women over 50
To be stylish and casual in the same time is not an easy thing to do at any age, not only after 50. That's why, in my opinion, is a good thing to find inspiration and try to copy the outfits that fashion bloggers propose. Searching for that inspiration on the internet, I discovered Tatiana Moskatova, a fabulous fashion blogger.
You should follow her blog if you want to dress like a lady with a lot of good and common sens and even her blog name is "My Faboulous  Forties", I think Tatiana is an inspiration for women at any age. She's a fashion icon and that's why I've asked her which is this year's main fashion trend she likes most:

"Definitely velvet! I am very happy about this trend. I can finally wear it not only for special events but also in my daily life. Nowadays, we can easily style a velvet skirt with an oversized sweater and chunky boots or a velvet button-down shirt with jeans. And when the day ends we can switch these beautiful velvet pieces for night-out outfits by adding something festive. " – Tatiana Moskatova.
During my internet research, I discovered Rena, a wonderful blogger from Bavaria. Her outfits are a source of inspiration for women around the world at any age. Because I consider her a fashion expert and her opinion matters, I asked her which are this year's fashion trends that she likes most and that she would follow.
And her answer was: pleated skirts, hiking boots and chunky knits. Let's see in the following images, some impressive outfits that Rena likes to wear.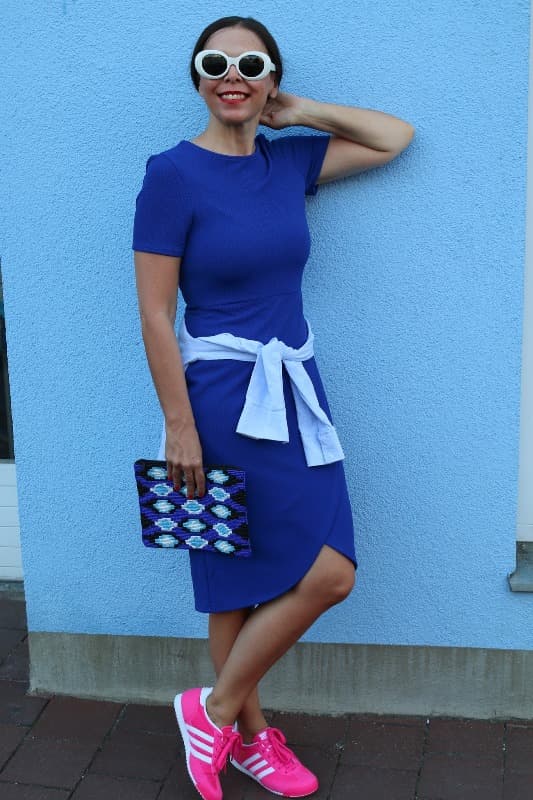 Break out of the style rut and feel stylish at the same time with mid-length flared skirts. A white shirt will send the message that you mean business.
Reconsider your attitude towards investing in a denim shirt. I can assure you it is the real deal to put together modern and stylish casual outfits for over 50.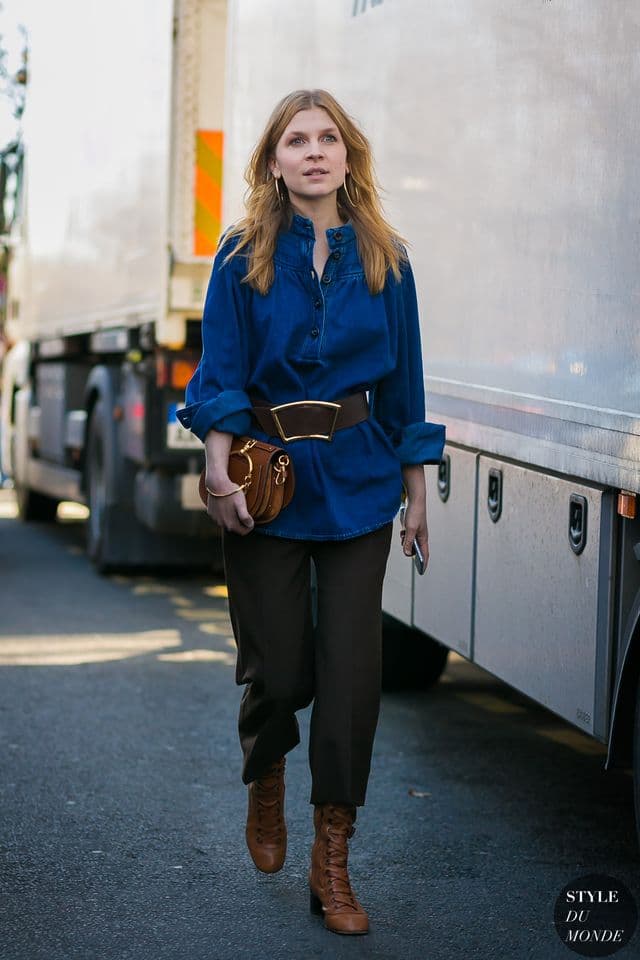 See this lively colored jacket in a combo with a midi skirt and lace-up boots that add length and a fine line to your silhouette. If purple is not your color think of beige and maybe a classic long black skirt outfit or a black leather pencil skirt outfit ideas .
Team up a vibrant colored turtleneck with a nice block-colored dress to keep things simple and still create the impression of an adult and elegant woman. Find these inspiring summer casual work outfits for 50 year old woman.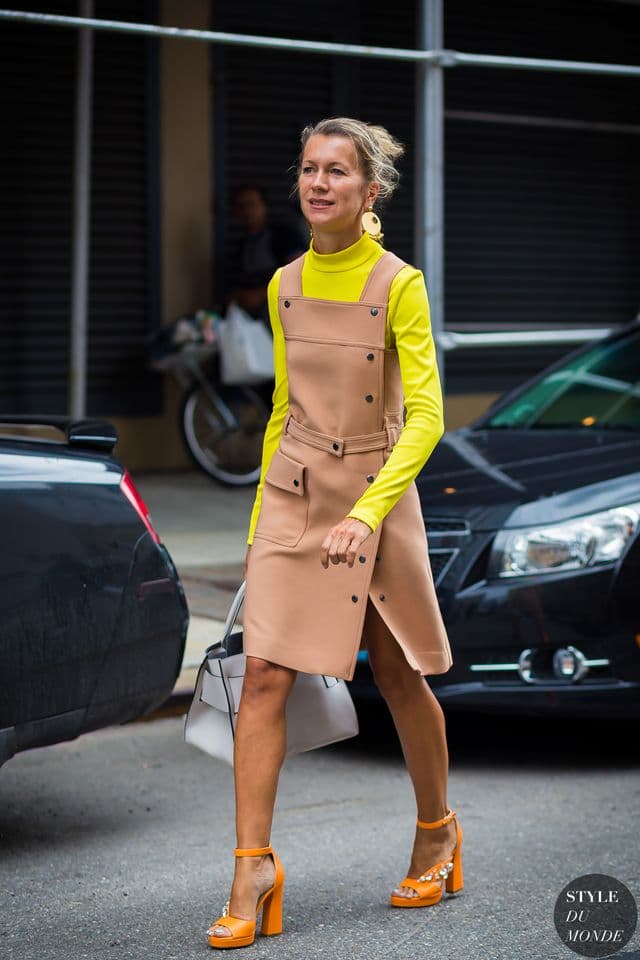 Shearling jackets continue to dominate the trends. Pair them with straight jeans and definitely high-heel boots. The heels will add to your height and create the effect of a slender silhouette.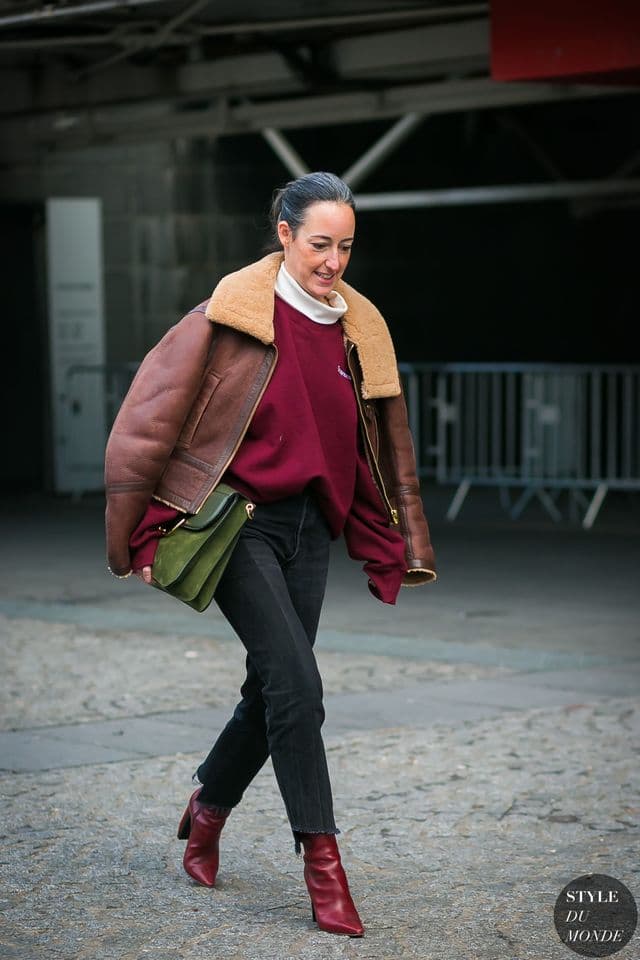 Fashion over 50 is not only about trends, I know that you say you deserve comfort. You're right that's why you should take full advantage of the poncho craze and loafer trend.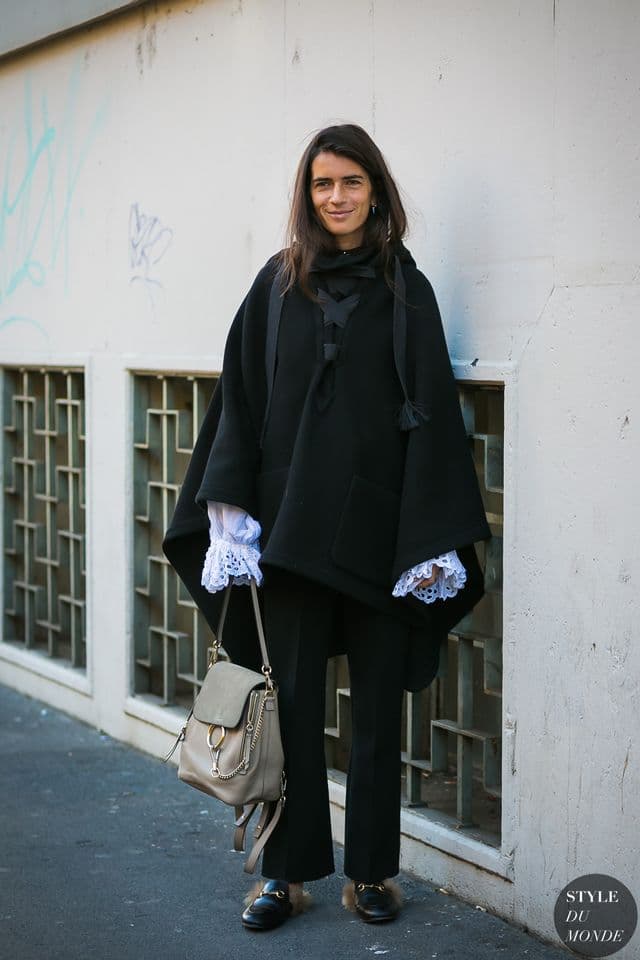 Forget about grandma style! Animal print is voguish at every age. Put on a nice simple white shirt, a printed blazer, these bootcut super-flattering cropped pants to flash some skin and pointy-toe sandals. The secret to success is to stop at one animal printed piece!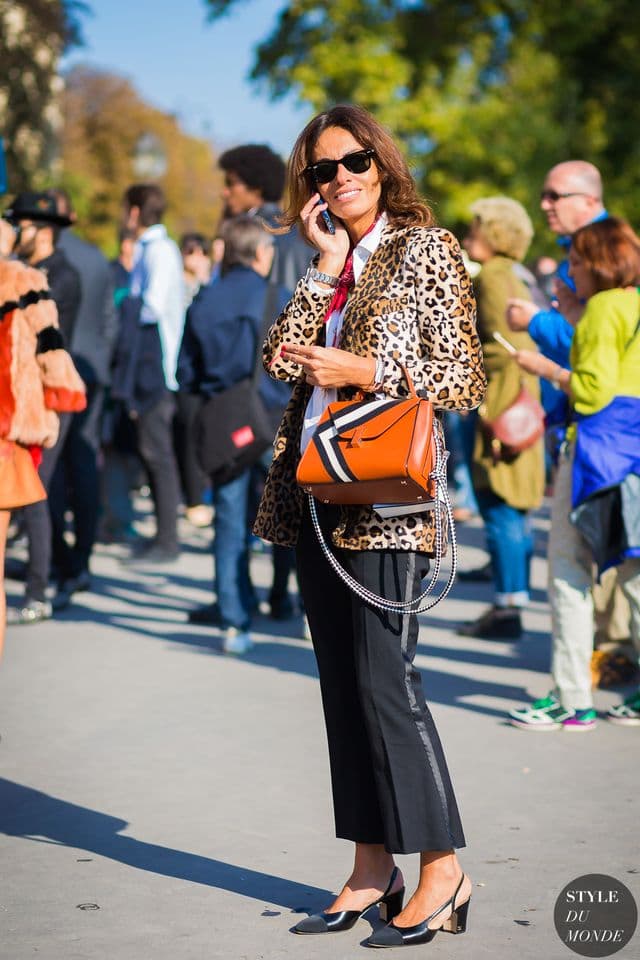 source
Bootcut cropped pants with fabulous floral or baroque prints send the message of 'I know I still have it'. Moreover, this tailoring design suits all body shapes. Keep things simple with a matching white T-shirt or blouse and fine colored sandals. Try to copy these casual outfits for summer and you'll feel stylish.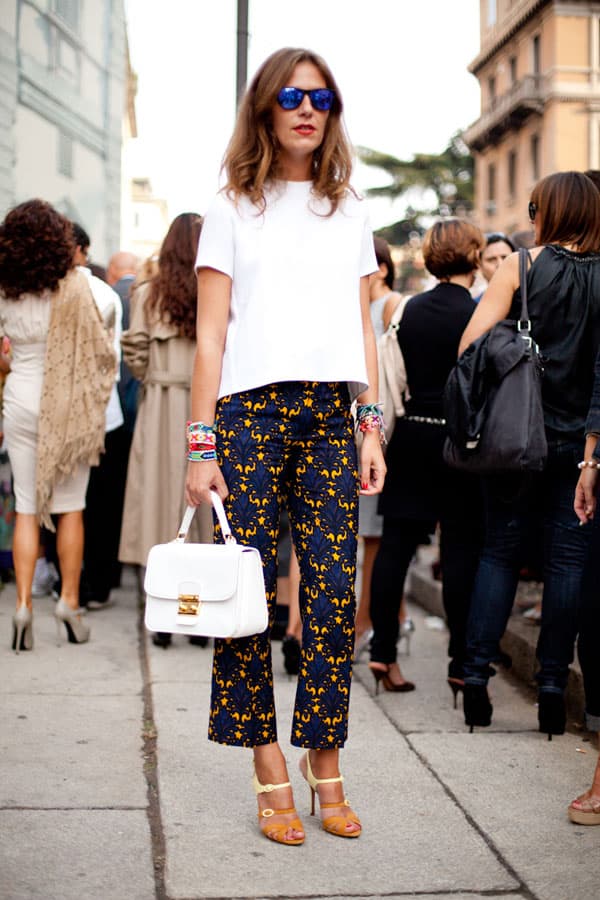 During winter, swap your boring clean cut tweed jackets for a similar medium-length puffy jacket with furry hoodie. This outerwear design allows you to wear your favorite straight jeans and booties. See that hat? Now that's the extra you need for uniqueness!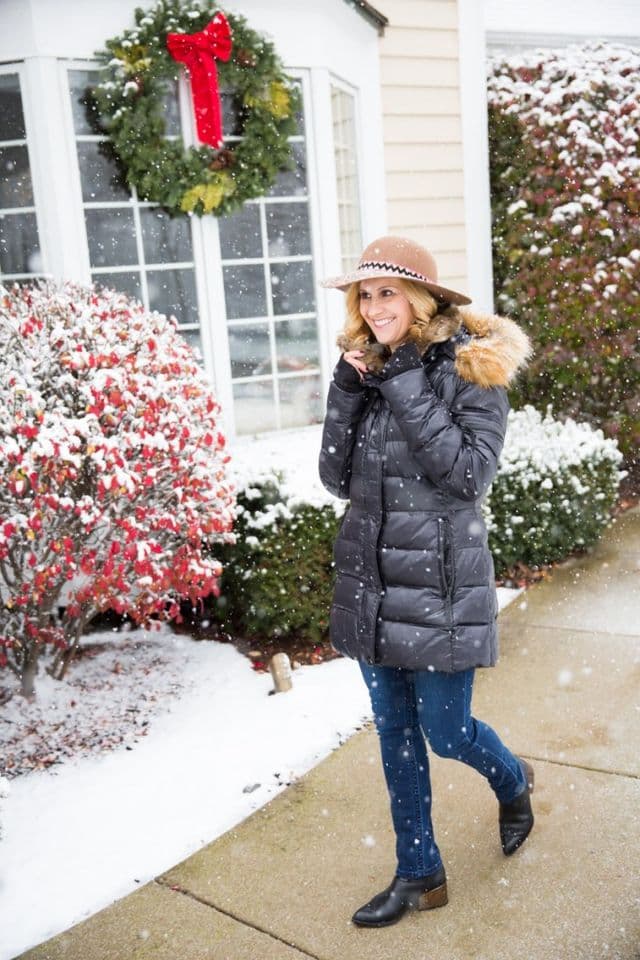 Fashion for 50 year old woman will not age you, instead it will help you embrace your life lover side. A striped, knee-length skirt, a simple black blouse and a blazer can make up the core of a summer work outfit, the red necklace and tote will only spice things up.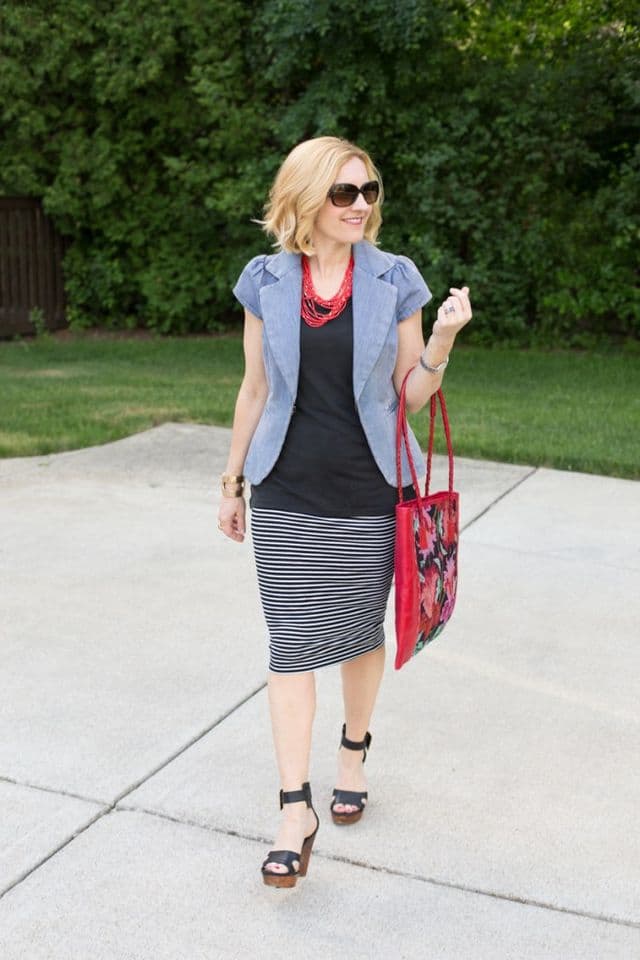 How should a 50 year old woman dress if she is still drawn to modern and youngish trends like roll-up jeans? Here's the example, I've selected for you! A fab cardigan, a pair of suede booties and an oversized bag guarantee the mature and elegant factor.
It's time to get rid of the misconception that outfits for women over 50 are mostly boring and lack any creativity! Let me show you how to take things to the next level. This tie waist cardigan, boot cut trousers and chunky-heel boots will turn you into a trend- and also body-conscious woman.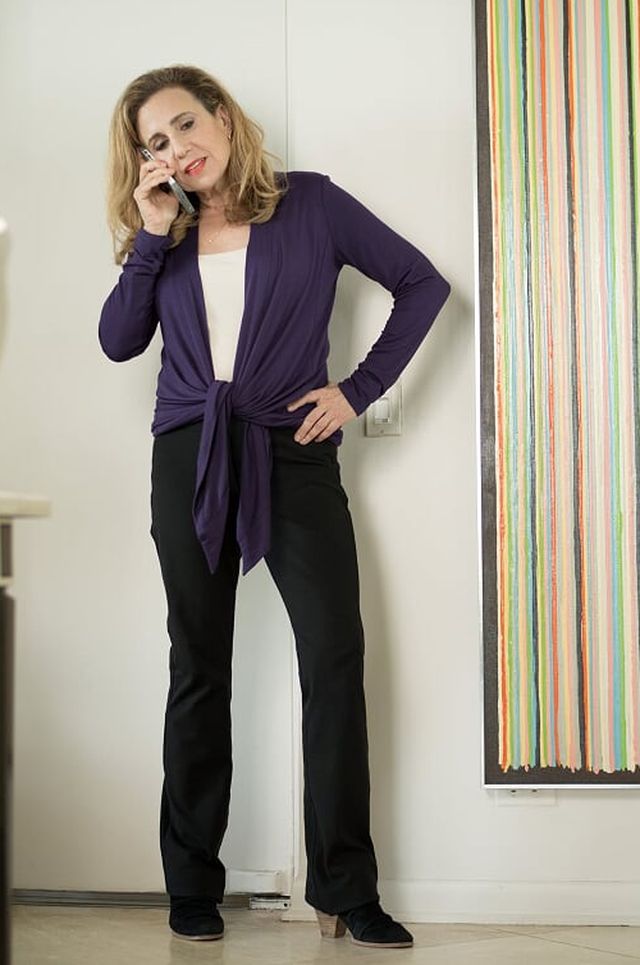 Wait a second! I know that you wanted to scroll down the page without stopping at this image. 🙂 Give me a minute to prove you were wrong! Instead of wearing a white pencil skirt outfit, check the white straight cut pants, believe it or not it is a 'must' for the summer, especially as this neutral tone is the epitome of elegance. Also, I feel the need to defend strapless tops especially if you have a beautiful skin, why hide it!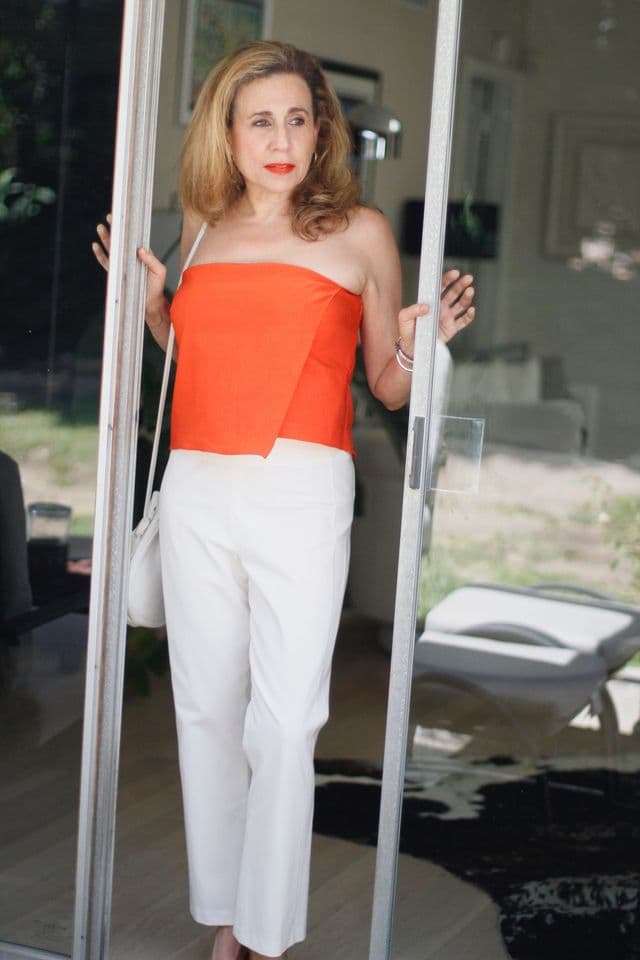 Yes, I know wide-brimmed hats are not everyone's favorite. However, you just can't deny how flattering these white pants look with a romantic off-shoulder blouse that flashes only a small portion of your shoulders. It's good taste teamed up with courage! 🙂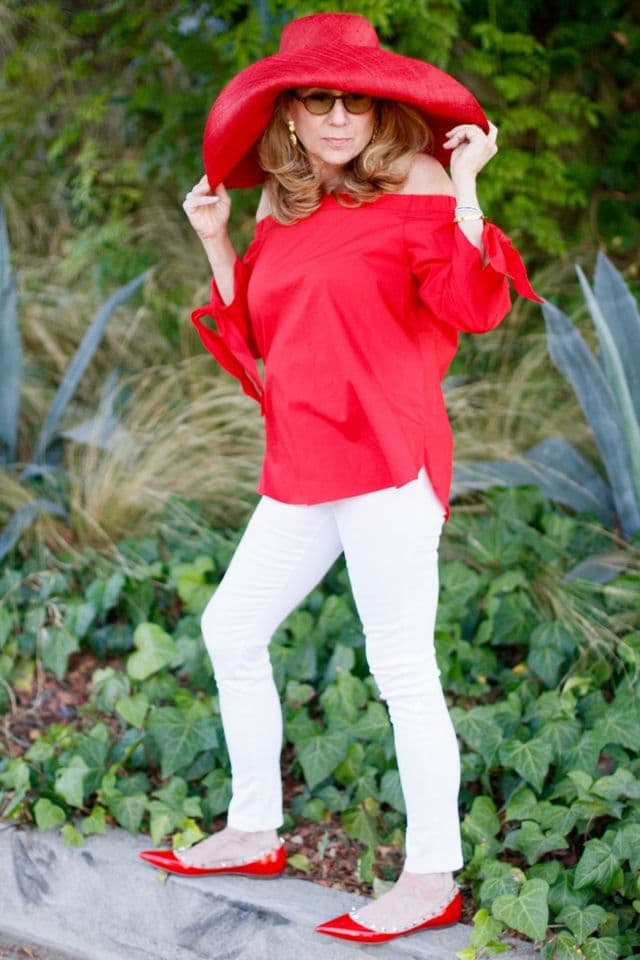 source
Casual outfits for women over 50 are spotted all over the internet. It seems that dropped-shoulder summerish blouses should be your next style purchase. Think of a top to wear with culottes or wide-leg pants with a nice vertical stripe print that visually lengthens your silhouette. Find here what shoes to wear with culottes if you are searching for ideas.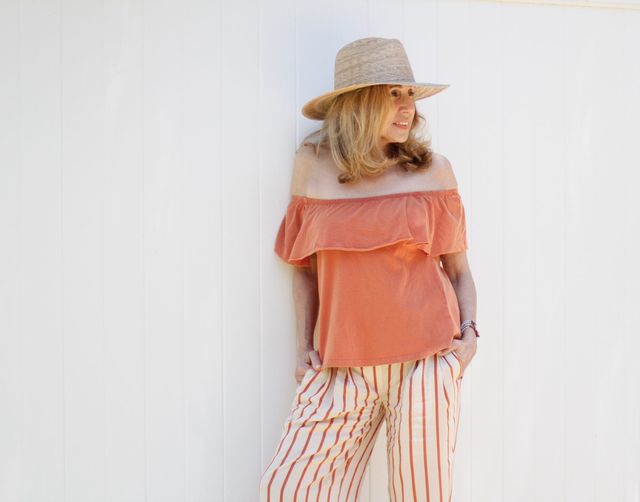 My heart goes out to you, ladies who are not afraid of flashing your eye-catching figure. These cropped skinny jeans create the perfect base to top with a floral printed summer jacket and wedges. There's always a way to stick to your style crushes. 🙂 If you are that skinny you should see also my trend report about how to wear boots with skinny jeans.
source
Confidence is everything! A pair of nice boot cut cropped jeans are the perfect start, then add printed blazers in subtle black and white tones. While metallic shades are not recommended in excess these silver slide sandals add just a touch of glamour to your set.
Is there an inner critic that won't allow you to make dramatic changes in your casual summer outfits with jeans for over 50? Now, let me silence it for good! Juggle with transparency in a stylish and sleek way. Put a sheer shirt on a simple black tank top, go for neutral colored pants and minimalist yet trendy fringe sandals. Try this classy summer going out outfit. This would be the perfect outfit if you don't know what to wear on a date for drinks.

Do you have the tendency to simplify your wardrobe and stick to a few favorite pieces. That's ok!:) My advice is that you make a few conscious fashion choices like this long shirt, cropped jeans and chunky-heel sandals that are surprisingly fashionable at all ages. No doubt the cross-body bag and sunnies add a nonchalant feel to the whole outfit.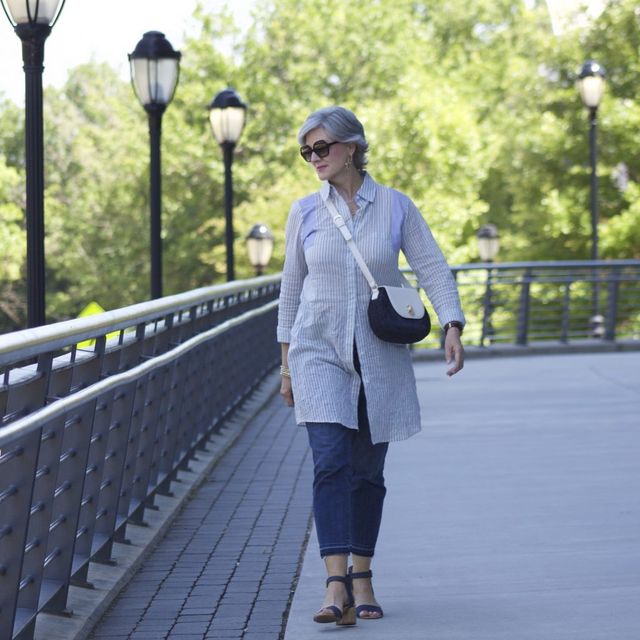 You don't have to struggle to look younger? Neutral colored T-shirts are your best friends as are bootcut jeans and minimalist cardigans. Play with accessories to go from casual to elegant outfits.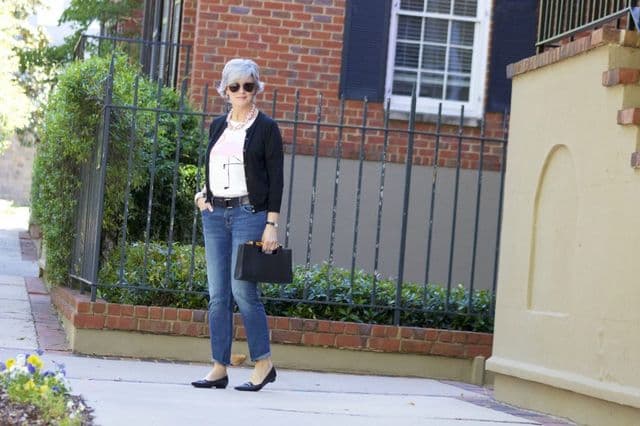 source
21. Playful is a term understood differently by various age groups. In this case, outfits for 50 year old women can be perked up with a timeless denim jacket and cross-body bags. Also black straight cut jeans and suede ankle boots are basics to mix and match with different tops.

source
It's safe to say that the decades did not steal from the popularity of denim skirts. Distance yourself from minis and go for midis so that you can feel comfortable. Opt for a nice shirt and just an air of extravagance with leopard print heels and a belt.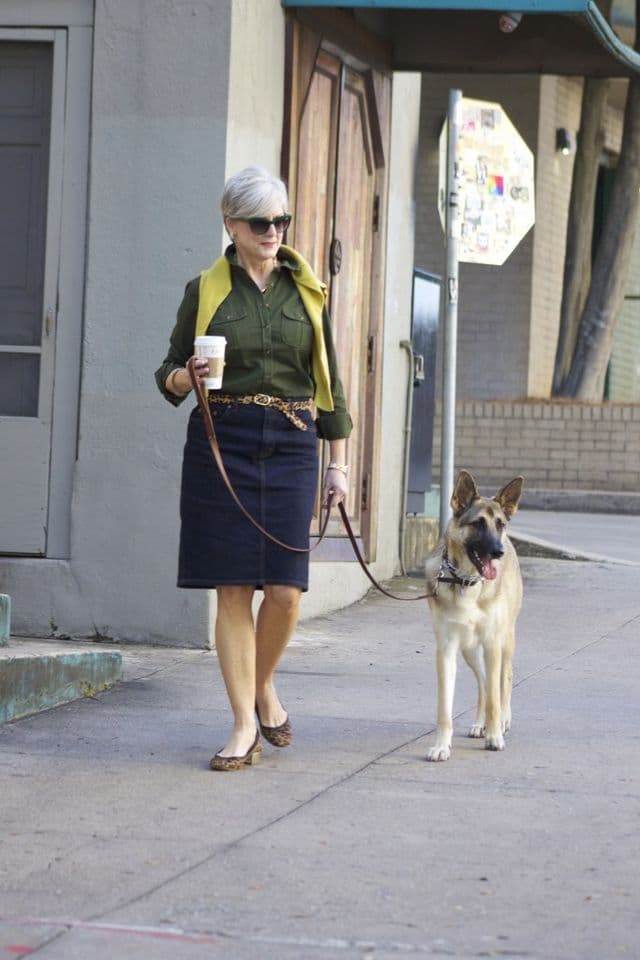 Indeed, there are a few staples that can sum up your personal style. This finely sculpted shirt with vertical stripes is an ideal item to pair with black culottes. An black square pants outfit that suits you both if you have a plus size or a slender figure.
Enjoy the summer breeze by sporting sleeveless tops. Get rid of your reservations when it comes to how your arms or skin will look like. The emphasis will be on your overall set and modern vibe instead of details like that.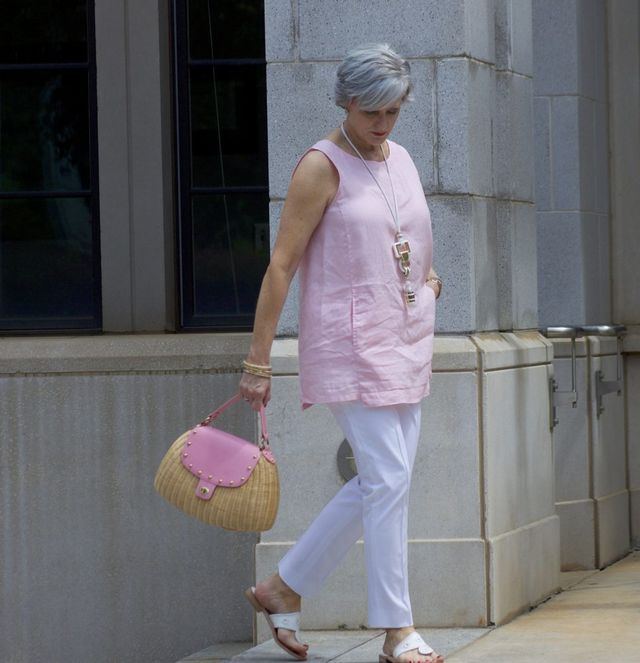 source
Replace jackets with versatile blazers! These statement pieces look so nice when paired with a printed top and casual straight or boot cut jeans. A red belt and ballet flats will make you feel that you had your share of fun when building up this outfit. 🙂 Take a look at this outfit and learn how to pair casual shoes with jeans or use it as inspiration when you don't know what to wear on a casual date.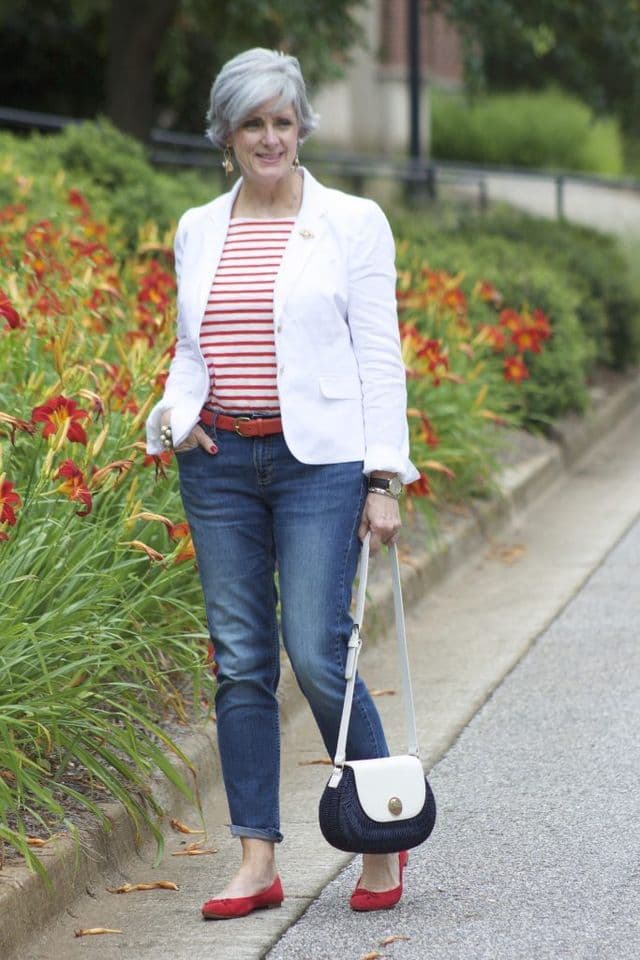 source
Printed pants will always help you stay in the game and avoid monotony. As you proceed through the years the size of prints should also grow. A matching color cardigan and a nice shirt will offer a laid-back air to your summer casual outfits for over 50.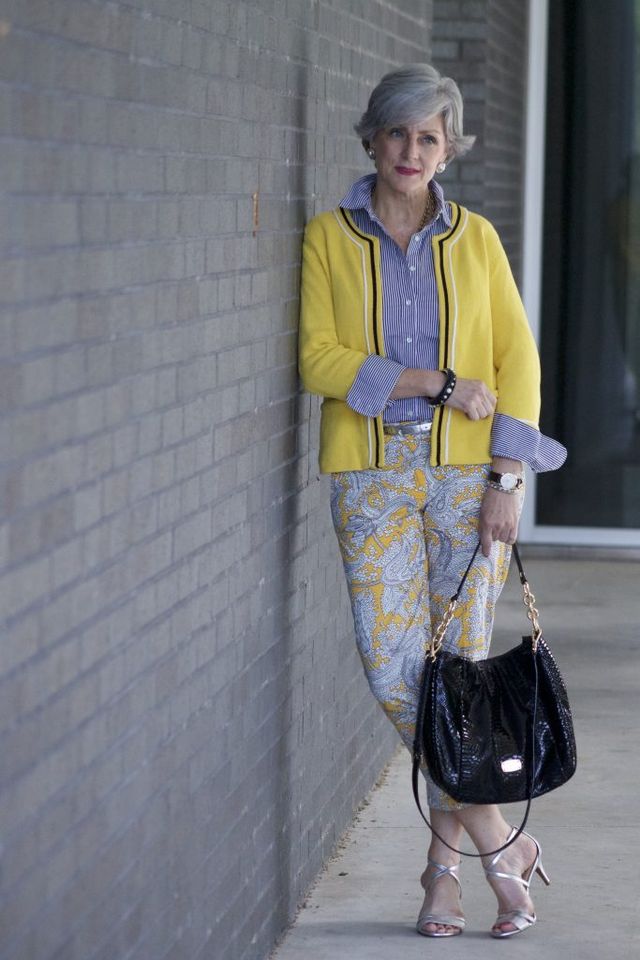 Look as young as you really feel! In case you just can't part ways with denim, consider these tunics and cropped pants as fashion-forward items for your everyday looks. Red sandals refine your utilitarian set.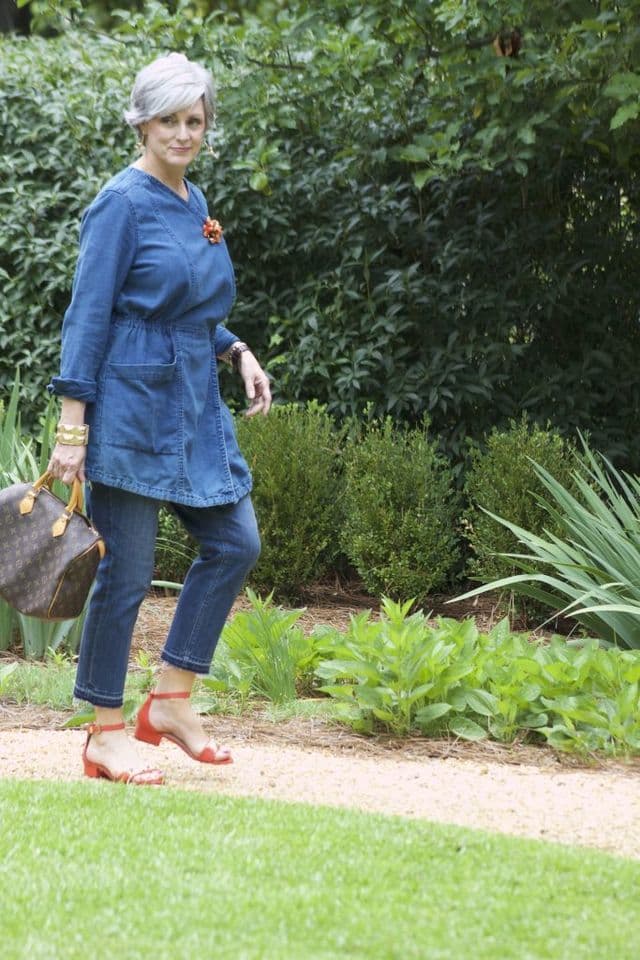 At times when you just want to say it's unfair that fashion over fifty is chromatically limited, put on a pair of pastel or vibrant colored shorts and eventually a polka dot blouse. It's summer don't hide under long pants or long summer skirt outfits. Details that make this outfit still fashionable are the white jacket and slide sandals. Besides, this is a better choice than searching for outfits with jean shorts.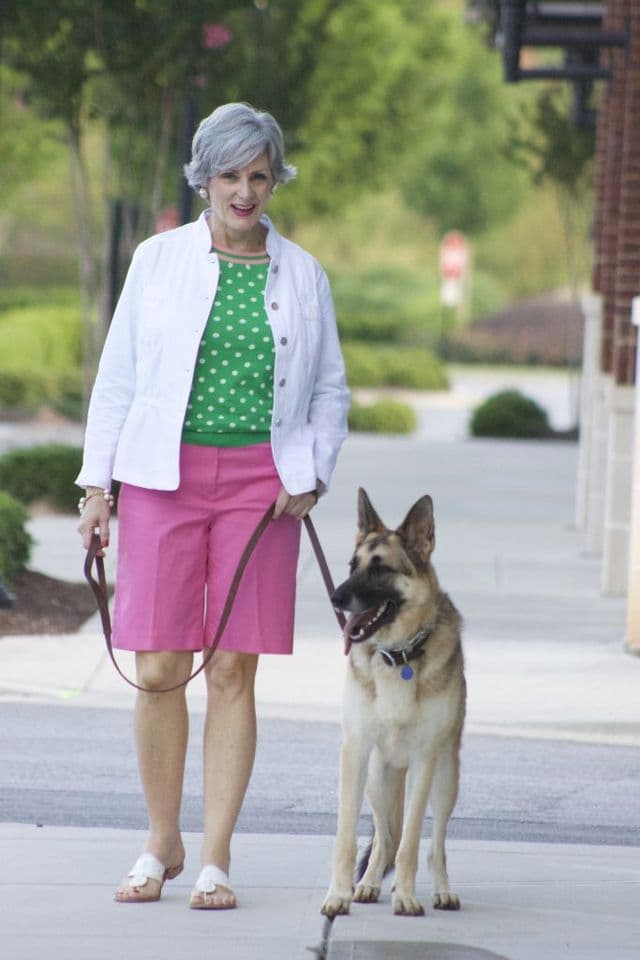 Age-appropriate fashion should not be considered a limitation. What it says is that you sport clothes that make you feel and look good. Like these neutral colored pants teamed up with a striped V-neck top that can hide all imperfections and flat sandals.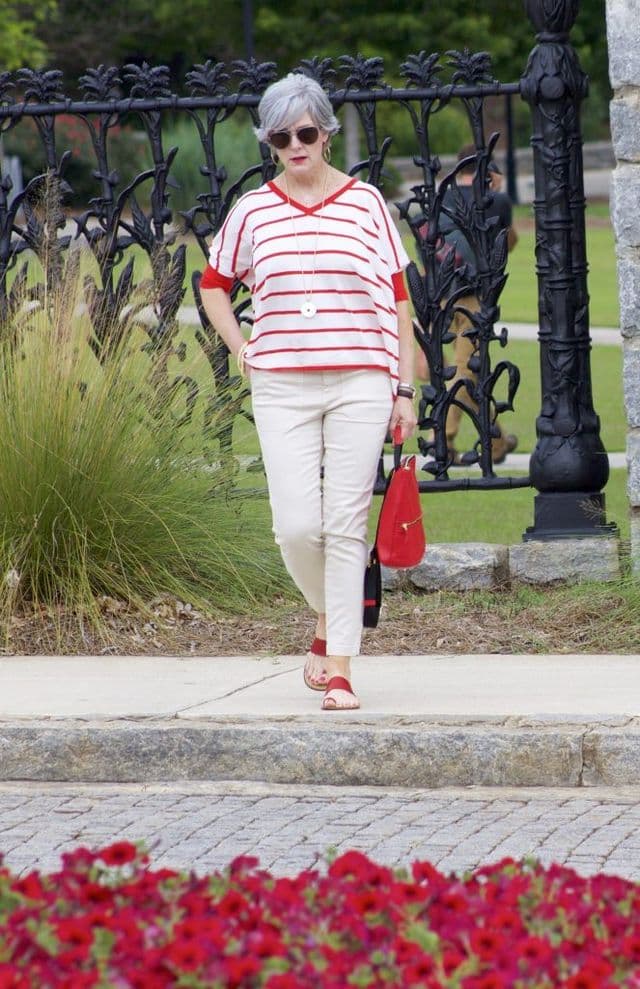 Invest in pastel or light colored pants you can wear all throughout the warm season. Opt for a straight cut instead of a fitting style if you are not 100% pleased with your figure.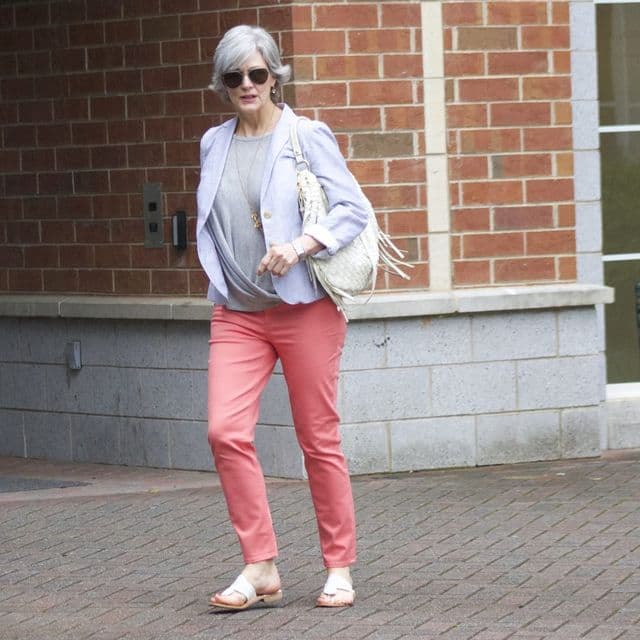 This age group is about style commitment. Instead of losing yourself into the tons of pants designs, purchase a few pairs of boot cut jeans you can roll-up wear with loafers, high-heels or sandals. Also, stay in touch with your feminine side with striped shirts and cardigans.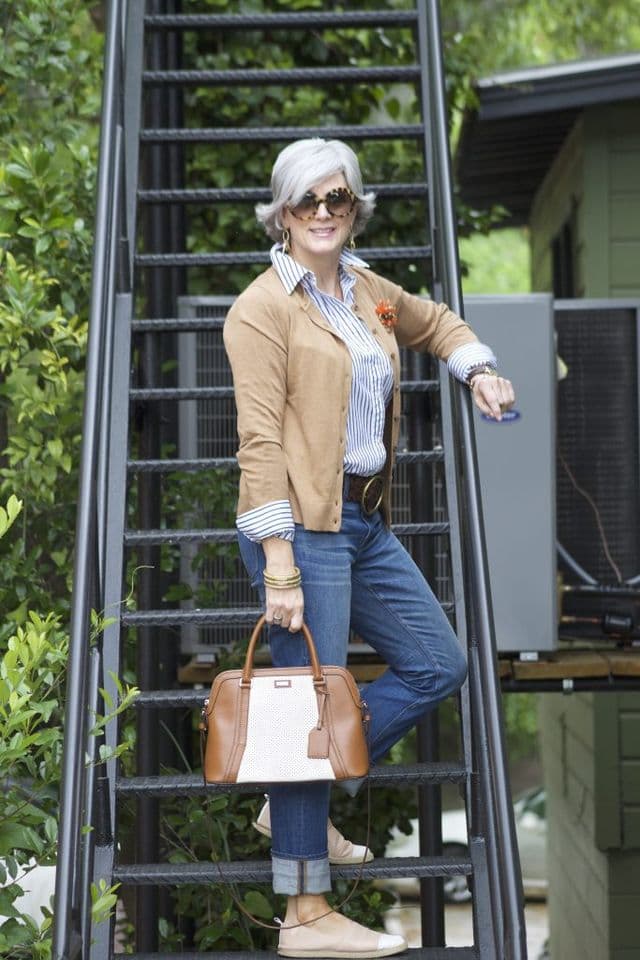 Try to make an impression with your refined sets that will make younger fashionistas envy! Like this one. Boot cut jeans, a nice black cardigan, white T-shirt ad block-colored pumps you just can't go wrong with!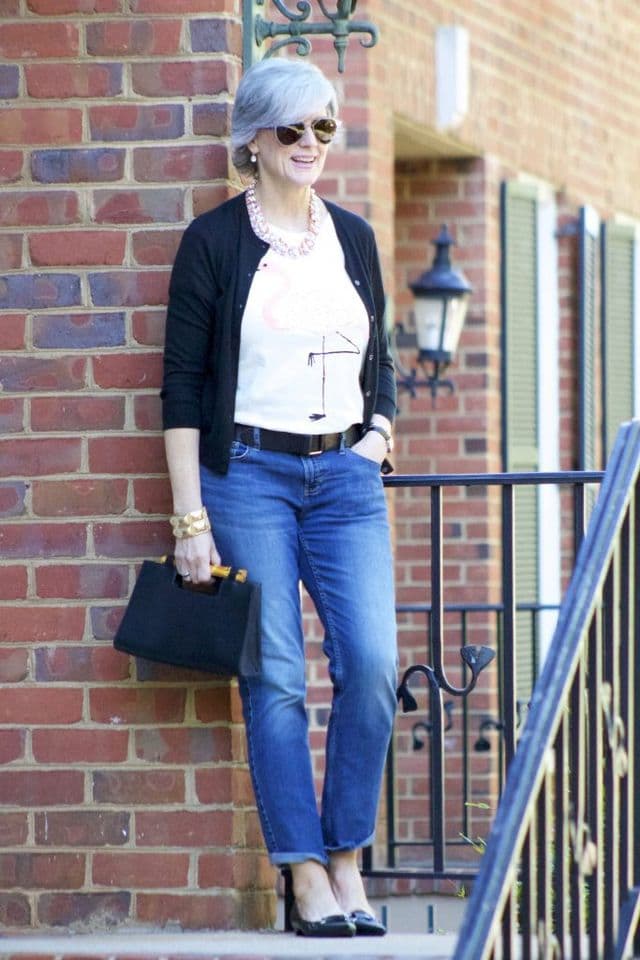 source
While some outfits seem impossible to copy, this is an exception. You don't have to spend extra money only on an accessible and classy poncho in a lighter shade. This star piece will give you hundreds of admiring glimpses regardless of your silhouette.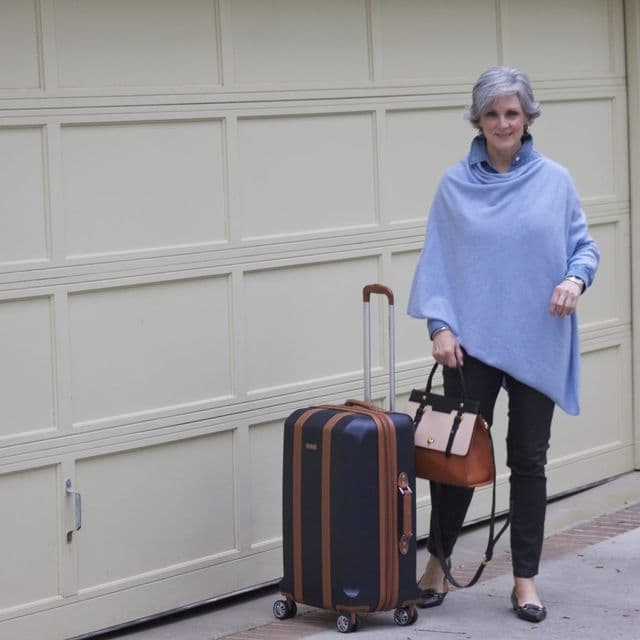 source
Neutral colored outfits are easy to nail down. Think of pure white blouses and neatly rolled up pants, a grey blazer and matching accessories. There's depth and sophistication in this simplicity.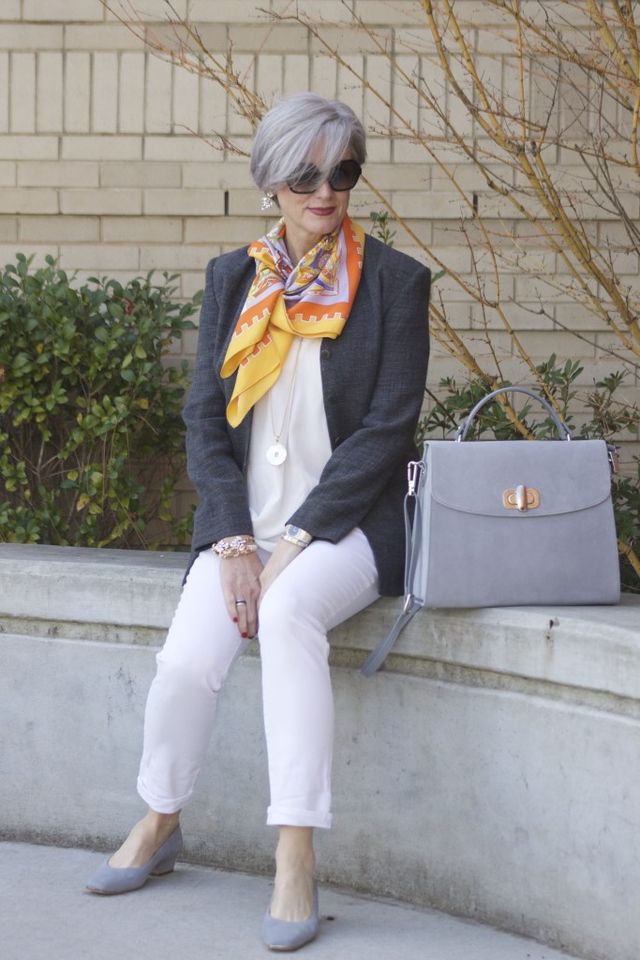 Yellow or mustard wasn't your thing before? It should be now! 🙂 Combine these vibrant and risky tones with black, brown or dark blue for a set that celebrates who you really are, a free spirit.
source
Chino pants with shirts are a win-win for all figure. To add a youngish and modern vibe to this simple set go for slip-ons and a nice scarf tucked into your shirt.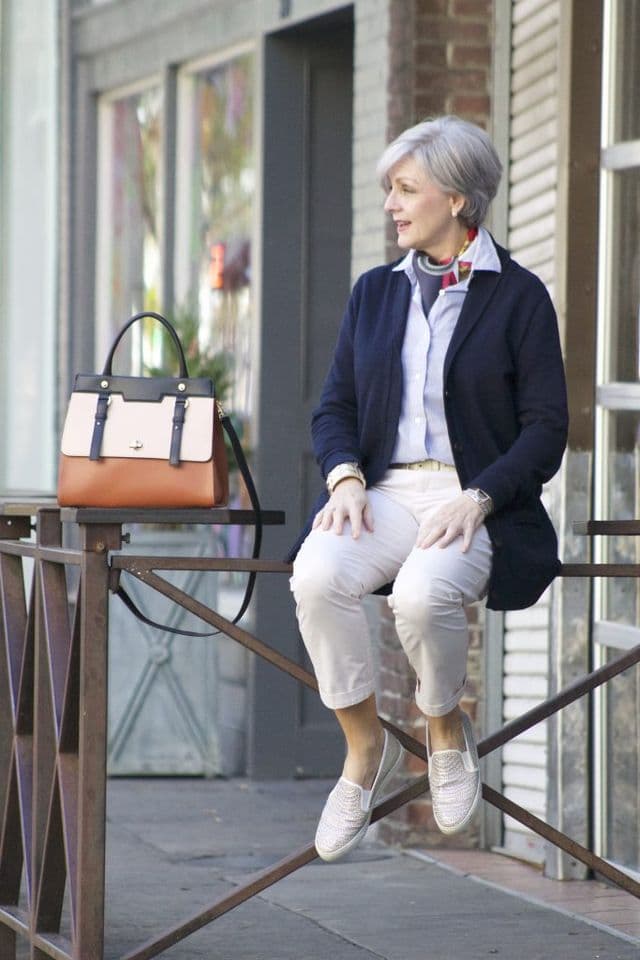 source
Check how accessible these casual outfits for 50 year old woman really are. Straight jeans establish the perfect contrast with puffer coats even if you are a plus size fashionista.Whereas a turtleneck adds an utterly feminine twist to your winter set.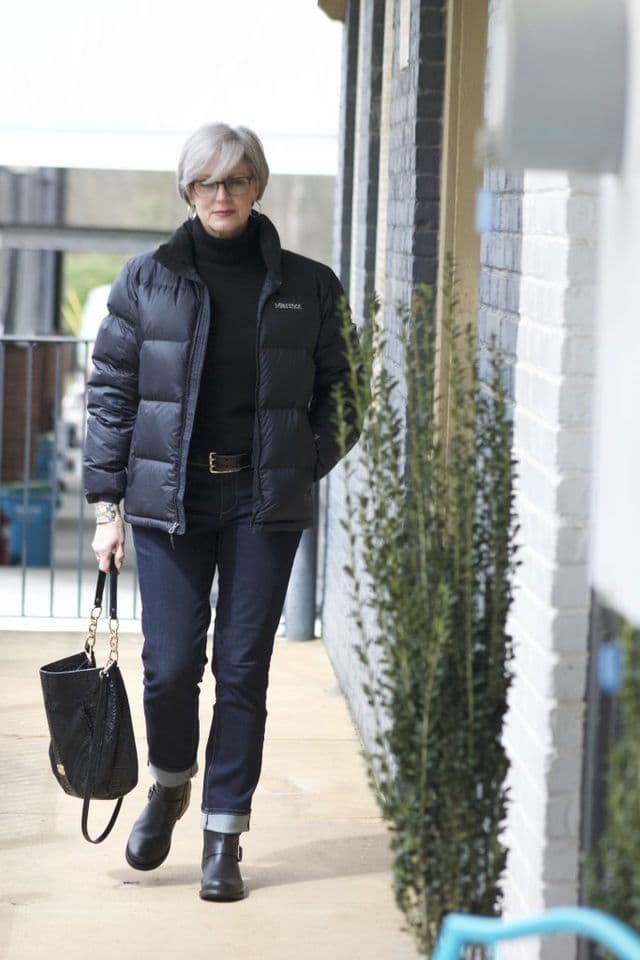 source
Styles for women offer 50 vary from casual to mature and elegant. Ponchos are your ticket to land on the best dressed list. You can match them with both loose-fitting comfy jeans and even skinnies if you are proud of your curves. Include this look in your collection of stylish fall outfits for women.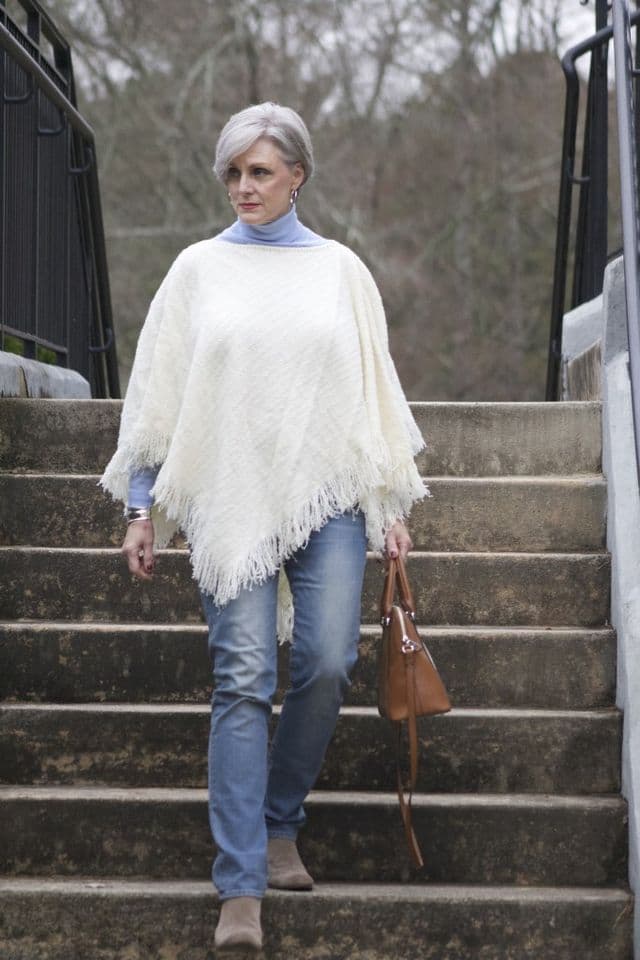 Mildly distressed jeans are 'in', don't be afraid to wear them. The combo with a chic shirt and a blazer will preserve the maturity of your style.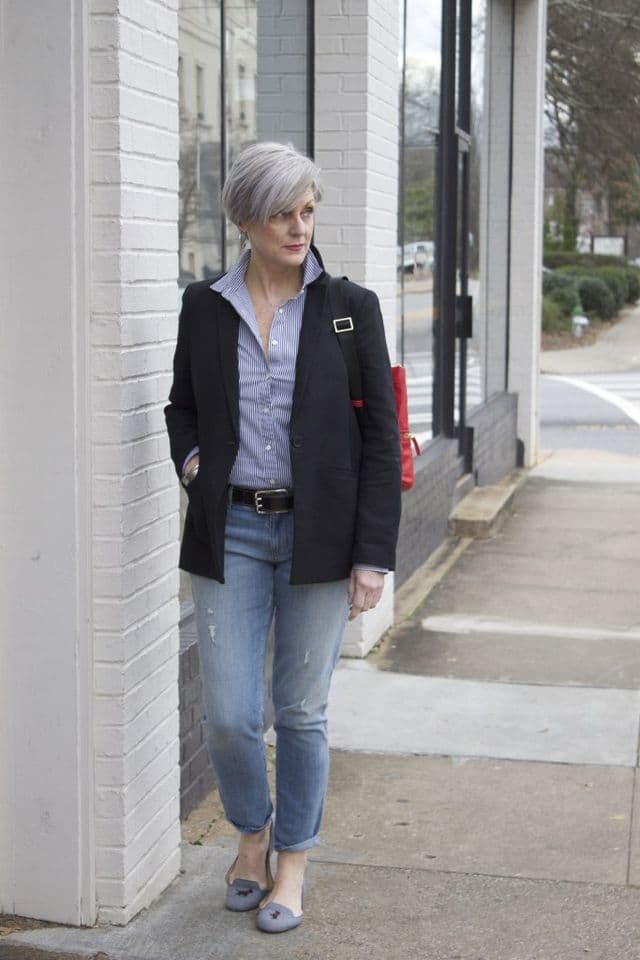 Vibrant tones are more tricky to nail down at this age. However, you can opt for the softened shades of green and yellow to express your vivacious side. Also, white trousers scream summer and elegance. Watch these beautiful casual outfits for 50 year old woman.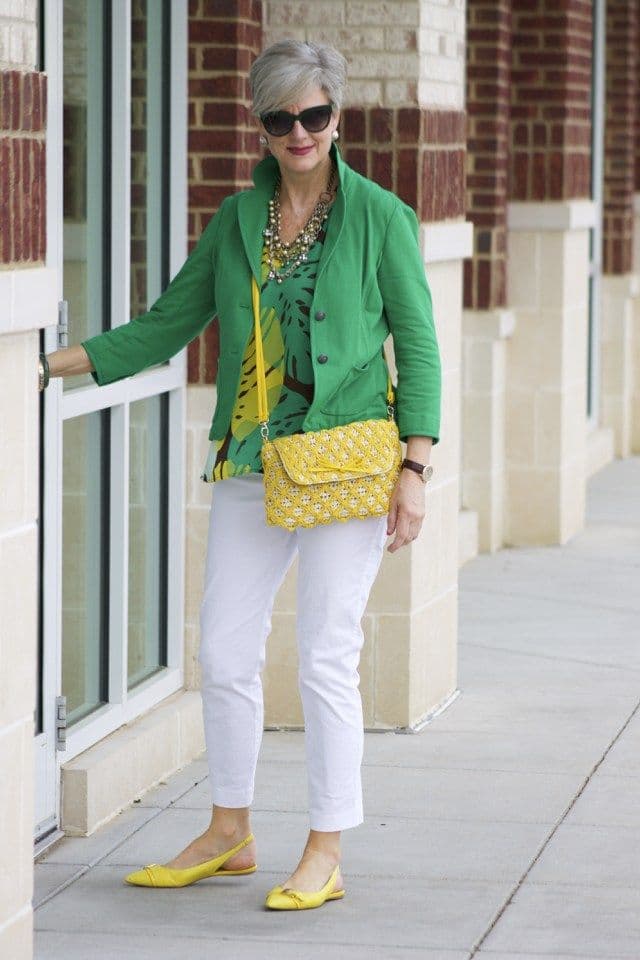 You associate these ponchos with grandma style? Instead of wool or tweed trousers team them up with jeans and knee-high boots for a fresh and street chic vibe. Dark blue flatters all silhouettes. Personally I love these casual outfits for 50 year old woman.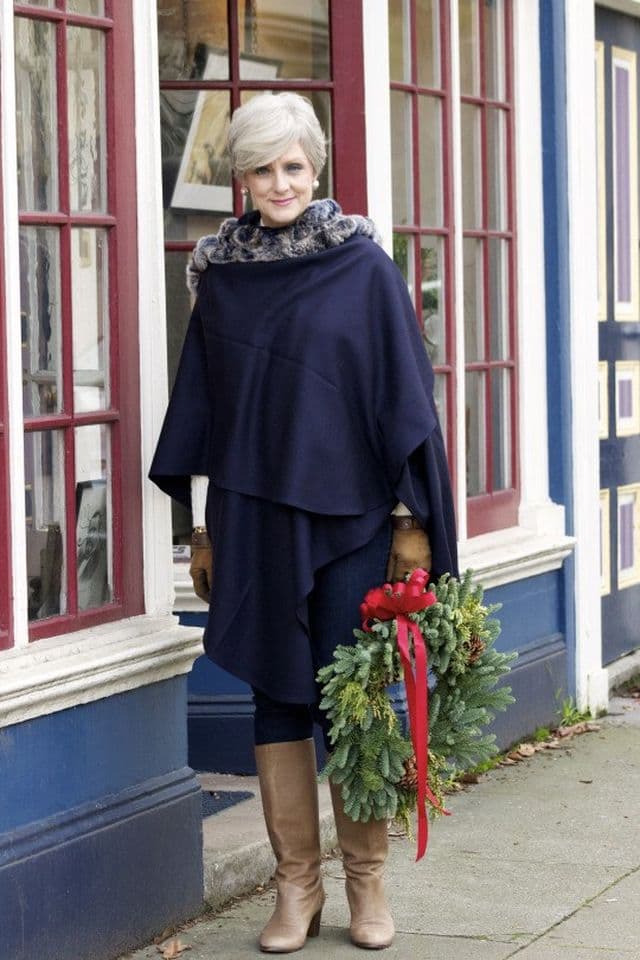 Looking washed out is a tendency of women of your age. However, you must resist and fight lack of inspiration with block-colored cardigans in deep and fine shades like burgundy, wine, red or purple. I find inspiring these casual outfits for 50 year old woman at any age.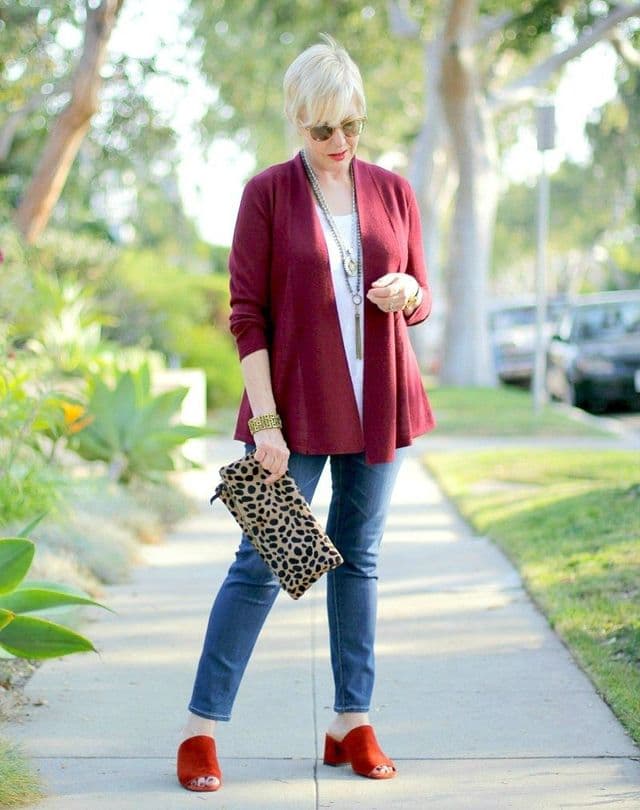 You think white will only land you in the spotlight a place you don't really prefer at this age? Don't deny the elegance of this tone and find pieces like an asymmetrical top and cropped pants that bring out the best of your summer outfits for ladies over 50.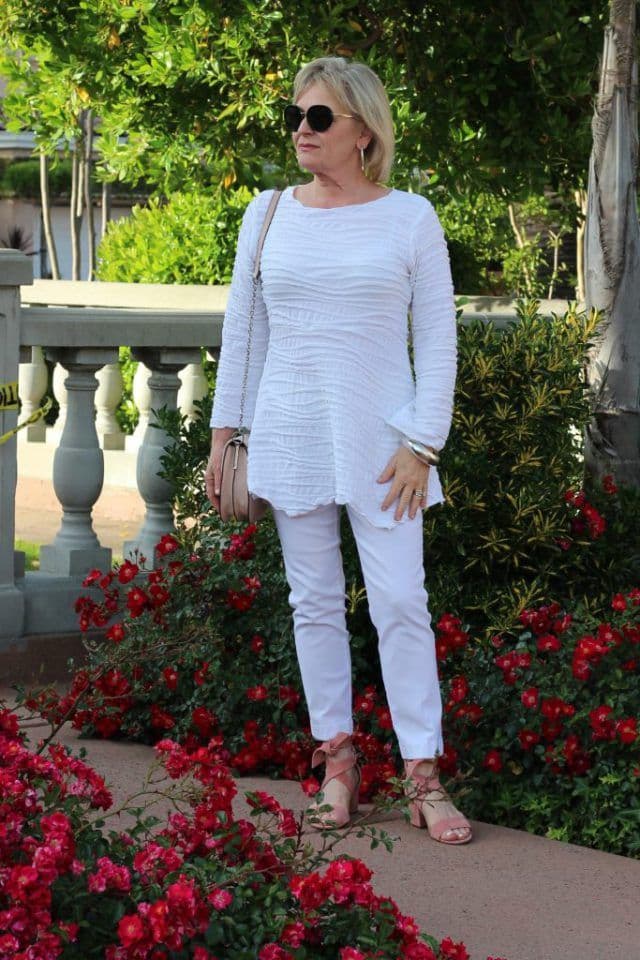 Stay away from shapeless and loose clothes. You don't have to be a size 0 to look gorgeous when you are looking for casual outfits for 50 year old woman. Invest in a pair of mildly wide-leg pants with vertical stripes, a simple tank top and a cardigan.
source
Next time, try a simple and a beautiful casual outfit for fifty years old woman, like the one from the next image. It's a perfect association of colors in this picture.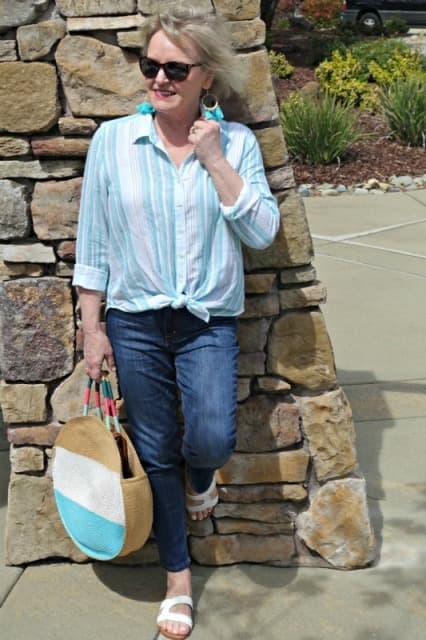 Even if it's summer and hot outside, try this beautiful two color association of black and cream, like in this picture. It's simple and casual and perfect for women over fifty.
If you are lucky to have a beautiful body when you are over fifty, take advantage and try a casual spring outfit like the one from the next picture.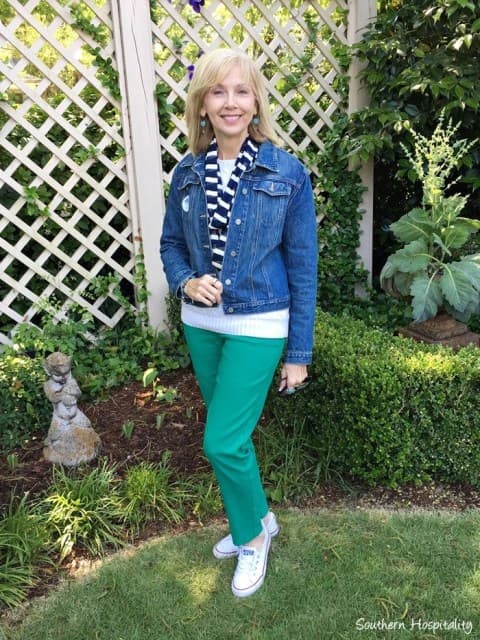 Because is all about casual outfits for 50 year old woman, you should try a large blouse matched with a pair of white jeans and ballerinas.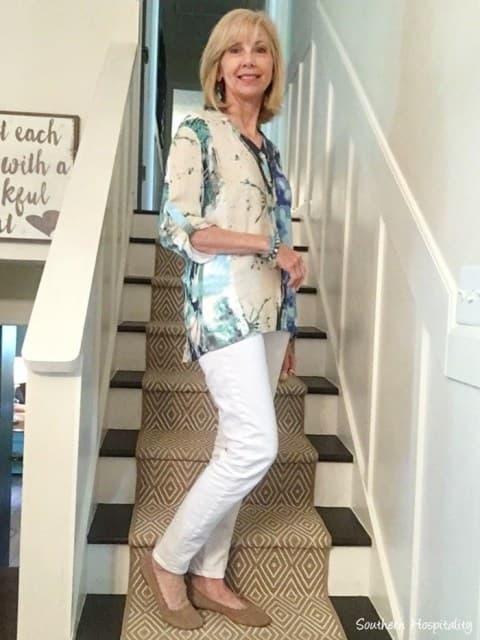 It's hot outside? Why don't you try summerish casual outfits for 50 year old woman like in the next picture?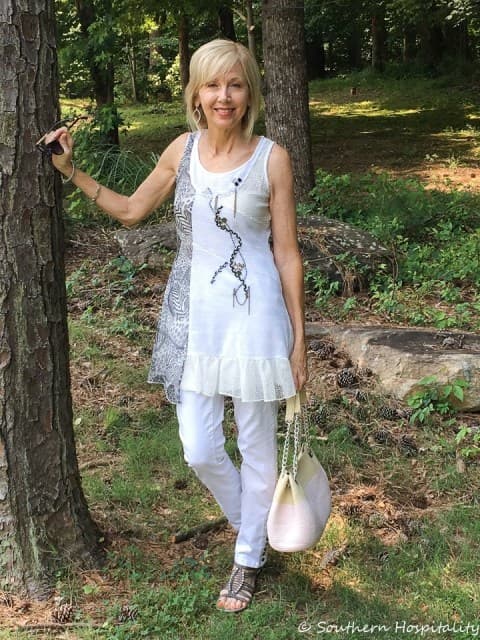 Be gorgeous and fabulous at any age. Choose to wear a beautiful, colored casual outfit like the one in the next image. You can create something similar when wearing maxi skirts outfits instead of trousers or culottes.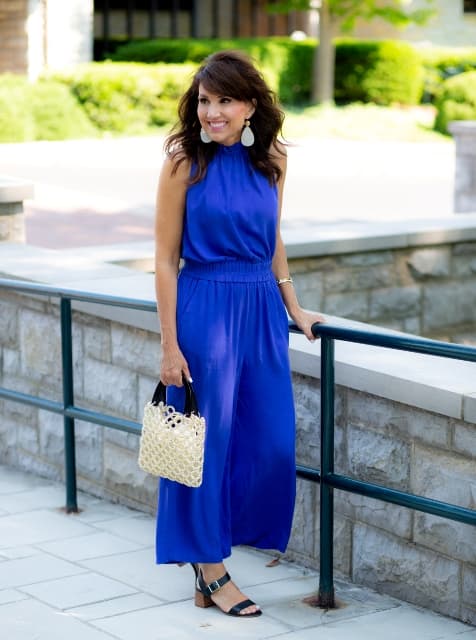 Do you still have a beautiful body? Don't be afraid to wear a black dress above your knees. Match the outfit with a pair of colored sandals and a white blazer and you'll charm everyone in the room.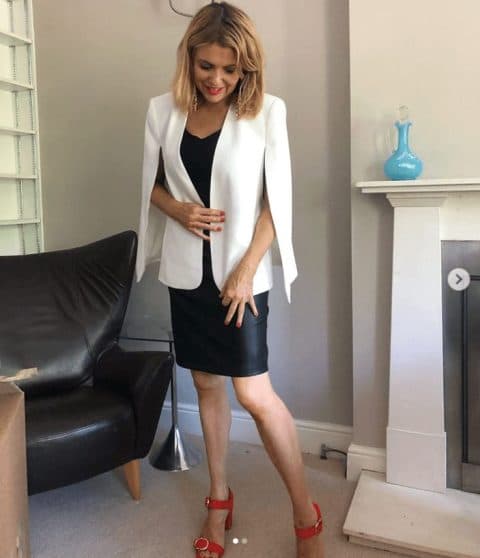 You are over 50 and you feel that your beautiful body deserves to be well dressed, than you should not hesitate to wear clothes that show how beautiful you are, like in the next image.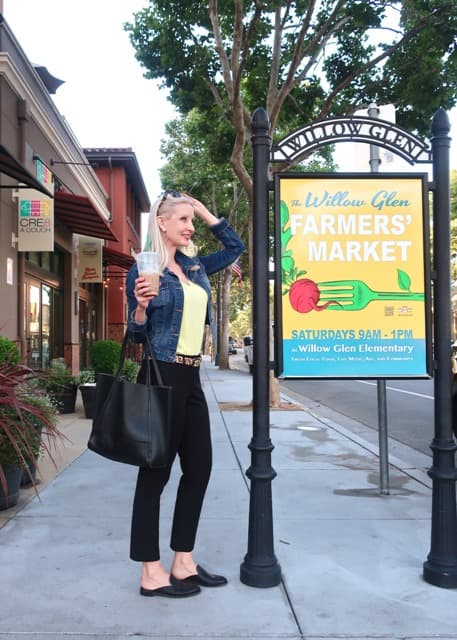 When they are aging, women think that is not suitable for them to wear clothes with a lot of  bright colors prints. I must say I don't agree with that!  I learned that form Patti, a beautiful fashion blogger.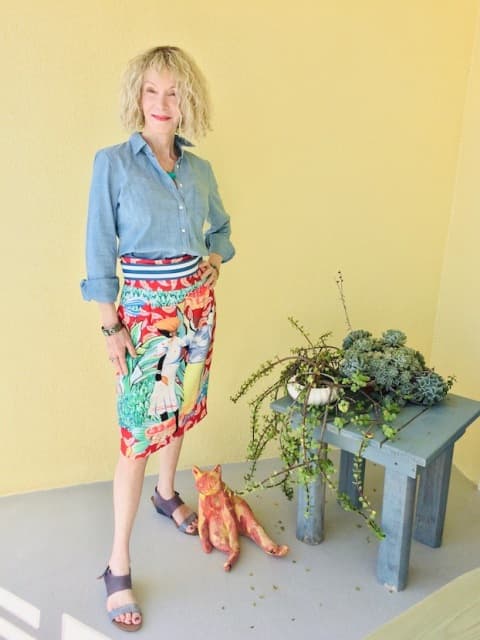 The colder days are coming? That's not a problem. You can always wear casual outfits for older women with skirts with many colored prints, but in this case, the colors should be darker. Here is a beautiful outfit to copy.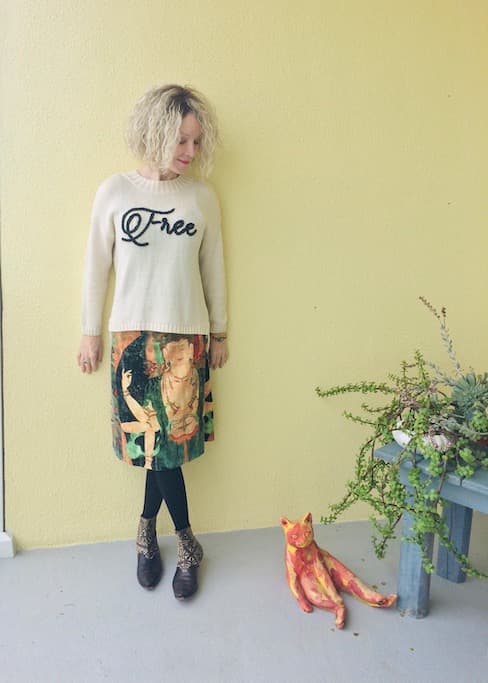 Adopt a casual girlish style like in this photo. The yellow color will make you feel happy and because of this happiness, you will smile all the time and that's why you will look more beautiful than ever.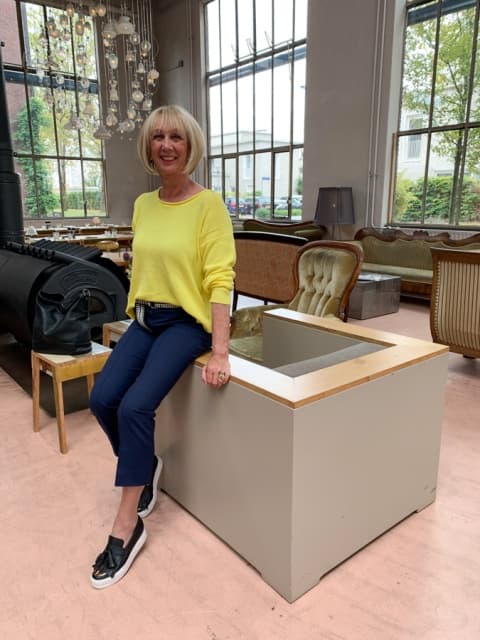 If you look as beautiful as she does, you should incorporate this casual outfit for women over fifty, in your daily wardrobe.
I like the idea of pairing the color of the blouse with the color of the shoes, just like in the next image. This matching offers a balance for the outfit.  I just love it! It's simple and beautiful.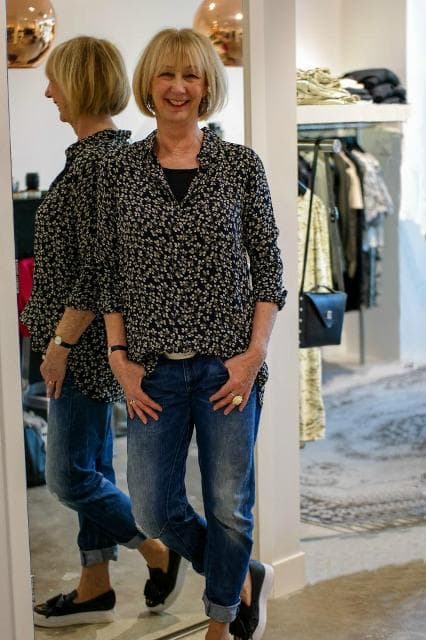 This photo, shows me that no matter what your age is, you should wear bright colors like pink.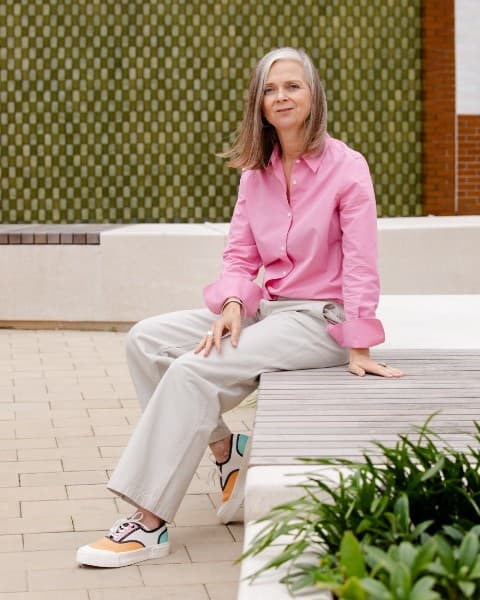 You like the idea of being casual, but in the same time, you want to add some elegance to your outfit? See the next photo in order to copy it.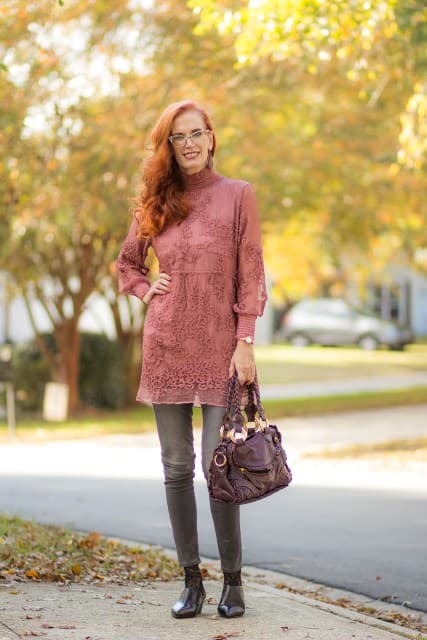 I like to think that I will age beautifully and this outfit makes me think that I can dress as if I am ageing beautifully. Try to put colors in your outfits and you will look younger.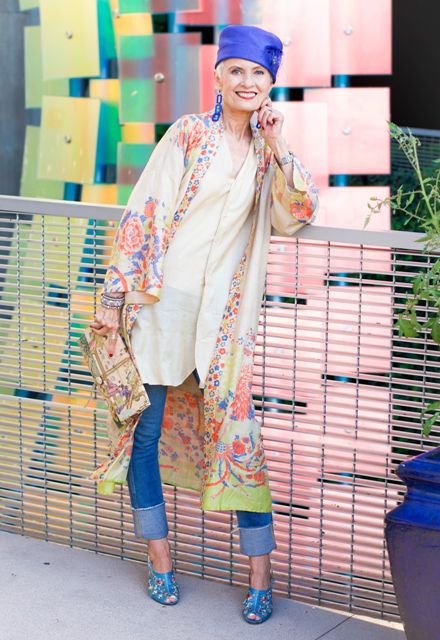 It takes only a few simple tips and tricks to step confidently into the business of styling. Casual outfits for 50 year old woman must radiate femininity and nonchalance. After all, you had decades to experiment with all the crazy trends. Now is the time to purchase basics and unique items that help you trust in your experience and refined taste. Styles for women over 50 continue to evolve, offering brand new ideas you can incorporate into your wardrobe.
Purchasing a few basic items is a major priority for casual outfits for 50 year old woman. I have fallen in love with cropped flared pants, the denim dress and midi dresses complemented with a blazer or a jacket. No matter what shades you prefer, you'll find these style essentials in your local stores.
Work on your silhouette or if you think it's too late, embrace who you are! While women in our topic have a slender figure some of the suggestions like flattering jeans designs, the myriad of cardigan styles and basic tops are just as suitable for your plus size or average silhouette. Make sure you come back to these outfit examples of fashion over fifty each time you lose inspiration. 🙂 You could use some of these pictures if you don't know what to wear on a first date to dinner , how to wear culottes with flats , winter party outfits , winter date night outfit or jeans and heels evening outfits.
Let me a comment in order to know your opinion about these casual outfits for 50 year old woman. I would love to hear it.