Let me tell you a story about these wide leg pants… I didn't really like the idea of wearing them… Why? I thought it's complicated to pair them… to find what shoes to wear with culottes or the best top to wear with them…  But that was before …  Recently, I saw on the street, a stylish woman wearing a nice culottes outfit. She was so beautiful and that image fascinated me! In that moment, I knew I wanted to look like her! Maybe you know that feeling 🙂 !
Searching on the internet how to mix these culottes trousers, I was surprised to find so many interesting images with ideas of what shoes to wear with culottes. I must say that, the possibilities are endless, especially when it comes about shoes: culottes with sneakers, culottes with boots or with flats, high heels or sandals.
I can't have all these outfits…, but I can watch different pictures with culottes outfits and find the answer to the question: "What to wear with culottes?". If I know what shoes to wear with culottes, it would be much easier for me to decide which pair of culottes pants I should buy.
So, what shoes go with culottes? I hope these examples will answer to your question.
What shoes with culottes
What shoes to wear with culottes? Well, the summer season is perfect for wearing a culottes. And how can you pair best this culottes other then with a pair of wedged sandals? Wedged sandals are comfy and easy to wear. Besides, you will look taller and slim. Don't hesitate to pair this type of sandals with culottes for a perfect outfit like the one from the next image.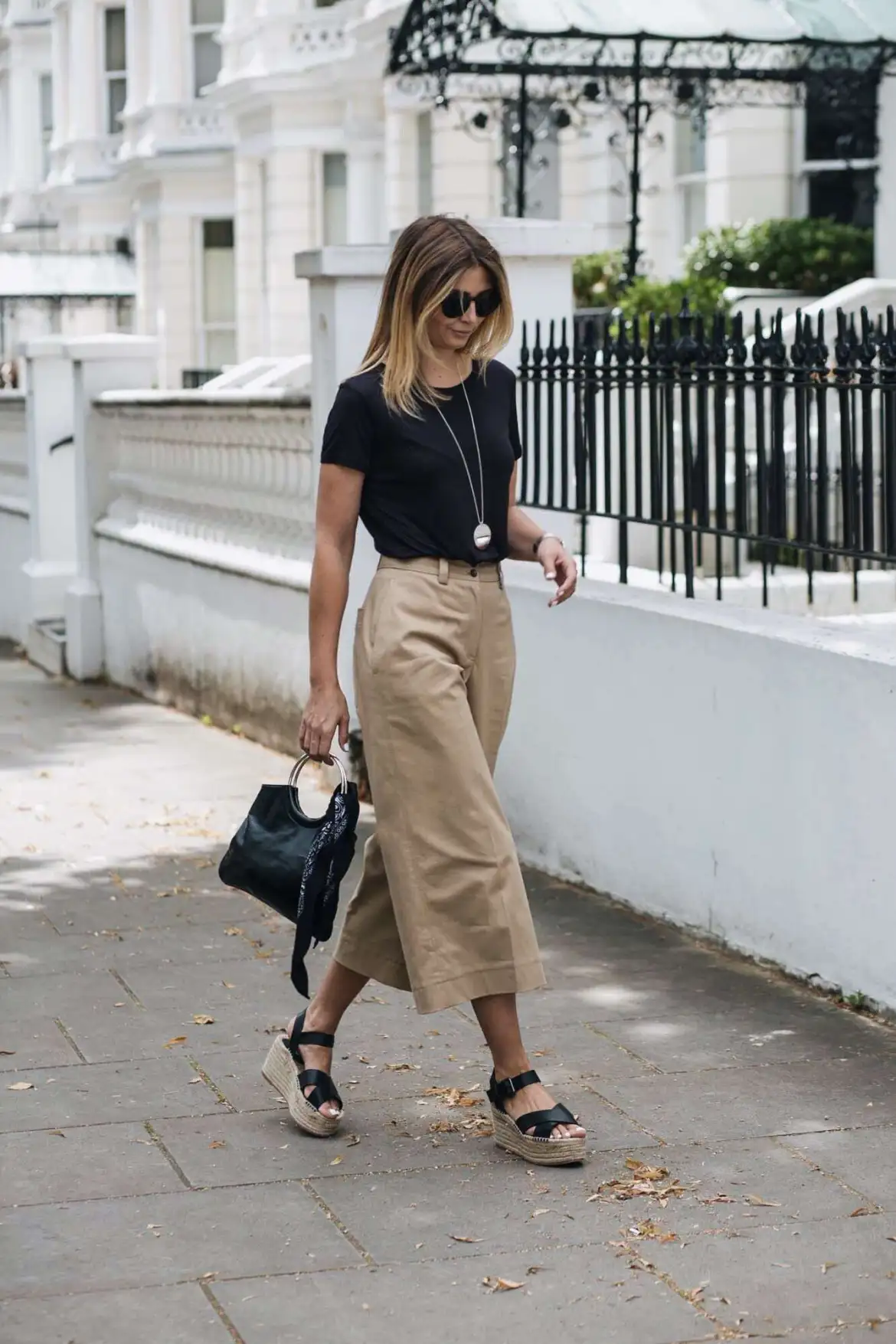 Golden slide sandals prove to be quintessential to complete your cropped pants summer outfits. You should read also about how to wear culottes with flats, if you find interesting this culottes with sandals outfit.
When you don't know what shoes to wear with culottes, try strappy high-heel cage sandals and take your outfit from day to night especially if you sport an 'all-black' set. Include this look in your list of clubbing outfits women love to wear.
Peep-toe ankle boots seem to be a daring and unusual accessorizing option to top your all-white outfit. However, stylists encourage you to go for culottes with ankle boots!
Match your beautiful black culottes outfit with these 'must have' high-heel sandals. This mix will help you look amazing and stylish! Try this outfit next time you wonder what to wear on a dinner date.

If you are looking for a day time culottes outfit and you don't know what shoes to wear with culottes, you could try a white top with navy culottes and elegant flat shoes.
Looking for a casual look and in the same time a comfy one? Use a pair of running shoes, a top with a big decolletage and a pair of leather culottes pants. If not, you can use also sandals, a logo print t-shirt and printed culottes pants. And if you wonder,  find also my report about what to wear with a leather pencil skirt.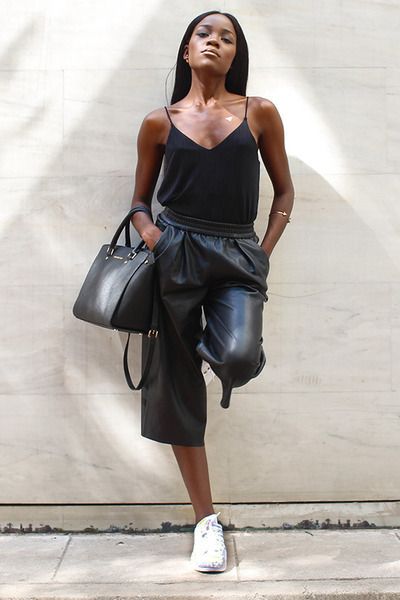 You definitely need to try this simple set of culottes and sneakers paired with a black tight T-shirt. The next picture will help you understand how to wear culottes with sneakers and what top to wear with culottes.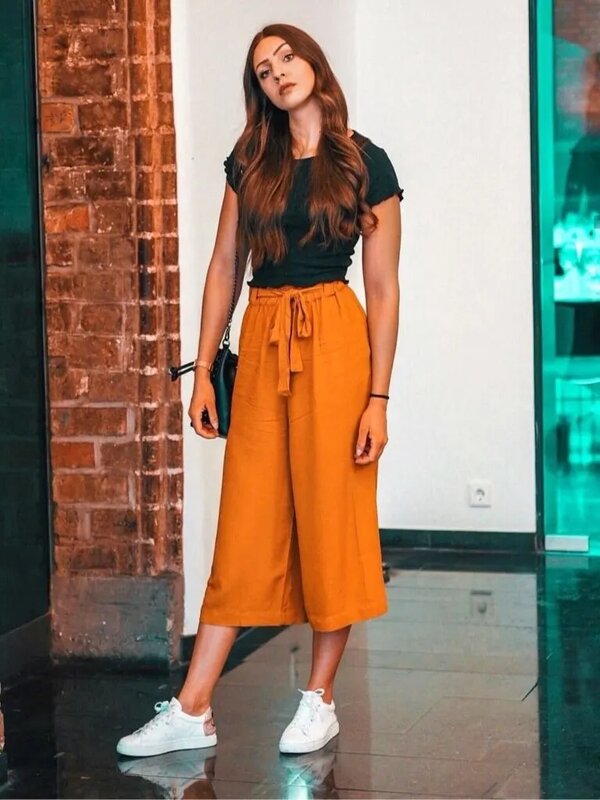 Try a black and white combo with a pair of flat black sandals and a pair of white culottes pant associated with this beautiful off shoulders top. What could be more simple and stylish this culottes outfit? It is so easy to wear it!!!
Looking to create an casual black wide leg trousers outfit ? Match the all black outfit with these flat ankle boots and add some white to your outfit.
Flat slip-on are the solution for a casual and comfy outfit. Pair them with black culottes pants.
Elegant and super cute this outfit with red culottes pants and elegant high-heels shoes.
Create a casual outfit by matching a pair of flowy beige culottes with wedge sandals. You almost confuse this outfit wit with a nice long skirt summer outfit.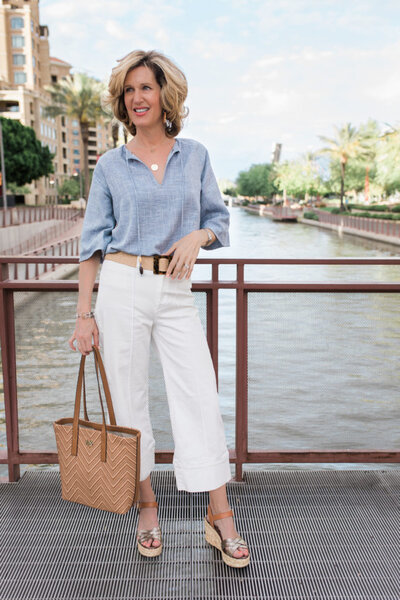 Another beautiful example of what shoes to wear with culottes: black wedge sandals are a perfect match to wear with  this black culottes pants and a comfy casual shirt. This is the kind of outfit that you can wear at shopping, long walks to have a coffee…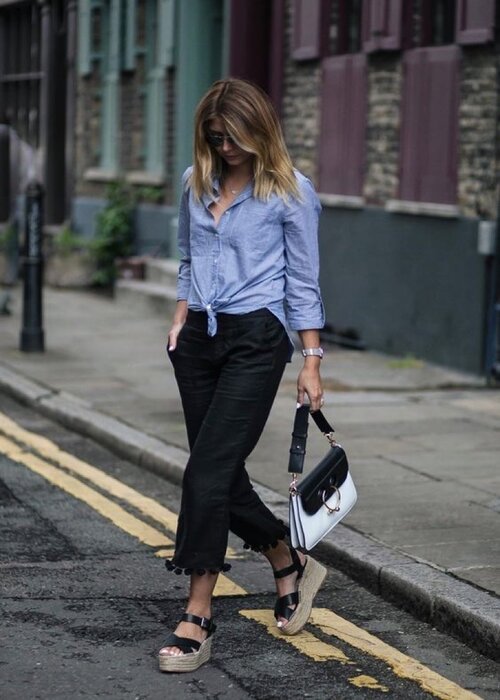 The flat sandals are the perfect shoes to match with denim culottes and a flowy blouse to create a boho outfit.
Searching for an outfit with neutral colors to dress with in order to make the transition from summer to fall? Well, I think in the next image you'll find the perfect outfit. Mix white culottes with white sweater and white flips and block high heels.
Try this beautiful, elegant and stylish outfit with culottes, strappy blouse and block heels and pointed shoes.
Follow the same elegant style. Try this all white culottes outfit paired with white stilettos.
Adopt the casual style. Match a printed T-Shirt with converse and navy culotte pants. What could be more easy to wear than this outfit? Perfect for the days when you have to walk a lot.
Different kind of sandals, different kind of casual outfit. Just love it!!! Comfy and stylish in the same time.

What about this mustard outfit? The perfect mustard tank mixed with mustard moccasins… and these beige culotte pants… What do you think ? Isn't this a perfect match?
Want to know how you can mix your culottes outfit with flat shoes? Here is an example to copy.
Are you the kind of person who likes to be active all the time? Pair your culottes with running shoes for a casual and comfy outfit.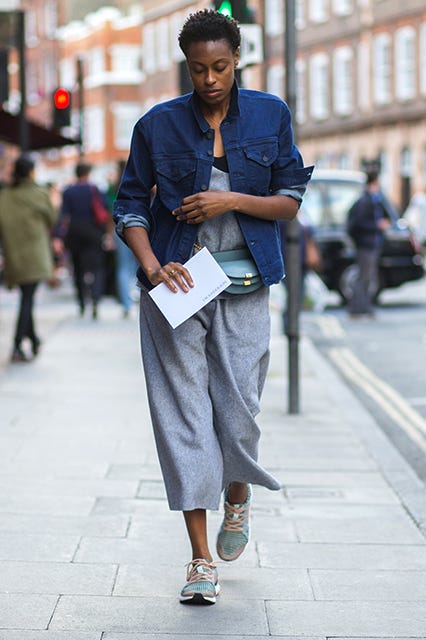 Culotte pants for your next party? Try to pair them with suede stilettos like in the next picture.
Maybe is not the kind of outfit you would wear, but you can always adapt it. Mix these high heels with ankle straps with culotte pants with the same color as the shoes. This match will be visually perfect!
I know that you've already seen this kind of outfit, but I love it so much that I can't help to present it.
I know, I know… the same thing for this image… But, look at this gorgeous outfit? Isn't it perfect? We have here two seasons: the sweater and the faux leather culottes for the cold weather, and those beautiful black sandals.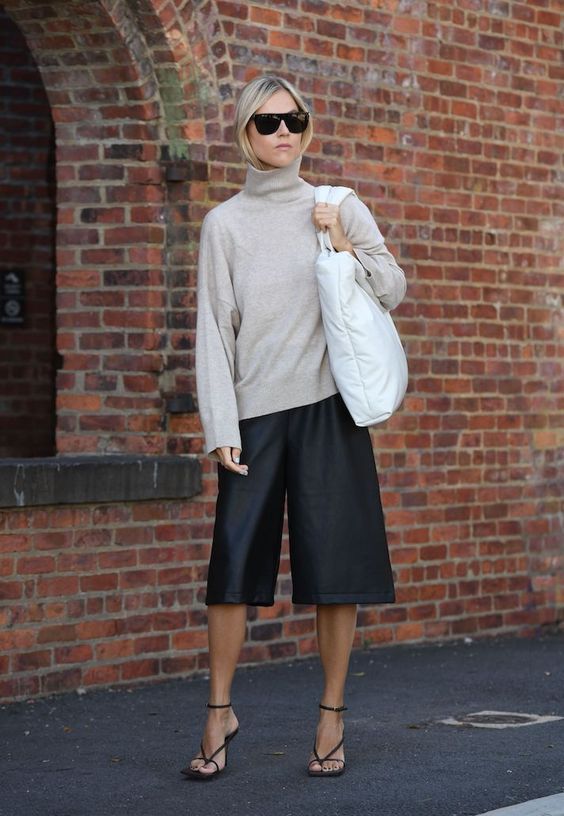 The same thing here, but the difference consist in the fact that, the blue top is matching as color with the blue sandals. What a beautiful outfit. A just love the combination of brown and blue!!!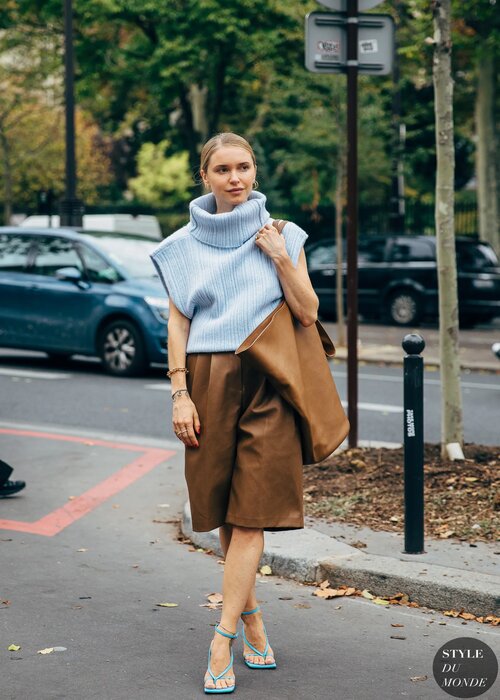 What about boots? Even if it's fall or spring and even winter, you can always wear your favorite culotte pants. Copy this image for a stylish winter date outfit with high heels boots.

You can always play with colors: mix a yellow sweater with a brown culottes and red ankle boots. You can always wear your  favorites pants, and bright colors at any age, no matter what. As we know, it doesn't matter how old you are, what it matters how young you feel and this outfit is perfect as you can see, also for older women.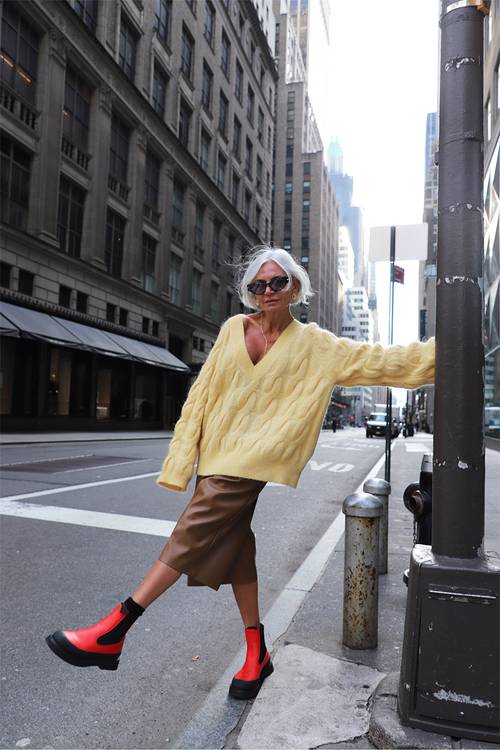 If you are looking for inspiration when it comes about what shoes to wear with culottes, here is a relevant photo. I love those elastic ankle boots.

Do you like to be always elegant? Well, high heels boots and large pants is the answer that you are looking for.
Try a happy outfit with a pair of pink culottes and gray high heels shoes.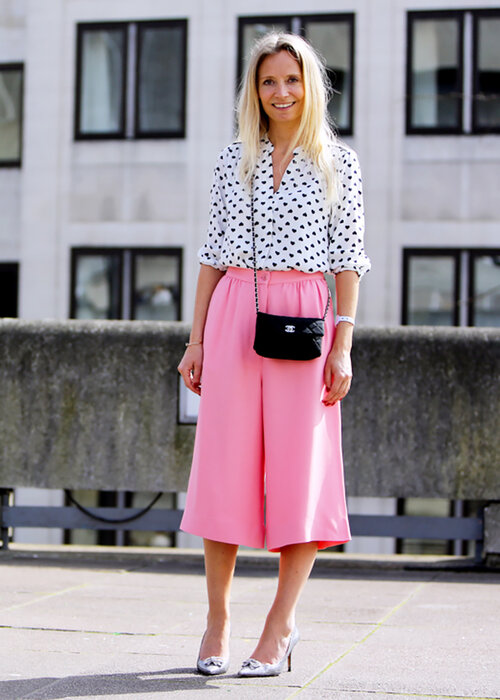 What shoes to wear with black leather culottes pants? Well, a pair of black stretch black high heels is a good idea. What do you think?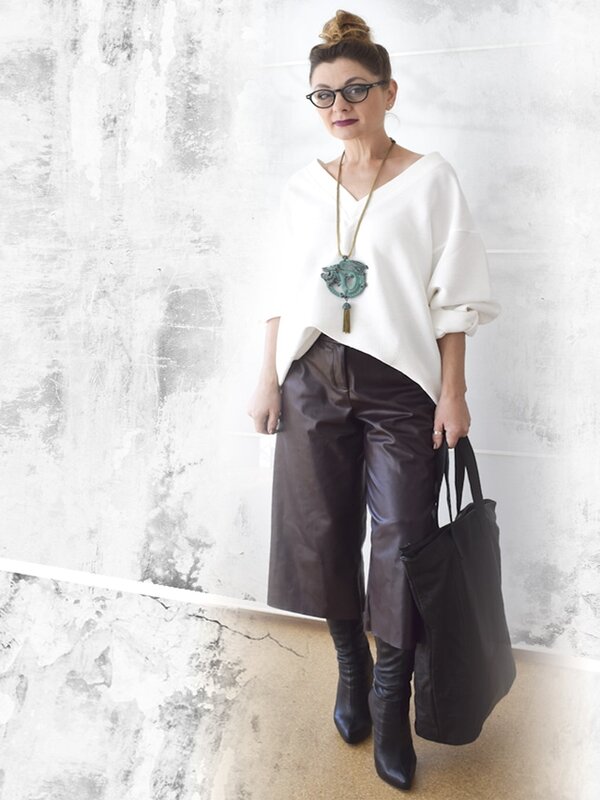 How to style denim culottes with flat shoes? We should put together a Boho look by mixing a flowy long-sleeve blouse, chic denim culottes and a pair of flat brown leather sandals.
Classy soft textured dark wash denim culottes are favorite pieces of women with an adult style. Pair them with a t-shirt and blue marine wedge sandals with the same color as the pants and you will look gorgeous.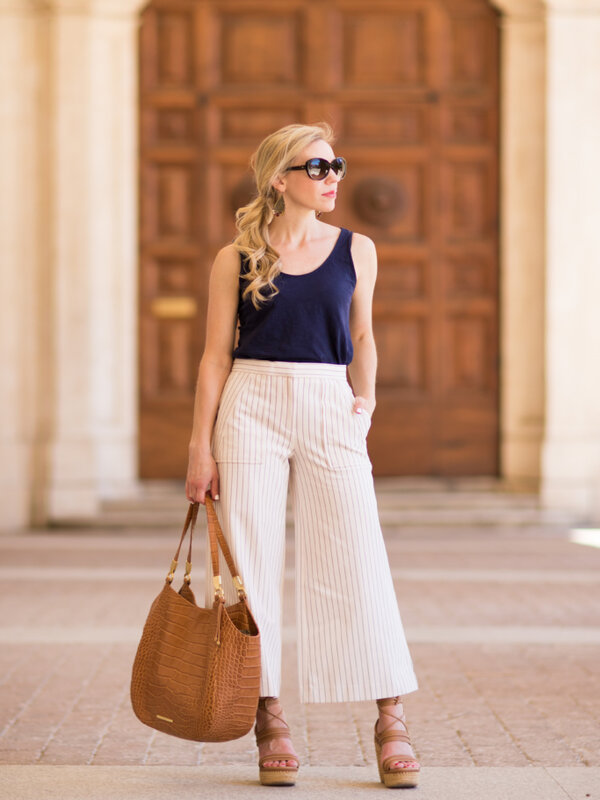 Flat slip-ons and a cute striped short top look gorgeous in a combo with culottes trousers especially if you have a feminine silhouette. If you are looking for casual outfits for older women, this picture might be a source of inspiration.

This outfit is definitely a top style option for the warm season, a chic shirt and leather platform sandals add a cool and nonchalant air to your look. Here is an example about what shoes to wear with culottes made of jeans. Choose to wear culottes instead of casual jean outfits for ladies.

When looking for the perfect warm-season work outfit, make sure you take into consideration this fab set of a minimalist white top, culottes and strappy sandals. This is the perfect example in case you were wondering with what shoes to wear with culottes when you you are looking for a stylish and elegant outfit.

Go for a flirty cropped top teamed up with voguish denim culottes and a pair of high-heel sandals with ankle straps. Embrace denim culottes street style. Discover what shoes to wear with culottes jeans or we can just replace culottes pants with a pair of short jeans and discover some perfect jean shorts and heels outfits.

Wondering what shoes to wear with culottes? Black and white sets are extremely fashionable especially if you like neutral tones, you can't go wrong with. Try these black high heels shoes with straps around ankle.

Baggy trousers or culottes pants with white sneakers, give you ultimate comfort. Match with a fitting pastel tone tank top to create the perfect balance in your set.
Go glam with this 'top-to-toe' white ensemble and add a pop of color to your set with a pair of vibrant colored sandals.

No doubt, off-shoulder tops when associated with white culottes and nude high heels sandals create a modern and romantic effect.
Put together a business casual outfit by adding a nice shirt to white cropped pants, a clutch and gorgeous yellow high-heel sandals.
Well, well, well!!! What could be more simpler, beautiful or stylish than this white culottes outfit? I don't have to describe how much I love it! That much I love it.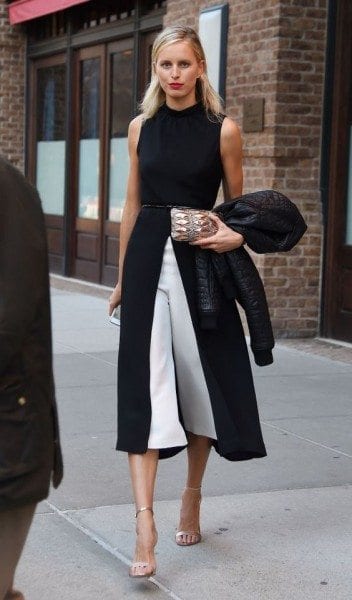 This time, it's again abut yellow culottes. If you want to look taller, try an outfit with longer culotte pants and of course high heel sandals. Also the shirt without sleeves create the optic illusion of a taller person.

Stripes are very trendy this year. Don't hesitate to wear stripes like in this image. But I recommend vertical stripes, never horizontal stripes. Take a look at this beautiful outfit and be gorgeous.
A beautiful white shirt paired with navy culottes is the safest outfit you could wear at work. It's true, if the dress code is strict, even if they are beautiful, these shiny sandals should be replaced with shoes that cover your toes. You don't know what to wear on a first date to dinner ? This outfit could be an option.

The outfit from the next image offers us the safest way about how to wear culottes at work. Beautiful outfit… don't you think?
Stripes, this time horizontal, in a combination with culottes in dark blue shades, allows you to create the ideal smart-casual outfit. Why I say smart? Because of the nude shoes and the elegant hand bag. Why I say casual? Because of the blouse with horizontal stripes.

Keep it cool and elegant even if you're staying 8 hours at your desk, see this nice sleeveless top, cropped pants and green high heels shoes mix for inspiration.
Match your high-waist cropped pants with a short top and stiletto black sandals,  for a sleek alternative to your favorite urban chic outfit.
You should definitely give white culottes a try, especially if you prefer the black and white combos. Try a black off-shoulder top, white culottes pants and flat black sandals with ankle straps.

Preserve the simplicity of your casual ensembles with a pair of printed culottes and a nice block-colored T-shirt and nude high heel sandals.
No wonder celebrities love to promote the bright colored cropped pants trend mixed with a white shirt and a pair of neutral or nude stilettos.


Pastel colored strapy high heels sandals and pastel culottes are a real delight and look amazing when combined with a denim or light colored shirt.

Formal events give you the chance to get creative and attract the attention with a chic pair of culottes and a fitting lace cropped blouse and elegant high heel shoes.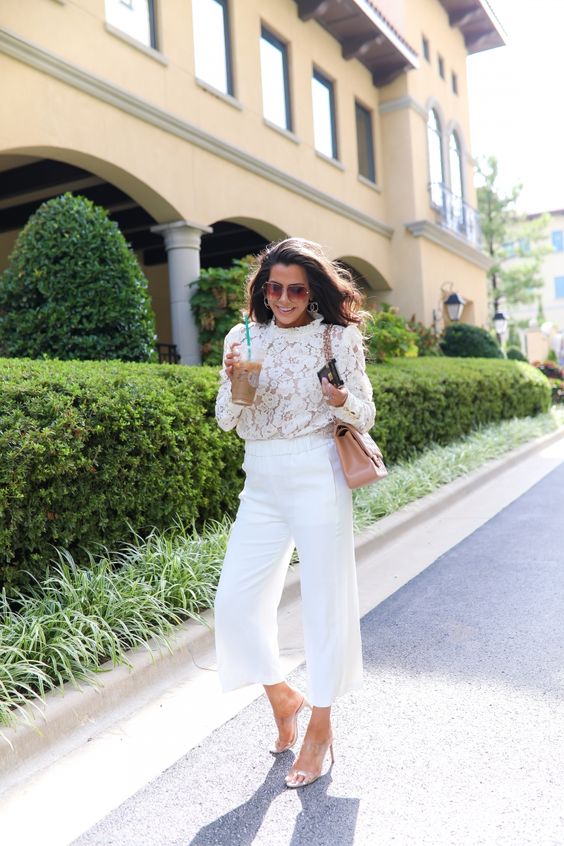 Vertical stripes cropped pants flatter all silhouettes and look majestic with a white shirt and and block heels sandals.
Baroque or floral printed cropped trousers as this one radiate romance and refined taste. Make a correspondence between the color of the top and the color of the shoes. You can always try a perk with a beautiful pair of elegant white and black stilettos shoes.

It's not a surprise that plaid or printed culottes co-ords stole the heart of style influencers. Like in the next image! You can always add some color with pink stiletto sandals.
Vibrant shades continue to act like statement accessories especially when it comes to cropped pants and pink high heel shoes.
Why don't you try a black and brown combination? Match your brown culottes pants with a brown bag and brown oxford shoes and try a black shirt with a black coat for the top of the outfit. I am fascinated by this outfit. Aren't you?
Why don't you try something casual, like this long sleeves top with stripes and flat espadrilles. Make a connection with this stripes, between the color of the coat with the white culottes pants. Try to copy this outfit next time you go for casual and you don't know what shoes to wear with culottes.
This time. try something comfortable, like this white long shirt paired with wide leg pants and casual flat fleep-flops.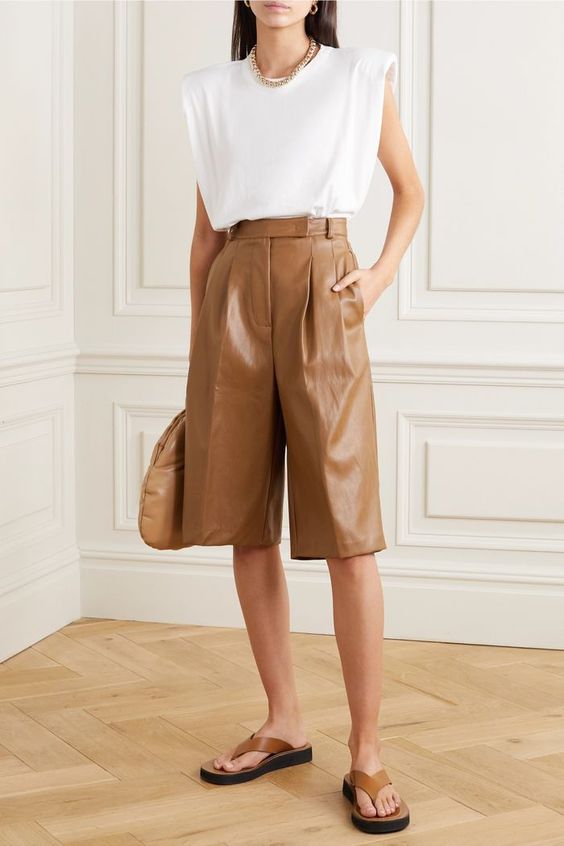 I just like the idea of pairing those blue shoes with white pants. Love the outfit with this girly white tight blouse !!!
What about this elegant culottes pants outfit with white and black high sandals? It's a pleasure to watch it. I have to copy it !!!
As you can see, wearing culottes pants with the same color as the color of the boots, it's an idea that everyone seem to find attractive. Besides, I like also the red coat and the mixed colored shirt. Makes the outfit to seem happier with brown boots and brown pants.
Lovely outfit with lovely pink shoes! How beautiful and colored is this culottes outfit. Instead of wearing a leather skirt outfit, you can choose a leather culottes outfit. Do you wonder what to wear with culottes pants? Well, copy this outfit next time when you are searching for inspiration.
With a touch of pink when it comes to tops, shoes and accessories, you'll be able to bring out the most of your summer white culottes.
How to Wear Culottes With Flats: sport shoes
When the weather is warm, it's easy to create outfits with culottes and flats. Sneakers, sandals and ballerinas are the most popular flat shoes for culottes outfits. Usually, women are wearing clothes according to their personality. But in the same time, they need to be comfortable.
That's why women prefer to wear culottes pants with flat shoes instead of other types of pants. Searching on the internet, I  found many ideas about how to wear culottes with flats. If you like wearing casual outfits, you should see these images and learn how to wear culottes with sport flats. You can also replace your leather pants with a leather skirt and have a black leather skirt outfit.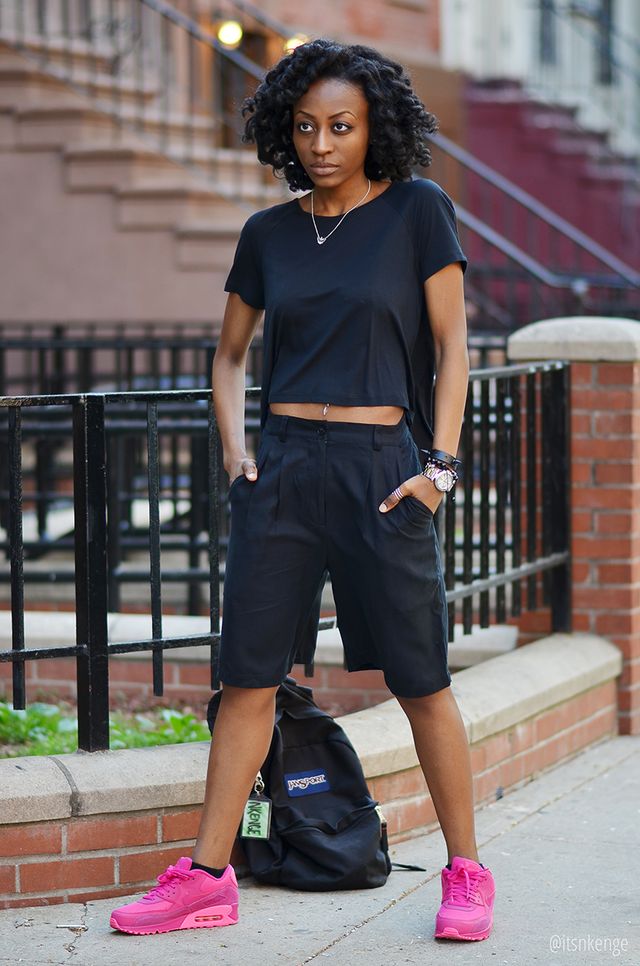 source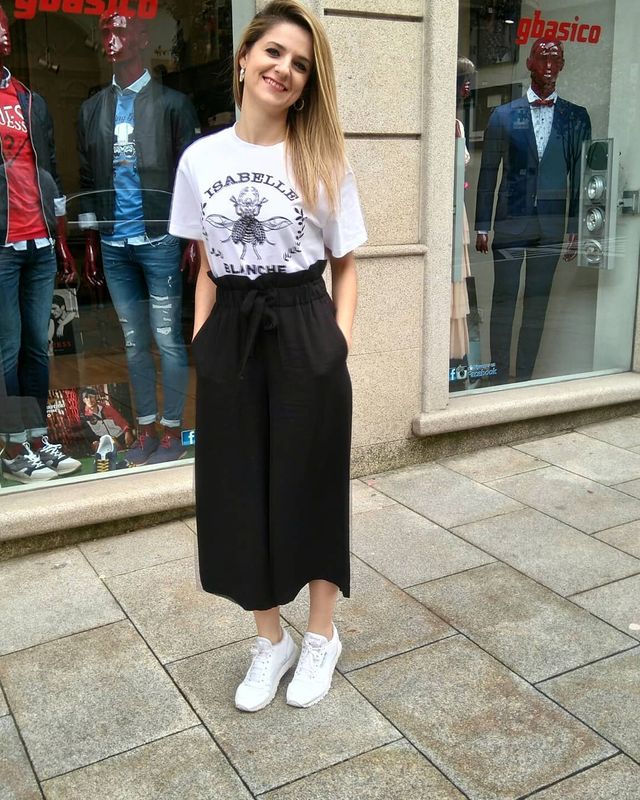 image
source
image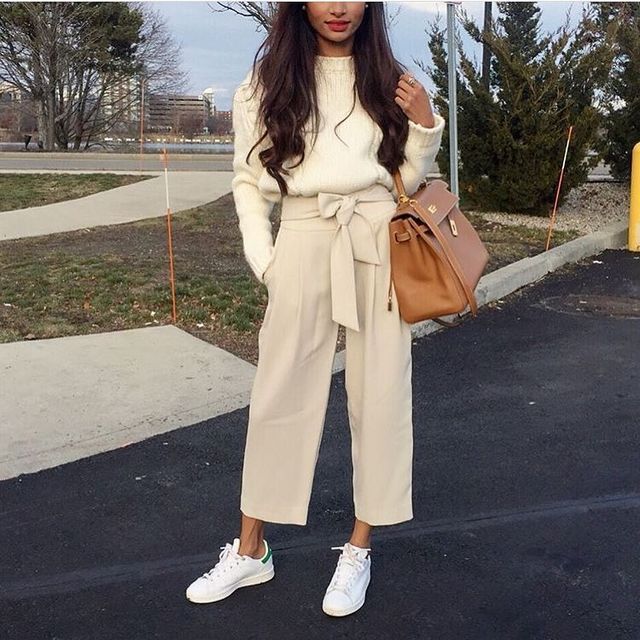 Ballerinas
I found the answer, in case you were wondering what shoes to wear with culottes and feel comfortable and elegant .
Ballet shoes are the perfect solution in this case. You can always were them when you are on the run. But in the same time you can create feminine and chic culottes outfits by matching ballet shoes, culottes pants and white or black shirts. But what I like most is that I can always replace my culottes with a classy maxi skirt in order to obtain a long skirt summer outfit.

Here are some nice examples you can always copy. Besides, if you ever wonder what top to wear with culottes, I think these images are the perfect answer.


source
source
Flip flops and culottes pants
Let's face it! During summer or spring, when it's warm outside, culottes outfits are perfect to wear. They are comfortable, elegant as a skirt, but practical as pants are. But what shoes can you wear with these pants? Well, in case you are looking for something casual, something easy to take, than the flip flops shoes are perfect. 
I found on the internet, so many propositions for this kind of outfit, from bloggers from around the world. It was hard for me to make a selection. But the idea was to present only the best culottes outfits with flats. Most of the next images are perfect examples for summer outfits for girls, if you are interested.
image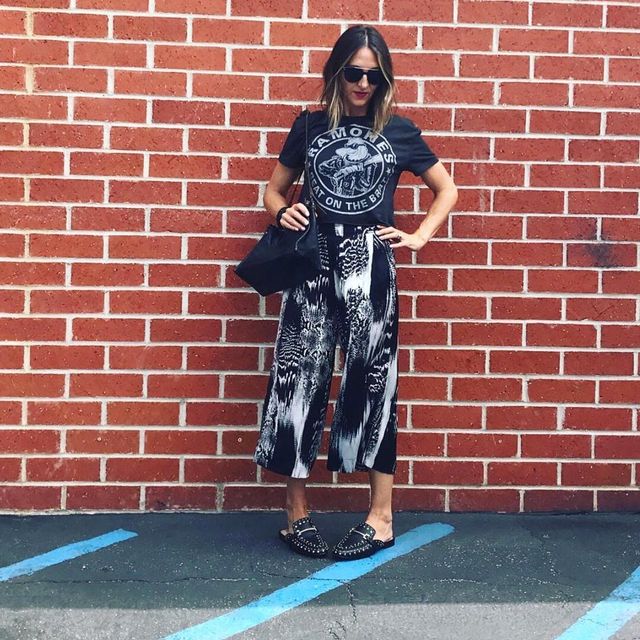 source
source
image
source
image
image
How to wear culottes with loafers for women
You prefer loafers instead of ballerinas or sandals? That's not a problem. There are many black wide leg pants outfit ideas with loafers. Women borrowed the idea of loafers and moccasins from man's wardrobe, we are tempt to say that loafers are not feminine. But that is not true.
If we look at these pictures, we can remark that these culottes outfits with flats are chic and feminine. So, don't be afraid to sport loafers with culottes pants and shirts. You can always wear this kind of outfit at work.
How to wear culottes with flat sandals
My favorite type of shoes are sandals. Maybe is because I love summer… But how can you wear culottes pants with flat sandals? I can't say that I could come with something different. What could be different is the model of sandals and a different type of culottes pants or shirt or t-shirt… that pictures are more relevant than words.
source
source
picture
How to wear culottes with flats: boots
You thought you can't wear culottes pants when is cold outside? Well, you were wrong! I found beautiful outfits with black culottes pants and flat boots and short jackets or long coats. The blouse might be the key of your first dinner date outfit. You can use it to add some color to your dark outfit.
Take a look at these interesting black culottes outfits for winter. Use them as inspiration when you feel like you have no idea what to wear on a winter date or you are looking for palazzo pants outfits.
source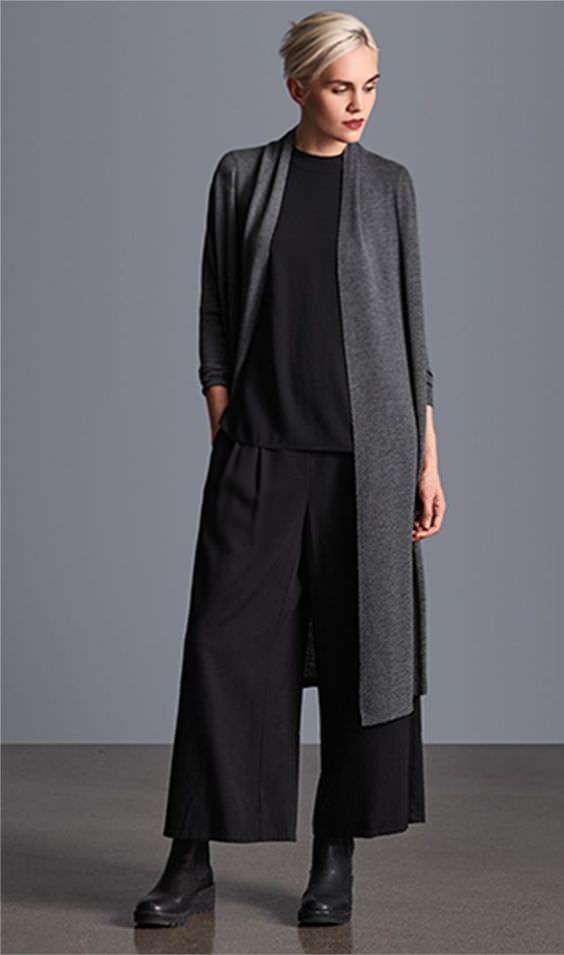 Hope you liked those beautiful culottes outfits and found out what shoes to wear with culottes. You can wear them every day, but also the elegant ones that you can wear to important events of your life. Tell me what you think about what shoes to wear with culottes for a stylish look?  Which of these outfits do you prefer? Tell me if you find easier to find how to style black culottes or other color culottes outfits? I would love to know your opinion. Also, maybe you would like to read also my report about white skirt outfit ideas or black skirt outfit ideas or clubbing jeans outfit or winter party outfits .
GlossyU.com partners with several affiliate programs, meaning that commission can be earned from purchases/clicks by those who visit this site and on any GlossyU.com social media platforms.