YES, we are preparing for the cold season!  And YES, from my point of view, it's essential to not be taken by surprise when we talk about what we should wear during the fall-winter 2022/23 season. Especially when it comes about winter clubbing outfits.
When we say Winter we think about thick clothing, heavy and warmer materials. But what about winter outfits during long and cold nights? How do you manage to be fashionable and not make the wrong choices in the cold season? What to wear to a club in winter or during a winter night out? Well, all these problems will find a solution in this post. You will find precious tips about how to mix clothes in order to create some perfect clubbing outfits for winter.
Winter is coming, if we take on a quote of a well-known character from a series nowadays. You are going to find out what you need to wear in winter, especially if you have to go out with your friends in the club.
So whether it's an anniversary party, a regular business date or an official party organized by the company, you'll have winter outfit ideas that fit perfectly into any of these situations. Let's discover some cute winter going out outfits together!
Winter night out outfits
Street style divas provide us with numerous elevated winter party outfits ideas. My top suggestions include the loveliest flared skirts and velvet dresses. I recommend also to wear jumpsuits sculpted from refined fabrics that suit your silhouette.
Map out a well-defined dressing plan for the upcoming events. So you won't feel frustrated when searching for the stylish winter fashion ideas.
1.Your everyday style is elegant? Well, you don't have to change it for a winter night out. Try stilettos paired with black shorts and a black top, or you could try something similar, like a black romper outfit.  Add some color to your outfit with this large bag with the same color as the shoes.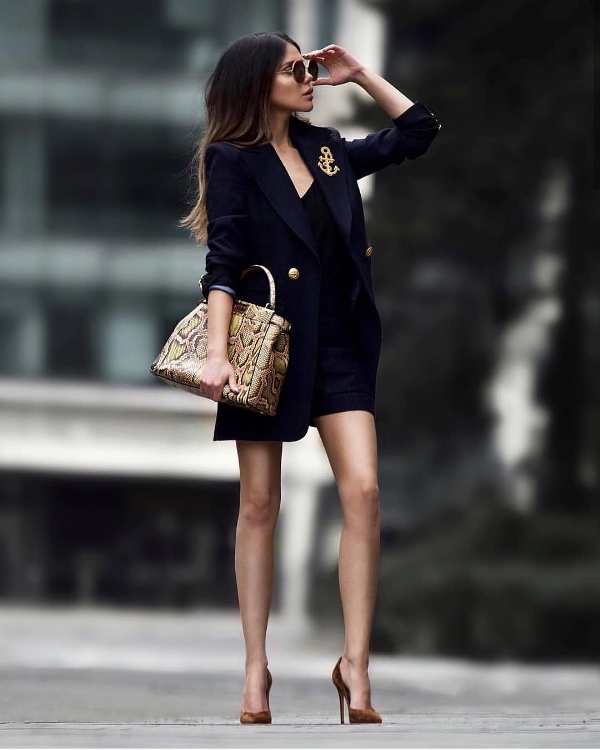 2. You like having others attention pointed to you? You should try this rocky style. Long transparent dress, ankle boots, rocky hat and leather jacket. All black, off course!!!
What do you say about one of  these  winter clubbing outfits? I find it perfect!!! Don't you? From my point of view, this outfit is funky enough so we can copy it and add it to your list of festival outfits for women.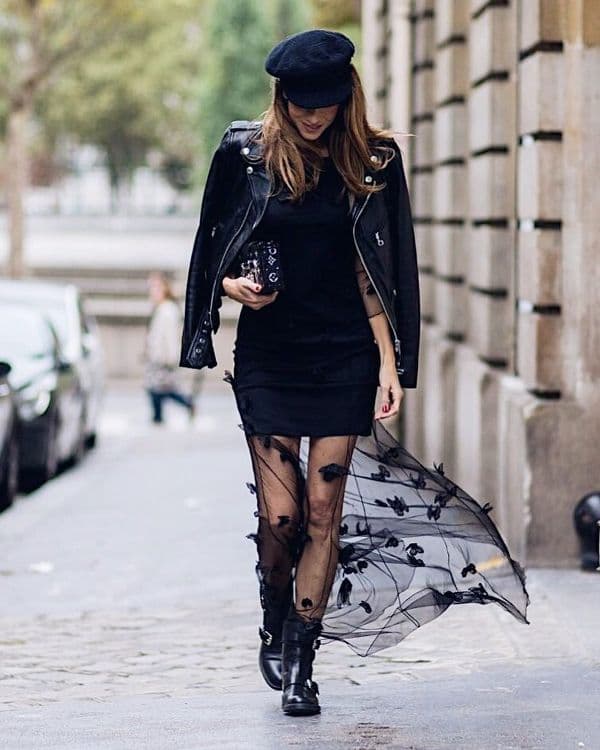 3. Oooo!!! How I love this outfit!!! I find very inspirational the mix of the pink lace blouse with the pink bag, the stilettos ankle boots and the leather pants.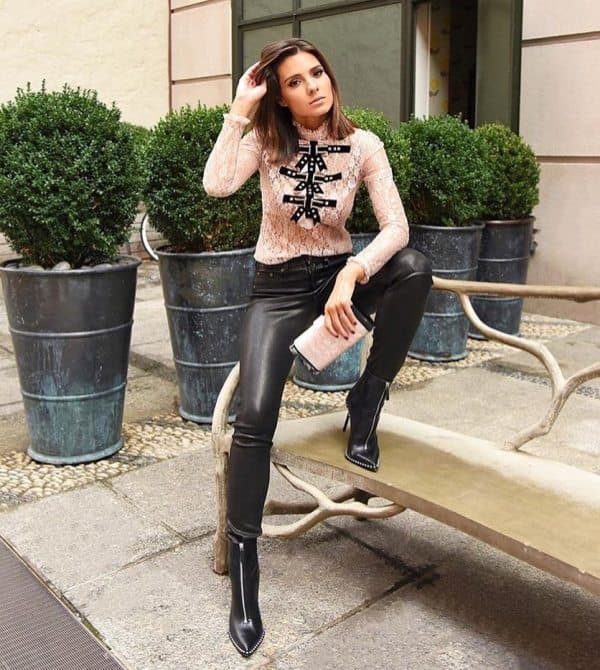 4. Because we talk about winter clubbing outfits, most of women choose to wear black in the cold season. I don't know if it's because the association with the dark weather or is because black is elegant… Well, all black is also the next outfit I am proposing to you.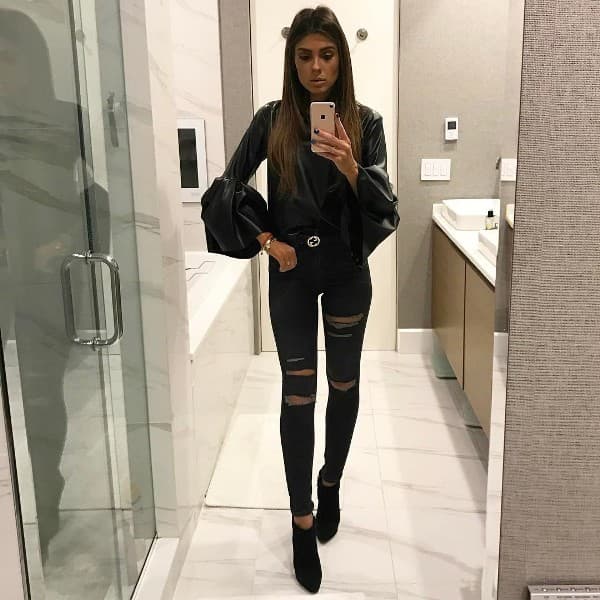 5. You can always adopt the younger style for your next night out. Find in the next image inspiration about how to wear boots with skinny jeans. The possibilities are endless. Your imagination is the limit.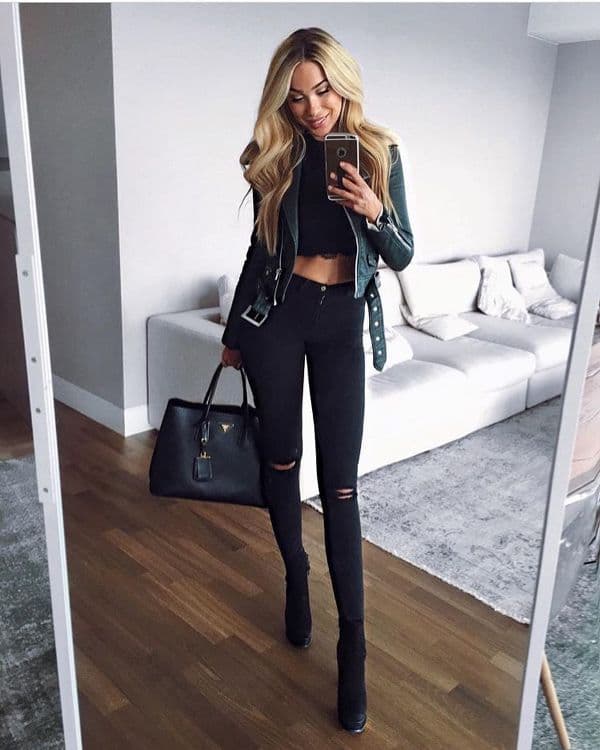 6. Don't you find in this picture, the perfect winter clubbing outfit? Everybody will look at you if you wear these shiny pants mixed with stilettos and a black shirt. You will be gorgeous!!!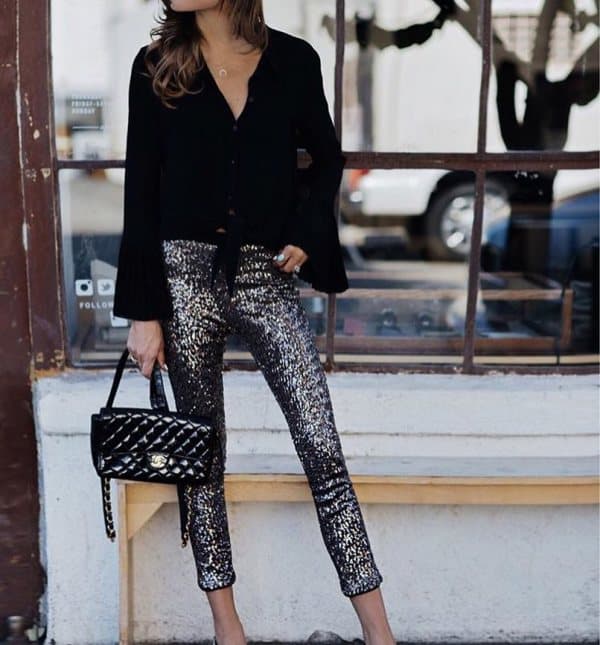 7. Your silhouette is skinny? This outfit with joggers is perfect for you.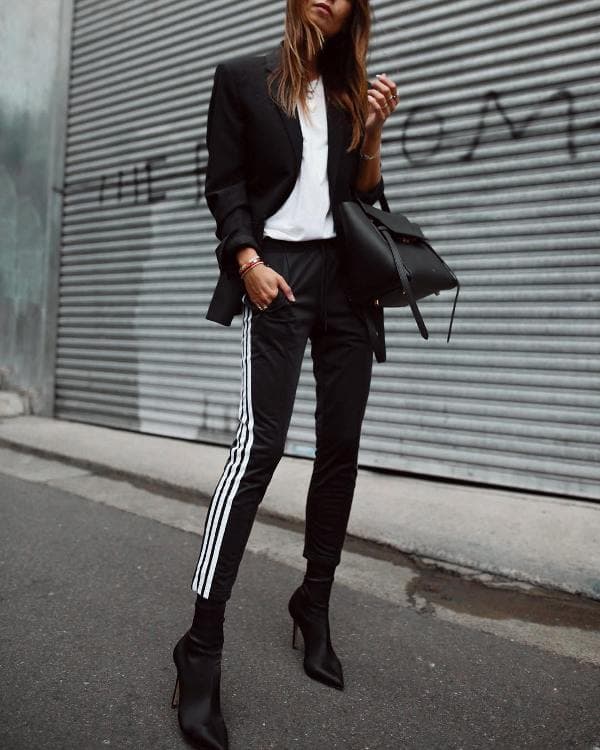 8. Wow!!! It's the perfect word that will express the other reaction when will see you wearing an winter night out outfit like this one… Feminine, sexy and chic. That would be my characterization for the next picture.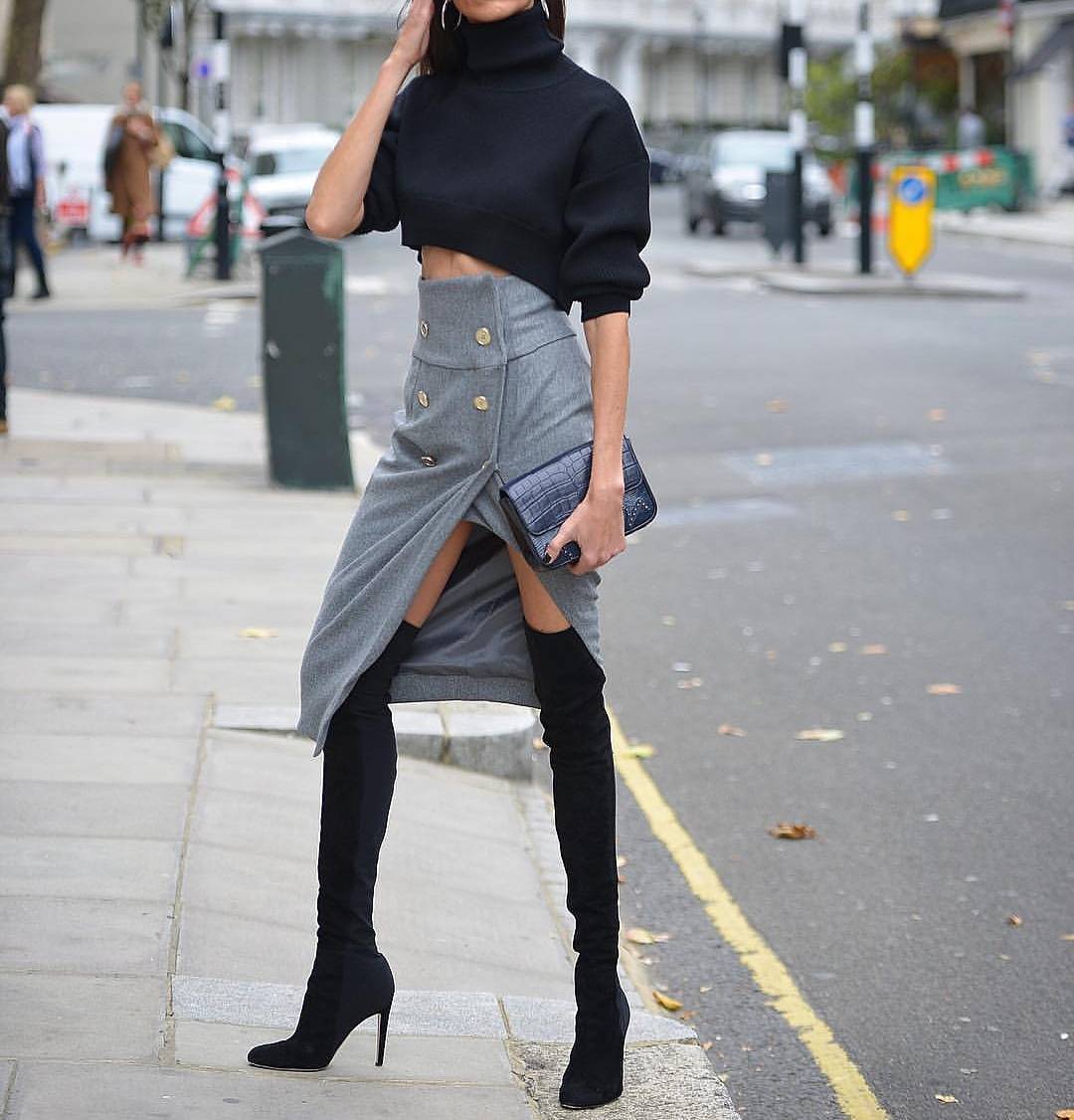 9. What about this fancy black outfit? You won't see many like her on the street. The combination is perfect!!! The all black outfit matched with gold accessories at the hat, at belt, bag or boots… Special, it's the word for this outfit.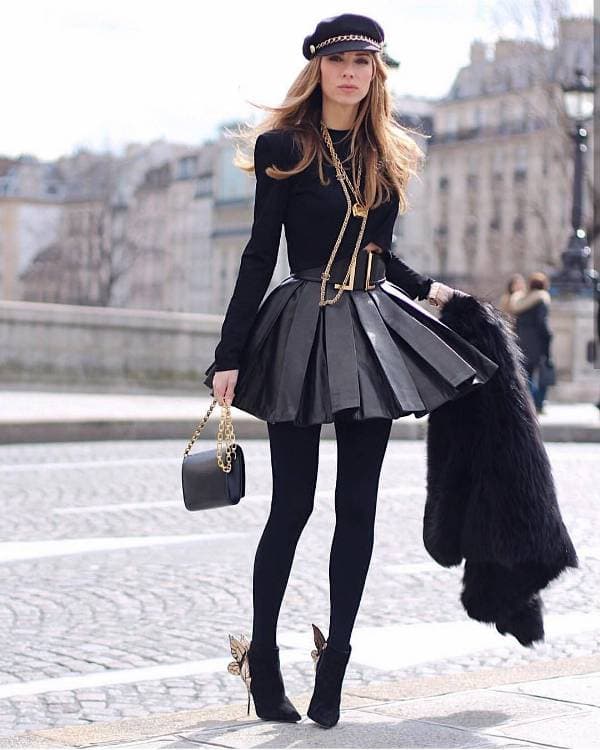 10. Have you thought to a winter night out outfit with a black slip dress? I didn't, but this one is inspiring for me.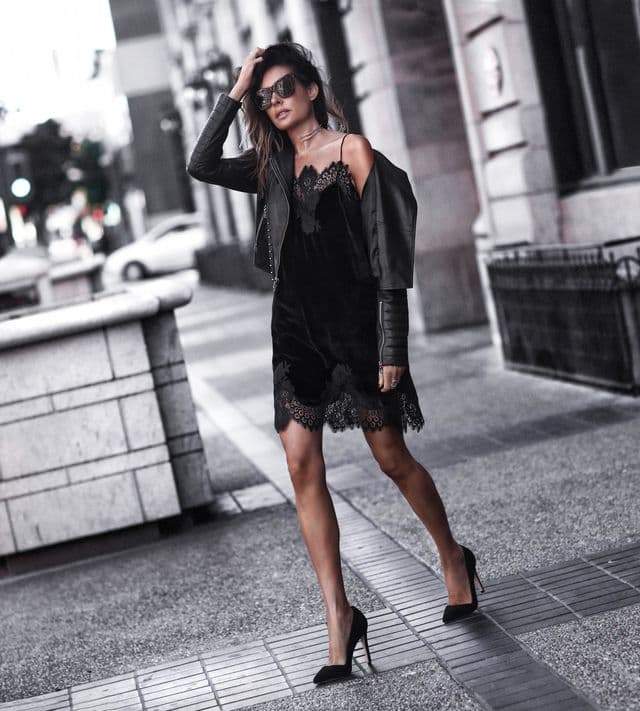 11. You know the upcoming weeks are 'the most wonderful time of the year'! 🙂 Turn you wardrobe into something magic, like in this picture. It's the answer to the question what to wear on a night out clubbing.  If you are over fifty, you should take a look at this picture, in order to create casual outfits for 50 year old woman.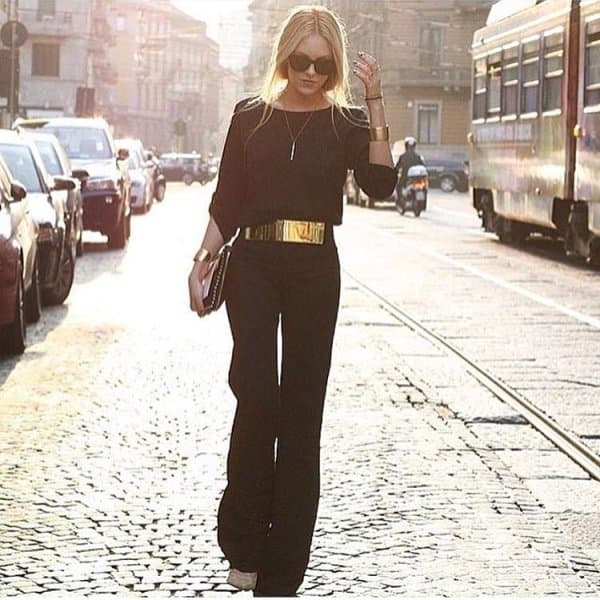 12. Be sexy and dress with an off shoulder all black jumpsuit. Fix your hair in a pony tail, so your will be admired by the rest of the peoples. If you are looking for clubbing outfits, this could be one, don't you think?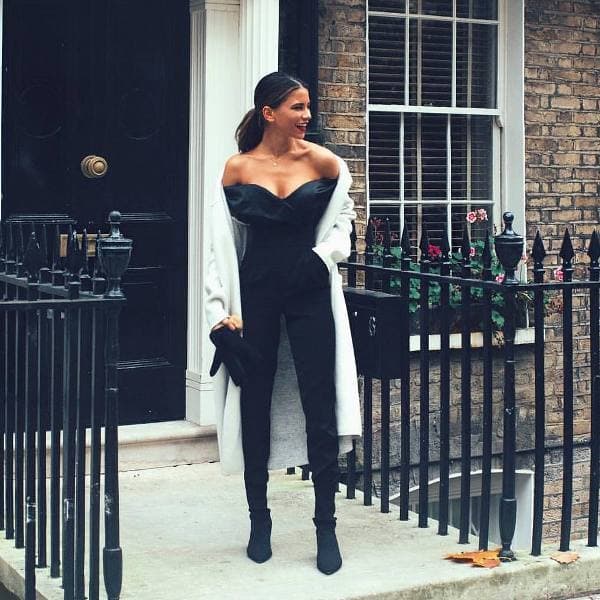 13.Glittery glam fabrics, velvet, tulle or satin are only some of my top suggestions. You just can't resist the refinement and delicacy of these outfits. The next one, makes me think not only to a winter night out outfit, but also to summer going out outfits because of the off shoulders top and the short skirt.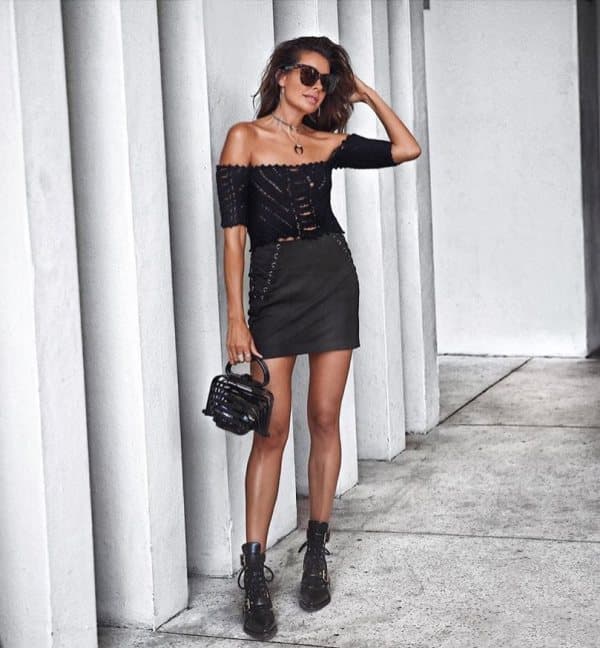 14. Don't be afraid to wear black when it comes about night out winter outfits for women. Black is the perfect color when we talk about being stylish, sexy and if you want to look thinner. It's also a perfect example when you want to know what to wear with jeans on a night out , outfits that you can wear no matter the season, by replacing the booties and renouncing to the jacket during the summer season.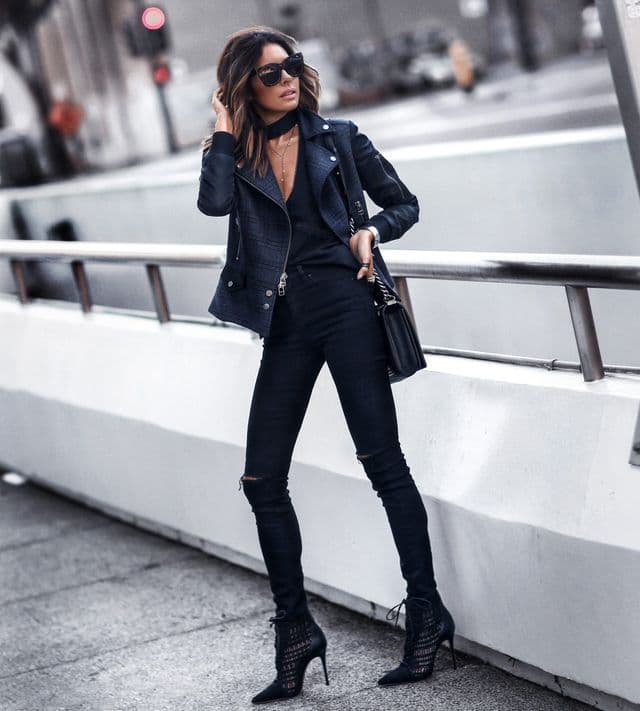 15.Next time you go out, try something simple like skinny reaped jeans mix with a t-shirt, flat boots and a leather jacket. To me this outfit seem so simple and perfect for a winter clubbing outfit.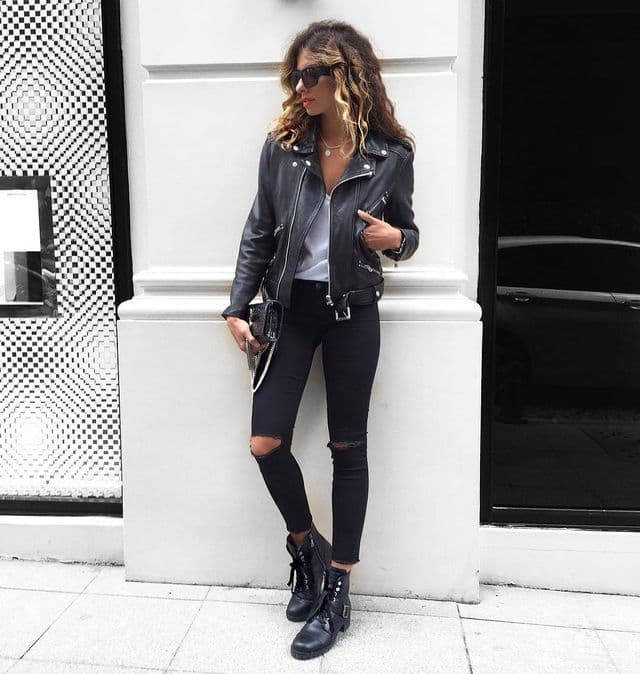 16. Less is more has never been more appropriate. You can easily make a club outfit for winter by matching a pair of black pants and a biker jacket. Sure, you should not forget the boots of this metal style. To sweeten the whole picture, I advise you to add a lace top or a silk white t-shirt. This will be the feminine detail that your outfit with jeans needs to create a successful contrast.

17. You might think that tulle skirts are perfect for daytime date. But I can't tell the same thing about this one from the picture. This transparent long skirt outfit leaves much of the skin in sight but not so much as to become gross. In combination with a leather jacket and black shoes you get an all black outfit only good for a night out winter outfits.

18. For those of you who do not feel comfortable with their legs so exposed, I have a better nighttime outfit. You can keep your leather jacket and the idea of ​​a pleated skirt, but chose a short but fully covered design. Combine the outfit with a cute strap and a pair of rock style boots. Now you're ready to go out.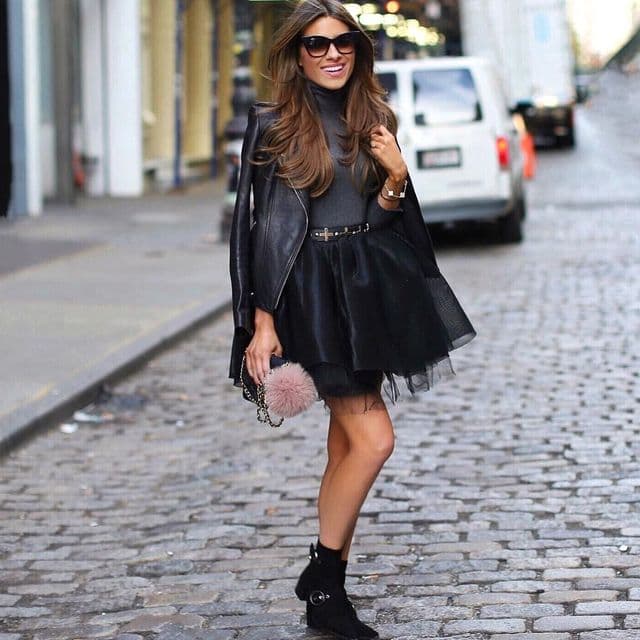 19. I just can't get enough pleated skirts. That is why I still offer you a great outfit for the cold season nights out. This time is a black outfit from head to toe, which you have to make it more fashionable with the right jewels. You must dare to put on large necklaces and bracelets from the same type. Also, remember that the details always matter, which is why we suggest wearing "wow" shoes.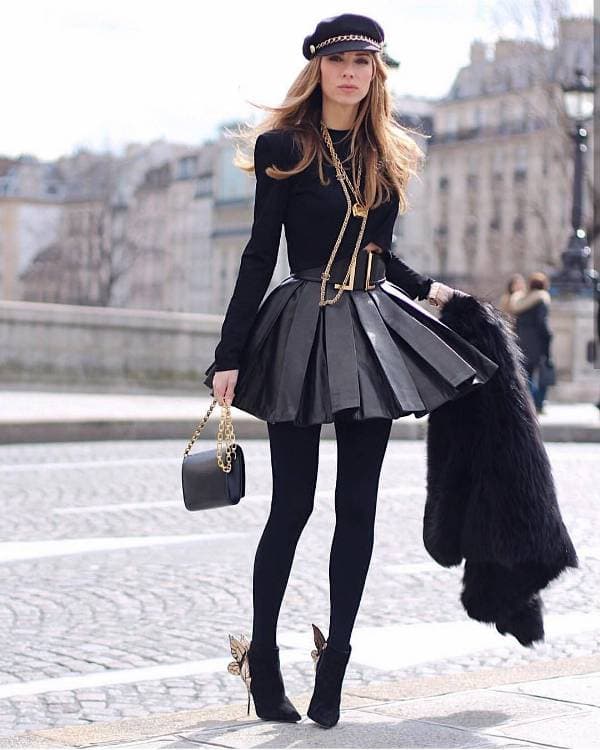 20. I love high heel shoes in combination with a pair of jeans that perfectly dress the legs. I advise you to inspire from our suggestion and adopt a club outfit with jeans. At first glance it looks pretty simple, but if you look more closely you will discover the perfect combination of the blouse with an asymmetrical low neckline and casual jeans who are joined by a pair of gorgeous shoes.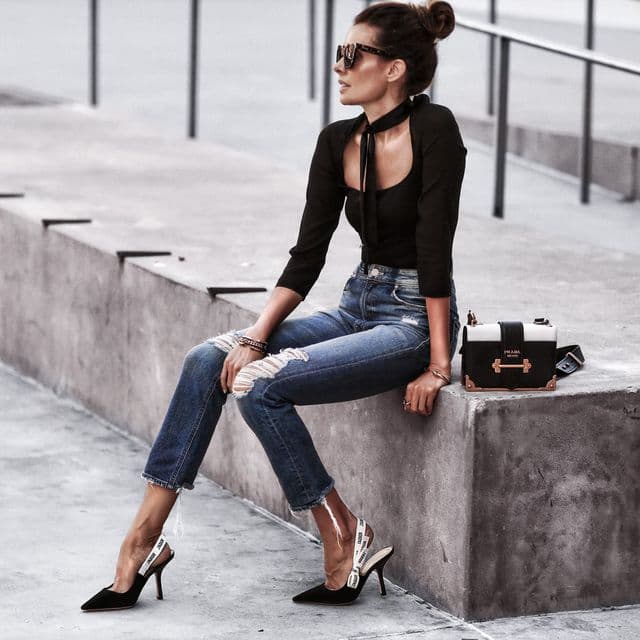 21. This is a combination of style, elegance and great taste that will turn eyes regardless of the party you are attending. You can replace the booties with high-heels sandals and create a summer outfit with jeans, a perfect summer wear for teenager.
The white pants and light colors lead you to the warm and holiday season, but here's how you can wear your favorite white pants in the club on a winter evening. Yes, we can say that in the club we have the freedom to wear any piece of clothing that puts us in the spotlight.
So, choose to wear this kind of pants with a special crop top. Add a pair of thick heel boots to feel comfortable and here's how you're ready for the date.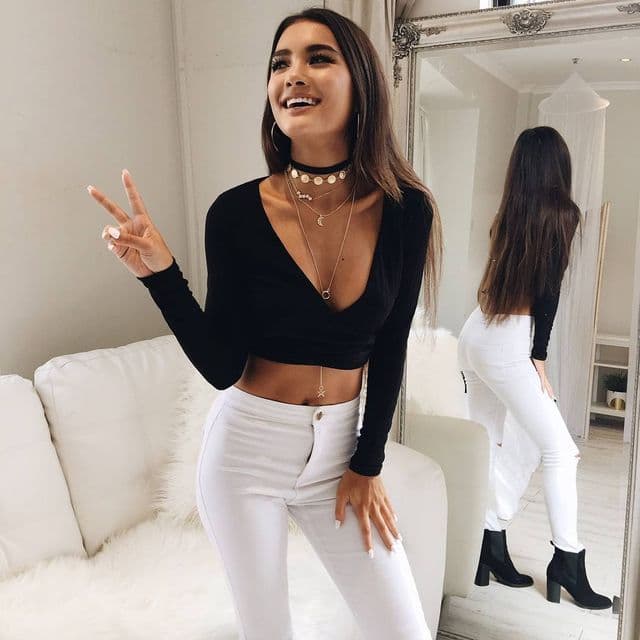 22. The "little black dress" concept has traveled over time and has undergone countless changes in shape, texture and length and can be adapted to any occasion. We must be very grateful for that moment when Coco Chanel has decided to make this wonderful gift to all women.
Thanks to that you can use a black dress when you prepare your outfit for a winter club outing or, why not, you prepare your first dinner date outfit. You can choose a knit or cotton dress with a thicker texture.
You need to pay close attention to the proportions and length of the dress, which should make you look perfect, so it's important to choose the right size for your body. Replace the dress with a black pencil skirt outfit for a similar image.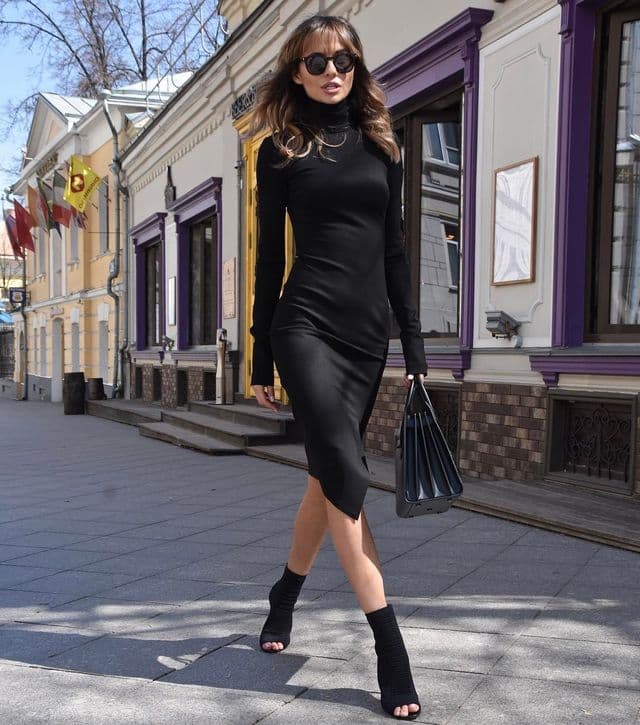 23. Just like the last year, leather pants have been successful, especially in the cold season. So if you're wondering what girls usually wear in the clubs in winter, here's the simple answer, leather pants. These can be combined with any shirt or blouse, being considered a versatile piece.

24. I advise you to try combining these pants with a maxi jacket and a pair of stylish shoes. It's a simple outfit that will give you freedom and confidence in the club even though the outside temperatures are not so friendly. You can always dress like that if you don't know what to wear on a winter date.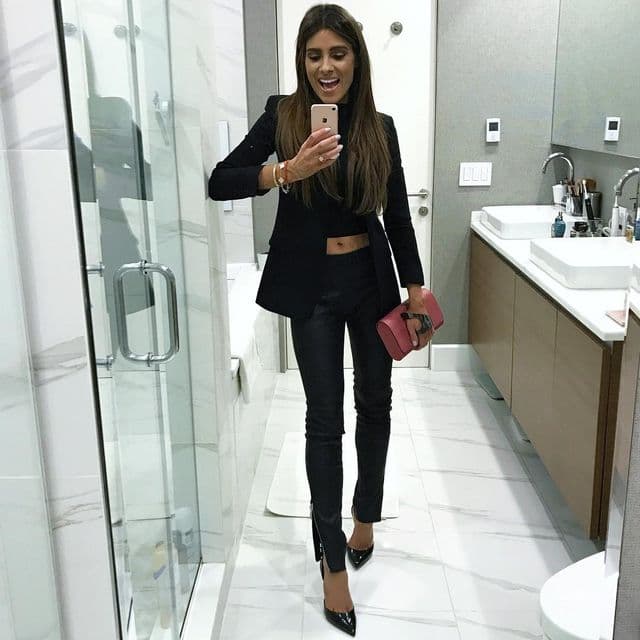 25. We don't leave yet the leather pants area and we still offer you an idea of ​​winter clubbing outfit. You can wear the same jacket and pair of pants but try a crop top with a small view at your belly, if you feel proud of the results you have at the gym.
The all-black outfit puts you safe on any occasion and regardless of the event you take part in. Sure, you do not have to worry about breaking the monotony with a colored purse. Certainly there will be some glances that will appreciate the effort. Use this outfit when you wonder what to wear on a first date for drinks.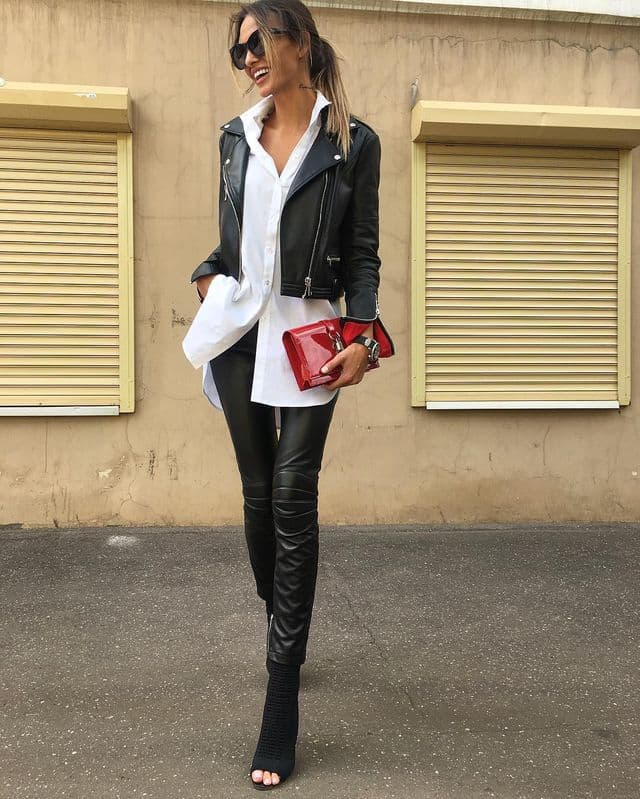 26. Because we just haven't get enough of leather pants we'll give you a last outfit idea for the club. Chose a simple white boyfriend shirt and complete the outfit with a leather jacket at the waist.
It's a combination of fashion and simple things at the same time. The good news is that such a outfit can also be worn during the day with the right pair of shoes or as an outfit festival.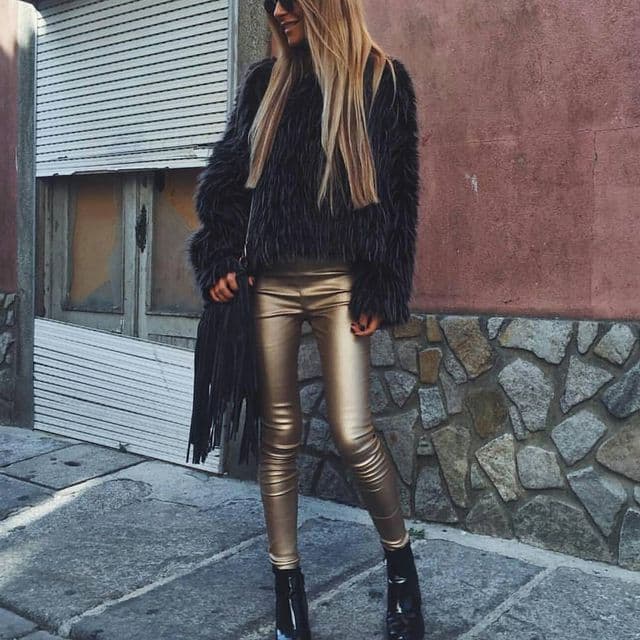 27. The winter clubbing outfits section also includes a short skirt of thicker material or leather. You would never have thought you could wear the short skirt in the winter, but here we are showing you how to make no mistake.
When you are dealing with a short skirt you have to apply a trick as simple as possible. So if we have a hole at the bottom, we have to fill the top. This means that with a short skirt we have to put on a blouse with sleeves. Inspire yourself from our suggestion and you will not be wrong.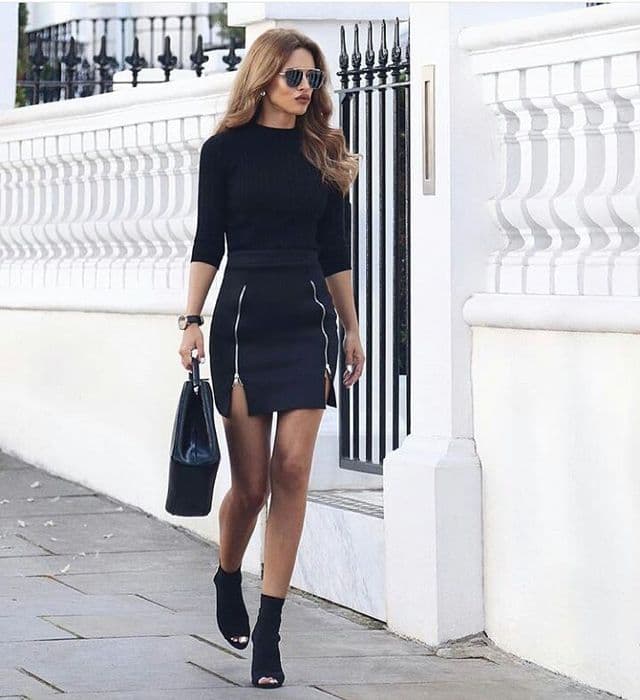 28. As you may have already noticed, the leather is one of the must-have patterns of the fall-winter season 2022-2023. This means you need to wear it more often in your outfits and learn how to wear a leather skirt in winter. For example, you can start from a short black leather skirt outfit in order to create your outfit for a night out in the club.
Yes, it can play the star part in your outfit for the club. It's important to keep the proportions you have learned before and complete your casual going out outfit with a jacket with long sleeves. You are free to wear either heel shoes or boots because the wow effect will be the same.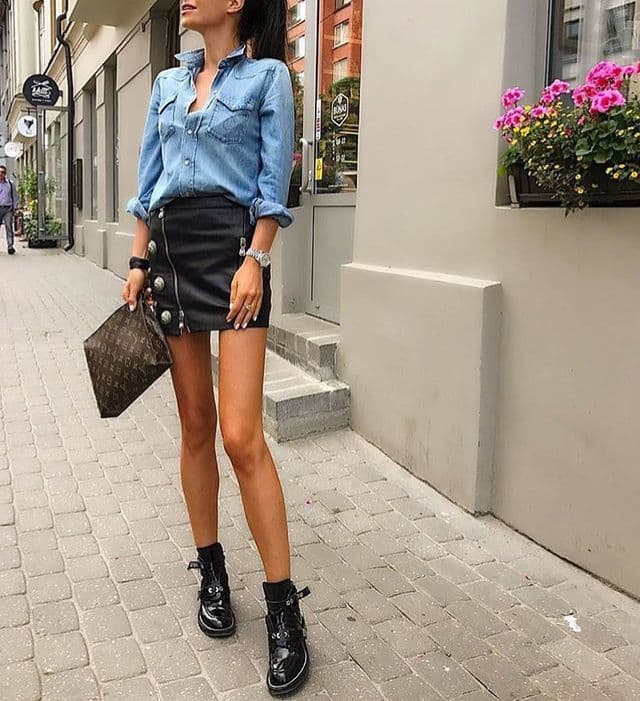 29. If you are a big fan of short leather skirts and you don't know what to wear with a leather skirt, here you can find another cool suggestion. This time you use new accessories to make it perfect, such as the hat in the picture.
Put a drop of color through the red maxi shirt, add the favorite pair of boots and you can create different winter night out outfits.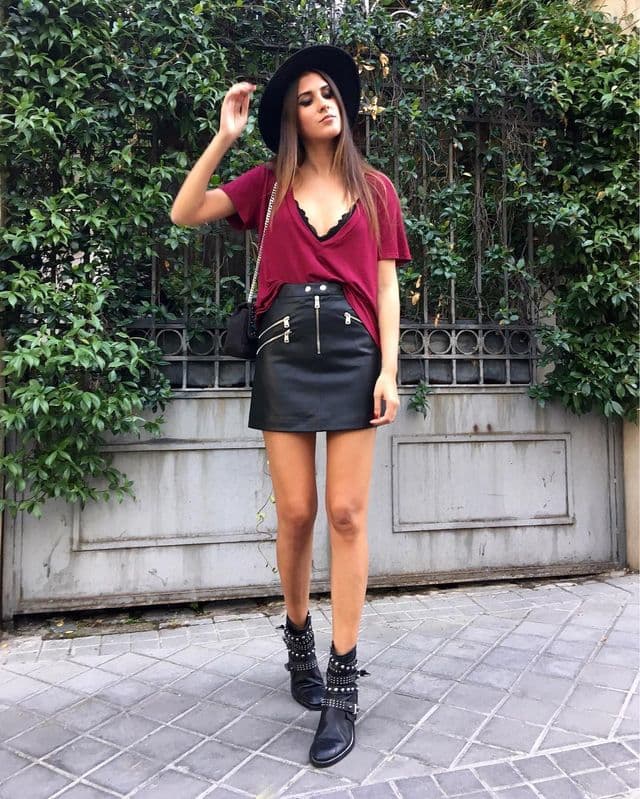 30. It has probably happened to you wanting to wear a sequins skirt but to worry that you might look like a Christmas tree. Well, we offer you a suggestion of the perfect outfit for club during the winter, which has the main piece a short skirt of sequins.
The secret to having a successful outfit is to let the skirt shine without adding other elements. So, follow the example in the picture by choosing a simple blouse but with an asymmetric neckline, leave your jewels home and grab your hair in a simple queue. Ready, you're ready to go to the club.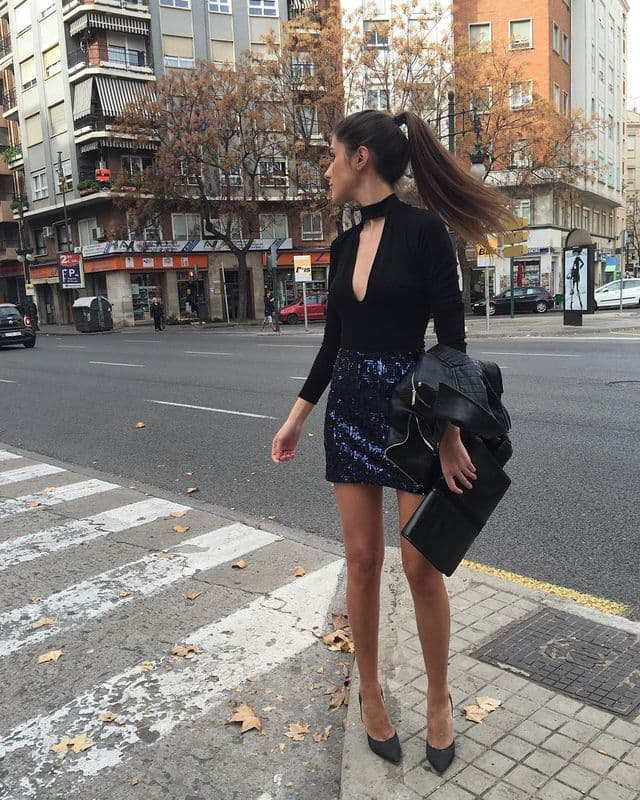 31. Who said that if it's winter you can't wear a beautiful jumpsuit? You certainly wonder where the right place is for it given the time of the year. I hope that you enjoy the challenges. This is why I offer you an idea for an outfit based on a jumpsuit and a pair of boots to the ankle to get out in the club in the winter.
If you choose to expose your legs which means you will have long sleeves on the top. I advise you to choose a velvet outfit, fashionable fabric this year, or a slightly thicker fabric. Next time you go out, you should try this kind of shorts outfits for the club.
32. I have already said that details always make the difference which you can apply whenever you have the opportunity. If you are a nonconformist woman who wants to impress by her personal style in every outfit then I suggest you to use this outfit as a source of inspiration.
It consists of a black jumpsuit with a belt and a hat. You will surely feel great in this outfit in the club.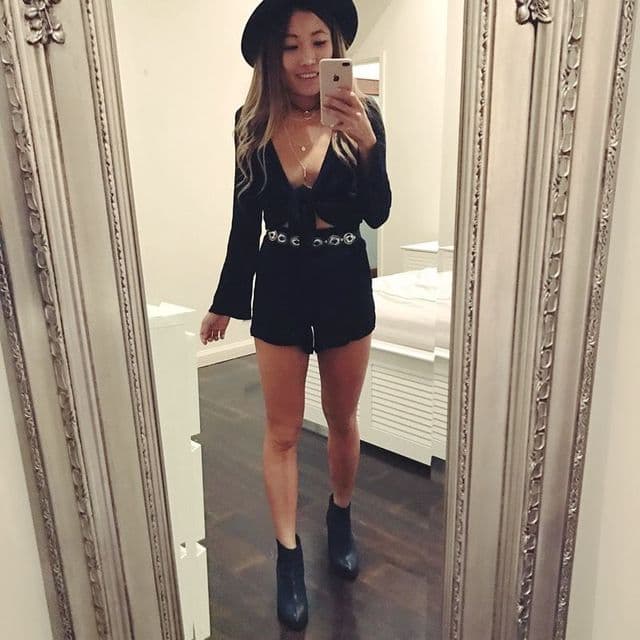 33. I turn a little upside down the image of the proportions and I offer you an outfit opposite the previous one. So, I present you a long pants and top in thin straps.
This outfit can be worn at a theme party, a cocktail party or why not at the New Year party when your appearance has to be spectacular. It's important to adopt as little jewelry as possible because this jumpsuit is a special kind.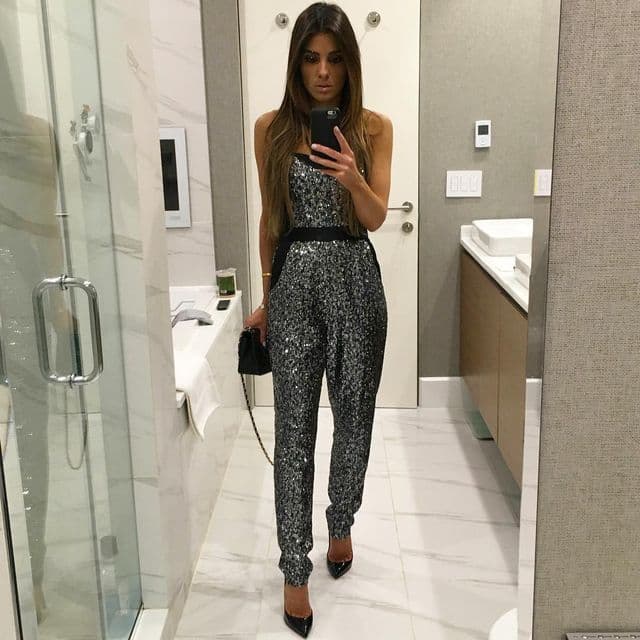 34. There is certainly such a skirt in the wardrobe of every woman, but for which there was not found the right opportunity to be worn. Here's how it can be part of a winter clubbing outfit, and even a successful one.
Put in the highlight the parts you're really proud of, such as your legs and shoulders, and let your clothes talk for you. Combine a maxi blouse with a sequined skirt and let them give you little surprises at any evening party.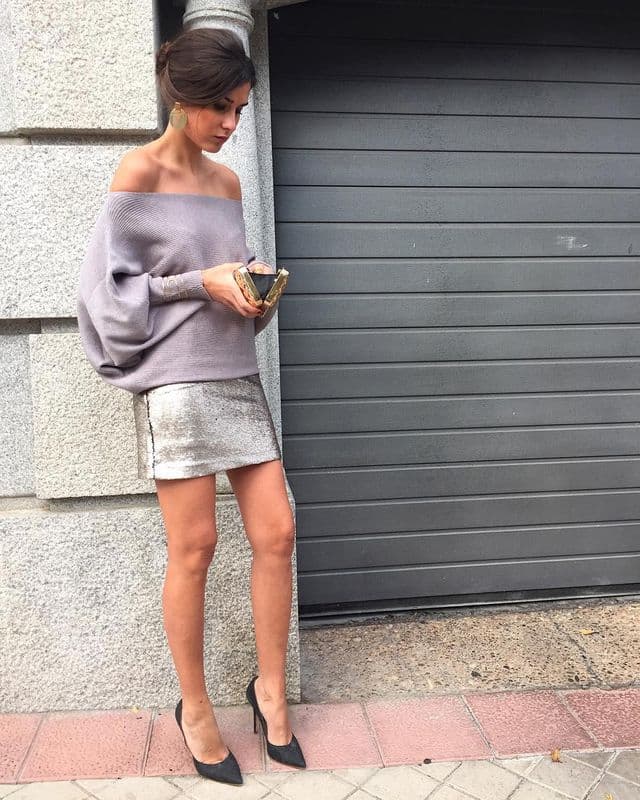 35. To feed from time to time the spiritual adventurer hiding in you, I advise you to wear such an outfit. Be courageous and combine a sequined skirt with a top with rock-inspired print.
A also think you should complete the outfit with a leather jacket, biker t-shirt and a cap. Yes, it's a cool outfit for the club and yes it can be worn at any time of the year, even in the winter.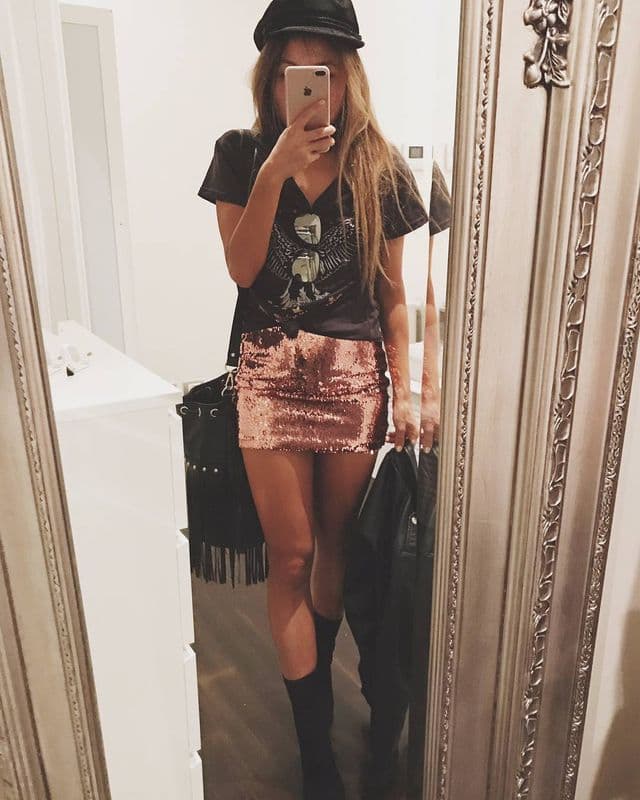 36. The latest winter clubbing outfits for winter are based on boots over knees. you have a simple combination that never fails. The slim dress and long boots are just what you need for a winter club outing.
It puts your legs in value and helps you not to break the winter dress code. In winter we were wearing boots, did not we?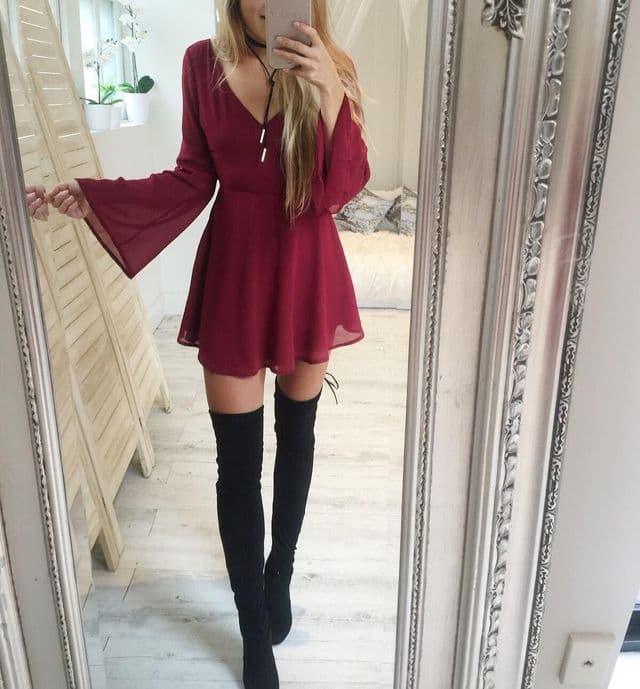 37. The second suggestion is the pair of boots worn over your pants. This is a combination to be avoided most of the time, but not if we know how to make the right choice. The key is to choose to wear dark pants with boots over your knees.
By doing so, you will not see the change from footwear to your garment and you will create the illusion of endless legs. Be free to play at the top with the pieces you think it represents to have fun while you're out.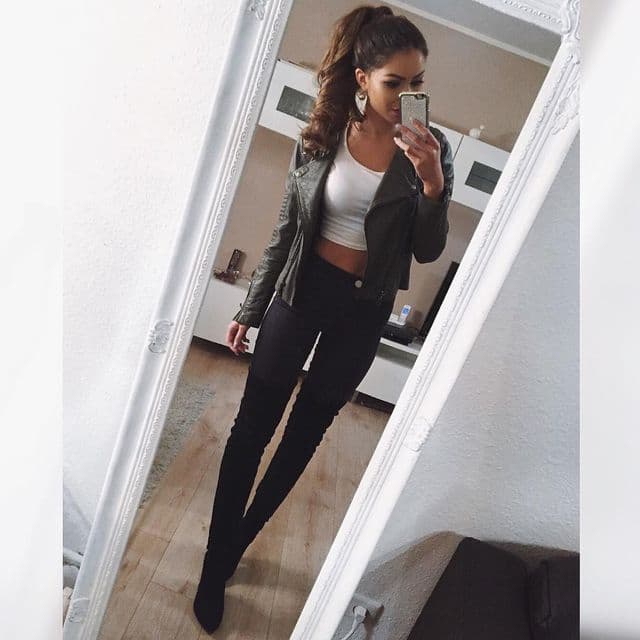 38. Whether you're fond of cute black club dresses mixed with statement accessories and suede boots or you're a retro chic type of girl with bodycon mini frocks and snake-print boots, the dance floor is yours. Take a risk and copy some of the examples of knee high boots club outfit presented in this post.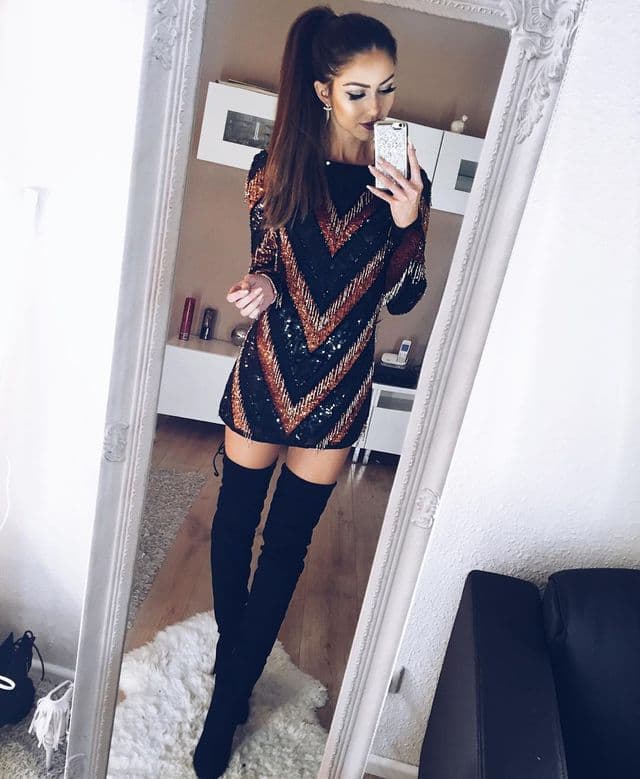 39. Even if it's not shiny, you can always try an outfit like this when you go out and it's cold outside. I like the match of the high boots with the clutch, don't you?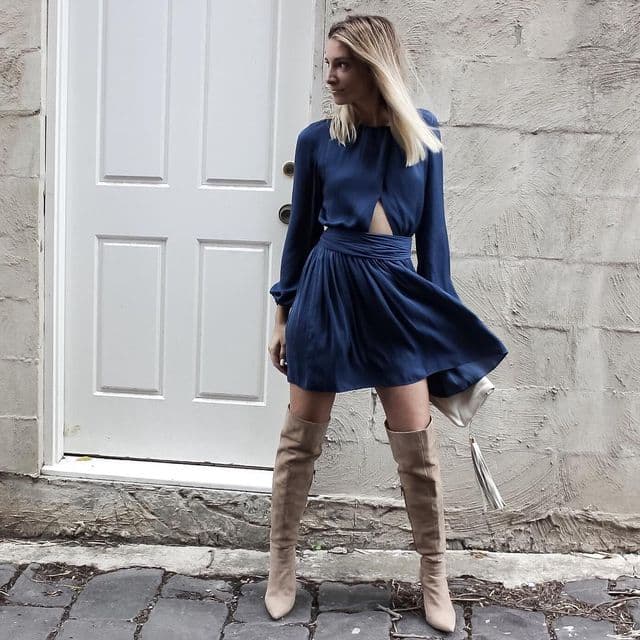 40. Until now you were not convinced that the leather pants have a chameleon character, you certainly have the proof now. In the clubbing outfit ideas series or casual date outfits, this suggestion, which is based on leather pants and shiny coat, is also successful.
It's a fact that the combination of leather and the shiny coat seems unusual, but it should be noted that the coat must be worn outdoors. This way you can hide a lace top or any other piece that will be revealed as soon as you enter the club. We can say that in this idea the coat plays the protective role against the negative temperatures during the winter.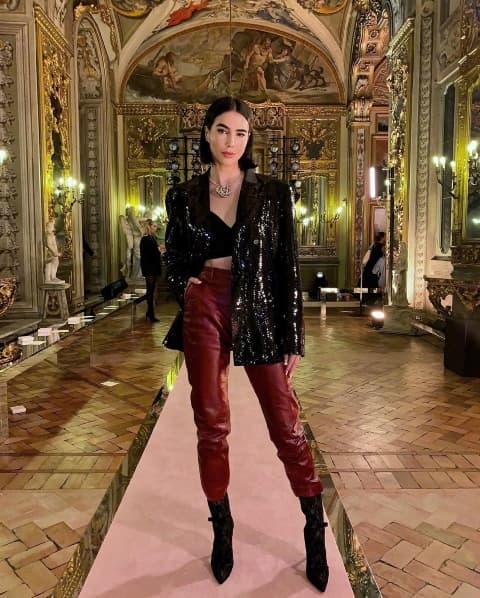 41. If you are looking for a special outfit for a night out, but in the same time, you are the kind of girl who likes to dress when is cold outside, well, I recommend this beautiful outfit. It might suit you!!!
A blouse with large sleeves, high knee boots and a short skirt, matched with a military style coat… you can try it next time you go out.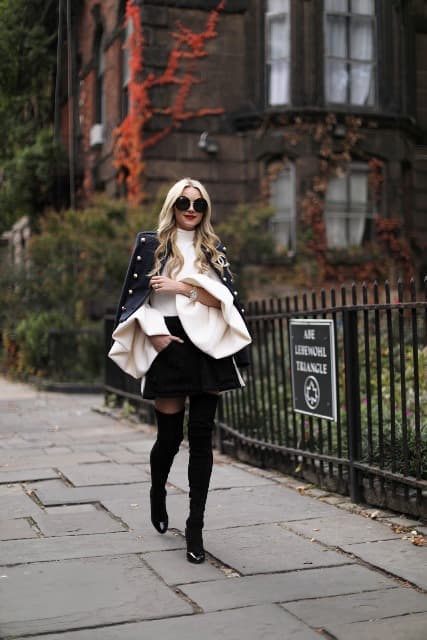 42. Who says you can not wear shorts during winter? The next picture is the proof that you can, especially when you go out for a party or to a club. See also my trend report about what to wear with denim shorts female.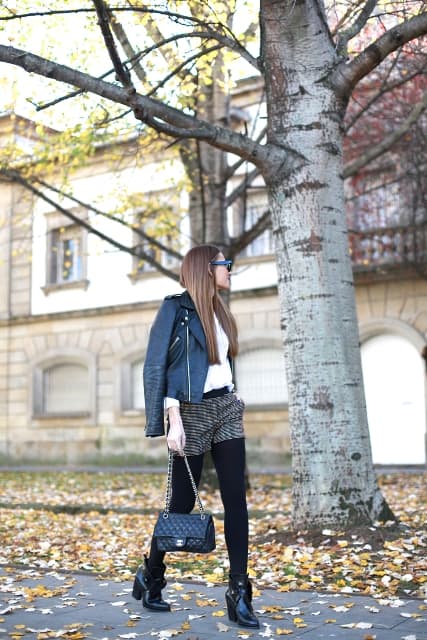 43. You might say that is cold outside and you can not wear dresses like these. But I can not agree with you. Why? Well, is true that outside is always cold, but inside a club, especially on the dance floor, is always hot. So, I would wear a fur coat outside, but I would dress like this inside.
44. Or, if you don't like the idea of a sleeve less dress, try one with long sleeves or a dress sleeve less and a shiny cap like in the next image.
45. Other images, just to convince yourself that a short dress with high knee boots, could be a choice for a winter club outfit.
www.freepeople.com
46. What about a nude tutu skirt? Would this be an option for you? I know for me it would. So I want to present you as much as many possible ways to dress.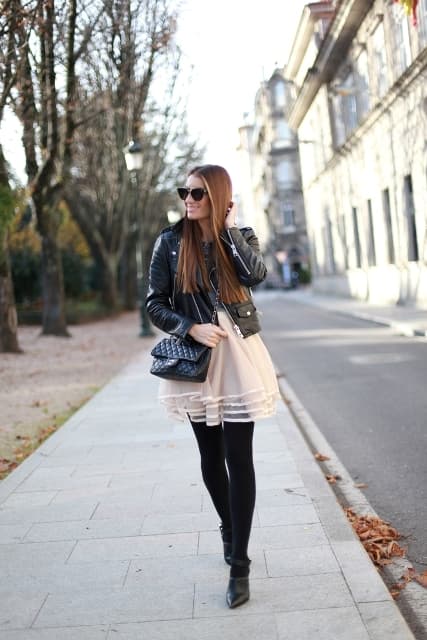 47. Because is cold during winter, you could try an all black outfit with a long dress, black leather coat and black boots.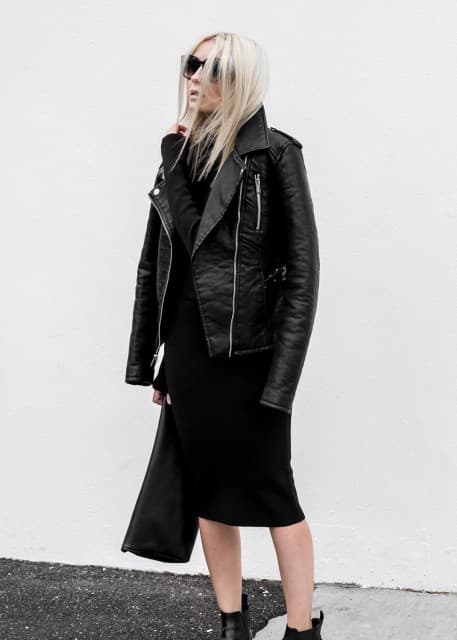 48. Don't hesitate to wear something bold, something that make others to take a better look at you, like this dress. You won't be anonymous if you copy this outfit next time when your are searching for winter clubbing outfits.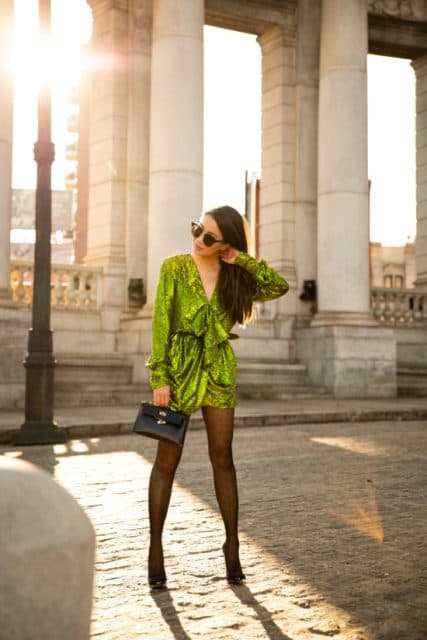 49. How about a short velvet dress perked with high velvet boots? It should be on your short list for winter clubbing outfits.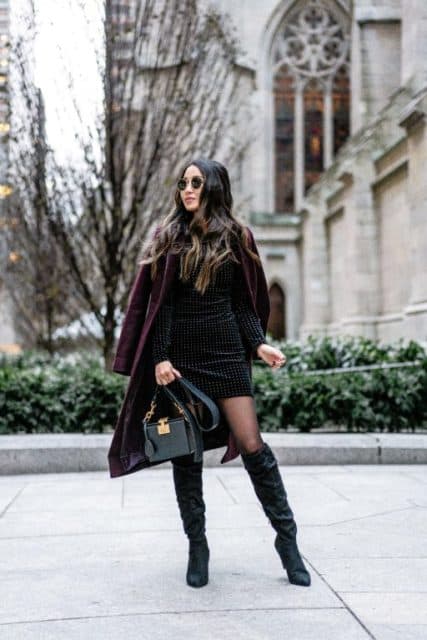 50. I know, I know! You could say that it's a dress that suits more for a party than for a club, but I would definitely wear a dress like that to a club. It's your choice!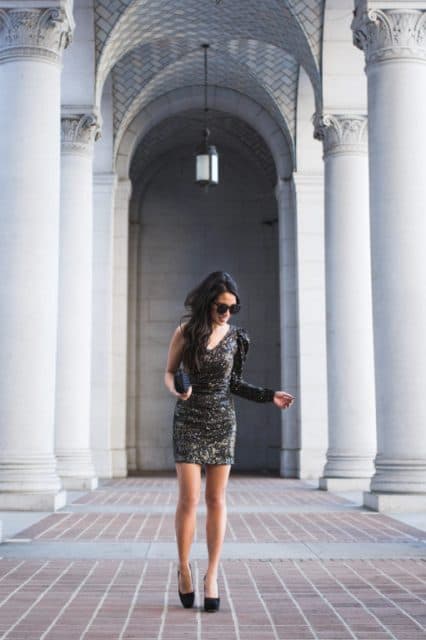 51. Because is winter, maybe a simple outfit like this one and a elegant short coat, should perfectly work for a winter clubbing outfit.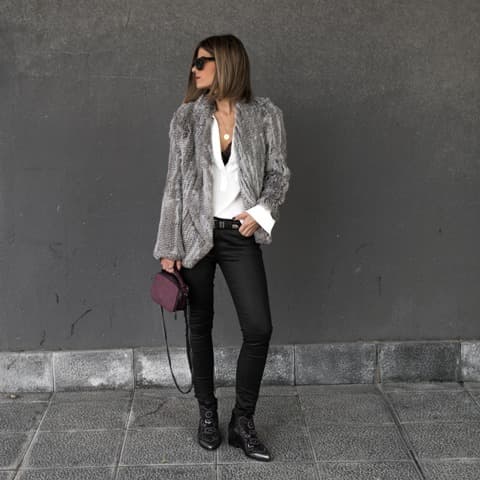 52. What about this shiny pants and shiny shoes? I love the idea of completing the outfit with this colored top. Don't you?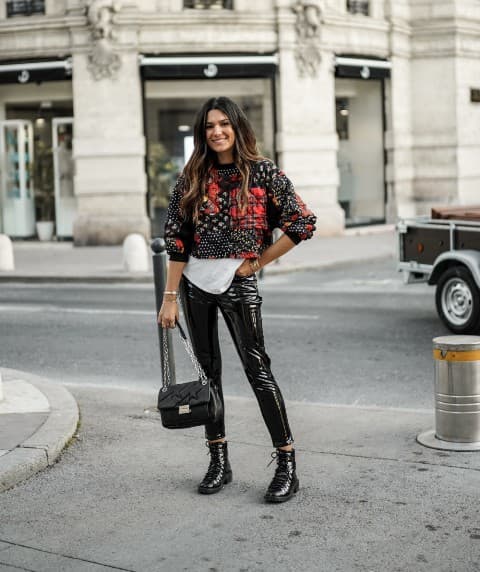 53.  Some of the girls, said that during winter is to cold to wear an outfit like the next one. But, I say to them: if you want to look beautiful, you make some sacrifices. Of course, you can always wear a long winter coat on your way to the club.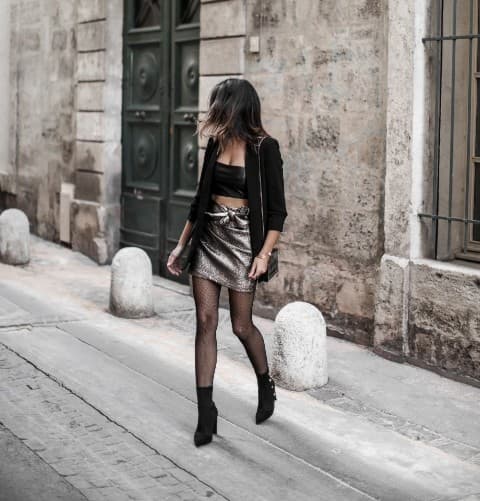 54. This outfit is perfect for clubbing. Is true! Probably I would replace the sandals with boots because we are talking about the cold season.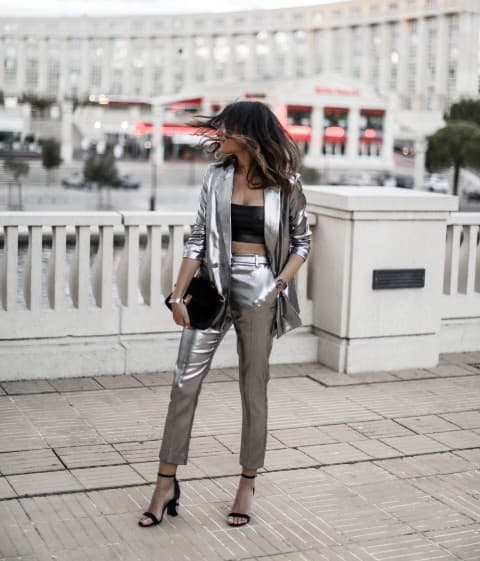 55. Well, you decided that you want to go clubbing, but you are not comfortable with the idea that is cold outside. So, you can improvise winter clubbing outfits like in the next photo.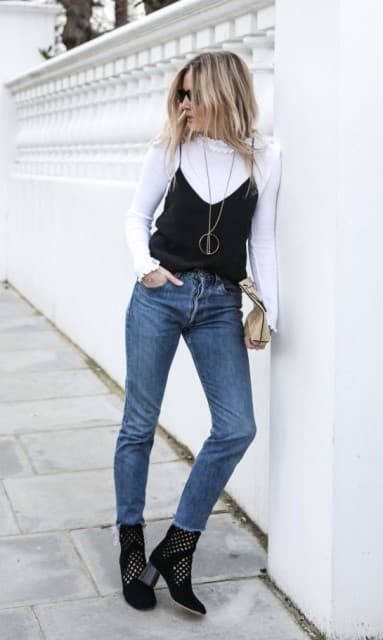 56. Simple and catchy winter clubbing outfits with jeans and a leather jacket, like in the next image.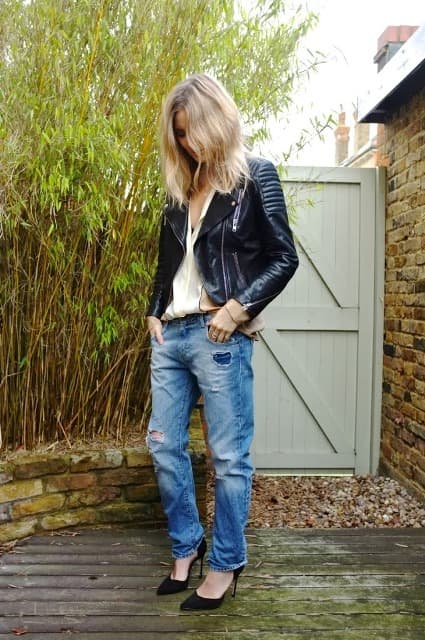 57. Do you like the non conformist style? In this case, you could try an outfit with a white flowy summer dress perked with leather pants, boots and leather jacket.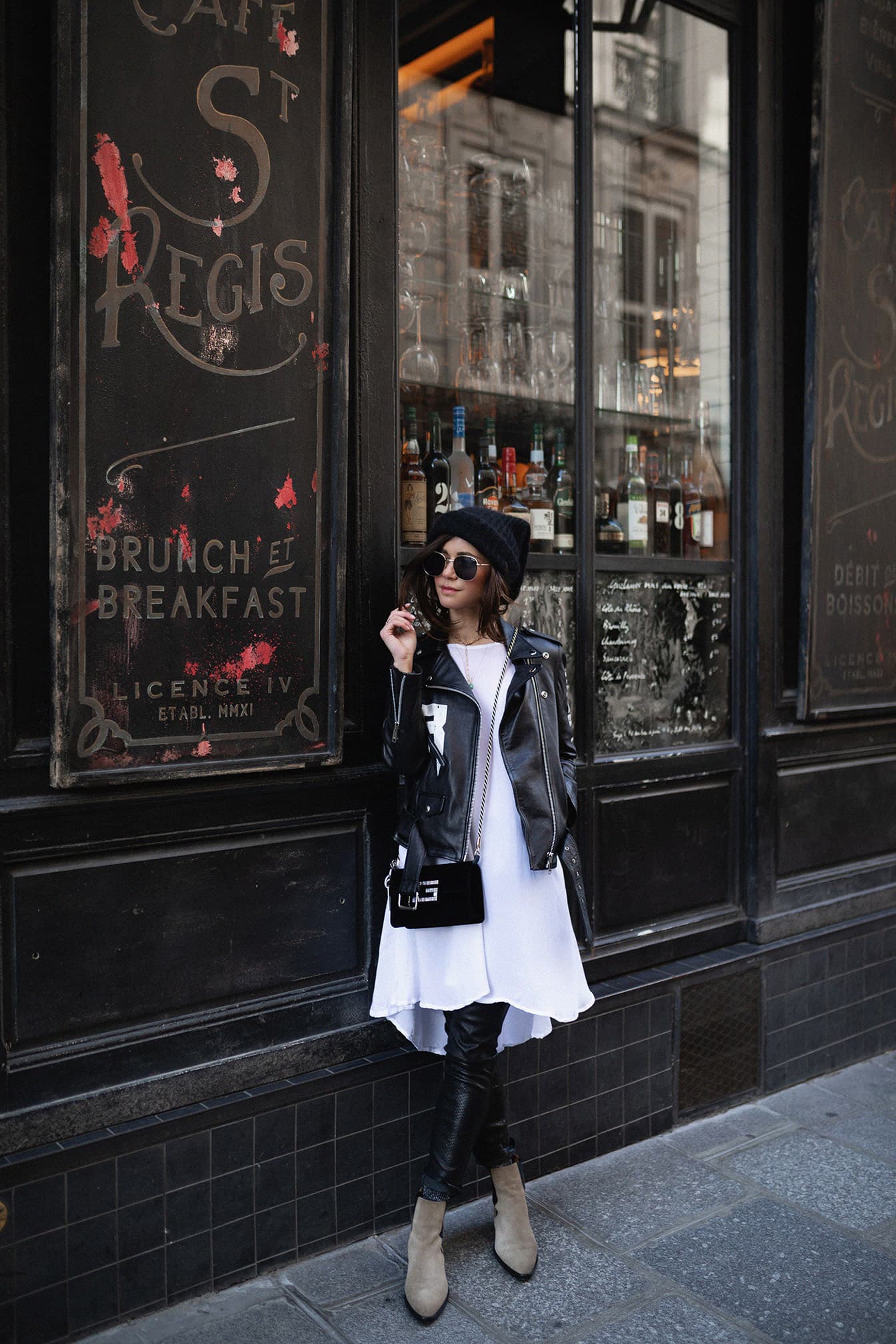 58. When you feel it's really, really cold outside, try an winter clubbing outfit like this one.
59. Do you like non conformism? Here is another example.
60. How about super casual winter clubbing outfits? You can have one by mixing a black dress with sport shoes and a casual jacket.
61. How about this short velvet dress? Paired with short ankle boots is the perfect outfit for a party in winter or for a night out.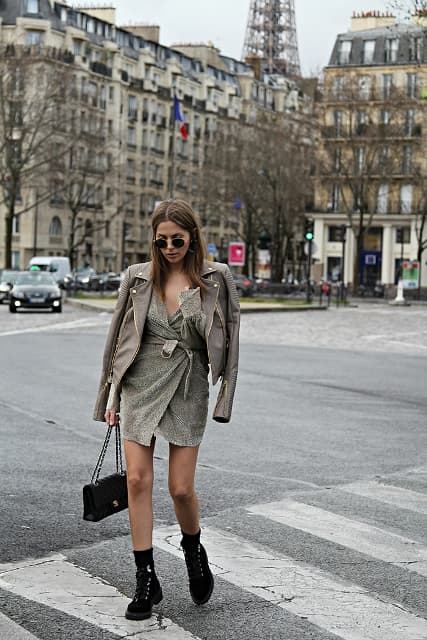 62. If you are not afraid to be fancy and wear gorgeous clothes like in the outfit from the next picture, you should take  a look at the outfits that Blair is proposing. You will be impressed and inspired.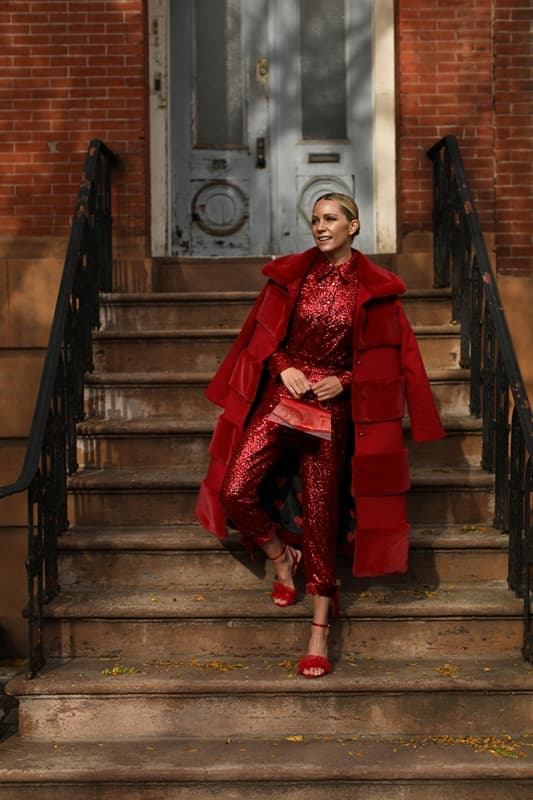 63. Because wearing leather is very trendy this year, you should try an beautiful all black outfit with leather pants and a black off shoulder blouse.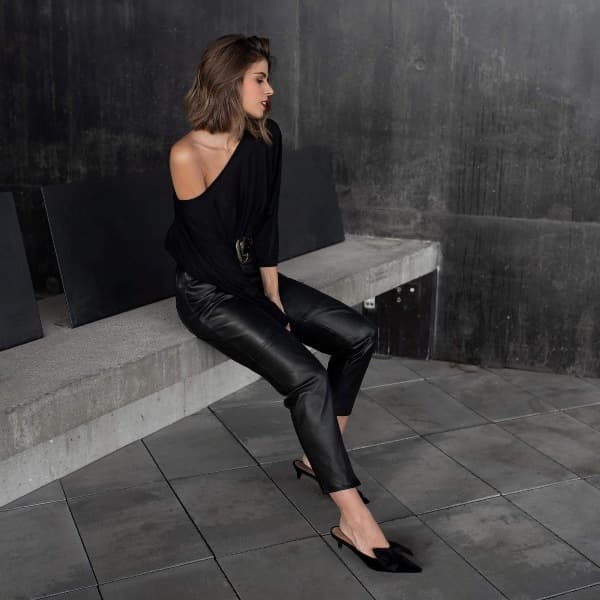 64. Well, it's winter and I know that some of you girls like to wear something like a sweater, even when you go outside for a club or for a night out. You should try this gorgeous outfit from the next picture.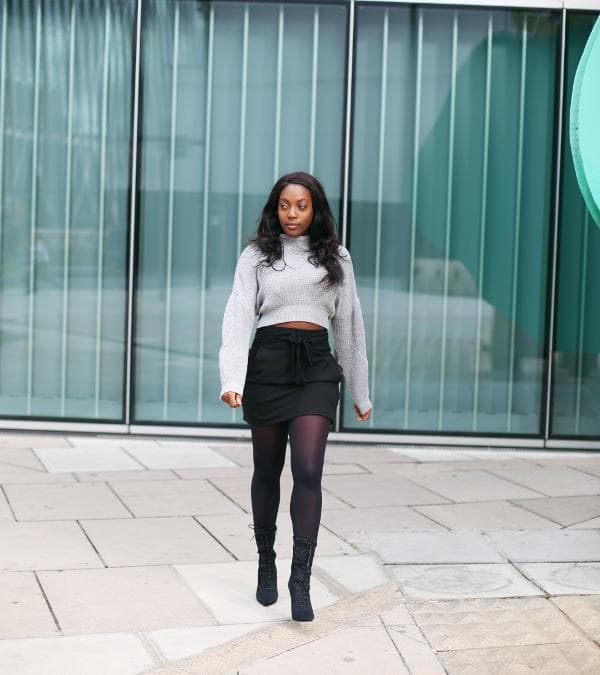 65. Looking for a party outfit? What could be more simple then this beautiful short velvet dress!!! If you have a body like hers, you don't even need to wear high heels.
66. Why not trying something girlish? A black dress, flat black boots and something pink, like a pink leather jacket.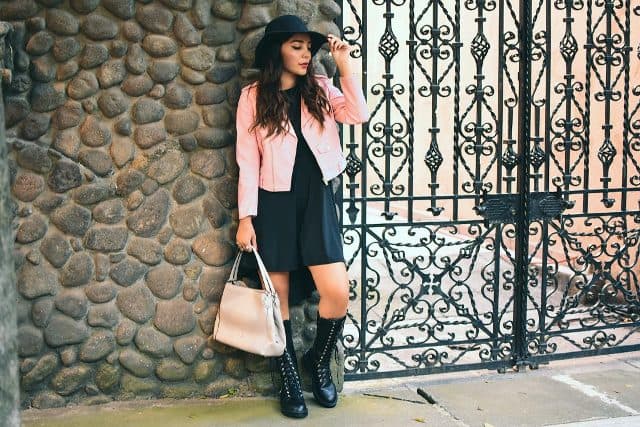 67. What about a super outfit with over the knee boots that elongate the legs and a short sweater dress? This match is very cute and also seems warm!
68. A shiny short dress with high or short boots, it's always a nice winter clubbing outfit, especially when you have a body like hers. Look at this beautiful outfit!!!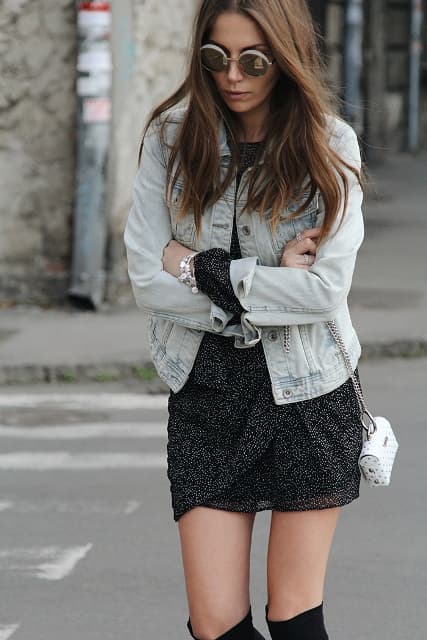 69. I like the idea to dress with something that makes me look like a princes, even when we talk about a winter night out outfit, like in the next image.
70. Be yourself! Be beautiful!!! Copy this nice image and cover it with a coat in order to obtain a nice winter going out outfit !!!
71. The short skirt is always a solution for a night out outfit! And when is matched with a black blouse like in the next image, the choice is perfect for a winter night out.
72. How I love this dress!!! It's perfect for a night out! And the shiny ankle boots are perfect for this winter club outfit!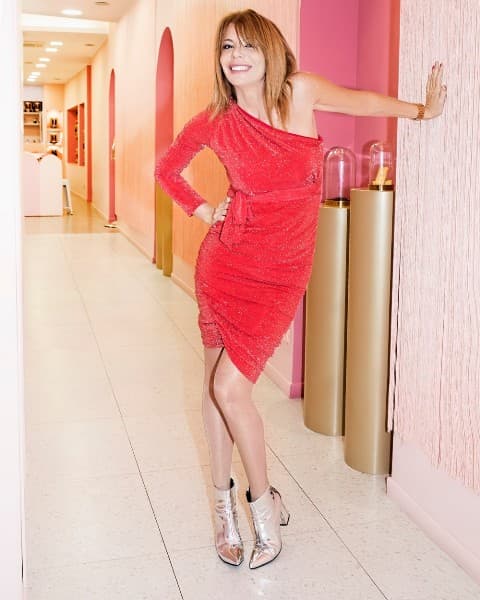 73. If you have a bodysuit with metallic insertions, you can match it with a pair of leather shorts and a pair of high boots and you'll have a beautiful outfit like the one from the next picture.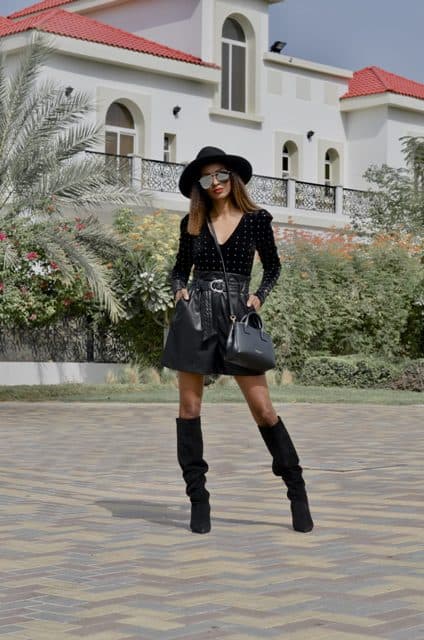 74. I just love the idea of combining a stylish white organza blouse with leather pants… Love this contrast between materials and I also love the contrast between the colors: black and white!!!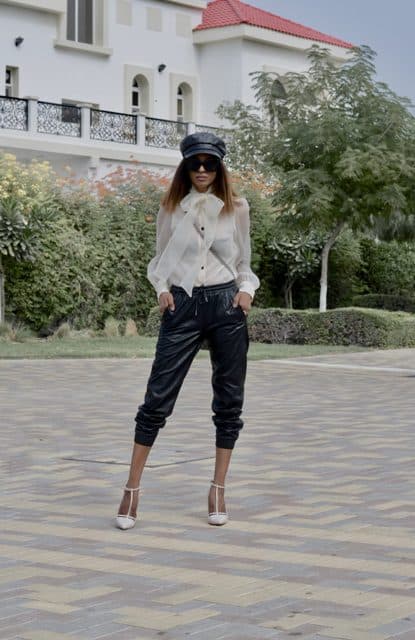 75. If you like to try something different, I suggest you to try this interesting and nice outfit. I really like it!!! What do you think? Would you try it next time when you go out?
76. I love this outfit !!! It's so simple and in the same time, spectacular. If you have a beautiful shiny dress like this one, don't hesitate to paired it with black over the knee boots, a black clutch and nice jewellery like those long shiny earrings.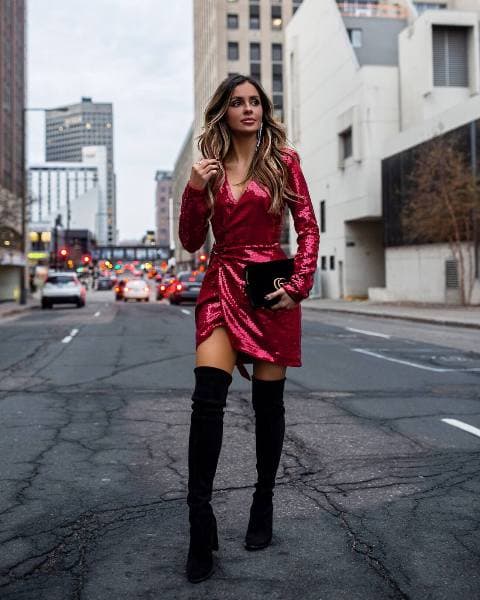 77. What about this beautiful evening metallic mini dress? It's nice and chic and it will help you look great even if have few extra kilos on your wight!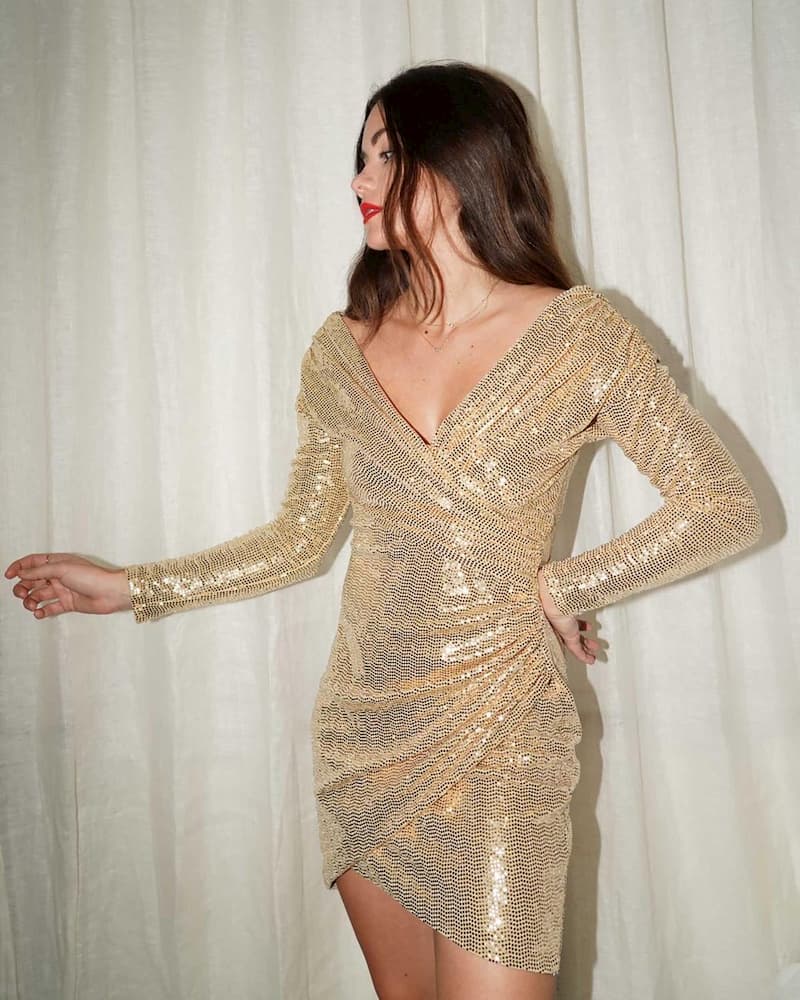 78. I certainly would like to look like Gigi Hadid in this metallic off-the-shoulder dress paired with mirrored heels. I think would be a perfect outfit for a night out.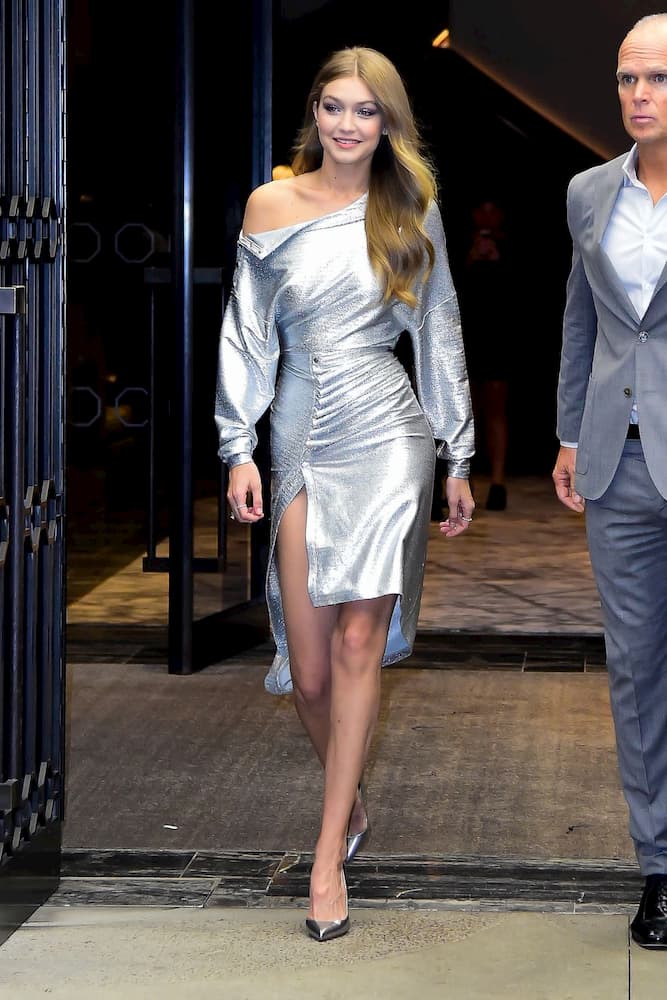 79. Always the black little dress, this time with long sleeves because is winter and pair with short boots, so it easier to dance.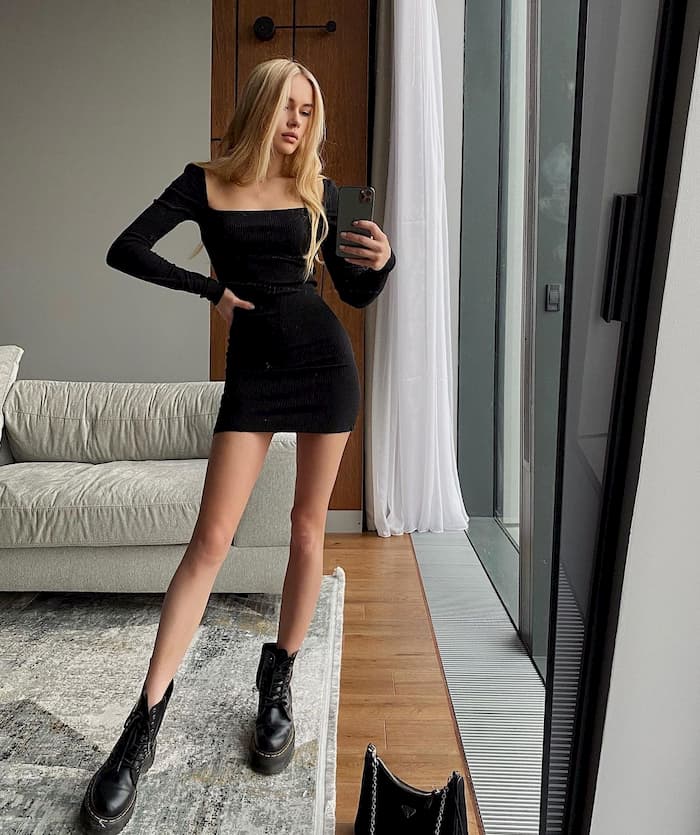 80. Maybe it's not a big difference between the next outfit and the previous one, but I think it's always a good thing to have the possibility to chose from more then one outfit. So, what do you think about the next one?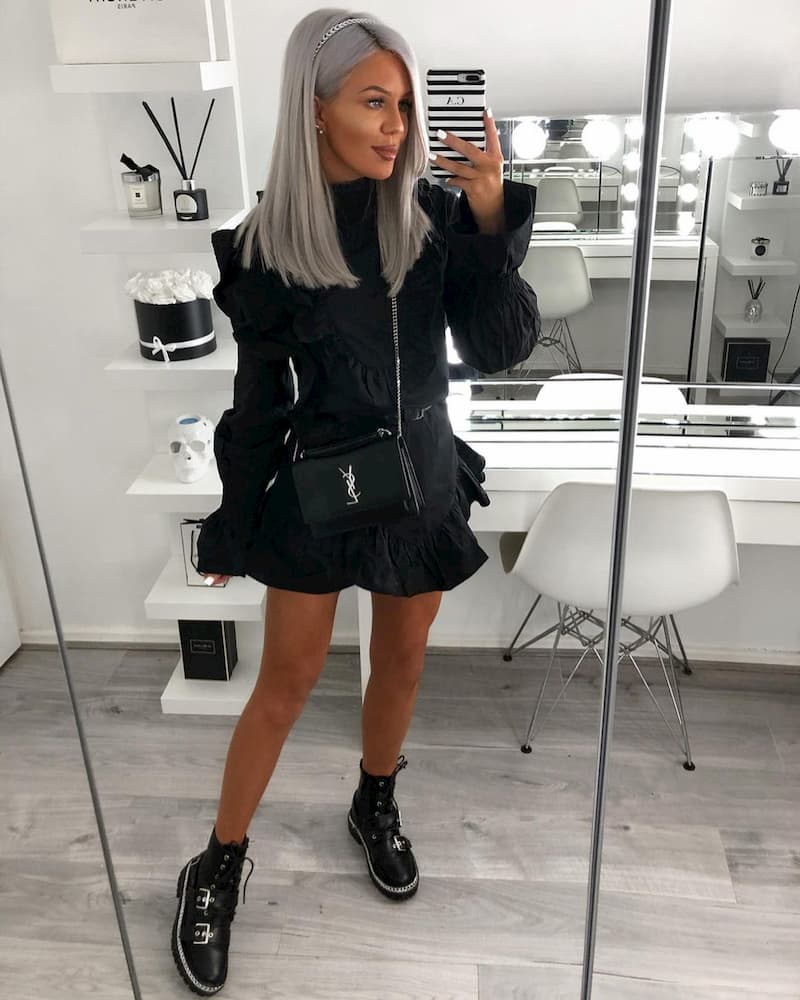 81. High heels, high knee boots and a short dress with a deep V neck. A perfect outfit for your night out when is cold outside.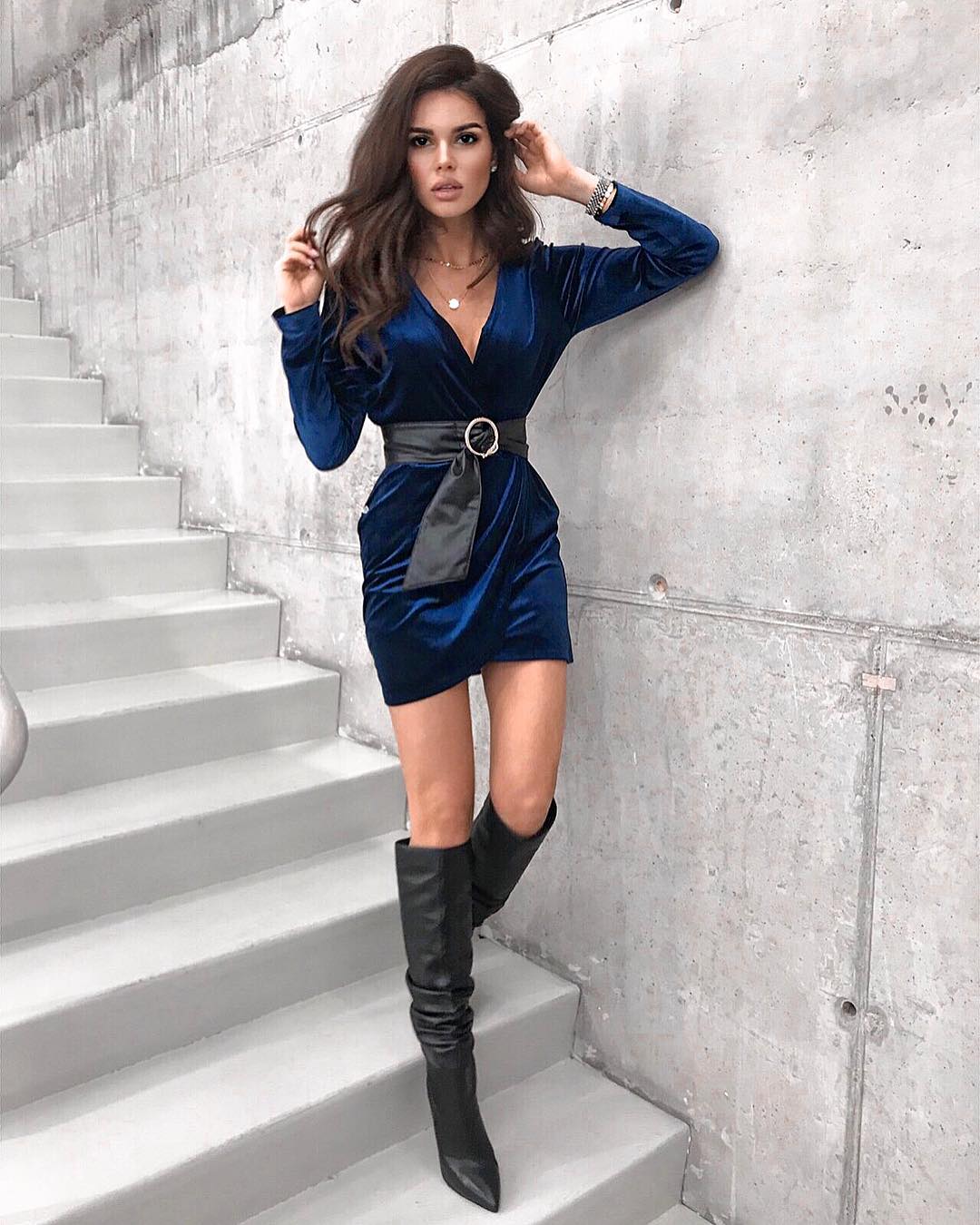 82. Always the black shinny little dress, this time, paired with a black coat and black boots.
83. A shinny blouse and a pair of jeans with high heels could be your winter night outfit for tonight.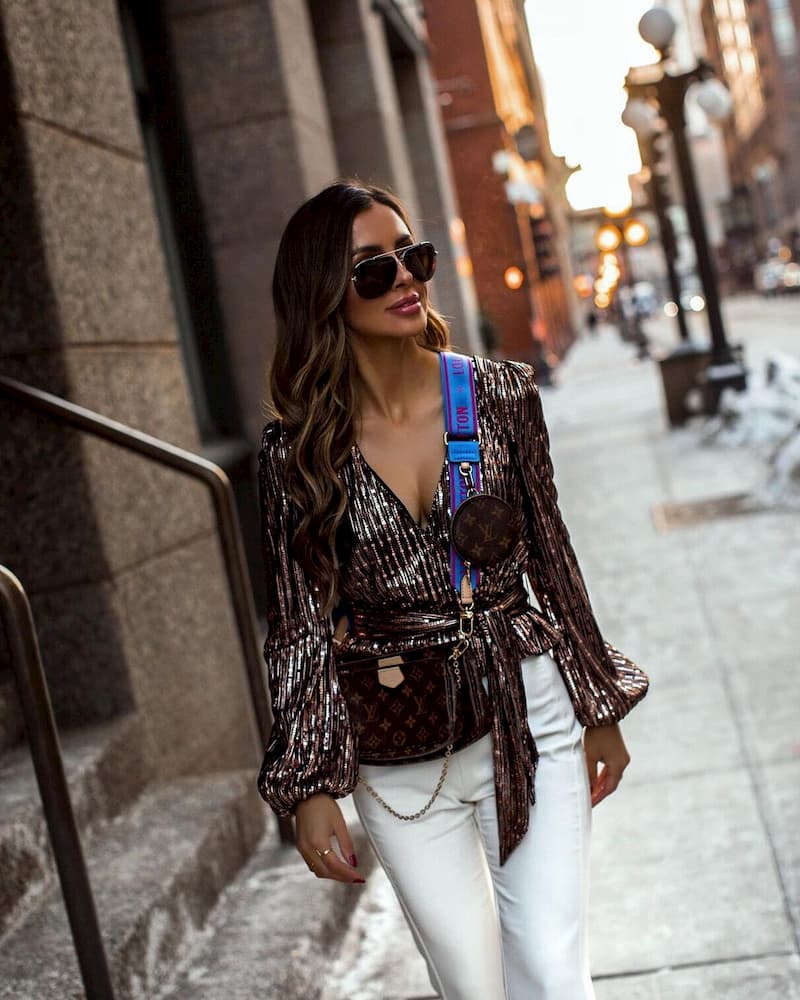 Yes, choosing the perfect winter clubbing outfit can prove to be quite difficult, and you need to consider many more aspects. However, with the help of the tips and pictures that we have given you as inspiration, mistakes are excluded. You have to let your intuition say your word and apply your talents in fashion. I look forward to meeting you with everything new and beautiful in style and fashion.
Maybe, you would like to read also my report about what to wear with white skirt or black wide leg trousers outfit, how to wear culottes with flats or what to wear with culottes.
Credit photos: Instagram