Once I started to look for festival outfits, I was wondering if there is anyone who doesn't like music festivals? Maybe… But, I am the kind of person who love them, especially when it's hot outside and I have the occasion to wear some of the best summer festival outfits.  Besides, what can I say… I like the idea of being well dressed every time in order to feel splendid and have fun…
Anyway… because of that, most of the time, I think how to dress for a festival before I go to one. And that's why, mapping out a selection of possible summer festival outfits, it's my way of dealing with the lack of inspiration when it comes about what to wear to a music festival.
No doubt, music festivals from all over the world, have become events where, aspiring trendsetters and even celebrities, have the possibility to express their wildest and super-creative ideas, for summer festival outfits. Join the fashion crowd! It's your time to shine!
Festival fashion is all about having fun and expressing yourself through your style. Whether you're attending a music festival or a cultural event, you'll want to make sure you have the right pieces to keep you looking stylish and feeling comfortable. Here are five essential pieces for women to wear in any size, so you can rock your festival look with confidence. From breezy maxi dresses to statement accessories, these pieces will help you create a unique and eye-catching ensemble that will turn heads.
How to Style a Festival Outfit
Think practical: With all the dust and crowd, it's better to avoid high maintenance clothing and opt for clothes that are washable and wrinkle-resistant. Besides, you should add some color to your clothes. Festivals are all about having fun and expressing yourself, so don't be afraid to add some colorful clothes to your wardrobe.
When it comes to festival season, it's all about standing out from the crowd with a bold and unique look. Whether you're attending a music festival, a food festival, or a cultural event, you want to make sure your outfit is on point. Here are some tips on how to style a festival outfit that will make you look and feel your best.
Start with a statement piece. This could be a bright, patterned dress, a vintage denim jacket, or a bold accessory like a chunky necklace or a pair of statement earrings. This is the piece that will really make your outfit stand out, so make sure it's something you love.
Choose comfortable shoes. You'll be on your feet all day, so it's important to choose shoes that are comfortable and supportive. If you're going for a more casual look, try a pair of sneakers or sandals. If you're going for a dressier look, try a pair of ankle boots or heeled sandals.
Go bold with accessories. Accessories are the perfect way to add a bit of flair to your outfit. Try a colorful scarf, a wide-brimmed hat, or a pair of sunglasses. If you're feeling daring, try a bright belt or a pair of statement earrings.
Layer. Layering is key when it comes to festival outfits. Try pairing a dress with a denim jacket or a tank top with a kimono. This will help you stay warm if the weather turns cold, and it will also add texture and interest to your look.
Don't forget the sunscreen. It's important to protect your skin from the sun's harmful rays, so make sure to apply sunscreen before you head out. You can also bring a hat and sunglasses to help protect your face.
Have Fun with Makeup. Makeup is a great way to add some fun to your festival look. Choose bright, bold colors that will stand out in the crowd. A bright lip color, colorful eyeshadow, or a fun face paint design can all make a statement. Just make sure to keep your makeup light and natural so it doesn't overpower your outfit.
Finally, have fun with your look. Festivals are all about having a good time, so don't be afraid to experiment with different colors and styles. Have fun with your outfit and you'll be sure to stand out from the crowd.
By following these styling tips, you'll be sure to make a statement with your festival look. Have fun with it and don't be afraid to experiment with different colors and textures. With the right outfit, you'll be sure to stand out from the crowd and have a great time at the festival.
Accessorizing Festival Outfits
Festivals are the perfect place to show off your accessories and copy outstanding summer festival outfit ideas that you can find in this pots. Try a cute hat, statement jewelry, and a cross-body bag to keep your hands free to dance. Besides, you don't want to lose you phone or some other stuff you are caring with you. You need them so, you need a place to store them.
Accessorizing festival outfits is a great way to express your individual style and stand out from the crowd. Whether you're attending a music festival, a cultural festival, or a film festival, you can make a statement with your look. But what really makes a festival outfit stand out are the accessories. Accessories can take your look from basic to bold, and they're essential for completing your festival fashion.
Hats for a summer festival
Hats are a great way to add a unique touch to your look. Whether you're wearing a fedora, a baseball cap, or a wide-brimmed sun hat, hats can add a touch of style and protect you from the sun. They're also a great way to express your personality.
The idea that a hat is a must for a summer music festival, I found it in a trend trend report, also about what to wear to a festival written by an well known blogger Vanessa ( you can follow this link in order to read her report about summer festival outfits https://stylishlyme.com/what-to-wear/what-to-wear-to-a-music-festival/#).
In this post, Vanessa, suggests that, even if most of us, think that, wearing a hat to a summer music festival is just an accessory for the outfit, in reality, a wide-brimmed hat is protecting your skin from the sun. So, it's healthy to wear a wide-brimmed hat!!! Don't hesitate to wear it!
Now, that we've established the importance of wearing a wide-brimmed hat, it's time to see also some images for inspiration. I will start with Vanessa's suggestion for coachella outfit.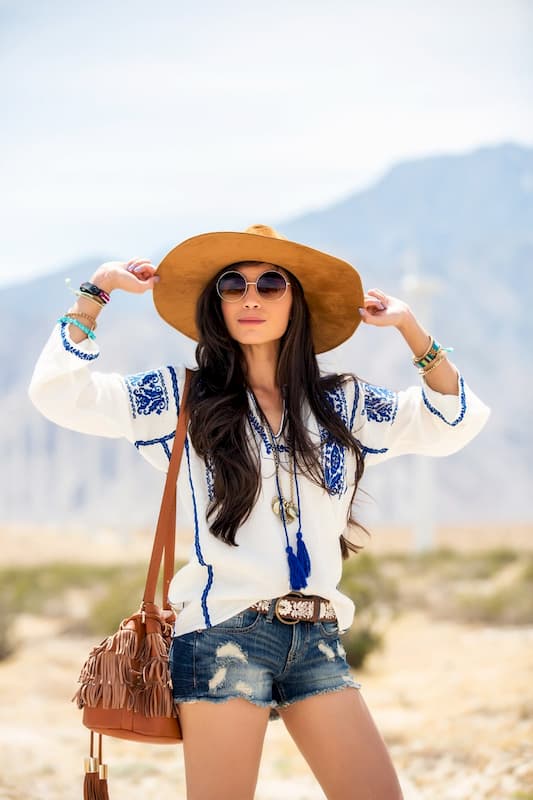 I spy with my little eye the grooviest and snazzy crochet jumpsuit. Amazing how quickly you can go back in time and bring back the 'Joplin' vibe of old-time festivals with boots, a hat and crochet bags.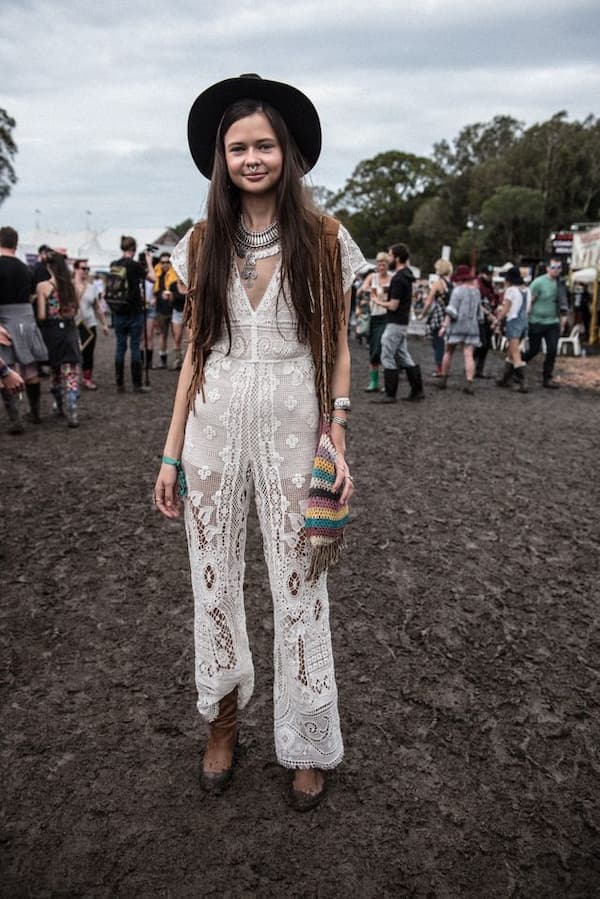 Pharell did pass on the love for these 'Happy hats'. Keep the rest low-key with a sheer mini or midi dress, chokers and black boots.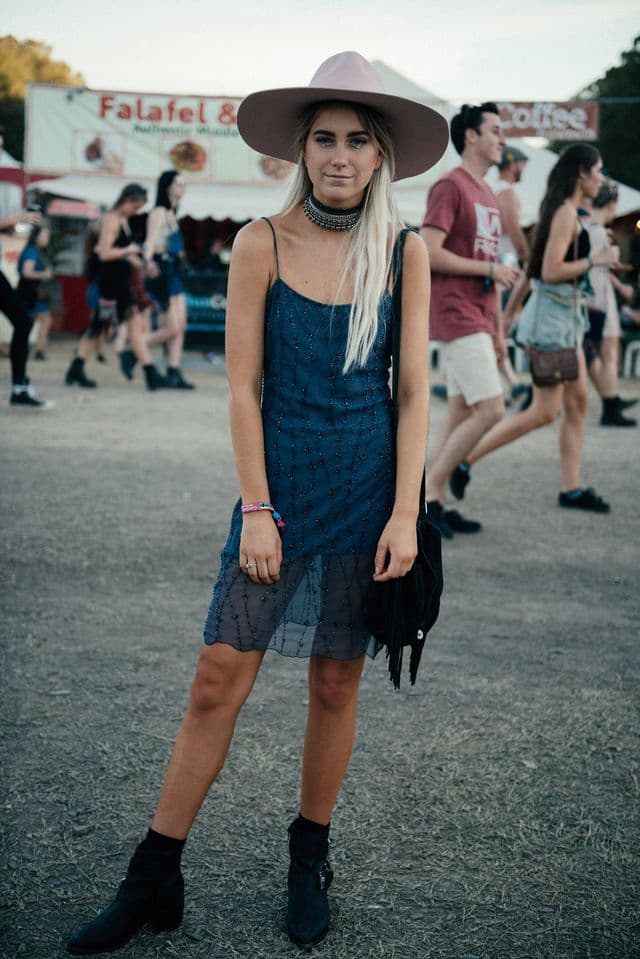 Sunglasses for cute outfits for music festivals
Sunglasses are another must-have accessory for festival fashion. Not only do they protect your eyes from the sun, but they can also make a statement. Choose a pair of sunglasses that reflects your style, whether it's classic aviators, retro cat-eye frames, or bold, statement-making shades.
Beat the heat with a printed maxi dress that looks rad regardless of your figure. Think practical and unique when it comes to accessories like cowgirl boots or hats.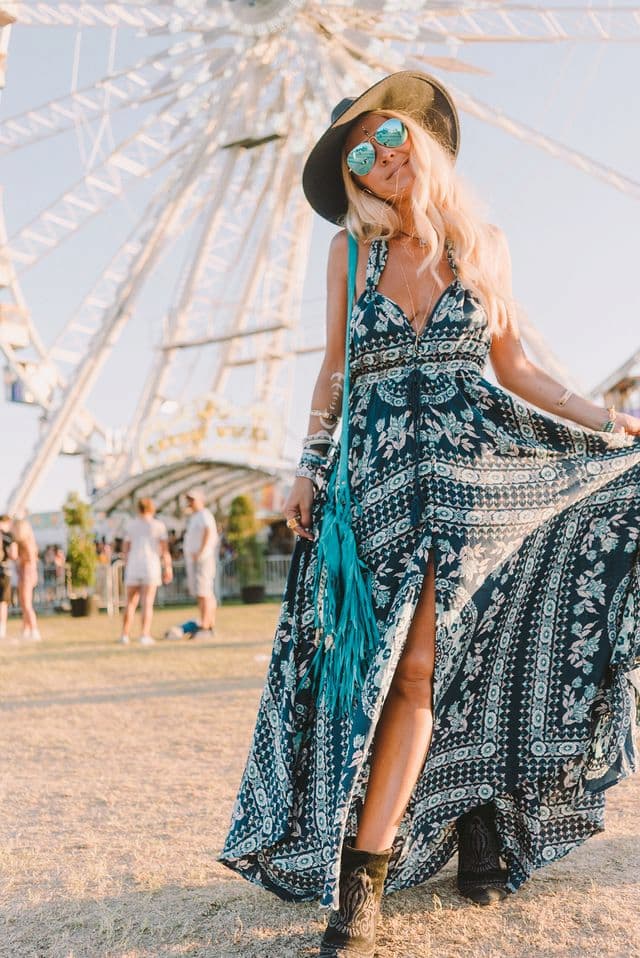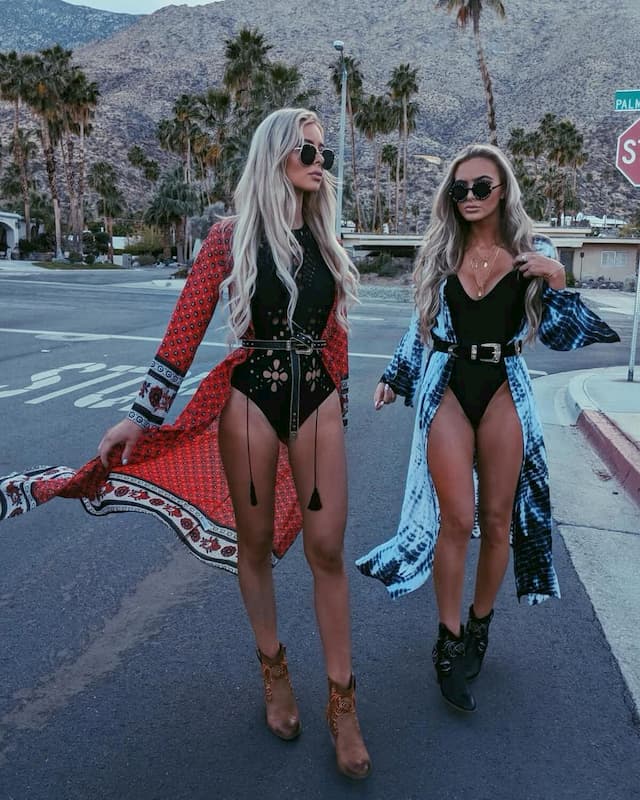 Jewelry is another way to make a statement with your festival fashion. From chunky necklaces to dainty earrings, jewelry can add a touch of sparkle and glamour to your look. Choose pieces that reflect your style, such as boho-inspired necklaces, or go for something more modern and edgy.
What leather belts to wear to an outdoor music festival
I like the idea of wearing a leather belt. From my point of view, it's an accessory that put your silhouette in evidence and you can also use it for a practical purpose, like, for your pants. So, don't hesitate to use it for a visual correspondence with the shoes…
And I think that leather is suitable for a belt, when we talk about an coachella look, because festivals are like something for hippie people… It's probably because of the Boho vibe…
Year after year we see the lace dress pop up in its coolest and loveliest way at music festivals. In conclusion, give to your set a Boho vibe with multiple leather belts and chic ankle boots. You can include this look in your list of club outfits for women.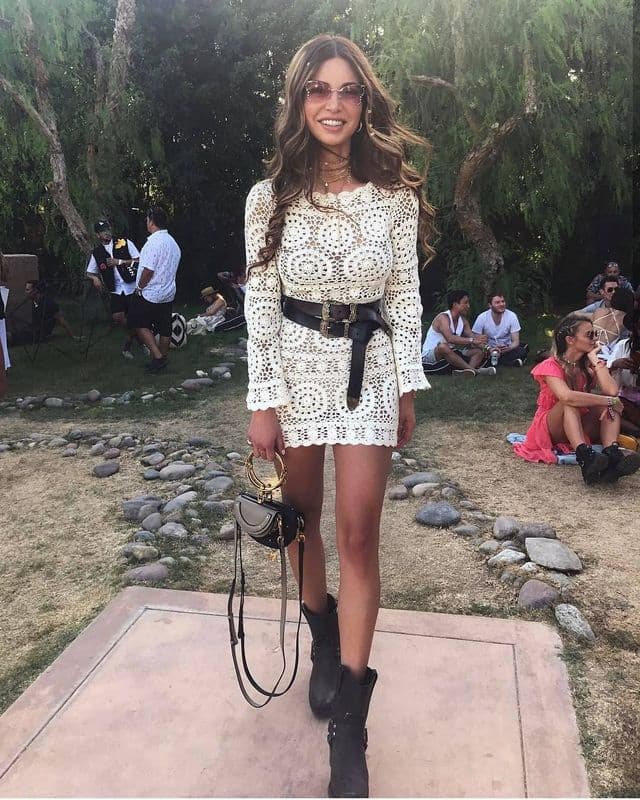 Leaders of the style pack know all about mixin'n'matching bright shades. A red off-shoulder flamenco style top, lace shorts, a leather belt and bright pink ankle boots, what a reckless and daring move for festival outfits women can wear!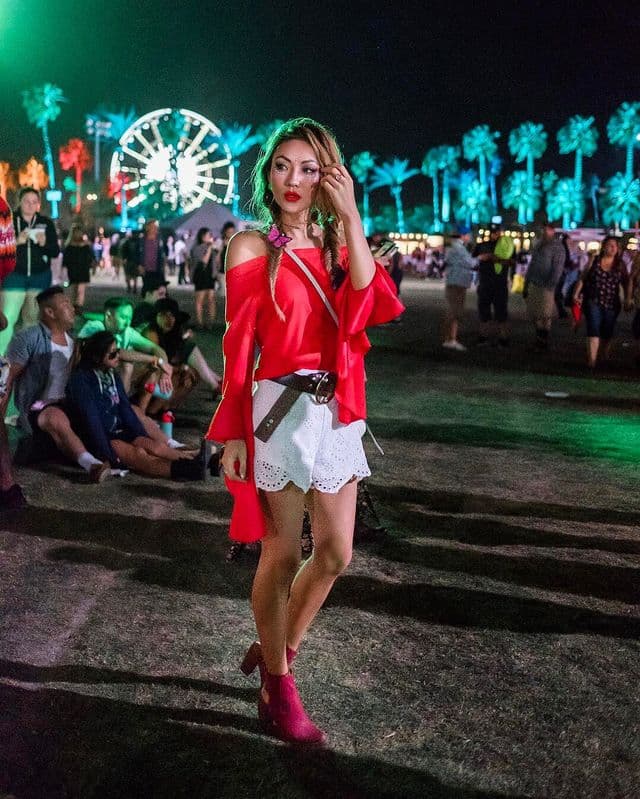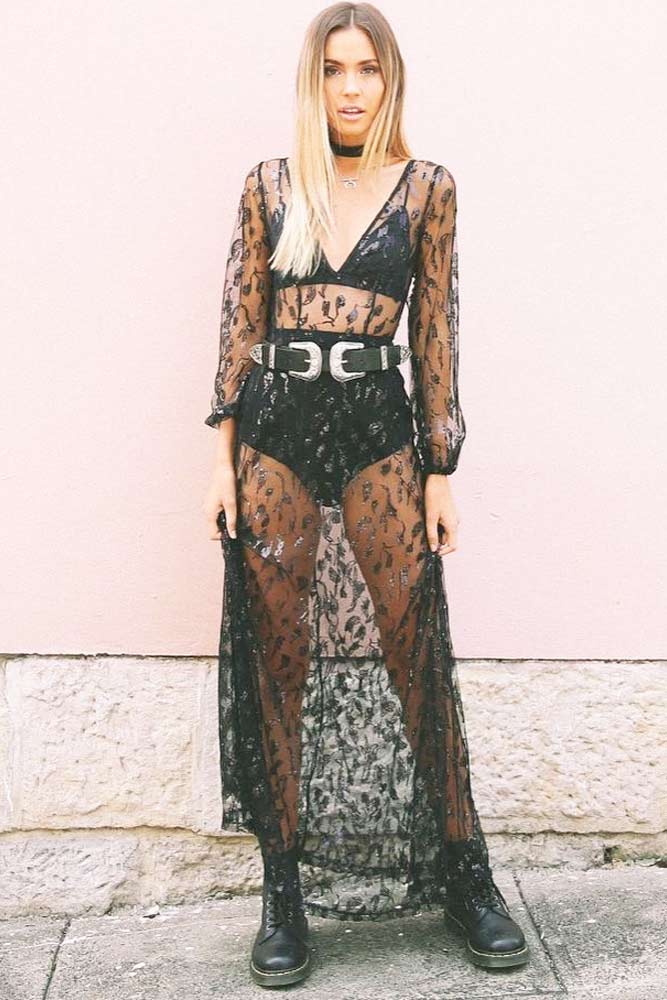 Cross-body bags for cool festival outfits
Bags are essential for carrying all your festival essentials. Choose a bag that's big enough to fit all your necessities, but small enough to be comfortable to carry. Bags are also a great way to add a unique touch to your look.
Even if we talk about a festival, where theoretically you don't need a bag because you bring nothing with you, a cross body bag it's however useful. You can use it to carry your phone, your tickets, maybe your lipstick…
Some are saying that a backpack would be useful in this situation, but I think a cross-body bag is more practical, even is smaller. Here are some inspiring pictures that you can use.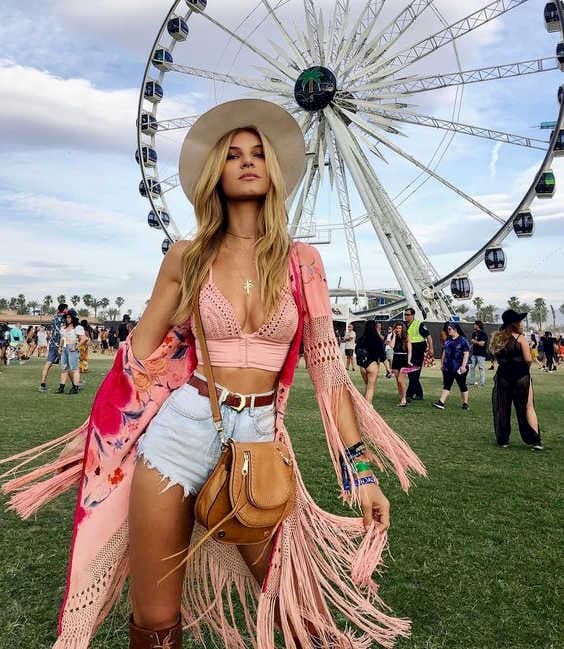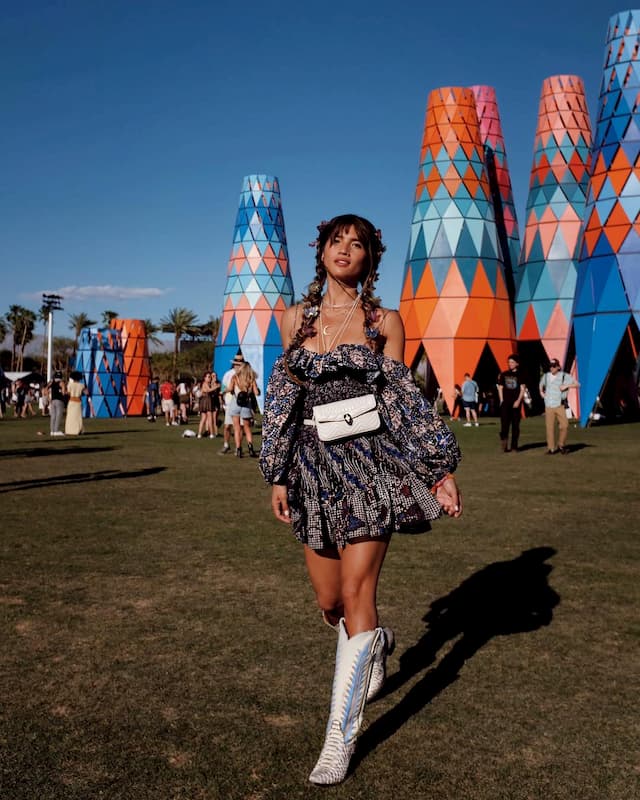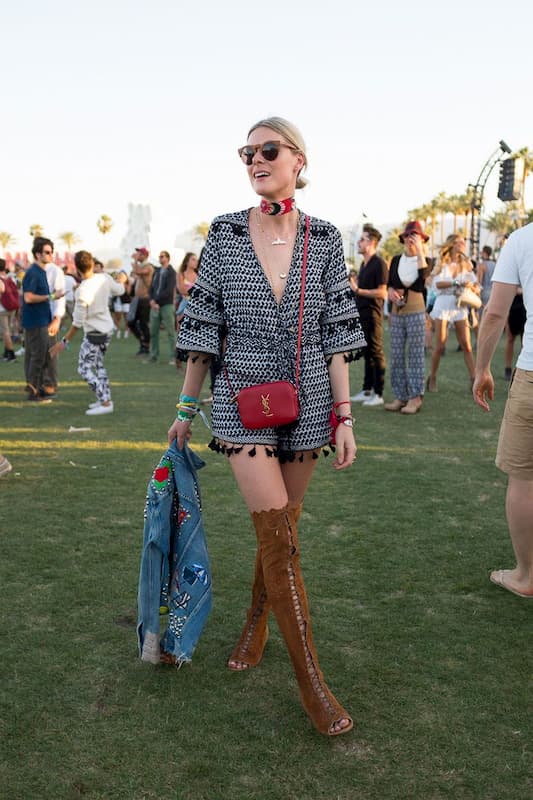 Bandanas
Scarves are a great way to add a pop of color to your look. Choose a bright, patterned scarf to add a touch of vibrancy to your outfit. Scarves can also be used to protect your skin from the sun or to keep you warm on cooler days.
You have to protect your skin from the sun. You have to use sun cream, but I strongly recommend you to have a bandana with you.
You'll going to need it to cover your neck during the day when the sun is strong. You can also use it to put it also on your had. Find here some examples to inspire you.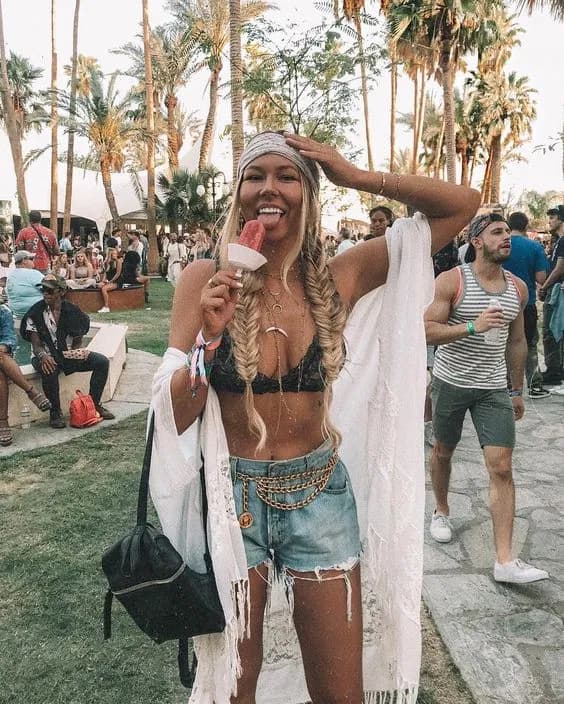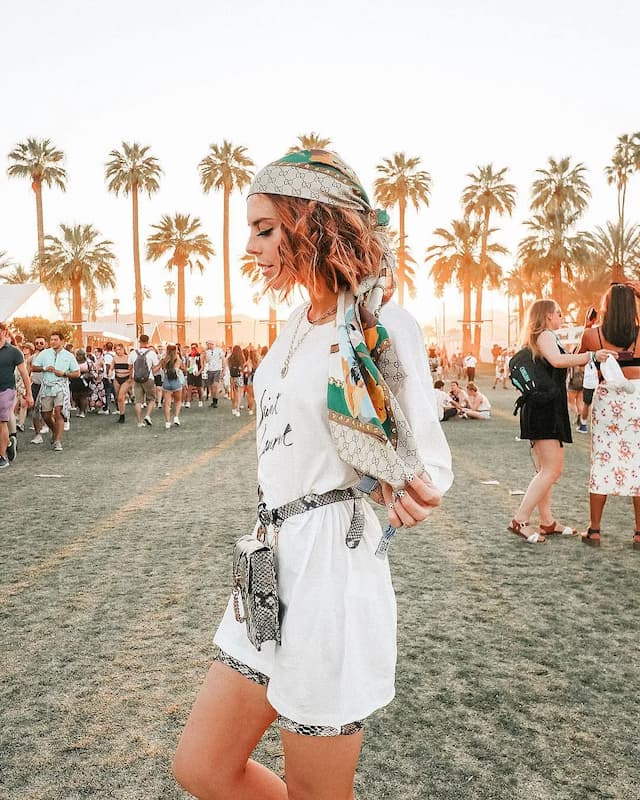 Women should consider adding a few essential pieces to their wardrobe for festival season. A denim jacket, white sneakers, a band tee, a flowy dress, and a pair of statement sunglasses are all must-haves for any festival-goer. With these items, you'll be ready to rock out in style!
GlossyU.com partners with several affiliate programs, meaning that commission can be earned from purchases/clicks by those who visit this site and on any GlossyU.com social media platforms.