Going out for a first date is always stressful, especially when you are not confident around guys… Well, in order to achieve that confidence, there are few steps to follow . That's how you might get the best version of yourself!
During my research about dating, I read many editorials about "how to be confident when you date with a guy".  But, it's one post that really get my attention (you can read it here ). The post is written by Adam LoDolce and believe me, you'll find very useful information for every single woman who wants to be more confident around guys. You can even buy one of his books Men Love Confident Women: 32 Female Mindsets That Drive Men Wild
.
Reading the list with the tips to follow in order to prepare for a first date, I couldn't read without remarking two interesting ideas that Adam, the dating expert, is suggesting to do before a date: take care of yourself and dress in clothes you feel good in.
And that's how I come with the idea to write a post about how to dress for a casual first date and because those kind of dating usually end into a bar, maybe you are wondering what to wear on a first date for drinks?!
A bar or a club is not an unusual setting for a date. If you were invited for a drink in the early or late hours make sure you match your apparel to the style of the place. In case the question 'what to wear on a first date in a bar?' gives you headaches, take a closer look at these stylist-approved examples.
It's not only about butterflies in your stomach, emotions, fears and scenarios over scenarios about your next date. Along with these intense feelings, you have to choose carefully what you'll wear at your next date.
The golden secret of a successful dating outfit is to wear what really fits you.  That dress or pair of pants that make you feel the best in your own skin are exactly what you need to feel confident and ready for a successful date.
But, don't forget: the first impression is essential! The last thing you want is to send the wrong message. That's why I've made a small guide for women with useful tricks and pictures about what to wear on a first date for drinks. Choose one of these dating outfit ideas and add  your personal charm. You will definitely impress your partner at your date.
What to wear on a first date for drinks
We all love summer and the high temperatures. Especially us, dear ladies! We love to expose our skin during summer. That's why, from our wardrobe shouldn't miss the casual summer outfits. Use shirts, blouses with uncovered shoulders, thin fabric blazers, men's inspirational pants and feminine details. These are the weapons you must bring on in the fight of your date. Your goal is to bring the "prey" exactly where you want it.
Tip: Keep in mind: hot temperature can be your best friend, but also your fierce enemy if you don't protect yourself. So, don't forget to apply some sun cream if your date is during day.
You have enjoyed your vacation and now it's time to take advantage of the wonderful tan. As the contrast never fails, I advise you to try this little trick (white shirt and dark tan ) whenever you have the opportunity. From my point of view, you can inspire yourself from this image in order to create the best club outfits for women.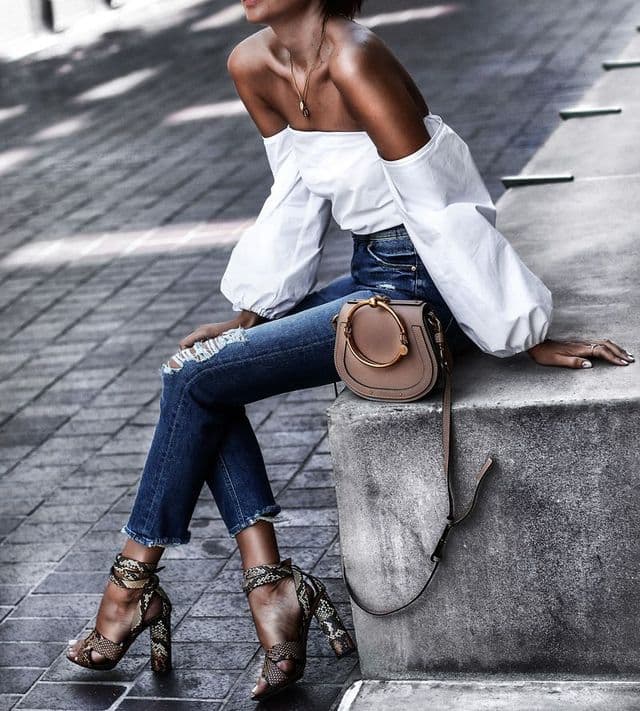 Are you are looking for a casual elegant outfit? Try to copy the one from the next image. High heels sandals, casual pants and a deep V neck top. I am sure you'll impress your partner.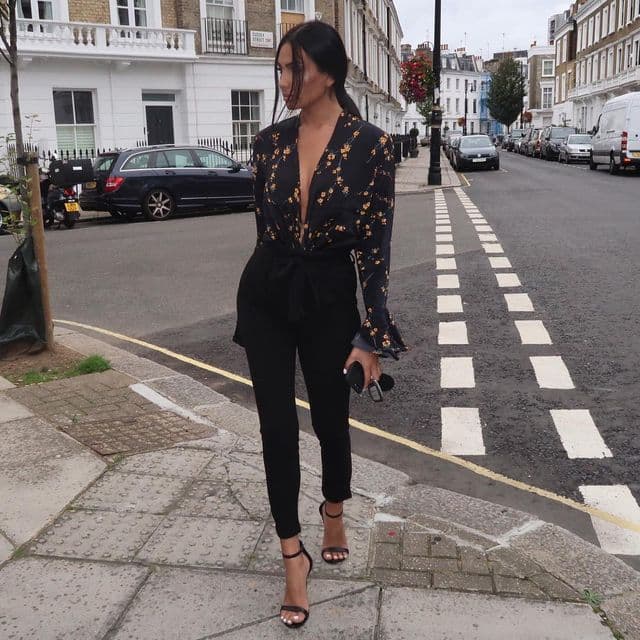 I know, I know… high heels are not exactly the kind of shoes to wear on a first date for drinks, but your outfit has to have something special… something feminine… You are already wearing pants and a large shirt, which are pretty casual.
Try this kind of casual summer outfits with jeans! I am sure you'll feel good in it !!! However, is better then wearing jean shorts outfits. You don't want to make the wrong impression.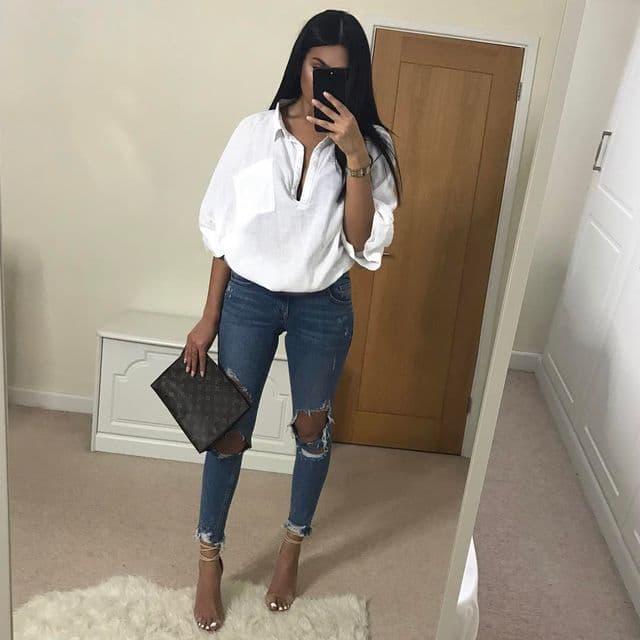 Are you a skinny one? Wear this outfit on a first date for drinks. It's casual, but wearing these pointy shoes adds an elegant note to your outfit. Be ready to impress.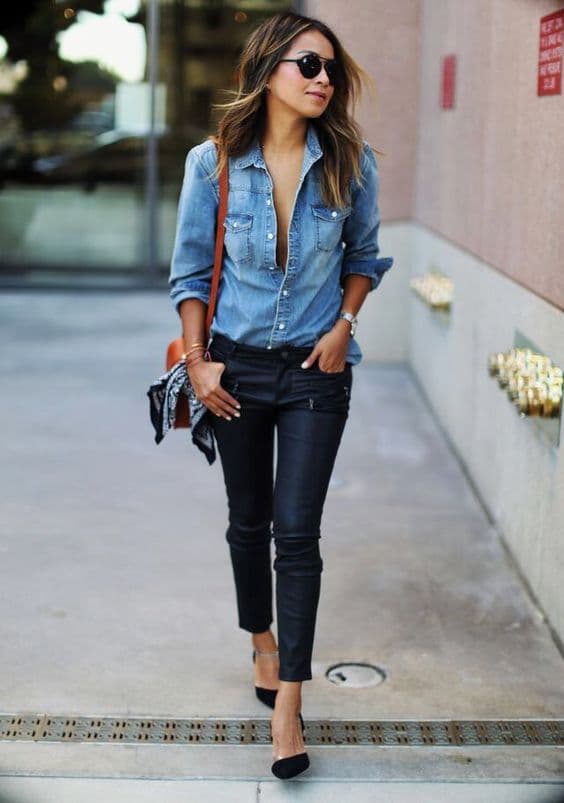 Don't feel like wearing something fancy? Create the perfect outfit with a white shirt, boyfriend jeans, high heels sandals and a coat. A perfect outfit for you next first date to drinks! You won't transmit a wrong message. Don't you think?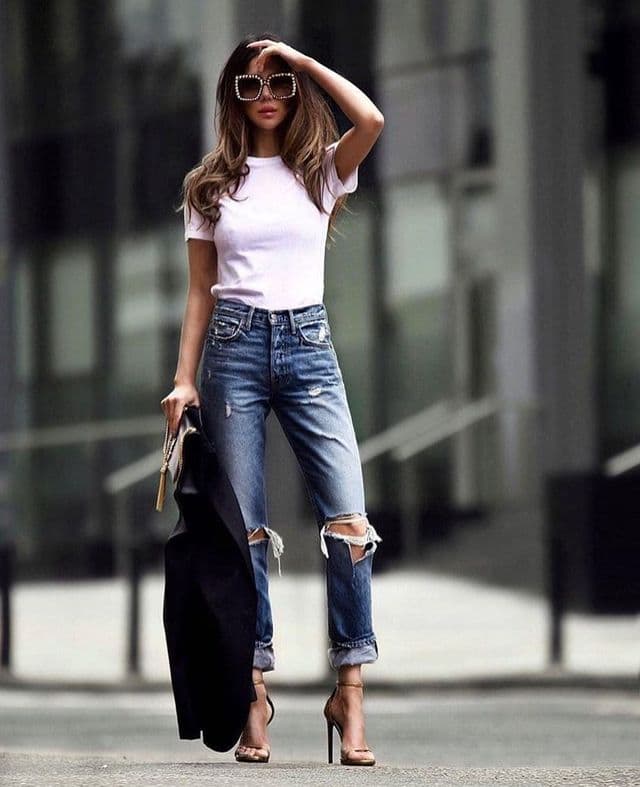 In this image I see elegance combined with the casual style. If you have this kind of body and you want to impress, don't hesitate to adapt your summer casual work outfit when you go out for a date. I mean, you should replace your black wide leg pants outfit with something like in the next picture.
Do you like this culottes pants outfit? Maybe you are interested to find out what shoes to wear with wide leg pants.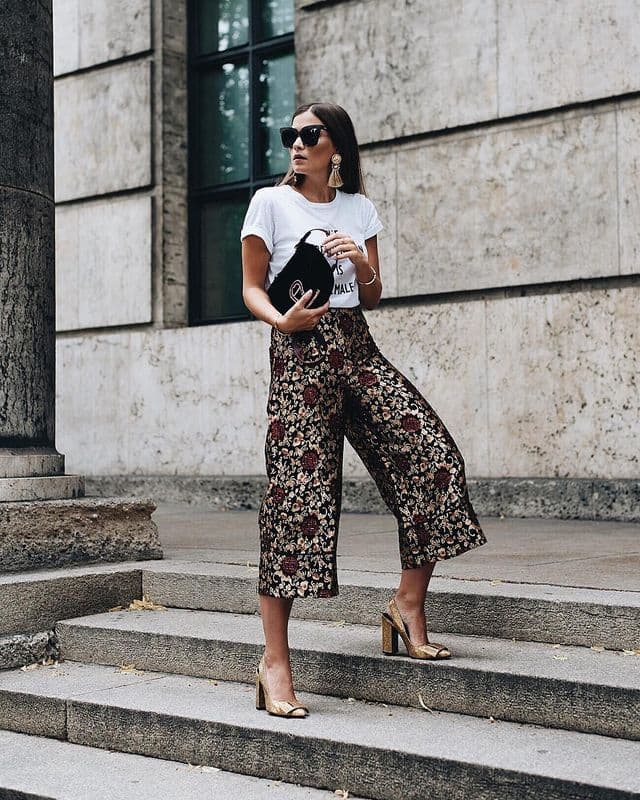 You think for a simple outfit, but in the same time you need something to make you look special? Well, the elegance of this shirt will be the thing you are looking for. Take a look at this picture and make a copy to this outfit next time you go out for a date during summer.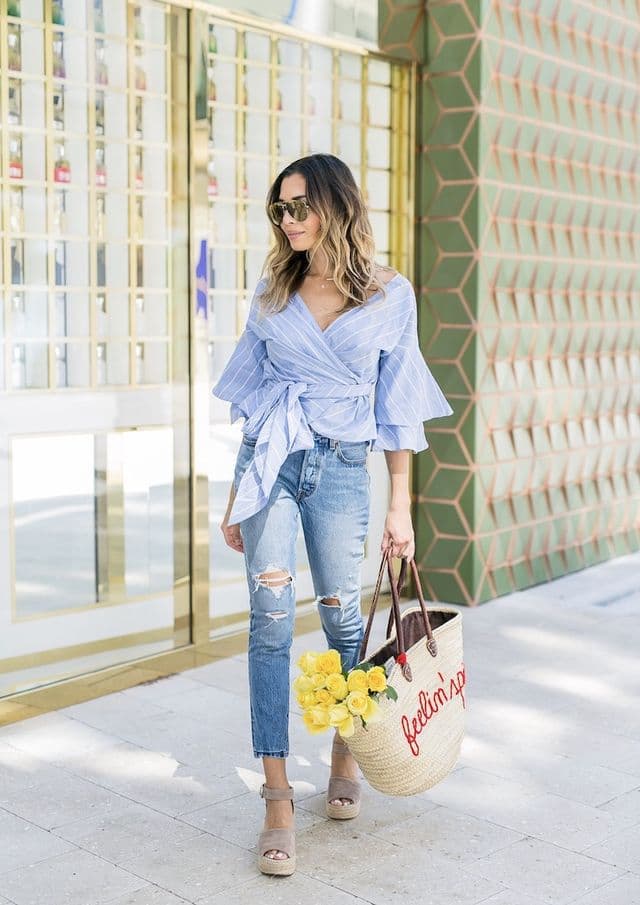 You might think this outfit is to sexy, but I am sure your partner can't take his eyes off from you. If you have a body like her is, he can't watch anybody else but you.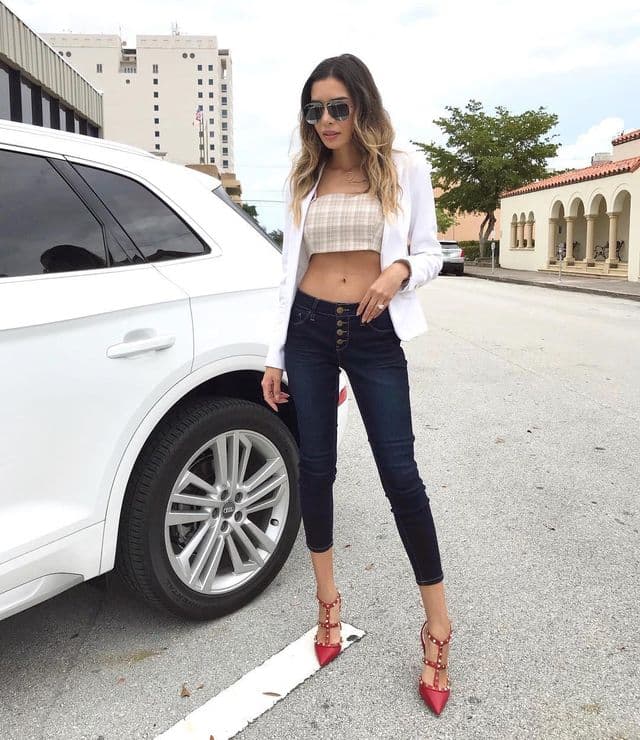 source picture

Beautiful sexy and simple… What could I add more about this outfit?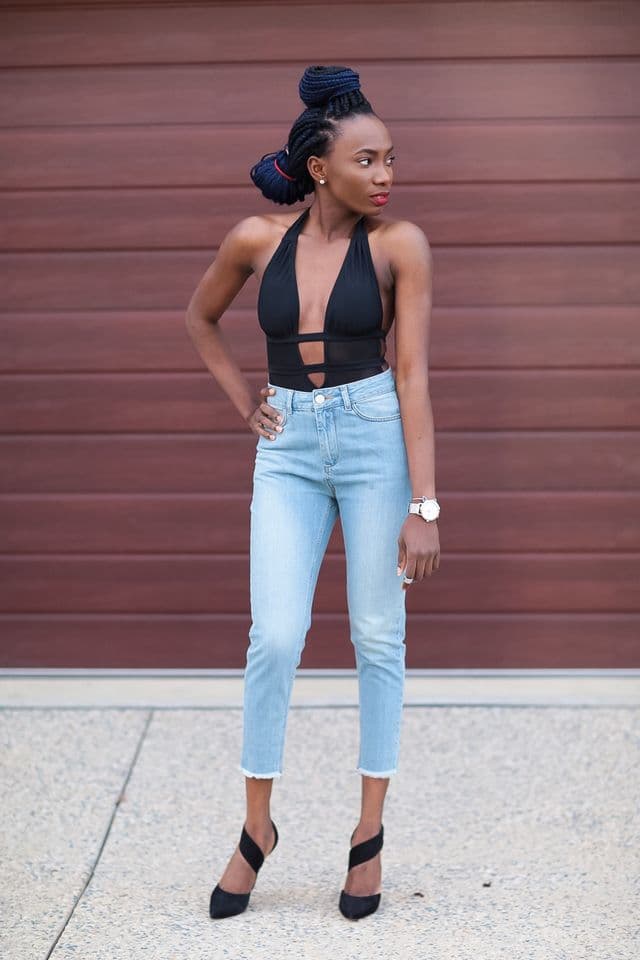 Boyfriend jeans, high heels and an white off-shoulders blouse. Make a contrast between your skin and the outfit. Just love it!!! Don't you?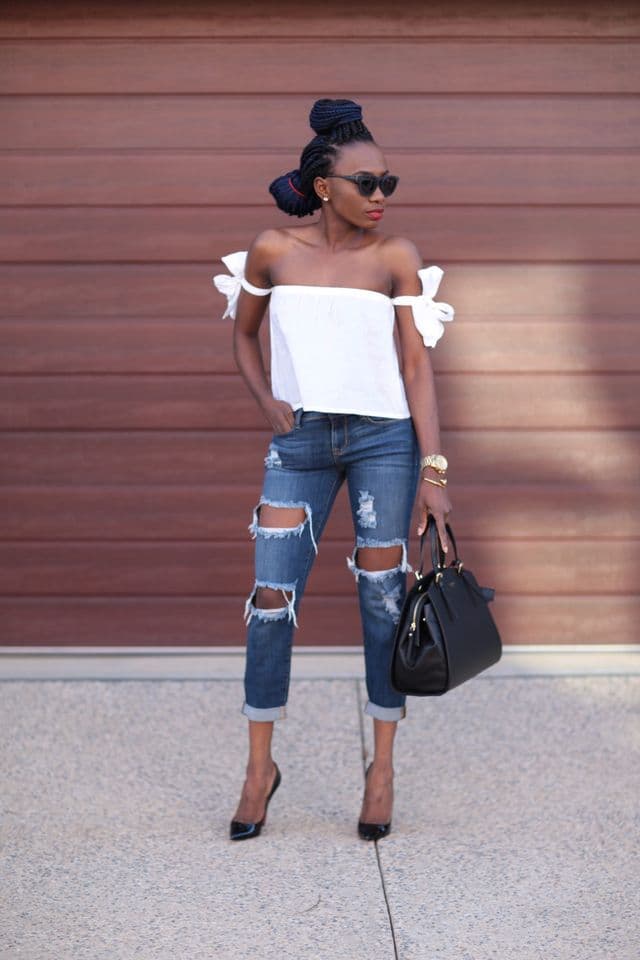 I find perfect the association between the yellow sweater and the boyfriend jeans. And the high heels shoes are perfect to look taller and feminine.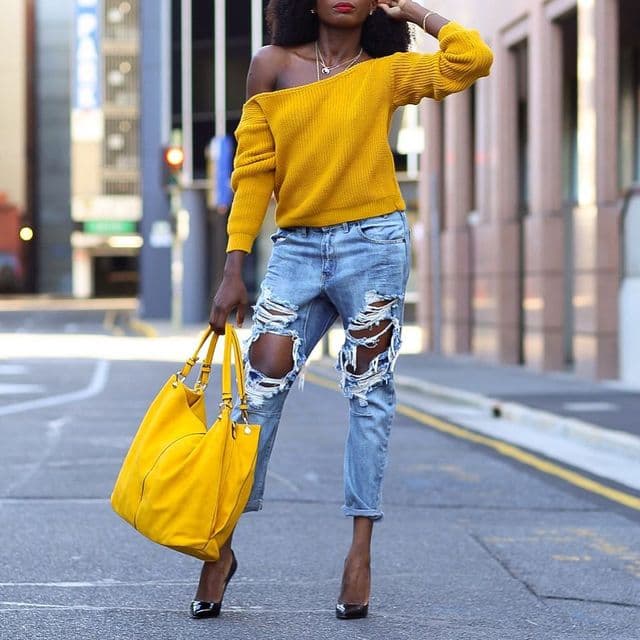 If comfort is the key for you, try this outfit with skinny jeans, casual shirt and tennis shoes.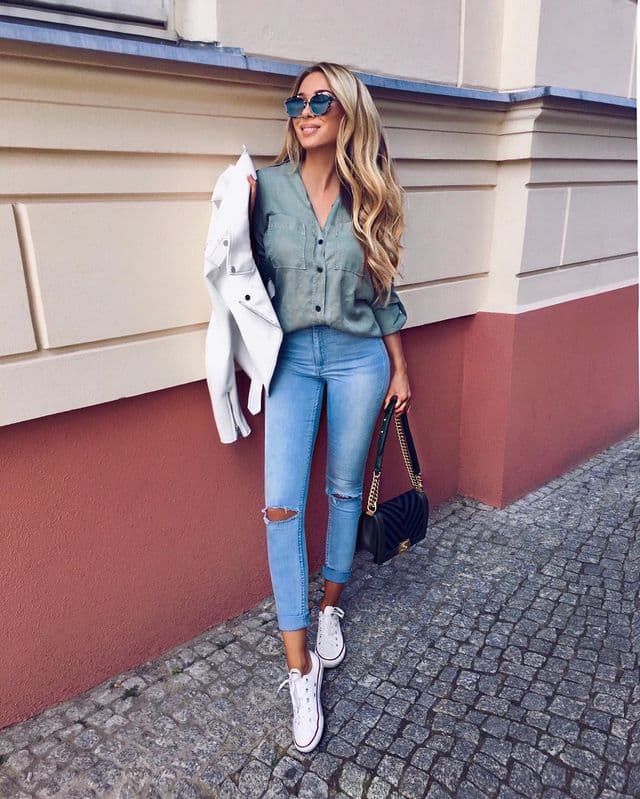 Try this outfit when you wonder what to wear on a next date for drinks and is a little chilly outside. What could be more perfect? You can find more inspiration in my report about how to wear boots with skinny jeans.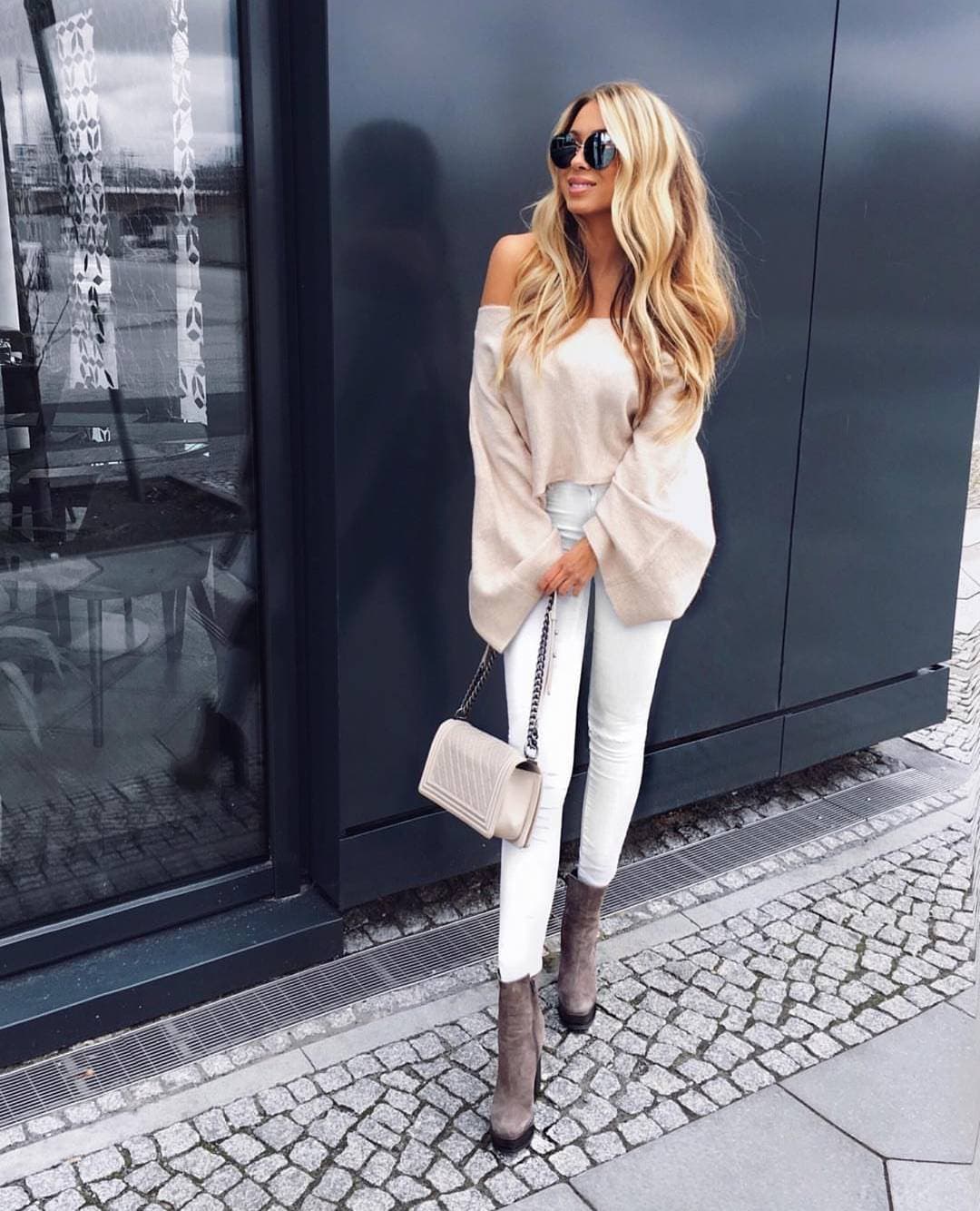 Perfect, perfect, perfect… I know, I know! I should stop! But what I can't help myself when I see this outfit.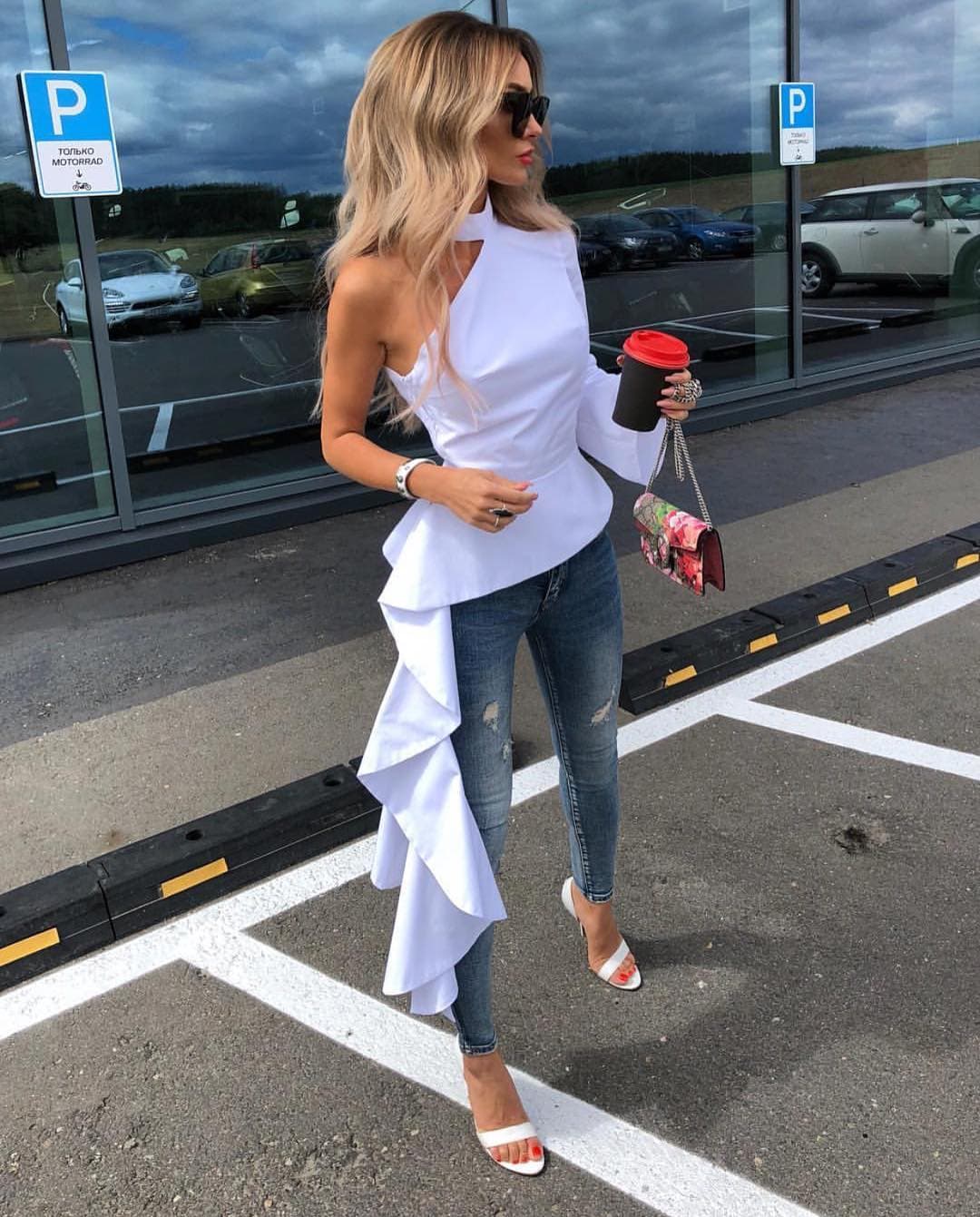 Try something girlish when you wonder what to wear on a first date for drinks. No heels, skinny jeans and a big décolletage.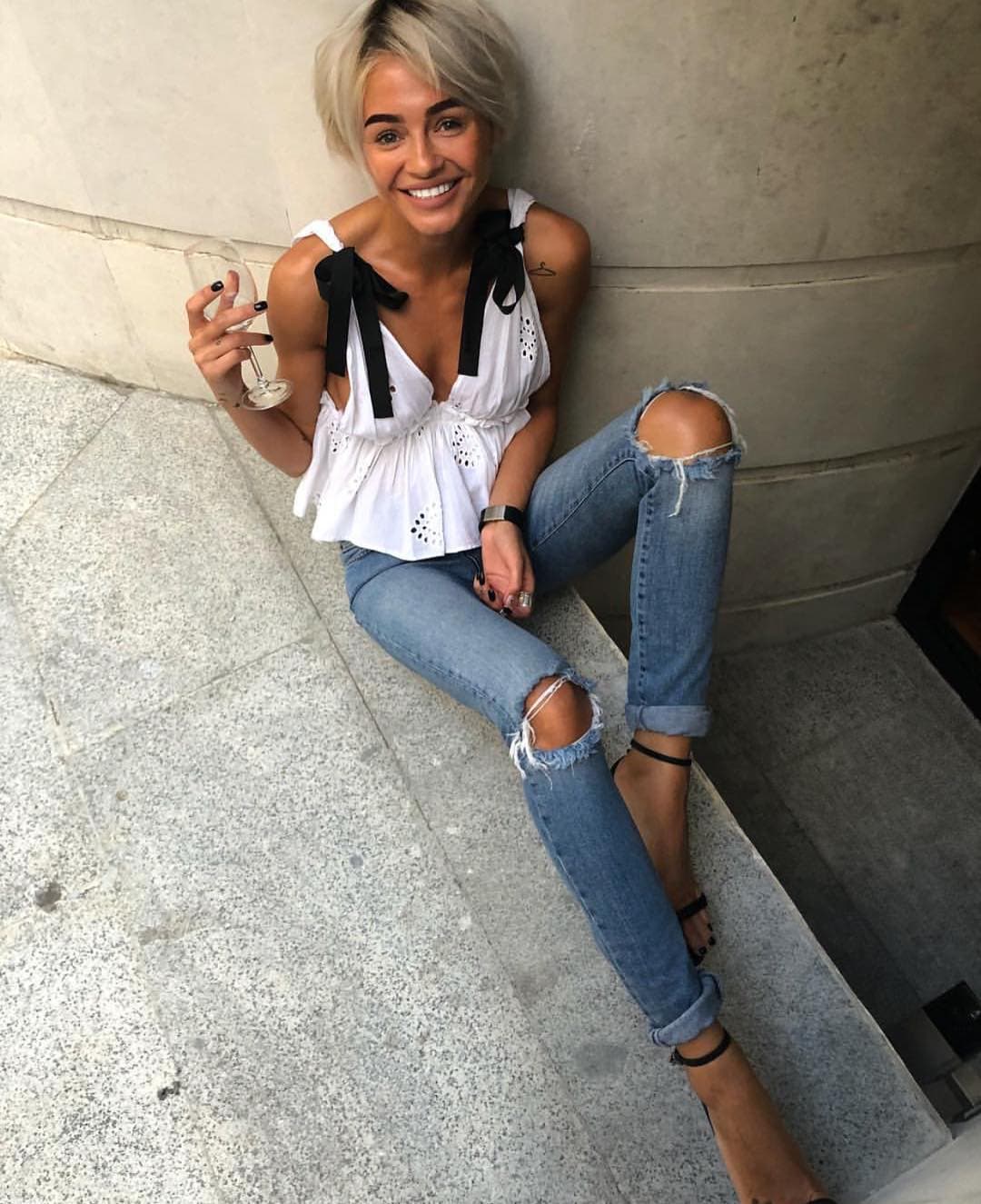 Do you like to match colors from top to toe? I sure do! This matching, makes your outfit special. That's why you should try this outfit when you wonder what to wear on a first date for drinks.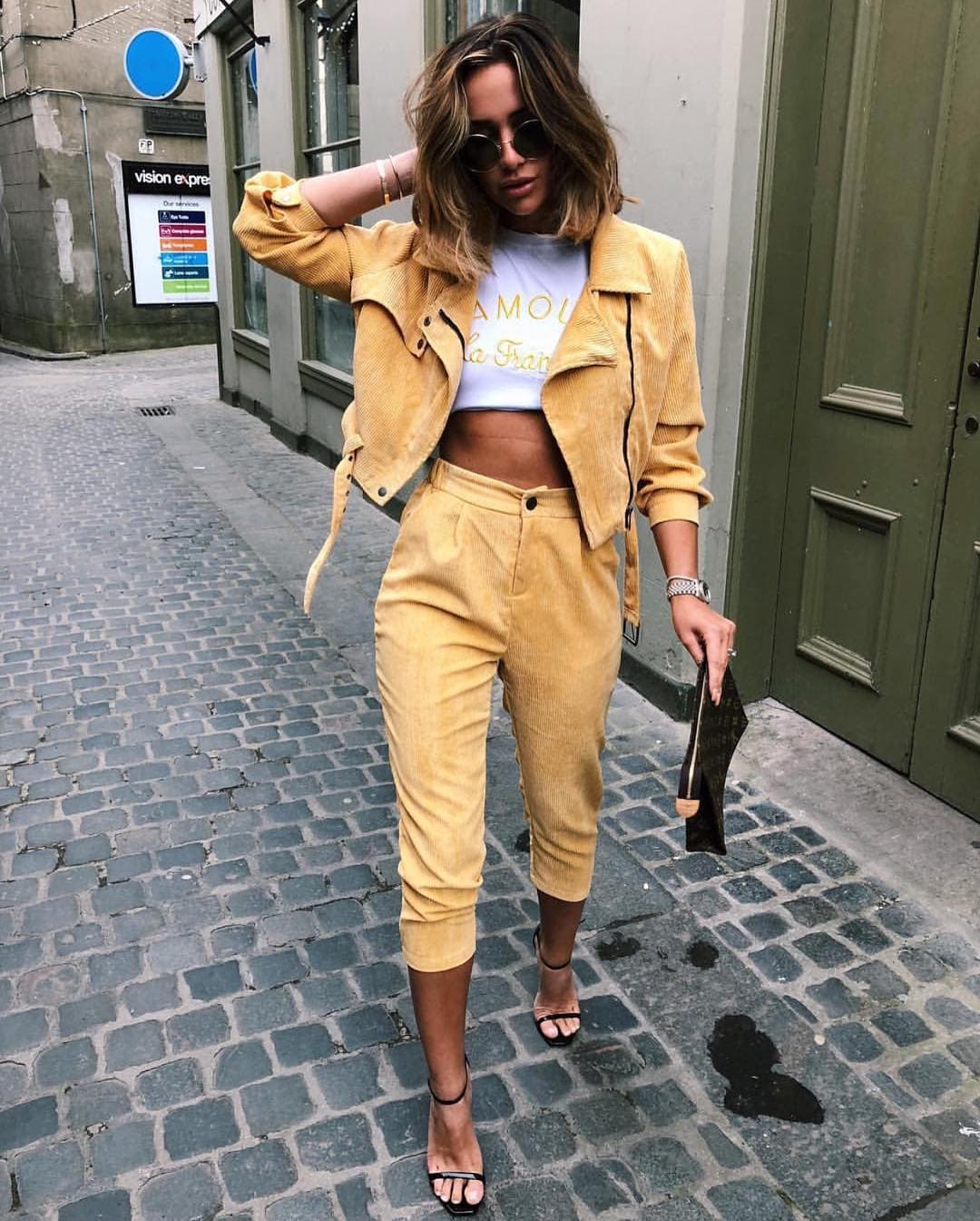 picture via

Simple and smart casual. Wear black if you want to look thinner. Add an elegant coat and you create a smart casual outfit. Sport shoes are perfect for a casual outfit. This image is the perfect example about how to transform your summer work outfit into a first date outfit.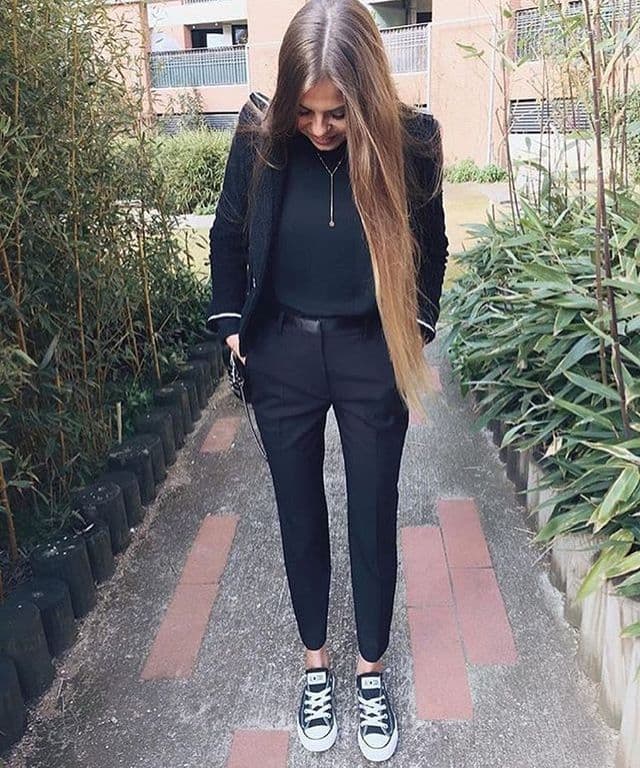 Still casual or super casual. Leather pants, jeans shirt and espadrilles. Be casual and comfortable at your next first date for drinks.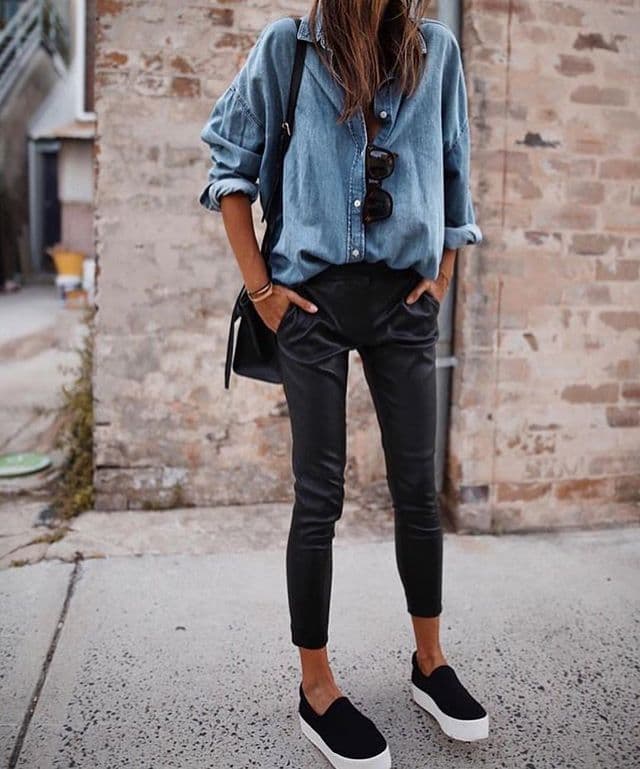 I don't think that you could dress more casual than that. It's nice, simple and this outfit has a note of childhood in it.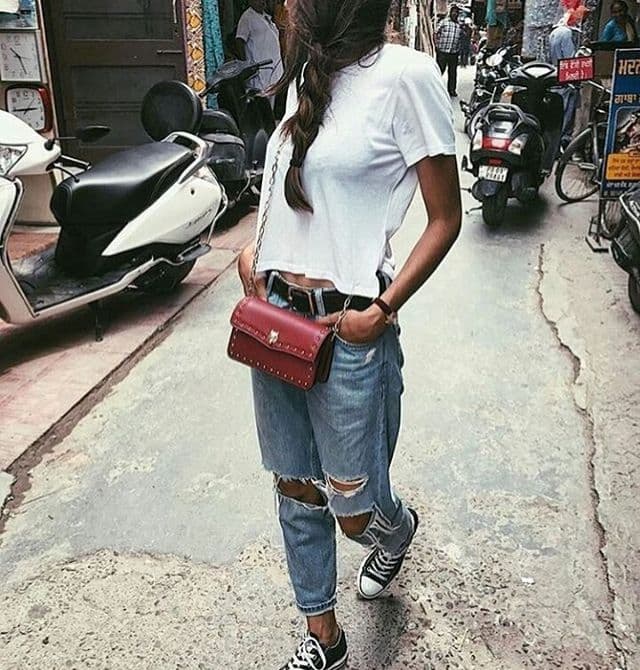 A little sexy, a little elegant and some nice accessories. A perfect outfit to wear at your next date for drinks.
Be trendy and wear palazzo pants outfits with an one shoulder off blouse. The color orange it's for an optimistic outfit. The elegance of this pants match with a clutch, recommends it if you don't know what to wear on a date to dinner.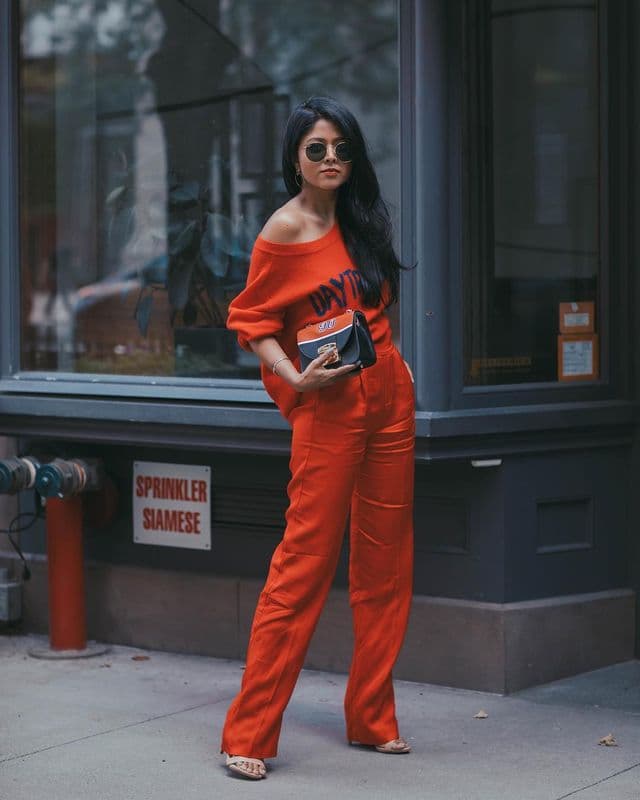 Well, if you are not afraid that, you can send the wrong message, even if this outfit responds rather to the question what to wear to a music festival , you could try a pair of short pants with an off-shoulders blouse. Anyway, you can always wear the blouse and replace the short pants for the perfect outfit for a lady.
But, if you are a young woman, don't hesitate to use this picture as inspiration in order to create summer teenage outfits or to use it as inspiration when you don't know what to wear with denim shorts in summer.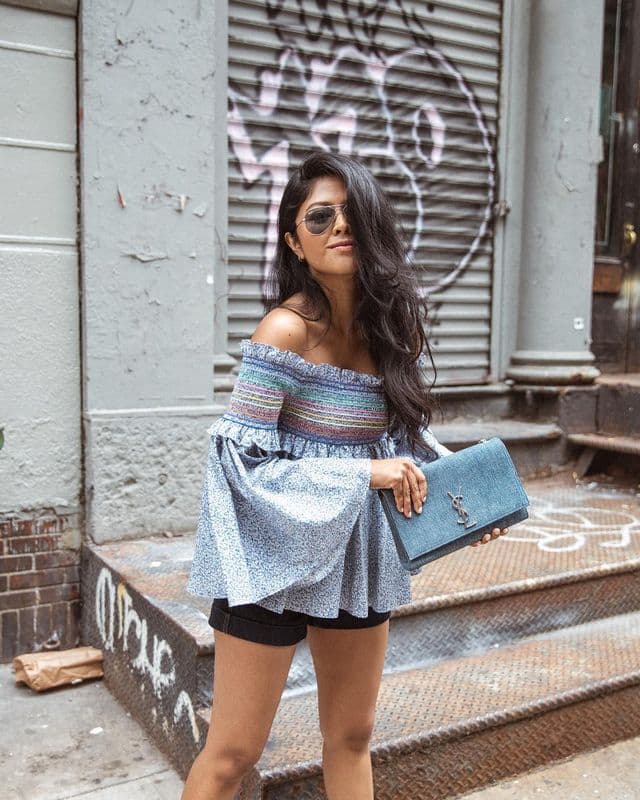 Be casual and match the leather jacket with your shoes. The visual impact is a nice one. As you can see in the next image, the boyfriend jeans have already many messages. That's why, you should wear a simple white shirt.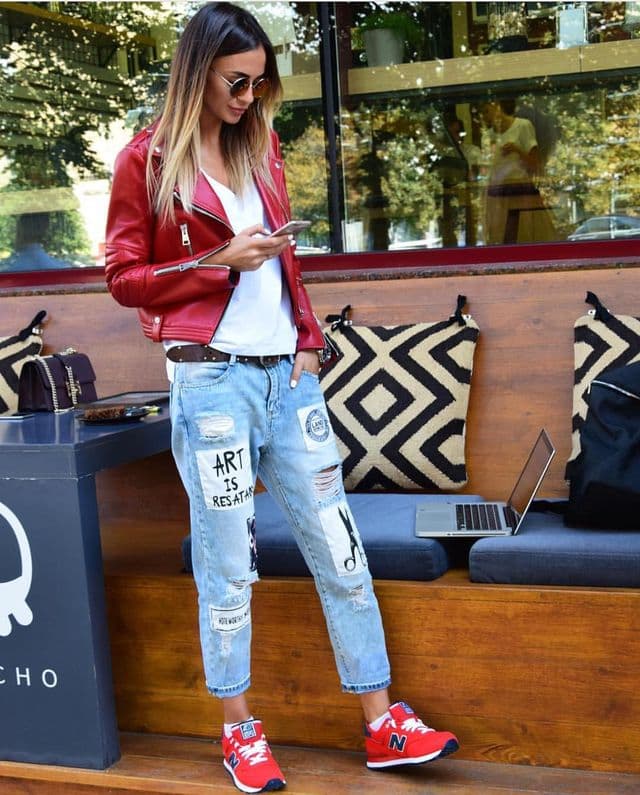 If you prefer high heels instead of sport shoes, try an outfit as in the next image. As you can see, it's always an correspondence between the shoes and the top and the leather jacket.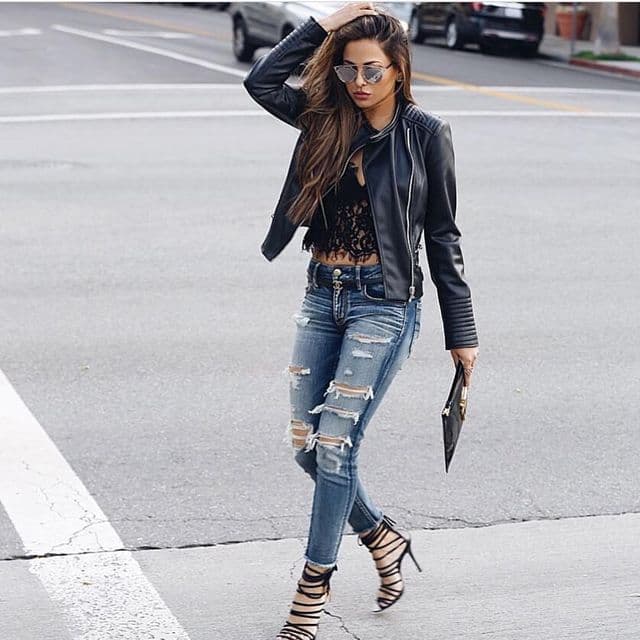 Super simple, casual and a beautiful outfit. For me it's perfect, except the hair. I would let my hair long… usually man don't like tails or pony tails… 🙂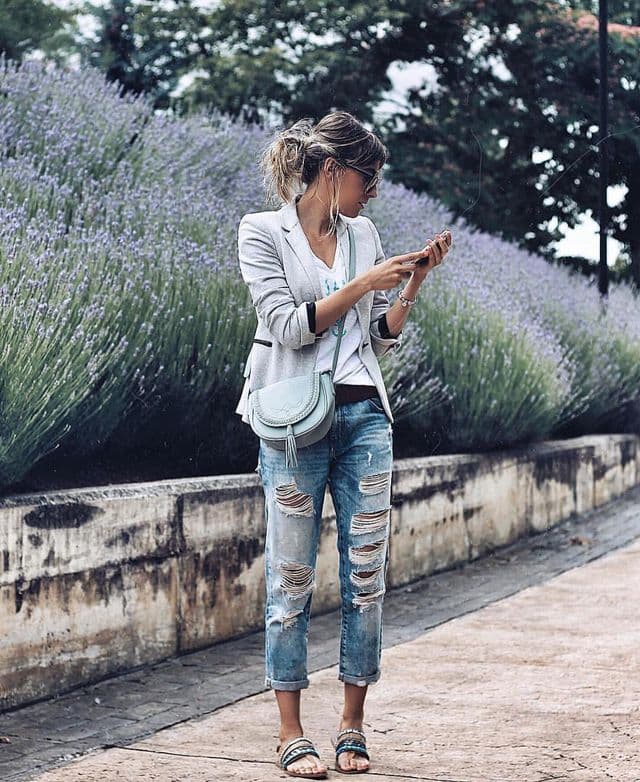 I keep the same note in the next images. It's something that I would wear to a date for drinks. Would you?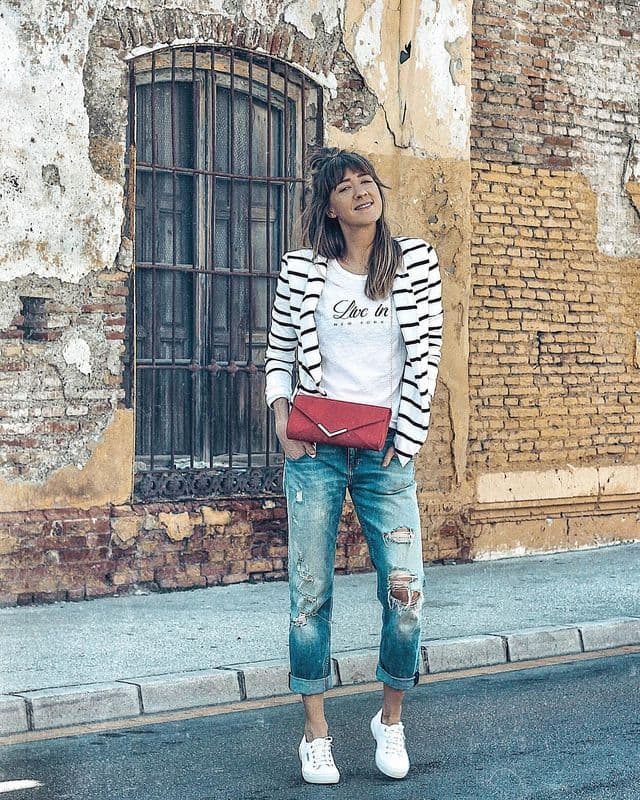 source

Same outfit, different jacket and different shoes. As you can see, the same color for the jacket and the shoes.
Black shirt, jeans and high heels shoes. Undoubtedly, this is a special first date outfit. It's a stylish, not very pretentious outfit, which leaves neither too much nor to little sight. You can always use this picture as inspiration when you are searching for ideas about how to dress up for a party with jeans .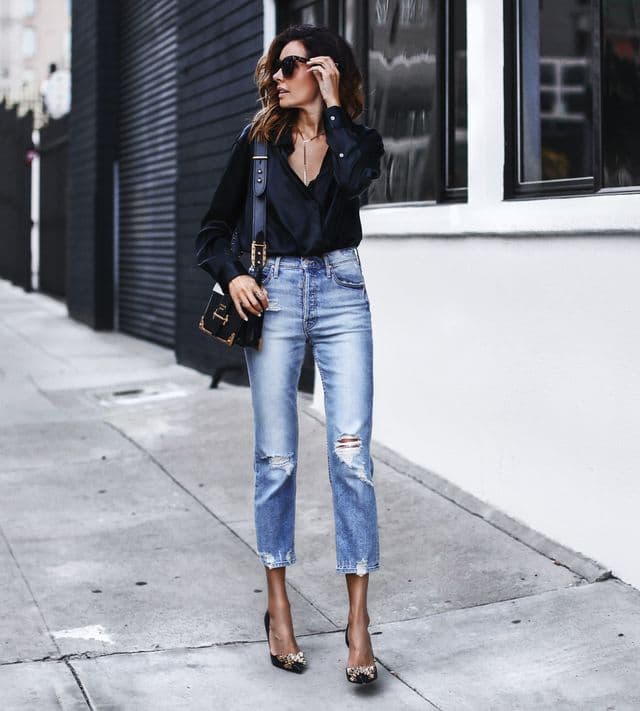 Color is very important. This outfit will take you out of any shade of anonymity and will tell that you are a strong woman who likes challenges.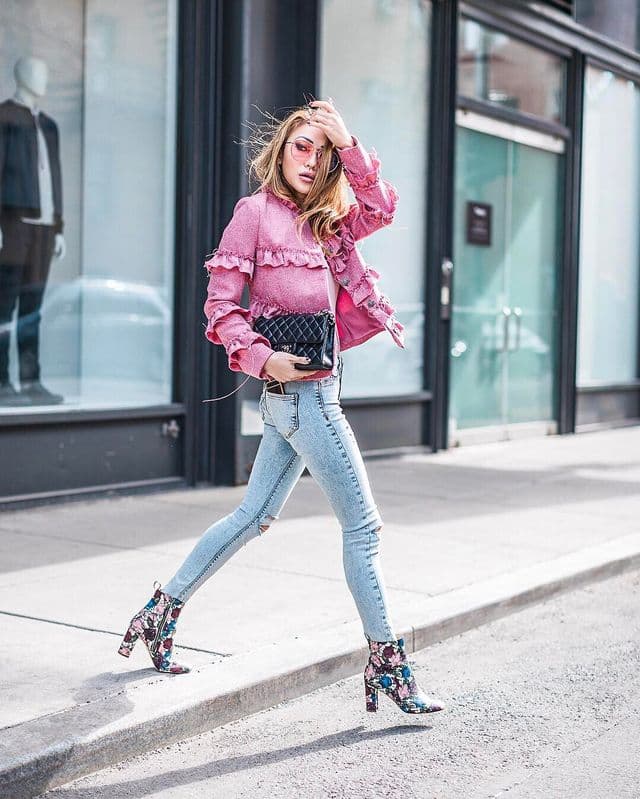 Mid-day date or park walk? For these scenarios it's proper to put on clothes that are comfortable, so you can feel good but also sexy. Long sleeve shirt with bare shoulder is exactly what you need.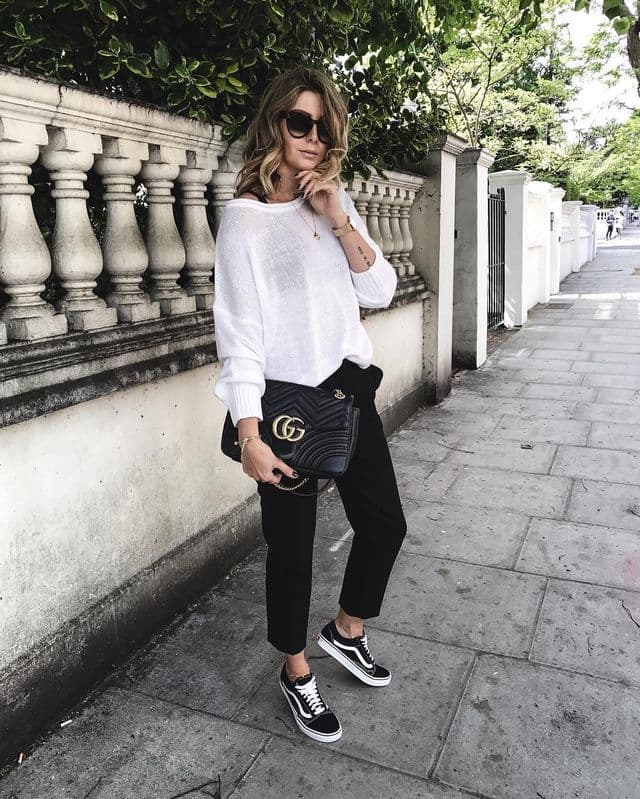 I'm sure you want to impress with a generous cleavage, but I advise you to choose a feminine shirt like this. The cleavage is small enough to stir up any curiosity.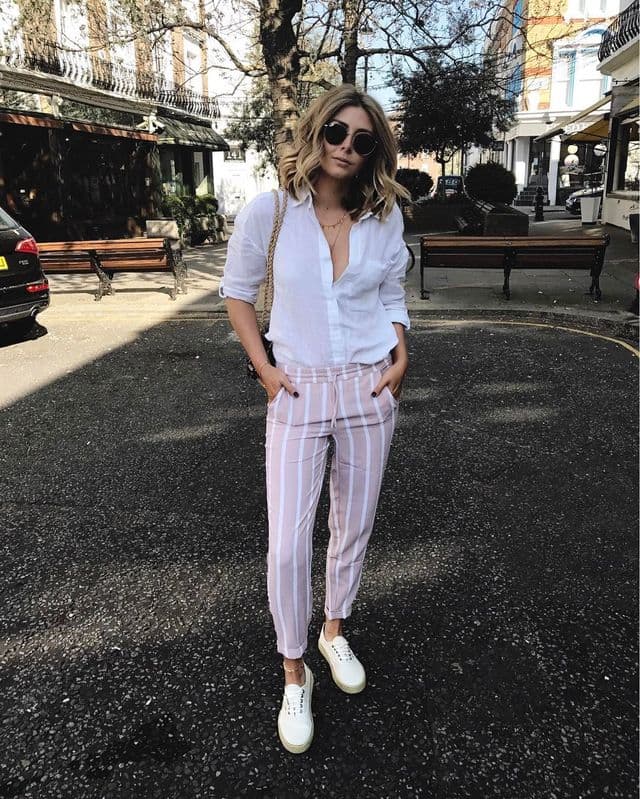 Details always make the difference, especially when we talk about a date. Choose summer casual work outfits like this one. Insist on the items that seem unimportant, but they are the keys to success when you do not know how to dress for a casual date.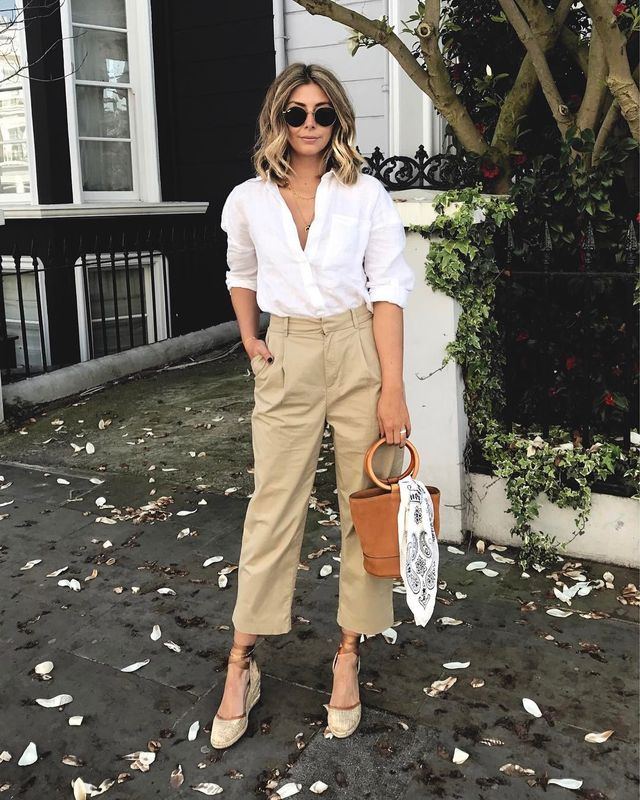 When you feel good in your own skin everyone will feel it! You won't realize it! If you are the owner of an enviable pair of legs do not forget to use them in your favor at your date. Don't be shy! Wear something elegant casual with shorts.
However, avoid to wear a jean shorts outfit to a first date. Try to copy the outfit from the next picture. You can use this image also, to create club outfits with shorts.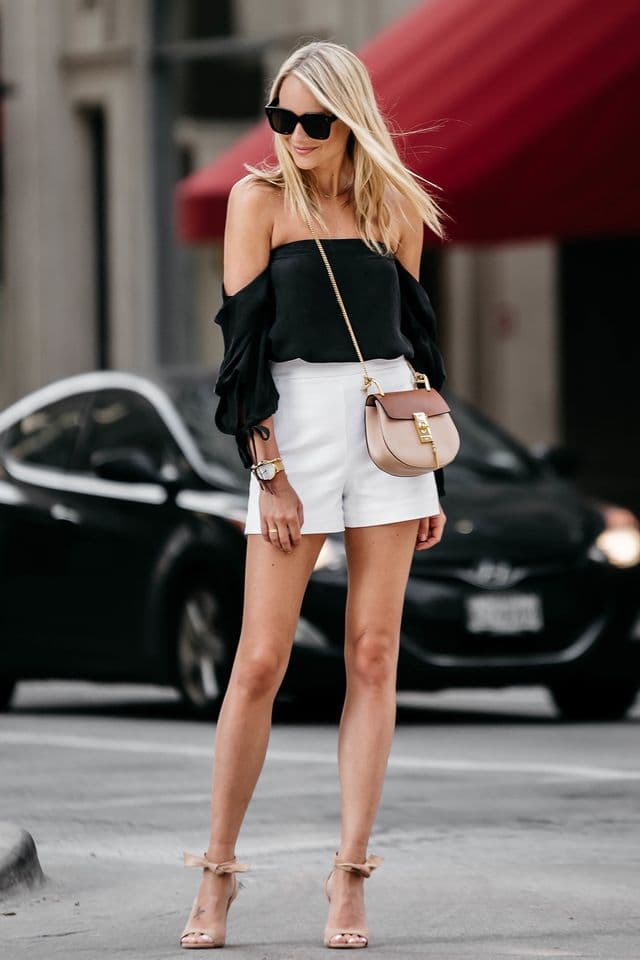 Style influencers like celebrities know how to find the golden middle way to make an impression. Wear a mini red leather skirt outfit or if you're a curvy girl a midi black leather skirt outfit with flattering sandals. Go for long-sleeve blazers or jackets to make sure you don't show too much on the first occasion.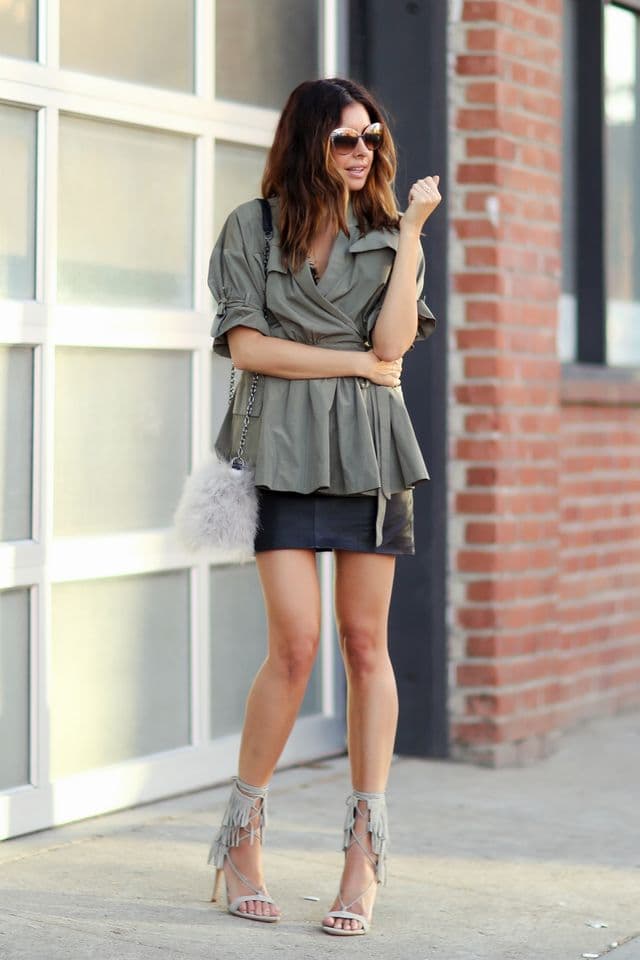 While not exactly a club outfit, this outfit is still a top recommendation. Instead of being cool, be feminine and elegant with this off-shoulder wrap top and white distressed jeans. This set is also an answer to your 'what to wear on a first date to a lounge?' question.
You definitely can not include these high heels in your collection of women casual shoes to wear with jeans. They are too elegant, even if  they seem comfy.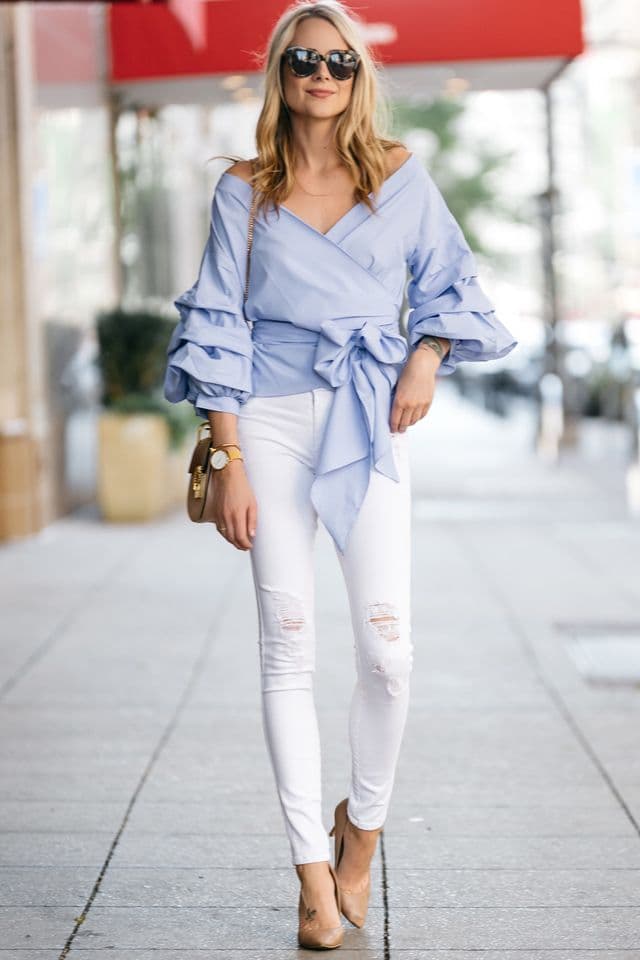 If you are wondering what to wear on a casual first date for drinks, instead of limiting yourself to a pair of jeans and a T-shirt, perk things up a bit this time. Sport rolled up moderately distressed denim shorts, a pastel colored top, a gorgeous white blazer and high-heels or sandals. What do you think about this denim short outfit? It looks fantastic, isn't it?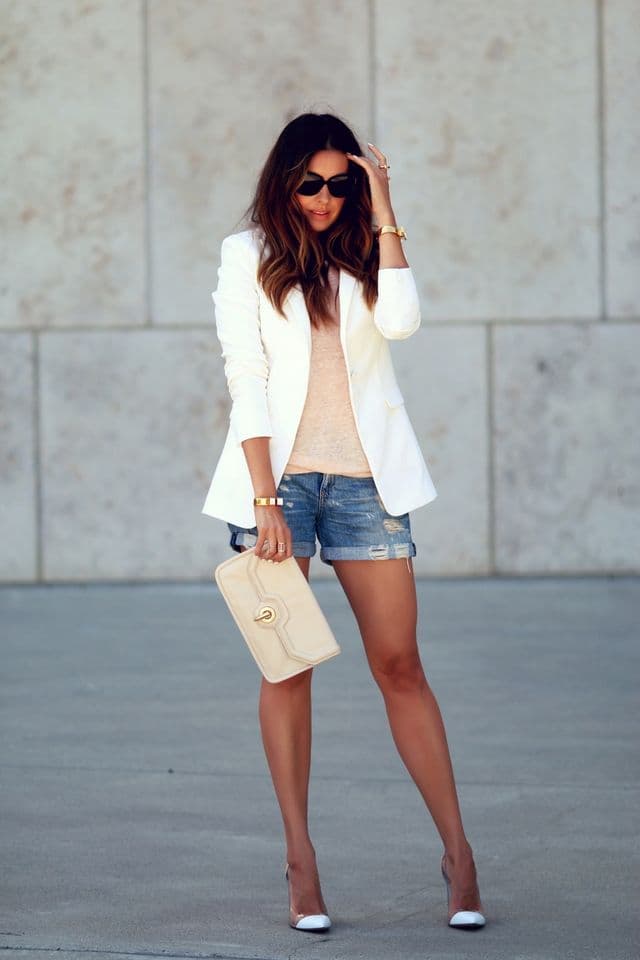 It's hot and you want to avoid a style meltdown? Go for a knee-length striped skirt matched with a chic tank top in a versatile shade. This time rely on the comfort flat sandals give you.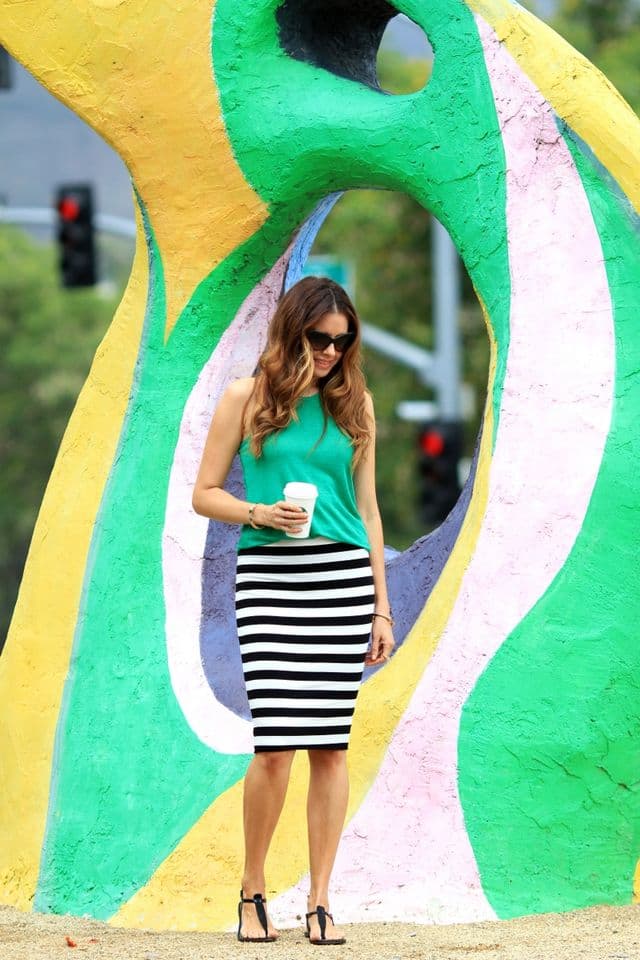 source

Let's not forget that spring days are a little bit capricious, which means it's proper to have a jacket with you. Along with the sports shoes and the fashionable bag, you will make an excellent first impression.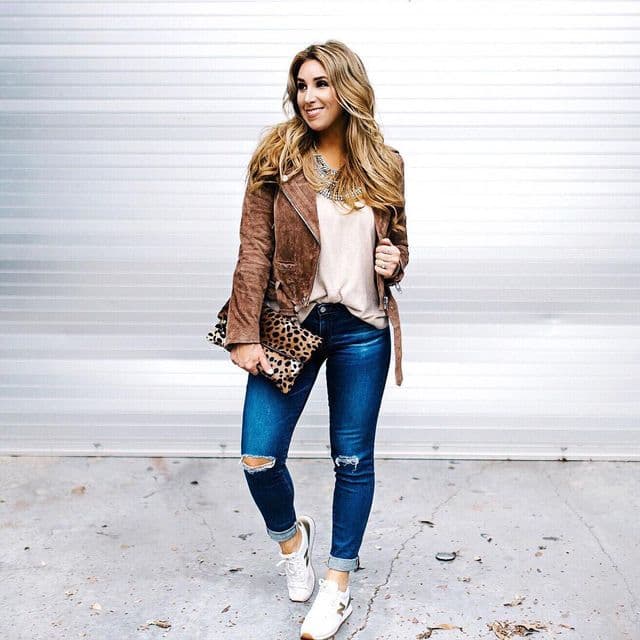 You don't put too much thought in what you want to rock for a date? If comfort is essential for you, make sure you put together a distressed jeans, minimalist top and cool leather jacket outfit you can crown with sneakers or slip-ons for a cute first date outfit.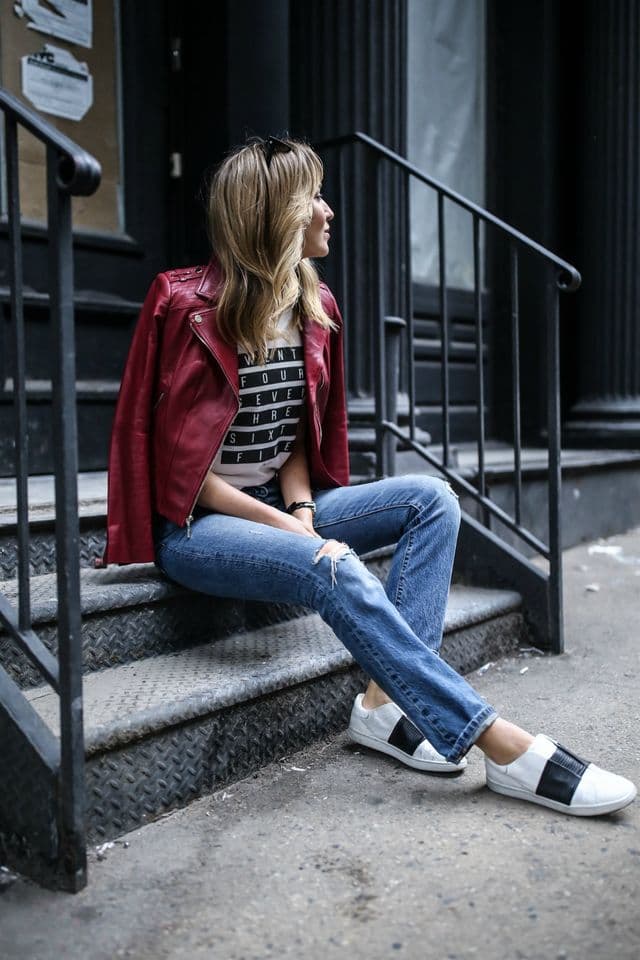 Build up a sleek and refined ensemble using a pair of distressed jeans, a white turtleneck top and a beautifully tailored velvet blazer. This would be the statement accessory to make sure you create a memorable impression.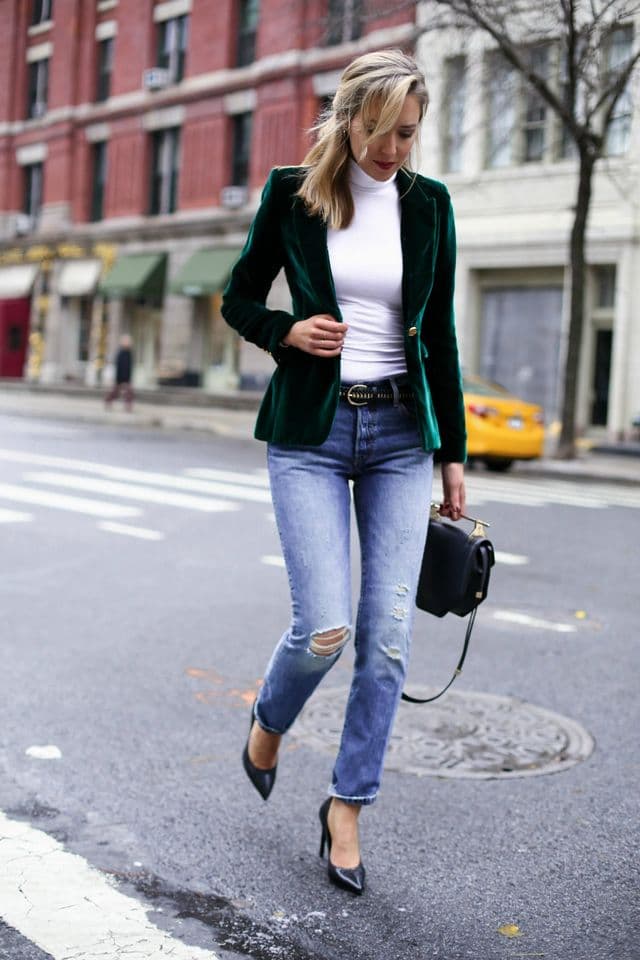 A mini white denim dress matched with ankle boots is an ideal outfit for summer. In case the weather turns bad have a leather jacket at hand. Let's see some pictures with summer outfits for women.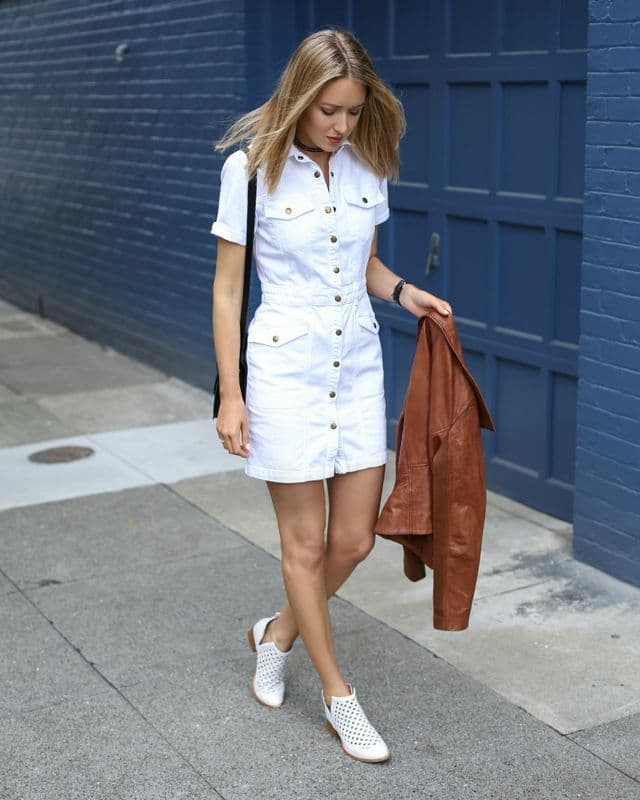 Master the art of the dating game and put on a white shirt with a feminine detail and a pair of knee-ripped jeans. The cool factor meets elegance if you refine you set with lace-up sandals.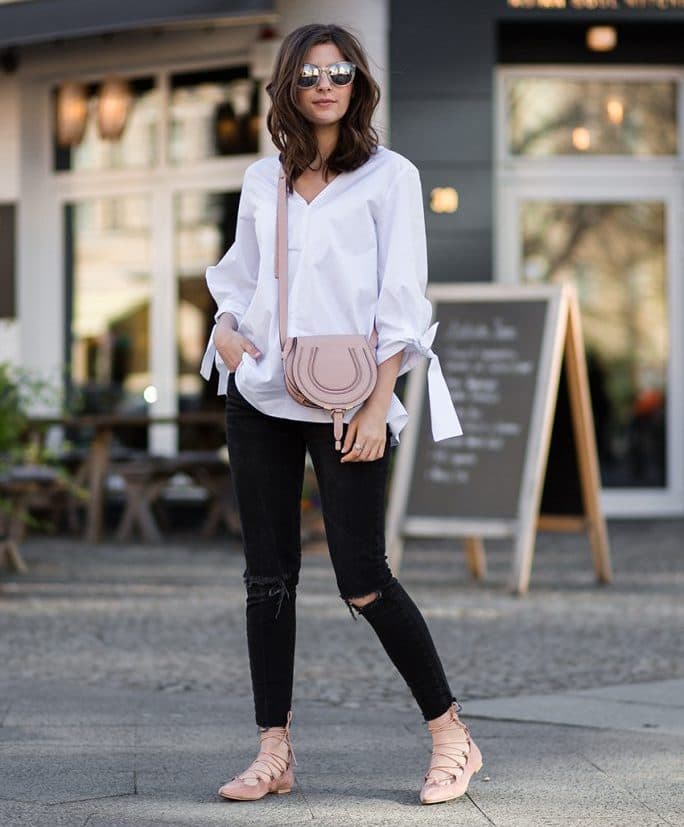 Associate alluring and pastel colored tops with Rock chic distressed jeans and create beautiful casual summer outfits with jeans. The rest of the look is elegant but not too much for a breakfast or a daytime date.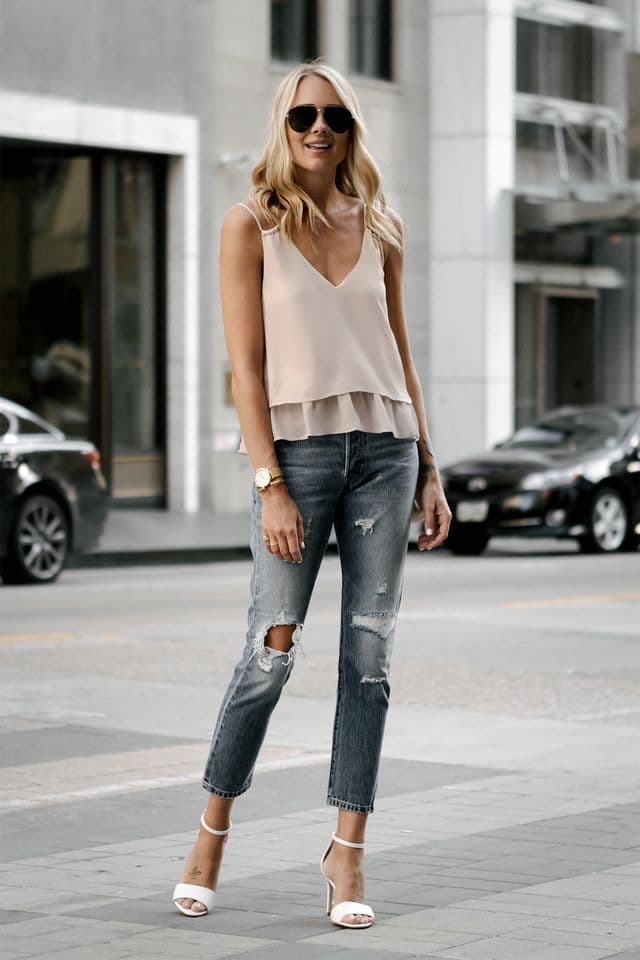 Are you preparing for a date that requires a little more planning? Here's a peplum top teamed with a pair of cropped jeans you can wear regardless of the setting. Accessory selection depends on your personal style, be it smart chic, comfy or refined.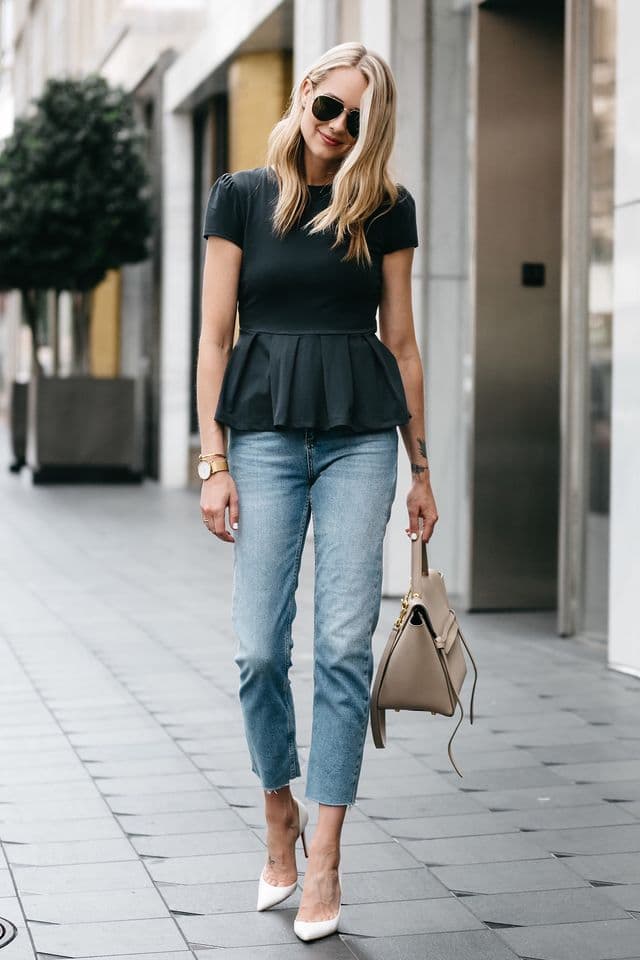 Tip: Before you make up your outfit for the first date for drinks, you'll recheck the clothing items that really make you feel good. Don't forget that you have to show your body shapes without exaggerating. Here are some cute outfits for a first date to drinks.

Maybe you are searching for winter first date ideas ? Something that makes you feel special. The leather skirt and the maxi sweater are all you need to get out on a casual date. A black pencil skirt outfit, would seem to be too office, so you should use these black leather skirts outfits for inspiration, or you can always learn from my trend report, how to wear long skirts casually.

I advised you to try to play with the textures and here you have the best example. The silk top, the cardigan and the cut jeans make a stylish painting perfect for a date.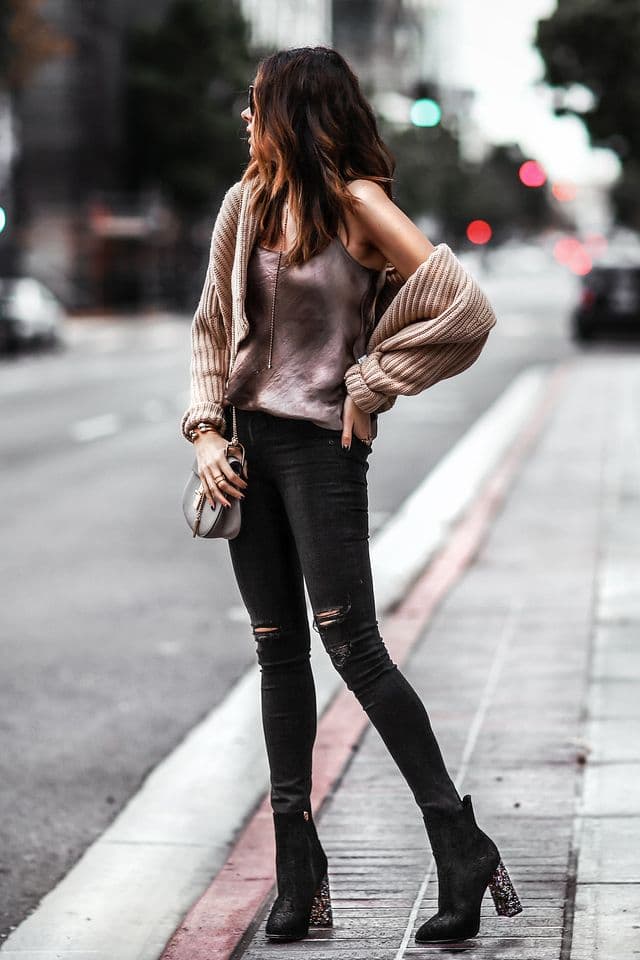 Even if the weather is not too friendly, it doesn't mean you have to cancel your date. Choose a leather jacket. Put it  under a fur vest and you're ready to go out.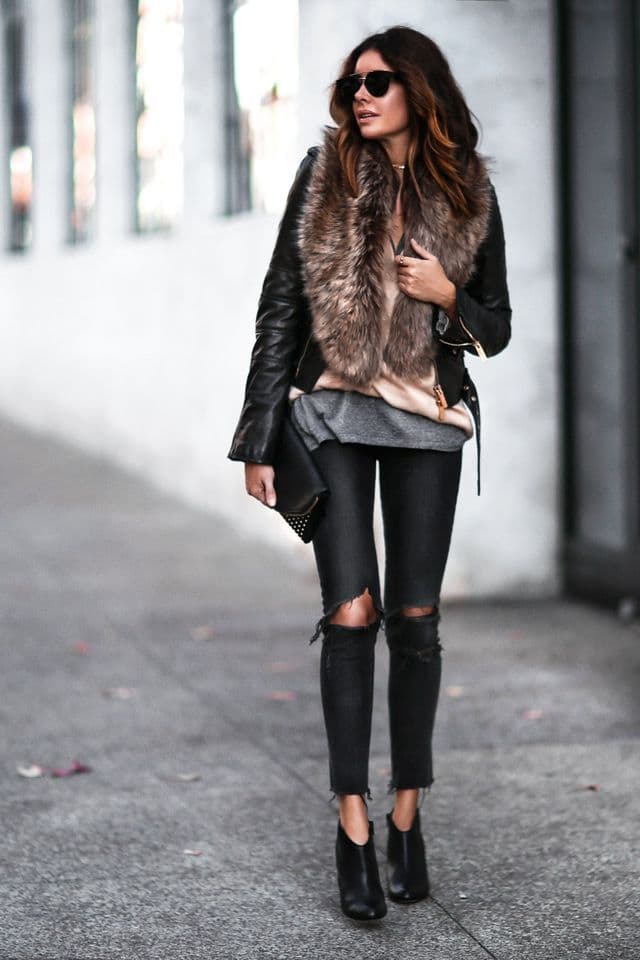 To a date you have to feel perfectly in your skin, but also sexy. So, choosing a leather skirt and a maxi sweater, can make you shine even if the weather is not on your side.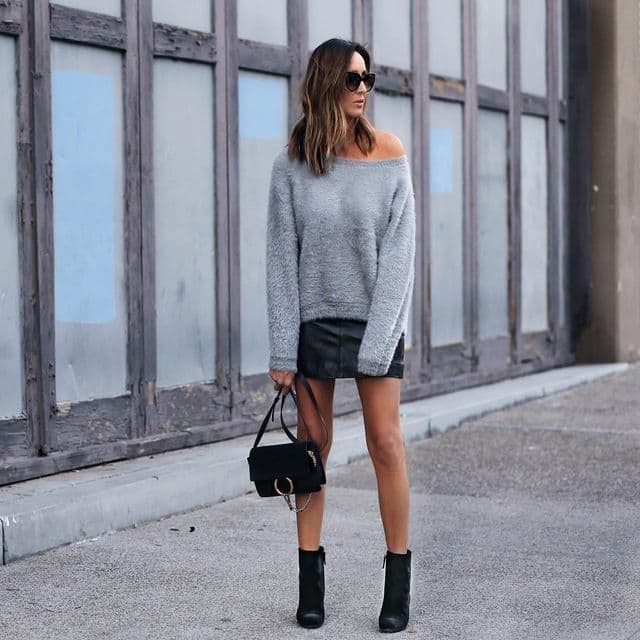 When you're out of ideas but still want to make a good impression, you definitely have to choose a pair of simple pants and a more special shirt.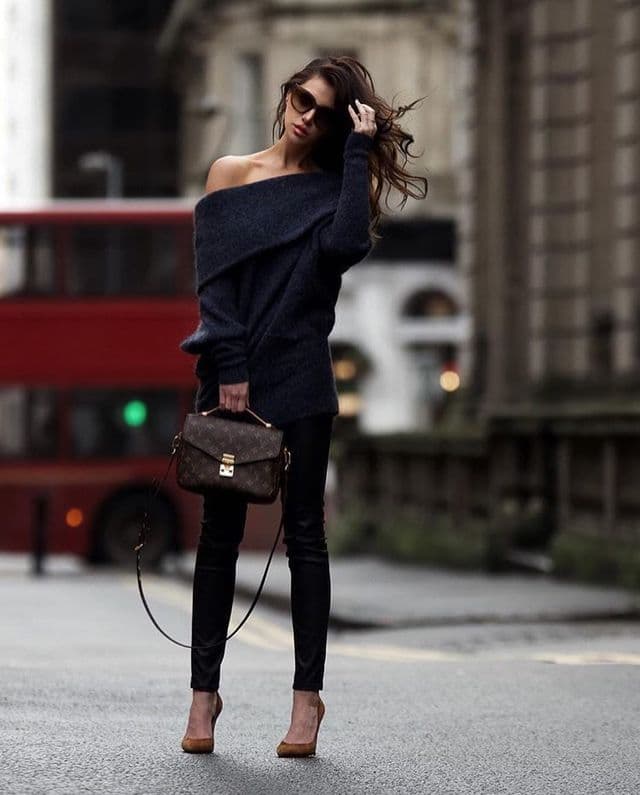 It's a fact that winter temperatures make you want to stay at home as much as possible. But that's not the case when you have a date with a possible partner. Things change and we talk again about your fashion side. I advise you to take care when you'll choose the proportion and the materials of your clothes.
Advice: Dress on layers, starting from thin to thicker, so that you can give up on the surface if the date takes place in a warmer place. I offer you some good casual winter outfits suggestions for a date in the cold season. It will help you in any situation that seems to be without a solution.
Boots of any kind are the stars of this season. Choose a pair of long boots, necessarily over knees, with a pair of leather trousers and a long coat.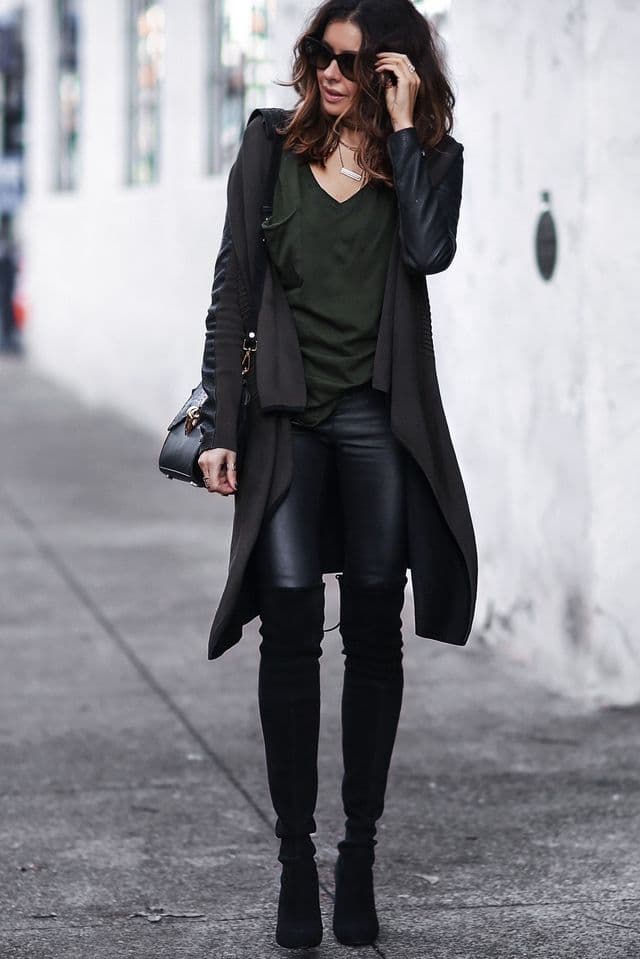 As expected the leather will also look great in this cold season, especially the leather jackets. These items are perfect in any combination, so I invite you to inspire yourself from the outfit above.
There will be days of sunshine in the cold season and you must take advantage of them by adopting a little more colorful casual date outfits.
If the sunny day is going to be the one you're going to a date, then you definitely need to get inspired by my suggestion. You should not dress with outfits for 50 year old women, just because the weather is cloudy. Try a look that makes you feel young, like the next one.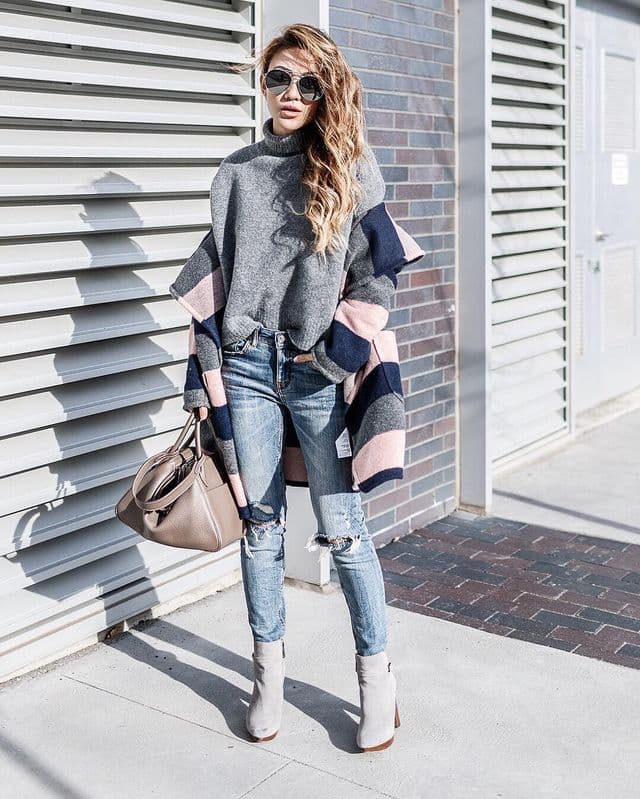 I know it's hard for you to create your casual drinks outfit since you have all sorts of emotions and feelings. But hopefully my suggestions are useful to you. There is one thing you should not lose sight of: you have to stand out with elegance and style. I hope that I've been helpful and I invite you to keep track of our other precious tips like  summer going out outfits , white skirt outfits or winter club outfits.
Source photos: Instagram
GlossyU.com partners with several affiliate programs, meaning that commission can be earned from purchases/clicks by those who visit this site and on any GlossyU.com social media platforms.