I love black leather pencil skirt outfits, but I admit, I'm not that girl who wears skirts everyday! Why? Sometimes I find it difficult to match a skirt, especially if it's made of leather.
So, I've searched on the internet for pictures with outfits that could answer to the question: "what to wear with a black leather skirt?". And I was surprised! There are so many fashionistas out there, which love to wear black leather pencil skirt outfits.
Beside, style gurus make a big case for including these pieces of clothes into the modern fashionista's wardrobe. So, to do that in a good way, you should take a look at these black leather skirt outfits. Put together a few A-list leather pencil skirt outfit ideas with the help of casual and office chic essentials.
What to wear with black leather skirt
These chic black skirt designs are considered 'must-have' pieces especially if you are a fan of the utilitarian style. Sneakers, ankle boots or stilettos, you name it! Pair it with chic accessories according to your mood and your personal preferences. Follow the footsteps of trendsetters and create outstanding winter date night outfits by using leather skirts.
Listen to dozens of foolproof tricks and tips on how to wear this black leather skirt outfit. Learn to associate them with oversized jumpers and sweaters, a nice plaid shirt or daring tops. Pair these essentials black leather skirts with a classy white shirt, t-shirts and sandals, in order to create beautiful summer going out outfits or  first date drinks outfit.
Lot of fast-fashion stores decided to offer similar style staples to the trendy skirts presented in runway collections during the past seasons. Let's take a look at these leather skirt outfit ideas. Use a black leather skirt styles to create a cute winter clubbing outfit.
1. Let's face it! Usually, we wear leather skirts during the cold season. You can pair your favorite black leather skirt with a nice white sweater for a beautiful casual outfit, like the one from the next image.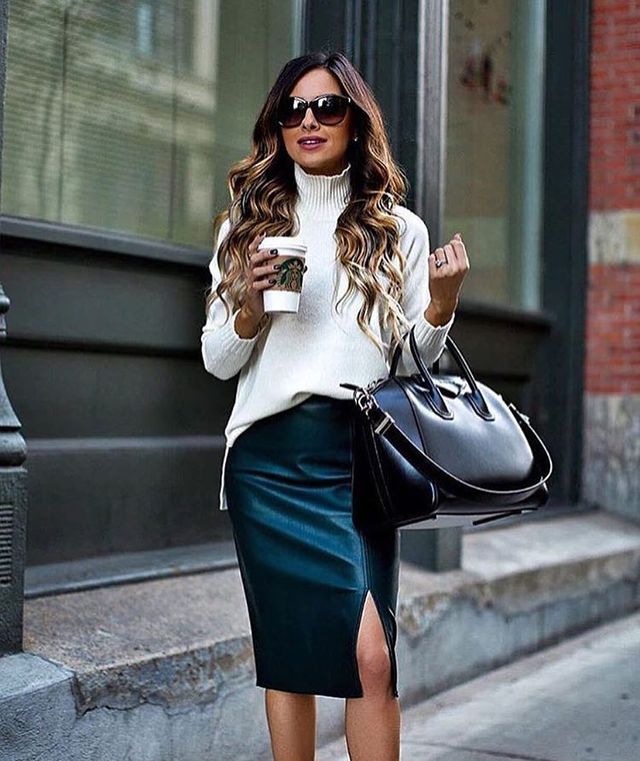 2. Maybe you like the idea of wearing shirts with a big V neck or a suede jacket and a big scarf… Well, I think it depends of the weather and of how resistant you are when is cold outside.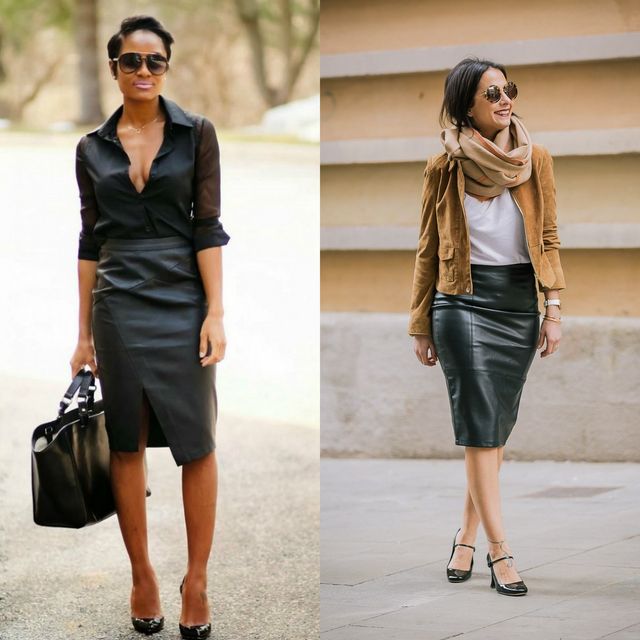 3. If "being sexy is your motto", then, this must be the perfect outfit for you: an off shoulder sweater matched with your favorite black leather pencil skirt and high heels. However, if you are interested you can always try a leather culottes outfit.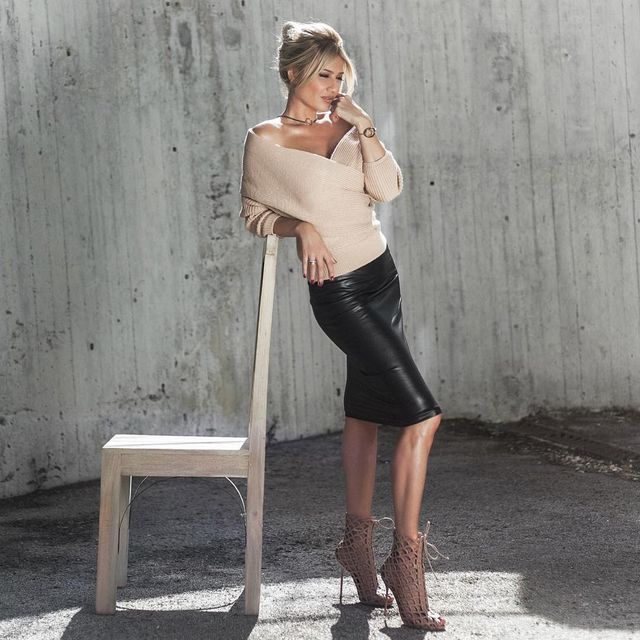 4. Jackets, sandals, high heels shoes, small white purse or a transparent black top. This could be another solution when you wonder what to wear with a black leather skirt.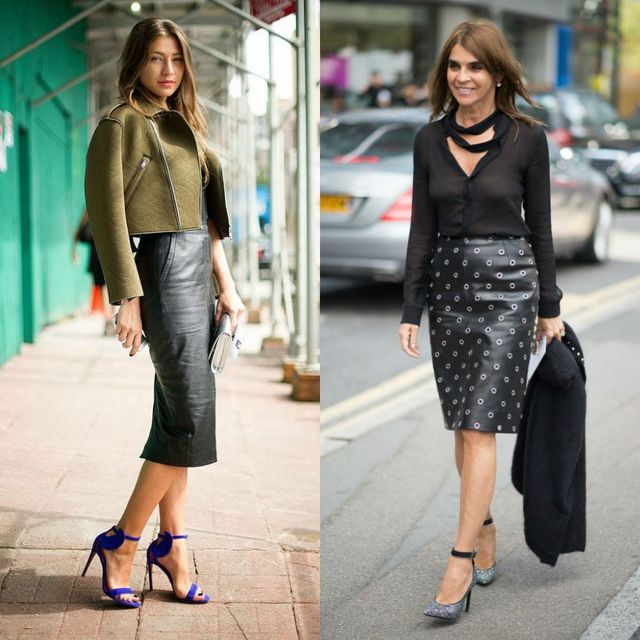 5. This all black outfits is very, very nice and inspiring. Is true! Shinny black stilettos, black leather pencil skirt and a turtleneck is a perfect combination when you wonder how to style a black leather pencil skirt. However, when we talk about creating party-perfect outfits , I think is best to go for a leather mini skirt outfit or a shorts club outfit or a clubbing outfit with jeans.
6. If you like the idea of wearing an all black outfit, then, you could pair your black leather skirt with a black leather jacket. Such a beautiful, elegant and nice outfit. As you can see, you can define the outfit with a small bag and black stilettos.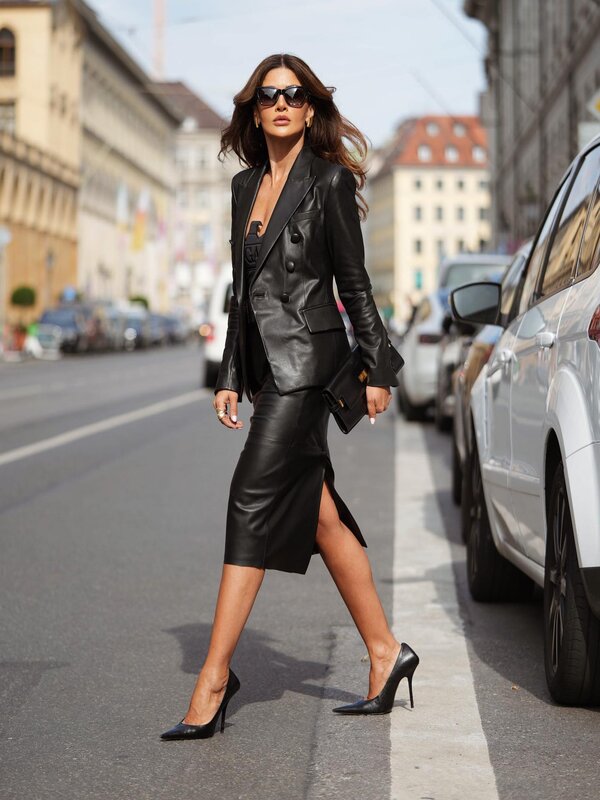 7. Ankle boots and long cardigans are useful when is cold outside. Use them in order to create nice black leather pencil skirt outfits.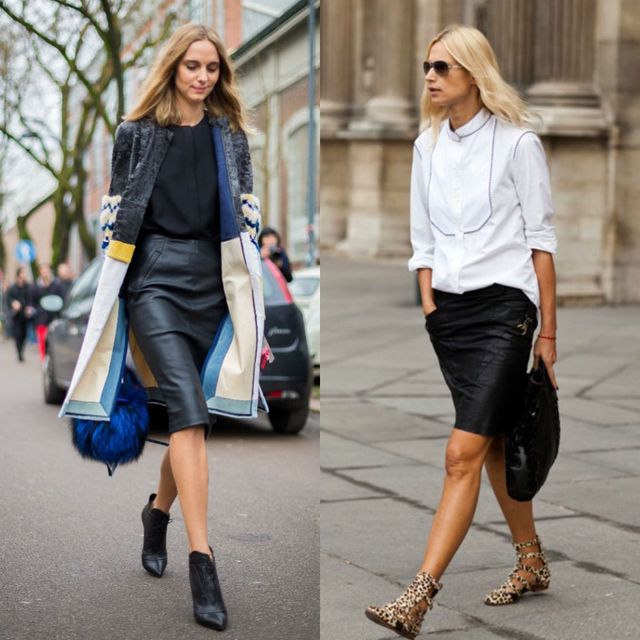 8. White crop printed tops paired with a front zipped leather skirt and a long trench. This might be the answer to the question "how to wear a leather pencil skirt ?" .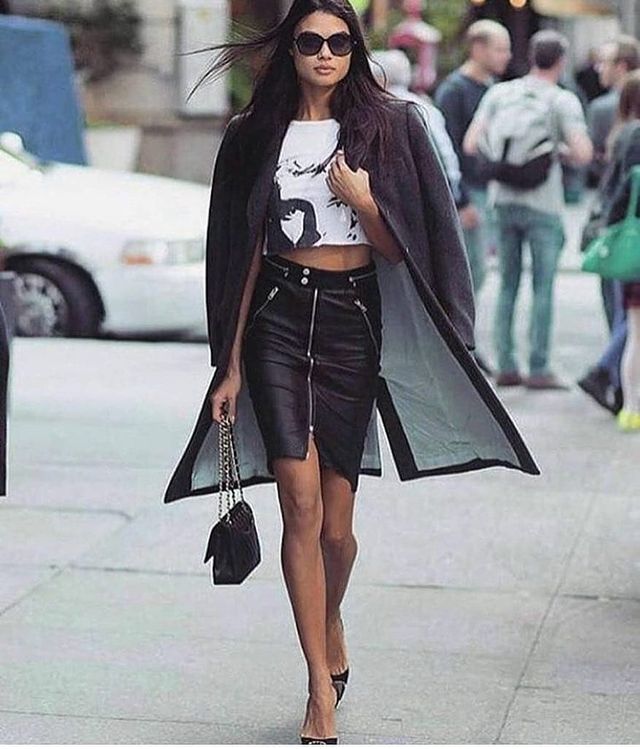 9. Sleeve less t-shirts, shirts and lace up sandals or perforated sandals, are a suggestion for your next black leather skirt outfit.


10.White shirt tide around your waist and a pair of sneakers, might be the answer to the question "what to wear with leather skirt"?
11. Looking for ideas of tops to wear with leather skirt? Well, you can always choose a white long shirt and a black sweater you can dress on top of the shirt, like in the next image. Try to copy this outfit.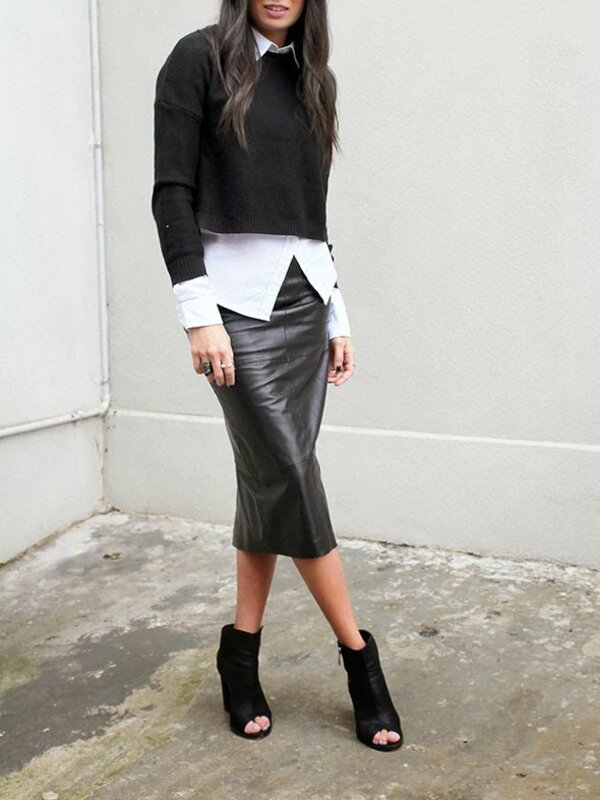 12. Usually, I don't recommend a top with horizontal stripes. It might give you the impression that you are fat. But there are many fashionista out there, who don't have a problem with the silhouette.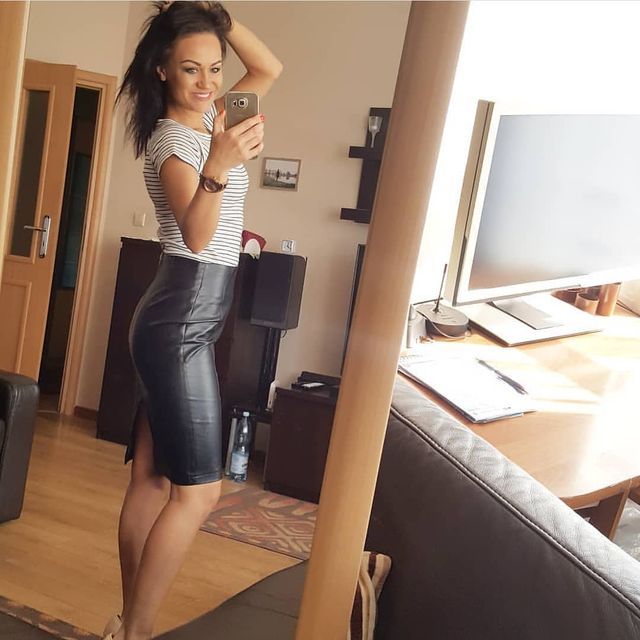 13. Nice combination between a black leather skirt and a denim shirt. All this outfit is completed by a brown short coat and paired with brown leopard shoes and a small black bag. Simple and smart casual:is the suggestion from the next image.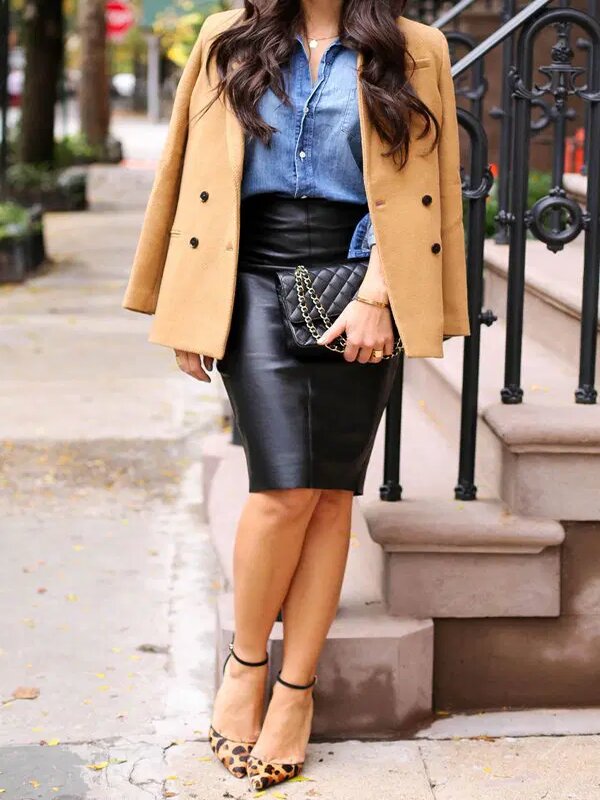 14. This black tank top could be a solution for your black leather skirt.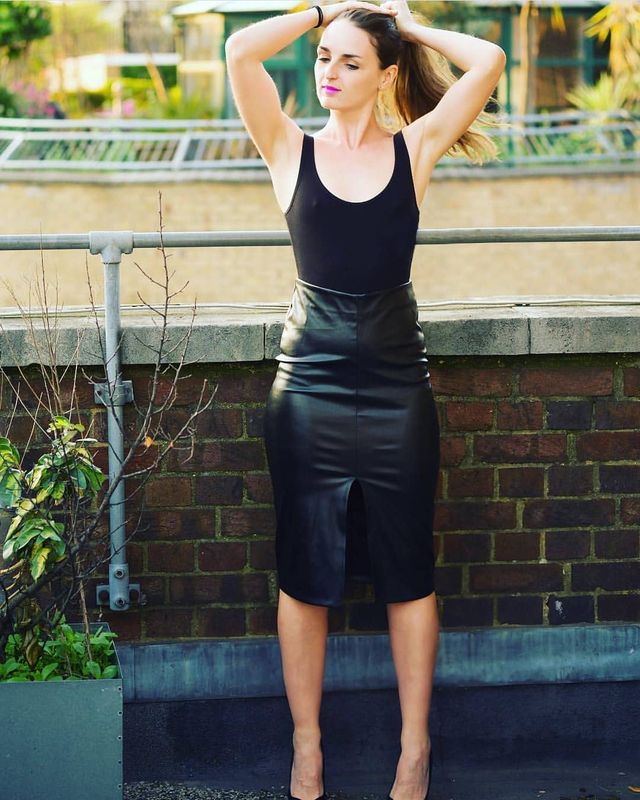 15. Oh Good! I love this outfit so much!!! A high waist leather skirt paired with a white loose top and a black tank under this blouse. Perfect! Just perfect!!!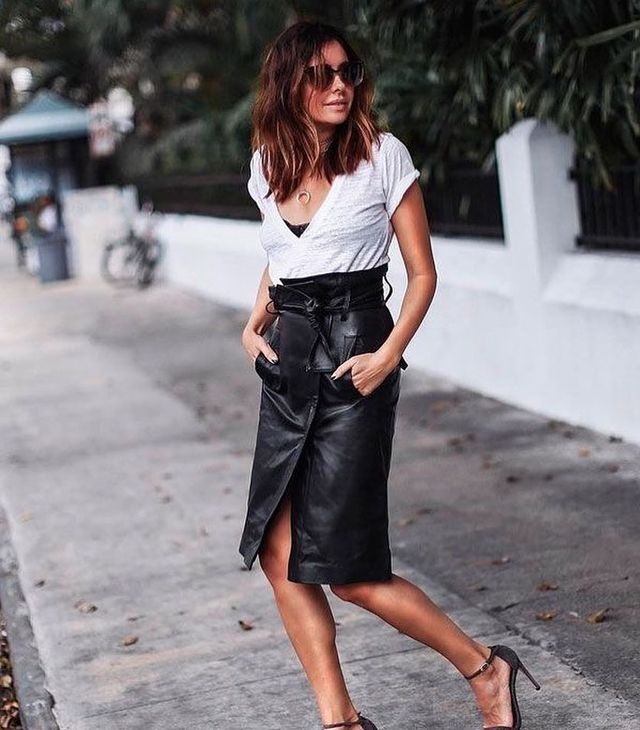 16. I love her beauty, but that's not the reason why her outfit is presented here. I just like the way she matched her tank with high heels and a leather pencil skirt.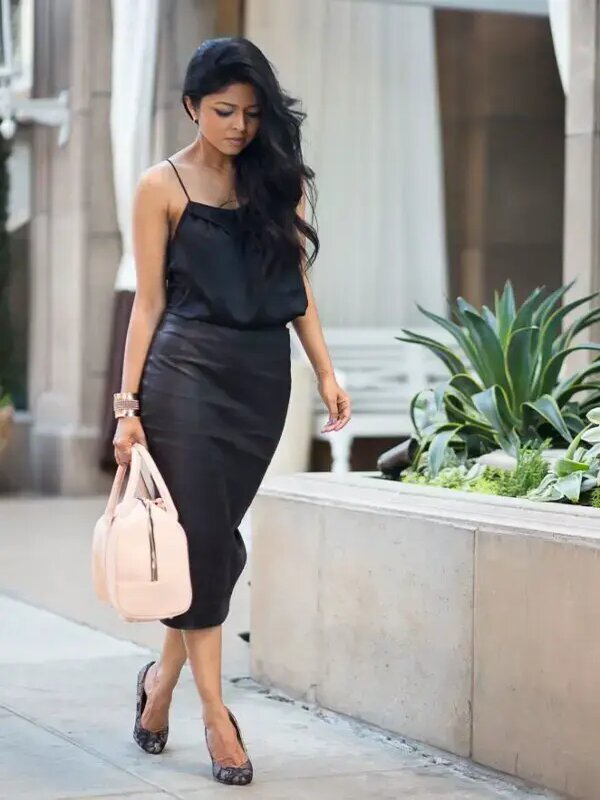 17. Just a simple outfit with short sleeves, a pencil black leather skirt and black high heels shoes. It's the outfit that I like.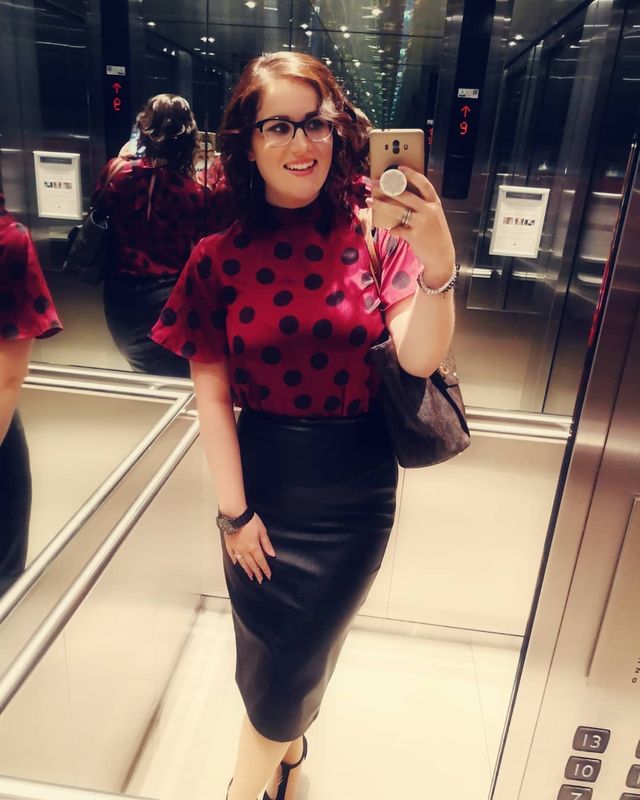 18. Lace boots paired with an white with long sleeves shirt. It seems an elegant outfit but in the same time it seems to be also casual. Steel, I would not recommend to wear this outfit at work. I like the idea of this black leather pencil skirt.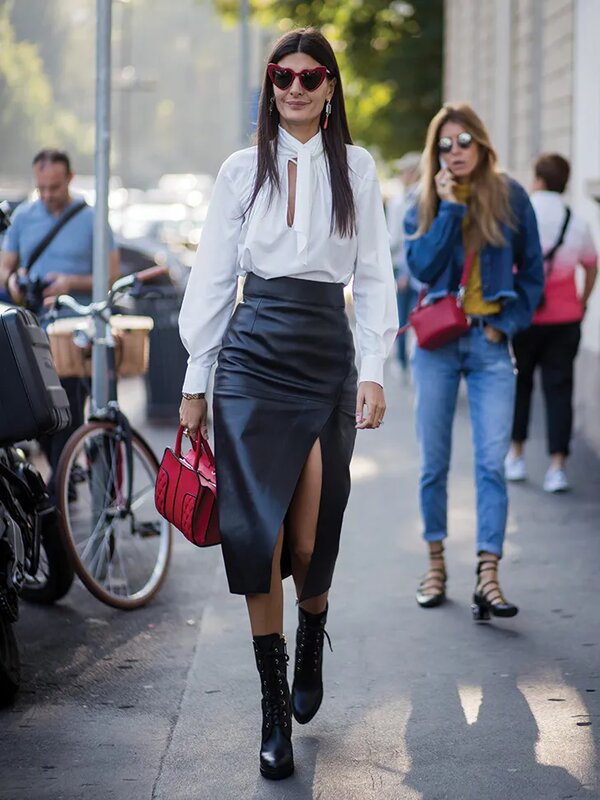 19. You look like a top model? In that case, you should take in consideration to wear this kind of leather pencil skirt outfit. A cashmere sweater that you can wear with an off shoulder, high heels stilettos and a midi black leather pencil skirt is the perfect outfit to wear when is a little cold outside.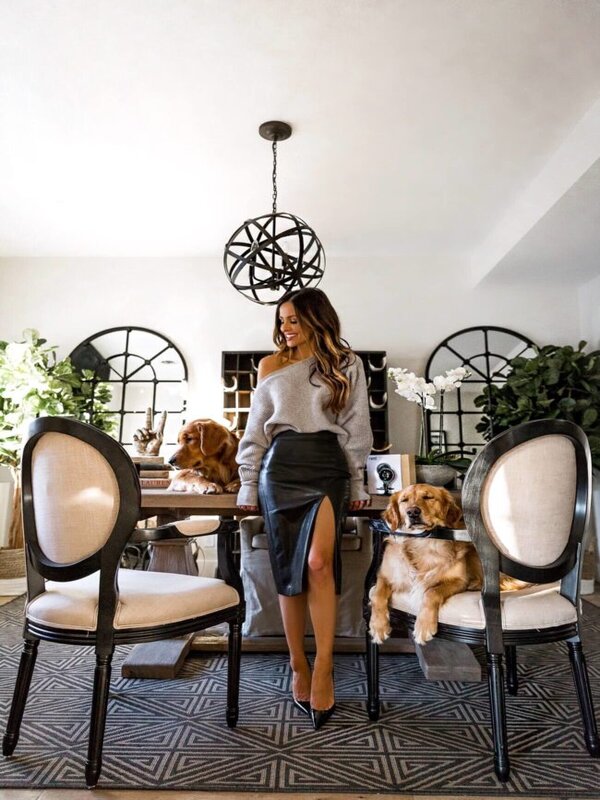 20. Have you thought to wear a black leather pencil skirt with a high black boots? Well, this would be a nice and recommended outfit for a day day, especially when the top that is used is a sweater. However, I would complete this outfit with a long coat, maybe a brown one, just to add some color.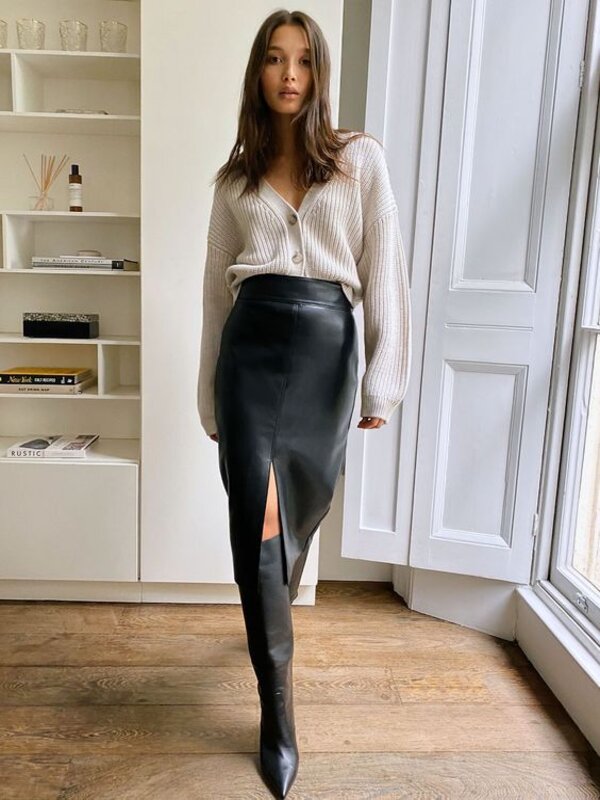 21. Isn't this cute the outfit with a long black leather skirt? It looks quite comfy and easy to wear. I like the idea of a casual leather skirt outfit with short boots and a tee shirt matched and dressed in a easy way in order to evidence your silhouette. Add some color to your outfit with this green or red or a purple short coat. Also a colored scarf would be a nice thing to add.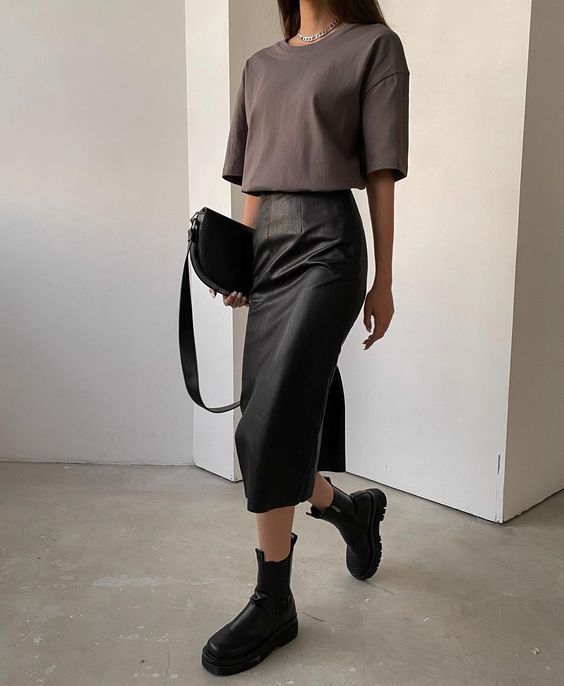 22. Frankly, I didn't thought that wearing a simple thigh black turtle neck with a wrap leather skirt would look that great! Well, is true that choosing to match this black leather skirt with black tight pointy boots, makes this outfit look even better. It's true that using a turtle neck in any color, would look that great in any case, but wearing an all black outfit, I like it soo much!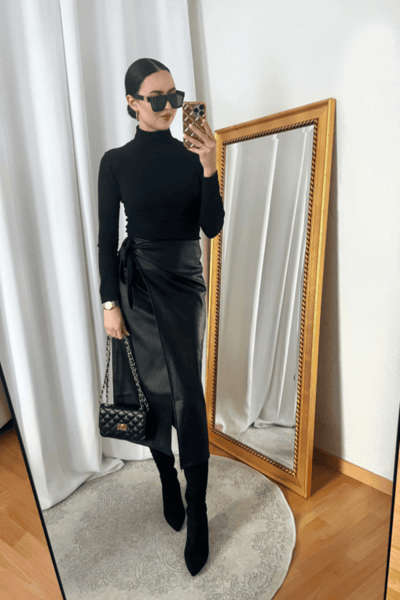 23. Have you ever thought to match sneakers with a leather skirt?  Well, if I think, is not an unusual combination. Besides, it seems to be very casual, cheap and simple to wear, especially when the top is just a black t shirt.  Copy this look next time when you are searching for something simple and all black outfit.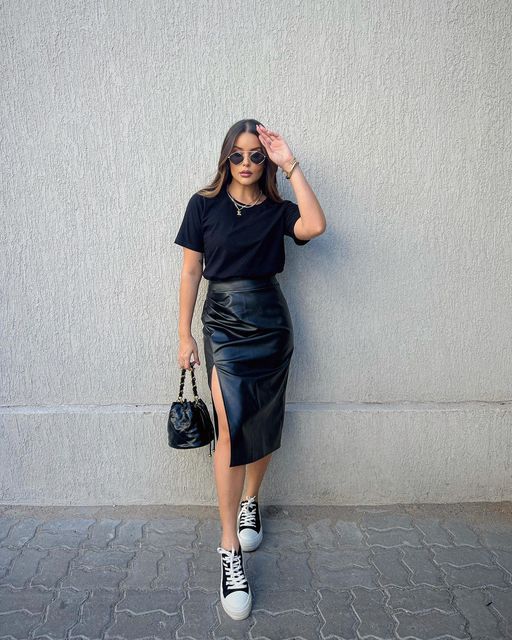 24. All black leather outfit is nice and suitable to wear every time you plan to party for a night out with your friends. A black transparent bodysuit matched with grey high heels stilettos and bracelets with the same color like the sandals, and you are ready to be the star to any party.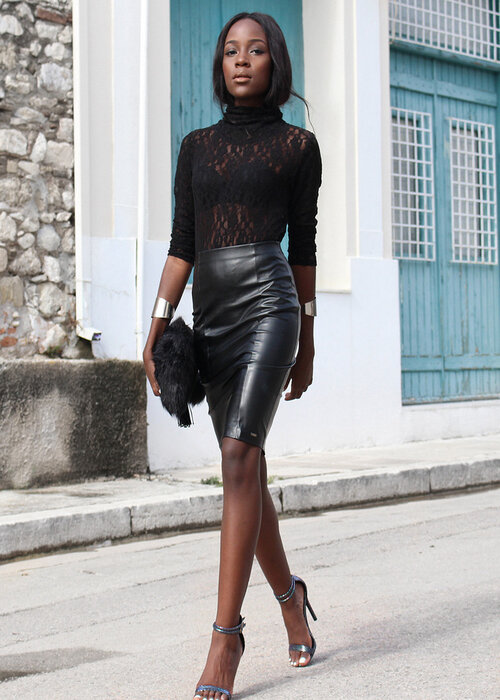 25. Here is another leather skirt style, that you can copy. It's nice and very simple… probably suitable for an all day activity… Besides, the long white coat would add some brightness to the outfit and also you would look much taller. I don't know… I let you decide when and where to wear it!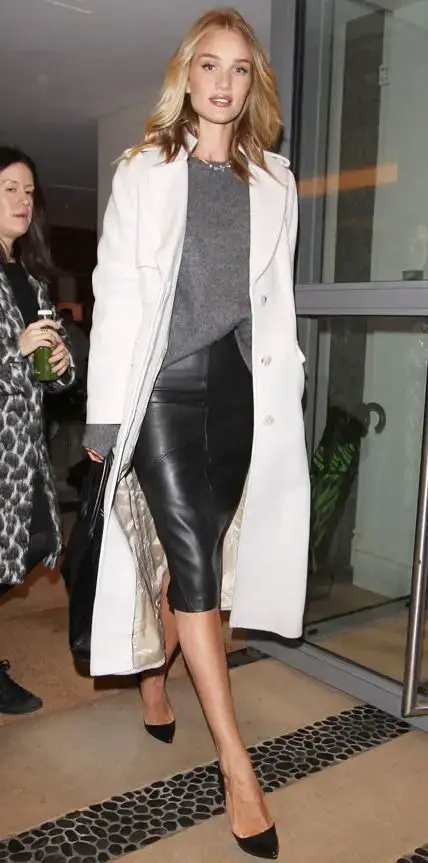 26. Nice, chic and cozy this leather pencil skirt outfit. I just like this high waisted leather skirt outfit! Besides, you can always wear it at work. Because of the flat ballerinas, is also comfy to wear anywhere during the day.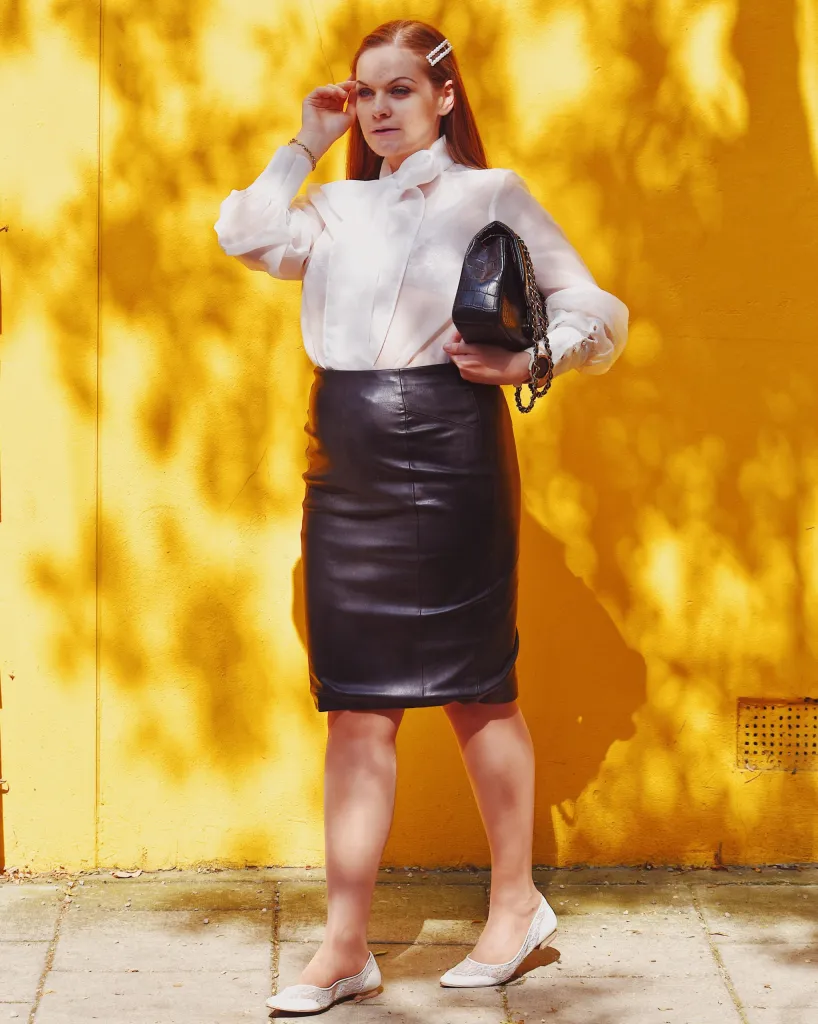 27. Wondering what shirt to wear with a leather pencil skirt? This is the perfect choice to make!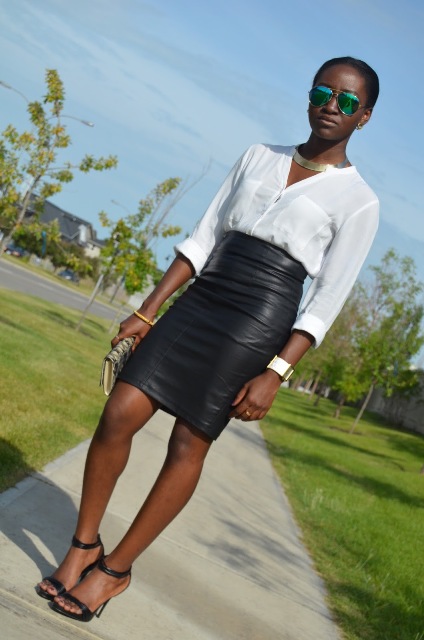 28. A leather skirt with an exposed zipper, an oversized sweater paired with ankle-strap heel and accessorized with a classic shoulder bag is the perfect outfit for a 9-to-5 work day that would not make you get out of your comfort zone. Besides, if you go out for drinks after, you can always unzip the bottom of the skirt and expose one of your shoulders and you are ready for an happy our go out.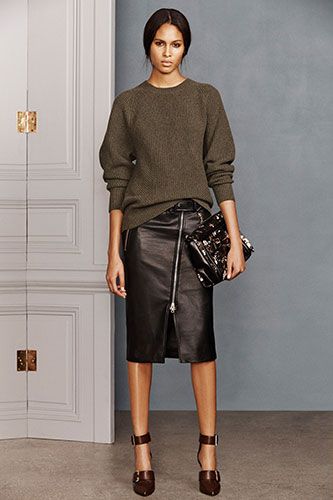 29. If you are the rebel type, here is an outfit with a black leather skirt that you can copy. Short sexy top, lot of jewelries and accessories, but also black flat sporty shoes.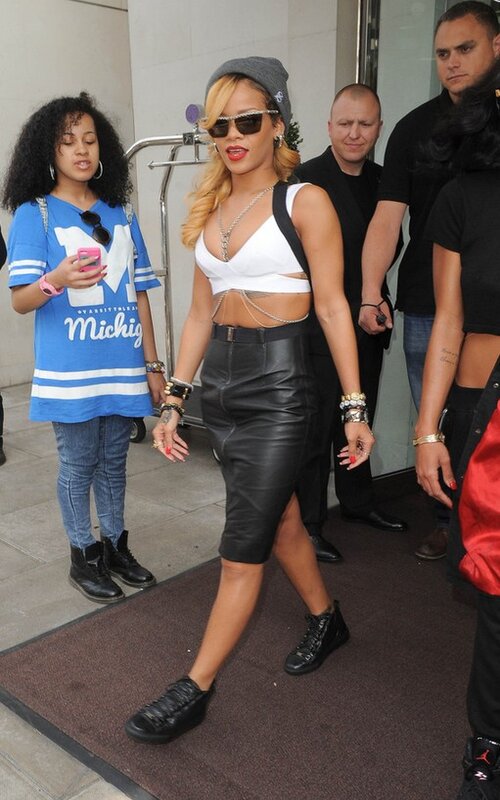 30. Are you looking for an all black leather outfit? Sandra Bullock gives us the look to copy.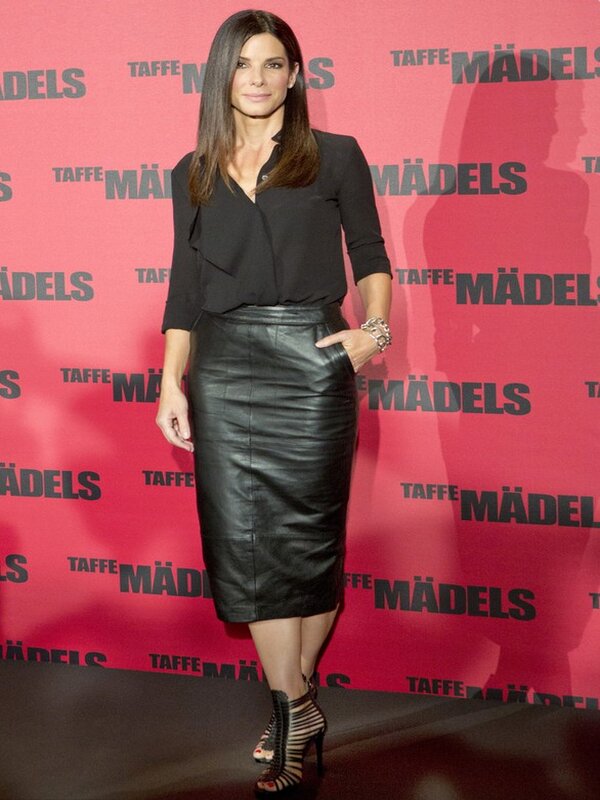 31. Here is another idea about how to wear a pencil skirt casually but in the same time smart. Lace high heels black sandals and an white t-shirt with the inscription of the Yves Saint Laurent brand on the t-shirt.
32. Another idea for a black leather outfit with a top having tan inscription on it, as we were searching earlier. However, you don't have to change your clothing style from top to toe. Start with a few unpredictable yet stylish pairings like a summer outfits for teenage girl!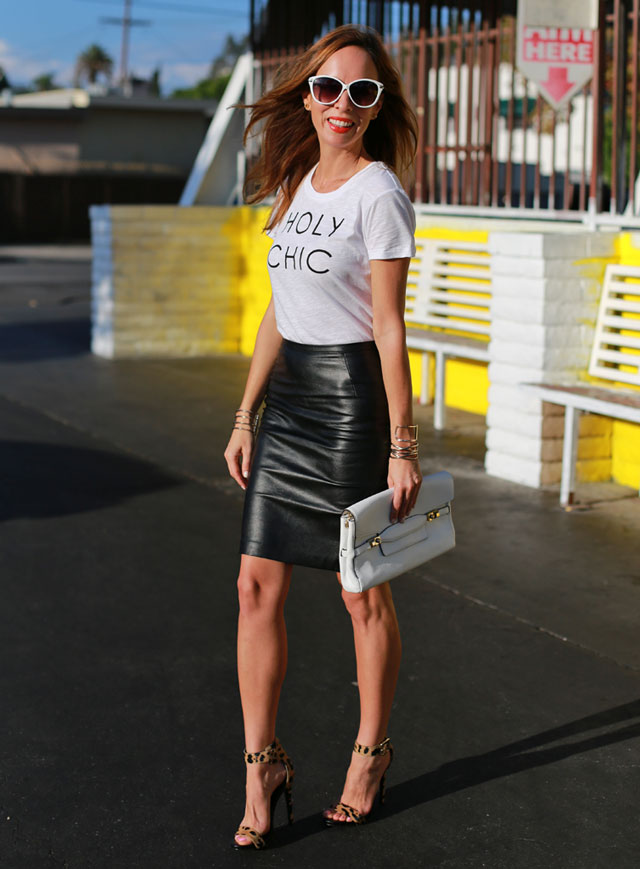 Taking risks with outfits options sounds like a good idea and the next image is perfect to copy. Be bold! You are beautiful!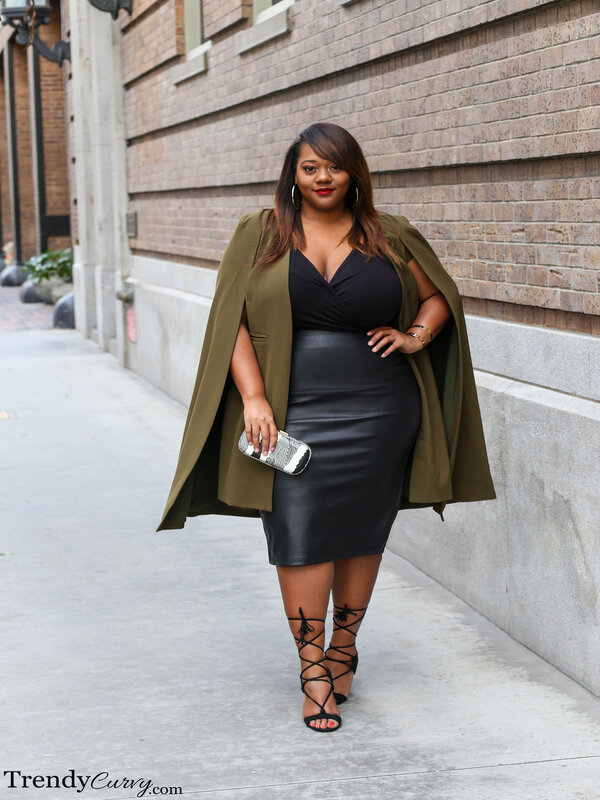 33. Let's face it! The crop top and high-waist skirt combos are for the ones who are proud of their silhouette and have confidence in their attractiveness.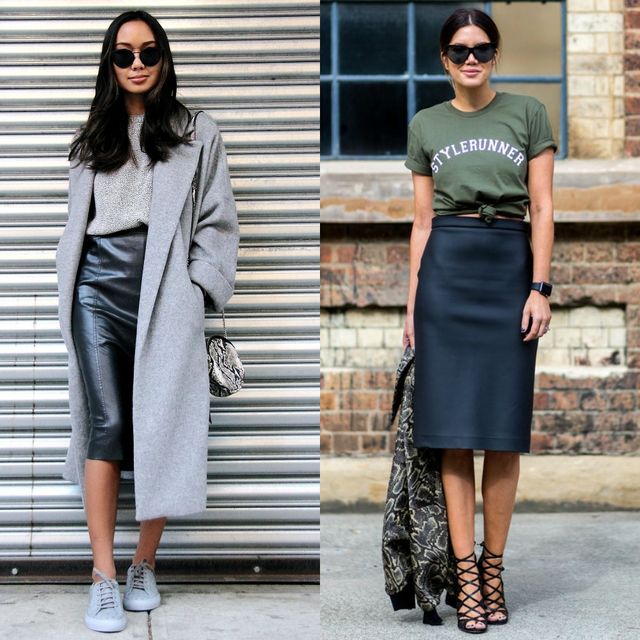 34. In case you prefer to shift the attention to your unique style and silhouette in a less cheeky way, look for a  graphic tee shirt which tel a lot about you. Take a look at these black high waisted skirt outfit idea.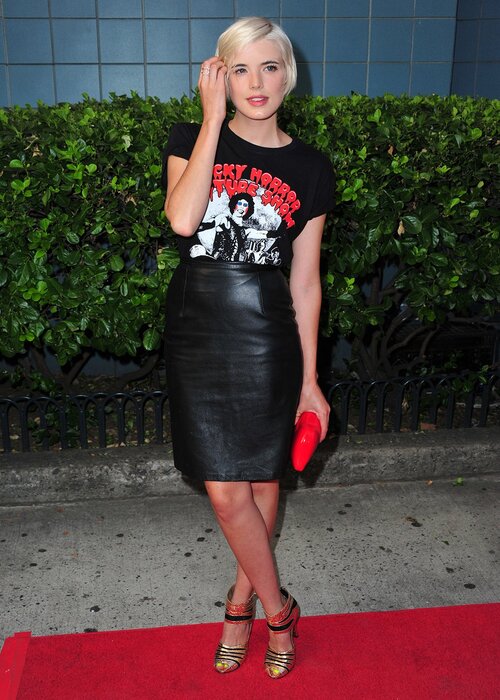 35. Whether you dig up a few cool black pencil skirts in your wardrobe or mother's wardrobe or you hunt for the best deal at virtual stores, make sure you sport these timeless style creations regardless of the season.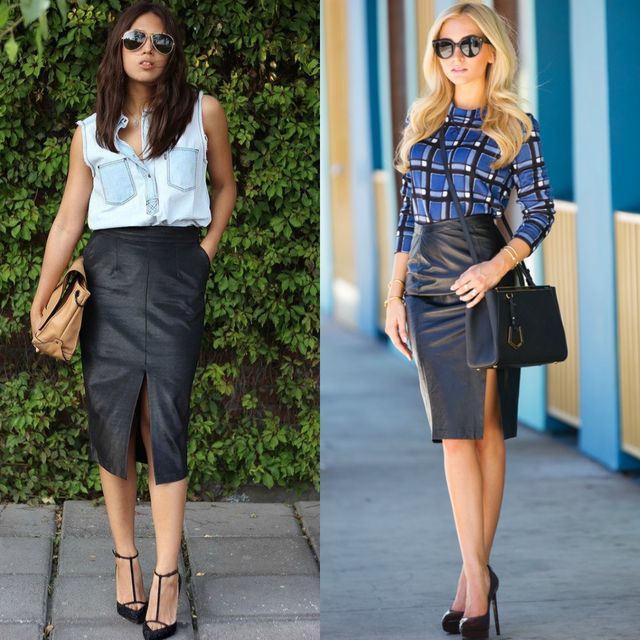 36. Inspire other fashionistas with your non-traditional and admirable style options for black leather skirt outfits. Nowadays, perking up your office or formal wear is not sooo difficult. After all, you have faux leather, velvet and classy cotton to count on. Include this outfit in your collection of pictures in order to find winter outfit ideas for going out or what to wear on a first date in winter.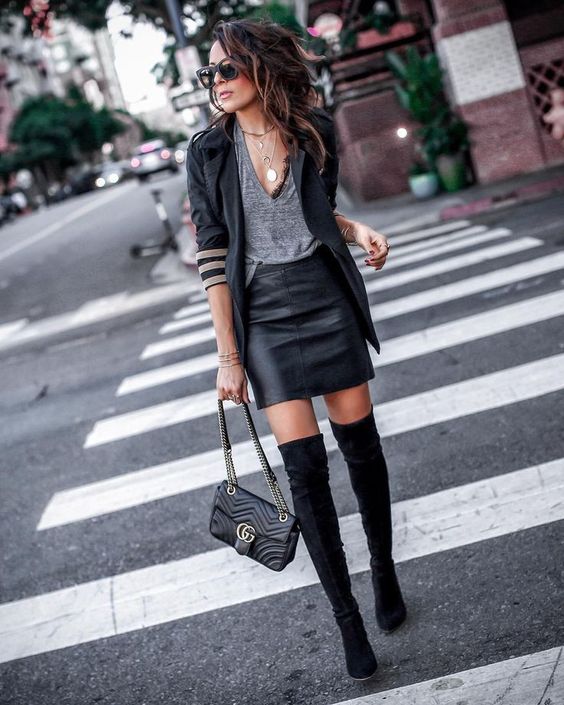 37. Black leather always demanded the attention of designers and stylist.Though this texture is not always associated with heat and warm season,but more with the fall outfits for women, you can still make it compatible with the coolest summer outfits.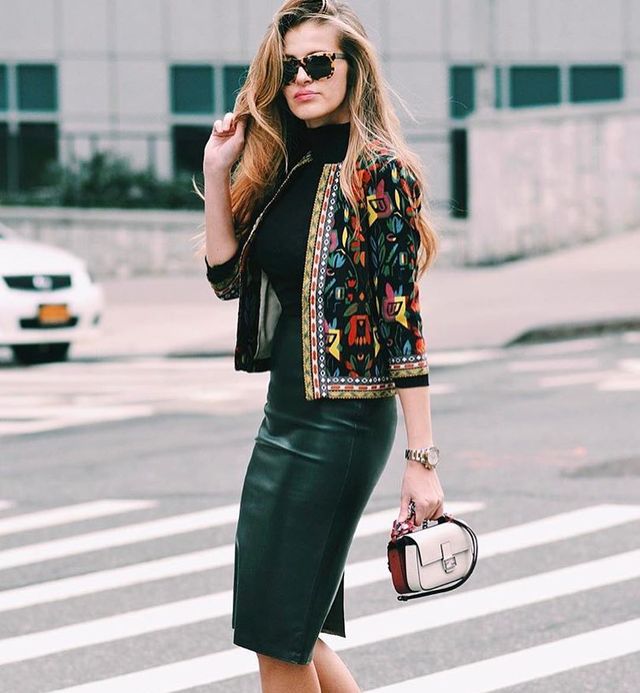 38. Really, it wasn't too hard to find a few outfits with black leather skirts for ladies. These suggestions will definitely make things easier for you especially in the mix and matching process. See what to wear with a black leather skirt.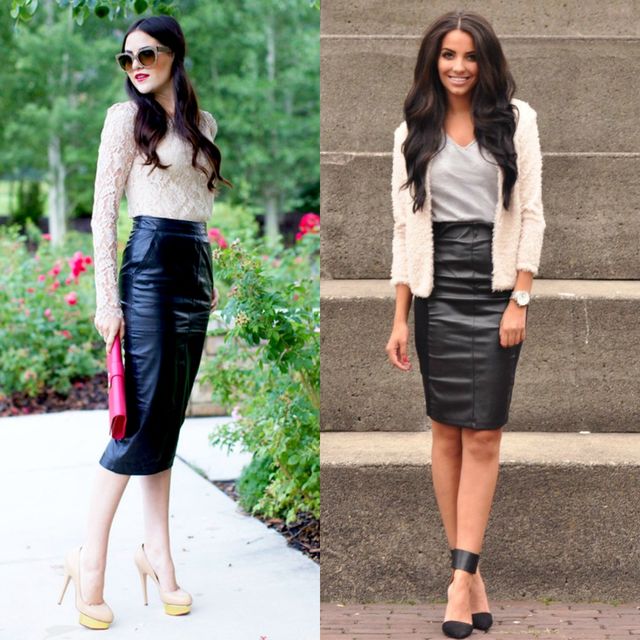 39. Fast-fashion stores provide you with a selection of mini or midi leather skirts in various shades. While we limited ourselves to black you can also experiment with burgundy, brown and even red tones that add a touch of color and vivacity to your looks.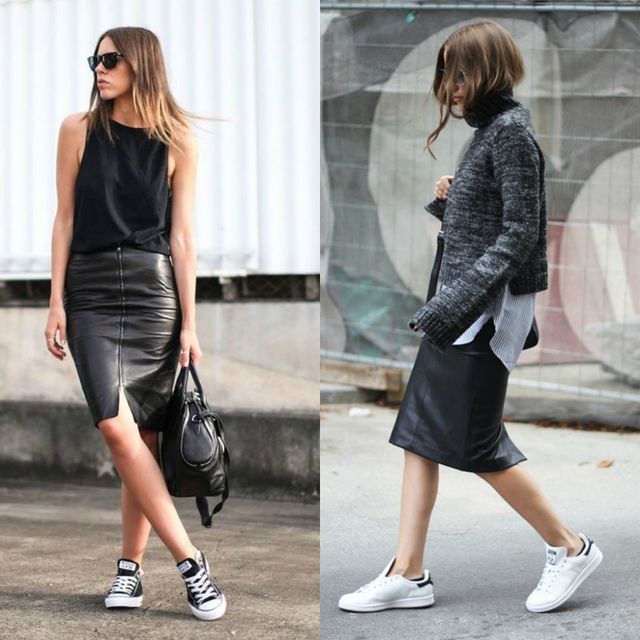 40. Build head-turning outfits associating sparkly or crop tops with high-waist skirts. You can also tone down your daily sets with laid-back or mono-color T-shirts and loose sweaters.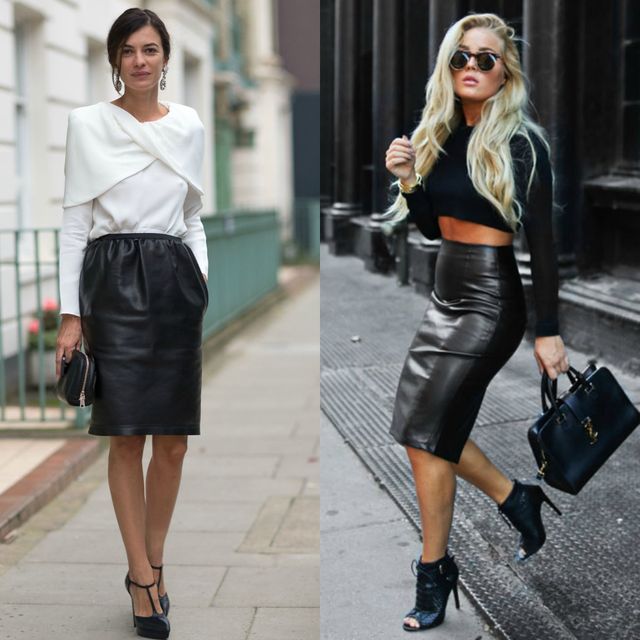 This is the reason why women prefer a black leather pencil skirt outfit instead of any other color. They think that black make them look slime. It's true, but even so, some of them refuse to wear a pencil skirt.
41. But what if I tell you there is a solution to your problem? Take a look at these pictures. A large belt is the solution I'm suggesting you. Your waist will look thinner and wearing a pencil skirt with high heels, it will help you look taller.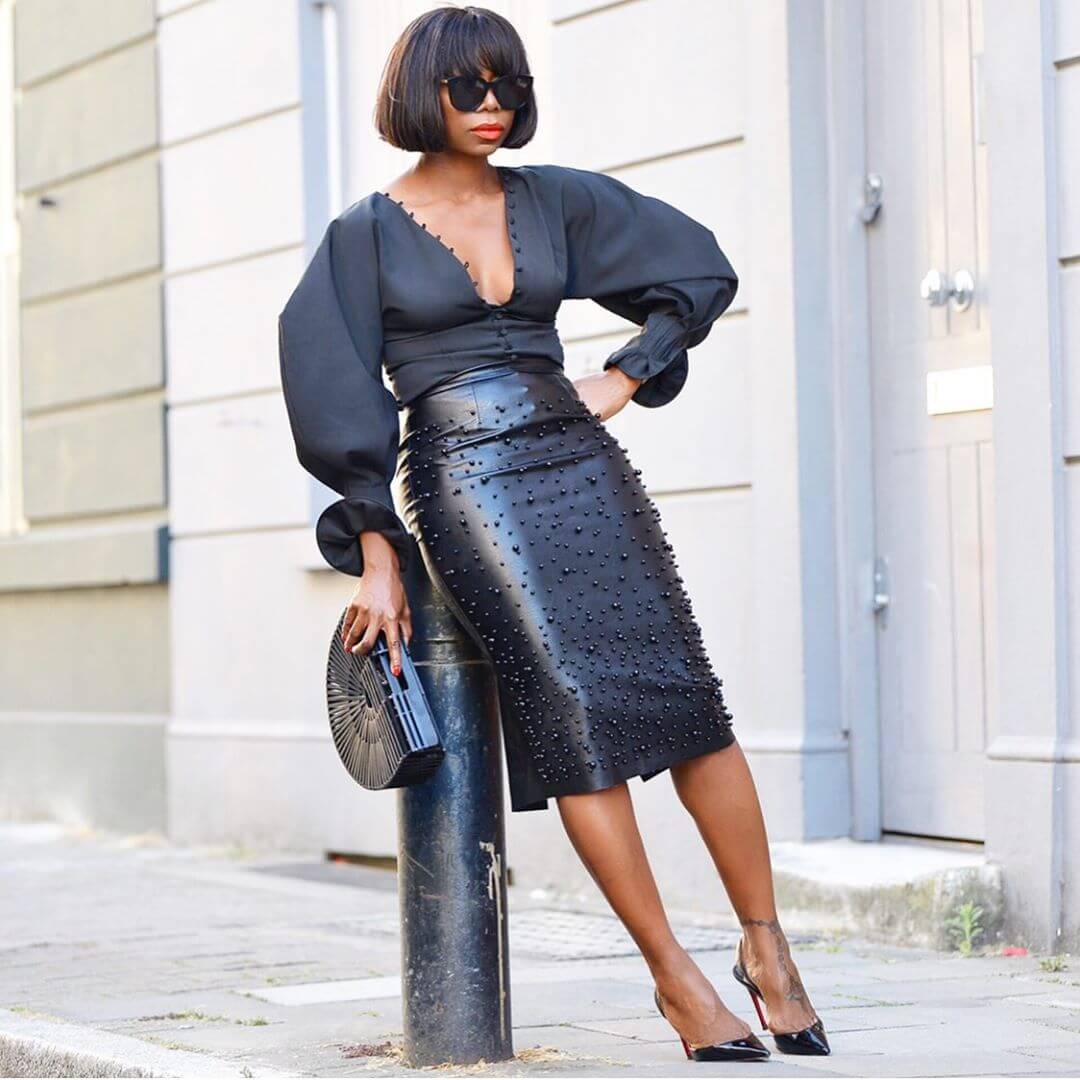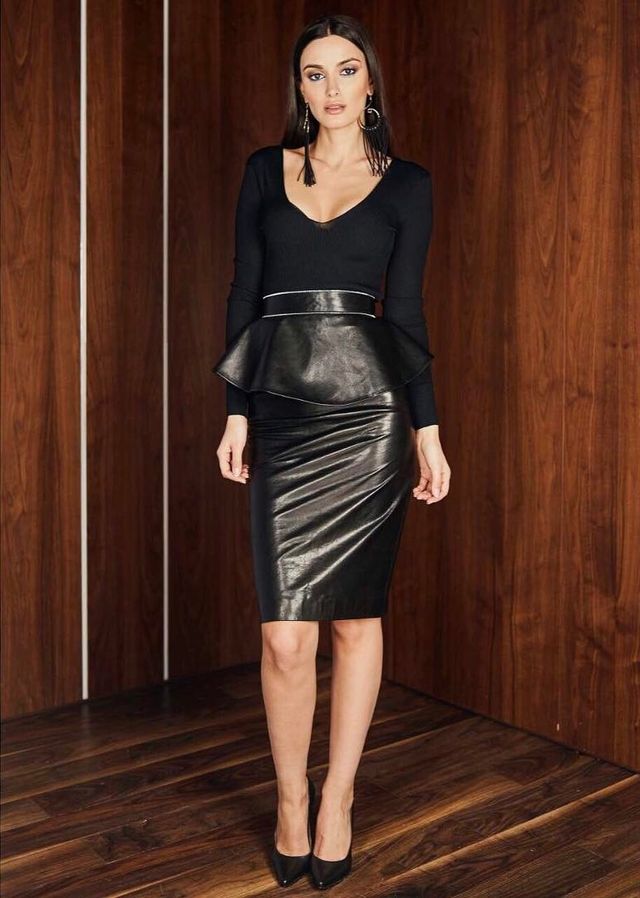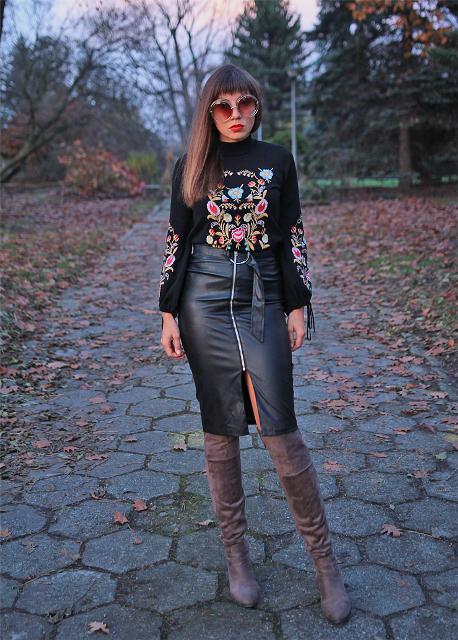 Many would say that pencil skits are hard to wear, both in terms of the model that cannot be adapted to any shape of the body, and in terms of combination with other pieces of clothing. Just keep in mind that such a skirt model also requires an elegant posture and a great physical condition, because the pencil pattern highlights all shapes.
Besides, you should add some color to your wardrobe. Instead of wearing a black pencil skirt outfit or a black leather skirt outfit, why don't you try a red leather skirt outfit?
Why women prefer to wear a high waisted skirts? Because, even if it's a red skirt, this kind of tailor puts your silhouette in evidence. You will look slime and tall if you match a high waisted midi skirt with a pair of high heels boots.
Don't hesitate to put this wonderful look on your list of fall outfits for women. You'll look spectacular every time you'll wear it.

The all-flattering tailoring of these clothes make them easily incorporate in party or casual outfits. Like in these two images.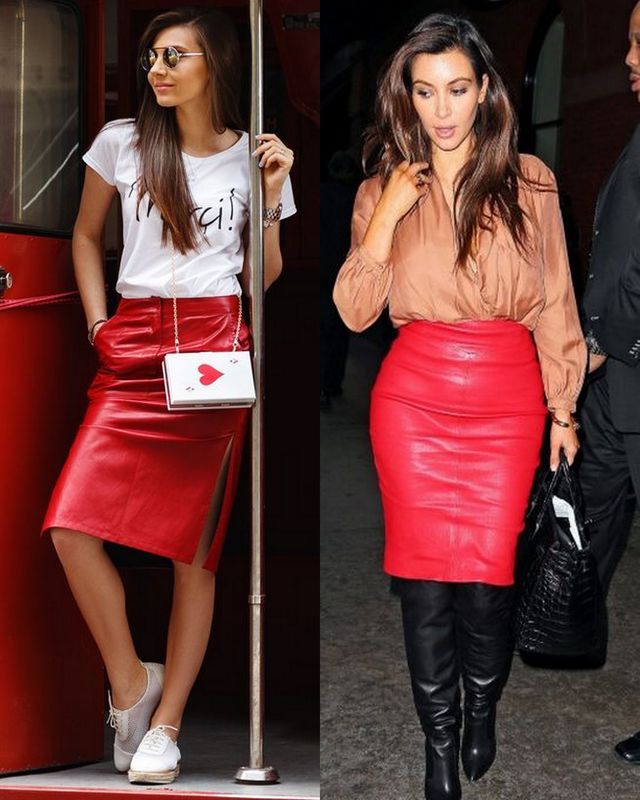 During the cold days make sure you try out the tights and skirt combo, whereas in summer flaunt your well-tone and tanned legs.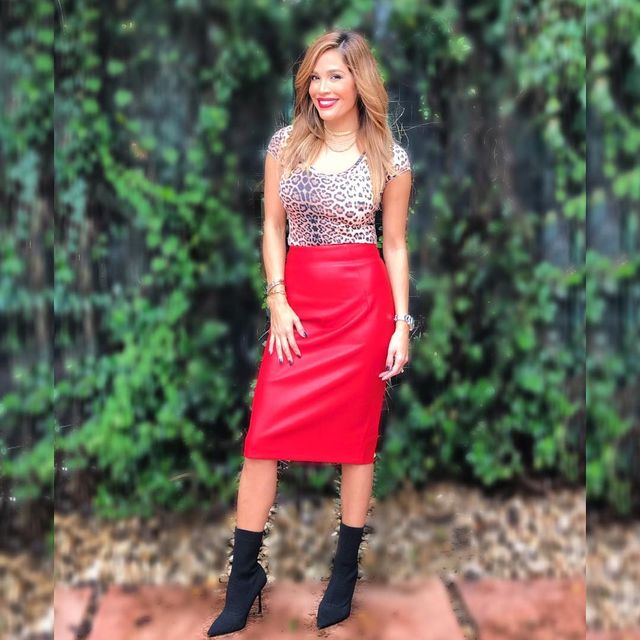 Even if it is girlish, the red leather skirt is very trendy. Easy to wear, easy to match with a t-shirt… This skirt should be very popular when we talk about women's wardrobe too. Put it on the list of what to wear to a music festival .
I've seen many women wearing a red leather skirts, especially during vacations. It doesn't matter if there are short or midi skirts. The most important thing is to feel good and to look good in it. Use this picture as inspiration if you don't know what to wear on a casual first date.
The look from the next image is not exactly a summer casual work outfit, but a pencil skirt is suitable for the summer days at the office. Along with a simple shirt, include the red leather pencil skirt on your list of women's summer work outfits, where the outfit should be as decent as possible, but also thin enough due to the weather conditions.You can also wear it at an important event if you choose to combine it with a pair of fancy shoes and a top with special cut.
How to wear a leather skirt in winter
Finding what boots to wear with skinny jeans is easier then matching women leather skirts in this cold season.  However, if you happen to find a similar leather skirt for your wardrobe, make sure you find numerous reasons to sport it. 🙂
The brave ones give you numerous ideas on how to nail down a body-conscious look with cropped tops and tight tube skirts. Black seems to be the safest option, however you can also try on brown, dark blue and even a red leather skirt outfit for a stylish change in your clothing style.
I get that a lot: 'Ok, I know that I'm supposed to be a lady and wear skirts, but what to wear with black leather skirt if I don't have the body of a supermodel?'. Don't let your insecurity and stereotypes prevent you from joining the band of self-confident style-admirers! Replace your easy to wear jean outfits for women with black leather pencil skirt outfits.
Documentation is important. In case you're lost in the multitude of Pinterest pins, how about taking a glimpse at these black leather skirt outfits I've selected for you.You can easily include one of these outfits in your list of nightclub outfits for ladies.
You don't know how to wear a leather skirt in winter? Rely on the high-class combos with minimalist sweaters and elegant shirts, either tucked in or worn normally. On the other hand, if you are looking for a going out winter outfit in order to look feminine for a night out or a date, how about a more relaxed first date dinner outfit with high waist skirt outfit with T-shirts or sporty jumpers and oversized cardigans?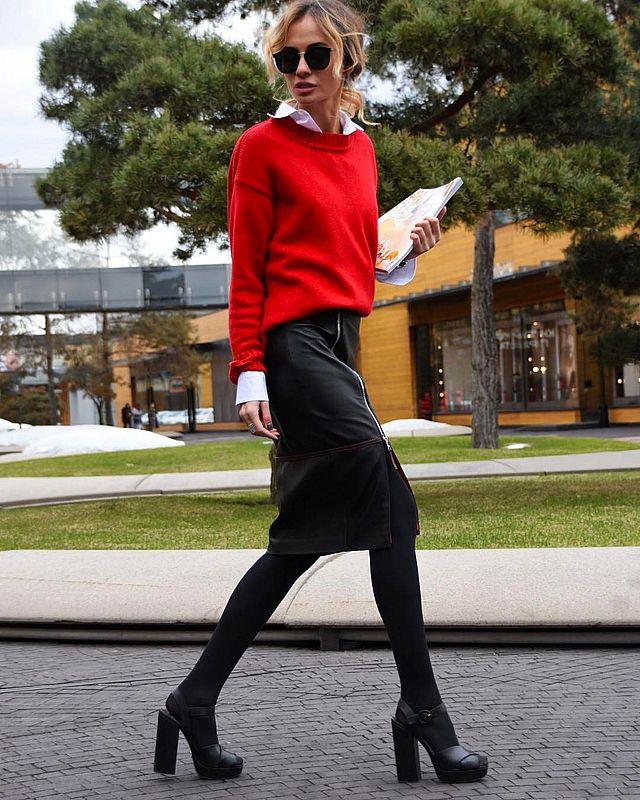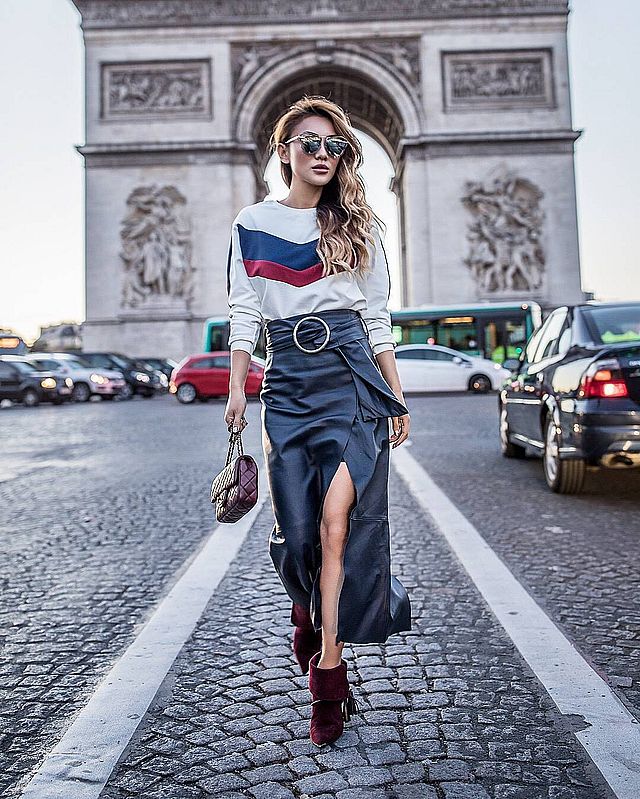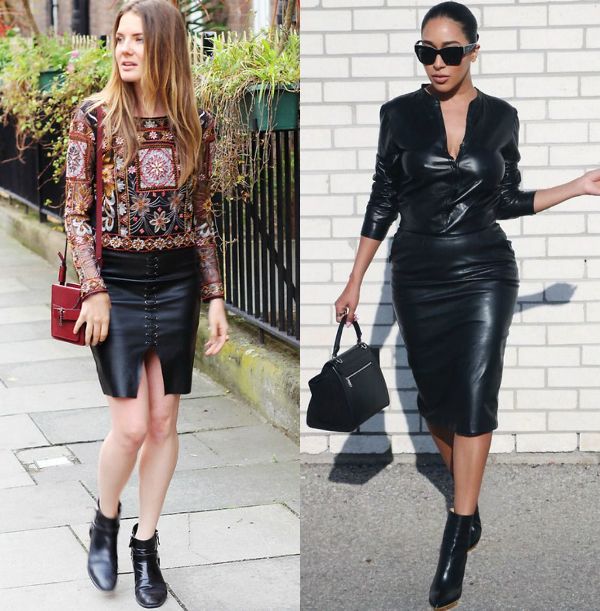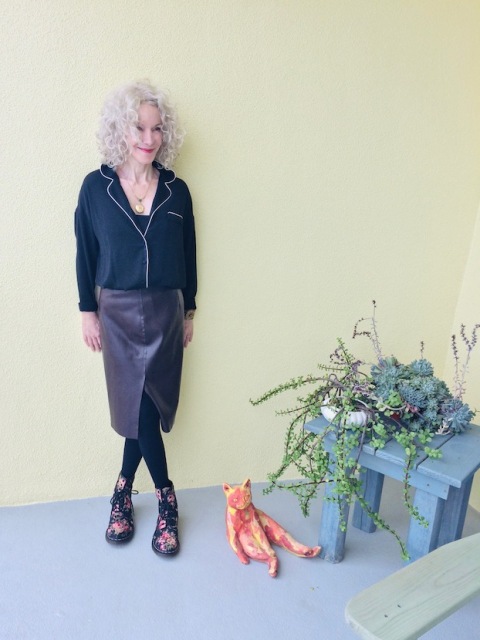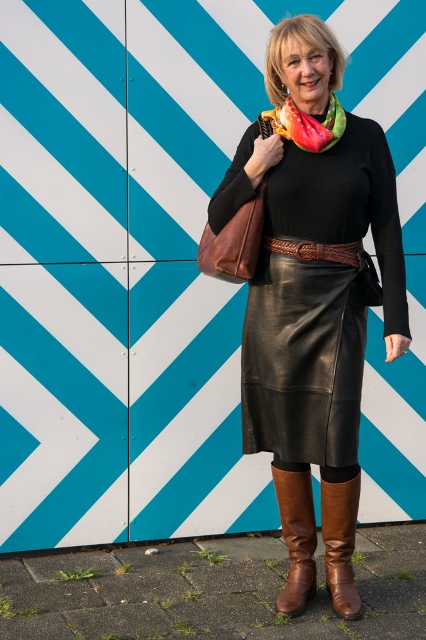 These red leather skirts images demonstrate how versatile these types of clothing items can really be. The high-waist detail allows you to accentuate your waist whereas the loose tailoring suits all silhouettes.
Add a signature glam vibe to your leather skirt outfits. Lighten up your clothing style with red A-line designs.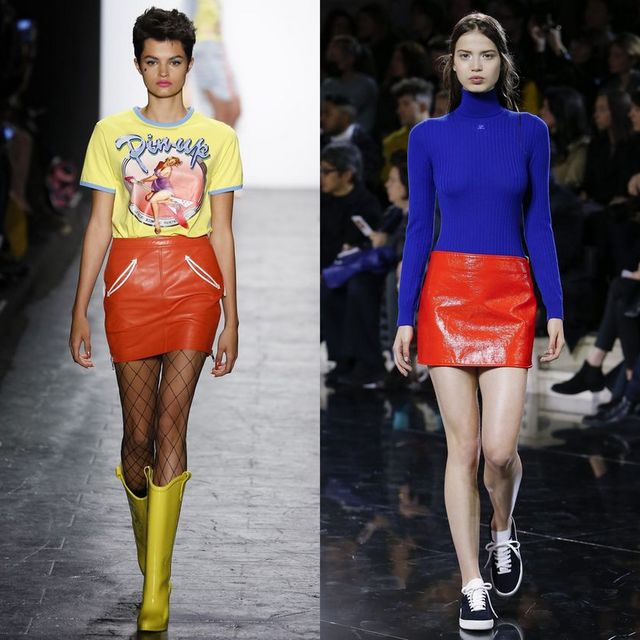 I invite you to discover the coolest trends and how to style red leather skirts, because I promise to keep you up to date with everything as soon as I can!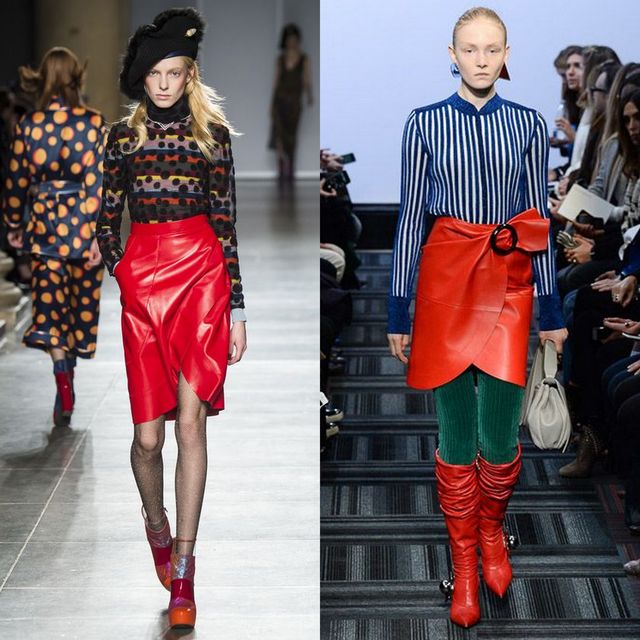 Your lack of courage and confidence holds you back from sporting eye-catching outfit elements? Next time you get bored of neutrals make sure you consider purchasing a nice leather skirt in red.

For a cool take on the textbook style of a secretary make sure you purchase a black or colored leather pencil skirt. Whether you work to an office with a strict dress code or you love to wear these going out winter outfits, you may find a few inspiring ideas below. Show your feminine side with these outfits with a black pencil skirt.
You can always copy some of these outfits if you are an older woman and include them in your wardrobe when you wonder how to dress at 50 years old woman.
Designers use different methods to produce style essentials from the thinnest types of leather or faux leather. Take a look at these leather pencil skirts outfits. Enjoy these pictures and others with these leather pencil skirts. Use them as inspiration and try to find different combinations in order to create, maybe some funky festival outfits.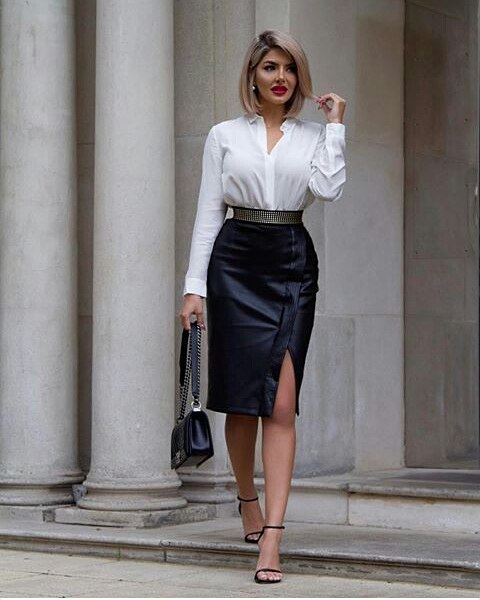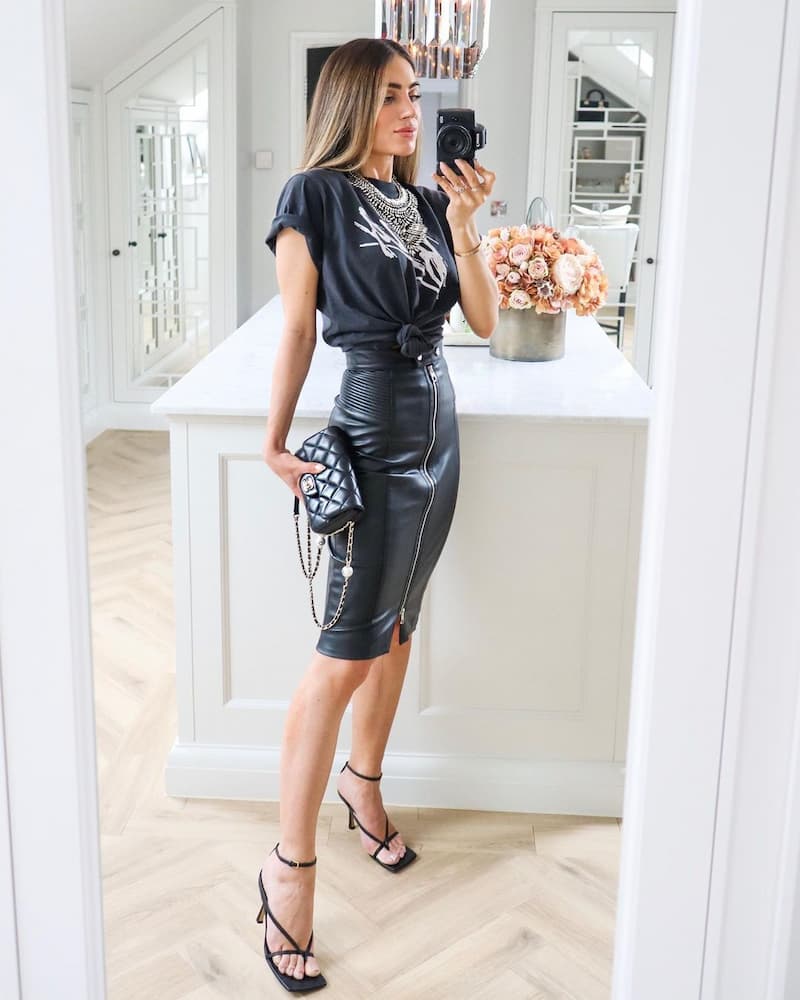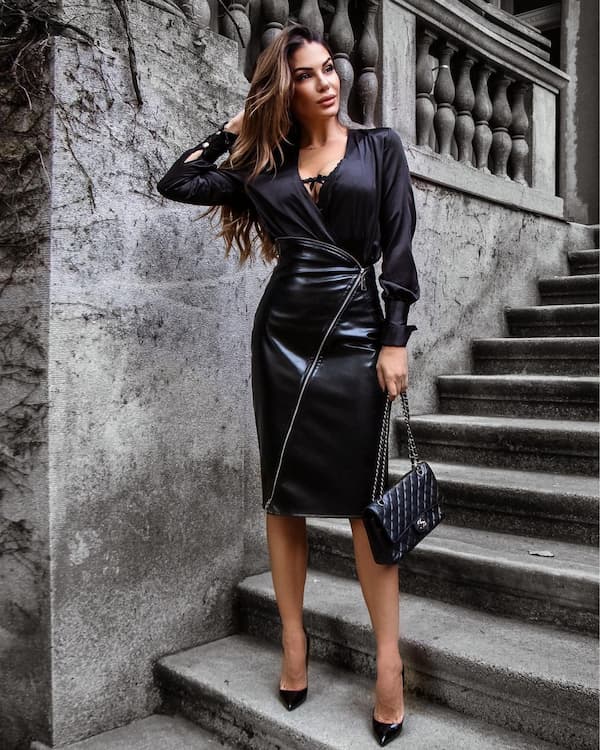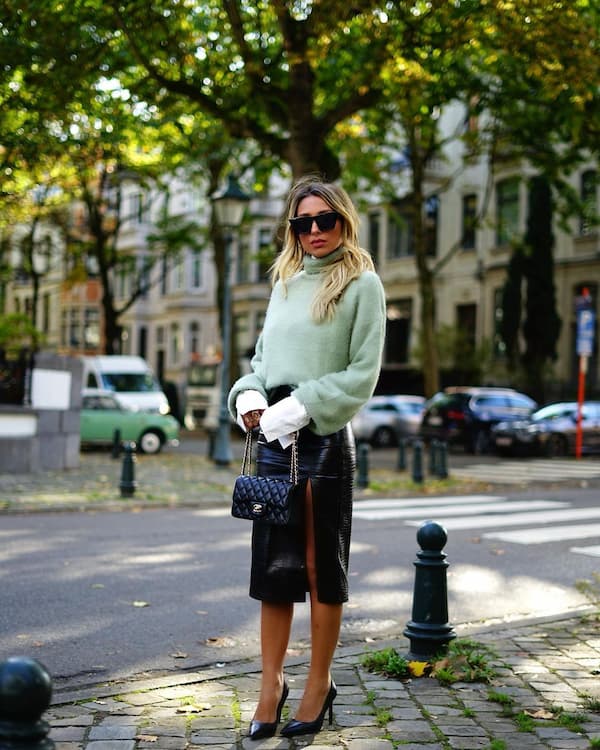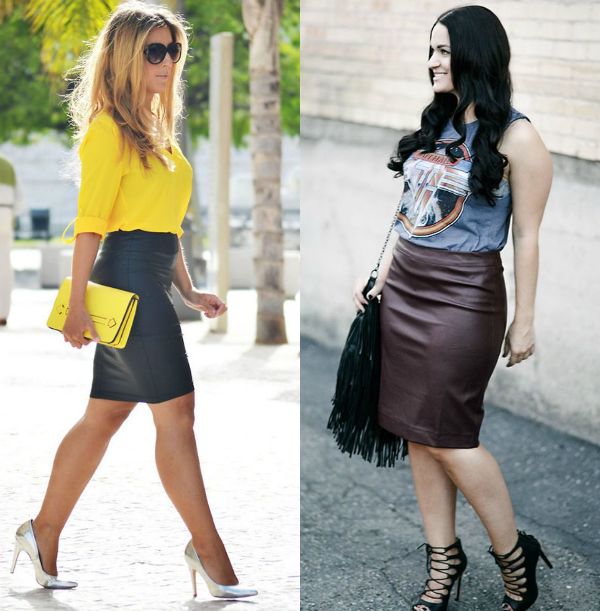 Source: www.lookbook.nu
This piece of clothes is so versatile. You can always create casual black leather pencil skirt outfits. You can always replace your summer maxi skirt outfits with a black leather skirt during the hot season and also use them to create cute casual winter outfits. It depends on how you accessorize it or what shoes you choose to wear with it. It doesn't matter if it's sandals, high heels shoes, sneakers or boots. Everything will look perfect!
So! Do you like my ultimate guide about how to wear a leather skirt?  Or maybe you are interested to read also about what shoes to wear with wide leg pants or to see some casual outfits with jeans for ladies. Tell me in a comment bellow your opinion. I would love to hear it. In the same time, help me complete my style forecast with chic outfit ideas and product suggestions for black leather pencil skirt outfits. 🙂 Use the comment section below to tell me what color do you prefer for a leather skirt!