Some time ago, I've seen a beautiful young woman, who looked stunning in her black culottes outfit. I was fascinated by her look!!! In that moment, I just wanted to dress like her !!! But how to dress like her, when I never tried a pair of culotte pants.
Her image and the idea of looking as beautiful as she did, determined me to search on the internet what to wear with black culottes. Why black and not any other color? Well, because black it's easy to pair and I can wear them no matter how the weather is. Besides, she was wearing a black culottes outfit.

I was amazed to see how many bloggers tried different stylish black square pants outfit ideas. So, once again I came to the conclusion that, Imagination is the limit… I was happy to find so many ideas. Everyone has a different style to express how to wear black culottes. Because of the color, it's easy to match these pants with everything…
In case you have a lack of inspiration, as I did, you could take a look to my proposals for black culottes outfits. That's how you'll be ready for any situation.
What to wear with black culottes
Well, no matter what season it is, your ultimate goal is to look stylish. And for that, make sure you go for the safest outfit alternative: wear black !!! Black culottes can solve all your problems and dilemmas!!!
You don't believe me? You should take a closer look at these examples that will teach you how to style black culottes with a simple office chic white shirt, lace long-sleeve tops or a nice fail-proof tank top.
1. My favorite trendsetters still promote the 'less is more' mantra, wearing a white shirt and black culottes.
2. Continue to incorporate feminine and refined items like this long-sleeve lace top and cropped pants into your casual or work outfit if you ever wonder what tops to wear with culotte trousers.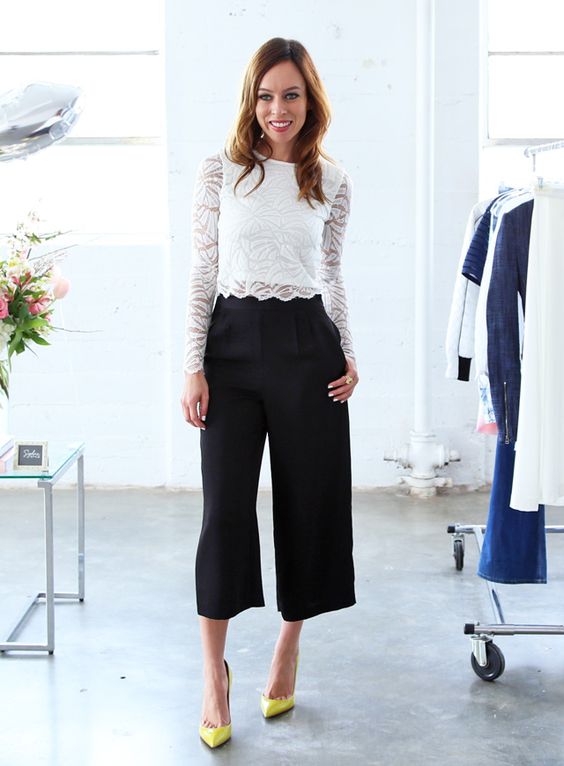 3. Look at this beautiful and stylish black culotte outfit. You could dress like that during the day but also during the evening when you are searching for what to wear on a first date to dinner. And that, just because of this blouse and also because of the sandals with high heels.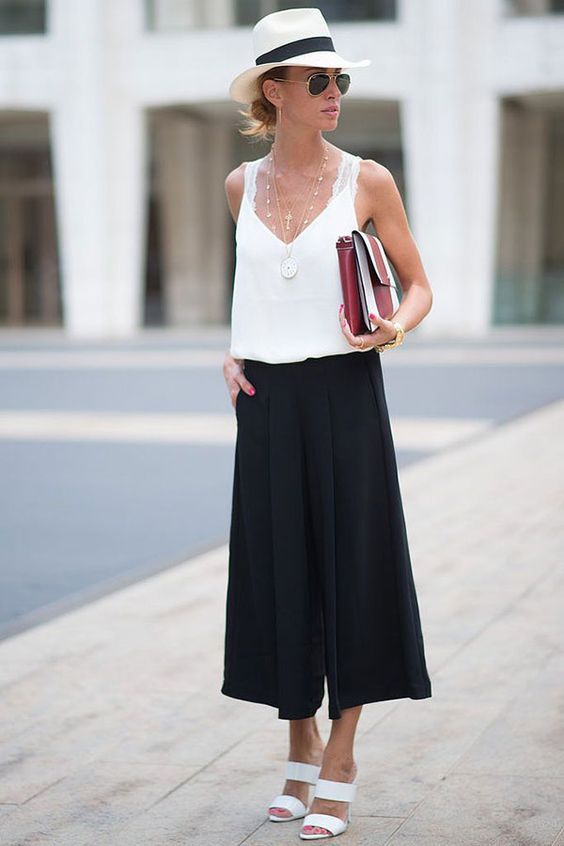 4. In case you were wondering what top to wear with culottes, you should try this all black set with a black top. It's not boring, it's chic , comfy and the shoes color makes the outfit more interesting. In case you are wondering what shoes to wear with culottes, try a pair of nude shoes.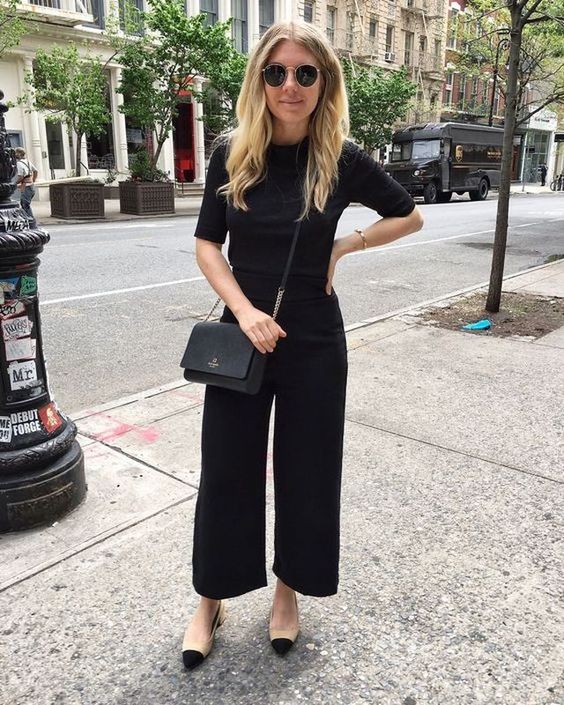 5. In case, you might think landing in a street fashion blog takes a lot of effort, check this minimalist yet first class outfit with black culottes and crop long sleeves lace white top.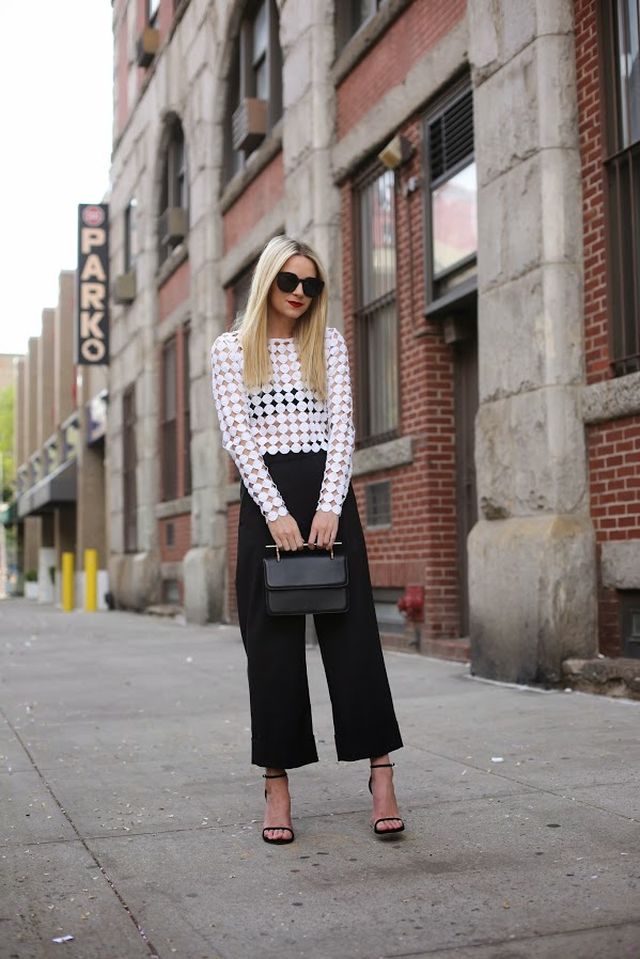 6. Recreate this neutral colored outfit idea sporting a pair of black culottes with a sleeveless black top and pure white sneakers.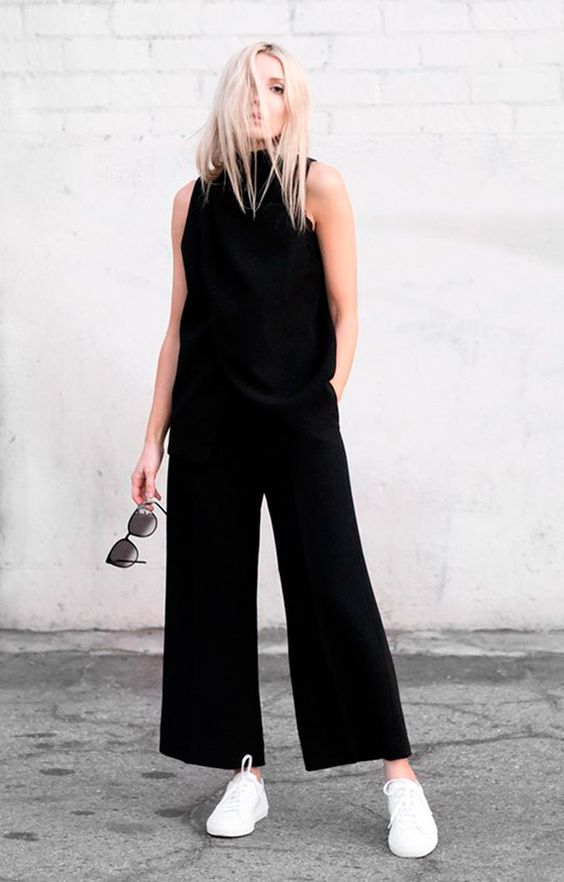 7.What to wear with black culottes to get an elegant and stylish outfit? A beautiful long coat paired with mauve high heels. Such a lovely black culottes outfit.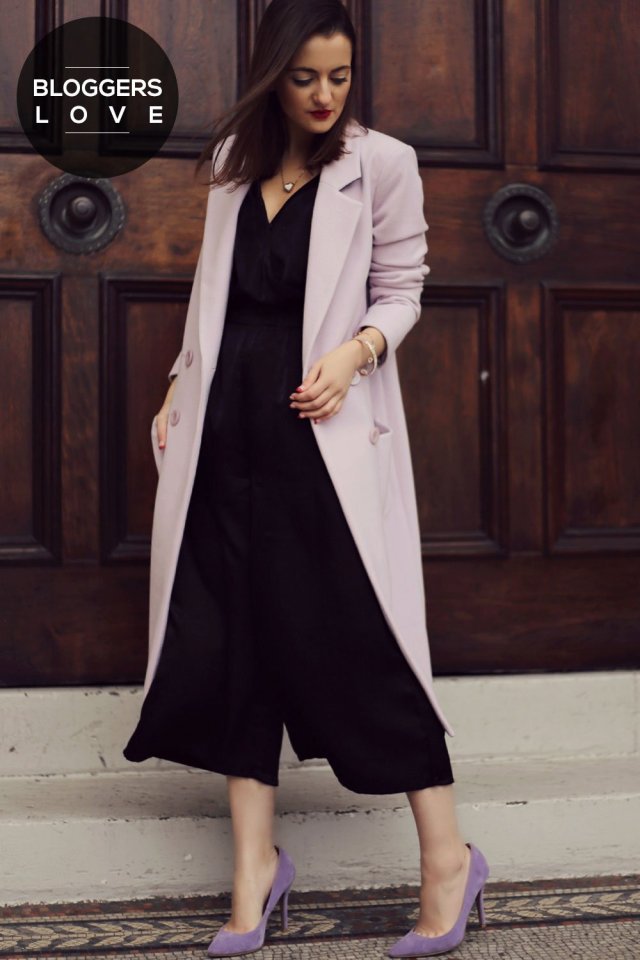 8. Who says you can't create black culottes outfits by matching a striped blouse with black high heels and a beautiful red printed purse. Take a look at this picture and find inspiration for such a beautiful outfit.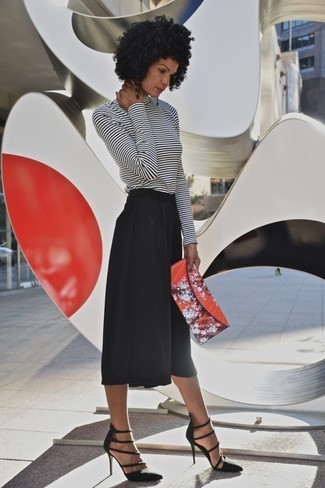 9. You don't know how to wear culottes at work? Try this black culottes outfit. High heels, black culottes and a mono colored blouse ( I would prefer a blouse with short sleeves ) and the work outfit is ready.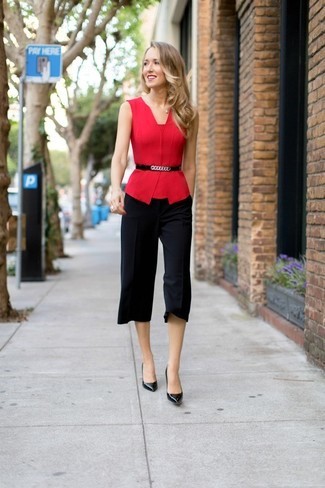 10. Are you preparing for a night out? Try this black culotte outfit. Pair stilettos sandals with a black asymmetric blouse and a nice black jacket. You'll be chic wearing this black outfit for a night out in case you want to wear something chic instead of a night out outfit with jeans.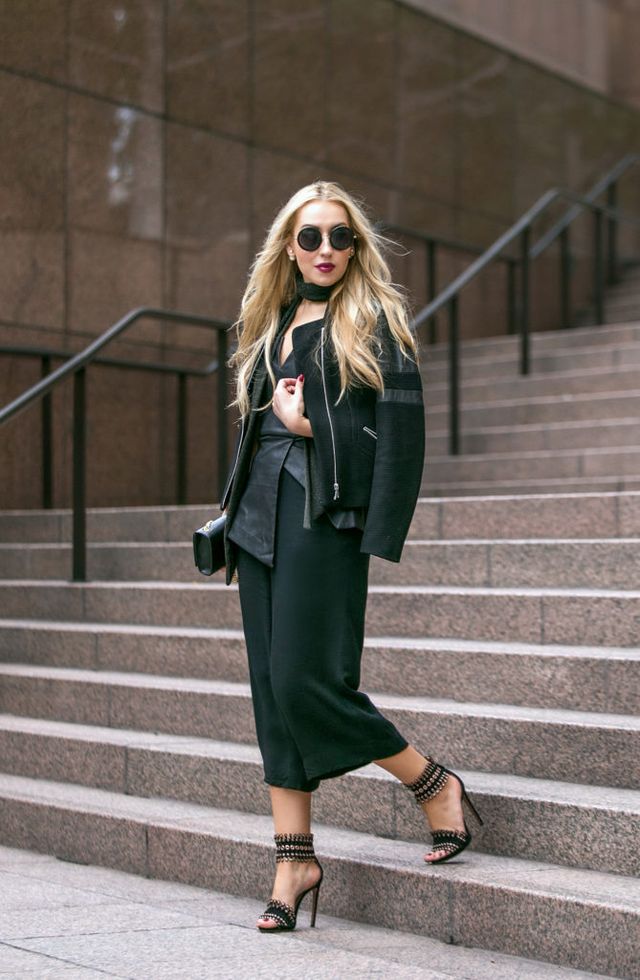 11. How to wear black culottes during summer? Well, if your abs are perfect, try this simple black culottes outfit with this black bra. Add some gold sandals and some gold jewelries for a plus of color.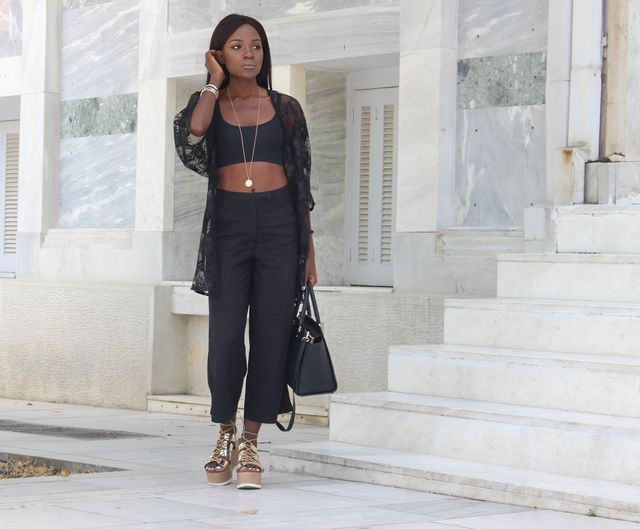 12. Looking for a way to style black culottes during the summer? I could say that the next picture revels one. It's simple, casual and in the same time elegant. I love the block heels matched with the leather culottes and the transparent top. You should try this black culottes outfit during a hot summer night.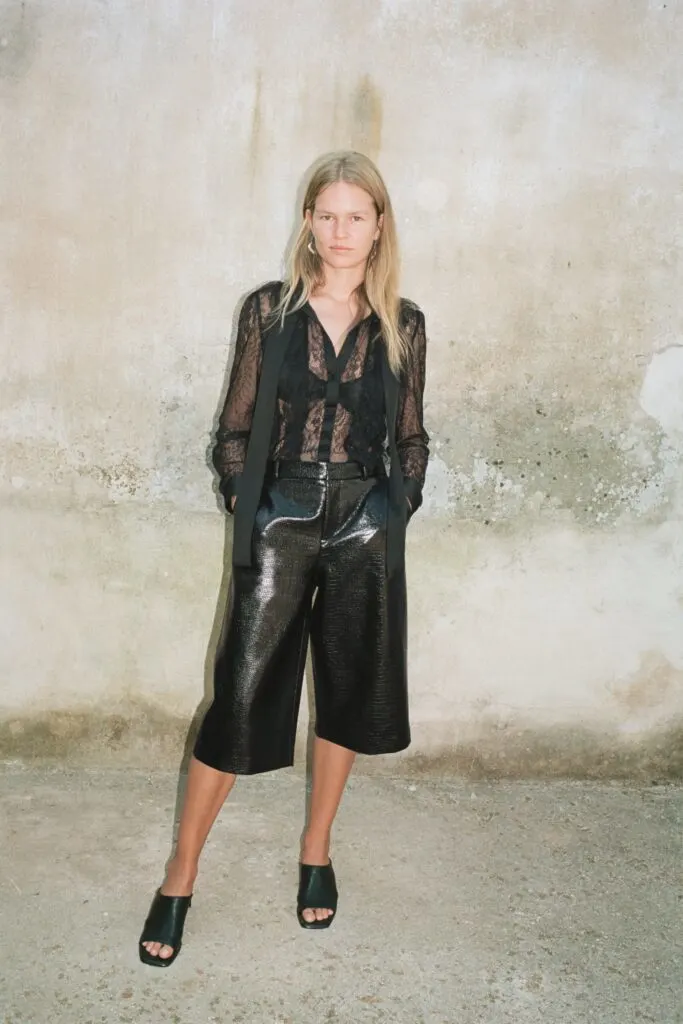 13. If the weather is not too sunny, but in the same time is not to cold outside, you should try this outfit. Black culottes pants with nude stilettos and a small white purse. It's a beautiful outfit. Elegant, but in the same time you can wear it at the office too. It's like you are trying to find what to wear with long skirts, but in stead of a long skirt you wear black culottes.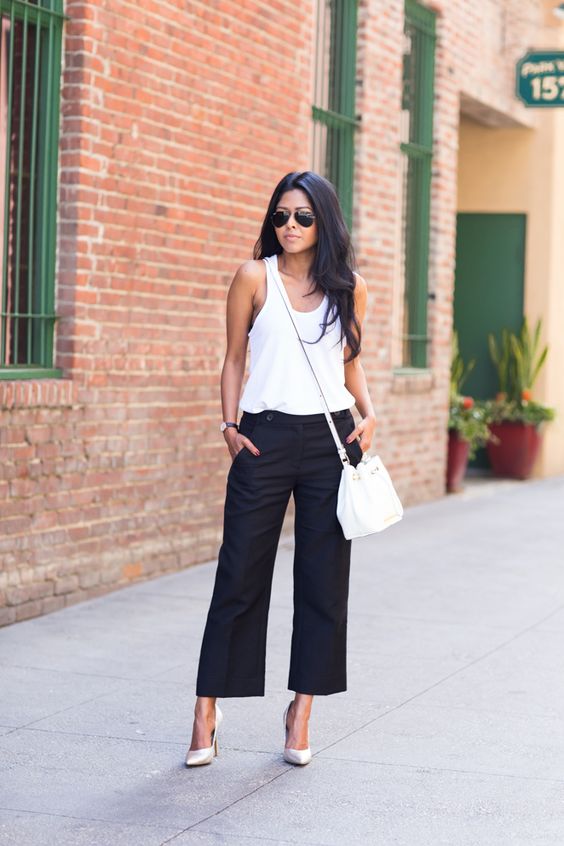 14. You are the kind of person who likes to match the casual style with the elegant one? The next black culottes outfit might be the right one for you. Nude high heels, pink ash bomber jacket… and black culottes. A perfect day outfit.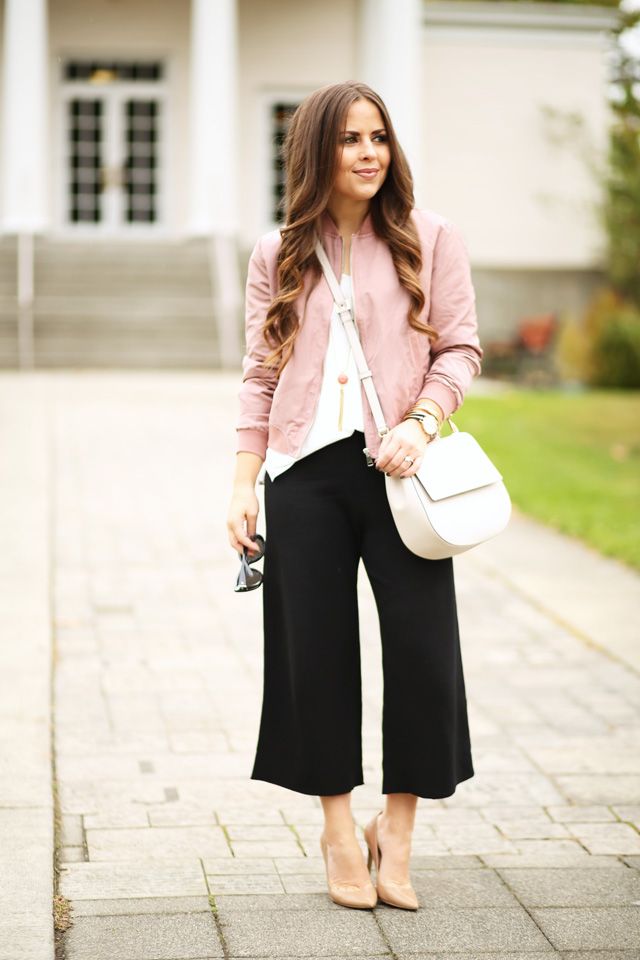 15. For a special event, try this black culottes outfit. Black high heels, high waist culottes, beautiful yellow blouse with ruffle sleeves, many, many jewelries and the perfect purse for these shoes. I would definitely wear this kind of black culotte outfits. Would you?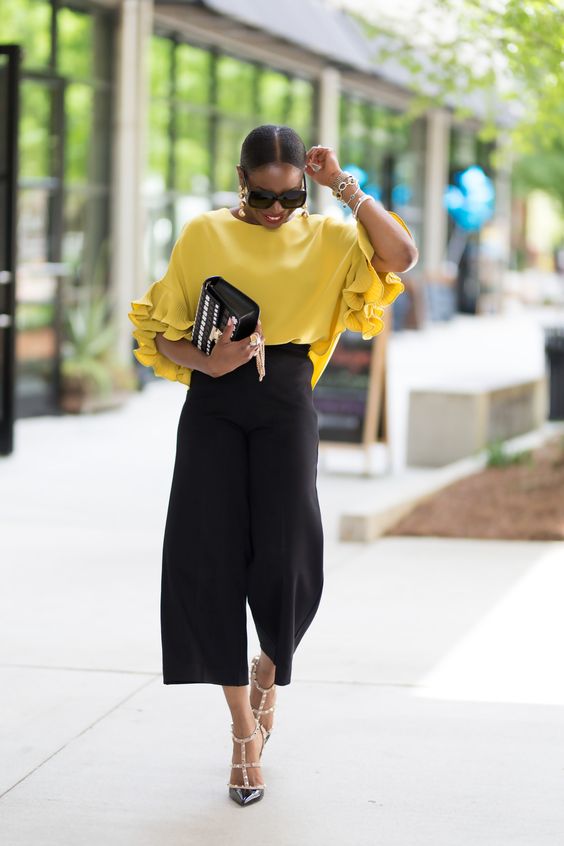 16. You don't know how to pair your culottes for an night out outfit? This image is the perfect example. A transparent black blouse with long wide pants and small heels sandals. This outfit is perfect.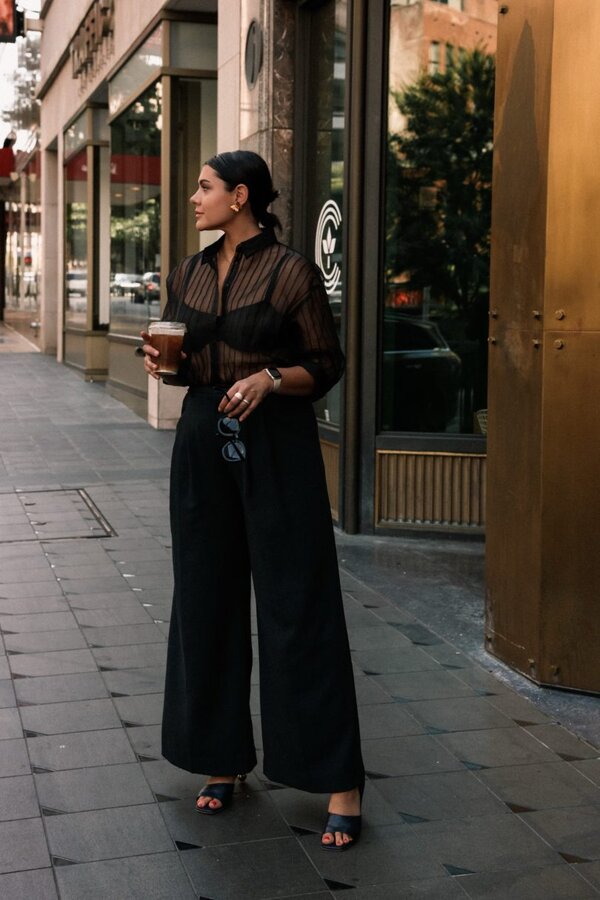 17. As you already know, transparency is the new trend this year. Be fashionable and dare to wear for a night out at the restaurant, this perfect black culottes outfit with a transparent black shirt. Long ears, black stilettos and the perfect purse… I don't see anything I wouldn't wear at this outfit.
18. Beautiful, fashionable and chic. What could I say more about this day to day outfit. This model shows us once again that how should a 50 year old woman dress when she has a beautiful body like hers. You can copy the outfit from the next picture, also when you don't know what to wear on a first date in winter.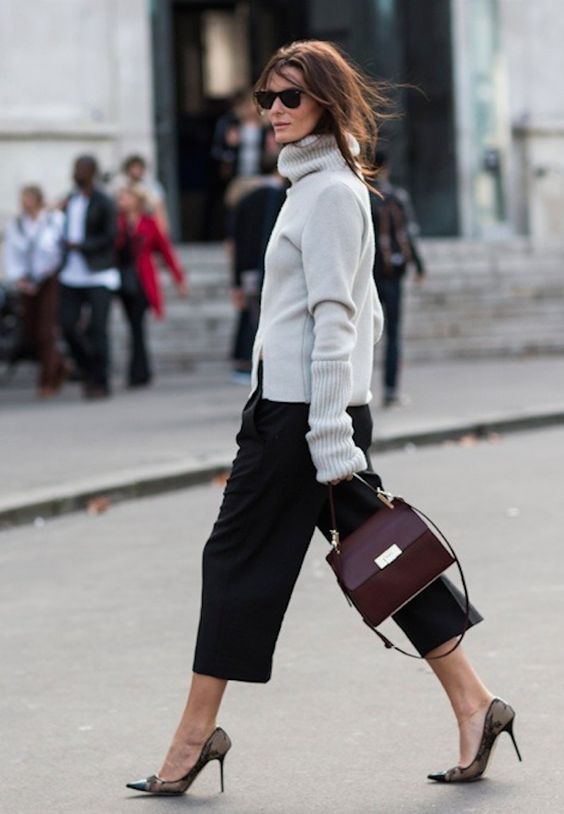 19. Looking for a black culotte outfit for work? I think this could be a good choice. The yellow sweater adds color to the outfit. Use a pair of black high waist culottes so you can fit the sweater into your pants. Try this outfit next time when you wonder how to dress at work.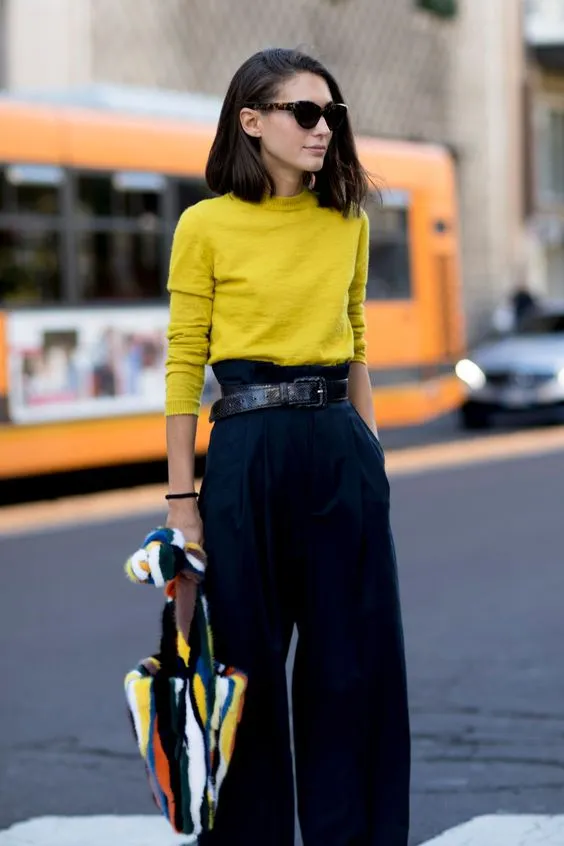 Black wide leg pants outfit
Wide leg pants dominate both the runway and the streets, especially during the warm season when bare legs are making a huge statement. The baggy silhouette might not be my favorite design. However, the right pair of sandals or stilettos allows me to create the impression of a slender and feminine figure. If you are curious, you just have to take a look at these pictures in order to find what to wear with culottes.
20. For a casual day, just perfect for shopping or for visiting I recommend you this outfit. Flat shoes, white t-shirt, black vest… and a pony tale. Nothing fancy.
21. During fall, try this black culottes jumpsuit. Pair it with sport shoes and you'll be trendy and casual in the same time.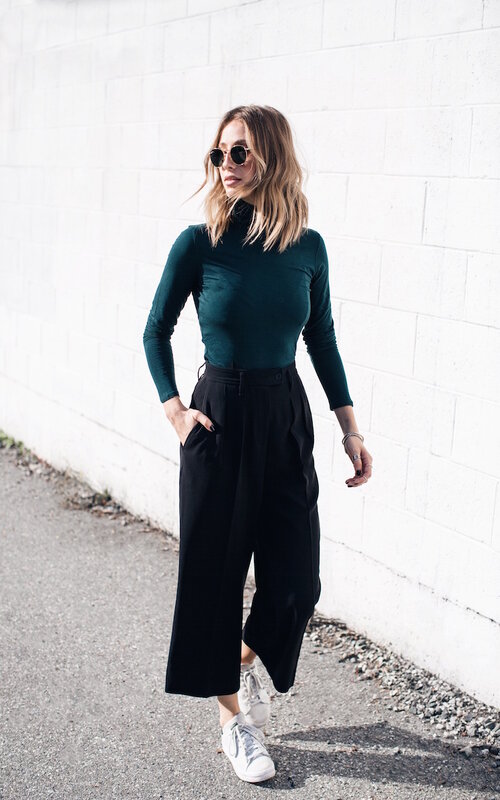 22. I could not imagine a beautiful outfit like this one. So simple… so stylish… All you had to do is to match tennis shoes with black culottes, a white shirt and a nice sweater. You should read also about how to wear culottes with flats, if you love this kind of style.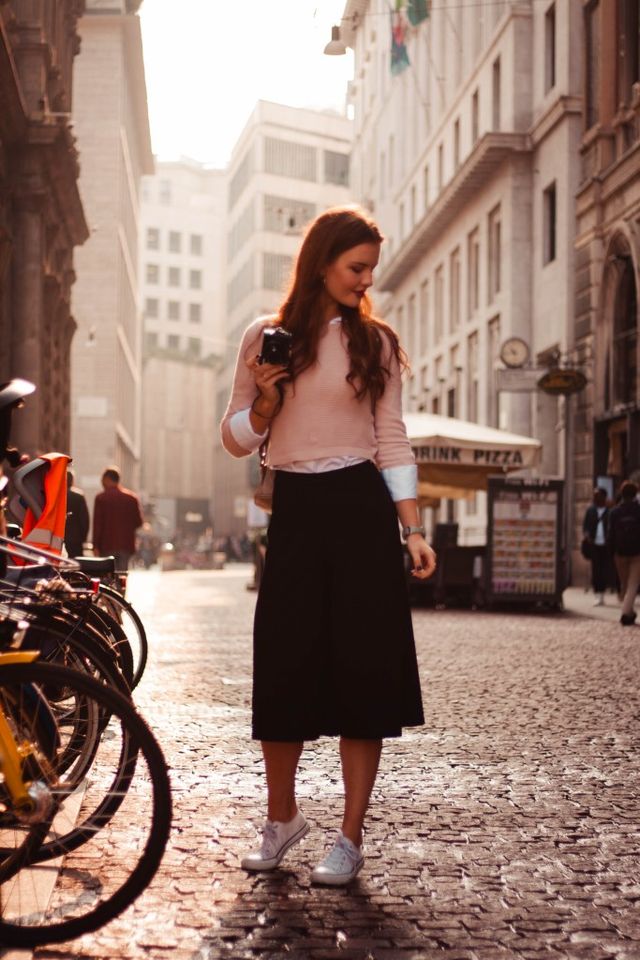 23. Elegant, sexy and provocative blouse. Those are the words to describe the outfit from the next image.  Try this outfit for a night out. You will definitely impress others.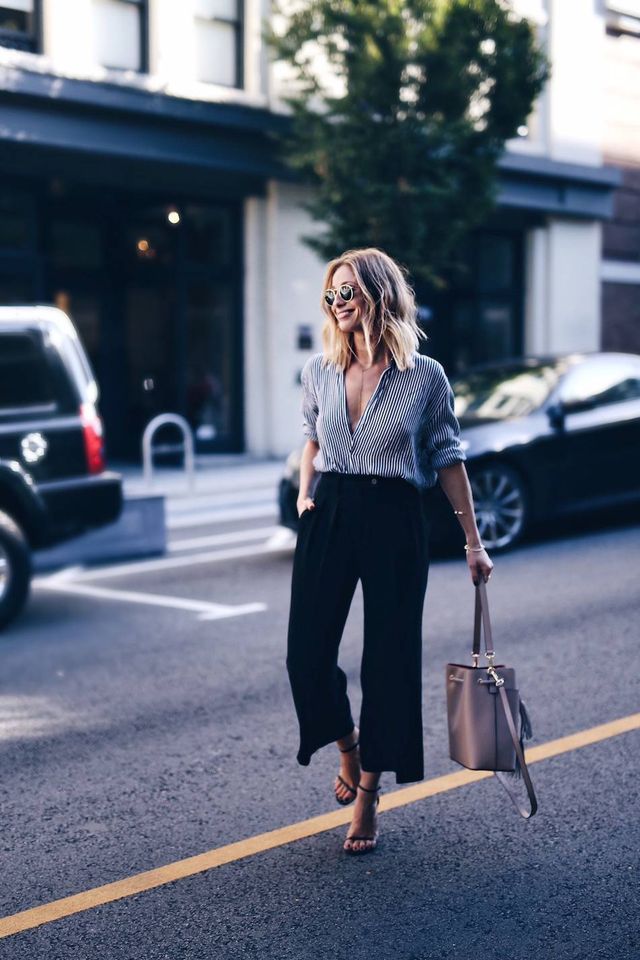 24. All black from top to toe, except this white cap. You can dress like that with different occasions. It's up to you to decide when and where to wear a black culottes outfit.
25. Dare to wear culottes pants with a black sweater for a day at the office. Add some color to the outfit with a pair of green shoes.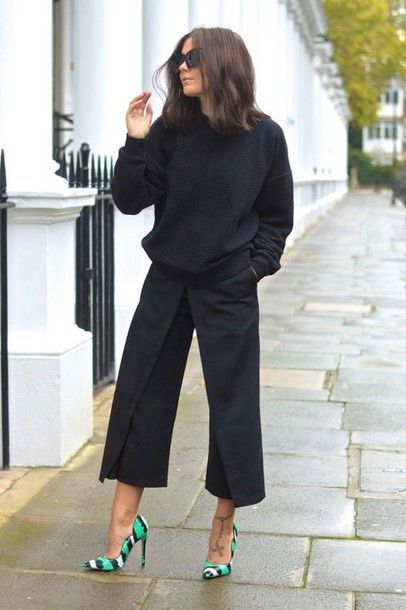 26. High heels and black culottes pants. This is an outfit you can always wear to a date, to a club or for a night out.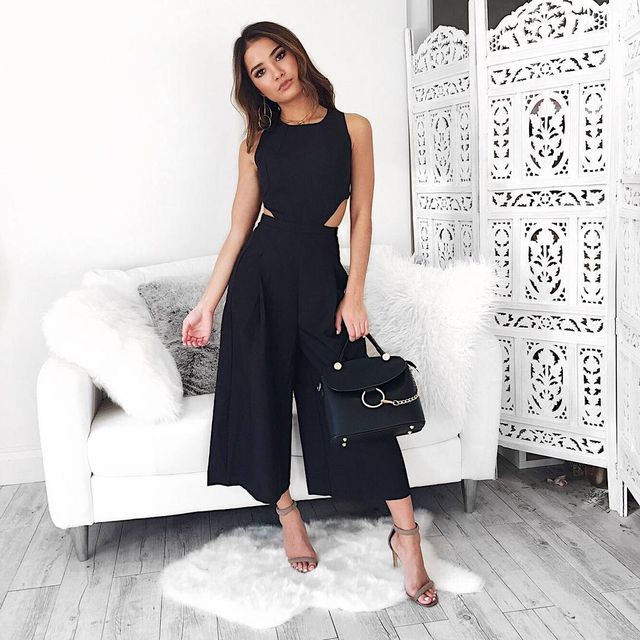 27. Be stylish and elegant with this lace black culottes outfits. Pair this pants with a beautiful white blouse with ruffles and you will look sensational. Beautiful black palazzo pants outfit.
28. Off shoulder blouse, high heels and black culottes pants. This black culottes outfit is perfect ! Don't you think?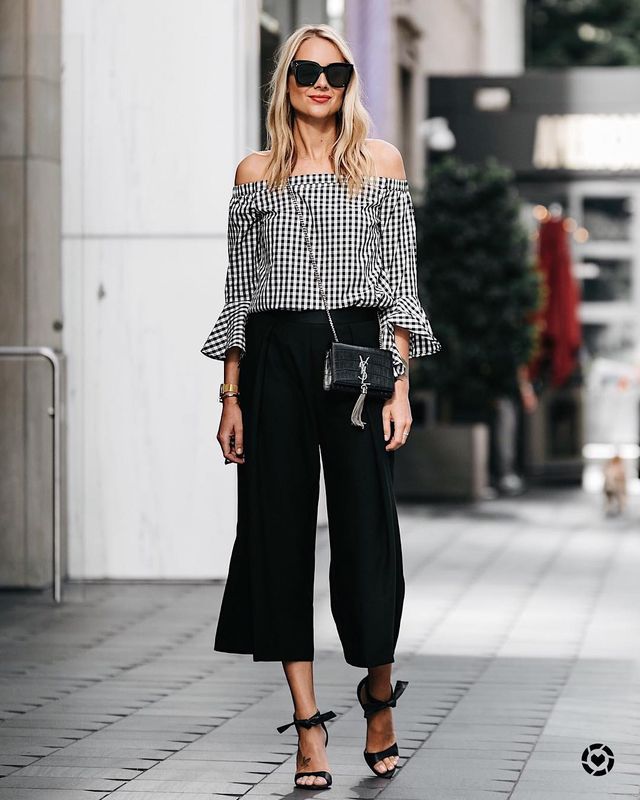 29. If you want to remain in the zone of comfort, try a black culottes outfit with a knitwear top. It is always a good alternative. Perhaps is not comfortable, but you always should wear high heels sandals.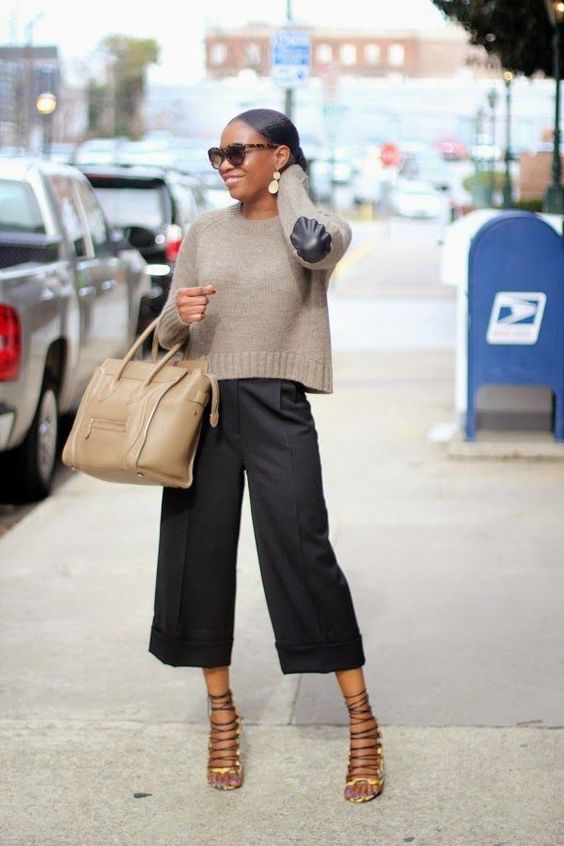 Leather Culottes Outfit
If you are a fashionista who is not comfortable wearing skirts or dresses, you will find solace in wearing leather culottes pants. A-list designers and mass-market brands included in their collection a fabulous selection of minimalist and extremely elegant black leather culottes outfit ideas. So we could use these images as inspiration if we want to know how to wear culotte pants in a extremely or a minimalist way.
30. Channel your girly glamor by sporting a leather culottes outfit with a strapless bralet and 'must have' high-heel sandals.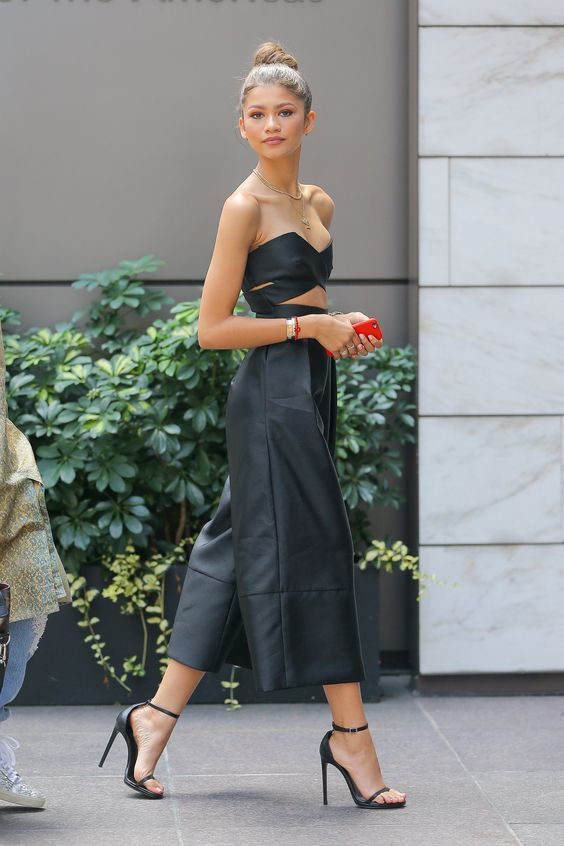 31.Transparent alluring long-sleeve tops and leather cropped pants can be associated with romantic golden sandals.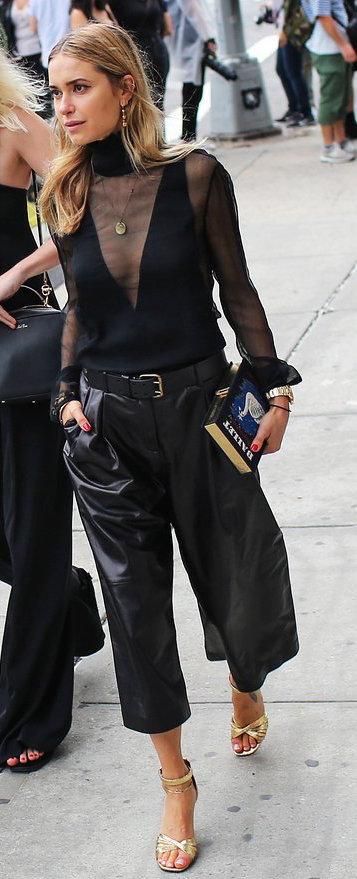 32. Knee-length culottes are also a perfect style option for work if you top your outfit with block-heel sandals.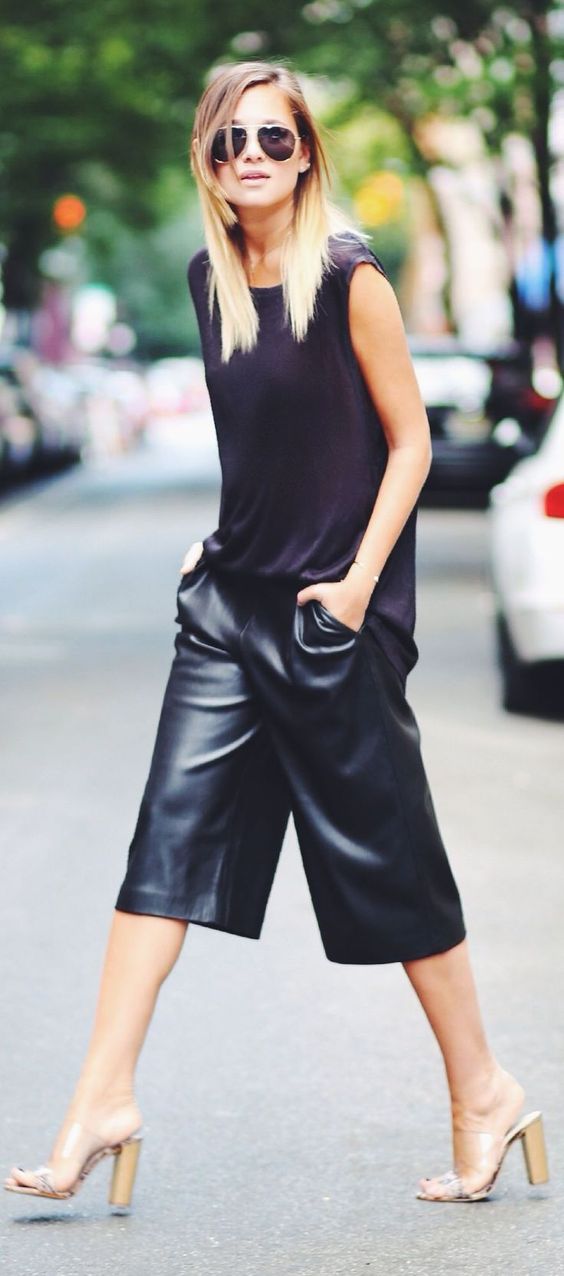 33. More and more street style divas are spotted rocking these minimalist leather culottes with sleeveless black tops.In case you wonder, you can read also my trend report about what to wear with a leather skirt.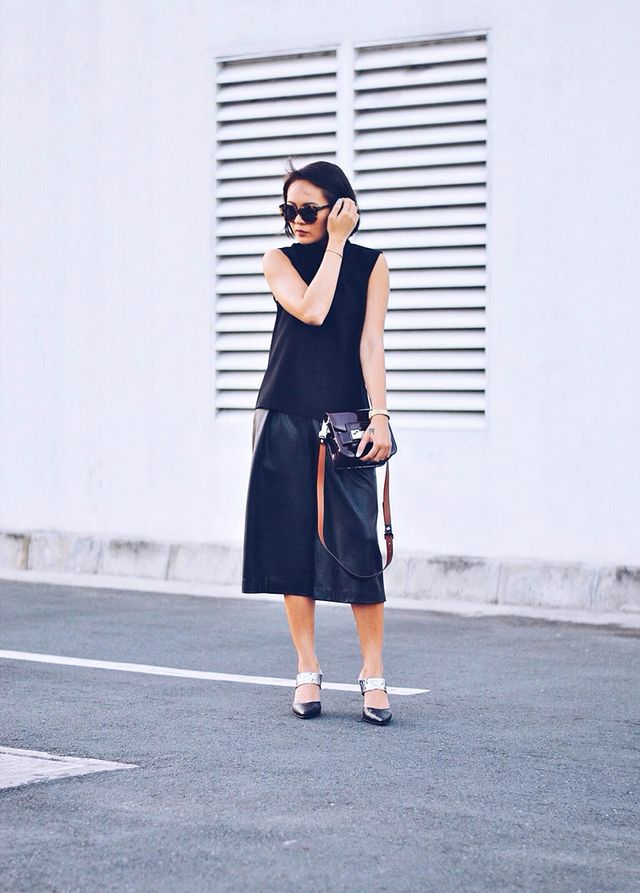 34.  What a beautiful outfit. The colors match used to create this beautiful outfit, makes you stand out from the crowd. The peep toe ankle boots are the piece that defines the elegance of the black leather cropped pants.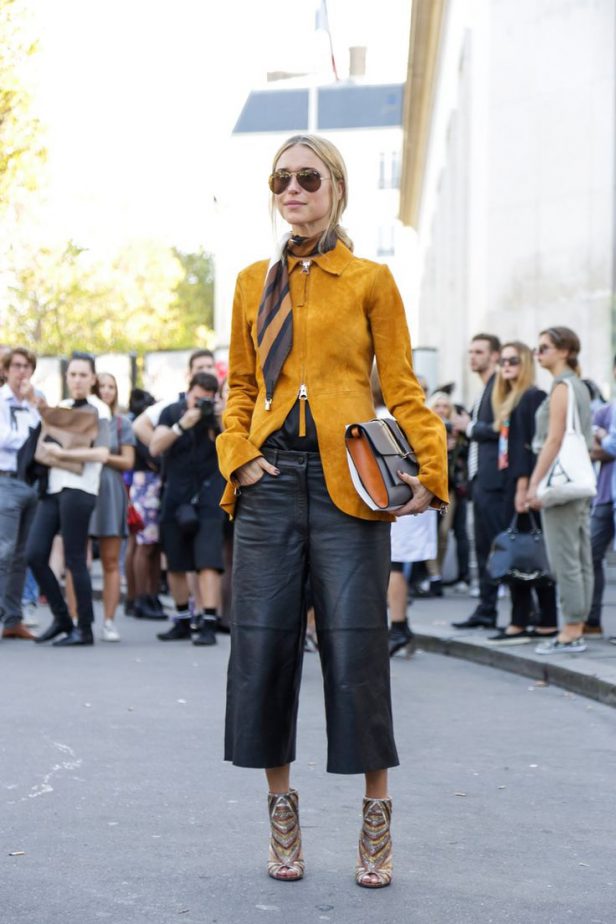 35. Less baggy culottes look gorgeous with oversized white T-shirt and a pair of vibrant colored slide sandals.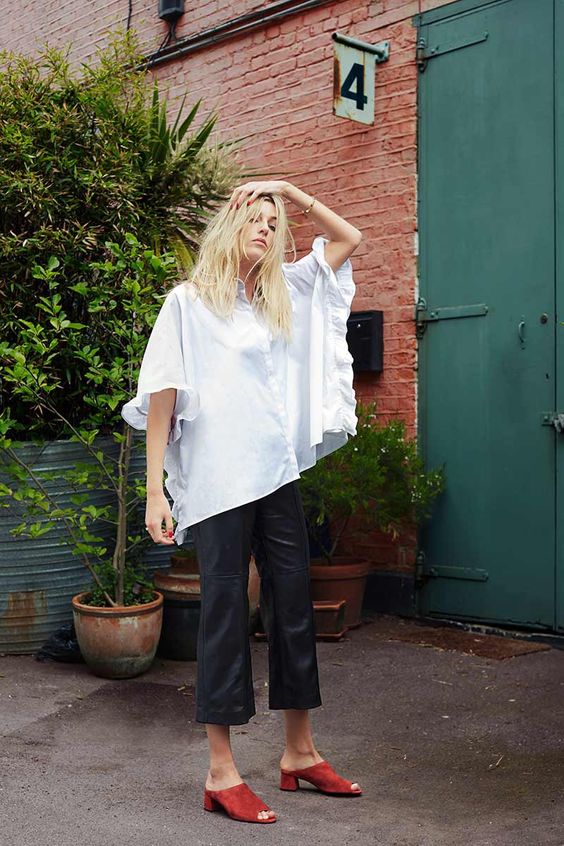 36. Usually, you can wear black leather culottes pants when is cold outside, but you can always improvise and were them also during cold days of summer.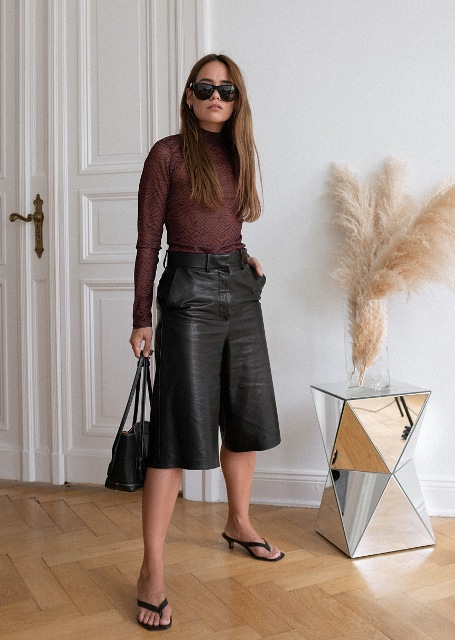 B

lack Square Pants Outfit Ideas
We can embrace the culottes trends also during the winter season, which are utterly mind-blowing and need just a little courage to nail down. Thanks to the zillion different magazines and style blogs there's a constant flow of culottes images in a combo with matching cropped or oversized tops and chic accessories. In these images we will find what tops to wear with culottes or what to pair with culottes in winter. Scroll down to find some impressive casual culotte outfits that we can also incorporate into our traditional or ultra-modern clothing style! 🙂
37. Add some color to your black culottes outfit with an yellow coat matched with a yellow bag.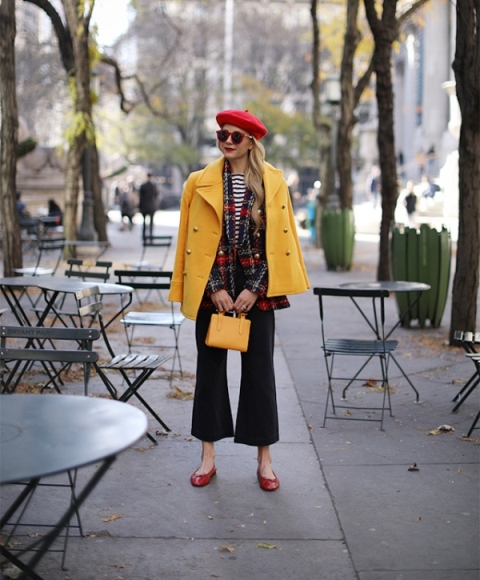 38. Perk a colored top with colored shoes, so you can add a color to your black culottes pants outfit.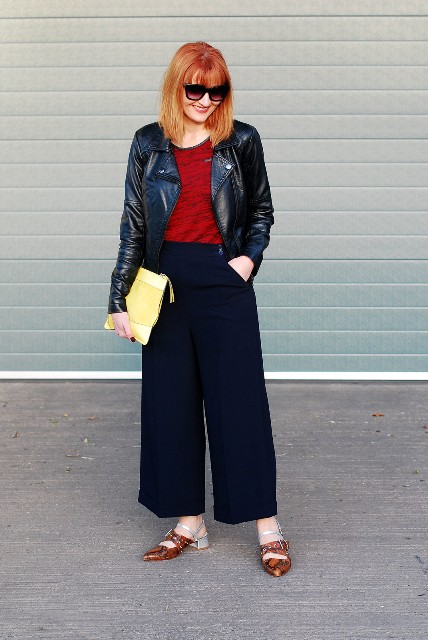 39. However, if you like to go for an all black outfit, still, you could add just a color with these colored sneakers.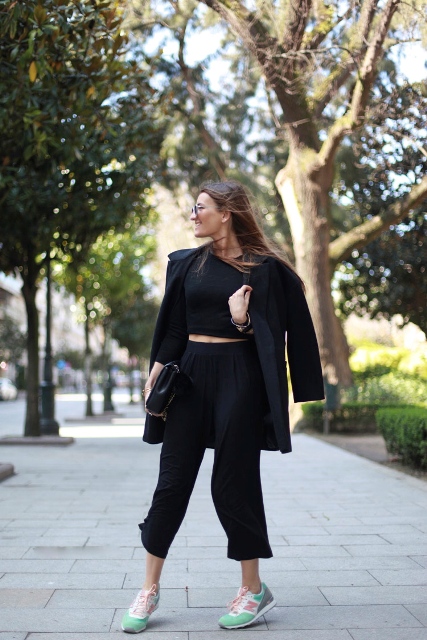 40. Women that have a lot of courage, could try an black culottes outfit like the one from the next image.
41. In this world where everyone is running all the time, a casual black culottes trousers outfit, like the next one, is the solution.
42. Elegance is your style? Next photo will inspire you.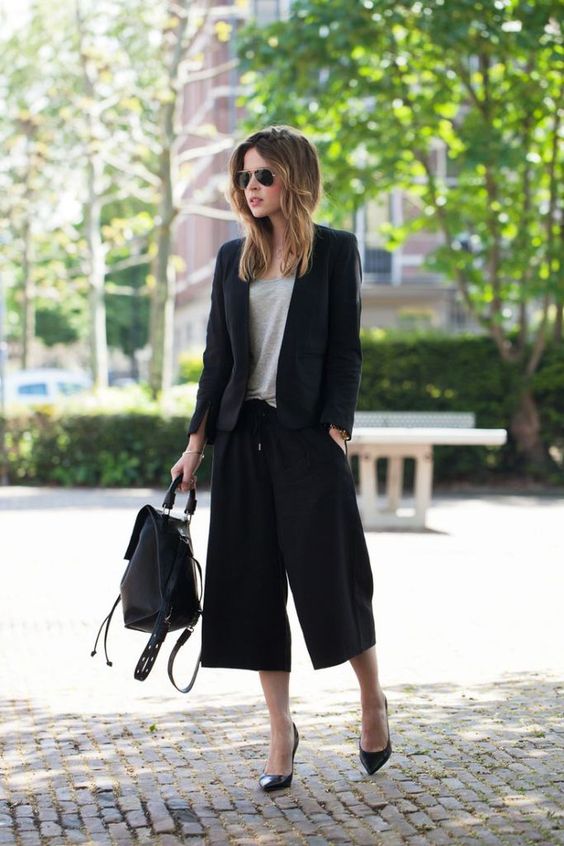 Black Wide Leg Trousers Outfit
The coolest culottes pants in black, should occupy a central spot in our wardrobe. The casual air of these pants give us the chance to associate them with laid-back T-shirts and tank tops as well as flowy blouses and shirts. When it comes to footwear I have just as much love for wedges as we have for strappy sandals, white sneakers or high heels shoes.
If you ask what are culottes? Well… these are the star pieces of the last seasons. Black culottes are spotted on the streets of all fashion capitals. Build up an A-list look by relying on the alluring aura of an 'all-black' outfit. Match a block-colored blouse or off-shoulder top with cropped pants. In case you long for diversity, go for light blue, other pastel or vibrant tones mixed with white pants.
43. What about an smart casual outfit? Do you like the idea ? Black is not exactly an optimistic color, but I think is elegant, especially when is paired with a white shirt like in the next picture.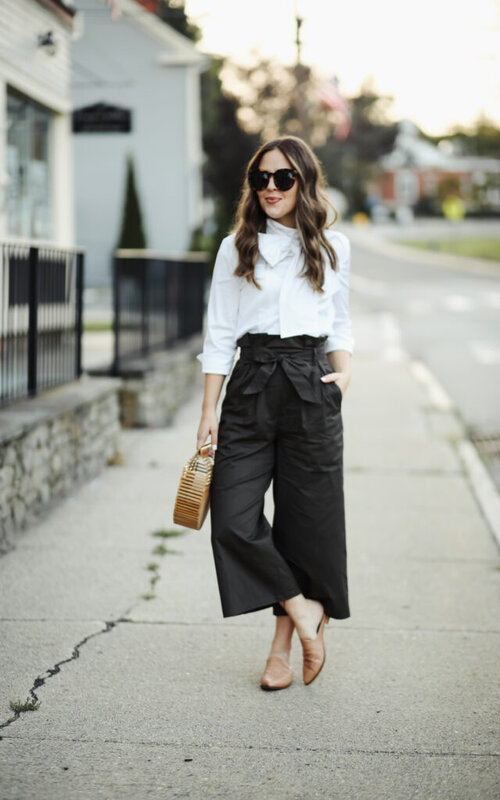 44. Another example of a beautiful black culottes pants matched with a large sleeves white shirt and high heels shoes.
45. See? Black and white is a 'no-brainer' match and the simplicity of it can be easily jazzed up if you opt for a ruffle top and a pair of high-waist flared pants or culottes. If you are thrilled to try this kind of outfit, you should read also our trend reports about what shoes to wear with culottes.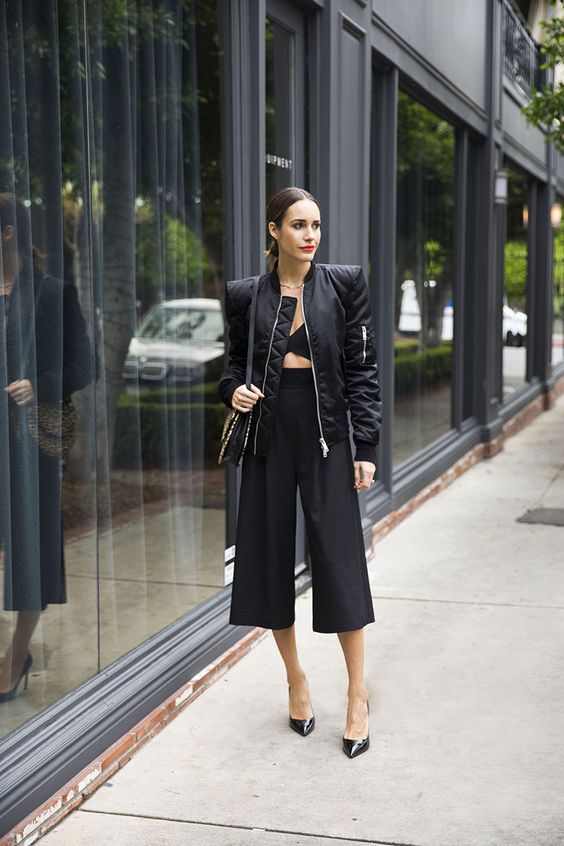 46. Exposing just a little portion of your shoulder is a nice trick to beat the heat and still keep your culottes trousers outfit neat. Try this formal palazzo pants outfit.

47. Slide sandals make a cute team with navy culottes especially if you top your outfit with a nice flirty short-sleeved blouse.

source
48. Sneakers are also on the list of 'hip' accessories trendsetters use to accessorize the culottes pants outfit.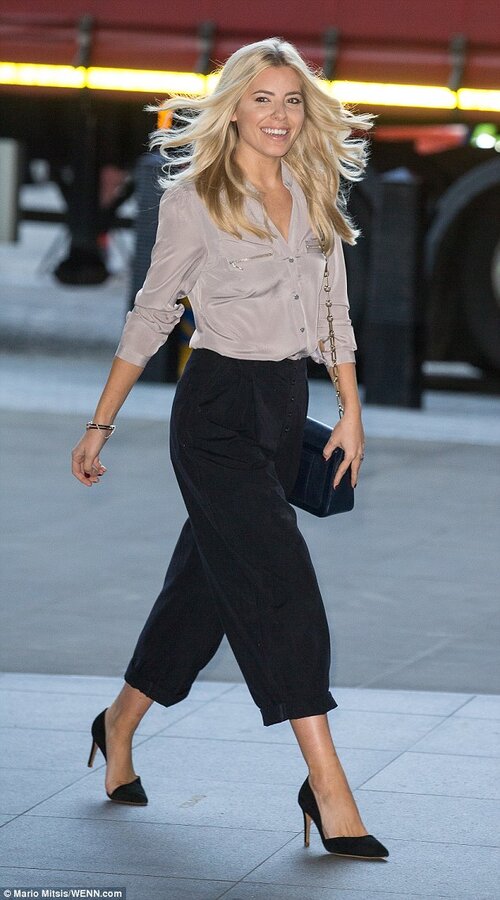 49. Fashion Week offers you a lot of inspo as this bird printed black culottes outfit with cropped top.
50. What top to wear with black culottes on a hot summer day? Try to copy this outfit with a crop top if you have a beautiful body like her's !
51. If you prefer to perk the black culottes pants with block shoes and a red knitted blouse, then take a look at this outfit.
52. What about an all black outfit? Do you like the idea ? Black is not exactly an optimistic color, but I think that, there are many fashionista among you, who like to wear an all black outfit like the one from the next picture.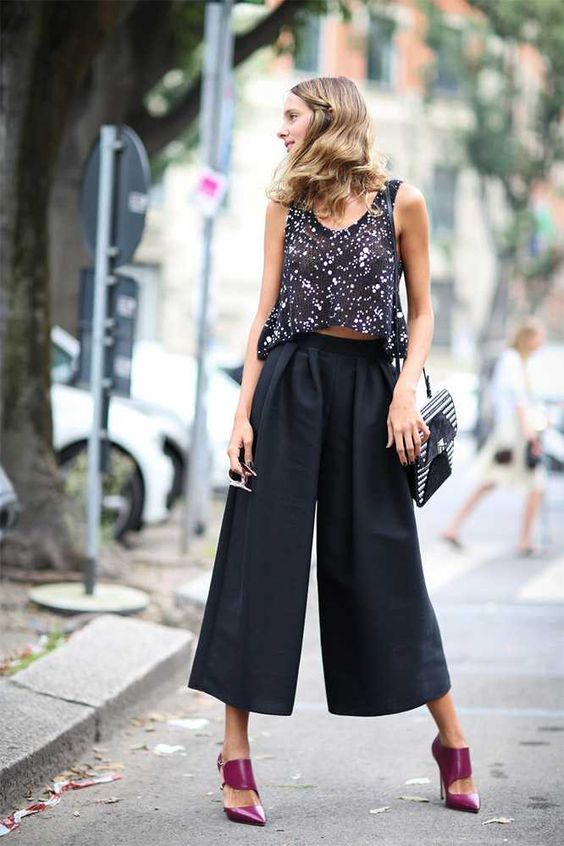 How To Style Culottes In Winter
I have selected a versatile selection of pictures of what to wear with black culottes in winter for fashionistas who need a little guidance for the season. Black is the favorite chromatic choice both for those who adore simple and contemporary trends and those who have a more experimental and an adventurous clothing style. These cropped pants can be perfectly associated with printed and youngish blouses and shirts as well as neutral colored striped sweaters.
53. It's cold outside, but you want to wear your favorite pair of culottes. Try to create simple black culottes outfits with a black sweater, culottes and short boots.
54. Wondering how to wear your black culottes with boots? Well, this image where culottes pants are perked with a long black and white sweater can be the perfect example to follow.
55. If it's a rainy cold weather, it doesn't mean you can't wear a stylish black culottes outfit. Learn from the next image how to wear black culottes pants with a black leather jacket when is cold outside. You can copy this look when you are searching for winter party outfits.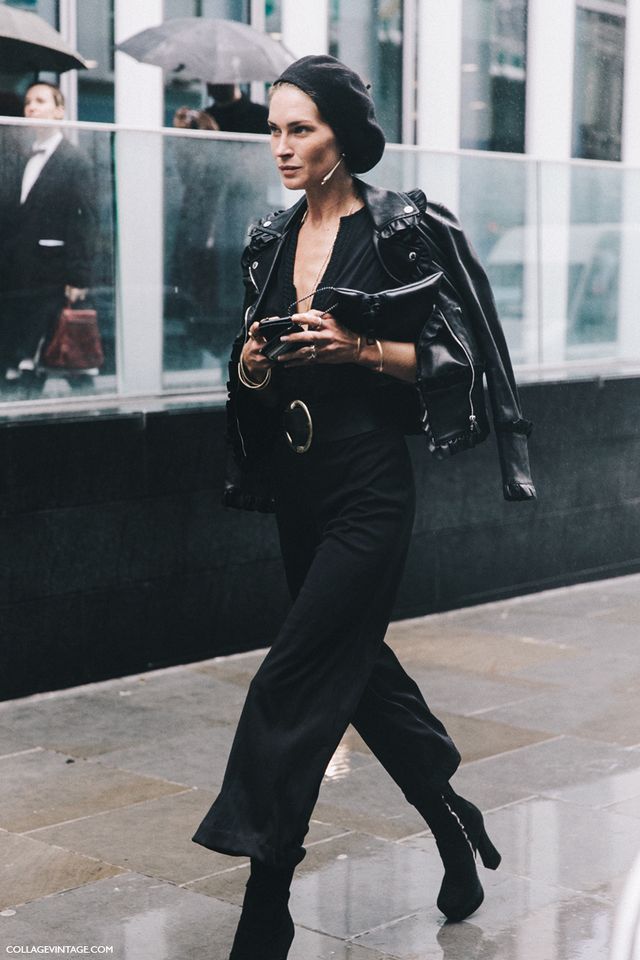 56. You don't like to dress in all black? Here is an alternative! Black culottes matched with red boots and black and red sweater, could be an alternative. That's the advantage of having a black culottes pants. You can create many interesting outfits.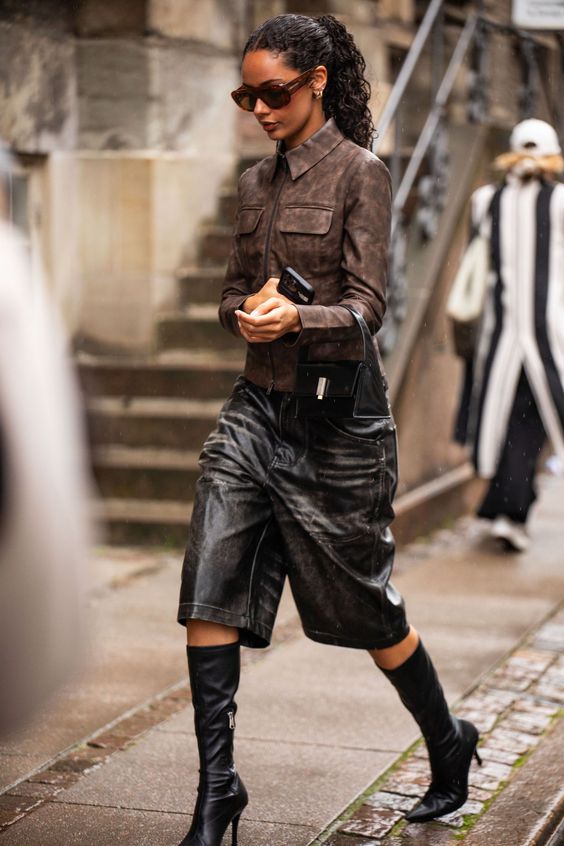 57. I like the girly style like the one from the next picture. Elegant and casual in the same time with a grey sweater and over the knee high heels boots.
58. No matter what age, when is cold, you could copy this elegant and stylish black culottes outfit with a neck sweater.
59. During summer is so easy to match these culottes pants with sandals. But what about the fall winter season? Even for the cloudy days in spring we should find some comfortable and stylish shoes to wear with culottes, and a short black coat like in the next picture.
60.  Are you willing to go out and wear black culottes pants? Well, this picture might be inspirational if you try to find how to style black culottes.
61. You could always pair culottes with flats like in this image. Flat and black shoes are perfect to pair with black culottes and a black turtleneck.
62. What about black platforms? Have you thought you can pair platforms with black culottes and a nice brown sweater? Well, here is an example to copy.
63. Next image may be about an outfit with black culottes that can be wear at work. An elegant white shirt matched with black pants and high heels boots.
64. Be elegant, also when you wear a dark grey sweater. Here is an example to follow.
65. Go for work dressed like this, but can wear it also during the evening when you go for a drink.
As you could see, it's easy to wear a black culottes outfit at different occasions. If at the beginning I was afraid to buy a pair of culottes, because I thought I could not match them, now, I know that only my imagination is the limit. I can always wear black culottes outfits: to a special event, to the movie, at shopping and why not, to a city break. Tell me, which of these black culottes outfits is your favorite? Maybe you would like to read also my report about how to create a beautiful white skirt outfit what to wear to a club female , festival outfit, jeans outfit ideas for ladies or what to wear with a black pencil skirt.
GlossyU.com partners with several affiliate programs, meaning that commission can be earned from purchases/clicks by those who visit this site and on any GlossyU.com social media platforms.