What Shoes To Wear With Culottes For A Stylish Look
By
|
I must confess, I was not a big fan of these culottes pants, until a while ago. One day, I saw on the street, a beautiful woman wearing culottes pants. I wanted to look like her. And that's how I decided to start a research about what shoes to wear with culottes and how I should wear these culottes pants. It was not easy, because the possibilities are endless. I can't buy all these type of culottes pants. But I can make an analyse about culottes outfits hopping to get the answer to the question: "What shoes to wear with culottes?" If I know what shoes to wear with culottes, it would be much easier for me to decide what kind of culottes pants I should buy.
Shoes trends are super-exciting especially if you have a large collection of footwear designs. Besides voguish sandals and wedges you can also adopt a more effortless attitude and sport ballet flats and even sneakers with fabulous multi-colored or one-color culottes. So, what shoes do you wear with culottes pants? I hope these examples will answer to the question: what shoes to wear with culottes.
What shoes to wear with culottes pants this summer?
1. You definitely need to try this fantastic set of sneakers paired with a pair of airy red culottes and a striped T-shirt. Will help you understand how to wear culottes with sneakers.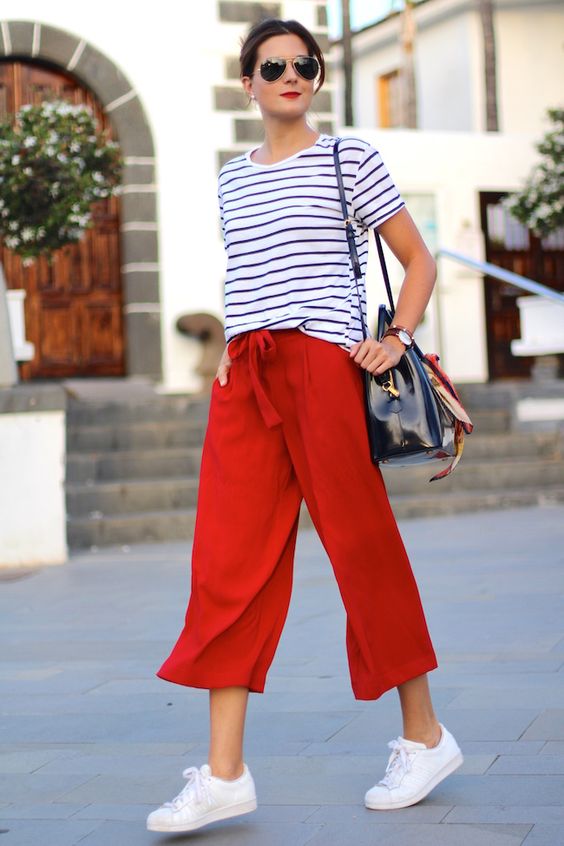 2. Golden slide sandals prove to be quintessential to complete your cropped pants summer outfits. You should read also about how to wear culottes with flats, if you find these outfits intrestings.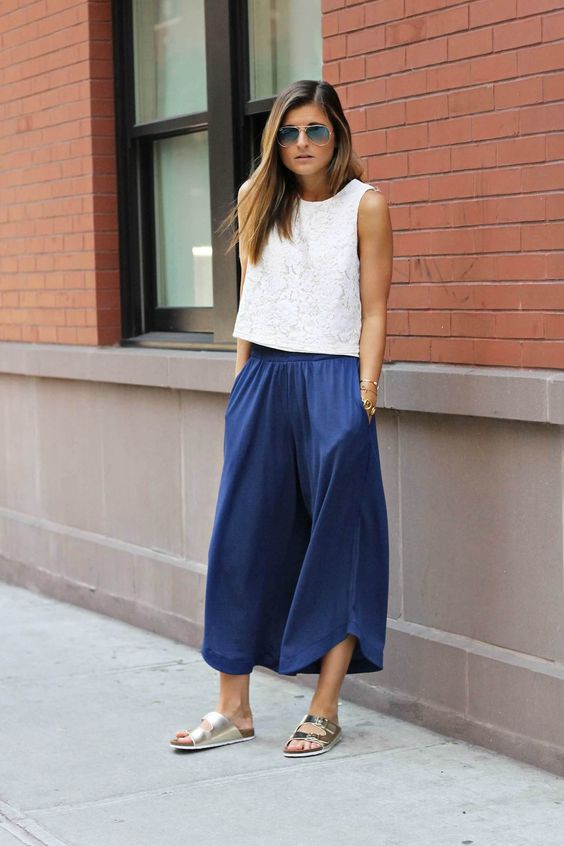 3. Strappy high-heel cage sandals take your outfit from day to night especially if you sport an 'all-black' set.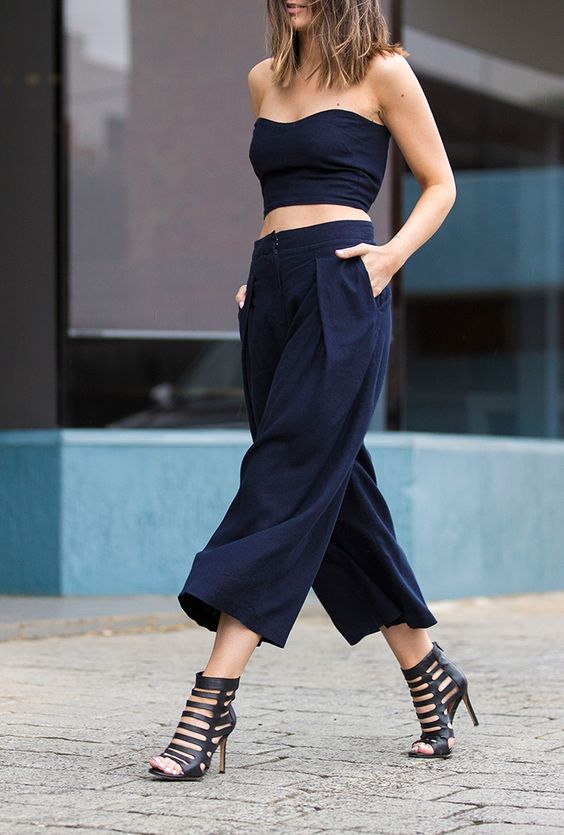 4. Nude pumps look superb with chic high-waist culottes and a fitting neutral colored top.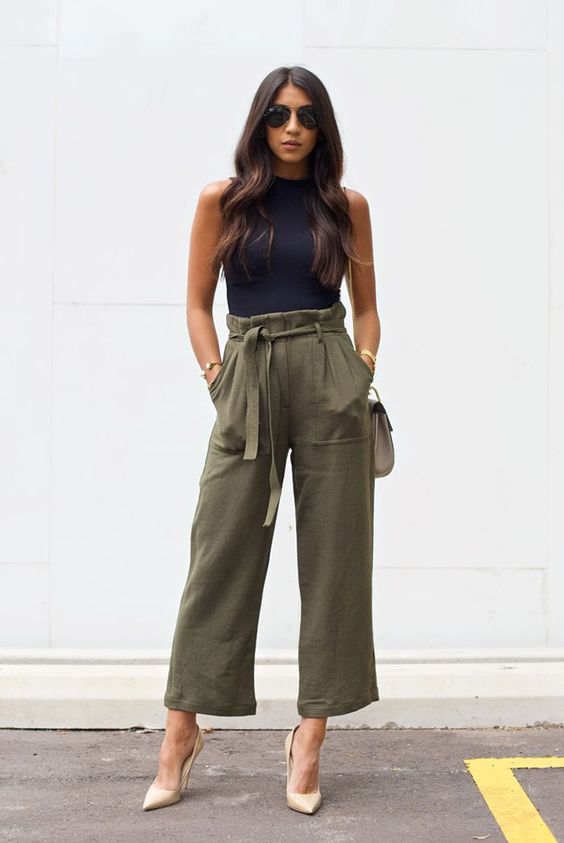 5. Cut-out sandals with block heels and floral printed cropped pants are a match made in heaven.
6. Peep-toe ankle boots seem to be a daring and unusual accessorizing option to top your all-white outfit. However, stylists encourage you to go for it!
7. Match your beautiful black culottes outfit with these 'must have' high-heel sandals. The combination of these three pieces will help you look so beautiful and stylish!
8. Match a pair of golden sandals with leather culottes pants and a transparent top and your outfit will be glamours. Wear it for special occasions.
9. If you are planning to go to a formal event, you could wear a lace crop top with white culottes and elegant high heels shoes.
10. Looking for a casual look and in the same time a comfy one? Use a pair of running shoes, a top with a big decolletage and a pair of leather culottes pants.
11. Try a black and white combo with a pair of flat black sandals and a pair of white culottes pant associated with this beautiful off shoulders top. What could be more simple and stylish this culottes outfit? It is so easy to wear it!!!
12. Looking to create an work outfit with a pair of black culottes pants? Match the all black outfit with these flat pointed shoes and add some color to the outfit.
13. Flat slip-on are the solution for a casual and comfy outfit. Pair them with jean culottes pants.
14. Elegant and super cute this outfit with printed culottes pants and elegant high-heels shoes.
15. Create a casual outfit by matching a beige culottes with wedges sandals.
16. The flat sandals are the perfect shoes to match with denim culottes and a flowy blouse to create a boho outfit.
What shoes to wear with culottes when is cold outside?
During summer is so easy to match these culottes pants with sandals. But what about the fall winter season? Even for the cloudy days in spring we should find some comfortable and stylish shoes to wear with culottes. We could try long boots, ankle boots, booties or flat shoes. Images are more relevant than words. If you are looking for inspiration when it comes about what shoes to wear with culottes, here are some relevant photos. It's true that for the cold season the black culottes outfit is the most popular culottes outfit. But you can always try another.
source
source
source
source
photo
source
picture
source
photo
source
image
source
Please read also about:
Hope you liked those beautiful culottes outfits. You can wear them every day, but also the elegant ones that you can wear to important events of your life. Tell me what you think about what shoes to wear with culottes for a stylish look?  Which of these outfits do you prefer? You find easier to wear black culottes outfits or other color culottes outfits? I would love to know your opinion.