60 Ideas For Plus Size Maxi Dresses That Will Make You Look Gorgeous
By
|
Can you look good wearing plus size maxi dresses? If you are a curvy lady, the answer is "YES". Most of us don't have a perfect body. That's why you have to find beautiful outfits that suits you well. Join me in the exploration of the coolest plus size maxi dresses trends that are just as diverse and fantastic as the tendencies you'll see on the catwalk. I've put together a selection of inspiring looks with plus size maxi dresses with short sleeves or long sleeves, outfits with plus size dresses for special occasions or plus size maxi dress with double slits. You can recreate them during any season. Before shopping, make sure the tailor is suitable for you. Here are some tips about how to style your plus size maxi dresses.
Plus size summer maxi dress with sleeves
Sleeveless frocks while being promoted by brave curvy fashionistas seem to be dethroned by the coolest plus size dresses with sleeves. The explanation is simple! Sleeves be it short or long, allow us to hide thicker and poorly toned arms. Moreover, some feel more confident when exposing less skin and sporting fashion items that help them create the illusion of a slimmer silhouette. In addition, the presence of this simple detail gives you the opportunity to go wild with the rest of your outfit and embrace higher slits, asymmetrical tailoring and transparency.
Take a closer look at the examples below and the positive optical effect they create! What do you think? Would you feel comfortable wearing trendy plus size dresses with sleeves?
www.boohoo.com; www.ashleystewart.com
www.ashleystewart.com;
www.curvaliciousclothes.com
Plus size white summer maxi dress
You don't have to be a bride to sport plus size maxi dresses in white. Thanks to inspiring and talented designers, you'll find hundreds of frocks sculpted from fine or thicker fabrics, on the internet. My favorite designs include the ones that attract the attention to your curves and waist. A fitting top part and a flared bottom allows you to shift the focus to your best assets. Also, you'll see tops decorated with sequins, lace insertions and embroidery that create a beautiful and ultra-feminine effect.
In case your are pleased with your arms and decolletage go for a sleeveless dress. On the other hand, if you prefer sleeves go for the cut-out, mid-length or long styles. Trust us when we say….white definitely becomes you if you adopt the right attitude and confidence to inspire others with your sets. 🙂 Accessorize your outfits with the nicest Gladiator or strappy sandals.
www.boohoo.com; www.ashleystewart.com
www.ashleystewart.com
www2.hm.com; www.boohoo.com
Women's plus size summer maxi dress
Shopping for plus size long dresses is both exciting and challenging. Curvy women have more reservations towards purchasing clothes without trying them on in person. However, nowadays it is just natural to shop online and return products that don't suit your silhouette or your personal needs. That's why I still encourage you with my trend report to discover the offers of famous retailers.
While the weather can be tricky during the summer, you can still sport the loveliest maxi frocks with or without a denim jacket or a cardigan. Two-tone designs with a black top part are extremely fashionable and slimming. Abstract patterns, vertical lines and block-colored pieces are also flattering for your curves. Go wild with the chromatic options! Deviate from neutrals for the sake of an eclectic and diversified wardrobe.
www.boohoo.com; shop.nordstrom.com
www.ashleystewart.com
www.ashleystewart.com
Plus size dresses for special occasions
While in the past stylists recommended midi frocks paired with high-heels to add some length to your silhouette, the idea of wearing gorgeous long plus size formal dresses with a pair of nice high-heel or kitten-heel sandals is more fascinating than ever. In order to provide you with a dose of inspiration I've selected a gallery of voguish maxi frocks in both neutral and elevated metallic tones.
Admirers of romantic and classic looks, will find the designs with embroidery, nice and moderate ruffles the No.1. option. Along with these modest and 'good girl' styles we also have a few body-conscious and extravagant dresses with the silhouette effect and transparent sides or a deeper V-neckline and high slit. Whether you want to excite people around you or just impress with simplicity, you'll find numerous outfit ideas to choose from. 🙂
shop.nordstrom.com; www.very.co.uk
www.very.co.uk
shop.nordstrom.com; www.simplybe.com
Plus size maxi dress with short sleeves
'Summertime and the livin' is easy' as it is selecting a nice frock for work or a weekend outing. Plus size maxi dresses for summer with short sleeves stand apart due to their figure-flattering and effortless aspect. I suggest you to have a few of similar wardrobe elements at hand, that you can mix and match with outerwear pieces and various accessories. Showing some skin and emphasizing your flirty cleavage or fab shoulders can be easily achieved with cut-out details, dropped shoulders and a deeper neckline.
Let yourself be influenced and inspired by the confidence these curvy women radiate while putting their best fashion foot forward. Floral or Boho prints, combos of various shades only add to the glam effect created by these maxi dresses.
www.boohoo.com; www.ashleystewart.com
www.ashleystewart.com; curvysense.com
www.ashleystewart.com; curvysense.com
Plus size maxi dress with long sleeves
I have fallen in love with these maxi frocks with long sleeves. Does it mean that we pray for colder weather to be able to sport them? Kind of…..:) In fact, being creative means to find the best occasion to embrace this trend. Long sleeves both the fitting and loose ones became statement details for this year. Moreover, the length of sleeves is in a fabulous contrast with the deep V-neckline and wrap design of these dresses. Fashion experts guarantee you that this trend will appeal to more than the mainstream.
On a hunt for a revitalized and girly outfit option make sure you go through the capsule collections launched by your favorite brands. Take a glimpse at the ankle-strap or strappy sandals you can top your warm weather sets with.
www.boohoo.com; www.ashleystewart.com
www.ashleystewart.com; www.boohoo.com
www.boohoo.com
Plus size maxi dresses for weddings
If you are also super-excited at the news of a special event in the future, after calming down start the search for a breath-taking and impressive outfit. Plus size cocktail dresses are a beloved option. However, this year you can take things to the next level and steal the show by sporting a maxi dress. While all black designs are still popular, more and more plus size fashionistas turn their attention towards pastel or passionate colors like wine or dark blue.
Chiffon and lace are some of the fabrics used to add a luxurious and haute couture aura to these frocks. In case you have a larger budget to invest in a similar goodie, I advise you to opt for a glamorous style decorated with lace insertions and sparkling Swarovski crystals, sequin or beads. Take a look at these beautiful wedding guest dresses.
shop.nordstrom.com; www.curvaliciousclothes.com
www2.hm.com; www.very.co.uk
shop.nordstrom.com; www.very.co.uk
Plus size spring maxi dresses
Spring is definitely a transition period when you can wear dresses both with short or long sleeves. Casual designs include the denim, jersey or chic striped frocks that look fabulous irrespective of the weather conditions. Well-known designers help you turn challenge into fun when shopping for everyday outfit elements. Multi-color designs give you the chance to break out from a style rut and enjoy planning your plus size spring outfits for the week. Adding wedge or high-heel sandals, some jewelry and a fab bag to your ensemble will complete the whole picture. Festivals, a shopping session, a city break are perfect occasions to make the most of the maxi dresses purchased earlier.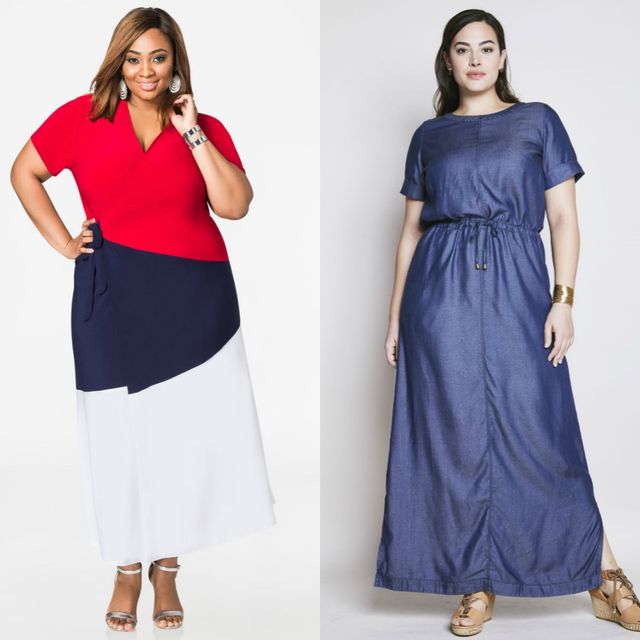 www.ashleystewart.com; www.jessicalondon.com
www.ashleystewart.com;
www.jessicalondon.com; www.ashleystewart.com
Plus size maxi dress with double slits
An intriguing style alternative for those who don't want to hide under baggy clothes are the plus size dresses with double slits. At first you might consider that these frocks are too extreme and extravagant to sport during the day. However, remember these models are proud of their curves an wear the dresses in a more provocative way. Also, there are numerous designs you can acquire that don't have such a high slit and still have a fab effect on your appearance.
www.boohoo.com; curvysense.com
curvysense.com; www.simplybe.com
www.ashleystewart.com; www.agacistore.com
Sparkly plus size dress
Thanks to trend-conscious and confident plus size fashionistas more and more mass-market brands and fashion houses leave some room for creations that flatter curves. Sparkly sleeveless and short sleeved dresses with glittery glam sequins and beads can become the star pieces of your formal wardrobe. Feel free to rock the same dress completed with a different pair of shoes or sandals and a hairstyle for many different events. People around you will love it when seeing for the first time and they'll still love it for the fifth or sixth time too. 🙂
Those who are not afraid to land in the spotlight and attract mass attention can invest in a top-to-toe sequin frock. On the other hand, if you prefer just a touch of glamor and shine go for maxi dresses embellished only partially, in the top or bottom part. Here are a few examples that will definitely steal the show at a wedding, gala or cocktail parties.
www.simplybe.com; 
www.simplybe.com; www.asos.com
ezondo.com; www.asos.com
You may want to read also about:
Remember to love yourself and your silhouette. Follow these style tips for plus size women in order to create plus size outfits or, why not, clubbing outfits for plus size ladies with plus size maxi dresses in stead of plus size shorts outfits. Help me to complete this trend report with inspiring personal outfit ideas! Let's create the best dress style for plus size women. Use the comment section below and tell me which of these plus size maxi dresses do you love? 🙂