High Waisted Skirt Outfits For Stylish Women
By
|
Since high waisted skirt outfits were reinvented, I almost feel the need to 'womanize' my clothing style. Indeed, the fact that this tailoring pattern helps mask all my imperfections makes this trend really tempting. In case, you feel the same way too, make sure you take a look at these pictures about how to wear high waisted skirts lined up below. Trust me! Nowadays, perking up your office or formal wear is not sooo difficult. After all, you have denim, faux leather, velvet and classy cotton to count on. Put together a few A-list skirt outfits by choosing the texture and length that suits you and obviously, the occasion!
Whether you're petite or tall, super-skinny, normal or plus size, I guarantee you, there is a high waist printed or black skirt outfit for you out there. You just have to make an effort and search for it. In case you want to flash that newly acquired 'hourglass' style cinched waist, tuck in your tops. In addition to this basic piece you'll need a pair of stilettos or cute ankle boots, business chic or plaid shirts and eventually jumpers for the cold season. Keep scrolling for the coolest mini, midi or long skirt outfits images!
High waisted denim skirt outfits
It's not me, it's the experts who are saying that you just can't go wrong with a few undone or polished high waisted jean skirt outfits. You have plenty of styling options from tucked in shirts or blouses to oversized jumpers that show just a tiny portion of your skirt. The point is to find your way of integrating these cool and timeless pieces both in your work and casual wardrobe.
The accompanying items make all the difference. Accessories like stilettos and high-heel boots add refinement to your sets whereas, you can easily tone down the sexiness of your outfit with cowboy style or plain ankle boots and even ballerina flats or loafers.
@lolariostyle
Leather mini skirt outfit
Instead of telling odes about this 'must try' trend, I wanted to let these black leather mini skirt outfit images do the talking. Girl, you gotta see it to believe it! I mean, you really need courage to purchase one of these goodies and you need even more to wear them. However, stylists assure you, there's nothing to worry about. You just simply can't fail if you build up a top-to-toe neutral set with a white T-shirt or cotton shirt, a leather pencil or flared skirt and a pair of ankle boots or matching black stilettos. It's the good old minimalism that will guarantee your success! Also, I've spotted a few leather mini skirt outfit ideas for the brave ones.
@yuliawave 
Long skirt outfits with high waist
I've lost count of how many times I have dreamt of wearing a gorgeous maxi skirt with a classy white shirt in Carolina Herrera style. I know, it's pure magic! However, if you're aiming for a less dramatic effect, here are a few of my favorite long skirt outfits for summer. It seems like vloggers can nail down all mainstream trends. Nevertheless, you should not forget that attitude is your most important asset.
Why not use it to create the same effect in the boring and uninspired days? Mix a chic crop top or tank-top with a lovely chiffon, lace or soft textured skirt, add a pair of sandals or pumps and eventually a bag or girly jewelry. High waist skirts and crop tops can help you through the hottest part of the summer and allow you to shift the focus on your upper body, shoulders and even perfectly toned arms.
@showpo
@newyorklife_style
@image
@newyorklife_style
 Midi high waisted skirt outfits
Midi skirts seem to snatch the majority of votes when it comes to power pieces. Apparently millions of fashionistas consider these bottom pieces the most versatile and accessible outfit elements regardless of the season or their silhouette. How could anyone judge us for finding it a joy to wear skirts that visually slim our waist, lengthen our leg, hide our thicker legs, etc.?
The variety of textures available now for a fair price, allowed designers to provide the fashion crowd with a selection of flared, bubble or pencil skirts in velvet, tulle, denim, chiffon and even leather. Tuck in your blouses for a streamlined outfit or opt for cropped tops and don't worry about the extra length.
@alesiaasta
@miabellasignorina2
@miabellasignorina2
@source
@showpo
High waisted leather pencil skirt outfits
I get that a lot: 'Ok, I know that I'm supposed to be a lady and wear skirts, but how to wear high waisted pencil skirts if I don't have the body of a supermodel?'. Don't let your insecurity and stereotypes prevent you from joining the band of self-confident style-admirers! Documentation is important. In case you're lost in the multitude of Pinterest pins, how about taking a glimpse at these pencil skirt outfits I've selected for you.
Do you need skirts for work? Rely on the high-class combos with minimalist sweaters and elegant shirts, either tucked in or worn normally. On the other hand, if you want to look feminine for a night out or a date, how about a more relaxed set with T-shirts or sporty jumpers and oversized cardigans.
@yuliawave
@fashionedchicstyling
@street_style_paris
Mini skirt outfits
Mini skirt outfits, I know, I know…..a delicate subject! While I'm still not sure whether anyone can score this trend, it's here to stay and we need to talk about it. For the warm season, I suggest you to show off those tanned or on the contrary pure porcelain toned legs. Take advantage of the fact that, these skirts design elongate your legs even if you wear flats. Enjoy the comfort!
Also, high waisted cotton, denim and leather mini skirt outfit ideas have become top style options since over-the-knee boots appeared on the scene. Now, you can complete your sets with flared or fitting skirts, tops and a pair of these amazing accessories in both neutrals, pastels and nude tones.
@lolariostyle
@source
@showpo
@caro_e
@street_style_paris
Tight skirt outfits
Flared skirts stole our heart, but some fashionistas feel like these designs seem a bit too romantic for occasions like: a meeting, an interview, a night at the club, etc. If you share their view, go for the tight skirt outfits as the ones presented below.
In case you want to create a professional and mature look, put on a high-waisted skirt that sits lower and will not concentrate purely on your bust, choose a white or neutral colored shirt or a lovely blouse and stilettos.
In case you're into versatile textures experiment with velvet, lace or chiffon. Keep leather, distressed denim and sequin for party events or weekends. Also valid for crop tops and off-shoulder blouses.
@yuliawave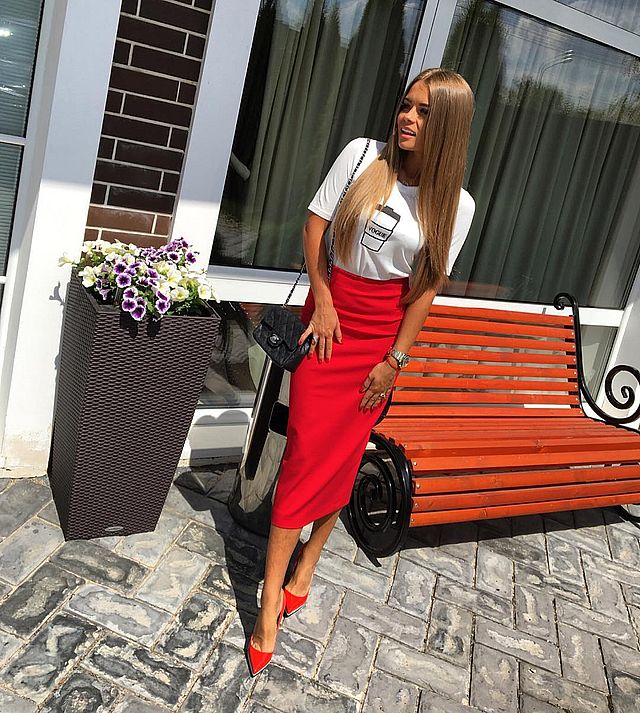 @alesiaasta
@miabellasignorina2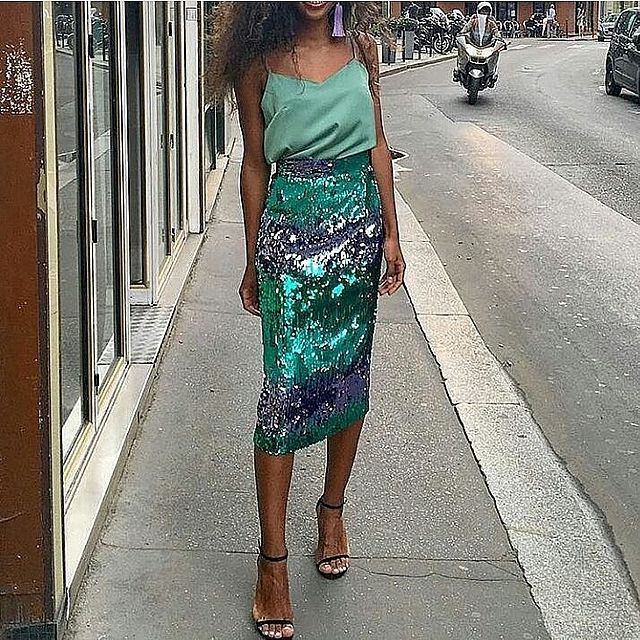 @source
@fashionedchicstyle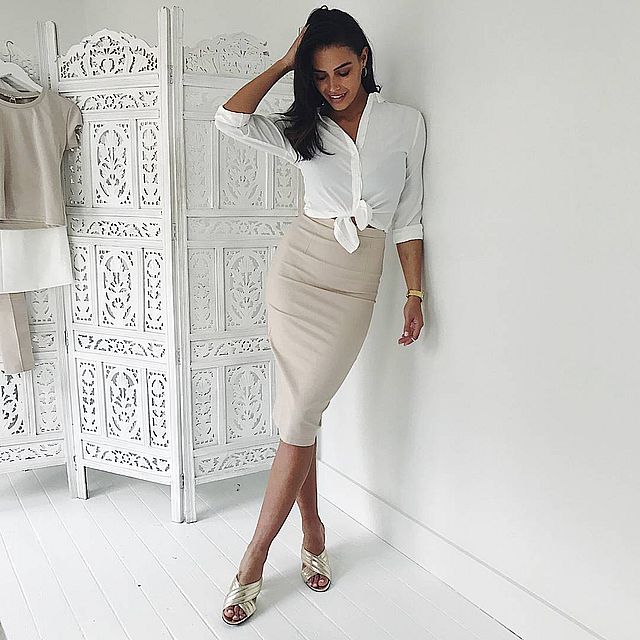 @showpo
@source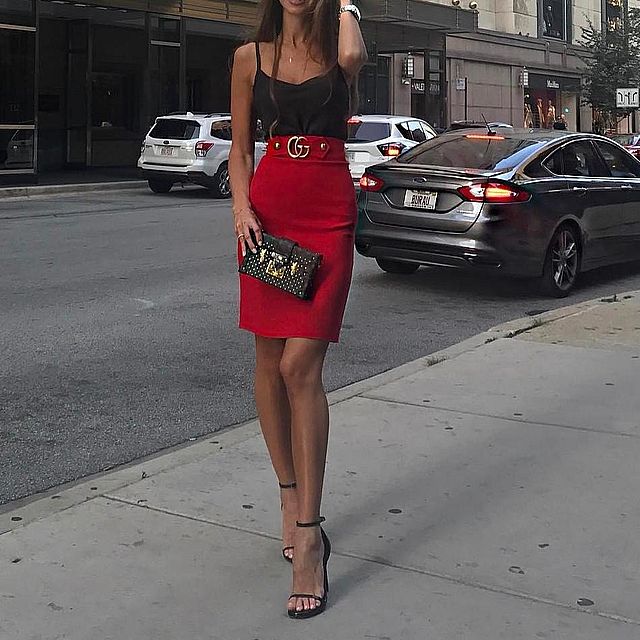 @street_style_paris
@source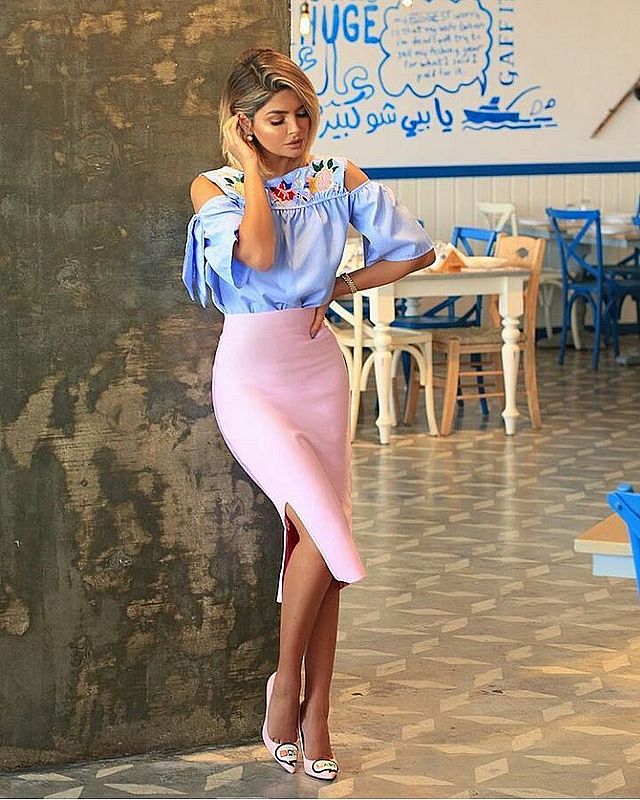 Experimenting is key to stay up-to-date with the actual trends. High waisted skirt outfits contrary to all beliefs are not so hard to nail down. Hopefully, our list of designs and high waist skirts and crop tops convinced you that you have several textures and lengths to choose from. Stick to minis, midis or maxi skirts that make you feel comfortable and true to your personality. From the flared romantic tulle skirts to the fitted office chic ones, mass-market stores have all these resistance pieces available, thankfully, for a reasonable price.
Tell us how do you wear your favorite high waisted skirt outfits! 🙂