31 Summer Casual Work Outfits To Copy This Year
By
|
Choosing women's summer work outfits that empowers you is considered a skill in the business world. How many times did you feel like what you 'must' wear is totally incompatible with what you would wear? The two extremes we should take into consideration are definitely under-dressing and overdressing. Finding the golden middle way for summer casual work outfits, is the key to success!
So, the questions that remains is "what to wear to work in the summer"? Now, in this sense, a business casual dress code for women still equals pencil skirts, eventually blazers and high-heels. However, what if I could give you a few tricks and tips on how to match these office chic staples to create new and more laid-back looks?
I am often asked to define women's summer work outfits. While the dress code varies from one workplace to another, it is basically the following: casual work attire for women is a mix between professional or casual wear (meaning street wear). Take full advantage of flexibility your job position offers, when it comes to selecting shades and tailoring designs. Needless to say you have to keep in mind a few mantras like "less is more", "keep it neat and polished" or "when in doubt wear neutrals".
Let the transformation begin here and now! Scan through my suggestions women's summer casual work outfits and brainstorm a few outfit ideas for next week.
Summer casual work outfits
There are numerous factors to keep in mind when choosing your stylish summer casual work outfits. Functionality, elegance, appropriateness. However, to make it simple and memorable, here's the general advice of specialists: "Wear quality, tailored to fit and more relaxed separates, swap full suits for cardigans, some of your pencil skirts for midis and dresses, sky-high heels for ballet flats or closed-toe sandals." If you manage to keep in mind these basics, there will be no more confusion and dilemma when constructing your day-to-day work wear.
1. Freshen up your office wardrobe with a few structured midi dresses like this one, sculpted from breathable and comfortable fabrics. It's comfortable. stylish and you can wear it in many situations, even when it comes about a classy going out outfits for women.

2. Prints combined with neutral tones are a safe place to go when having doubts about what to wear to work. Accessories like a fashion-forward bag and stilettos refine your summer casual work outfits.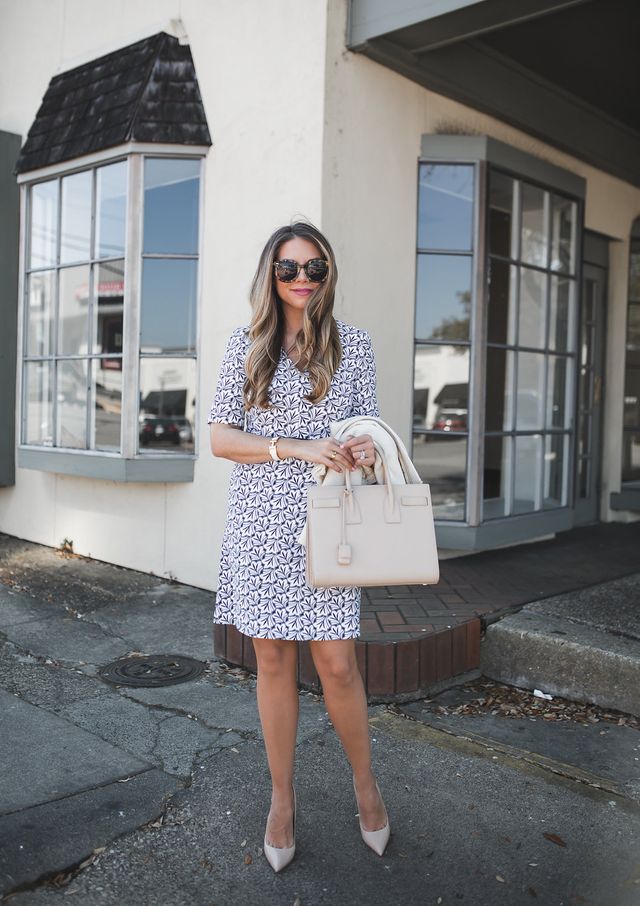 3. While sneakers are a bit to rebellious for me, the peach colored pant suit is a delight. How about matching it with a white T-shirt, a shoulder bag and a pair of high-heel sandals instead? Try this outfit if you like to transform your summer outfits for teenage girls.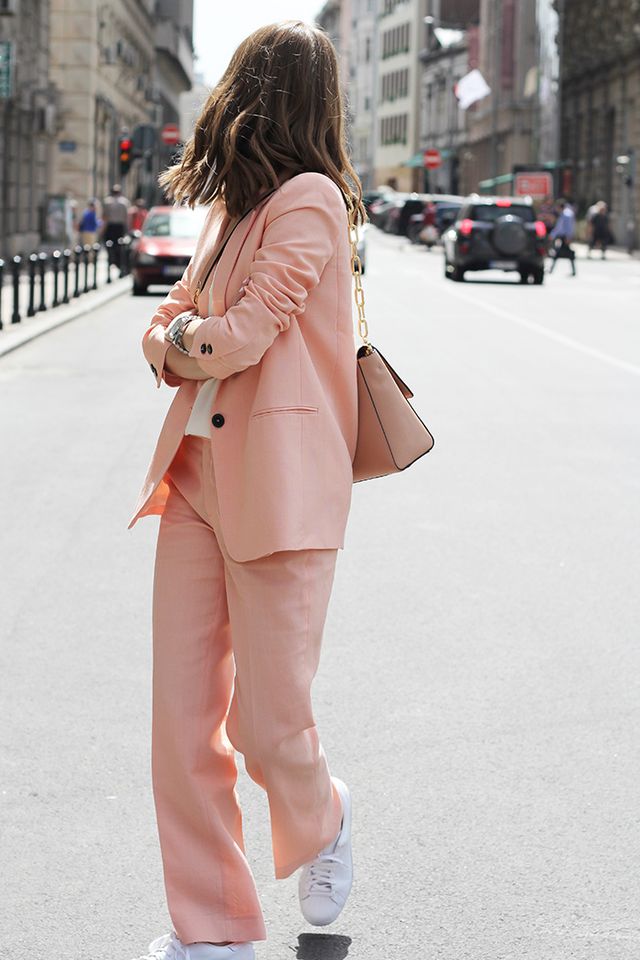 4. See? Black and white is a 'no-brainer' match and the simplicity of it can be easily jazzed up if you opt for a ruffle top and a pair of high-waist flared pants or culottes. If you are thrilled to try this kind of outfit, you should read also our trend reports about what to wear with culottes , black culottes outfits or what shoes to wear with culottes.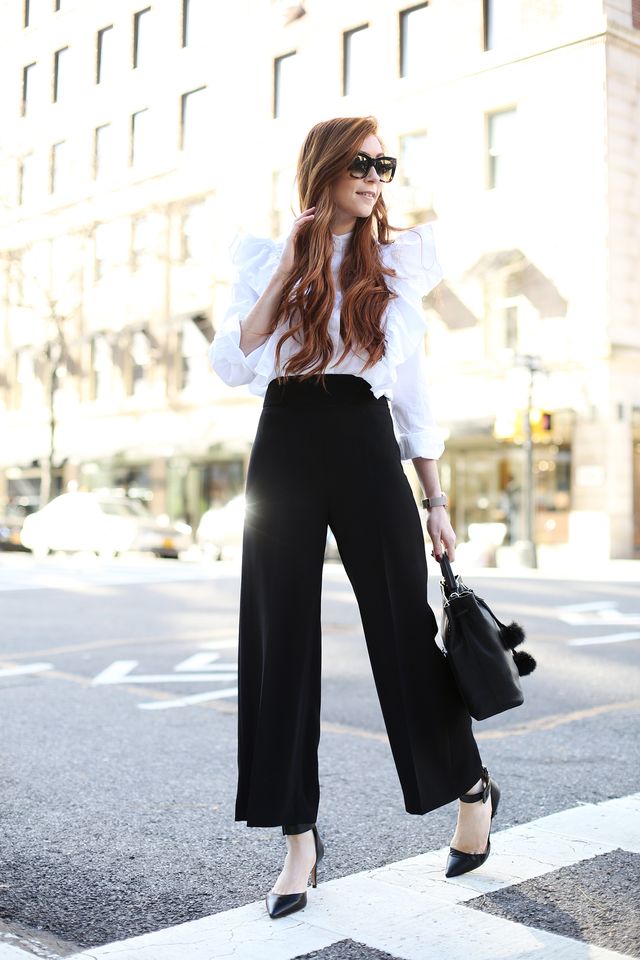 Savvy shoppers give you a tip, so simple you probably haven't thought about it yet. What if, in the future you change your habits and you stop investing in overpriced suits and fancy pants? Instead, why not purchase a few budget-friendly basics and spend a bit more on quality footwear. Accessories like a pair of nude leather stilettos, high-heel sandals and even pointy-toe flats can further polish your sets and more, can also add a high-street air to your apparently minimalist and mundane look.
5. High heels shoes are not only comfortable but can also complement women's work outfits especially on days the weather is a little beat chilly.
6. The popularity of pointy-toe girly shoes has always been justified with the urgent need of fashionistas for footwear designs that are stylish and comfortable at the same time. Here's a fantastic example of this concept!
source: www.memorandum.com; glamradar.com
7. The best part of these summer casual work outfits is that you can easily match shirts with casual pencil skirts and create the loveliest summer casual work outfits form your closet. 
source: www.nolitahearts.com; www.bedazelive.com
8. I've seen many women wearing sandals at work during summer and I thought is a good idea to present you at least on picture. Also, it seems like it is quite fashionable to wear a long sleeves blouse with skirts, like in these images.

Business casual skirt length rules completely forbid miniskirts and don't really recommend granny-style maxis either. While pencil skirts outfits are essentials to build up a professional style, knee-length flared skirts are the best solutions to make your sets look comfortable and effortless. Unless you prefer the, don't judge me for saying 'outdated' effect of fitting designs, join team 'midi' and learn how to match it with the shirts and blouses you already have in your wardrobe.
You'll find tons of beautiful examples at fast-fashion stores, some sculpted from lace others from chiffon and taffeta. Textures vary as do designs! Sleek is one option, another would be pleated. Don't worry about what your boss will say if he/she sees your attempt to break the habit! Keep things simple if the dress code is limited and inflexible. On the other hand, if it allows you to experiment, you shouldn't skip pastels and prints.
9. A soft-hued pleated chiffon skirt looks spectacular with a printed shirt and allows you to enjoy the summer breeze without feeling trapped in your office wear.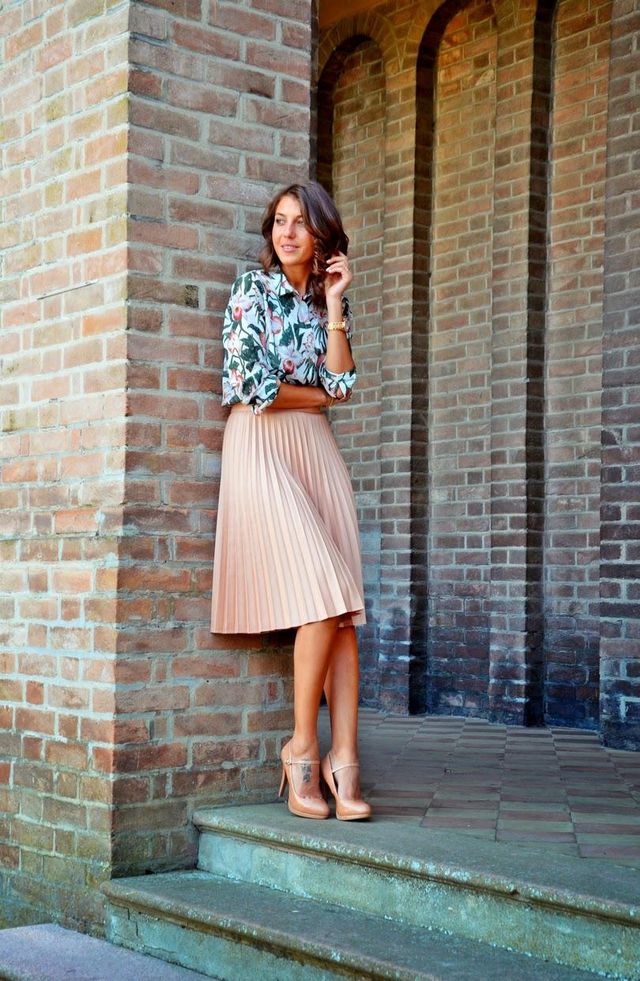 10. Summer casual work outfits for women can be unique and creative. Wear pleated midi skirts, adopt an appropriate office chic outfit without melting into the crowd.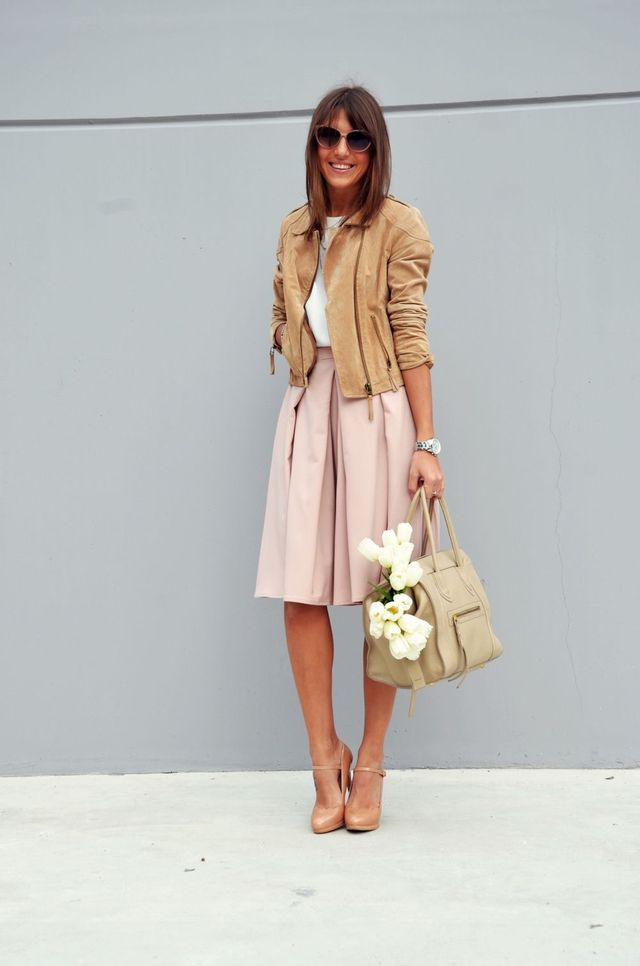 11. Blue is a shade that will definitely catch the attention of others and maybe even that of your boss. However, you can totally nail down this trend by opting for a plain white shirt or blouse and neutral colored accessories as additional elements of your ensemble.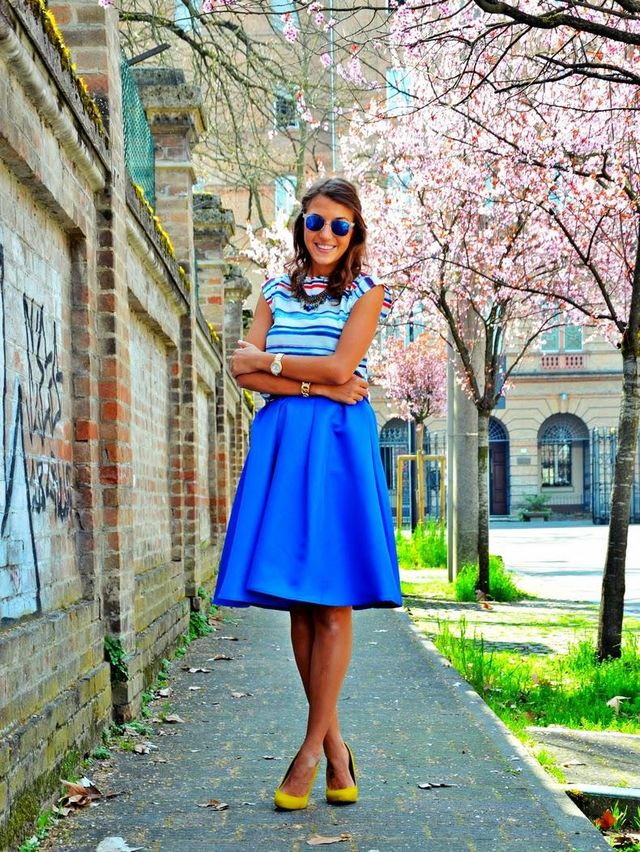 12. Super-soft textures are 'in' and can save you from a style meltdown during summer. Mix them with pastel or neutral colored tops, flats or high-heel sandals. Create a business casual outfits for summer or cute casual date outfits when you plan to go out with your boyfriend or with friends.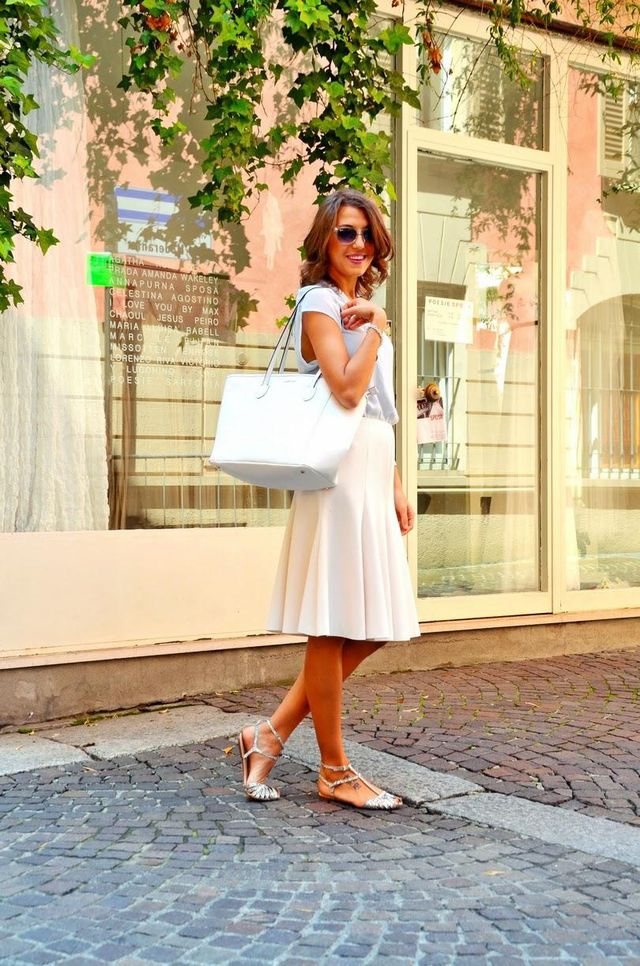 13. Casual outfits ideas that radiate romance and femininity can be complemented with fabulous high-heel sandals and stilettos. Opt for the ones that add length to your legs and a touch of delicacy to your look.
14. On the other hand, you should not distance yourself from flat sandals with multiple straps, ballet flats and not even sneakers.
15. Sports shoes are worn by hundreds of fashionistas who want to challenge the concept of classy office chic outfits.
www.lookbook.nu
In the majority of companies, those who define the dress code can be really conservative. Make sure you find out the basic rules right on the first day! As time goes by, you'll be able to see whether your colleagues follow these standards blindly or have managed to find a few loopholes to wear outfits that reflect, to some extent, their personality. You should keep in mind a few suggestions in order to pass the dress code test.
In case of business casual dresses ideas feel free to arm up your work wear with frock designs with short or long-sleeves. No wonder numerous women working in the corporate sphere sport blazers and cardigans. Sleeveless dresses are a 'no-no' if you ask experts. Another aspect is chromatic. You just can't go wrong with block-colored knee-length dresses, accessorized with a pair of stilettos or ballerina flats and an exquisite bag.
16. The delicacy and refinement of this white short-sleeve midi dress is magnetizing. Imagine yourself wearing this frock all throughout the hot and tropical summer days.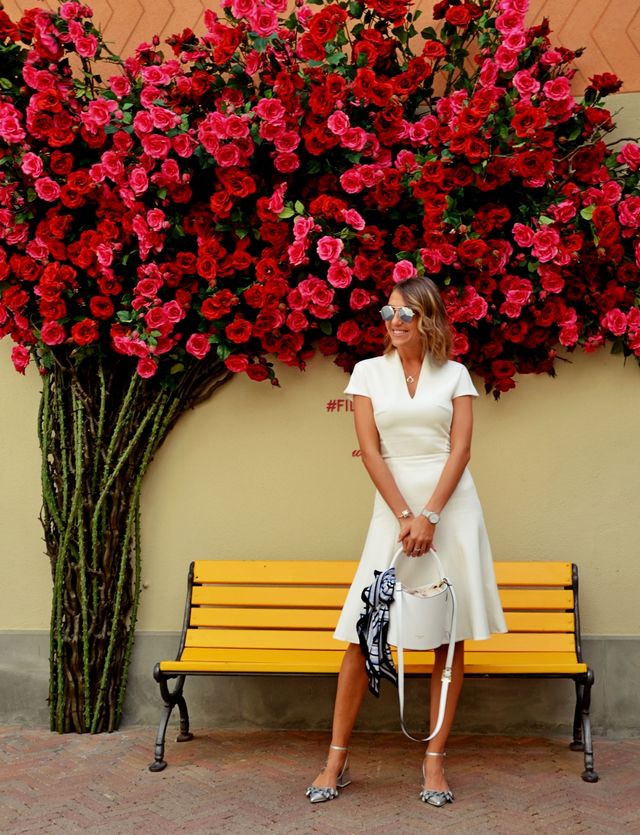 17. The timeless LBD trend continues to convince corporate fashionistas that once you go black you never go back. Always an option when dressing for success or you wonder what to wear on a dinner date ! Also you should see what to wear with a white pencil skirt or a black pencil skirt outfits if you are are looking for a great business casual outfit.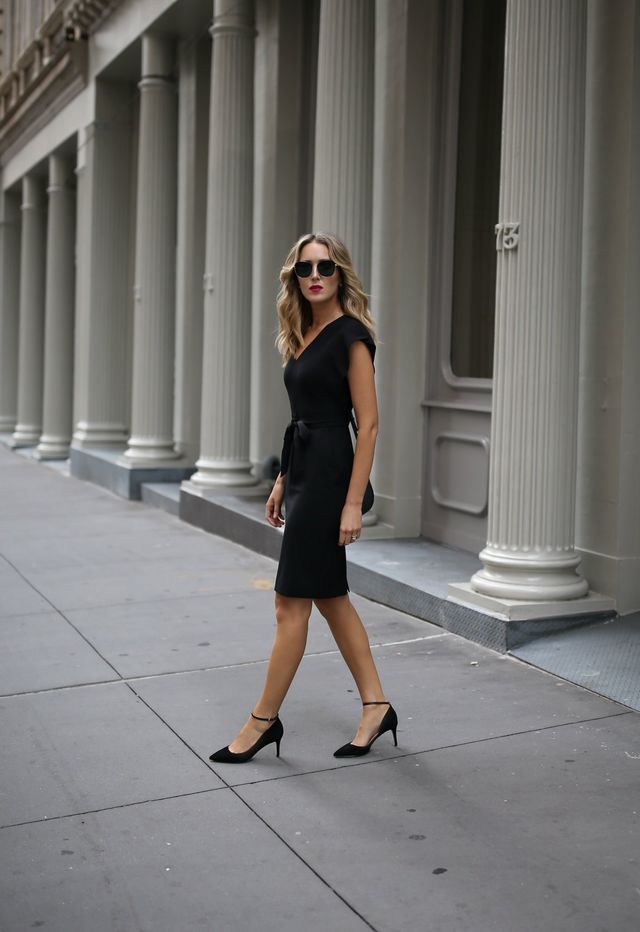 18. Freshen up your office style with this flared mid-length coral dress and voguish high-heel sandals! Perfect for days when you don't need to meet the biggies of the trade or have important meetings.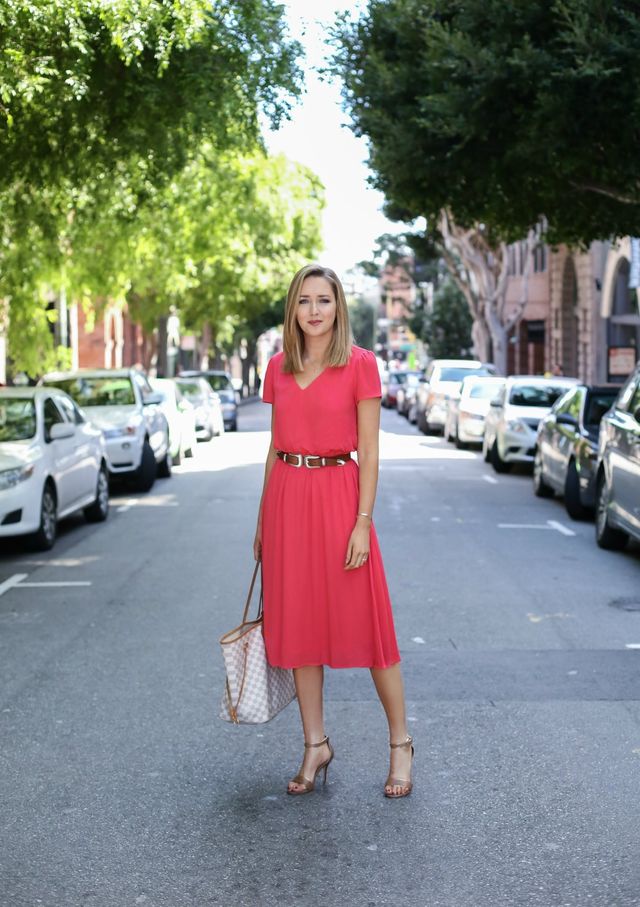 According to specialists think of black and white and eventually navy as top color choices and live out your creativity with designs. Flared cotton pants, cropped ones, culottes and even chinos are only some of the tried and tested pants you can integrate into your casual office sets. Non-iron textures are super-practical and help you save time while preparing your ensemble for the next day.
19. Rolled up white chinos emanate a masculine and high-end air. Match them with printed or block-colored shirts and high-heels. Use jackets or coats in order to create beautiful fall outfits for women.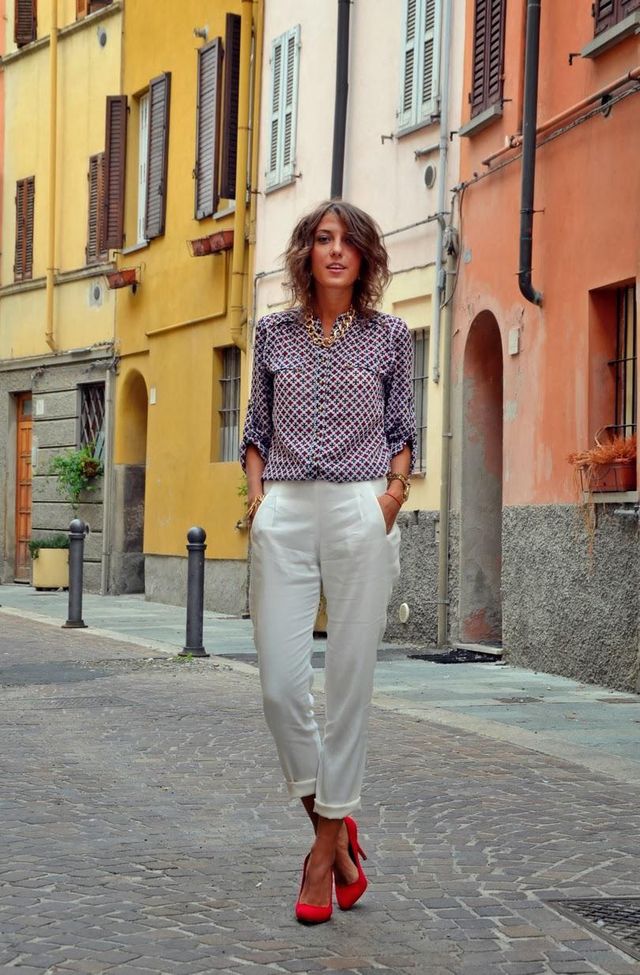 20. Modernize your style with palazzo pants outfits in a beautiful and timeless shade like white. Add a white blouse, a blazer and you're good to go!
21. You should definitely stock up on navy colored straight pants that look stylish both when accessorized with stiletto or fashion-forward flats. Use this image as inspiration in order to create a beautiful casual date outfit.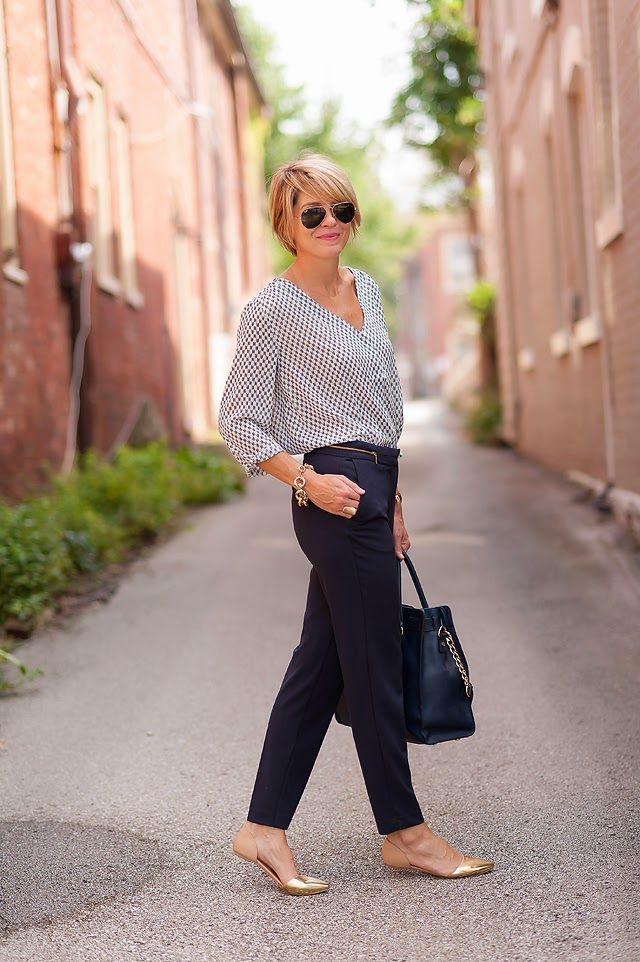 22. These summer casual work outfits will carry you through the hot season. We decided to make it easier for you and create a list of the essentials worth acquiring for a chic wardrobe.
23. Cropped printed or mono colored trousers, skinny jeans, flared pants, all contribute to the professional air of your sets. Never underestimate the power of high-heel sandals and stilettos as well as stylish clutches or shoulder-bags. Team up your favorite bottoms with a simple white shirt or a breezy top.
24. Think of pants as the foundation of your office outfits. Business casual examples below illustrate that a neutral colored design is ideal for workplaces which expect you to look traditional in order to impress clients. Now, there's no need to lose your enthusiasm, yet. If you plan to go for a date directly from the office, try one first date for drinks outfit. You can use these pictures as inspiration.

www.styledumonde.com ;  www.lookbook.nu
Tops while being central pieces of your business chic wardrobe should not be the priciest items in your closet. Instead, discover the seasonal sales of mass-market stores that provide you with a wide range of minimalist blouses and shirts in endless chromatic options. If you ask me 'what is a business casual attire for women?', my answer would be that a top that flatters your silhouette and a pair of perfectly tailored pants or a midi skirt. The recipe is as simple as that! Trust me, a pair of high-heels can turn the plainest summer tops into work-appropriate and elegant style staples. Save asymmetry, wild prints, neon shades and fringes or other intricate details for your free time or club nights.
25. Throw this short-sleeve chiffon blouse over an elegant pleated mini skirt or a pair of flared dressy pants and create summer casual work outfits . Wondering what to wear on a first date for drinks? You should try this outfit.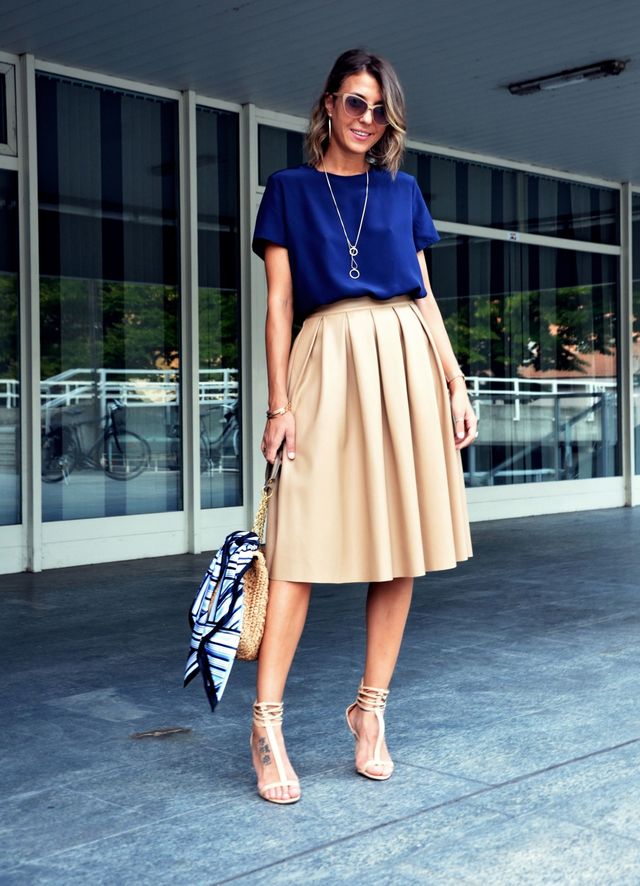 26. While the sleeves are a bit critical, the refined shade and design of the top makes it perfect for stylist-approved business casual outfit ideas.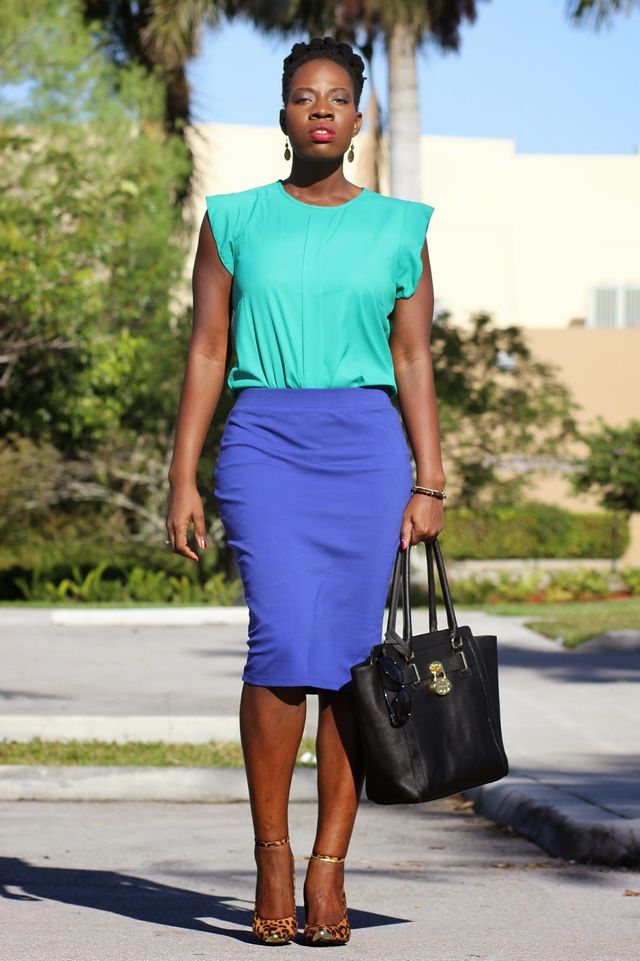 27. Short-sleeve cotton shirts are totally accepted by the majority of companies. The shade you choose will make the difference. Opt for this fine purple tone to inject personality into your set. This image is perfect for inspiration when you are looking for casual outfits for women over 50.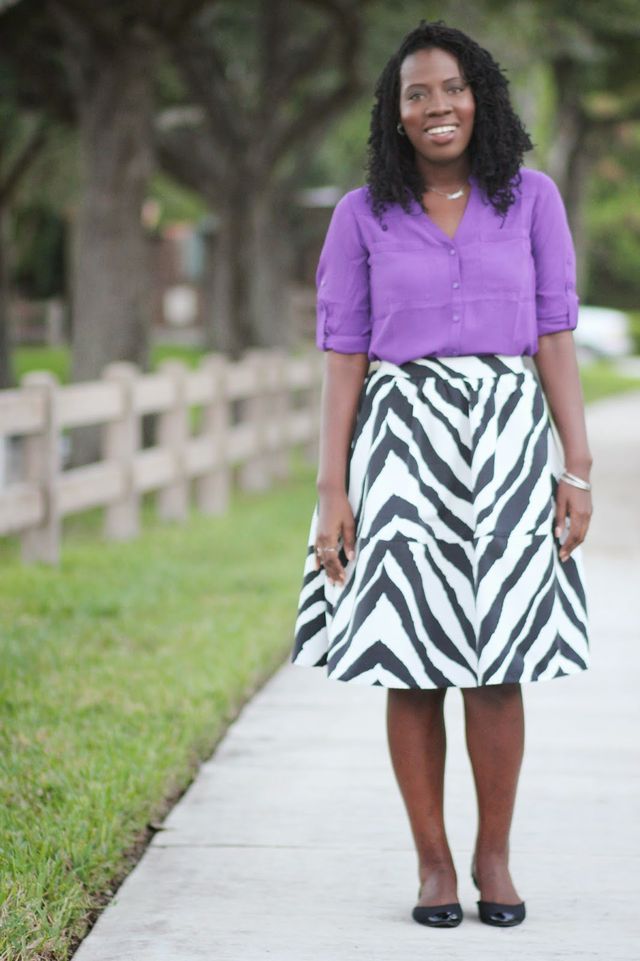 28. While stylists announced the swan song of cross-body bags, denim pencil skirts continue to dominate the streets and catwalk. Light wash designs are all figure flattering pieces to invest in.
29. Are you inclined to add just a drop of glamour into your urban outfits? Here's how you do it. Throw on a pleated midi skirt, a white T-shirt and a pair of brownish sandals.
30. Pleated skirt sets occupy a prestigious place in the abundance of work outfits. See it for yourself!
31. An embroidered T-shirt might not be a style match for a soft pink pleated skirt. However, who says that you have to follow patterns? Go your own way!
Our team of style advisers stalked the Instagram and street style collections for business casual dresses ideal for the upcoming seasons. No matter your age or style preferences, you'll be able to wear these sets to the office. Be brave and experiment with vibrant colors! 🙂 Check the color trends defined by the Pantone Institute and choose the shades that complement your skin color and silhouette. Mono-colored frocks are also highly recommended, since you just can't give up on your love for the monochromatic trend.
What not to wear at work
One way to give you a general idea on what business casual really means is to put together a list of style pieces' corporate dress codes not always tolerate.
Some magazines and bloggers decided to define business casual by listing what not to wear instead of providing outfit suggestions. It is indeed, a simple method, however, you may still need inspiration to how your wardrobe should look like after eliminating the critical items. That's why our trend report lines up all the dos and don'ts of this dress code. On days when you feel less creative follow the basic rules, whereas, at times when you feel a bit more 'reckless' make sure you have a few unorthodox pieces that loosen up the boxy effect of your biz chic outfits.
Building and continuously developing your 'working woman' style is not an easy task. Unlike the past decades, when business women had to rely simply on rules, nowadays you have the chance to actually see summer casual work outfits for women, you can copy from top to toe. How cool is that?! Make sure you come back to our guide as soon as you landed a dream job at a major company! 🙂