100 Style Tips About How To Wear Rompers
By
|
My closet is full of clothes that I don't wear. Why? Because I used to shop without thinking about the outfits. Now I do. So I share this with you because it might help you at shopping. Maybe you are wondering why? Well…, I love rompers but I admit I never had one and I want to buy some. So I could imagine how I can style rompers or how can I wear rompers during summer, but to be sure I already have the shoes or the bag or the sandals to mach with, I've searched on the internet. Since rompers are still in style this year, I decided to create a trend report about how to wear rompers or jumpsuits during summer.
Whether you are a rookie in this trend or you just can't get enough of it, you should see this 100 style tips about how to wear rompers. In the hot season, rompers are very easy to wear: you can wear it as a single piece or you can mach it with crop jacket. You can develop your own personal clothing style by opting for items that emphasize your physical sets and creativity. Learn how are rompers supposed to fit!
White romper outfits
In the past seasons, the fashion crowd witnessed the ultimate rise of the white rompers for women. Indeed, I've spotted the loveliest designs rocked both by fashionistas with a slender or hourglass curvy figure as well as ladies who are proud of their plus size silhouette.
The key to success is definitely the way you accessorize your whole set. Go for a pair of Gladiator or strappy flat sandals if you want to dance all night to your favorite music at festivals. Also, you can take your outfit from day to night with a pair of kitten or high-heel stilettos and sandals.
A white lace romper can definitely land you in the spotlight both if you decided to wear it to a special or casual event. However, in my opinion, I don't think you can wear rompers to a wedding. A tiny clutch and statement jewelry only adds to the glam factor of these summer ensembles. For the colder days top your romper or jumpsuits with a denim jacket or a nice cardigan.
This pure white off-shoulder romper is a real eye-candy and allows you to enjoy the rising temperatures both in the city and at festivals.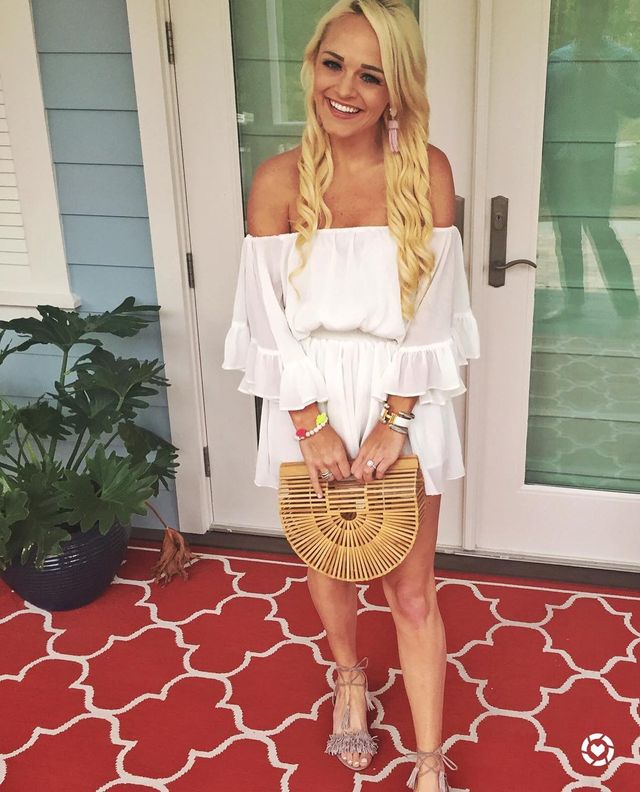 Designers of this flirty romper managed to upgrade the minimalist design with fabulous floral embroidery. Top with high-heels for a modern air or wedges for Boho chic.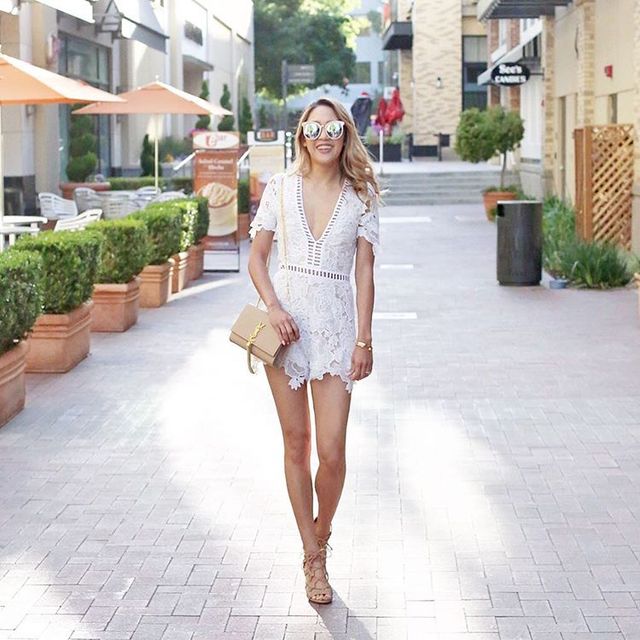 The elastic detail at the waist section makes this gorgeous white ensemble even more flattering for all silhouettes. Think of bright accessories to offer an eclectic and versatile twist to your casual look.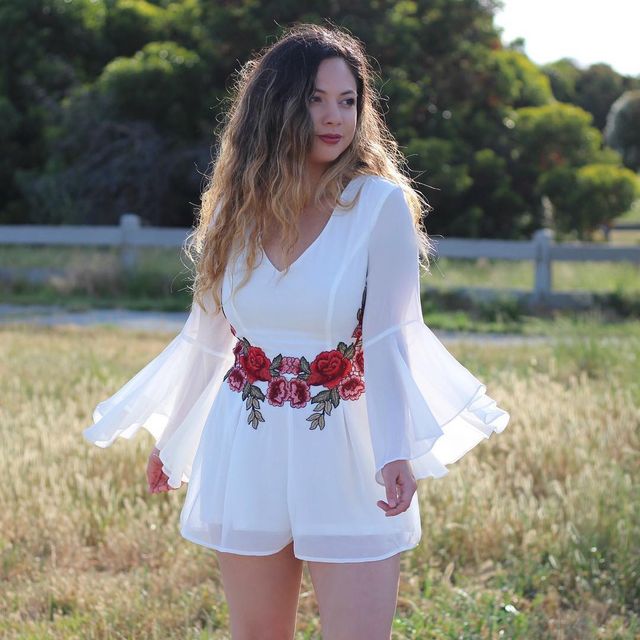 Trendsetters demonstrate how to tone down an ultra-refined lace romper into a daytime outfit with lace-up sandals, a nude shoulder-bag and oversized sunnies.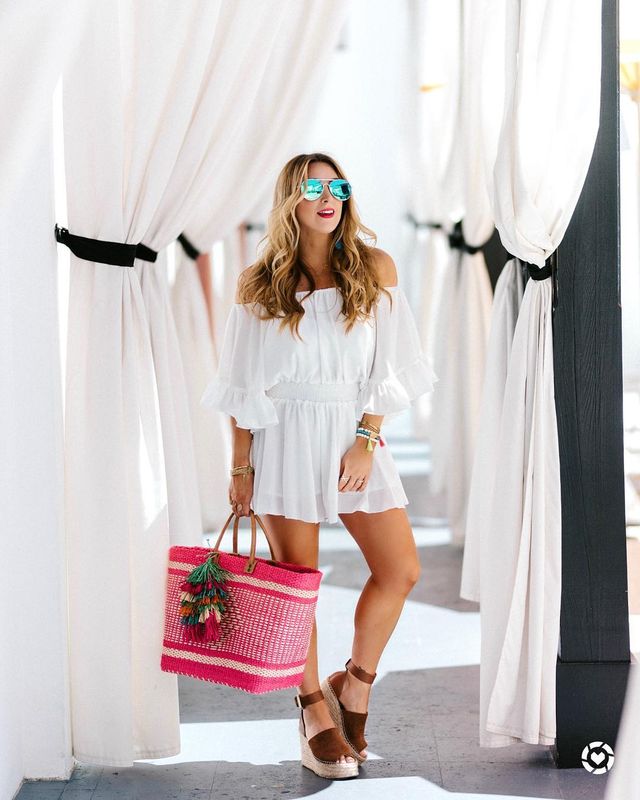 A dressier or a plain white romper can be easily perked up with a light denim jacket, flat suede sandals and a chic Fedora.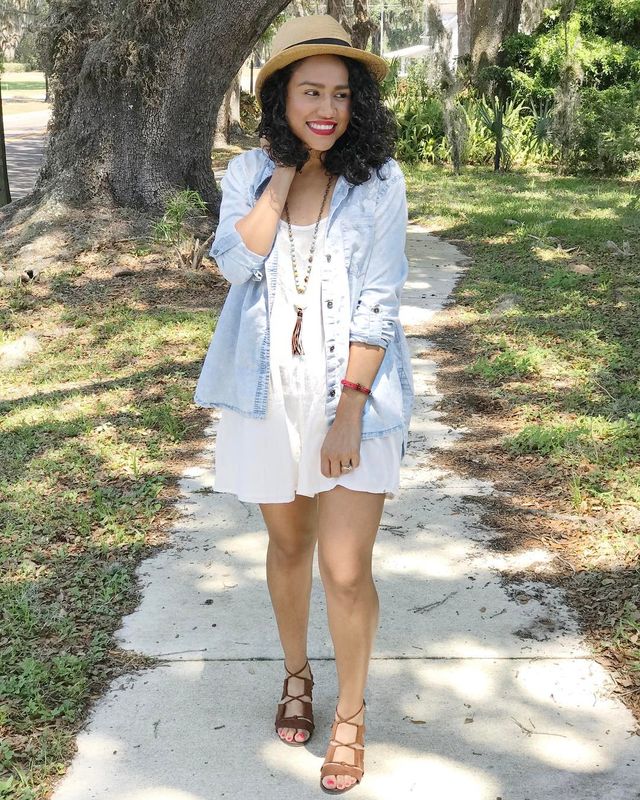 Pay homage to runway trends by sporting a distinguished off-shoulder romper with a fab pearl choker and strappy sandals. You could try this outfit if you wonder what to wear on a first date to dinner.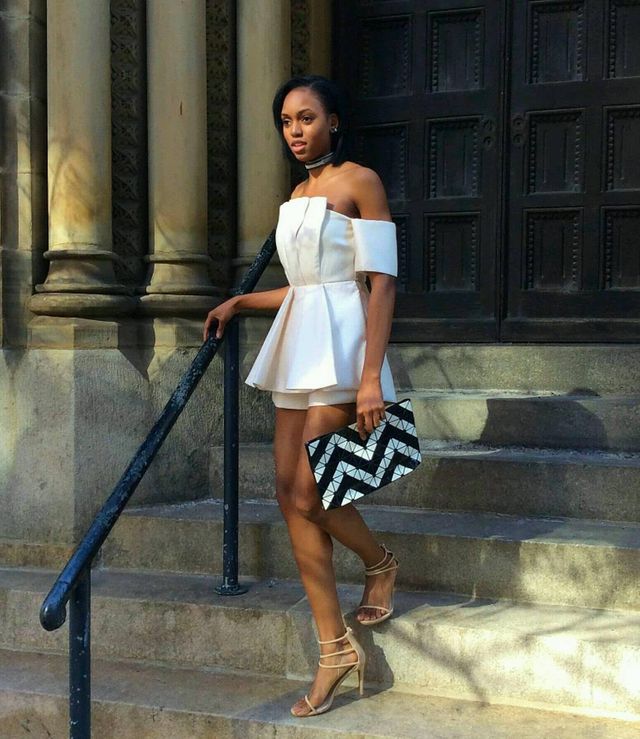 An ultra-affordable item for your summer wardrobe is this off-shoulder white romper with lacy details at the sleeves and legs. Oversized necklaces and slip-ons are optional!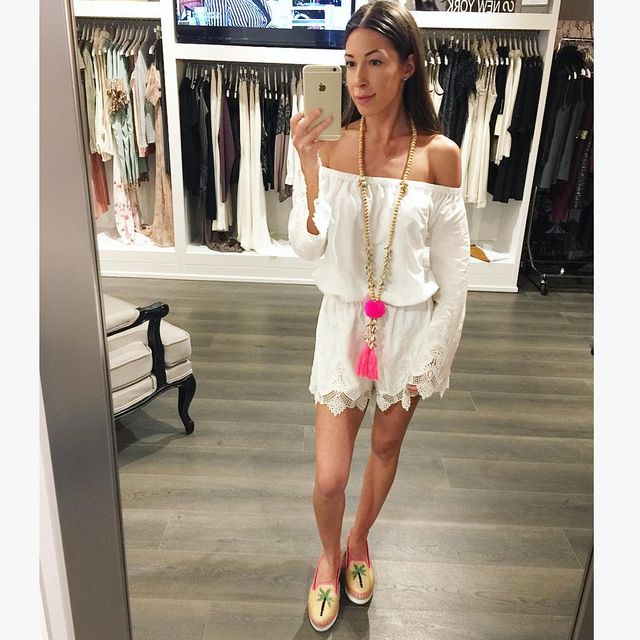 A high-street version of this much loved summer trend complemented with statement silver choker and matching mirror sunglasses.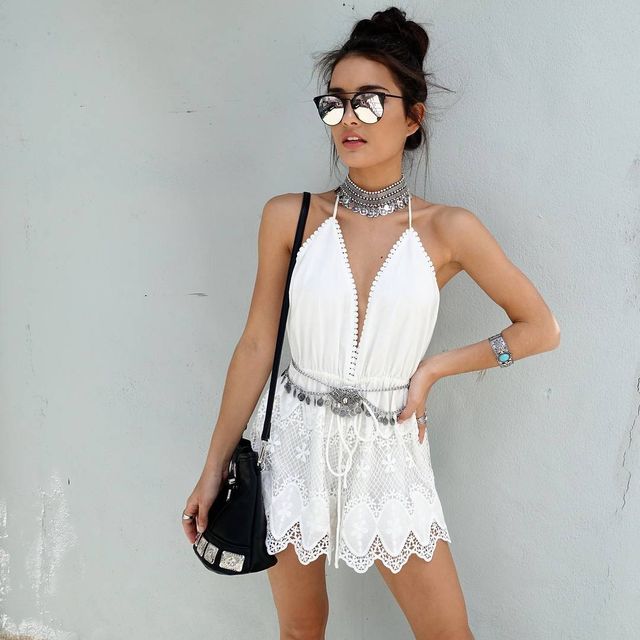 Sure you need an off-shoulder long-sleeve white romper if your summer holiday plans include lengthy walks in the city or funky festivals.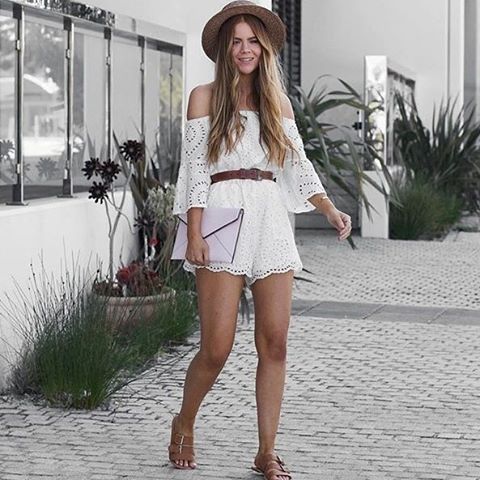 Besides being well-ventilated these white play suits are also the dreams of flirty and festival-addicted fashionistas. The bright blue tote adds a touch of versatility to the simple outfit.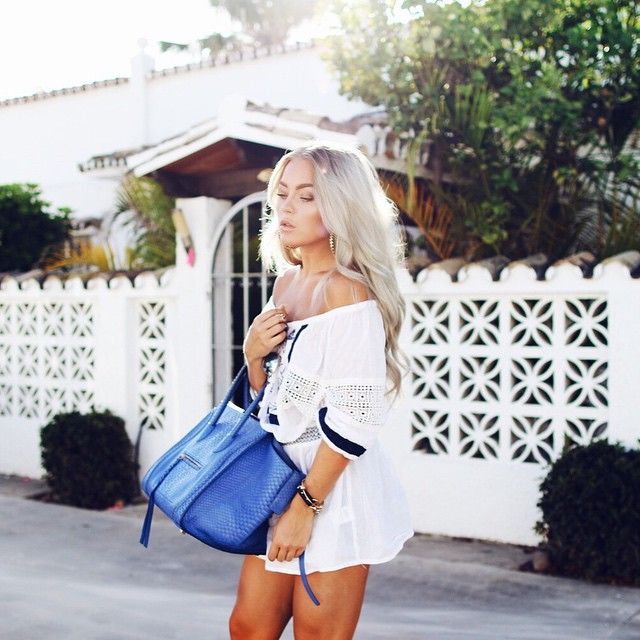 Embrace the lace romper trend if it's summer in your heart and you can't hide your fondness for girly and effortless outfit options.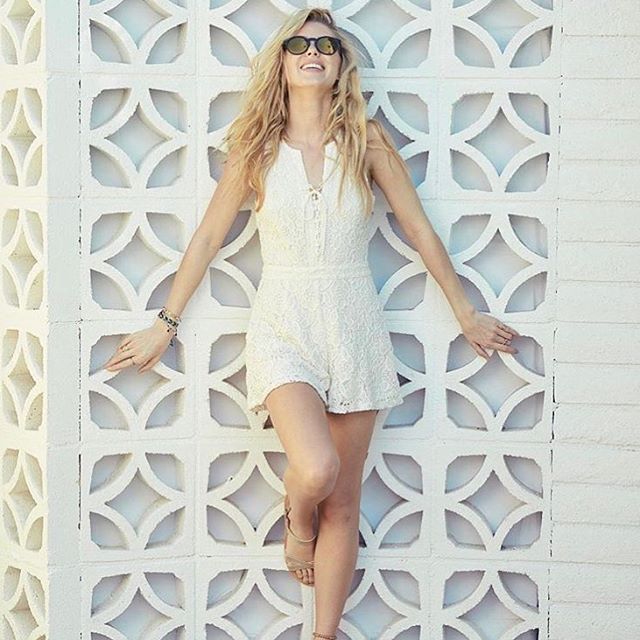 Black romper outfits
The desire to look stunning no matter the weather conditions pushes fashionistas to sport minimalist and all black romper designs. Sporty styles are an option if you prefer athletic type of clothes that guarantee your comfort.On the other hand, festivals are packed with ladies who think that lace is one of the statement fabrics you just can't escape from this season.
Cute rompers for women come in many shape and form, however, black continues to be a win-win outfit alternative for both festive moments and even for a nice walk on the beach. Keep things simple with matching black sandals or flats, also you can take advantage of the block-colored base and perk it up with funky colored jewelries, footwear or bags.
For when you don't want to keep things low-key, here's a  glamorous lace black romper. The deep decolletage screams for confidence and courage, keep that in mind before putting on a similar outfit.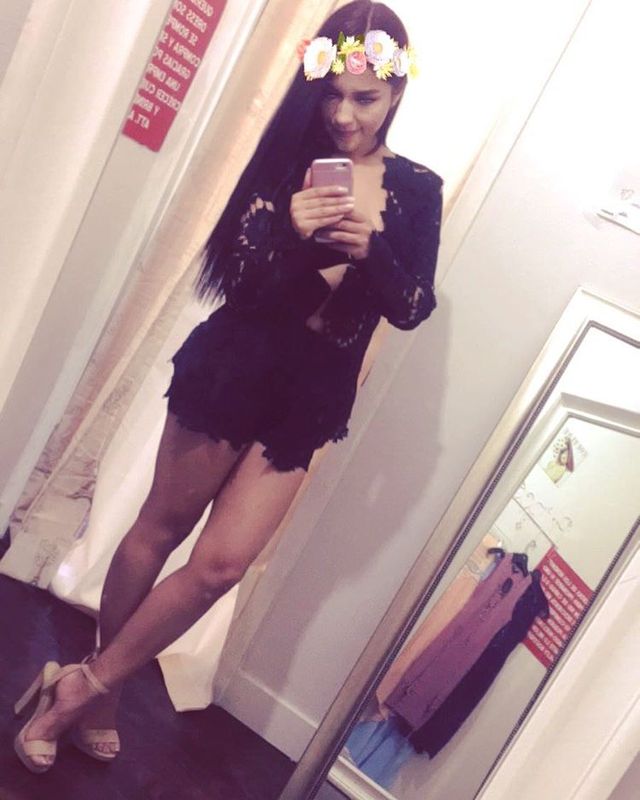 Searching for a summer festival outfit? Why don't you try this one? This festival chic or day-to-day set will persuade you to put your denim shorts and dresses aside and enjoy the feminine vibe this romper emanates.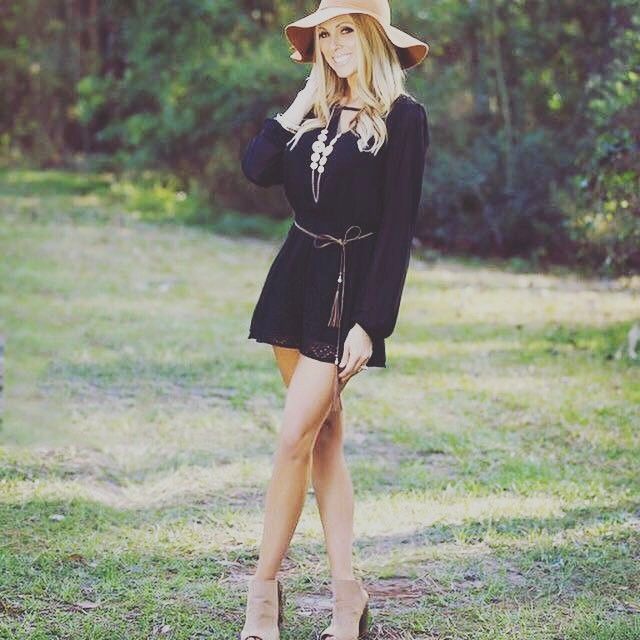 Stand out with the nonchalance of your casual outfit and wear a black romper with flats or block-heels, anything that makes you feel good!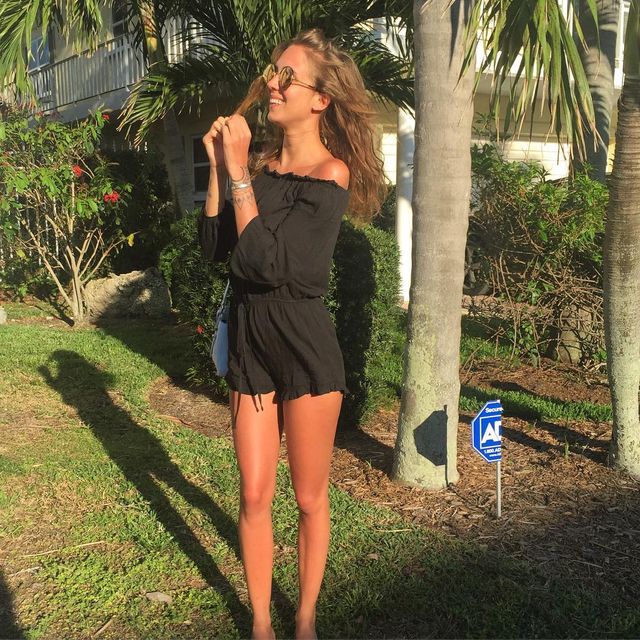 Big ups to girls who are not afraid to flash their glowy skin tone or perfectly toned legs. Love the simplicity of these black rompers.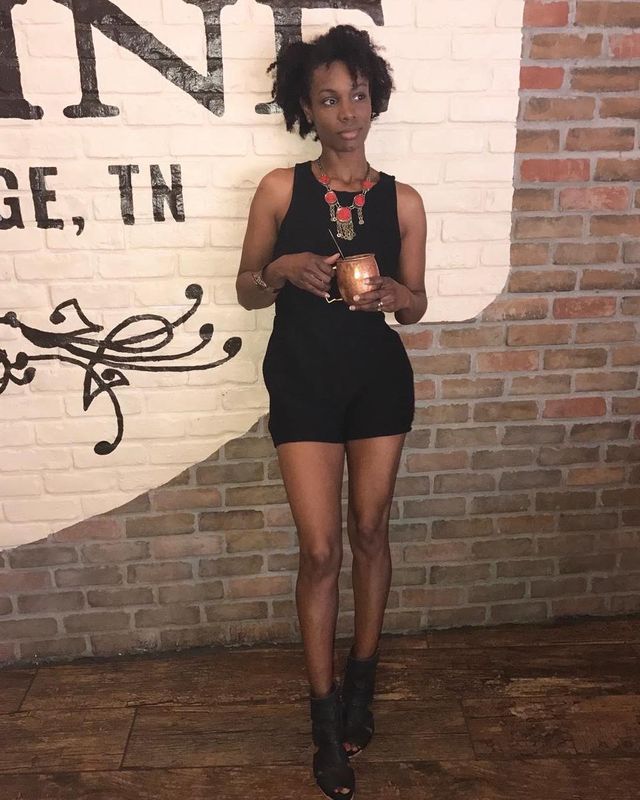 Don't try to tell me that you're not bored of outfits with blue jeans or shorts. Here's a creative alternative that can amp up your party chic or urban elegant outfits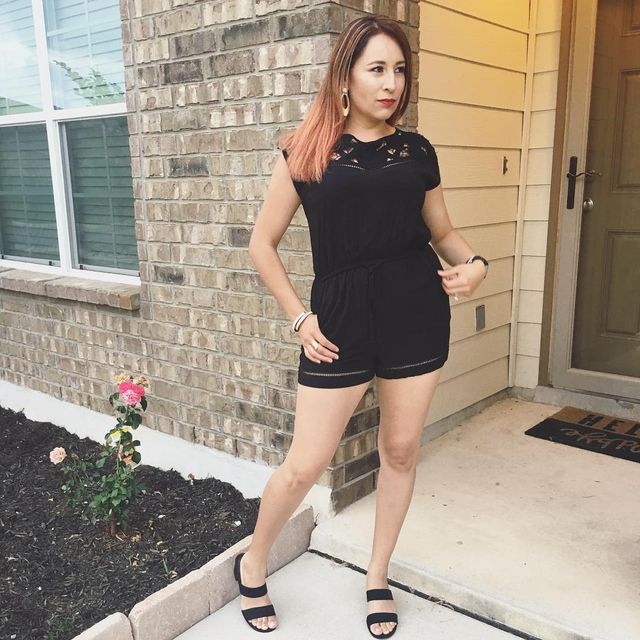 What to wear on a first date for drinks? Dresses and rompers with bell sleeves always have a Bohemian air to them. A straw shoulder bag, flatform sandals in brown suede perfectly complement this casual summer look.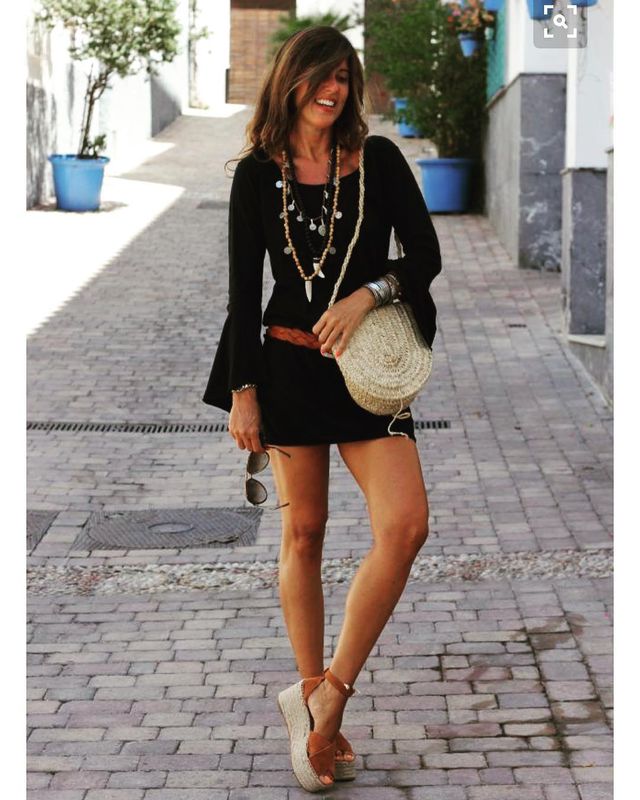 So many trends so little time! If you need to play down your options make sure you don't skip the glamorous sheer black romper trend with sparkly details. Perfect to land in the spotlight! You could copy this club outfit with shorts when wondering what to wear when clubbing.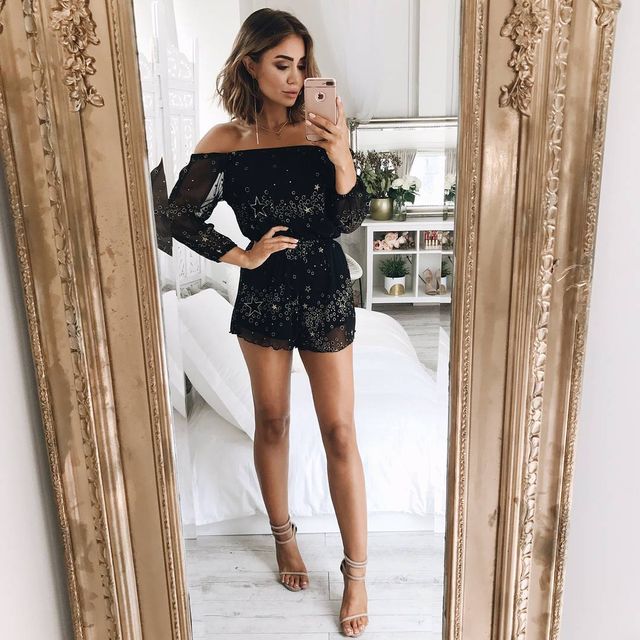 How to wear rompers
Are you a voracious and adventurous shopper? I suggest you to join the style party that promotes the coolest short romper and jumpsuit trends. When temperatures are rising to the maximum you'll need a few wardrobe elements that save you from excessive sweating. Team up your favorite block-colored design with matching flats or sneakers. This way you'll be able to put together a laid-back and daytime set.
Those of you who love to show off their feminine and elegant side, should think of high-heel sandals or a pair of nice stilettos. Mono color rompers radiate elegance and simplicity, whereas stripes, floral print and Boho patterns allow you to embrace diversity. Take a closer look at the street style versions of A-list romper shorts! Learn how to wear rompers.
Take an eclectic turn on your favorite off-duty style and sport colorful striped rompers with matching slide sandals and a message envelope clutch.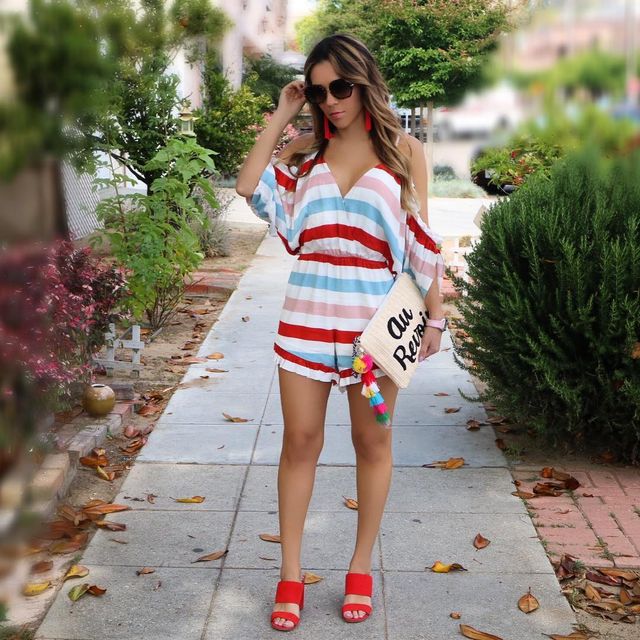 The floral print adds a dose of finesse to this short-sleeved romper you can rock regardless of your silhouette. The difference is made by the footwear you choose!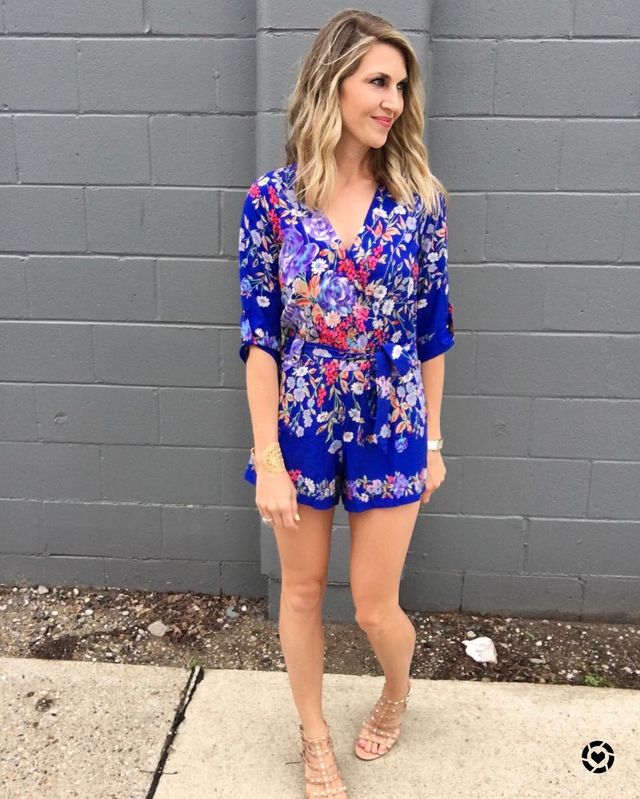 Seasonal trends come and go, but not this one. Oh no! Floral print V-neckline rompers will continue to allure and impress us in the future years.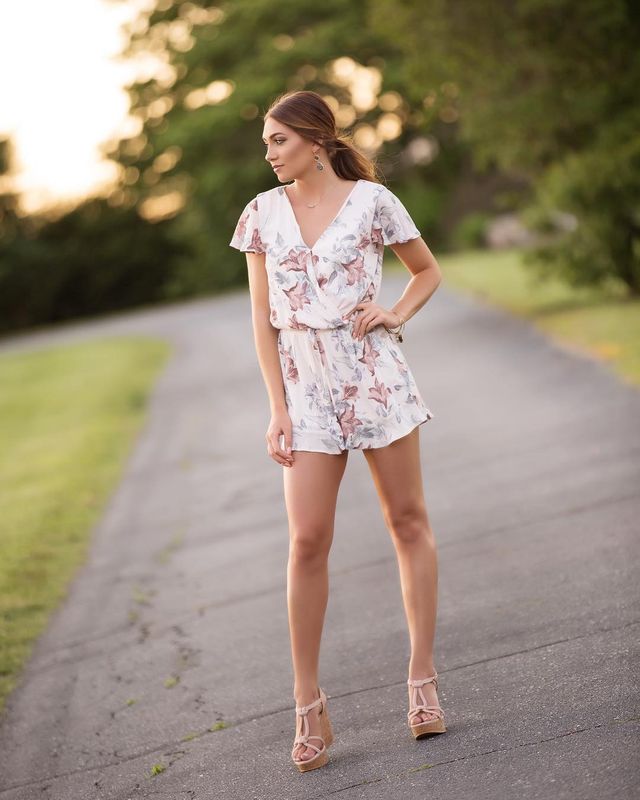 All-purpose light fabric rompers help you survive the heat wave. Have them in pastel and neutral tones to diversify your hot weather style.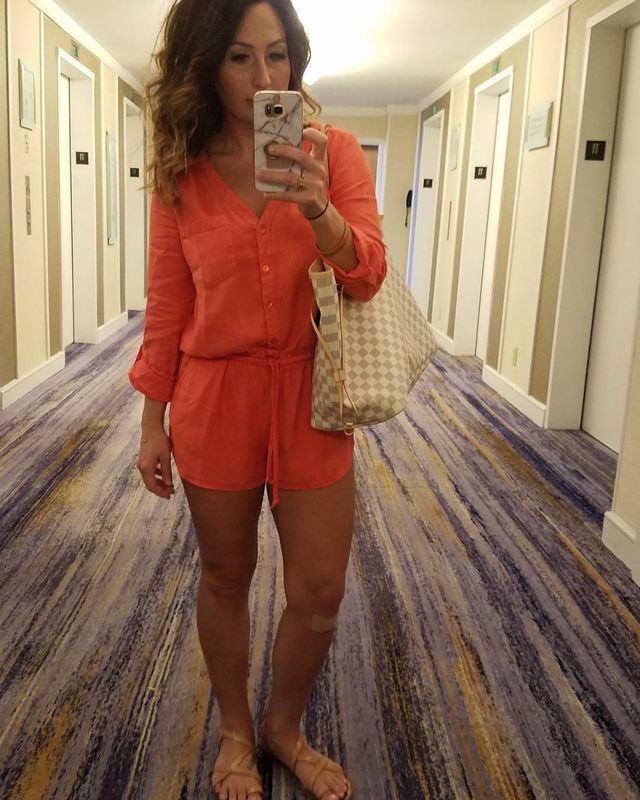 You're not the only one who is struggling in the sweaty months. Copy this easy-to-nail-down green romper set and complement it with an oversized straw bag, chic sandals and modish mirror sunnies.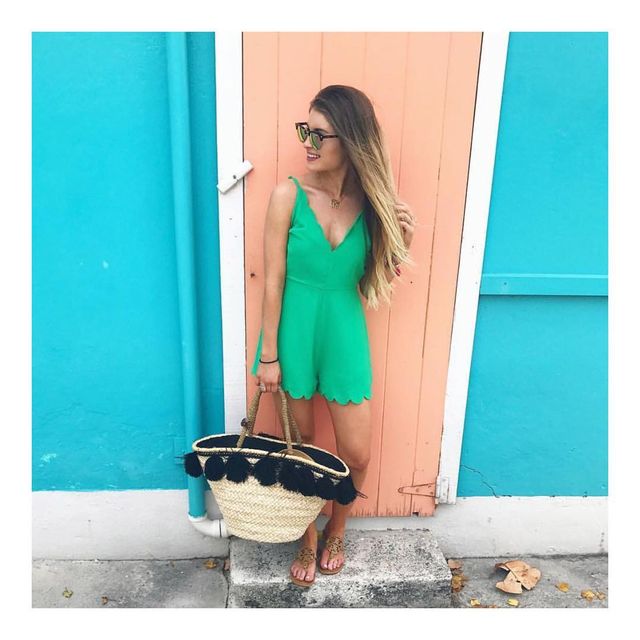 Floral loose-fitting rompers suit even the curviest fashionistas. Go ahead and discover the positive impact of a similar ensemble on your assets.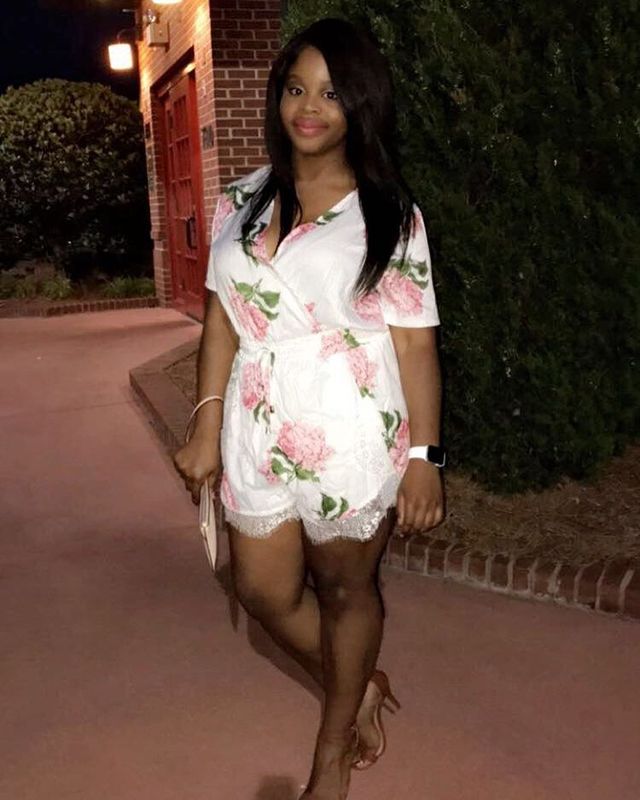 Nautical dark blue rompers prove to be quintessential holiday style options. Feel free to top your sets with flats for leisure and high-heel sandals for elegance. I just love this example about how to wear rompers.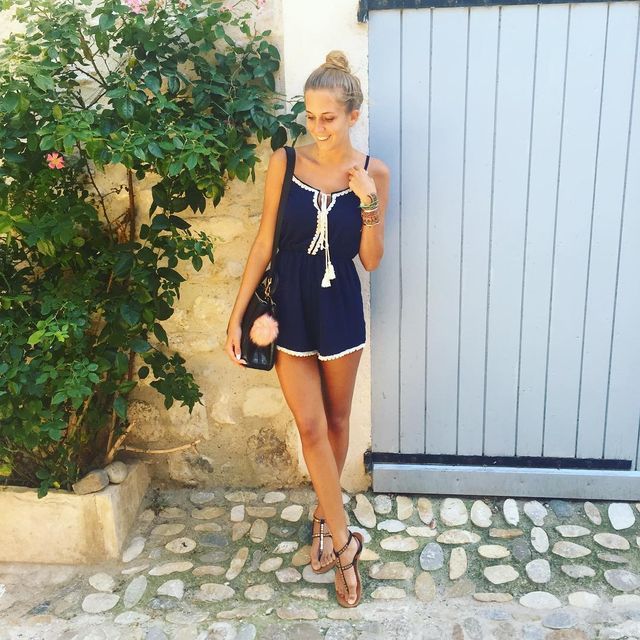 If you're tired of sundresses and shorts, hang on to the romper trend and discover the multitude of prints you can juggle with. Include this image on your summer outfits for teenage girl list.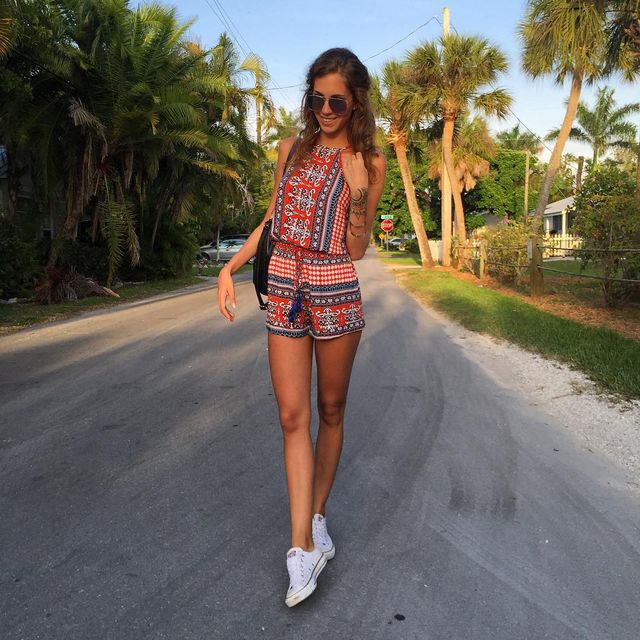 One simple trick to add more personality and diversity to your wardrobe is to invest in both short and long sleeve romper pants. If you wonder how to wear a long sleeve romper you have to know that long sleeves don't mean that you have to cover your upper-body completely. In fact, if you take a closer peek at the outfit ideas I've selected for you, this detail looks perfect when paired with a deeper neckline and bare shoulders.
How about trying the off-shoulder romper or jumpsuits that suit the hot weather? Designers with fine stripes sculpted from thicker fabrics are extremely practical and allow you to create the impression of a perfectly-proportionate silhouette. In addition, you have the rompers manufactured from super-thin and stretchy fabrics that won't leave room for mystery and offer you the chance to show off your feminine curves and well-toned legs. Sleeves can also be fitting or loose. Choose according to your preferences and make sure you have the confidence to make the best of a similar outfit.
You've managed to convince yourself that you absolutely love your body it is how it is? A deep V-neckline romper proves to be a show-stopper in that sense.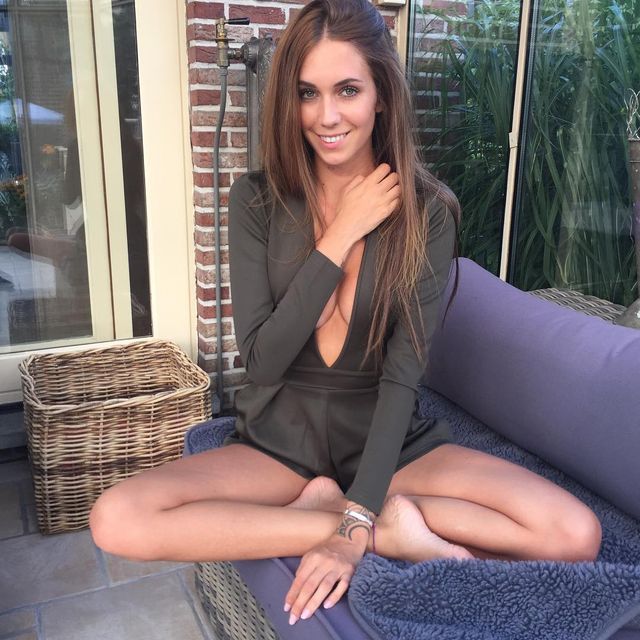 In need of a lady touch for your holiday or going out outfit? Check this red off-shoulder goodie that feels like a soft veil allowing you to move freely.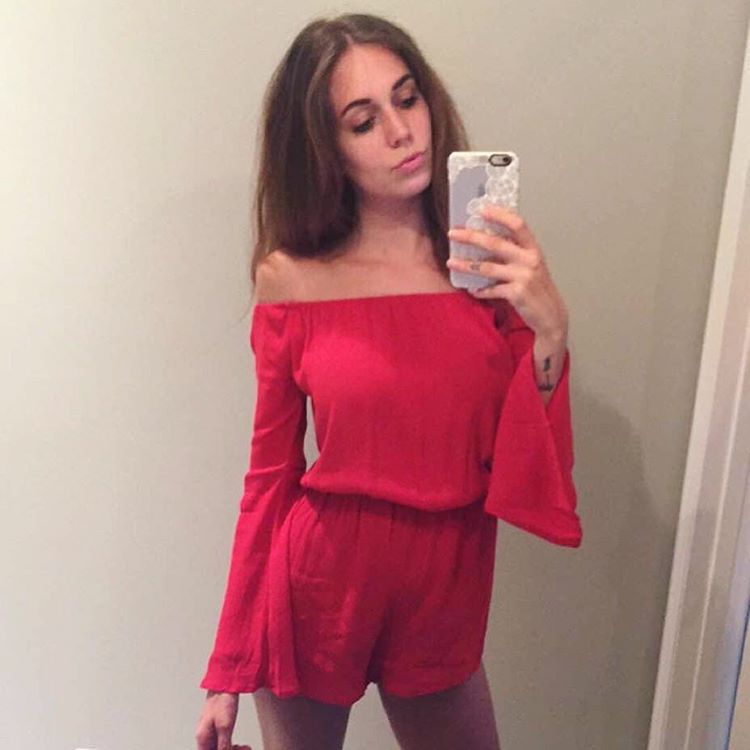 Stripes have stood the test of time. Therefore, I suggest you to put your paws on a similar nautical style romper with tie waist as soon as possible. 🙂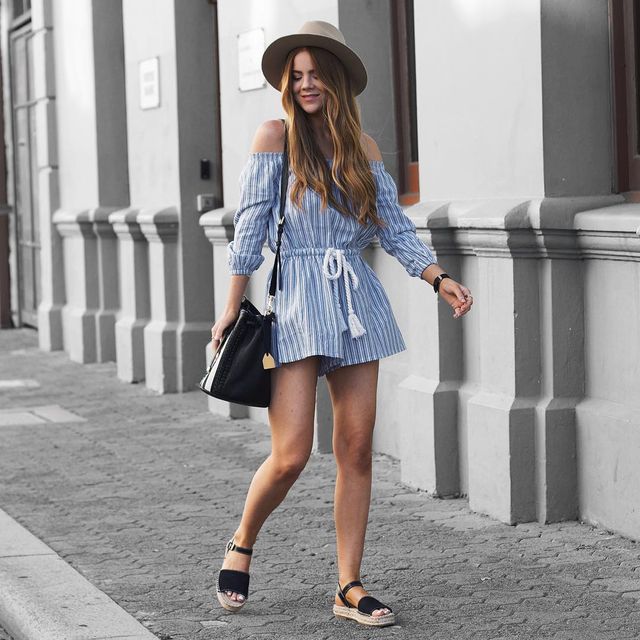 Bodysuit outfits along with short rompers gleam up with floral elements have always been under our radar. While in the beginning they were making a huge sensation, nowadays they are considered as basics for the spring-summer season. Mass-market and also designer shops are totally prepared for the changing needs in romper designs.
Fashionistas love to wear both long and short-sleeved designs with deep V-necklines or dropped shoulders. Stylists give you a single piece of advice when selecting the item that best suits your silhouette. If you are a curvy fashionista make sure you sport rompers with tiny or smaller floral prints. On the other hand, if you have an hourglass or athletic figure you can go both for the small floral patterns and also the large and 3D ones. When it comes to accessories make sure you opt for block-colored sandals or stilettos.
Give your admirers and co-fashionistas something to talk about and wear this exotic floral print romper with lace-up sandals and your beautiful tan.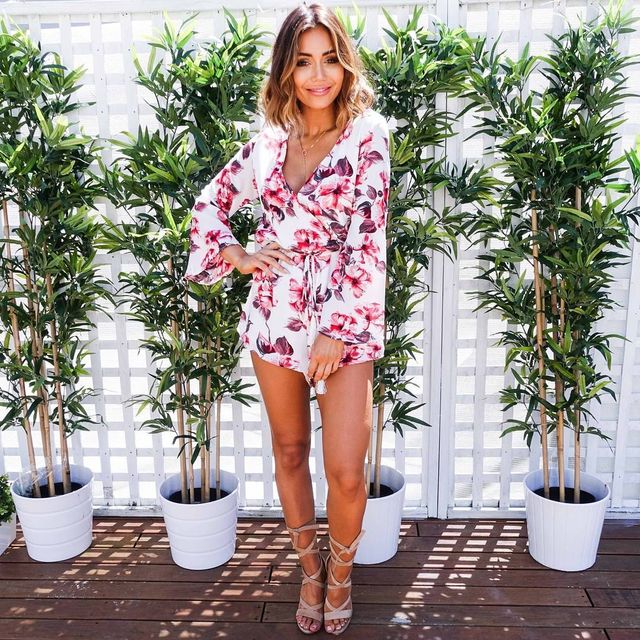 Floral print play suits set the mood for summer and look equally stylish with comfy flats and some of the loveliest strappy sandals of the season.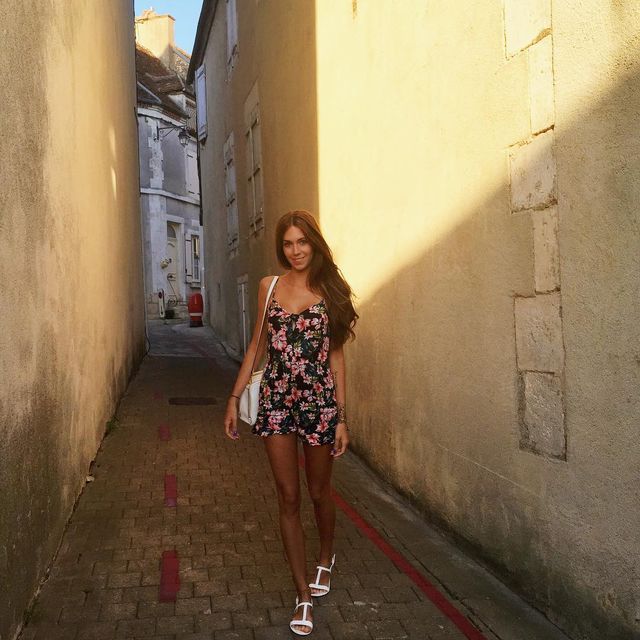 Refuse to look sloppy and hunt for unique romper designs with artsy prints like this one.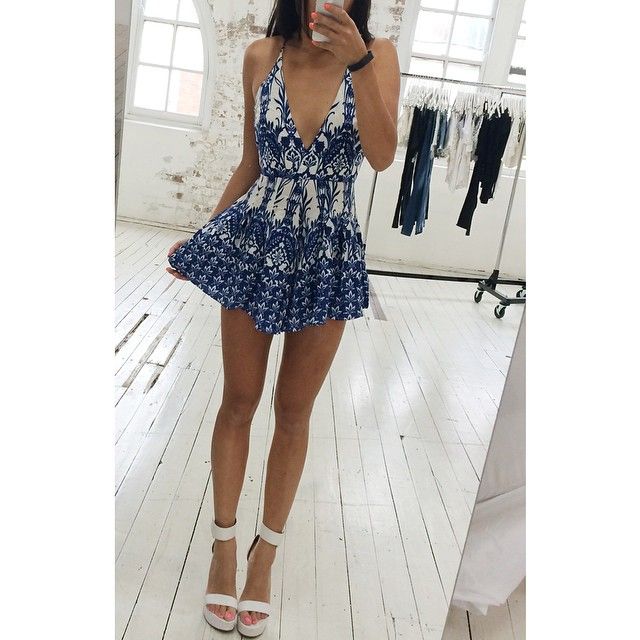 I can't get over the 'je ne sais quoi' aura of this fashionista wearing an off-shoulder floral print romper with simple black slide sandals.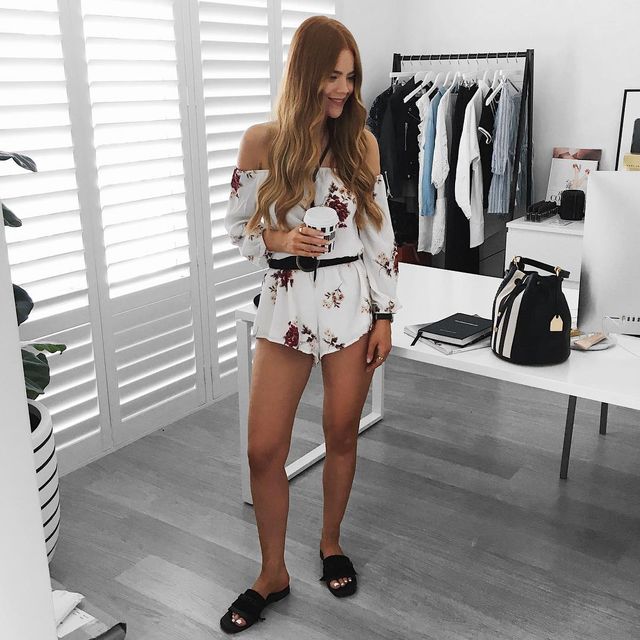 The delicacy of lace makes these rompers high-street wardrobe elements. If you can afford a few of these style goodies make sure you have at least one favorite design at hand both for the holiday season and also for more special events. No doubt, white lace is the all-time favorite multi-functional staple that looks stunning both with flats and high-heels.
Pastel tones dominated the runway together with a passionate red which allows you to step out from your routine. Off-shoulder or strapless rompers add a touch of sensuality to your appearance. Wear these if you want to make an impression with your bare shoulders and beautiful skin instead of a décolletage. A deep V-neckline is also an option especially if you have a smaller bust or an athletic androgynous figure.
Oh my! This is really the epitome of elegance. A red lace romper is all you need to pull off an 'all eyes on me' outfit.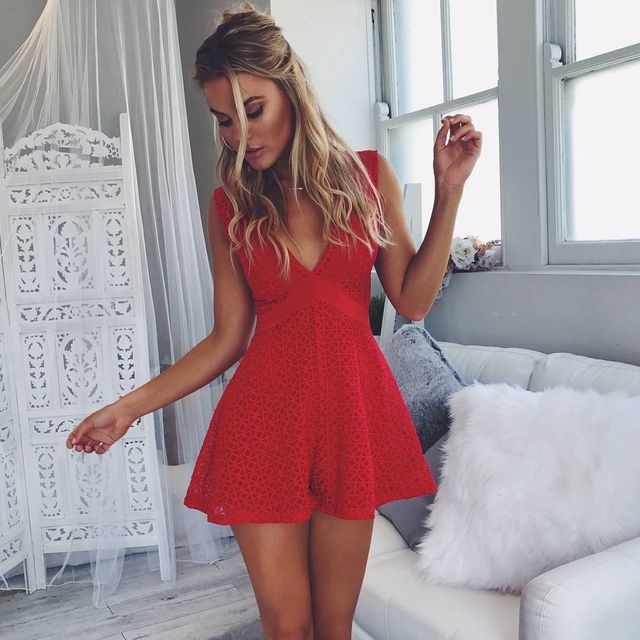 White equals freshness whereas lace utter romance. Throw on a chic romper to feel like a beach princess. Here is an idea about how to wear rompers during summer.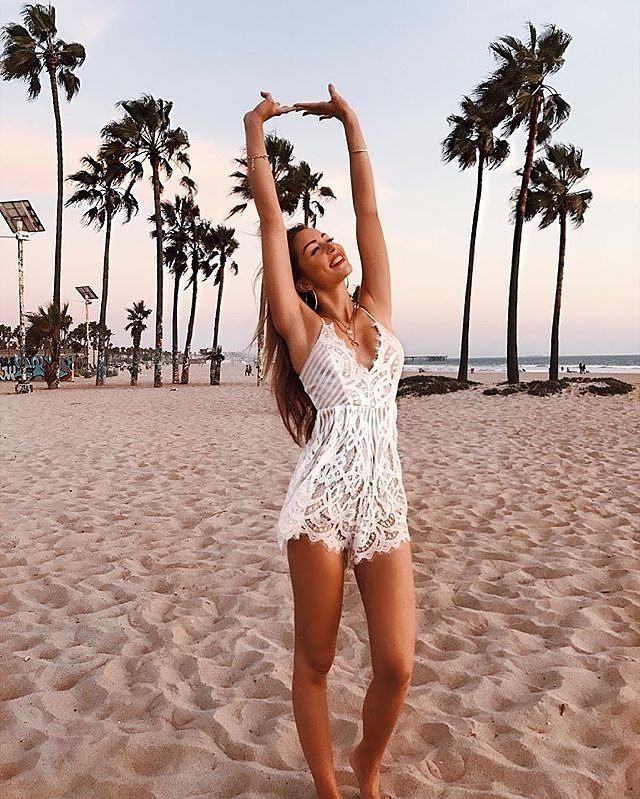 Daydreaming about this beautiful white romper with a sheer floral print layer? You don't even have to worry about accessories, just keep things simple!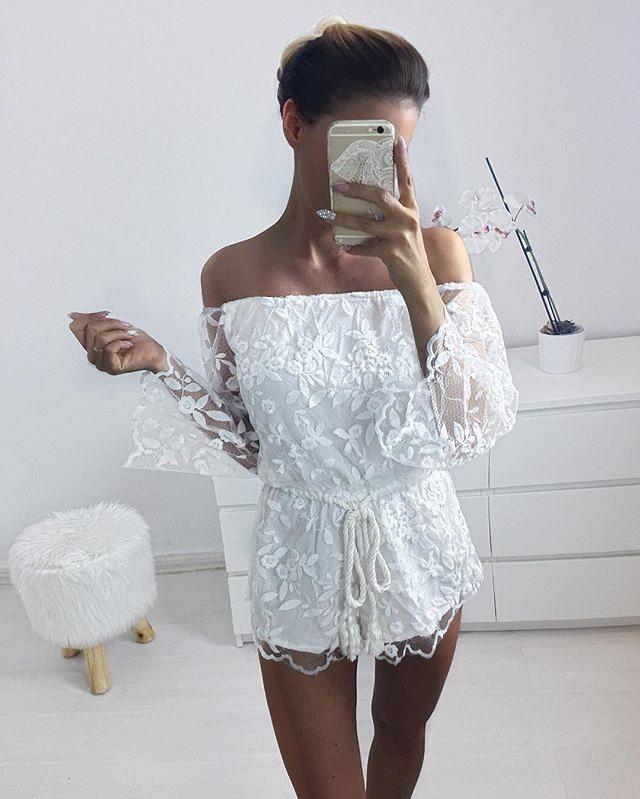 Soften the all-white sophistication with a nice brown skinny belt and relaxed flat slide sandals.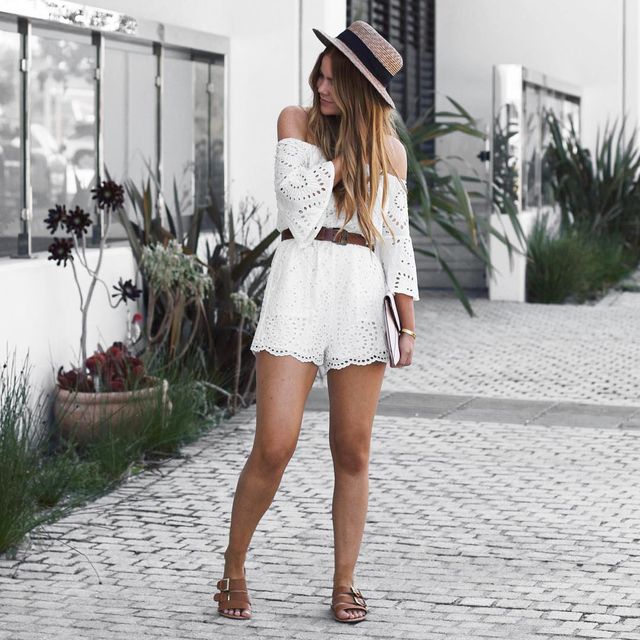 Wearing a short romper or a cool jumpsuit can dramatically simplify your warm weather dressing. The many shades of pink from light to vibrant are present in all capsule and runway collections. You just can't deny the girly and romantic feel these outfits emanate. I promise you, there are literally thousands of pink romper designs you can choose from, that will flatter your figure irrespective of its type.
The one-piece short-sleeved design look gorgeous with sandals with multiple straps, ballerina flats and even espadrilles. The one-shoulder and strapless rompers, on the other hand, can solve your outfit dilemmas when it comes to holiday or vacation sets. In addition, the shimmery lace and satin designs when combined with a pair of matchy stilettos will speak for your refined taste in sophisticated and deluxe trends.
This bright pink ruffle romper outfit will give you numerous outfit goals for the hot season and not only.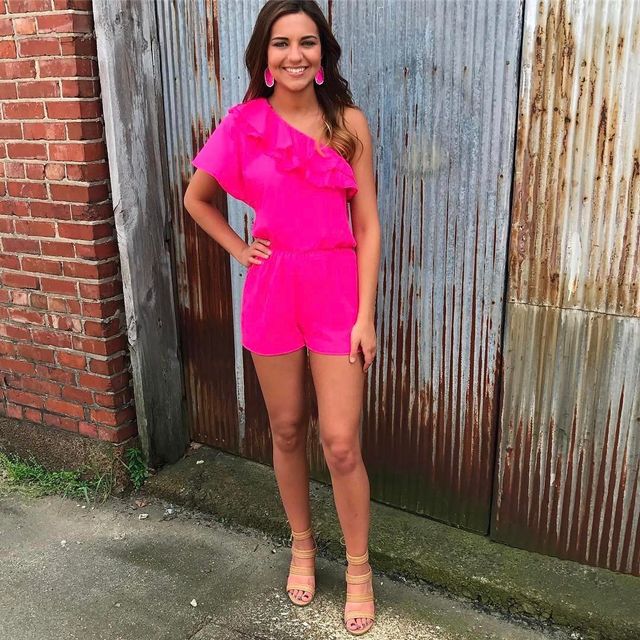 Soft lace playsuits are pure-fection especially if you perk things up a bit with knee- high strappy sandals like the ones below.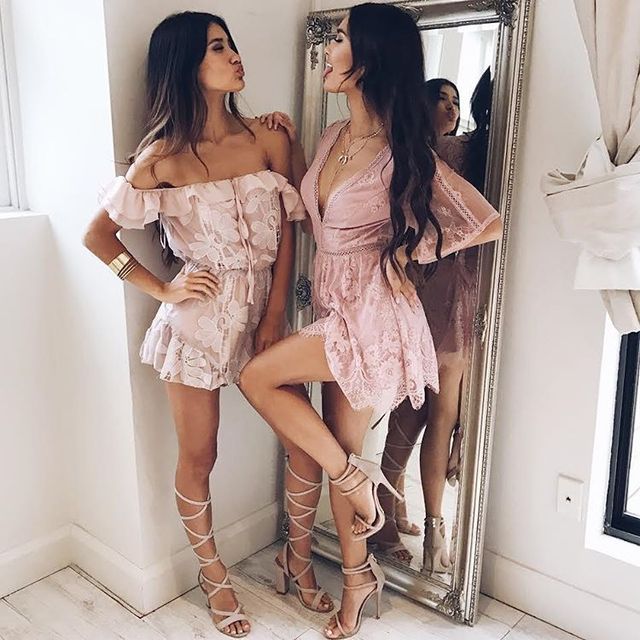 Semi-sheer lace rompers are a dapper take on the flirtiest runway trends and can definitely boost your confidence at any event. If you prefer something longer then rompers, you could try culottes pants and see here what top to wear with culottes. You should learn how to style culottes. This is a perfect summer going out outfit.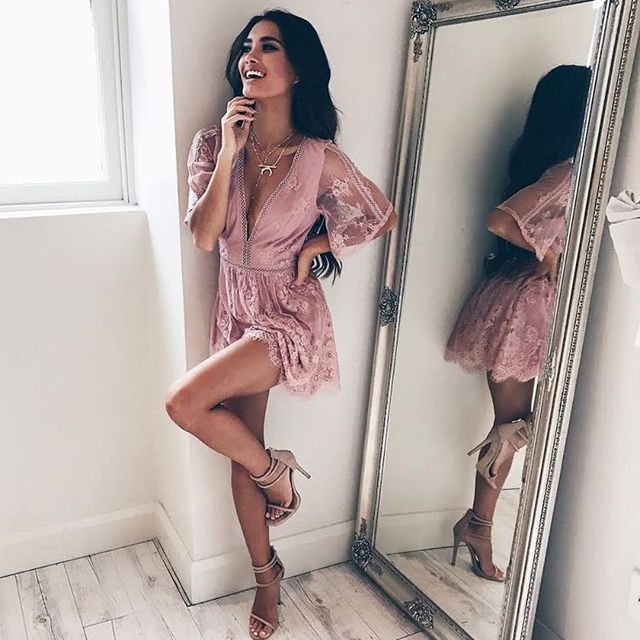 During summer you're encouraged to show just a little bit more of your legs and beautiful cleavage. Turn to this romper outfit in need of a set that accentuates your assets. Lear how to wear rompers this summer.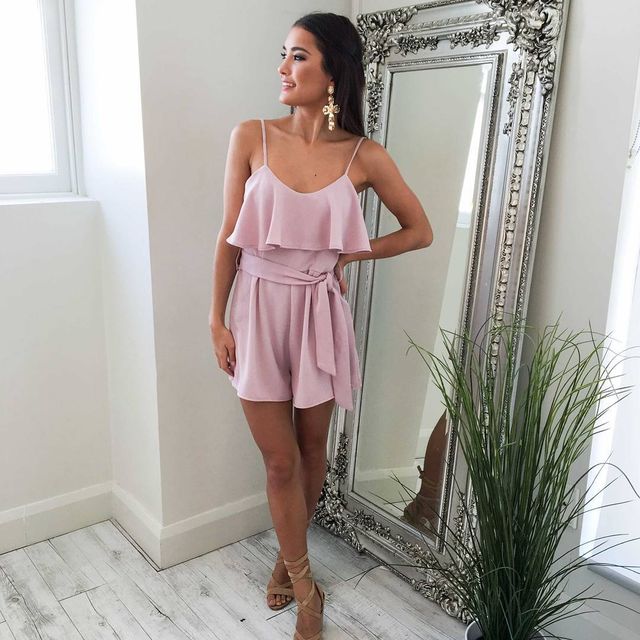 I'm certain you'll also need a few low-maintenance outfit options for the season. Here's this short-sleeve pink romper that looks modish and versatile either with sneakers, flats or dressy high-heel sandals. In case you were searching for shoes to wear with culottes or rompers casually, sneakers are the perfect solution.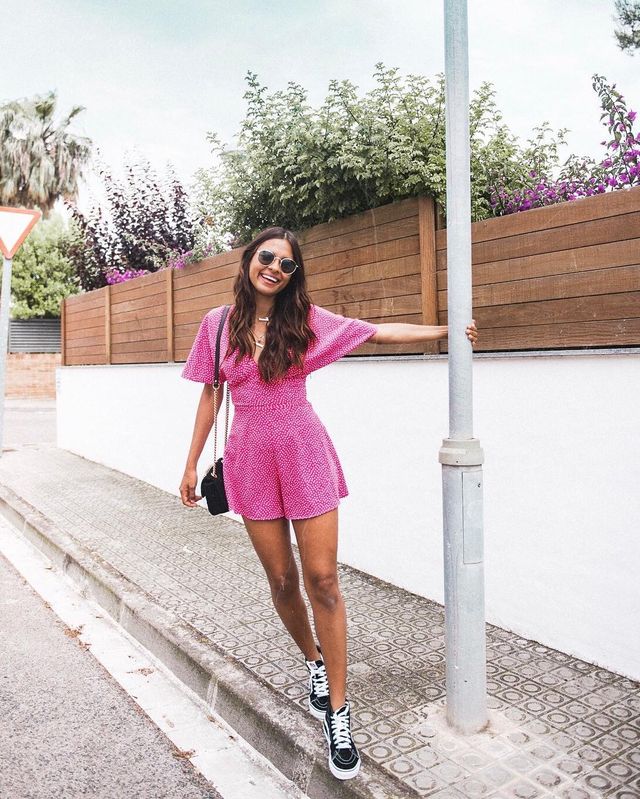 Denim romper outfit
I've chatted with our fashion expert friends about whether denim is an underestimated and avoided fabric when it comes to summer. Yeah, I've seen trendsetters wearing cute cropped and boyfriend jeans, shorts and even miniskirts, but how about denim short rompers. Thanks to the creativity of designers and ateliers these outfit elements become more and more appealing to the mass due to the combo of this texture with lace, dropped shoulder and lovely details like polka dots, stripes or bows.
We love how these summerish items look when associated with slip-on, cut-out boots and strappy sandals. I advise you go for loose and nonchalant versions of this trend instead of a too 'hot' and body-conscious look.
What's not to love in this loose and comfy denim romper that solves your outfit dilemmas.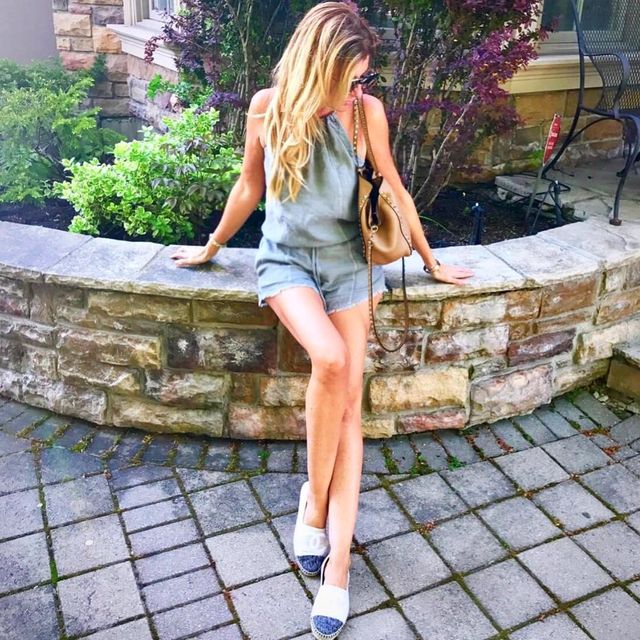 The obvious choice for the tropical days is a similar off-shoulder denim playsuit in a shade that suits all skin tones.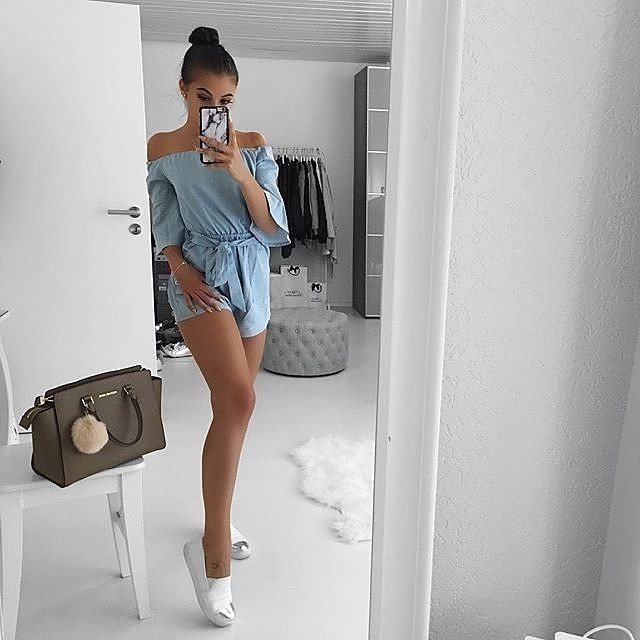 What could you want more for a casual outing than a set that includes this laid-back romper, a pair of too-cool cutout boots and a hat with a Boho feel? Try this jeans shorts outfit with boots, even if it's hot outside.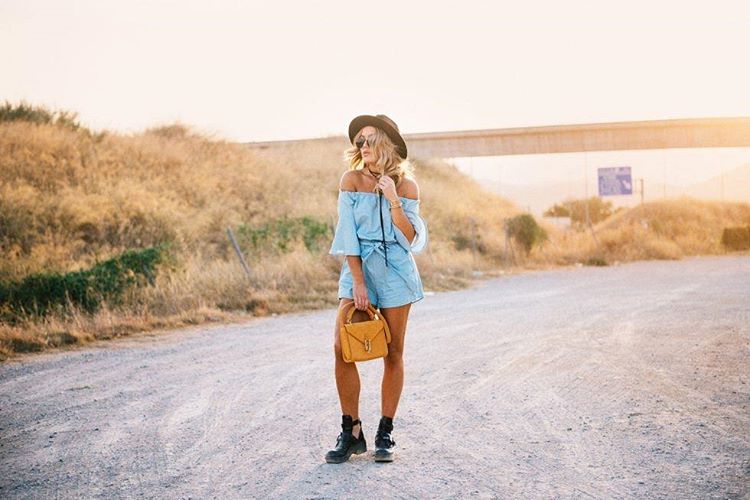 Super-short denim rompers are the perfect manifesto if you are a huge fan of utilitarian style, add ankle boots for a really nice finish. Take a closer look at this example about how to wear rompers in summer. See also, for more inspiration, my trend report about what to wear with denim shorts in summer.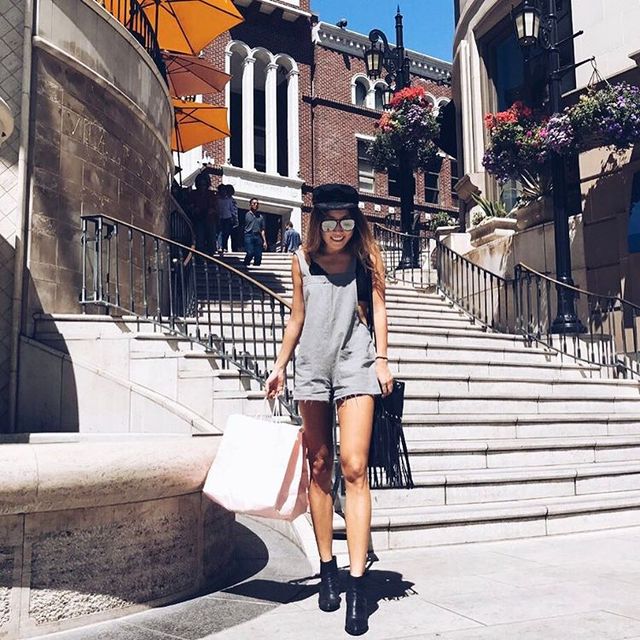 Romper with boots
If you wonder how to wear rompers in winter, try a romper matched with knee- and even thigh-high boots, even if that match is a daring act. However, experts just can't dismiss the beauty and stylish allure of some of these looks especially if the trendsetter finds the perfect balance between extravagance and elegance. For a Boho chic outfit pair your floral printed or denim rompers with suede black, grey or brown boots.
Also, if you want to make a statement with your party chic outfit, go for a lace or more refined romper design and a pair of thigh-high black,brown or nude boots. In order to guarantee the success of these ensembles make sure you have the right height. Last but not least, we have seen gorgeous ankle boots teamed up with both casual and more glamorous jumpsuits and rompers. Indeed, this combo can be more easily nailed down both by slim and curvy ladies.
Opt for flexible outfit elements like this sassy romper to diversify your summer gear. Add knee-high boots and a wide-brim hat to make things more interesting.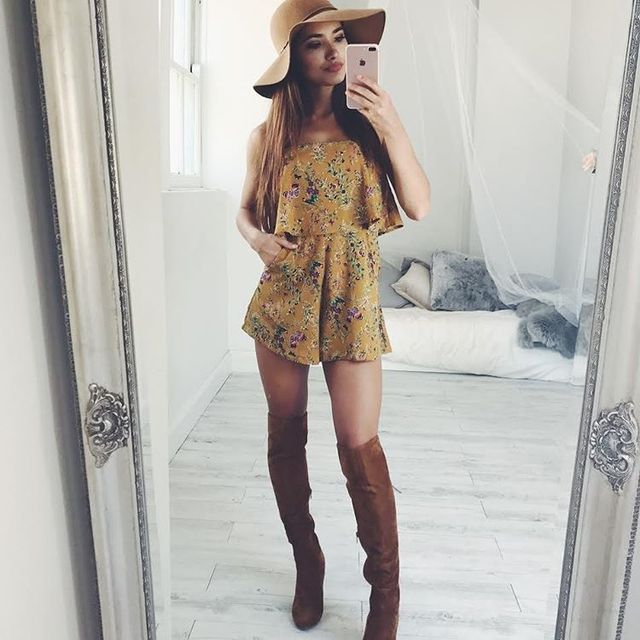 Here's a perfectly doable version of the romper with boots trend, the soft pastel shade is extremely feminine and voguish.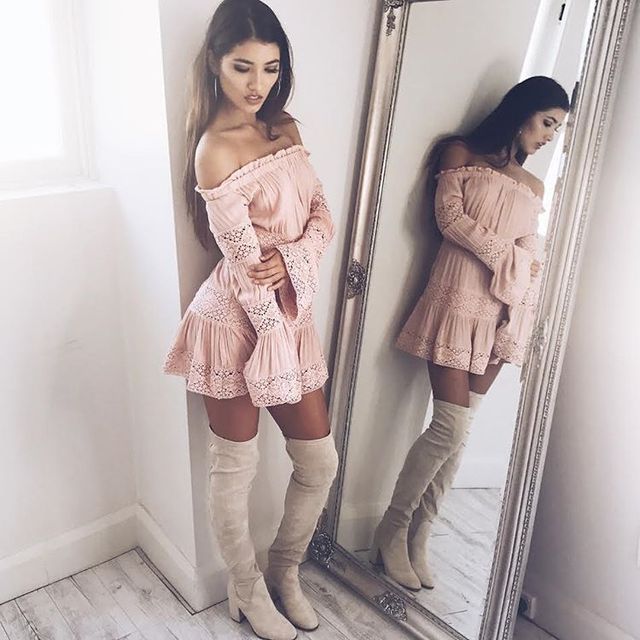 Thigh-high boots should be enough to get you through the transitional period. Moreover, these footwear designs allow you to wear your favorite floral print rompers well into the start of autumn.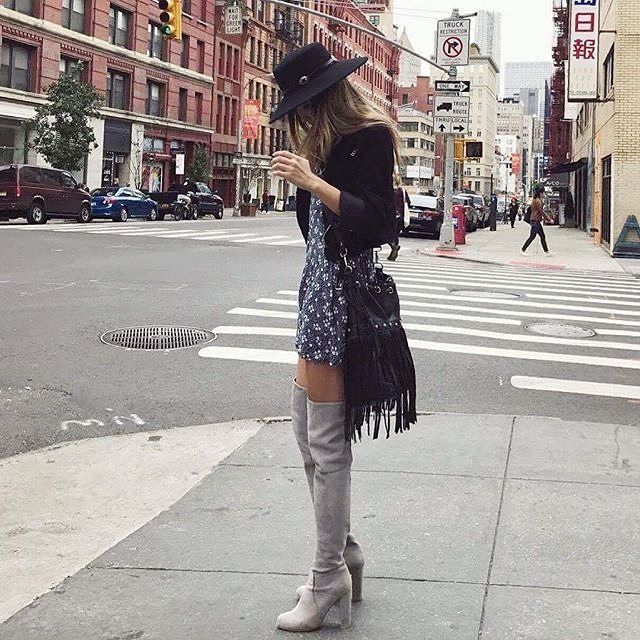 There are just a few striped looks I didn't like in the past. The fact is that you just can't go wrong with a similar off-shoulder lace-up jumper topped with suede booties for a Boho twist.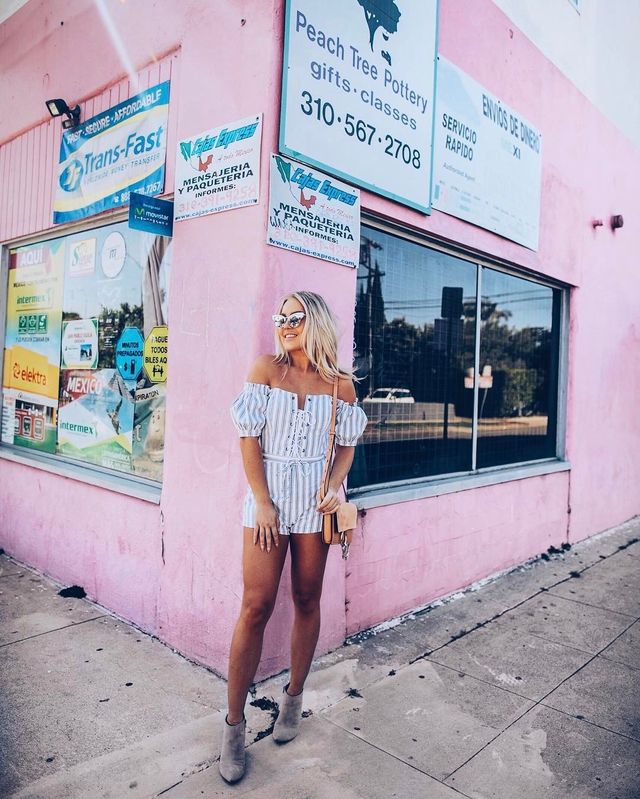 If you're not into tights as much as you're into high boots, rely on the 'wow' effect of this ultra-refined pairing with a glittery glam nude romper.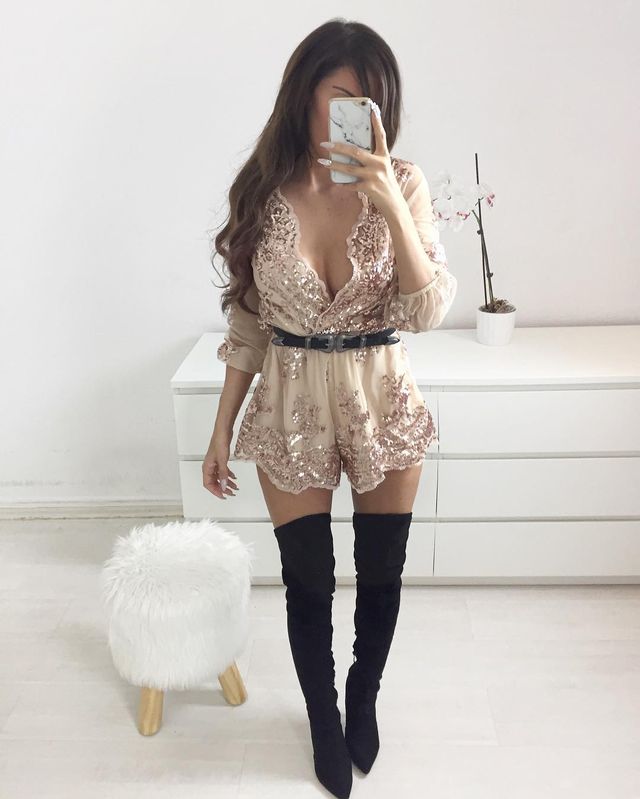 Don't give up on looking stylish in spite of the boiling temperature. Sport this white short-sleeved playsuit with a chic corsette-type belt and fab fitting ankle boots.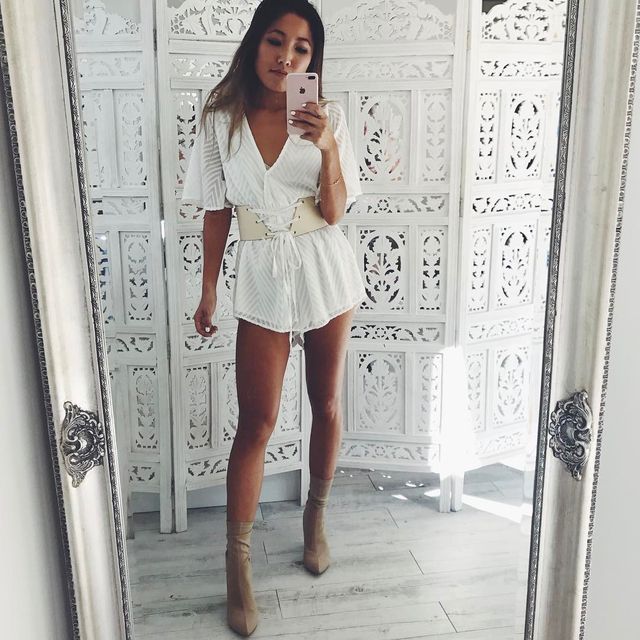 What to wear on a date in winter? Well, ankle boots and faux leather jackets are apparently unorthodox choices for the dog days of summer. However, they look sooo stylish with floral rompers that thankfully help you cope with the heat.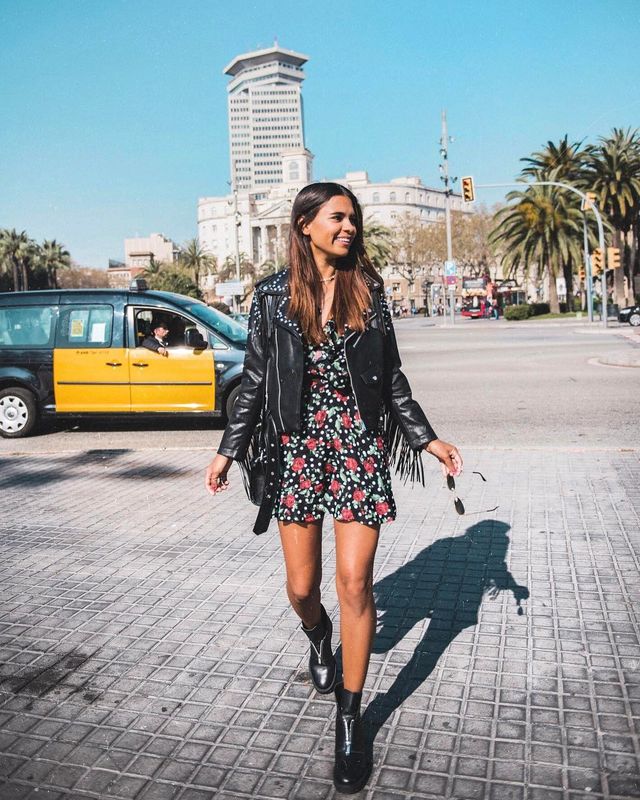 Hope you share the same passion for rompers as I do. If you do, hope you'll find the outfit you've been looking for. Let's face it! Rompers are not exactly suitable for any age, but you can take a look at these casual summer outfits for 50 years old woman, if you are looking for inspiration for older women. Before shopping take a look at these pictures to find some inspiration for your outfits 🙂 . Help me complete my 100 style tips on how to wear rompers with extra suggestions and outfit ideas. Leave your comments below! 🙂