36 This Year's Best Winter Outfits For Women
By
|
Stay tuned and copy this year's best winter outfits for ladies. Whether you're preparing for a special event or for a day at work, YOU just HAVE TO LOOK FABULOUS!!! That's why I am proposing you some inspirational pictures for winter women outfits. These photos can help you to put together a fabulous winter street fashion wardrobe. Copy some of these women winter outfits ideas and be stylish.
Even if it's hard to be trendy when is cold outside, there are so many bloggers who can offer you ideas. All you have to do is to look for the best winter outfits that suit you well.
Winter outfits for ladies to copy this year
Winter is coming! While some cities are covered with snow others are spared of it. However, these A-list winter outfits for ladies, allow you to look impeccable. You can be trendy despite the weather conditions. Ponchos with hoodies, thick knit sweaters, midi dresses and tights, look spectacular when combined. Oversized scarves and boots will add a personal touch to your winter outfits. Stay in the safe zone with minimalist winter wardrobe essentials. Or stand above the crowd with your unique and non-traditional combos.
mrnewton.net; stylishlyme.com
www.popsugar.com
letsrestycle.com; mrnewton.net
lookbook.nu
Start the store-hopping to find similar long skirts in order to create winter or summer long skirt outfits. The latest trends in fashion, grant you the privilege of sporting endless designs for pencil skirts, flared or straight midi skirts. Instead of sticking to a few winter wardrobe essentials, make sure you expand your wardrobe with a few other pieces. I simple adore the combo of jackets and skirts. Real win-win options for this year. Spying the blogs of street wear, I got to the conclusion that only your creativity can put limits to winter style matching! Use these images for inspiration in order to create cute business casual outfits.
www.whowhatwear.co.uk; www.closetfulofclothes.com
thecovetable.wordpress.com
godfatherstyle.com
Read also about:
Winter outfits for younger women
These winter fashion ideas are targeted for younger age groups. Teens will be more than willing to test drive some of the coolest fall winter trends. Knit dresses with tights, denim sets and leggings teamed up with oversized jumpers. Use them as some of the winter night out outfits or club winter outfits or outfits for outings with friends. Mass-market brands packed their shelves with these on trend staples. Stay true to your age and experiment with neutral or bright tones. Use accessories and mix-matchings that suit your personality. Copy some of these head-to-toe winter outfits for ladies. Make up your own simple winter outfit! 🙂 Or, why not, use these pictures for inspiration in order to create cute outfits for a date.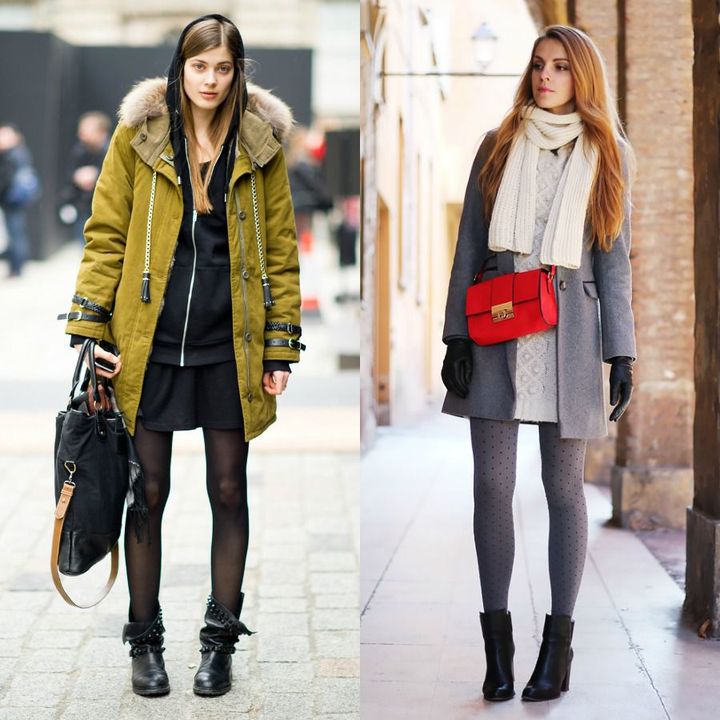 thefashiontag.com; enjoystyles.com
tenuestyle.com
tenuestyle.com; www.outfittrends.com
Winter outfits with pants
Switch things up a bit! Instead of hunting in stores, for winter fashion must haves you should scan through these winter looks. Bring pleated skirts, oversized sweaters and chic tights into the mix. Winter fashion trends are fluid and flexible. Put on different dress designs before making your wish list for winter season clothes. Whether the weather is bellow zero or sunny, you'll be able to use these examples. Create drafts for your style transformation. Experts encourage you to personalize both casual or formal sets with eye-catching accessories like a scarf, a backpack or a nice pair of booties. Here you will find also some inspiring ideas for cute outfits with skinny jeans, if interested.
thegirlfrompanama.com; www.popsugar.com
www.popsugar.com
Images:lookbook.nu
Pictures:lookbook.nu
Source:lookbook.nu
In the past season we've witnessed the enormous popularity of the faux leather leggings. This item became a must-have piece. Millions of women are sporting the coolest denim, cotton or leather leggings in a combination with classy or modern winter wear for women. The safest style option is definitely black. But, you must not give up to the idea of versatility, especially when you want to create cute casual date outfits. Do not avoid the brown, burgundy or printed designs. These all can be integrated into women's winter fashion. Knit sweaters, trench coats and cropped jackets are amazing when associated with this trend style .
www.harpersbazaar.com; fashion-agony.com
www.popsugar.com; glamradar.com
fashionoon.com; pinsandpalettes.com
Read also about:
Introduce some of these winter outfits into your wardrobe. Or you might take a look at these fall outfits for women and copy them when the weather is not too cold. Send me your outfit suggestions. I wold love to know your opinion about these winter outfits for ladies. If you have any idea I would love to read it! Until then, big kisses from me! Thank you for reading me !