43 Stylish Outfits For Work That You Should Copy
By
|
I don't know about you, but in the morning, I like watching women wearing fashionable work outfits :). They make me smile and in the same time they are a source of inspiration for me. Why? Because I am always looking for best working outfits for ladies and also because every morning I used to stay in front of my closet wondering "what am I going to wear today 🙂 ??? " !!!
I know, you may say I could choose my clothes during the evening… and you are right, and most of the time I was.  But even so, I was not satisfied with my office style… I wanted something else, something that could be called the most fashionable office wear for ladies. So, I thought I could find some inspiration for stylish outfits for work, watching the ladies on the streets.
But in the same time, I wanted to be sure that I'm following the fashion trends for stylish corporate wear. So, I started to look for women's workwear on the internet. And I was surprised to find so many pictures with proposal for summer business casual outfits for women. That's why, I decided to share with you some ideas about how to dress at work, in case you have the same problem… Hope you'll love these womens work outfits!

You should, take a look at these office outfits for women with work dresses. It seems easy to create one. In stand, the outfits with formal business tops or office outfits with pants, need more attention to details. That's what I think. Women's business suits are very suitable for a stylish work outfit. So, you should check out these business attire for women. Scroll through my corporate trend report to find the ensembles that best suit your personality and lifestyle. I know I found some work outfits that I love 🙂 !
Work outfits for ladies
Yeah, black, gray, dark blue and white are the safest chromatic options. However, you should also consider a few tailoring designs that can perk up your fall everyday looks. Work wear is no longer about boring lines and uncomfortable textures. Take a closer look at the plaid midi frock which looks amazing when teamed up with a pair of pumps or pointy-toe sandals. The coolest blazers and cardigans can be also associated with fit and flare or pleated dresses in pastel or neutral tones. According to the weather conditions, opt for short or long-sleeve items. Draw some inspiration from these style divas!

source: thefashiontag.com; www.peopleandstyles.com
source: www.memorandum.com; glamradar.com
source: www.memorandum.com; www.closetfulofclothes.com
Power dressing is not the only solution to strengthen you reputation as an A-list entrepreneur. You can sport laid-back and casual work clothes and still preserve a serious and mature aura. Moreover, the unique mix and matching will reflect your true personality and allow you to get creative. Flared and cropped pants, a beautiful colored sweater as well as long vests are only some of our favorite pieces you can easily incorporate into your outfits for work. Also, consider accessories that add a formal-ish or more elegant air to your whole set. A pair of oxfords, casual pointy-toe shoes, a fab shoulder bag or clutch and jewelry. Keep in mind these options before rethinking some of the basic office wear for women.
source: thefashiontag.com; www.bedazelive.com
source: www.ellecanada.com; fashiongum.com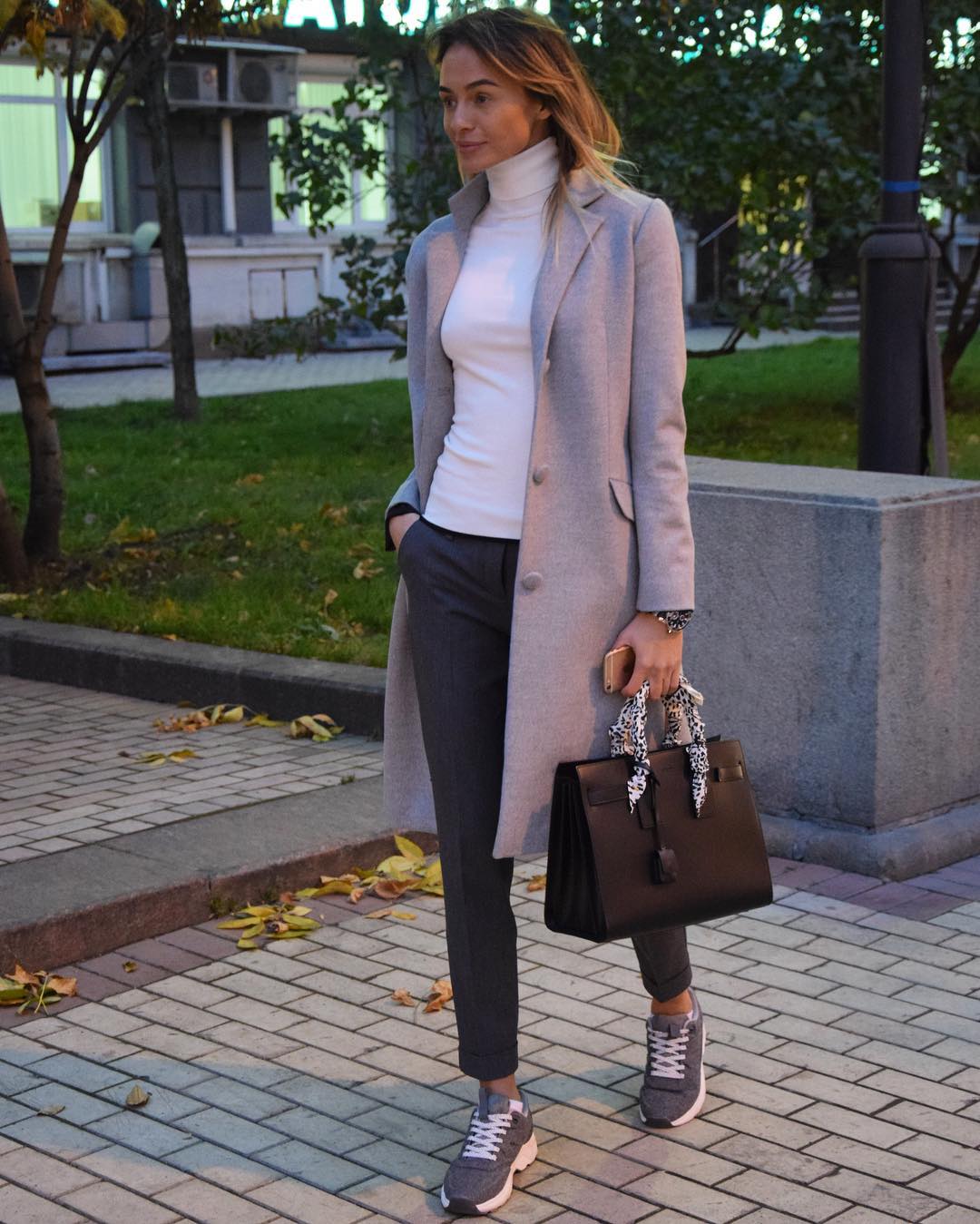 source: paris2london.tumblr.com; eslamoda.com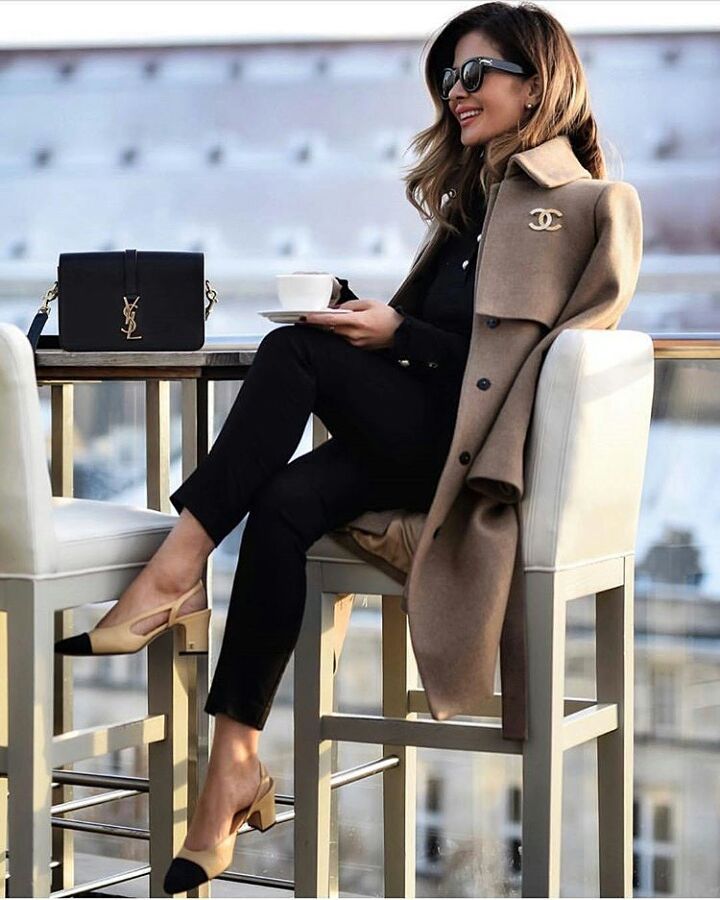 Wearing monotonous and too-traditional women's work wear may not be too liberating. Don't forget you are the one who chooses the office chic trends you can nail down. In the past, pants and skirt suits were almost compulsory. Nowadays stylists and even employers permit a drop of craziness when it comes to color selection and even prints. Therefore, we decided to feature both accessible examples of business casual outfits and a few unique red, burgundy and plaid clothing pieces which look amazing. It's time to think outside the box and feel confident while wearing unpredictable sets. Juggling with various textures and shades needs more knowledge. However, you can always copy some of the outfits lined up in our street wear articles.
source: www.ellecanada.com; www.galknows.com
source: www.ellecanada.com; www.memorandum.com;
source: glamradar.com
You may want to read also our trend reports about:
Black equals elegance and refinement! That's true, however, in some cases this chromatic option can become really boring. The secret to stay creative is to invest in all kinds of work clothes for women in black. If you don't change the color scheme at least play with various tailoring and items. The black pantsuit associated with a white or bright colored top, the black pencil skirt outfit or the gorgeous LBD with a touch of femininity and also a stylish blazer can become the central elements of your work wear. Similar outfit options are perfect for days when you want to keep things super-simple and have no inspo to go eclectic or when you want to try a all black going out outfit. But, you know, you can transform a black outfit from office, with different accessories and high heels, into interesting club outfits for winter , casual date outfits or a winter night out outfit.
source: www.adenorah.com; www.vanityfair.com
source: www.vanityfair.com; fashiongum.com
source: businesschic.com.au; www.livingly.com
You may want to read also our trend reports about:
Warm-weather fashion trends allow you to sport a rainbow of tops and sweaters. One of our recommendation is blouses from soft fabrics that offer you a fresh and breezy feel. These tops look gorgeous in a combo with high-waist pants and midi skirts. In addition, we encourage you to embrace the office skirt fashion associated with simple neutral colored or printed shirts. Knit tops, on the other hand, are ideal for the transition period. There's only one thing to keep in mind. Avoid deep cleavages or transparent fabrics that might put you in a delicate position in the eyes of your superiors.
source: www.styleoholic.com; fashiongum.com
source: www.nolitahearts.com; www.bedazelive.com
source: lolobu.com; wheretoget.it
Office skirt wear is so versatile you can't resist it. From all the classy leather pencil skirt outfits to rad midi designs with stripes, plaid, floral and geometric prints. Our favorite fashion influencers put together some 'hip' outfits pairing these basic items with turtleneck, simple black and short-sleeve blouses. The concept of contemporary corporate fashion is still evolving. Numerous experts try to add new waves and tendencies to meet the need of fashionistas for wearable and unique sets. Try to adopt these sets to cute first date outfits when you are invited to dinner.
source: www.galknows.com; theladyolive.com
source: www.memorandum.com; galeria.obviousmag.org
source
source: www.harpersbazaar.com; www.closetfulofclothes.com
source
Along with formal business suits, pants also play an essential role in the wardrobe of a trend-conscious businesswoman. Indeed, we find the separate matching of different color blazers and skinny or flared trousers a more independent and voguish option. Layering is a tried-and-tested alternative that permits you to adapt your office sets to various occasions or weather conditions. Both flared and cropped pants look superb when accessorized with a pair of chic stilettos or strappy and closed-toe sandals.
source: www.memorandum.com;
source: fustany.com; www.memorandum.com
source: www.memorandum.com
You may want to read also our trend reports about:
There's so much more to fashionable work outfits and office dresses. But is almost impossible to present all… It depends on each one's imagination. But you could help me complete this report with new ideas for work outfits! Use the comment section below. 🙂