How to Dress if You Are a Plus Size Woman
By
|
It doesn't matter what size you are when we talk about fashion. The important thing is to find the best dress style. How can you do that? It's simple! Try to read through our seasonal trend report on plus size outfits for women. It will help you discover what or not to wear when you are a plus size woman. These size fashion tips are meant to obtain slimming looks for plus size women. Casual and formal sets will definitely save you from monotony and outdated looks. Here are some of our fashion proposal for plus size clothing. Hope you'll find the best dress style for plus size.
Best dress style for plus size apple shape
If you are in search for a night out set, this best dress style for plus size apple shape is a solution for your dilemmas. Women with this type of silhouette can struggle with the accumulation of extra pounds in the abdominal area. In order to make them feel attractive, without having to lose weight, designers came up with a few flattering dress designs. Embrace the empire waist or the A-line or wrap tailoring as well as the fit and flare frock trends. These all attract the attention to the cleavage area. It will add a dose of refinement to your day- or evening wear. See the examples offered by our team of stylists! 🙂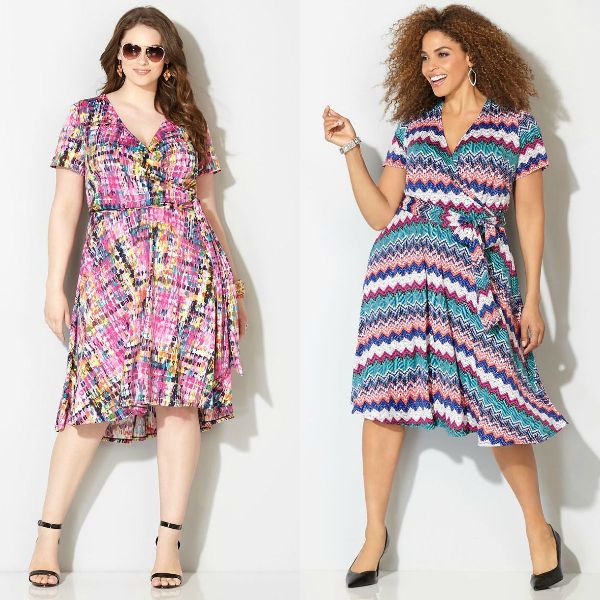 www.avenue.com
Best dress style for plus size pear shape
Also we wanted to cover the topic of best dress style for plus size pear shape silhouettes. Fashionistas who possess this body type can struggle with the accumulation of extra pounds in the hips or legs area. Therefore, our recommendations include dress designs that shift the attention to the cleavage or waist area. Our suggestions include the empire waist, A-line, wrap, shift and even strapless designs. Scroll down for inspiring examples provided by retail stores.
www.kiyonna.com ; www.fashiontofigure.com
Best jeans for plus size or plus size jeans
Plus size fashion tips give you a lesson on how to invest in items that bring out the most of your curvy silhouette. Some of the jeans styles we encourage you to sport with are the boot cut, crop jeans, slim boyfriend jeans and even the flared ones. One of our plus size tips tricks include the fact that baggy clothes do more harm than good for your look. Moreover, you should definitely consider getting rid of low-rise trousers. Buy a few pairs of high-rise ones. They will keep extra pounds in the abdominal area under control. Sport these types of trousers to work, school or a walk in the city.
www.asos.com ; shop.nordstrom.com ; www.fashiontofigure.com
Plus size outfits with tops
Find your romantic side with these plus size blouses. Select the ones produced from light and flowy fabrics for summer and thicker ones for the cold seasons. Wrap designs are perfect to shift the emphasis on the narrowest area of your silhouette. In addition we advise you to try on a few peplum designs in various shades. Add an extravagant vibe to your look with tops with cut-out sections, transparent fabric insertions. Play around with length and chromatic options to build up a unique and flirty outfit.
www.avenue.com ; www.kiyonna.com ; www.fashiontofigure.com
Plus size shorts
For the hot months you must definitely collect a few inspiring outfit ideas with plus size shorts. Plus size clothing tips provided by specialists, advise you to buy a few pair of denim shorts for a no-fuss casual outfit. In addition, you can also wear more elegant printed high-waist shorts for work or a semi-formal event. These on trend style pieces help you achieve a diverse and modern clothing style. There's no need to hide behind long pants or baggy shorts. 🙂
Plus size skirts
Read through our short lesson of best style for plus size outfits when it comes to skirts. It's time to step out of your comfort zone. Try all the plus size skirts designs below and find a unique and signature clothing style for you.
Sport these plus size long skirts all summer long. Preserve the neat and urban air of your outfits with these chic combos. Our strong advice is to pair your favorite tank tops or t-shirts with high-waist skirts. You will attract the attention to your narrow waist. These items in one single color or in their printed version can be real game changers when you want to make an impression on your admirers. Accessorize your outfits with wedge or thick-soled sandals to create the illusion of a tall and slender silhouette.
www.kiyonna.com ; www.fashiontofigure.com ;
Plus size skater skirts imitate the design of fit and flare dresses. These dresses are extremely flattering for curvy silhouettes. The flared bottom helps you mask extra pounds and critical areas. Girly styles include the ones with floral or polka dot print. Whereas the ones sculpted from faux leather or refined fabrics are perfect for a night out. Similarly to the case of maxi skirts we recommend you to choose the high-rise designs with elastic or a zipper hem.
www.rainbowshops.com ; www.torrid.com ; www.asos.com ; www.fashiontofigure.com
Plus size short skirts
Plus size trendy skirts help you build up a delicate or summerish and youthful look. This is the perfect season to try on a few mini skirts of lace, suede and other lovely and light fabrics. Let yourself be inspired by these examples next time you are on a hunt for statement pieces. Pencil skirt minis are for the ones that are proud of their feminine curves. On the other hand, we have flared, skater or asymmetrical designs for the ones who are a bit insecure.
www.torrid.com ; www.wetseal.com; www.asos.com
Plus size maxi skirts
When the temperatures are high skip the pants in favor of trendy plus size clothing like maxi skirts. These outfit elements are super-practical and allow you to look stylish without exposing too much skin. If you're not confident enough to wear minis or midis or you just want to jump on the Boho chic train, make sure you have a few printed or mono-color maxis in your closet.
www.missguided.co.uk ; www.ashleystewart.com ; skirterz.com
Plus size dresses
These plus size dresses should definitely be on your shopping list: both for the cold and warm season. Experimentation is essential in order to find your personal clothing style. Curvy women often have problem finding the best tailoring and chromatic options that flatter their silhouette. Scanning through the pages of online stores, we found numerous examples of fit and flare or baby doll style frocks that would look gorgeous when combined with feminine curves. Think about it! These plus size women clothing items can be a major investment and help you put together numerous casual or office chic ensembles. Here are some of plus size outfits proposals.
Leggings for plus size women
Buying and accessorising leggings seems a pretty tough job. However, brands who were not afraid of stepping on plus size territory managed to provide us with a plethora of designs and products to choose from. Make sure you turn to these images when in need some inspiration for plus size outfit. Classy monocolored plus size leggings can be easily associated with neutral colored long shirts, tunics and romantic blouses with or without different visual motives. On the other hand, the market is also packed with printed plus size pants and plus size casual clothing which look more stylish paired with plain, minimalist tops. Check out the looks we've selected! 🙂
www.eloquii.com; www.simplybe.com; www.asos.com
Plus size coats
It's hard to not fall for these fabulous plus size trendy clothing. Long and medium length coats from cashmere, wool and other resistant and elegant fabrics are the items everyone's buying. Double breasted button fastening, waist belts and cutesy hoods offer a feminine and modern touch to these basic girls plus size clothing essentials. Consider a similar purchase a long-term investment. We are certain, you'll find at least 2-3 timeless coat styles you can wear throughout the upcoming years.
www.eloquii.com; www.ashleystewart.com; www.asos.com
Plus size jumpsuits
Keep yourself trend-oriented and discover the delicacy emanated by these plus size jumpsuits and rompers. Celebrities proud of their womanly figures have sported these style creations during the past years. Thankfully, we have the chance to purchase the loveliest velvet, chiffon and wool, strapless and V-neck overalls online. Our favorite brands help you pull off a confident and contemporary look. Go for classy black if you want to opt for a throw-and-go outfit. On the other hand, printed plus size formal wear jumpsuits require more attention when accessorizing. Keep things simple when selecting the appropriate jewelry and footwear. Strappy heels are always a win-win option! 🙂
www.eloquii.com; www.asos.com; www.fashiontofigure.com
Jackets
Don't get too accustomed to baggy clothes in all black. The new staples are these fashion-forward plus size jackets worn also during the coldest days. The puffer and shearling designs are definitely in the top of most searched-for items on plus size clothing websites. While some fashionistas are eager to rock thick and puffy outerwear, others stick to tailoring that accentuates their waist and feminine silhouette. Make sure you have in your wardrobe a monocolored more elegant plus size style jacket and also a printed one for the days you want to perk up your looks a little bit.
www.fashiontofigure.com; www.asos.com; www.eloquii.com
Plus size rompers
We decided to lay out some facts! 🙂 Nowadays, purchasing large size women clothing is not a shame and is not a burden either. Thanks to the tens of plus size websites women from all over the world can purchase all kinds of wardrobe essentials and accessories. It was so much fun lining up these gorgeous trends all curvy fashionistas should adopt. The examples of plus size rompers included in this section had a huge and unforgettable impression on us. We firmly believe that with the right attitude everyone can nail down a similarly refined and flattering look. V-necklines, waist belts and firm textures help you create the impression of an hourglass and perfectly proportionate silhouette. Jump on the velvet trend for this season!
www.eloquii.com; www.ashleystewart.com; www.asos.com
Sweaters
Fast-fashion plus size clothing sites know that purchasing basic items is not a lifetime commitment and devoted trend-followers like to choose from a wide array of designs. Plus size sweaters for this year includes both cropped, asymmetric and oversized models. Work these staples into your office and casual chic outfits! Knit plus size jumpers made their spectacular debut on the runway. No doubt these essentials look extra-stylish in mustard, olive and other hip shades of the season. In addition to these plus size tops make sure you also complete your wardrobe with sweater designs topped with faux leather insertions, chic prints and metallic details.
www.eloquii.com; www.ashleystewart.com; www.fashiontofigure.com; www.asos.com
Plus size club dresses
These trendy plus size fashion pieces should already be in your wardrobe. If not, it's time to rethink your party-perfect clothing style! Take a closer look at these fancy sequin, glittery glam and body-conscious frocks. Plus size clothing for young women is daring and more versatile. For the cold months opt for the styles topped with long fitting or flowy sleeves. Whether you're looking for special occasion designs like club outfits or statement pieces, online stores come to your help you to create beautiful plus size club outfits.
www.fashiontofigure.com; www.ashleystewart.com; www.eloquii.com
Plus size outfits with pants
Comfy and chic plus size palazzo pants and plus size costumes are among the seasonal essentials according to style magazines. Get everything you need for an impeccable work or formal outfit from the coolest plus size style virtual stores. Straight, moderately flair and skinny pants with high-waist in various shades allow you to flaunt your curves. We are extremely intrigued by the printed and faux leather design that appeared both in street wear and on the red carpet. During the working days team up your A-list bottoms with plus size blazers and plus size business suits.
www.eloquii.com; www.ashleystewart.com; www.asos.com
Blouses
Lace, chiffon and plus size tops with flirty ruffles have been around for a while. Adjust your wardrobe to the latest trends and learn a few tricks to put together a laid-back and at the same time impressive look. No prints or shades are off-limits if you want to step out of your comfort zone. Express your passion for various styles with plus size outfits. Mass-market stores provide you with tons of vintage, minimalist or luxe plus size blouses examples. V-necklines and breezy fabrics will bring out the most in your figure. Get your hand on pieces that make you feel attractive both at work or at a nice evening spent with your friends.
www.fashiontofigure.com; www.asos.com; www.eloquii.com
Shirts
Besides trendy plus size tops you should definitely consider the new wave of plus size shirts. E-commerce is one of the greatest inventions of the past years. Take advantage of the high-quality services offered by these online stores and purchase fashionable plus size clothing right from your sofa. The timeless printed shirts are our No.1. suggestions when it comes to tops. A change is happening in the favored designs. Curvy fashionistas seem to pick oversize and cut-out styles over the classy tailoring. These cute plus size outfits give you an idea on how to diversify your wardrobe. There's no denying, denim plus size shirts for women are still going strong especially if you are into Boho or farmer girl looks.
www.fashiontofigure.com; www.eloquii.com; www.asos.com
Belts
It's the best time to start a saving plan and buy a few of the loveliest plus size belts you can find on plus size clothing online stores. Wide and metallic designs are the next big thing. Retailers offer you stylish combos with plus size pencil skirt or plus size formal attires. Find the right spot to emphasize your slim waist and create the impression of a delicate hourglass figure. Test-drive both the pieces sculpted from real or faux leather, firm materials and even chain. Woman's plus size clothing is as much about basics as it is about glamour. Plus size outfits are created with the help of fashion props.
www.eloquii.com
Hoodies
These plus size hoodies pay homage to the coolest 'athleisure' trend that popped up on the runway in the past seasons. We simple can't get enough of the laid-back and sporty air these staples radiate. For the warm fall or spring days turn these items into plus size outerwear. Sweaters in uniform and even multi-tonal styles are included also on the most practical plus size summer clothes list. Fortunately comfort is still a priority for most of us! This factor combined with an original attitude makes a dream combination! 🙂 Here are some hoodies plus size outfits.
www.asos.com
Shrugs
Loosely knit cardigans and curve-flaunting tops are a match made in heaven. Fast fashion markets promote both the oversized and cropped plus size shrugs trend. We had a lot of fun hunting for these warm-weather staples in different shades. 🙂 Layering is just as highly recommended during the warm days as it is in the transition periods. Click through our plus size outfits suggestions and see whether you could fall for this trend. We hope you'll love our proposals for plus size outfits for women.
www.torrid.com; www.yoursclothing.com
Please read also about:
You are more than welcome to fill in our trend report on plus size outfits for women using the comment section below. 🙂 Tell me: would you rather wear an outfit with a plus size maxi dress for summer in stead of plus size shorts outfits for women ? How do you find the most flattering dresses for plus size women? What you think about our proposals for spring outfits for plus size women or our proposal for a plus size club outfit for women? About that and many other subjects I would love to talk to you 🙂 !