Fall Winter 2017 2018 Fashion Trends
By
|
Scouring the internet for fall winter 2017 2018 fashion trends takes a lot of time. Especially if you have a super-busy schedule or you just don't really get the fancy terms style magazines and bloggers use. Let me offer you the easiest solution to have a general idea of what's 'in' or what are the fall winter 2017 trends. You'll be surprised that most of the stuff you own can be sported also during the upcoming months.
Leather jackets, plaid, floral and ethnic printed items, oh….and most importantly velvet. I'm sure you already know that just like common people, designers can't shake off their love and admiration for a few timeless tendencies. The key to success is to recreate some of the accessible outfit ideas for autumn winter 2017 2018 trends.
On the other hand and strictly just for fun, I want to recommend you a few non-traditional 2017 fall fashion trends like plastic (which is so cute when it comes to raincoats and boots), jumpers perked up with faux fur details as well as statement shoulders. Other trends are also start creeping back onto the runway and the streets, like denim combos (Nah, not the nasty Britney and Justin versions) but the ones that are neat and versatile. Decide whether you're more concerned of finding a few minimalist work- or school-appropriate ensembles OR you want to break out of a style rut and add more personality to your look.
If you have the sense that you are behind with fashion or would like to experiment with a few of the hottest and latest fashion trends for women check our detailed report below.
Boho prints, Ethnic prints, Folk and Floral prints
Prints are, no doubt, a godsend way to travel back in time and create Bohemian, flower power looks or to go wild and refuse to follow seasonal tendencies. Through time these patterns have become powerful elements, extremely difficult to associate only with spring or summer. You mustn't leave cold weather force you to hide in a shell.
Fashion houses like Alexander McQueen, Erdem and Temperley London teach you how to invest in a few valuable style pieces that radiate trend-consciousness and more importantly, creativity. Ethnic print frocks look spectacular when teamed up with faux fur or suede cropped or long vests. Also, don't forget to explore the variety of long-sleeve folk dresses you can incorporate into your casual wardrobe. I just love these fall winter 2017 2018 fashion trends.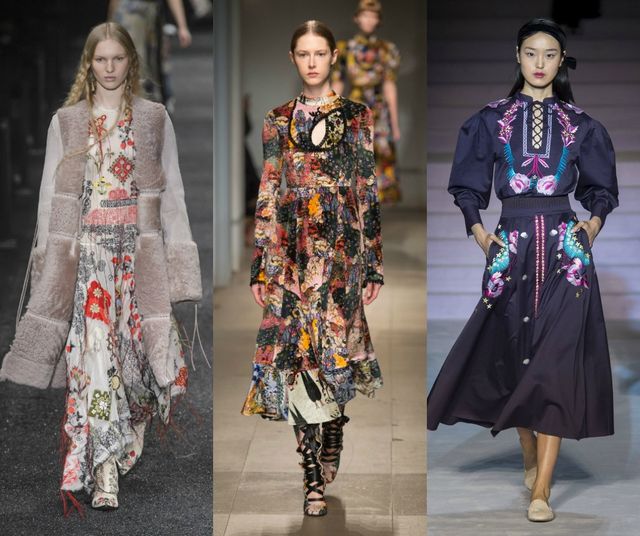 Floral prints for fall winter 2017 2018 fashion trends
First, it seemed a little less ordinary for me to wear bold floral prints during the rainy days or the cold season. However, couturiers like Alberta Ferretti and also brands like Daks and Concept Korea convinced me that it's totally okay to stick to this tendency with a few tiny changes. Long-sleeves and thicker textures will help you during the transition period. You'll fall in love with designs infused by an artistic and romantic vibe!
Also, for the first time in my life, I had the courage to entertain myself with the idea of purchasing a pair of floral print not necessarily flared but let's say boot cut or straight pants. Technicolor is just as stylish as black and white patterns look 'hawt' if you decide to diversify your work outfits. Try to see also which are fall winter 2017 color trends before you decide what to wear this season.
Shoulders
Some of us just couldn't embrace these fall winter 2017 2018 fashion trends, as the crowd did or expected. Don't worry, you don't have to feel bad about it. I sure don't. 🙂 The point of coming up with tens of tendencies each season is to allow fashionistas to choose the few ones that make them feel more attractive and comfortable.
Designers like Agnona, Bibhu Mohapatra and Thierry Mugler sent down the catwalk a few impressive items, like the knit jumper with furry shoulders, schoolmistress-like lace blouses and futuristic tops. This eye-catching detail has been presented in many shapes and forms. Included in both vintage and sci-fi collections not really to convince thousands to wear them on a daily basis, more to show us the power of design and the fact that you can literally wear your confidence on your shoulders.
Leisure suits
Sporty or leisure suits are here to stay! I admit, it's a trend I would turn into a uniform if my lifestyle would allow it. Big names in the industry like: Chloe, Cristiano Burani and Paul&Joe provide us with a selection of comfy pants and sweater combos ranging from a more casual and iconic RUN DMC style to elegant and more refined designs. Stilettos and ankle boots continue to be accessories to top your outfits with (according to stylists).
However, if this idea seems a bit too bold and far-fetched for you, stick to sneakers and flats. Make sure you choose pants designs that flatter you. Athletic and hourglass figures can do both fitting and super-flared styles whereas plus size fashionistas should definitely go for the in-between, moderately loose-fitting pants.
Blouse on the neck
I spent hours thinking about a motive to follow this trend. :)))) I couldn't find one, unfortunately. However, it is still worth mentioning that for some reason designers decided to perk up fairly wearable outfits with a blouse on the neck. Autumn fashion 2017 has numerous unpredictable tendencies, you might like or not like (even despise).
Vivienne Tam and Creatures of Comfort are some of the fashion houses to promote this bizarre trend which after all looks kind'a'cute if you disregard the fact that these girls wear blouses instead of thick scarves around their neck. In fact, you can see the sleeves hanging, which adds a more eccentric air to these sets. What do you think about these fall winter 2017 2018 fashion trends?
Although I always thought of zippers as more impressive accessories, buttons seem to seize power in fall winter 2017 trends. You'll see them placed vertically or in a row on dresses, coats and sweaters. Neutral tones help to maintain the refined and elegant aspect of these items. The examples below are from the collections of Sonia Rykiel, Mulberry and Joseph. All campaigning for a somewhat preppy and retro wave.
While, buttons were always considered classy elements to complement suits and trench coats, I still consider the excessive use of these pretty unpractical. Let me know what you think about these fall winter 2017 2018 fashion trends!
Plaid
From the past few years, I just can't remember a season that lacked plaid items. Whether, it's the British as Burberry who continue to enforce it or the elegance it emanates is simply contagious, numerous collections included this pattern into their lineup. This time I chose three rad outfit examples from Agnona, Emerging Designers and Huishan Zhang.
Plaid trench coats, knit dresses, tops and pants help you regain your style identity in order to build unique and original sets. Many of the gingham items are immediately wearable with chic replicas found in mass-market stores online. Black and white is a classy chromatic combo. This year, however, make sure you think outside the box and go for pastels or vibrant tones like blue, green and yellow.
Metallic boots or glossy boots
Metallic boots have kind of a bad reputation. It was hard for me to imagine outfits that looked sophisticated, accessible and accessorized with these footwear designs. Past seasons demonstrated the fact that, couturiers are not ready to let go of this tendency yet. They try so hard to provide women from all over the world, regardless of age and personal style, with daily inspiration.
Silver and gold were shades used in the collections of Huishan Zhang and Laura Biagotti. On the other hand, you'll find numerous style anthologies that swapped these classic hues for the glossy version of brown, green and even pink of shoes. Choose one of these options from these fall winter 2017 shoe trends. Not for the sake of following the autumn winter 2017 2018 trends but for your own pleasure.
Plastic
Who could refuse a sassy see-through raincoat that allows you to flaunt your casual or elegant set instead of hiding it? On a constant hunt for one of these 'must-have' items, I was super-glad to see plastic raincoats pop up on the runway. Besides being uber-practical, these outerwear designs can be easily associated with all kinds of ensembles regardless of chromatic.
While plastic is a pretty controversial material, just like real fur, it is still used to sculpt trenches, artsy dresses, vests and hundreds of accessories. Calvin Klein, Dolce&Gabbana and Alberto Zambelli are only some of the brands to give this trend a shot and see how the audience reacts.
Velvet
The velvet trend hits its many seasons. You just can't literally point out the year, designers started to reinvent this super-delicate fabric and use it to create memorable and A-list looks. We've seen numerous frocks and tank tops during the heat storm, however, I always thought about this material as a bit too thick and autumnish.
See for example the suits, dresses and the gorgeous patchwork coat included in the collections of Agnes B, Altuzarra and Christian Dior. Replicas or variations of these voguish items you'll find in designer or fashion stores cost a bit more than you'd expect. However, these are the few 'crown' pieces of your wardrobe you can rely on when it comes to dates, office wear or special occasions.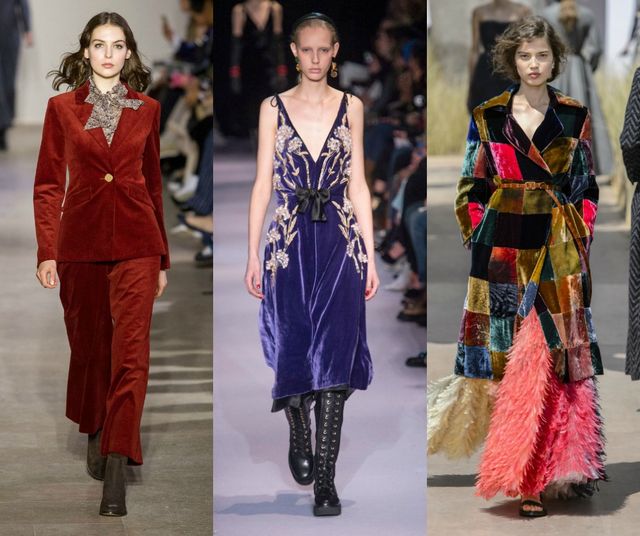 Classic fur coats
If there's one thing that screams luxury and 'diva' is definitely a faux fur coat. While cropped ones are okay for all ages, I always thought that you have to have a certain attitude a maturity, if you wish, to be worthy of wearing these fashion items. Indeed, with the emergence of faux fur more and more fashionistas decided to sacrifice their monthly budget and buy a similar outerwear design.
Agnona, Akris and Elisabetta Franchi illustrate how classic tailoring combined with a fine shade is a recipe for ultimate success. Long coats have a more dramatic aura to them whereas, the ones hitting just above the knee can be easily integrated both in a casual street outfit and also into more glamorous sets. Look at these fall winter 2017 2018 fashion trends for classic fur coats and tell me if you like it!
Denim combo sets
Denim combos were omnipresent on the catwalk during the last couple of seasons.  While most of the couturier suggestions are matching of same colored items, there are always additional accessories like a belt, chic boots or a faux fur scarf used to break the pattern. It would be really cost-effective to recycle some of your old pieces, redesign them or shorten them when it comes to pants or skirts.
On the other hand, you can invest in brand new pieces, in various shades if you feel like passing the uniform look. Add the names of APC, Agnona and Sacai to your style radar and keep scanning the latest collections for outfits you can copy. This is one of my favorite fall winter 2017 2018 fashion trends.
Furry clothes or coats with fur
Fur or faux fur in spite of being massively criticized is a tried-and-tested trend. Some of our favorite brands like Anna Sui, Libertine and Prada took this tendency to the next level by sculpting all kinds of outfit elements of this fabric. The craziest idea is definitely the fur midi skirt. I can't really imagine the experience it offers when wearing during the cold winter days. :))))
However, who am I to judge and make fun of  the fantasy of a style genius. Instead, I want to offer you a few examples of runway sets to demonstrate the glam impact of one faux fur vest, coat or accessory on your whole ensemble. What do you think about these fall winter 2017 2018 fashion trends ?
You might want to read also about:
It is important to understand, the aim of these trend reports is not to encourage you to follow the fall winter 2017-18 trends blindly. Instead, make sure you find your personal style first, then polish it all throughout the years until you are 100% satisfied with the result. Keeping in mind a few basic tricks will help you dress according to your silhouette and age, without losing your true self. The best thing to do is to explore the new universe of tendencies, both in chromatics, fabrics and tailoring, then pick a few of the ones you can nail down without extra effort.
There's no need to go way over your budget to stay up-to-date! There are hundreds of brands offering you perfect dupes of the faux fur, leather, plaid or velvet outfit elements at a lower and affordable price. Attitude and individuality is way more essential than brands.
Tell me in a comment below what fall winter 2017 2018 fashion trends do you like? I would love to know your opinion 🙂 !