Fall Winter 2017 Color Trends
By
|
Each year, the Pantone Institute of Color keeps the fashion crowd on their toes. They decide which colors are in trend for each season. And this year, besides the general fall winter 2017 color trends, we have the ultimate hue of the year which is Greenery. A grassy light tone that takes us back to nature and has a revitalizing effect on your wardrobe.
Green is also present in its darker version on the autumn color palette, as is passionate red, metallic tones and even an interesting variety of turquoise. What a diversity for fall winter color trends 2017?! No wonder stylists emphasize the fact that, the shades you wear all day everyday reflect your personality.
Fashion color trends 2017 continue to encourage you to take a huge leap and learn a few tricks to combine your favorite neutrals with a pop of vitality. Somehow the loveliest pale pink tones made their way into the cold season. To my greatest delight, I'll be able to sport my favorite blazers and midi frocks all throughout the upcoming season.
Following fall winter 2017 2018 color trends is indeed recommended, nevertheless, it is also important to choose shades you feel comfortable wearing. In your moody days, turn to dark melancholic hues, whereas, bright silver, gold and even red should be saved for times you plan to flash an unpredictable and eye-catching ensemble.
Metallic or Silver for Fall Winter 2017 color trends
Discoball silver and gold is definitely not for those who want to melt into the crowd. While fashion houses like Annakiki, Custo Barcelona and Aigner embrace the sci-fi and futuristic version of these 2017 color trends to create attention-grabbing outfit elements others like Badgley Mischka, Anne Sofie Madsen and Huishan Zhang stick to class and luxury to make the most of this color spectrum.
Isn't this the cheekiest and most beautiful trend we should try at least once in our lives? I know you think of the tons of 'oh-no' outfits you've seen on the streets, nonetheless, if you take things gradually and copy a few tried-and-tested sets, you will do just fine! Try some of these autumn winter 2017 fashion trends. I know you'll love it!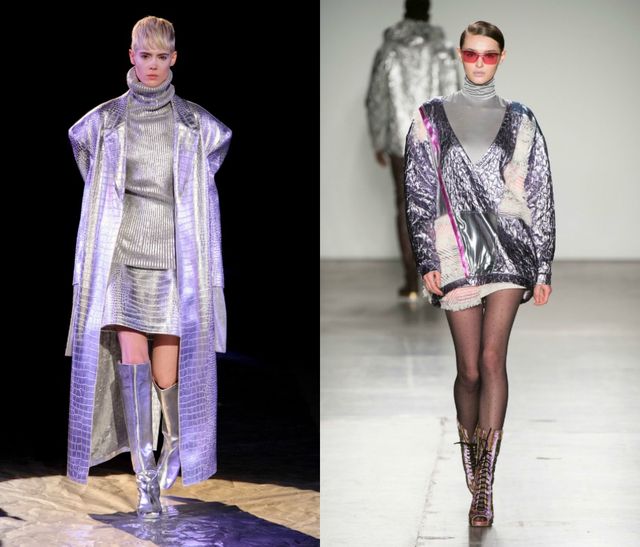 Turquoise
Dark turquoise is a totally accessible hue worth integrating it into your wardrobe. Think of midi dresses, a nice blazer or a pair of flared pants. Wouldn't it be nice to add a refreshing and versatile vibe to your casual looks? Indeed, the safest option is to match it with neutrals.
Some designers, however, decided to blow away all the rules and traditions to provide you with amazing and daring sets according with fall winter 2017 trends. Brands like Hermes, Issey Miyake, Lela Rose and Miu Miu considered it their personal duty to raise awareness for this mood-boosting and unique shade.
Pink
Pale pink shades add a soft touch to your lady like outfits. Well your question is 'How on Earth will I be able to sport light tones when it's raining cats and dogs?'. The answer is simple 'As you would on a hot rainy summer day', maybe with a few neutral colored accessories and your award-winning confidence.
Pantsuits dominated the runway, sported both by super-slender models and also curvy fashionistas (kudos for that!). In addition, you have the classy tailored coat, girly printed casual or glittery glam dresses as seen at Anya Hindmarch, Bora Aksu and Erin Fetherston. If this still would not be enough, we've spotted a selection of high-street and fancy pink faux fur coats, to die for. I can't wait to include those fall winter 2017 color trends in my wardrobe.
Deep blue
The perfect substitute for neutral shades is Navy Peony as the deep blue shade that popped up on the catwalk is called. The serenity and elegance it emanates makes it the perfect chromatic option for semi-formal, corporate or other special events.
Oversized knit ponchos and faux fur coats as seen at Agnona and Marco de Vincenzo, became statement pieces for trendsetters. Also, you have a glam series of blue velvet and chiffon dresses to channel your inner diva and be the center of attention at any event. For this season phase out your shapeless LBDs and follow the footsteps of the fashion industry's heavyweights.
Red
High-street ateliers painted the runway red, giving territory to shades that would rock your autumn and winter wardrobe. Apparently nothing seemed too much for the style crowd. Not even the amazing faux fur coat from Dolce & Gabbana or the eye-candy pantsuit by Derek Lam, which is a real attention magnet if you ask me.
Also, I saw red take the form of minimalist coats, office chic suits and knit dresses. In spite of being a critical tone, numerous seasons proved that this trend is here to stay and it is a go-to hue whether you're into extravagance or simplicity.
Chocolate Brown
Chocolate brown and earth tones in general are not so difficult to pull off. Earning the status of quintessential and extremely dependable autumn hues, designers decided to send down the catwalk a few 'must have' pieces like the oversized cotton and faux fur coat as seen at Aniye By, Christopher Kane and Calcaterra as well as leather dresses, matte and shiny suits ideal for various occasions. Besides sending the message of earthiness and reliability it also allows you to create warm and natural looks.
Grey
Color psychology is not all bogus. It has a clear explanation for the reason I feel 'gray' when wearing this unemotional shade. However, you just can't deny the fact that both the lighter and darker tones served as a refuge for those who were bad at mix matching more critical colors.
Businesswomen, people with a modest and extremely minimalist style will love to invest in a few power pieces like the grey midi skirt, knit dress or oversized coat. It is solid and like it or not will never go out of style. On the other hand, it also creates a sense of calmness and compromise. See a few exquisite outfit examples in collections of Atlein, Agnes B, Altuzarra and Anteprima. Try to include in your wardrobe these fall winter 2017 color trends.

Green
I've already mentioned Greenery as the color of the year. However, I decided to feature in our fall winter 2017 fashion trends report a more wearable and sassier version of it. A powerful shade that lends a mysterious and alluring vibe to your outfits. Designers and audience we're carried away by the mesmerizing effect of dark green combined with velvet, lace and satin. Pantsuits and maxi dresses were the crown pieces of collections from brands like Azzaro, Tadashi Shoji and Dolce&Gabbana.
Is it the first time you've ever heard of the Pantone Institute of Color? Thinking of having a job that allows you to put together a list of shades everyone will be wearing the next season is so empowering. Why not become a trendsetter yourself? Selecting the tones, YOU want to promote is just as an important mission. Just like the mission of experts from the fashion industry. Fall winter 2017 color trends provide you with a simple guide on what to expect from new collections. You'll find those fall winter 2017 2018 trends in the new collections and capsules to appear in your favorite stores.
Owning uber-expensive designer clothes is a privilege of the rich and famous. Nonetheless, you can also look 'hip' on a budget if you shop for basics and unique items consciously. Becoming a savvy shopper is the secret to stay on-trend regardless of how quickly tendencies are changing. There is a myriad of sources to derive inspiration from, whether it's your actual mood, nature or magazines. Keep that in mind when picking a few favorite tones from the fall winter color trends 2017!
Source: