Sunglasses 2018
By
|
Discover our trend report for sunglasses 2018. Here you can find some of the best sunglasses for women. Choose a pair of eyewear for your face shape according to 2018 trends. We guarantee that you'll fall head over heels for the versatility of these timeless accessories. Opt for elegance with vintage-inspired designs or jump on the retro trend with round, mirrored, sport, big or oversized eyeglasses. Find out our collection of trendy sunglasses for women.
Women's aviators sunglasses 2018
Summer 2018 eyewear trends make you re-think your personal style. Retailers provide you with numerous collections of womens aviator sunglasses. These woman sunglasses 2018 add a modern and cool twist to your daily outfits. The unisex design of these items guarantee their popularity both among fashionistas as well as men. Some man use to refine their looks with on trend elements. Aviators come in classy shades like brown and black. However, this year we also witnessed a craze for mirror lenses in blue, yellow and orange. Square-shaped frames suit people with round, oval and even heart-shaped faces. Undoubtedly these aviator sunglasses for women are the most fashionable style essentials. You should sport all throughout the hot season with these kind of glasses.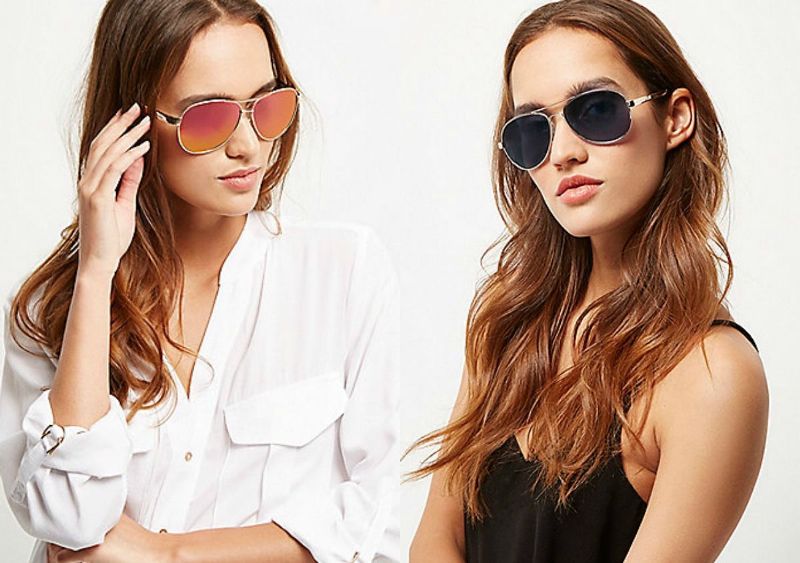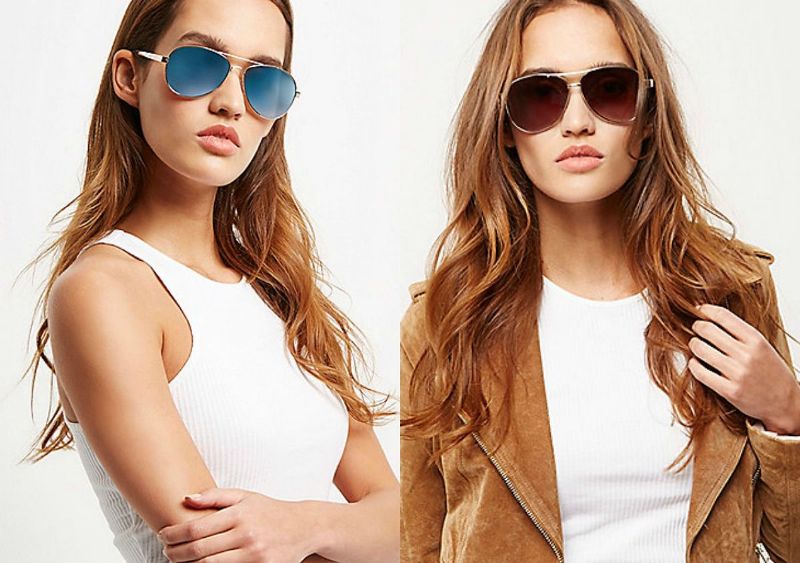 www.riverisland.com
John Lennon sunglasses
Though we welcomed round frames with skepticism. But these sunglasses for women managed to become the most sought-after accessories of this year. Interestingly, thousands of fashionistas from all over the world embraced this trend. This happened especially when it comes to festivals and outdoor events. John Lennon style medium-sized sunnies are extremely retro. Wear the larger designs if you want to offer a unique flair to your look. Specialists teach you how to pick sunglasses for your face shape. Round frames are recommended for those who want to soften the angles of their faces. Square and heart-shaped faces when combined with these items create the illusion of perfectly proportioned features. Consider the black and earth shades or make a statement by adopting the mirrored sunglasses 2018 trend. Take a closer look at these stylish examples.
www.shopbop.com
Vintage sunglasses for women
Vintage sunglasses for women remind us of the elegance air emanated by these No.1. accessories. Popular sunglasses like the ones with a cat-eye frame bring back delicacy and femininity. Whether you wear them with a casual or an office outfit, the success of your daytime look is guaranteed. Creators are constantly trying to find new design methods and elements to satisfy the needs of customers for exquisite fashion sunglasses. If you are asking 'what sunglasses suits my face shape?'. We can assure you that, these popular womens sunglasses flatter all types of facial traits. They transform your appearance into that of a fabulous feline.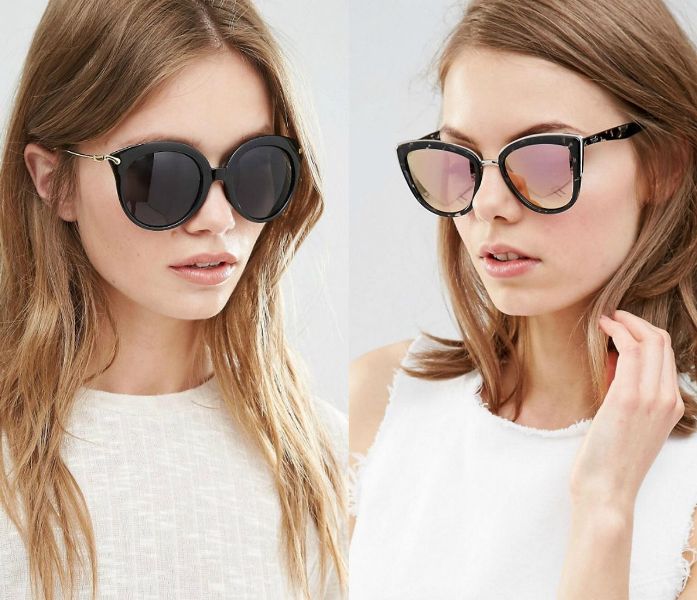 www.asos.com
White sunglasses
These cool sunglasses will definitely stand out from the rest of your accessories. Ladies sunglasses with white frames attract the attention of those around you. While some are kitschy others are extremely stylish. Make sure you bring out the best of the design you select. Fast fashion stores offer you a wide range of girls sunglasses 2018 with round, square and even complex geometric shapes. Go for these non-traditional designs if you are ready to stretch the bounds of minimalism.
www.asos.com ; www.riverisland.com ; www.shopbop.com
Sports sunglasses
If you have an athletic lifestyle make sure you keep an eye on the latest sport sunglasses for women. Famous brands like Nike and Adidas are launching rich collections of sunnies in numerous designs. Best sunglasses for your face shape 2018 include oversized square designs or creations with mirrored lenses. Besides aesthetics the creators of these items also use special technology to make women's polarized sunglasses, womens sport sunglasses or best womens running sunglasses resistant to UV rays and dust. Wear these 'must have' accessories for running, hiking or cycling in order to protect your vision. Clever styling makes the difference. Therefore, we suggest you to try on numerous types before finding the right one that flatters your face shape.
www.decathlon.co.uk ; athleta.gap.com
Designer sunglasses for women
Most of the times designer sunglasses for women cost a little fortune. Therefore, you have to really take into consideration all your options before finding the one. 🙂 We thought the best way to help you is to line up a selection of 'in vogue' branded sunglasses 2018 from our favorite fashion houses. A-list designers created unique characteristic frames for the fashionistas that promoted their style pieces. Brands like Fendi, Versace and Burberry use frames specially designed for trendsetters with a feminine, athletic or out of the ordinary style.
www.shopbop.com
Mirrored sunglasses
The street style crowd is spotted rocking the coolest women's sunglasses 2018 with mirrored lenses. A rainbow chromatic palette allows you to dream big and build up a few eclectic and unique outfits. In our shopping guide we want to offer you an overall image of the trends in best women sunglasses. Whether you're into classy aviator designs, vintage chic cat-eye or you prefer popular mirrored sunglasses trends 2018 with round frames, we have the real deal for you. Scroll down the page to see all our suggestions. These accessories look stunning both in Instagram photos as well as in real life matched with casual or beach outfits.
www.riverisland.com ; www.nastygal.com ; www.shopbop.com
Oversized sunglasses for women
If you still need a few essential accessories for your summer wardrobe make sure you don't pass by the sunnies department at your favorite stores. These oversized sunglasses for women can totally change your look. Especially, if you're not afraid to experiment with non-traditional shapes. For the minimalist we recommend the fashion oversized sunglasses with square frames or in aviator designs. On the other hand, round sunnies are for fashionistas with an extravagant taste. But there's more! You can add an extra glam effect to your summerish outfits with mirrored lenses. Big sunglasses are 'it' pieces for this year and we unearthed a few treasures to help you make the best option.
www.asos.com
Retro sunglasses for women
In the dog days of summer when things get extremely sweaty, you'll need a few pairs of sunglasses.  Or at least one that can be incorporated in zillion different outfits. Therefore, let us recommend you some trendy sunglasses for women. Cat-eye designs managed to conquer the heart of thousands of style admirers. In addition, we have already covered the success story of round sunnies. They are ideal to add a Boho vibe to your look. You should not forget about the oversize sunglasses trend either. Besides the medium-sized designs we've rounded up some key products for you to consider for the party season. If you ask stylists the question 'are mirrored sunglasses in style?' the answer is a loud 'YES'. 🙂 Make sure you don't neglect this mega-trend in female sunglasses when on a hunt for these accessories.
www.asos.com ; www.shopbop.com
Large sunglasses
Trendy glasses for women are worth stocking up on. Trendsetters offer you the inspiration to sport the coolest frames and lenses. Celebrate the season that encourages you to take the leap from minimalism to a more diverse and colorful style. We can assure you that oversized sunglasses aviator as well as designer cat eye sunglasses can top any outfit. The full spectrum of sunnies include the ones with gradient and mirror lenses.
www.shopbop.com
Complete our shopping guide with your picks of sunglasses 2018 styles. 🙂 Read our posts in the future to discover our sunglasses trends 2018 .