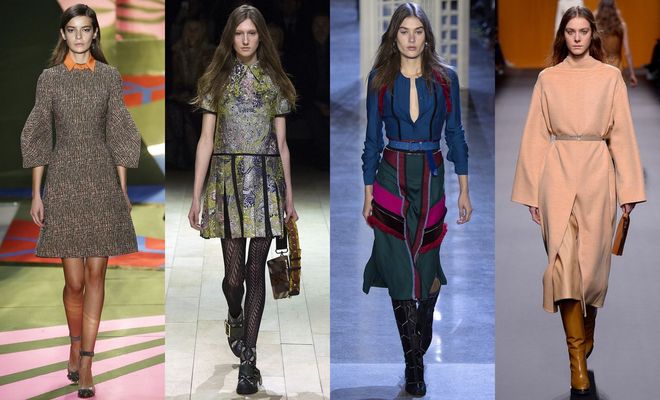 Winter Fashion Trends 2016-2017
By
|
How to be a fashion girl if you don't follow the winter fashion trends? That's what I thought before shopping this season. And how can I do that? There's nothing better than taking a close look on the Runway presentations. Seeing designer's winter's looks on the catwalk really helped me to take the right decisions at shopping. It's not easy to follow the latest fashion trends for women. The winter trends are so diverse. It's almost impossible to respect them. But I must say: I did my best. I'm going to resume you some of these trends in fashion or fashion tips. Maybe it will help you to take some decisions about ladies fashion.
Winter fashion trends for dresses
Wearing cute winter dresses is the easiest way to create a trendy office wear or a casual wear. I think winter dresses for women are so versatile so you can use the same dress to create a work outfit or a go out outfit. Here are designer's most interesting winter fashion trends for dresses. While Hermes and Sonia Rykiel are providing the trend of long dresses with long sleeves tailored from thick materials, Saint Laurent and Valentino created elegant dresses made from lace or velvet. On the contrary the woman created by Dolce Gabana and Channel is elegant and childish in the same time. Let's admire some pictures with dresses from ready to wear fashions shows.
Sweater dresses for women
Every time I watch the fashion shows I am amazed in the good way. Watching designer's creations on the Runways, I realize that only our imagination is the limit. I really am impresses by this year proposals for sweater dresses. It was hard for me to choose only six of them. In my opinion the long sweater dress is the most suitable dress for the winter, especially if it's a long sleeve sweater dress. Renew your style. Buy one sweat dress or few women's sweater dress. Choose to wear winter dresses in pastel or nude colors. Here are some outstanding sweater dress outfits. Hope you like them.
Sweater skirt
I am not much of a fun for the sweater skirt. Why? I always find it difficult to find the right blouse or shirt for this kind of skirt. But finally, things are not so bad. I just have to replace winter casual dresses with a beautiful blouse and a beautiful sweater skirt. How can I do it? Watching designer's presentations and trying to follow these winter fashion trends. Here are some sweater skirts outfits.
Office dresses
If at work you have to respect a dress code, you should pay more attention to the outfits you're wearing. Try to buy new winter work clothes or mix the ones that you already have in your wardrobe with accessories in trend. Here are some of the designer's proposals for fall winter 2017 trends for office dresses. Hope you like them as much as I do.
Winter work outfits
Women's fashion has always been complicated from my point of view. The opinions about the work outfits are always questionable. However, there are some lines, some limits we have to respect when it comes about clothes. Try to dress trendy work clothes but with decency and respect for the others. The work place it's a place where the work should be on the first plan, not your look. Look for sets that are relevant for your personal style!
Winter casual outfits
I think every fashion girl is asking herself every day in the morning or in the evening: "how am I going to dress today or tomorrow"? I know I spend a lot of time every morning, in front of the dress closet just watching and wondering how am I going to dress today. 🙂 Yes, Yes, I know… I should do it in the evening, but I prefer to do it in the morning. I must say I always prefer to dress casual, even at work. The dress code is not too strict, so I have some liberty when we talk about women's fashion. Let's take a look at this fall winter 2017 trends that designers from all over the world propose. Hope you like them, because I did 🙂 .
Casual dresses
From my point of view it's so easy to wear casual winter dresses. I also find easy to combine these dresses with others pieces of clothes like coats, jackets or boots according to fall winter 2017 shoe trends. I just love to wear casual dresses. For winter outfits I prefer to wear long dresses and dresses with long sleeves. I think the sweater dresses are very suitable for  the winter season when the temperatures are going down. Hope you like my selection with pictures form the catwalk.
Winter coats for women
You have to take a look at designer's proposals for trendy coats for women according to 2016 – 2017 winter fashion trends. You will find stylish ladies coats like leather coats, long elegant coats, cropped coats, one color or patchwork coats. I am sure you will just love them. I know I do 🙂 . Please take a look at these images.
Winter jackets for women
The bomber jacket trend for winter 2016-2017, dominated the runway.  So I just had to buy one. Designers are saying that we should experience casual outfits but also formal outfits with this bomber jacket. It seems that a mono colored bomber jacket is easy to match with formal clothes and a jacket with prints it's easy to match with casual clothes. So I bought a mono colored one. I think I's easier to match it. Even if the bomber jackets is the key of the winter fashion trends 2016-2017, you can always wear a leather jacket, a quilted jacket, a long, cropped or a parka jacket. Here are in pictures some winter fashion trends for this Year.
Sweaters for women
Wearing sweaters in the cold season is like drinking water in the hot season. In other words, wearing a sweater is a must. In this season oversized sweaters are very trendy. It helps you hide the problems with your silhouette. Pay attention! It is very easy to eat more than you need. Why? Because when you look in the mirror and you are wearing an oversized sweater you might not see the defects. Long sweaters are also perfect for the cold season. It helps you cover your body when the coat is not sufficient when is very cold outside. Here are some pictures with sweaters for women according to winter fashion trends.
You might want to read also about:
Which are the fall-winter fashion trends you love this year? I would love to find your opinion 🙂 .