Let's be honest! Women love high heels and fancy outfits. But most of the time we are on schedule, always on the run, trying to solve things… You'll agree with me when I say that, we all need comfortable outfits with flats. And, YES, we like to wear pants instead of skirts or dresses.
And when we talk about pants, culottes pants are a good choice for a comfortable outfit. But the idea of wearing culottes with flats is not very popular. That's why I am proposing you some pictures illustrating how to wear culottes with flats.
For me it was important to know how to style culottes with flats in any season. And I found on the internet beautiful images with examples of culottes with flats. You should take a look at these pictures. You might find some inspiration about how to wear culottes with flats.
Styling Tips On How to Wear Culottes With Flats: sport shoes
When the weather is warm, it's easy to create outfits with culottes and flats. Sneakers, sandals and ballerinas are the most popular flat shoes for culottes outfits. Usually, women are wearing clothes according to their personality. But in the same time, they need to be comfortable.
That's why women prefer to wear culottes pants with flat shoes instead of other types of pants. Searching on the internet, I  found many ideas about how to wear culottes with flats or what top to wear with culottes . Because bloggers have different ideas about what shoes to wear with culottes, I made a selection of pictures with the best culottes outfits with flats.
Sneakers, tennis shoes, running shoes… these sport shoes are popular lately. Women use them to create smart casual outfits. These sport shoes are comfortable and in the same time we can match them with different types of clothes. If you like wearing casual outfits, you should see these images and learn how to wear culottes with sport flats. You can also replace your leather pants with a leather skirt and have a black leather skirt outfit.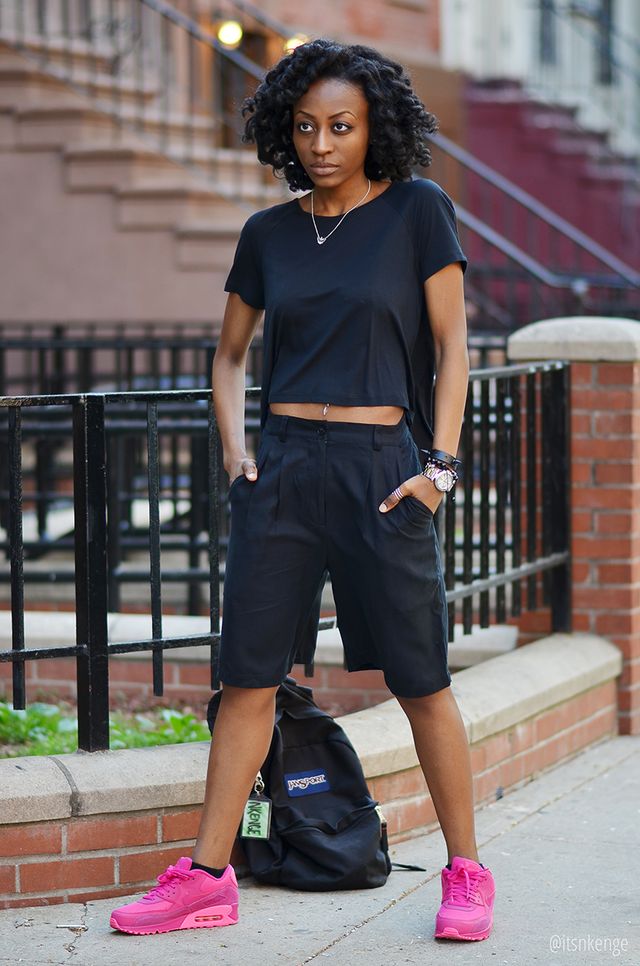 source
source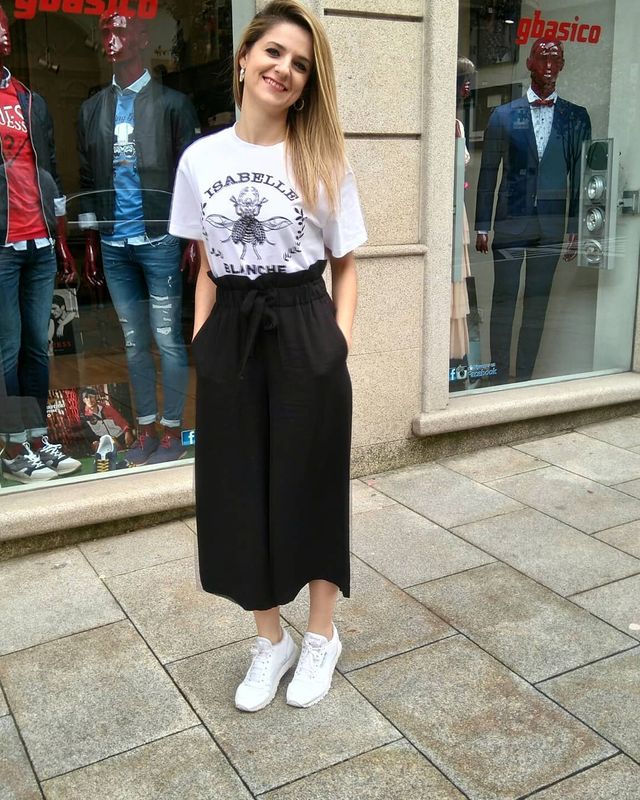 image
source
image
source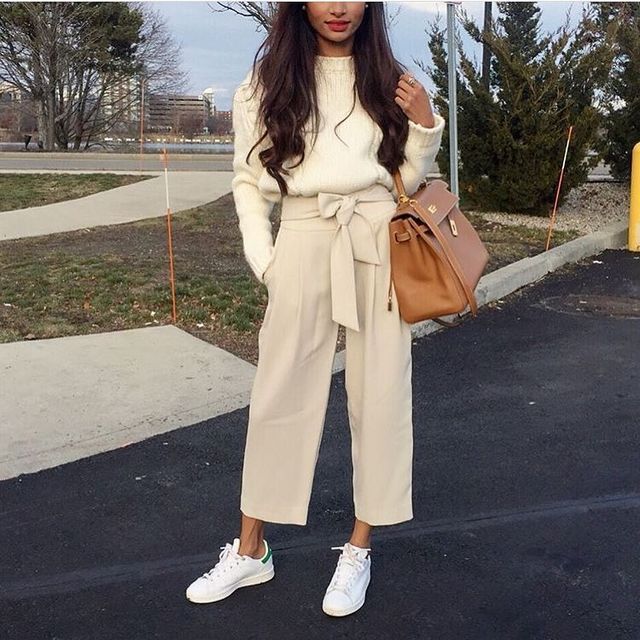 Ballerinas
I found the answer, in case you were wondering what shoes to wear with culottes and feel comfortable and elegant .
Ballet shoes are the perfect solution in this case. You can always were them when you are on the run. But in the same time you can create feminine and chic culottes outfits by matching ballet shoes, culottes pants and white or black shirts. But what I like most is that I can always replace my culottes with a classy maxi skirt in order to obtain a long skirt summer outfit.

Here are some nice examples you can always copy. Besides, if you ever wonder what top to wear with culottes, I think these images are the perfect answer.


source
source
Flip flops and culottes pants
Let's face it! During summer or spring, when it's warm outside, culottes outfits are perfect to wear. They are comfortable, elegant as a skirt, but practical as pants are. But what shoes can you wear with these pants? Well, in case you are looking for something casual, something easy to take, than the flip flops shoes are perfect. 
I found on the internet, so many propositions for this kind of outfit, from bloggers from around the world. It was hard for me to make a selection. But the idea was to present only the best culottes outfits with flats. Most of the next images are perfect examples for summer outfits for girls, if you are interested.
image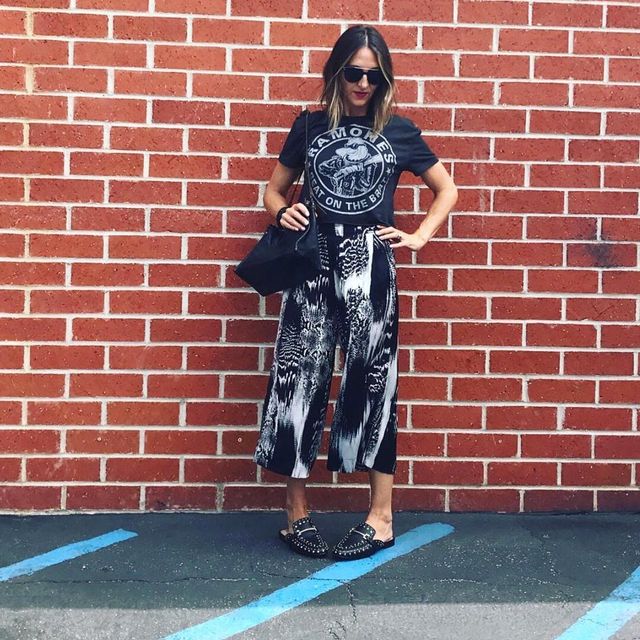 source
source
image
source
source
image
source
image
source
How to wear culottes with loafers for women
You prefer loafers instead of ballerinas or sandals? That's not a problem. There are many black wide leg pants outfit ideas with loafers. Women borrowed the idea of loafers and moccasins from man's wardrobe, we are tempt to say that loafers are not feminine. But that is not true.
If we look at these pictures, we can remark that these culottes outfits with flats are chic and feminine. So, don't be afraid to sport loafers with culottes pants and shirts. You can always wear this kind of outfit at work.
How to wear culottes with flat sandals
My favorite type of shoes are sandals. Maybe is because I love summer… But how can you wear culottes pants with flat sandals? I can't say that I could come with something different. What could be different is the model of sandals and a different type of culottes pants or shirt or t-shirt… that pictures are more relevant than words.
source
images
source
picture
picture
How to wear culottes with flats: boots
You thought you can't wear culottes pants when is cold outside? Well, you were wrong! I found beautiful outfits with black culottes pants and flat boots and short jackets or long coats. The blouse might be the key of your first dinner date outfit. You can use it to add some color to your dark outfit.
Follow the two first images, or you can color your outfit by adding a coat and some colored shoes. Your imagination is the limit. Take a look at these interesting black culottes outfits for winter. Use them as inspiration when you feel like you have no idea what to wear on a winter date or you are looking for palazzo pants outfits.
source
image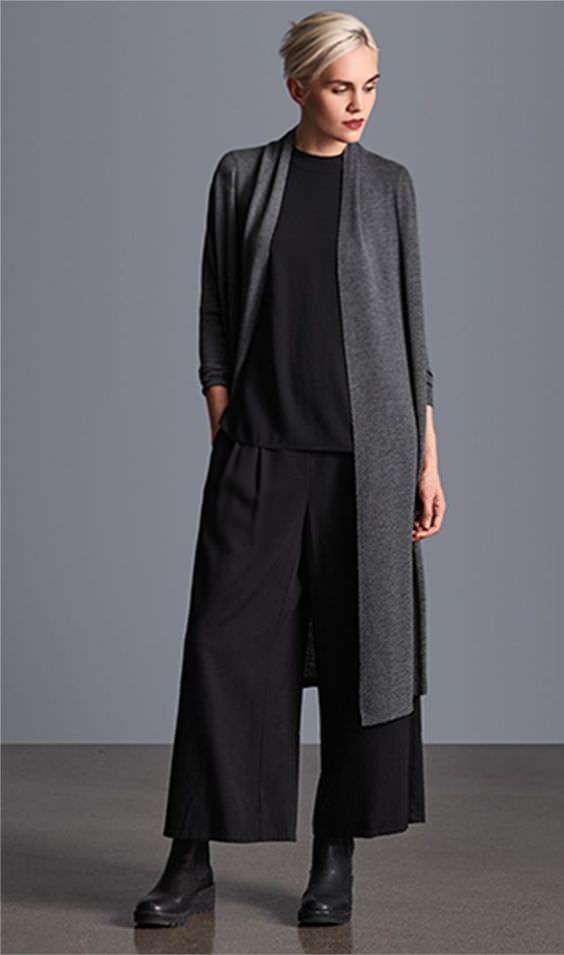 I hope this editorial will inspire you next time you go shopping, or you confront with a lack of ideas about how to wear culottes with flats. I don't know if you like wearing these pants only during summer, or you find tempting the idea of discovering how to wear culottes in winter. However, if you are not very found of culottes and you are searching for new party ideas, you can read also about how to dress up for a party with jeans or about our trend report about club outfits for women or festival outfits .

Yet, I hope you found the outfit you were looking for. How do you prefer to wear culottes with flats? Which of these outfits is your favorite? I wold love to find your opinion. 🙂
GlossyU.com partners with several affiliate programs, meaning that commission can be earned from purchases/clicks by those who visit this site and on any GlossyU.com social media platforms.