91 Summer Skirt Outfits You Should Copy This Year
By
|
Do you ever stay in front of your closet wondering "what am I going to wear today?"… To me, it happens most of the time, especially when I decide what to wear with a skirt. I am usually avoiding the outfits with skirts because I find difficult to match them or I don't know how to style skirts. But when the hot season is coming I like to try new things, like, summer skirt outfits or long skirt outfits, an A line skirt outfit or a midi skirt outfit or I try to find what to wear with a maxi skirt or how to wear skirts casually . And that's how I find myself wondering how to style skirts in summer.
It's okay to say that summer is very loved, from all points of view, especially by the ladies. Why? Because is that time of the year when all of them can show their bodies. Also the palette of colors and materials is much more permissive when temperatures are high. Summer is the season of dresses, of colored clothes and last but not least, of skirts.
Many of us are afraid to wear skirts because they are difficult to match with other items. But there is a small secret on which all women should know and it has to do with this garment, that is the piece around which all the outfit is defined. In other words, the skirt becomes the "star" of the entire outfit and now you are going to find out how you can you style skirts in summer. Let's some pictures with summer skirt outfits!
What to wear with a maxi skirt in summer?
When it comes to maxi skirts, one thing is clear: maxi skirts are the stars of any outfit. These are the pieces of clothing which never get out of fashion and will be classy in every summer. A maxi skirt is always a good idea, no matter where are you planning to go, it's enough just to accessorize it correctly and you can be sure that you will make a sensation.
A maxi skirt does not need too many things and complicated combinations, only a top as simple as possible. It is preferable to call to simplicity at the top and let the skirt to attract every eye. This summer are becoming fashionable maxi skirts in floral prints, or in a single color, but surely the materials should be very thin. Not forget that we are in the middle of summer and our skin need special treatment from our clothes. So, here are some tips about how you can style summer skirts.
1.Put together a romantic off-duty style with this white off-shoulder top and high-slit floral maxi skirt. Flash your abs and toned legs in one set. Just a lovely way to style summer skirts.

source
2. Midriff-baring co-ords are a huge trend right now. Sport the strapless top with a high-waist skirt in a matching shade add strappy sandals for a flirty vibe.
source
3. Continue to collect the loveliest printed co-ords of the season. Short-sleeves create a modern and casual air to your maxi skirt outfit.
source
4. Start envisioning a few fashion-forward ensembles you can create with the loveliest block-colored long skirts and a simple neutral colored T-shirt. Think creative when choosing accessories and your hairdo. Learn how to style summer skirts.

source
5. The striped flamenco skirt adds a bold twist to this casual set, especially, if you match it with another printed top. You definitely need to step out of your comfort zone to nail this!
source
6. This epic nautical summer outfit screams fun and simplicity. The high-waist skirt allows you to show some skin even if your abs are not toned. An epic way to style summer skirts.

source
7. While this composition looks like a custom-made set just for festivals, you may find either the top or the bottom wearable separately.
Tops to wear with pencil skirts during summer
Many would say that pencil skits are hard to wear, both in terms of the model that cannot be adapted to any shape of the body, and in terms of combination with other pieces of clothing. A pencil skirt is suitable for the summer days at the office, along with a simple shirt or a special cut shirt, where the outfit should be as decent as possible, but also thin enough due to the weather conditions.You can also wear it at an important event if you choose to combine it with a pair of fancy shoes and a top with special cut.
Just keep in mind that such a skirt model also requires an elegant posture and a great physical condition, because the pencil pattern highlights all shapes. And last but not least, I advise you to have the courage to wear pencil skirts in casual outfits. When you are meeting your friends, for example, when you can add cute shirts that go with the skirt.
The following fabulous images are your source of inspiration about how to style skirts in summer, which will surely help you successfully wear a pencil skirt during the summer.
1.This powdery pink lace co-ord is a breath of fresh air that allows you to deviate from festive and not too comfy evening dresses.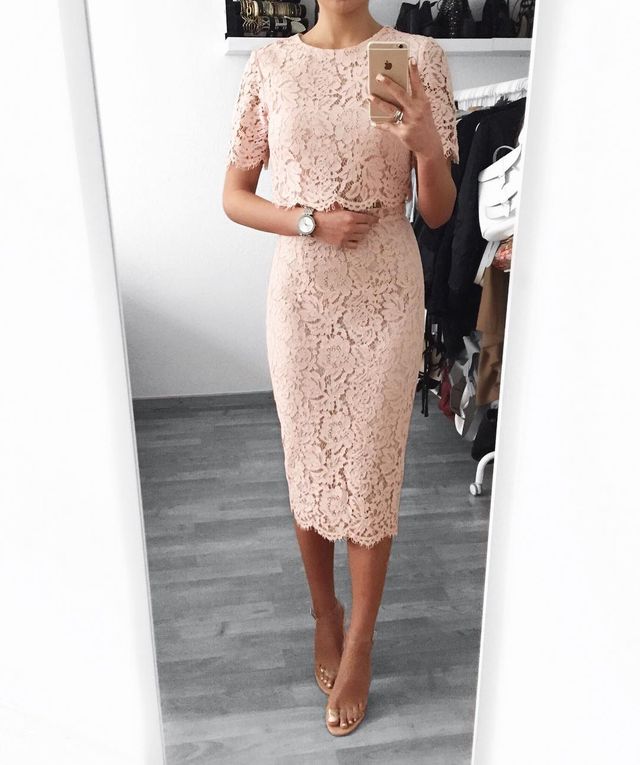 2. High-rising black pencil skirts serve as perfect semi-formal outfit elements that look gorgeous both with short- or long-sleeve blouses like the one below. Lovely way to style summer skirts.
3. Most of your OOTDs are centered around comfort? Here's an on trend combo of a black fitting pencil skirt and an equally 'hip' off-shoulder grey top. Sneakers are a cool addition to this set.
4. Co-ords teach you a pattern you can easily follow on your uninspired days. Match a pastel toned pencil skirt with an elegant top in the same shade and make an impression with the simplicity of your neat and voguish office or casual outfit.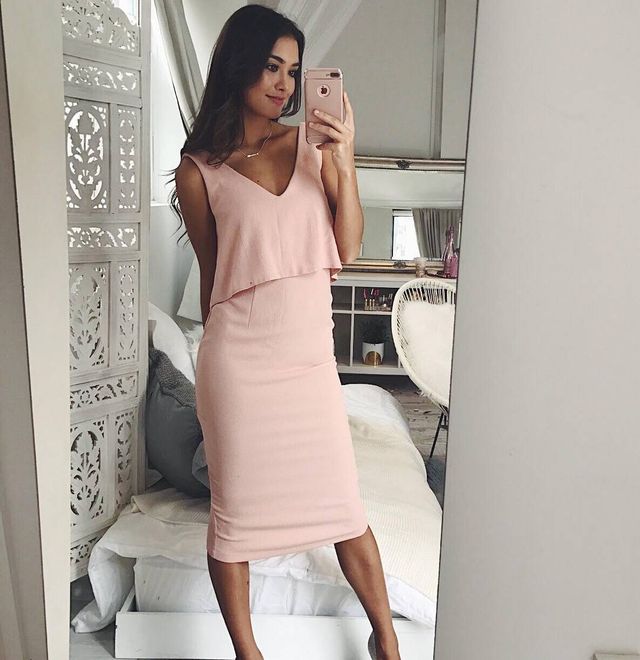 5. Wow! This ensemble offers a creative way on how to wear your favorite light pink pencil skirt. The loose texture and bell sleeves guarantee the perfect equilibrium in your daytime look.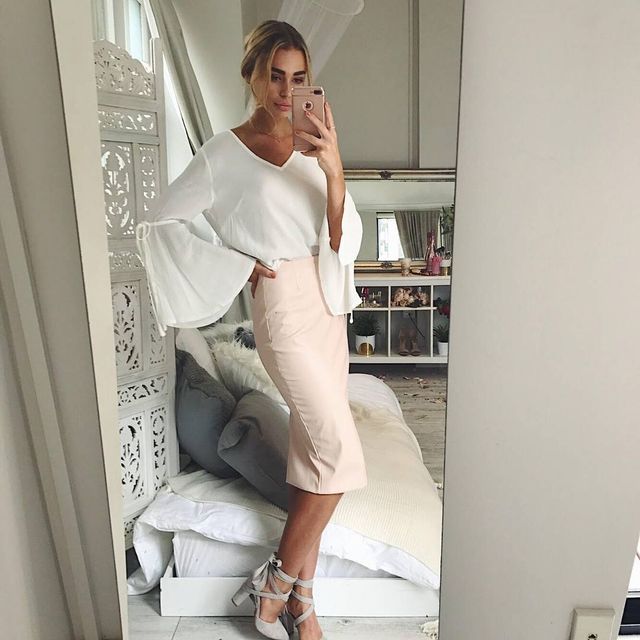 6. You know you have the trendsetter potential, but don't know how to show it off? Experiment with daring and unique elements like this suede pencil skirt and off-shoulder ruffled top. Heels are a 'must' to bring out the most of this A-list outfit. Here is a lovely way to style summer skirts.

7. Floral pencil skirts are among the most versatile staples of the season. Team them up with breezy or lingerie-like tops for a dose of sensuality and elegance.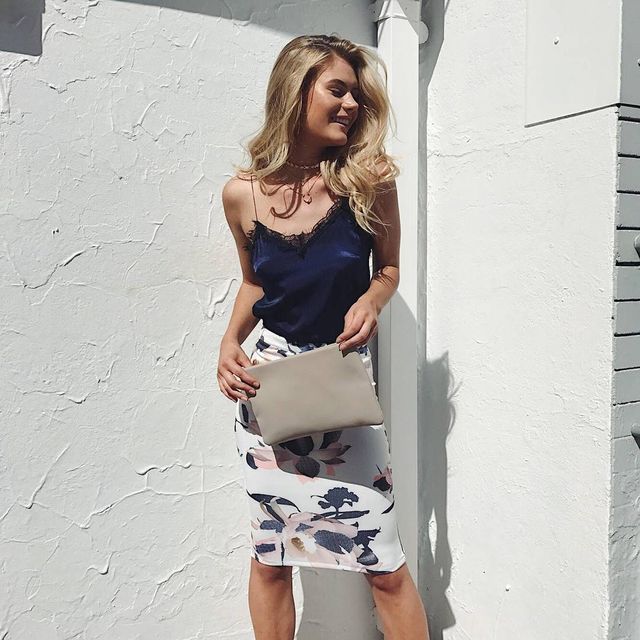 8. Fab combos like this one mushroomed on the net, hundreds of street style divas encourage you to associate a casual looking off-shoulder cropped top with high-waist romantically printed pencil skirts. Think of strappy sandals for a touch of refinement.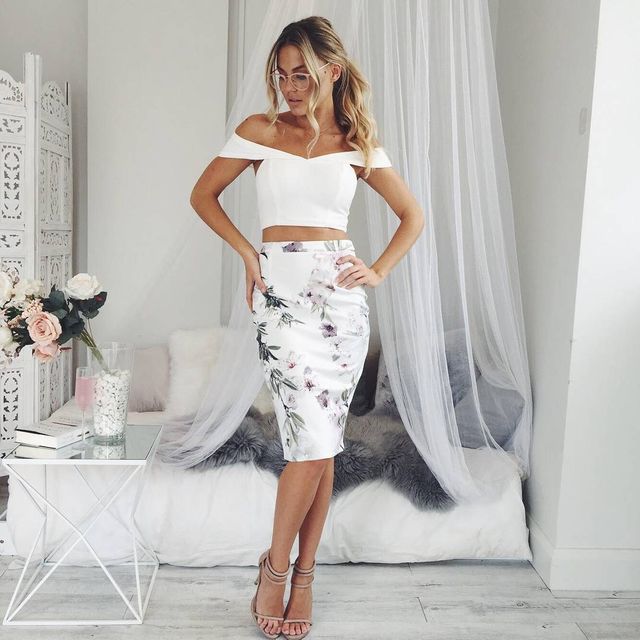 9. The beetle in itself is a statement accessory, however, take a closer look at that sleeveless peplum top perfectly complementing the white pencil skirt and T-strap sandals.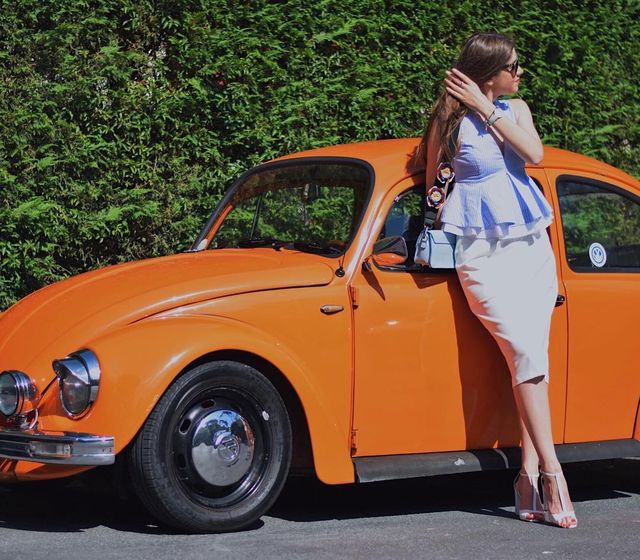 Denim Summer Skirt Outfits
According to the big fashion houses abroad, in the summer the denim is in great demand. We are not mistaken if we say that it's one of the materials that cope with the passing of the years, coming back with fresh forces every season. So it's time to find out how to wear a denim skirt this summer, but in a "modern" way.
The good news is that denim skirt can have any length this summer. Long, short, or midi, this is suitable for any time of the day, becoming a versatile piece for everyone.
How can you wear a denim skirt? Simple! With sport shoes and a maxi shirt, or a boyfriend style shirt to have a casual-smart look. You can also put on a top of thin material to create a much more glamorous outfit. Whatever the desired combination, it is very important to choose a skirt that fits you and you must be prepared to shine this summer. Hope these pictures are inspiring for you when it comes about how to style summer skirts.
1.The warm days bring with them romance and melancholia as does this cool-girl denim pencil skirt outfit. Keep things casual with the high-neck black top and flats.
2. Cope with extreme heat by sporting a laid-back sleeveless top and a mini denim skirt. Boots continue to be top accessories even during summer. Just love this way of style summer skirts.

3. Out with cliches, in with creativity! Sport your favorite low-key white shirt as an off-shoulder top tucked in a high-rising denim skirt.
4. With so many pool parties and festivals on the horizon make sure you have a similar breezy top at hand that can be combined both with pants or an on trend denim skirt design.
5. Now, this outfit is definitely not for the faint-hearted. A lace sheer bodice and high-waist mini denim skirts are extravagant and daring mash-ups!
6. While stylists announced the swan song of cross-body bags, denim pencil skirts continue to dominate the streets and catwalk. Light wash designs are all figure flattering pieces to invest in.
Midi skirt outfit during summer
Undoubtedly, the midi skirts are fabulous. These are one the garments that will be perfect, regardless of the event you need to attend. The midi skirt is also welcome this summer, and is already found in the wardrobes of all ladies who are aware of this summer's trends.
With a midi skirt you can play as you like, and it can be successfully combined with a simple top, or one with a special cut. This summer you can wear a body-molded midi skirt (see the pencil skirt) that it fits you very well, or something larger, that is gently touching your skin at every step you make.
I assure you that whatever outfit you will choose, it will bring you a comfortable feeling. Make sure you look carefully at the pictures, where you will discover more options for wearing midi skirt this summer.
1.Jazz up your semi-formal sets and break the pattern of classy stripes with this white off-shoulder top.
source
2. You're right, this outfit is not too versatile, however, it is one of the most reliable looks you can easily pull off for work. Learn how to style summer skirts for work.

source
3. Believe it or not midi skirts have become a throw-on piece. Make sure you have fashionable tops to pair with floral or block-colored designs.
source
4. Add just a hint of steaminess to your casual outfit with a black bralette. Blazers and the black and white midi skirt make the gear totally wearable.
source
5. Fit and flare midi skirts we've seen just a few, however, the combo with a striped T-shirt is surprisingly stylish.
5 Stylish ways to wear a tulle skirt outfit
Stylish women know to always get out of any mess, especially in terms of fashion. They know how to adapt any season's "must" according to their style of clothing, and so it goes with tulle skirts. These seem pretty pretentious at first glance, but with a little imagination you can get sensational summer skirt outfits.
If you are not convinced, I will show you the 5 ways in which stylish women are wearing tulle skirts this summer. I start with the handiest combination, tulle skirt and sports shoes. Yes, it can be! A tulle skirt can be worn with a pair of sneakers and a t-shirt with funny print, or even a single color. This combination is suitable for a meeting with your friends or even for a shopping session, when you need to feel comfortable.
Don't be afraid to wear tulle skirt at a fancy event. You will look sensational in an outfit made of a delicate silk top and a long tulle skirt in pastel colors. With a soft hairstyle and matching accessories, you'll look like you're out of a fashion magazine.
I advise you to try tulle skirt in a shorter version to at an important event. This will help you create that ballerina look that has become fashionable and even adopted by the most beloved stars from abroad. A stylish woman wore a tulle skirt with a shoulder top, so that's why I advise you to try it to. This is suitable for daytime events when you have the freedom to choose an outfit to feel as comfortable as possible.
If you've tried a long tulle skirt at a special event, then you're already familiar with the model, which means you can wear it during the day to. You just have to pay attention to the accessories that complete the outfit, so as not to give the feeling of "too much".
And last but not least, you can wear a tulle skirt if you were chosen as a bridesmaid to one of your friends wedding. You can wear it during the day when you need to feel as comfortable as possible to complete the tasks required by this role. I assure you that you will be wow in any posture. Try these tips about how to style summer skirts.
1.Inject your femininity into your semi-formal set with a ballerina allure. Sport a midi tulle skirt in white and high-heel strappy sandals.
2. A bunch of bloggers tried this unusual but super-comfy athleisure trend. Tone down the elegance of your tulle skirt with a bomber jacket and tennis shoes. The cap is optional.
3. While this outfit reminds me more of a bachelorette party than a casual set, it still brings out the most of this powdery colored tutu skirt.
4. There are a ton of ways to bring out your princess side. Let a floor-length tulle skirt speak for your delicate taste and keep the rest of the look minimalist with a white top and high-heels.
5. Honor an anniversary, engagement, birthday party or any other formal event by putting on a voluminous midi tulle skirt in a pastel tone. The off-shoulder top only adds to the dreamy visual impression. Ideal for all silhouettes! Yeah, you heard me! 😉 Just another lovely way to style summer skirts!

How to style skirts with tops in summer
Most of the time, the combination of mini skirts and sandals is not a very happy one. The reason? The feeling of too much that such an outfit creates. In order not to be in this spot, I advise you to wear such a skirt with a pair of low-heeled sandals.
To complete the outfit, and to fit in the summer trends, you can choose a large top, or a thin top and why not, even a little thinner. Another good way to wear a short skirt with sandals is if they have a smaller heel. Of course, will be situations where you must attend a special event for which you choose a mini skirt, which means you must have a stylish look.
Choose a pair of small, thicker and more sophisticated sandals. You should carefully choose the rest of the outfit to avoid giving the impression of clothes random chosen or the impression that you don't know how to style summer skirts.
1.Mini flared skirts are a cute alternative to the fitting ones oh-so-criticized and shunned by hundreds of fashionistas.
2. Mini skirts in bright colors prove that summer is a mood-boosting season. Striped tops and pointy-toe shoes preserve the relaxed vibe of your set.
3. When the weather is too hot to handle think cropped and light colors. See this linen mini skirt and rustic white top for inspo.
4. Pencil or flared skirts are your thing? Why not try something different, like this pottery print mini skirt that looks just fantastic with a simple grey top, flats or fancy high-heels.
5. In your mind minis connote with obscenity? Let this outfit convince you of the contrary. Put your paws on a denim skirt you can combine with so many tops designs. 
6. That smile says everything, 'I look good…I feel good.' High-waist linen miniskirts can become your summer uniform especially after acquiring a beautiful tan.
Pretty summer skirt outfits with pleated skirts
Pleated skirts have returned to fashion and this time they are here to stay, at least this summer they are in great demand. They are feminine fashion articles that bring a noble air to any of you, if they are in the right combination.
You can wear a pleated skirt with a simple t-shirt in a neutral shade to let the skirt stand out. Put on a pair of sandals and you are ready for a day at the office. You can also make a wonderful outfit with a pleated skirt at an important event, if it's made of a more special material. That's not all. You can also wear pleated skirts in a sporty outfit, along with a pair of sport shoes and an extra-large top. The only condition is that the skirt must be soft, but not very diaphanous, but not rigid.
The new motto of the great fashion designers is that fashionable is what's really good for you, that's why you can adapt pleated skirts to your own style, in fact that's how you should style summer skirts. To inspire yourself in moments when you think your fashion sense has gone into vacation, discover these few pretty ways of wearing a pleated skirt.
1.Are you inclined to add just a drop of glamour into your urban outfits? Here's how you do it. Throw on a pleated midi skirt, a white T-shirt and a pair of brownish sandals.
2. Join me in a fashion challenge to sport the coolest and brightest pieces like this yellow skirt. A neutral colored lace tank top allows the unusual shade to prevail.
3. A black pleated skirt can become the foundation of your festive wardrobe. Pull off a monochrome set with this magical off-shoulder top.
4. Run your errands in an unpredictable yet accessible outfit like this one. Sport a one-layer maxi pleated skirt with a message T and sneakers.
5. Pleated skirt sets occupy a prestigious place in the abundance of work outfits. See it for yourself!
6. A skeleton T-shirt might not be a textbook style match for a soft pink pleated skirt. However, who says that you have to follow patterns? Go your own way!
7. A skeleton T-shirt might not be a textbook style match for a soft pink pleated skirt. However, who says that you have to follow patterns? Go your own way!
source
What to wear with long skirts
There are still statements that long skirts are hard to adjust for daytime. Well, things are not like that, this item is easy to wear anytime. The secret? Right combination. If you want a relaxed outfit, suitable for a meeting between friends, then you have to wear a long skirt with a simple top. In that way you let the dress to be the star of the outfit.
When the meeting is more than just a date between buddies, then you can choose a more attractive top and a pair of high-heeled sandals. Of course, there will also be situations where your outfit should look like is out of fashion magazines, but at the same time casual. You can come out of the deadlock with a special design blouse, either with the shoulders on sight and floral print, or asymmetrical, with a longer sleeve and a shorter one.
Fortunately for you, I've prepared some long skirts images that will help you fully understand the simple rules of wearing such a skirt.
1.Minimize the number of daily outfit struggles by having an all white maxi skirt in your drawer.
2. Mixing stripes is a risky business, however, if you do it, do it well. A one-shoulder long-sleeve blouse can be a daring match to a maxi skirt with the same print.
3. Repetitive summer skirt outfits can become Zzzzzz boring. Not if you discover the multitude of T-shirts, feminine blouses and shirts you can team up with this floral print flared skirt. 
source
4. Get over the funeral or Goth-vibe of a black long skirt and check out how stylish things can get when paired with a white shirt.
5. Regardless of your body shape, you won't regret trying this jungle print top 'slash' pink maxi skirt ensemble. Make the most of seasonal trends!
6. This old school looking maxi skirt can be easily perked up if you wear it with a pastel yellow cropped top and high-heel sandals with a contemporary design.
7. This casual look is anything but commonplace. Trust me, this type of midriff-baring with high-rise floral print maxi skirts is literally for everyone. 🙂
A line skirt outfit ideas
The A line skirts were, they are and they will always be in trend, and the reason is as simple as possible. This model successfully succeeds in highlighting any shape of body. It's that skirt model that works wonderfully with a pair of sports shoes, but equally well with a pair of more elegant shoes.
It's the right skirt for office outfits, smart casual and sportswear, for walks where you still feel the need to be feminine. Depending on your chromatic preferences and the clothing items you have, you can create fabulous summer skirt outfits. We advise you to be bold and make color combinations that you would not normally think.
Do not forget that you are in a hot season, in which color is fashionable, which means that you have to fit into summer trend. Discover our suggestions on A line skirts outfit ideas.
1.A-line skirts flatter all silhouettes and can be easily revamped with a wide belt or a chic top.
2. Welcome new trends like the mix'n'matching of prints with confidence. Plaid and stripes in the same set never looked this rad.
3. You don't have to be an aspiring trendsetter to be able to nail down this cutesy outfit with an A-line denims skirt and an oversized white shirt.
4. In need of a breezy and no-fuss summer outfit, think of block-colored A-line skirts allied with a plain white or moderately printed blouse or T-shirt.
5. Is it the shadow or is it an ombre skirt? Anyway, add a retro twist to your daytime chic with this button down skirt.
6. The red blouse offers the perfect base for a printed high-waist skirt. Opt for this or any other print you've fallen in love with.
How to style a white skirt
When it comes to white skirts things seem to be rather complicated, but in reality, the white skirt is very easy to wear. Are you wondering why? Because it's a non-color which makes it easier to combine it in different summer skirt outfits.
A white skirt can be worn with a black shirt, with an electric shade, and last but not least with a floral print top. Any of these combinations make the white skirt become the detail that makes the difference and removes any outfit from anonymity. This summer you can wear a short skirt, silk or cotton, but also a long skirt. You know just how elegant and refined are the long skirts for women.
I've only provided you with some key items to make when you start an outfit from such a skirt, but you only have to see with your own eyes the images of white summer skirt outfits.
1.Mixing a white A-line skirt with a fab boat neck black blouse seems a 'no-brainer', however, we tend to overdo things most of the time instead of thinking straight. Am I right?
2. Play down the extra-refined air of this lace midi skirt with a basic go-to cropped top and nude sandals.
3. Off-shoulder blouses are universally flattering, work them with white mini skirts in case you're in for a style statement.
4. Breathable textures and tailoring designs are going strong. Wear a beautiful gipsy-style maxi skirt with a delicate message top tied in a bun to create a cropped effect. Sneakers are optional. 🙂
5. Fiesta! White minis always remind me of latino club dance nights. Throw a bright colored crop top in the mix for a summer party look.
6. Draw the attention to the slimmest part of your silhouette with this A-line skirt and a tucked in ball-sleeve blouse.
Style tips about a skater skirt outfit
When you hear the term "skater skirts" you think about skirt models that fit only in combination with sporting items. Well, it's not so true. These are short skirts with high waist and folds that create an amazing effect. They are wonderfully worn with a casual outfit, with a simple, long sleeve or short sleeve short, or a top with a special print. Of course, this if the color of the skirt allows you to play a little with the palette of colors.
Also, you can wear a skater skirt in an office outfit, although it seems hard to believe. In order not to make a mistake, you need a cambered shirt, a suitable shoes and an accessories as simple as possible, but not nonexistent. In a second you get a wonderful and worthy outfit of a real professional.
Another style tip for skater skirts is to choose the right color that fits with your body. I advise you not to choose a skirt in horizontal stripes if you are a short one because this model will only cut you longer. Alternative? Vertical stripes that create the illusion of tall. Hope these tips will help you have an idea about how to style summer skirts or how to create a skater skirt outfit for summer.
1.Skater skirts have an instant rejuvenating effect on your look. Pair them with a T-shirt and high-top tennis shoes.
2. Keep it summery with a light pink skater skirt and a printed shirt. Accessorize with pointy-toe pumps.
3. After slipping into this breezy short skirt you will refuse to stuff yourself into jeans or long trousers. Ballerina flats will save your life on busy days.
4.I am hooked on these mini skater skirts in passionate shades matched with ruffled tops.
5. Athleisure separates should be top style choices during the warm months. The long kimono breaks the minimalist air of the black skater skirt and cropped top combo.
6. High-waist skater skirts give off the illusion of longer legs and an hourglass figure. Red becomes you especially if you're heading for a date night.
source
Tops to wear with high waisted skirts
How do you wear a high waisted skirt? This summer trends bring to our attention the high waisted skirts and the short tops. Why? To be combined in amazing summer skirt outfits. You may not be a big fan of the lace tops, but combined with a high waisted skirt that covers exactly what the top will reveal, you'll get a very cool look. This is for casual outfits.
Fortunately, you will also discover the tops you can wear in order to create high waisted skirt outfits in your everyday life, at your desk. These are rather shirts, or thin blouses that looks like an office shirt, with wide sleeves, with a pair of thin heel shoes, the office outfit is ready to make you receive only words of praise.
One very important thing to remember about high waist skirts is that it should always be worn with high heels shoes to stretch your leg, covered by a very large part of the skirt.  Hope these images will help you understand how you can style summer skirts this year.
1.Printed crop tops when associated with high-rise pencil skirts help you pull off a dressy and feminine look.
2. For an office ensemble think of floral or girly printed short-sleeve blouses you can easily tuck into your mini or midi skirts.
3.White T-shirts are not only hyper-comfortable but they also find their way into your work wardrobe. Juggle with all types of skirts and high-street pants designs. 
4.I just love each and every attempt to jazz up a basic T-shirt. Team up your newly created cropped top with a polka dot pencil skirt.
5. Kim Kardashian is one of the non-traditional style influencers. Follow her footsteps and nail down a similar 'good girl gone bad' look with a button down short cardigan.
6. Up the elegance of your date or work outfit by jumping on the off-shoulder top trend.
7. Up the elegance of your date or work outfit by jumping on the off-shoulder top trend.
Fit and flare skirts in image
Flare skirts are the slightly longer sisters of the skater skirt, which means that the outfits are not very different. If you've started to grab the skater skirt combination, then it's even easier to put in your wardrobe flared skirts. These are high waist and fold patterns, but the length is more generous, reaching to the knees.
You may be afraid to wear flare skirts, not knowing exactly which are the elements that create a perfect picture, but as with any other piece of clothing, you have to choose items that benefits you from head to toe. It is preferable that this skirt model be matched at the top by thin tops or long-sleeved blouses or even shoulders left, but they must follow the line of the body. Take a look at these pictures and learn to style summer skirts. Find what tops to wear with flared skirts.
Wide shirts are not suitable because they tend to give a careless feeling. You can play with textures and colors, because any bold combination is like a spot of color in everyday monotony.
1.Watering flowers in high-heels is 'so much fun'. :)) The flowy high-waist skirt only adds to the comfort factor.
2. Preparing for a special event? A lacy romantic top, a fit and flare midi skirt and you're good to go.
3. On a hunt for gorgeous date outfits make sure you stop at this whimsical combo of a cropped sheer top and floral print flare skirt.
4. The all purpose white cropped top when allied with a midi grey skirt is anything but worn-out and boring. Girls love it, guys love it, so it's a win-win style choice.
5. Fill out your closet with a few fanciful and also uber-practical flared maxis. Prints are your buddies when trying to escape from monotony and style summer skirts.

6 ways to wear a Ball skirts
I have come to the last skirt model and we can say it is the most fabulous of all. There must be at least a ball skirt in every closet of any lady because this may be the element that transforms them into princesses for an evening. You can wear such a skirt at a gala event, where the outfit should be without a spot, in a unique combination with an asymmetrical top. It's one of the combinations that you'll find at either wow or ew.
You can wear an incredible brilliant blazer in a divine color with a blouse in a neutral color. This is the key to highlighting such a creation. I advise you to try and medium-length ball skirts that bring a retro air and will turn eyes on you to any event you attend. It's a length that benefits every shape of body, so you don't have to worry that it will reveal the parts that you do not want everybody to see.
How can you wear a ball skirt? In a neutral color, but highlighted by greatness. It happens sometimes that you don't stand out by color, but by the effect that certain pieces of clothing create. A white or black skirt, but made in waves of special materials, will capture all the attention. You should not forget about floral prints to.
As I mentioned above, this summer is fashionable in color, which means you have to wear at least once a 3D flower print. And last, do not forget to wear ball skirts in combination with a top with the same pattern. You will create a perfect fit for the very special occasions in which you do not want to be surprised by wearing a skirt and not a dress. This way to wear the ball skirt will help you feel very comfortable but also super trendy. Let's take a look at these pictures so we can learn how to style summer skirts or to see trendy skirts for this year.
1.Fill out your closet with a few fanciful and also uber-practical flared maxis. Prints are your buddies when trying to escape from monotony.
2. Have a red carpet moment by putting on a picturesque floral print maxi skirt, a one-shoulder glam top. Top your look with a golden belt and high-heels.
3. The style crowd predicts the ultimate supremacy of co-ords when it comes to formal wear. A ball skirt creates the volume while the cropped top guarantees the delicacy of your festive set.
4. As I said before, you just can't go wrong with a similar combo. Your task is to choose from the hundreds of designs available on the market.
5. Lightweight block-colored maxi skirts offer the perfect ventilation during the hot season. Use this item as the perfect foundation for your set and play with various top styles until you find the ONE. Here is an example about how to style summer skirts.

6. Are you tired of shaving your legs? Just kiddin'! :)) You don't have to find a nasty excuse to wear long skirts. It's enough if you just love them, pure and simple. The fitting wrap top instantly elevates your outfit.
7. Ahhh…. I wish I had the inspiration to style summer skirts for similar looks. First step is indeed to find a few lovely ball skirts designs both for casual and formal ensembles. As for off-shoulder ones, I hope you already have it among your basics.
source
Read also about:
It's summer, it's hot and you have to take advantage of the high temperatures to make fashion combinations worthy of fashion magazines. Enter in the world of colors and light materials and follow the tips above about how to wear summer skirts. Copy these summer skirt outfits and you will see that you will become the goddess of the summer.
I invite you to discover the coolest trends and how to style skirts in summer, because I promise to keep you up to date with everything as soon as I can! Tell me, which of these summer skirt outfits, do you like?