25 Ideas About What To Wear On A First Date For Drinks
By
|
Wondering what to wear on a first date for drinks? A bar or a club is not an unusual setting for a date. If you were invited for a drink in the early or late hours make sure you match your apparel to the style of the place. In case the question 'what to wear on a first date in a bar?' gives you headaches, take a closer look at these stylist-approved examples.
It's not only about butterflies in your stomach, emotions, fears and scenarios over scenarios about your next date. Along with these intense feelings, you have to choose carefully what you'll wear at your next date. But, don't forget: the first impression is essential! The last thing you want is to send the wrong message. That's why I've made a small guide for women with useful tricks and pictures about what to wear on a first date for drinks. Choose one of these dating outfit ideas and add  your personal charm. You will definitely impress your partner at your date.
The most important thing to remeber when we talk about a first date drinks outfit is that, the fashion sense must be exploited to the fullest regardless of the weather conditions. Especially when you're preparing for a first date. Of course, you have to set a clear limit over which you do not have to pass if you don't want to scare your partner. The golden secret of a successful dating outfit is to wear what really fits you.  That dress or pair of pants that make you feel the best in your own skin are exactly what you need to feel confident and ready for a successful date.
So, I'm inviting you to find some cute first date outfits for women. They are made up of cool and fashionable items perfect as inspiration when you're out of ideas. Who knows, maybe this partner will be the chosen one, which means you must not mess things up. Use these images as inspiration in order to create intresting date outfits.
What to wear on a first date for drinks
We all love summer and the high temperatures. Especially us, dear ladies! We love to expose our skin during summer. That's why, from our wardrobe shouldn't miss the casual summer outfits. Use shirts, blouses with uncovered shoulders, thin fabric blazers, men's inspirational pants and feminine details. These are the weapons you must bring on in the fight of your date. Your goal is to bring the "prey" exactly where you want it.
Tip: Keep in mind: hot temperature can be your best friend, but also your fierce enemy if you don't protect yourself. So, don't forget to apply some sun cream if your date is during day.
You have enjoyed your vacation and now it's time to take advantage of the wonderful tan. As the contrast never fails, I advise you to try this little trick (white shirt and dark tan ) whenever you have the opportunity. From my point of view, you can inpire yourself from this image in order to create the best club outfits for women.

Are you are looking for a casual elegant outfit? Try to copy the one from the next image. High heels sandals, casual pants and a deep V neck top. I am sure you'll impress your partner.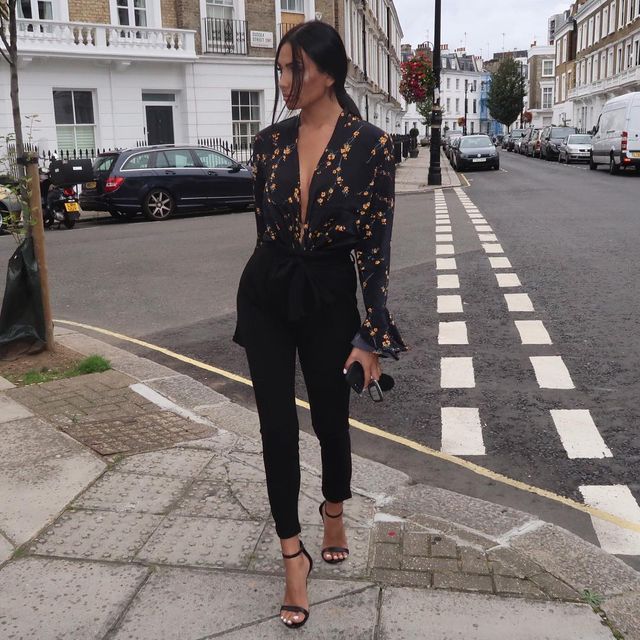 I know, I know… high heels are not exactly the kind of shoes to wear on a first date for drinks, but your outfit has to have something special… something feminine… You are already wearing pants and a large shirt, which are prett casual. Try this kind of outfit! I am sure you'll feel good in it !!!
Are you a skinny one? Wear this outfit on a first date for drinks. It's casual, but wearing these pointy shoes adds an elegant note to your outfit. Be ready to impress.
Don't feel like wearing something fancy? Create the perfect outfit with a white shirt, boyfriend jeans, high heels sandals and a coat. A perfect outfit for you next first date to drinks! You won't transmit a wrong message. Don't you think?
Simple and smart casual. Wear black if you want to look thinner. Add an elegant coat and you create a smart casual outfit. Sport shoes are perfect for a casual outfit.
Still casual or super casual. Leather pants, jeans shirt and espadrilles. Be casual and comfortable at your next first date for drinks.
I don't think that you could dress more casual than that. It's nice, simple and this outfit has a note of childhood in it.
A little sexy, a little elegant and some nice accesories. A perfect outfit to wear at your next date for drinks.
Be trendy and wear palazzo pants and an one shoulder off blouse. The color orange it's for an optimistic outfit.
Well, if you are not afraid that you could send the wrong message, try short pants with an off-shoulders blouse. Anyway, you could always wear the blouse and replace the short pants for the perfect outfit.
Be casual and match the leather jacket with your shoes. The visual impact is a nice one. As you can see in the next image, the boyfriend jeans have already many messages. That's why, you should wear a simple white shirt.
If you prefere high heels instead of sport shoes, try an outfit as in the next image. As you can see, it's always an corespondace between the shoes and the top and the leather jacket.
Super simple, casual and a beautiful outfit. For me it's perfect, except the hair. I would let my hair long… usually man don't like tails or pony tails… 🙂
I keep the same note in the next images. It's something that I would wear to a date for drinks. Would you?
Same outfit, diffrent jacket and diffrent shoes. As you can see, the same color for the jacket and the shoes.
We move easily, slightly again to the thicker, toughest materials and restrict a little the color palette. But that doesn't mean your fashion sense must fall out like fall leaves. It's important to play with textures. Make bold but appropriate choices.
Tip: Before you make up your outfit for the first date, you'll recheck the clothing items that really make you feel good. Don't forget that you have to show your body shapes without exaggerating. Here are some cute outfits for a first date to drinks.
You probably think what to wear on a first date, right? Something that makes you feel special. The leather skirt and the maxi sweater are all you need to get out on a casual date. Use these leather skirts outfits for inspiration.

I advised you to try to play with the textures and here you have the best example. The silk top, the cardigan and the cut jeans make a stylish painting perfect for a date.
Even if the weather is not too friendly, it doesn't mean you have to cancel your date. Choose a leather jacket. Put it  under a fur vest and you're ready to go out.
To a date you have to feel perfectly in your skin, but also sexy. So, choosing a leather skirt and a maxi sweater, can make you shine even if the weather is not on your side.
When you're out of ideas but still want to make a good impression, you definitely have to choose a pair of simple pants and a more special shirt.
Maybe you would like to read also about:
It's a fact that winter temperatures make you want to stay at home as much as possible. But that's not the case when you have a date with a possible partner. Things change and we talk again about your fashion side. I advise you to take care when you choose the proportion and the materials of your clothes.
Advice: Dress on layers, starting from thin to thicker, so that you can give up on the surface if the date takes place in a warmer place. I offer you some good casual date outfits suggestions for a date in a winter day. It will help you in any situation that seems to be without a solution.
Boots of any kind are the stars of this season. Choose a pair of long boots, necessarily over knees, with a pair of leather trousers and a long coat.
As expected the leather will also look great in this cold season, especially the leather jackets. These items are perfect in any combination, so I invite you to inspire yourself from the outfit above.
There will be days of sunshine in the cold season and you must take advantage of them by adopting a little more colorful casual date outfits. If the sunny day is going to be the one you're going to a date, then you definitely need to get inspired by my suggestion.
I know it's hard for you to create your casual date outfits since you have all sorts of emotions and feelings. But hopefully my suggestions are useful to you. There is one thing you should not lose sight of: you have to stand out with elegance and style. I hope that I've been helpful and I invite you to keep track of our other precious tips like first date outfits, winter night out outfits, going out outfits or winter clubbing outfits.
Source photo: Instagram
Maybe you would like to read also about: