38 Ideas About How To Style A Leather Pencil Skirt
By
|
I love wearing a leather pencil skirt, but I must confess I am not used to do it every day. That's why I was looking on the internet for pictures with outfits that could help me determine what to wear with a leather pencil skirt. And I was surprised! There are so many fashionistas who like wearing leather skirt outfits. Beside, style gurus make a big case for including these leather skirt outfits into the modern fashionista's wardrobe. So, to do that in a good way,  let's take a look at these black leather pencil skirt outfits, red leather skirt outfits, pink leather skirt outfits or brown leather pencil skirt outfit ideas. Put together a few A-list outfits with the help of casual and office chic essentials.
Black leather pencil skirt outfits
These chic black skirt designs are considered 'must-have' pieces especially if you are a fan of the utilitarian style. Sneakers, ankle boots or stilettos, you name it! Pair it with chic accessories according to your mood and your personal preferences. Follow the footsteps of trendsetters and create outstanding black leather skirt outfits to wear on a first date. Listen to dozens of foolproof tricks and tips on how to wear this black pencil skirt outfit. Learn to associate them with oversized jumpers and sweaters, a nice plaid shirt or daring tops. Lot of fast-fashion stores decided to offer similar style staples to the trendy skirts 2018 presented in runway collections during the past seasons. Let's take a look at these black leather skirt outfit ideas. Use a black leather skirt in order to create a cute winter clubbing outfit.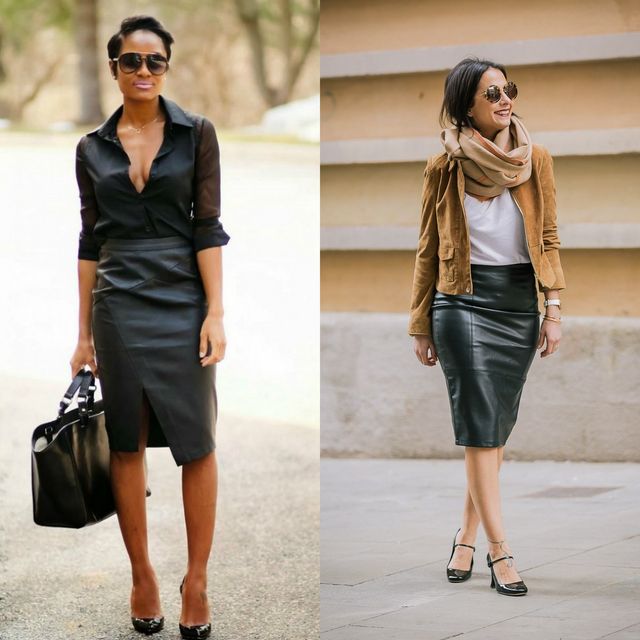 Red leather skirt outfits
Your lack of courage and confidence holds you back from sporting eye-catching outfit elements? Next time you get bored of neutrals make sure you consider purchasing a nice pencil leather skirt in red. The all-flattering tailoring of these clothes make them easily incorporate in party or casual summer outfits. Quality is very important. Therefore, take your time and find the perfect piece you can stick to for several seasons in a red leather skirt outfit. During the cold days make sure you try out the tights and skirt combo, whereas in summer flaunt your well-tone and tanned legs.
Plus size leather skirt outfit
Plus size women leather skirts are not so easy to find. However, if you happen to find a similar 'jewelry' piece for your wardrobe make sure you find numerous reasons to sport it. 🙂 The brave ones give you numerous ideas on how to nail down a body-conscious look with cropped tops and tight tube skirts. Black seems to be the safest option. However you can also try on brown, dark blue and even red women's leathers skirts for a stylish change in your clothing style.
You may want to read also about:
Burgundy leather skirt outfit
Burgundy, though not a top shade voted by the Pantone Institute for this year, continues to dominate street-wear. Besides the classic black leather skirt designs you will also see trendsetters sporting tube, flared and midi skirts in this amazing color. Whether you prefer faux leather or patent leather, make sure you have at least a similar item in your wardrobe. Indeed burgundy looks best when associated with neutral shades like: black, white and grey. Therefore, we suggest you to experiment with these win-win pairings. Minis are ideal for those who are confident enough to show some skin, whereas midi pencil or pleated skirts flatter all body types. Choose one of these burgundy pencil skirt outfit.
Pink leather skirt outfit
Scrolling through the pink pencil skirt outfits suggestions of street style divas you may feel the need to start a new chapter in your style evolution. Pink leather skirts can be the perfect items to add a splash of color to your daily sets. We promise that as soon as you learn a few accessorizing tricks, you'll be able to embed these tight leather skirts designs into your work wardrobe. Organize your tops and blouses to find some in neutral colors or printed styles that can be matched with a few stylish bottoms. Rookie fashionistas can go for the faux leather pencil skirts or flared designs. Those who are in this business for a longer time should definitely experiment with the patent leather versions that require advanced accessorizing skills. Try to create a beautiful business casual outfit.
You may want to read also about:
Beige leather skirt outfit
Beige finds its way through the top color trends of every season. Lighter or darker tones are embraced by fashion admirers promoting both a minimalist clothing or more non-traditional style. See these women in beige leather skirt if you want to recreate the perfect looks for the cold season and also for the warm season. Beige and white is a timeless match. In addition to neutrals you can nail down a fabulous beige skirt outfit by putting together earth tones with magenta, dark or light purple and even dark blue. I would suggest you to opt for midis that continue to dominate the runway and offer a modern air to any beige pencil skirt outfit. These staples are reintroduced in mainstream fashion every year. Make sure you continue to wear them with pride and joy! 🙂
Brown leather skirt outfits
Major retailers provide you with fashion-forward high waisted leather pencil skirt and flared skirt designs in the several shades of brown. If you find yourself slightly bored by neutrals, I suggest you to purchase a similar skirt to the ones lined up in my trend report. It's never too late to renew your wardrobe and clothing style! 🙂 When it comes to party-perfect outfits go for faux or patent leather minis. However, if you want to keep it casual pleated, wrap and midis are top options. Oversize jumpers, see-through tops and even casual T-shirts look pretty awesome in a combo with leather skirts. Take a look at these brown pencil skirt outfits.
Blue leather pencil skirt outfit
Whether it surprises you or not, blue pencil skirts and neutral colored tops are tried and tested pairings. According to fashion experts and designers. If, for some reason, you skipped this trend, make sure you put on a similar skirt design. You will see its fab impact on your whole outfit. There are vibrant and more accessible shades you can choose from. Also, you must take into consideration the tailoring design that brings out the most of your silhouette. Create off-duty and effortless casual fall outfits that speak for your refined taste in modern trends. Or find a way to pair these essentials with a classy white shirt and create beautiful going out outfits or office-appropriate sweaters.
You may want to read also about:
Help me complete our style forecast with chic outfit ideas and product suggestions for leather pencil skirt outfits. 🙂 Use the comment section below to tell me what color you prefer for the leather pencil skirt! 🙂