31 Inspiring Summer Festival Outfits For Women
By
|
Is there anyone who doesn't like music festivals? Maybe… But I am the kind of person who love them, especially when it's hot outside. Anyway… because I like to be fancy and always prepared, I think all the time how to dress for a summer music festival. And that's why, mapping out a selection of possible summer festival outfits it's my way of dealing with the lack of inspiration.
You know how it is: you have the tickets…, the crew of friends…, the location and the dates when the festival will begin and end of course … And after that, it's time to start thinking about what clothing to pack in your suitcase.
I don't know about you, but for that, I have to think at each concert and for each of it I have to choose a festival look, because most of the time, the music festivals are not in my hometown. Lucky you, if the festival is in your hometown! 🙂 You'll have the privilege to change your clothes each time you feel uncomfortable or to adapt your music festival wear to changing weather conditions.
On the other hand, if you had to make a long, long way to get to the party center, make sure you think out your summer festival outfits carefully. Bye bye style meltdowns and funky surprises!
No doubt, music festivals from all over the world have become events that allow aspiring trendsetters and even celebrities to express their wildest and super-creative summer festival outfits. Join the fashion crowd, it's your time to shine!
In case of concert series that take place in a wild and green area, rubber boots and raincoats are a 'must'. In addition I advise you to sacrifice your flirty style ambitions for comfort. Instagram and Facebook-worthy looks can be easily put together with shorts, jeans, Boho maxi dresses and other staples. Think heels and platforms only if the setting makes it possible to wear them. You don't want to become a celebrity in festival fail army videos! Oh nooooo!
Festival fashion outfit ideas from this year, moved on from cliché ( as uber-many floral crowns) to experimental and unpredictive. Literally nothing is off-limit! Thrift store oversized band T-shirts or granny style dresses with combat boots are definite game-changers. Don't be surprised if you'll be approached by flashing cameras or phones. Leave your serious and mature self at home. Think of you festival looks as a manifesto of your originality.
For that, I invite you to find a selection of 30 spring summer music festival outfits, that might inspire you when you have a lack of inspiration, like I do 🙂 !
Summer Festival Outfits
1.Year after year we see the lace dress pop up in its coolest and loveliest way at music festivals. Give to your set a Boho vibe with multiple leather belts and chic ankle boots.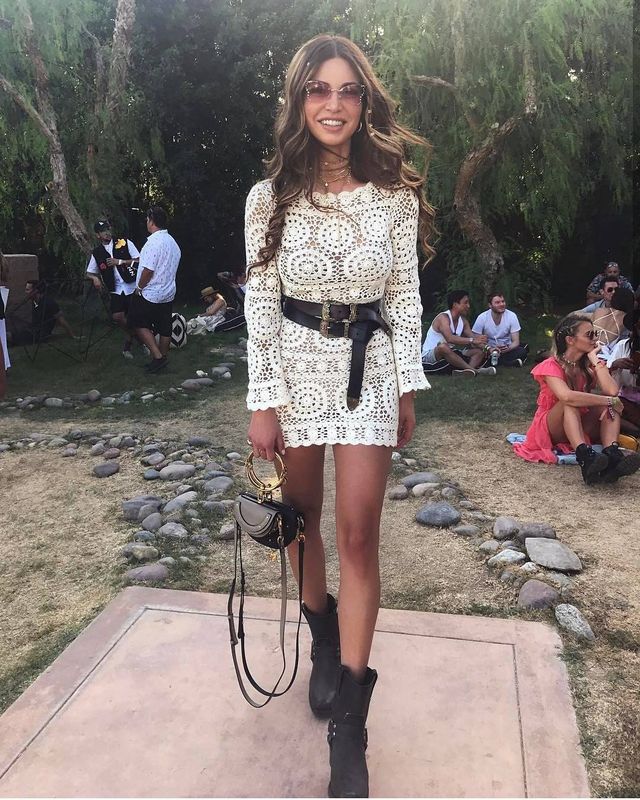 2. Festivals bring out the Queen Bee in you? Confidence is everything when it comes to this sylph-like mini dress, knee-high lace-up boots and breezy kimono, all in alluring shades.
3.Leaders of the style pack know all about mixin'n'matching bright shades. A red off-shoulder flamenco style top, lace shorts and bright pink ankle boots, what a reckless and daring move for festival outfits women can wear! 
4. Give it up for the all time favorite summer festival outfits and wear a romper with boots. Regardless of your figure, you'll feel flirty and stylish wearing this timeless piece.
5. Whether you're a vet or a first timer in music festival style you just can't go wrong with an off-shoulder top and a pair of shorts. Belts, chokers, hats and booties or sandals help you blend into or stand out from the crowd.
6.Double denim is on and will continue to fascinate us. A 3 or 5-day festival allows you to play out plenty of same- or different colored combos. You can dress like that when you think to a summer outfit for going out with your friends or you are looking for a casual drinks outfit.

7. How about swapping your floral crown for a dapper printed dress, denim shirt or jeans? Make sure you don't over saturate your summer festival outfits with a single pattern.

8. Crochet looks vintage and old. I hear that a lot! But that, doesn't mean this can be included in casual outfits for  50 year old woman. You'll need a few inspiring pictures with music festival outfits like this one that change the way you think of similar miniskirt and cropped top sets.
9. You don't have to party in the dessert to be able to sport a similar white long-sleeve dress with 'heat-reflecting powers'. It looks just as fantastic also in the concrete jungle or at a city festival. Top it with a long suede vest for a Woodstock feel. I just love this kind of leather skirt outfit.

10. What to wear to a music festival in summer? How about a knit mini dress with a peek-a-boo effect nicely exposing the shade of your lingerie or better, swimsuit. Boots and Bohemain jewelry are props to turn you into a goddess. Be careful, this kind of dress is not suitable for winter date outfits. It's too provocative and you might give a wrong impression.

11. Let's break down this high-street and oh-so-comfy festival look! An outfit with a pair of denim shorts, a white off-shoulder top, ankle boots and eventually a cool bandana, retro chic sunnies and a set of glam temporary tattoos. Success is guaranteed!
12. Fight the worst rep of mesh tops by recreating eye-catching summer festival outfits ! Keep things super simple with a jeans short outfit, a black bra, and sneakers. Let your attitude do the talking!  
13. This casual summer outfit for teenage girl shows how obsessed are trendsetters with 60s, 70s festivals like Woodstock and Isle of Wight. Cut-out crochet bodysuits, timeless denim shirts and kimono style cardigans are real show-stoppers to turn heads with.
14. Double up on nonchalance and comfort with this white skirt outfit! Lace insertions might seem too much but are in perfect contrast with muddy combat boots for special summer maxi skirt outfits.
15. I spy with my little eye the grooviest and snazzy crochet jumpsuit. Amazing how quickly you can go back in time and bring back the 'Joplin' vibe of old-time festivals with boots, a hat and crochet bags.
16. The crop top and the choker saved this outfit from being Western chic at its 'worst'. Instead, this trendsetter managed to tone down the Cowgirl Jane look and offer us a perfect example of originality. If outside is not to cold you could wear this outfit during fall music festivals or, why not, you could use this picture as inspiration, in order to create club outfits for cold weather.

17. Music festival outfit ideas are often hard to decipher. Like this roller girl meets flower power combo with 'too many' wooden accessories you can easily leave at home and still have a unique and mod look. 
18. While the hat is a bit too funky for me, I love the minimalist bralette and ripped jeans blend all topped with the loveliest lace cardigan worthy of a modern bride. Forget about the cardigan for cute party outfits with jeans.

19. Wish I had kept the knit or crochet blankets from my granny! I could really turn them into music festival outfit ideas like this one. Colorful, original and at times even sassy. You might use it in order to create cute winter night out outfits.

20. Trade bright prints for simplicity! Double denim is the ultimate formula with so many variations to inspire you. See also my trend report about what to wear with denim shorts in summer, if you want to see more inspirational outfits.

21. So classy and hip! Now is the time to complete your jeans arsenal with a pair of flared ones. Team your retro pants with an airy white blouse and block-heel booties or sandals for a casual summer outfit with jeans.
22. A festival is a free pass to being free-spirited also when it comes to your black skirt outfits. Deep V-neck psychedelic print frocks, booties and retro sunnies continue to set the 'Purple Haze' atmosphere for the event.
23. I just love the anti-fashion ambitions of so many festival goers. No need to make a fuss about whether everything fits and looks neat. Throw on a button up tank top, a pair of shorts and survival boots! Bijoux are optional. You can wear this club outfit with shorts to a party. Would you?

24. Pharell did pass on the love for these 'Happy hats'. Keep the rest low-key with a sheer mini or midi dress, chokers and black boots.
25. The Hippie spirit lives on thanks to fashionistas who continue to wear the coolest sheer tops, roughed-up jeans and iconic accessories like the wide-brim hat, Western boots and chokers. Try this kind of summer festival outfits when is cold outside. You could also copy the outfit from the image if you wonder for what to wear for clubbing female.

26. Beat the heat with a printed maxi dress that looks rad regardless of your figure. Think practical and unique when it comes to accessories like cowgirl boots or hats.
27. That hat again! :)))) Ok, now it definitely rivals the eye-catching effect of the mermaid glitter top. However, 'freedom of expressing your creativity' is the ultimate motto of these events.
28. Back to the basics! Ethnic print shirt dresses continue to dominate the funky festival outfits. Why lose the idea of wearing something that has been tried and tested for decades? I just love this kind of summer festival outfits. They are perfect!

29. Earthiness is so vivid in this flower gal set. Suede pants, leather belts, floral printed tops and wooden jewelry all make reference to the Woodstock festival aesthetics.
30. Vibrant colored knit dresses are definitely a thing of the moment. While festival girls try to create the Boho air, turquoise still has a contemporary and 'haute' vibe to it. Don't worry, you don't have to get messy to be a part of the stylish few! Rubber boots and a hat will do that for you. Love these kind of outfit ideas for music festivals.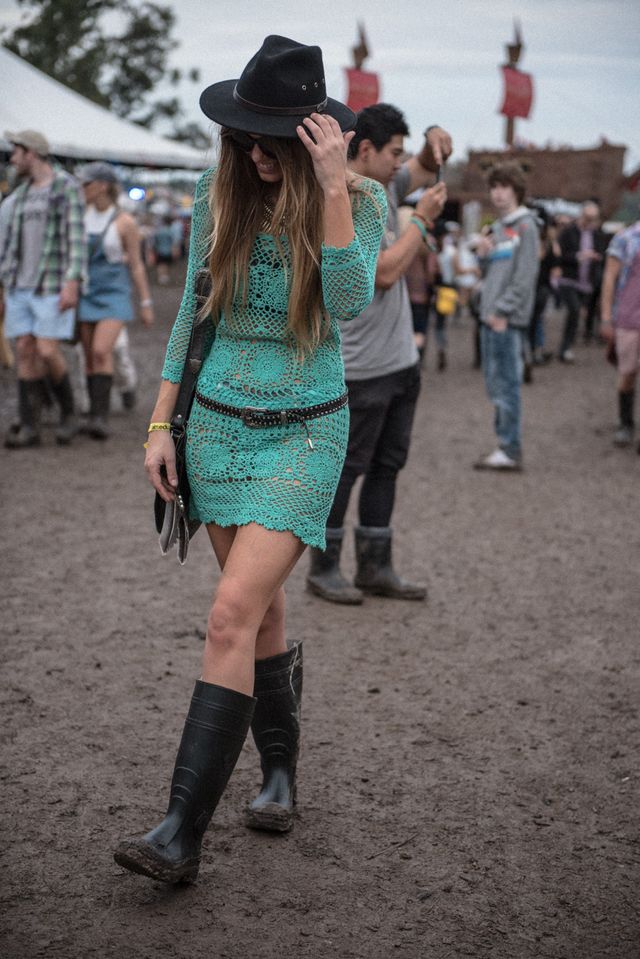 Whether you are there to see your favorite band or to hang out with the fashion tribe and show off your memorable outfit ideas for music festivals, it's important at all times to feel comfortable in your skin. Imperfection is a keyword! Remember, you're not at work or at a casting! Work with what you have in your closet or invest in a few summerish pieces you'll wear all throughout the season. Accessories can become your allies in taking a minimalist set and turning it into a statement ensemble paying tribute either to ultramodern or retro 60s festival trends.
Ideas for summer festival outfits are everywhere. Always take into consideration the setting, how many days you'll spend at the event and weather conditions. Non-conformists and counter-culture fans gather each year to celebrate music and nowadays also fashion. Step out of your comfort zone with unique chromatic combos or items sculpted from interesting textures OR stay true to your humble personality who wants to have fun without being in the spotlight. Enjoy your experience and hope you found some inspiring ideas for your next summer music festival outfits. If you did, tell me which one you have chosen 🙂 !