The Best Club Wear 2019 For Women
By
|
I like music, I love dancing and I love wearing cute club outfits. That's why, from time to time I spend a evening out with my friends and try different club wears. I might say, I have some experience when we talk about what to wear in a club. I hope you'll find these outfits, pretty and useful.
Choose carefully the club outfits you are wearing. You want to make a good impression. Find here the perfect clubwear or some interesting club outfit ideas. It's time to get rid of your old clothes. Try these summer going out outfits.
Create you own summer with a mini dress clubwear or a short club dress or a club outfit with jeans without heels or a club jumpsuit. Those are the most frequently clubbing outfits that women are wearing. But in the same time, a club outfit with pants, even with short pants or pencil skirts associated with clubwear tops, are very suitable for a night out. Read on to get a inspiring ideas for the perfect club outfit. Learn what to wear to a club in winter or summer.
How to dress for a club female
You have to be a stylish girl to every hour of the day or night. But, if you are looking to find the prince charming, pay a little more attention to your night club outfits. Break down the monotony for your clubwear outfits. Buy some modern dresses for clubs. Put your silhouette in evidence with a stylish look. Or just transform your summer casual work outfit in a club outfit. Use the right accessories. Here are some proposals for club dresses you should buy for a beautiful and modern look.
www.prettylittlething.us; www.asos.com; www.newlook.com; www.newlook.com; nelly.com/uk/; www.lulus.com
The season's top style essentials are definitely club jumpsuits. Instead of wearing black leather skirt outfits, like the ones in the previous images, you should see these looks. When these items hit the scene we were pretty skeptical of how easily an average fashionista can pull this look off. However, with time, thanks to hundreds of trendsetters, we were convinced that we must try this trend at least once. The result was surprising.:) The numerous designs of short romper outfits and jumpsuits allowed us to match the right design with our silhouette. Wondering what to wear on a first date in winter, then, you should know that composing chic date outfits when using rompers or jumpsuits  matched with boots, requires minimal effort.
innabose @ Instagram
www.asos.com; www.gslovesme.com; www.lulus.com;
Club outfits without heels
How to wear flats to a club? This is one of the favorite questions of fashionistas who prefer comfort. Now, is the time to set the record straight. According to stylists, you shouldn't sport stilettos or sky-high sandals if you want to show your dancing skills and not your walking skills. Pointy-toe flats as well as flat boots and sandals offer a nonconformist and 'just because' air to your look. Little black club dresses, clubbing outfits ideas as jumpsuits and shorts look amazing paired with these footwear designs. As soon as you get the taste of these clubbing outfit with flats, you won't be able to neglect them. 🙂 Choose to wear comfortable summer clubbing outfits 2019 or you can say no heels club outfit.
www.asos.com; www.nastygal.com
The long-awaited season of outdoor parties and festive events is near. If you want to simplify things when composing your clubwear outfits pick jeans and mix them with Boho style tops or breezy tank tops. They are perfect to survive in the warm days. Rather than emptying your pockets by purchasing new pants, reinvent the old ones. Make them cropped or distressed using a few insider tricks. Here are some inspiring clubbing outfits with jeans. Even if it seem a casual summer outfit with jeans, it depends of accessories you are using to transform it in a club outfit.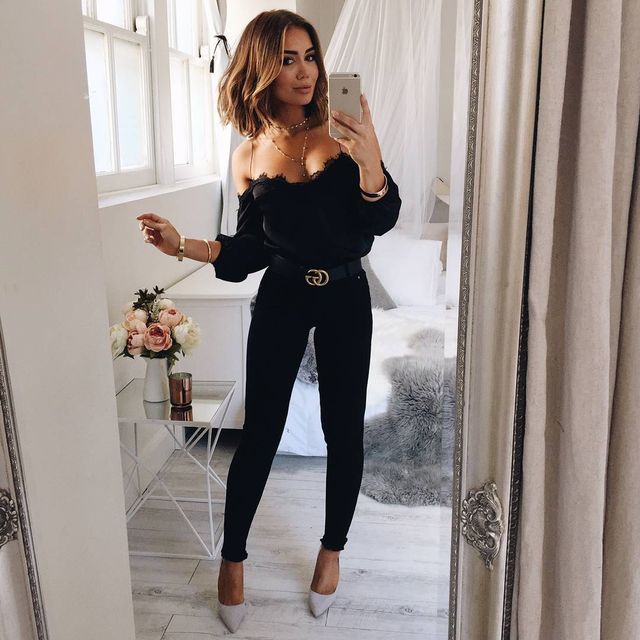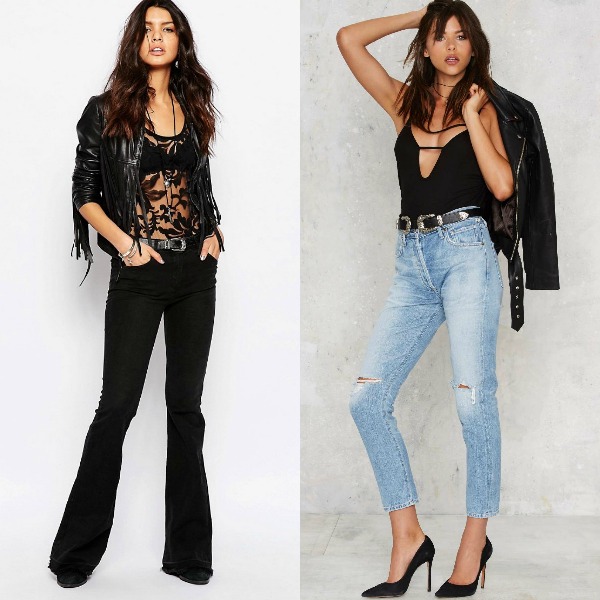 www.asos.com; www.topshop.com; www.lulus.com; www.nastygal.com
talisalo @ Instagram
Club outfits with pants
Next time you consider coming up with the idea of the perfect club outfit a pain in the back, come back and check these cute outfits with skinny jeans or flared pants and clubwear tops. Now, after you recovered from that 'AHA….' moment go to your favorite store and try on a few jeans or trousers that suit your personal preferences. Crop tops are fab for ab-flashing. On the other hand, if you want a more delicate and classy look, team up your favorite pants with breezy tops and boyfriend shirts. You could copy these pictures if you don't know what to wear on a first date for drinks.  You will look attractive. Take a look at these pictures and find inspiration for casual outfit ideas for summer.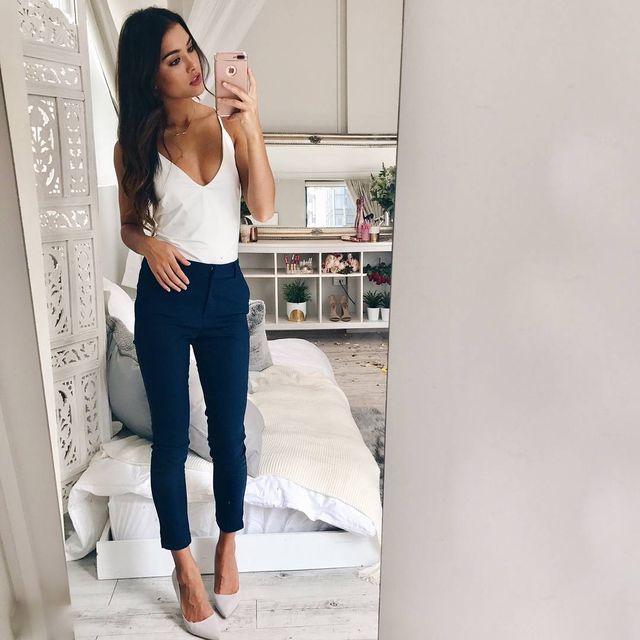 source
www.prettylittlething.com; www.asos.com; www.lulus.com
Summer clubbing outfits
Wearing shorts is rather suitable for a music festival outfit then for a club outfit. However, is better to dress with shorts than wearing long summer skirts outfits. I found some examples of outfits with jean shorts that you could wear next time you go to a club. Mix and match the basic pieces of your wardrobe. It's all about finding new outfit ideas with lace, silky or denim clubbing shorts and matching tops. Follow our lead and say goodbye to the old routine of wearing only night club dresses or cute club dresses for parties. Offer tons of inspiring ideas by experimenting with non-traditional and challenging sets of clubbing outfits with shorts. Here are some 2019 club outfits ideas . You can always use these images as inspiration in order to create beautiful summer outfits for teenage girl.
www.nastygal.com; www.prettylittlething.us; www.lulus.com
Summer going out outfits
Elevated  style piece can become gorgeous elements for outfits to go out. Rely on the 'French girl' chic effect of midi skirts in sheer block colors or with versatile prints. Plus you can match these items with off- or one-shoulder blouses. Cropped or flared pants are a huge trend right now!
You don't need to invent new sets! It's enough if you drop a glimpse at these images and recreate these summer going out outfits with the stuff you have in your wardrobe. Let colors and refined fabrics do the talking. Black and white are extremely elegant whereas bright tones are real attention-grabbers. Nothing says romance and class quite like lace and chiffon.
This girly black and white dress can be easily taken from casual to elegant by climbing on high-heel sandals and adding a chic medium size bag in a matching shade.
You don't have to find an excuse to dress extravagantly. Here's a set you can also nail down when searching for first date drinks outfit or a weekend party.
We've seen the combo of distressed denim skirts and cropped tank tops. These are outfits more suitable for festivals. However, you can sport similar urban jungle outfits for a party night at the beach.  
Teenagers wear it, mature women wear it! Faux leather mini or midi skirts are a long-term investment and look gorgeous with tank tops and a ripped denim jacket. Include this item in your wardrobe with casual outfits for teenage girl.

Romance is in the air with this fairy tale tutu skirt, the fanciness of which is toned down by the denim shirt and a casual hairdo.
High-waist fitting skirts are your secret weapon to attract the attention to your curves. Balance the daring vibe of this skirt with a more delicate and elegant floral top.
Asymmetry has an ultra-modern air to it. Put together flirty summer going out outfits by choosing a white short in the front longer in the back skirt and an off-shoulder black top. Use this picture as inspiration if you don't know what to wear with a white pencil skirt or what to wear on a first date to dinner.

A similar going out outfit will garner you hundreds of compliments. Stand out with this maxi metallic colored skirt played down by a white tank top.
Your plan is to show off the beauty of your beautifully tanned skin? Here's the recipe. Mix an off-shoulder fitting top, a lace or soft textured maxi skirt with a laid back up-do. Create beautiful summer maxi skirt outfits like the one from this image.

I dare you to swap the block-colored pencil skirts for printed flowy ones that you can team up with a nice mono colored blue shirt.
One trend that keeps coming back every summer is the high-waist skirt with ruffles in neutral tones. A cut-out white top is a perfect match to this 'must have' item. Just a perfect casual outfit for summer.

What to wear on a night out with friends
The best summer going out outfits should make you feel confident and attractive. If you're looking for glamour I recommend you the coolest and flirty jumpsuits and maxi dresses on the market. However, if you want to dress up just a little without having to sacrifice comfort, faux leather pants and skirts, club outfits with shorts or summer dresses are the real thing for you. In terms of accessories think about strappy sandals or wedges. These outfits are suitable for going out to bars.
If you plan to make a sensation with your looks and not your moves, sport this sultry LBD with equally fashionable chunky heel pumps with floral embroidery.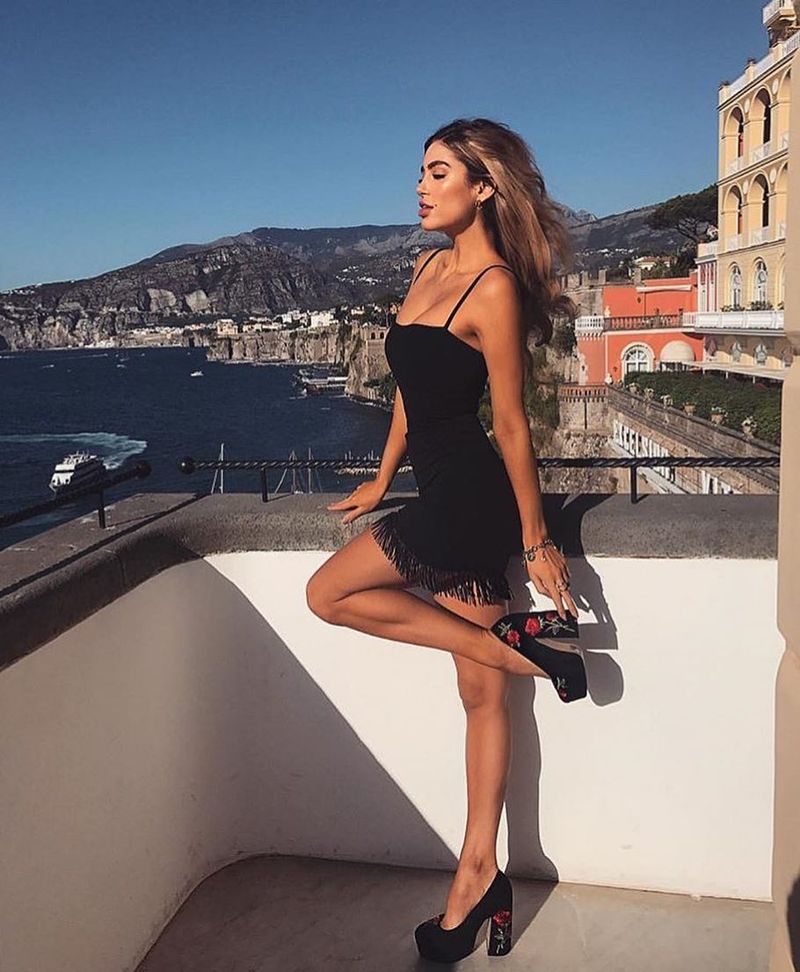 Black frocks are a style staple all season-round. Sport this ultra-sensual thigh-high slit and V-neck midi dress with strappy sandals and delicate jewelry like a nice necklace or multiple rings.
Boyish athleisure trends are 'on'. Pants with a white side-stripe and brand name are in themselves statement elements of best summer going out outfits. So keep the rest of the set simple with a black tank top and high-heels.
Breaking down this outfit into the black tank top, the LV belt, the fringe cropped flared pants and light blue platform sandals is much easier than putting it together.
If you're skeptical about flared pants check this distinguished double-button trousers design perfectly matched with a chic fitting off-shoulder top.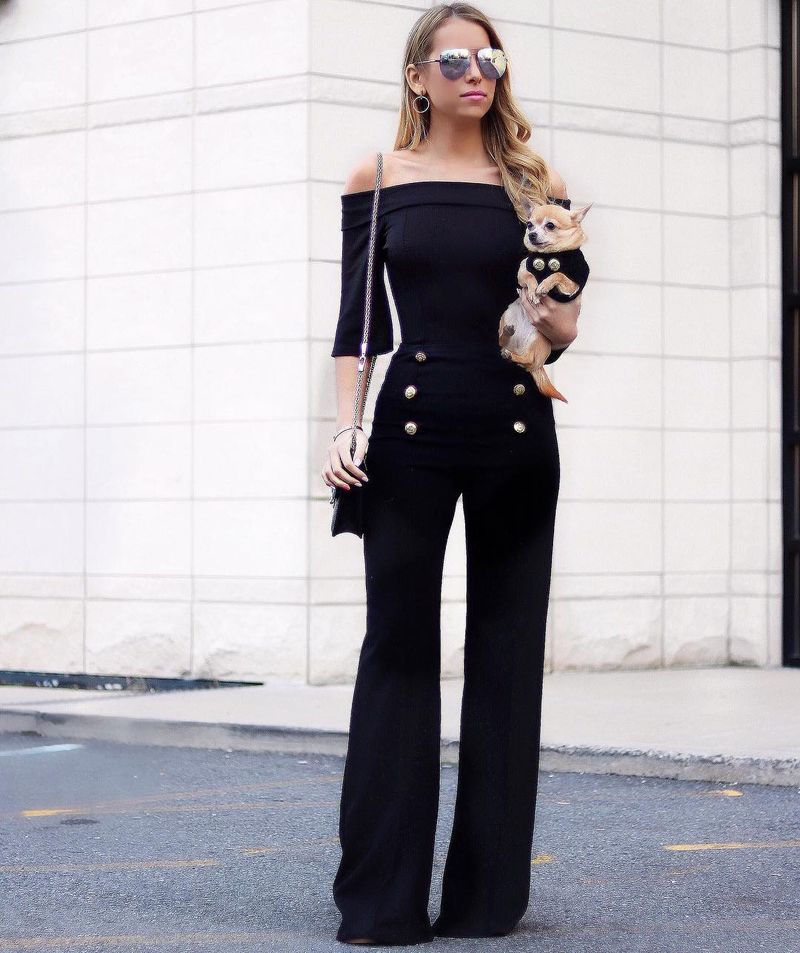 For a perfectly cohesive cocktail-party outfit make a long-term investment like this amazing and fashionable jumpsuit with lace insertions and just a touch of transparency.
 Black jumpsuits remain the essential part of trendsetters' wardrobe so be aware of that when selecting your A-list evening outfits.
This outfit is anything buy low-key, its mono colored dark perfection. The off-shoulder blouse and the matching faux leather leggings outline your fab silhouette.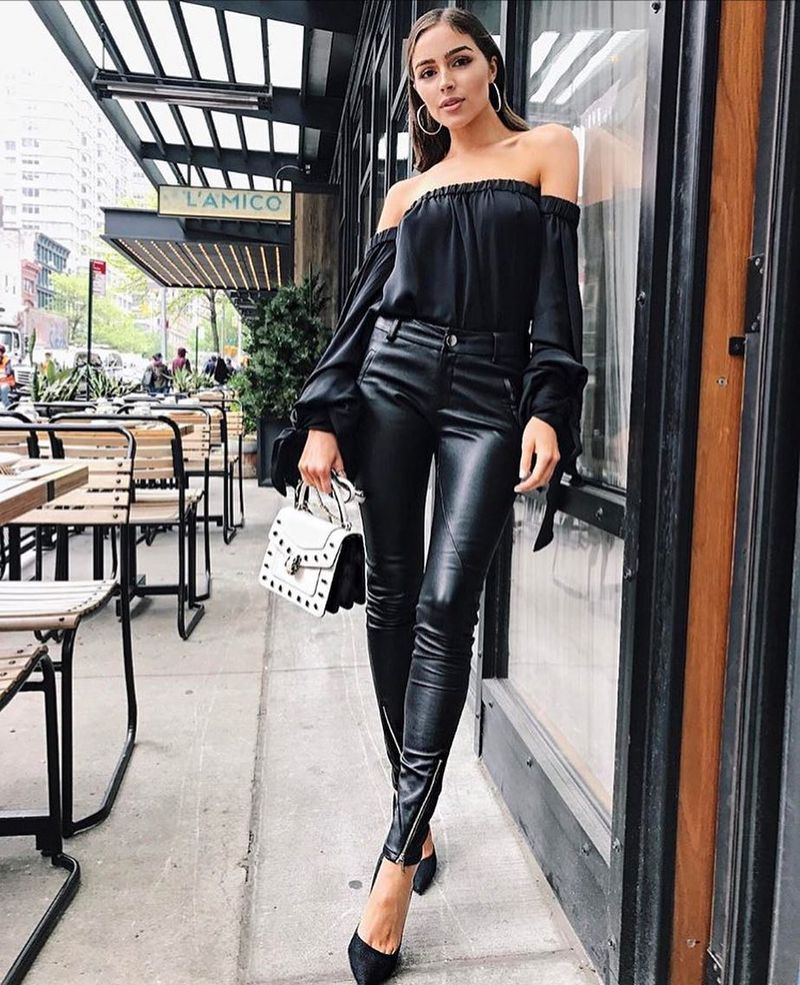 Street style divas make a case for this almost 'no brainer' combo that makes you feel all glammed up for going out. Try this image or a clubbing outfit.
 An outfit that will definitely spark the interest of those around you, be it women or men is this gorgeous match of grey jeans, an off-shoulder black top and strappy sandals.
This casual party outfit emanates confidence. Sport a leather pencil skirt outfit with a white T-shirt and peeking black bra for extra sex-appeal.

You can't deny the sophistication of these high-waist flared pants paired with a simple yet voguish faux leather bralette. You could also try a black culottes outfit.

Black rompers are much-loved items of the summer. Put on one of these fancy versions and top it with a statement tribal necklace for a va-va-voom effect.
Choosing an ideal set for summer beach or pool parties doesn't have to be a complicated process. The off-shoulder LBD is the ultimate style choice for an effortless look.
Dolling up is a way of preparing for a night out. Lace has always been a trend fashionistas embraced to channel their feminine and romantic side.
Oh, boy! Cage sandals could not be any cooler especially if you sport a black midi dress and let your statement footwear speak for your unique style.
The wide side-cut offers this 'apparently' minimalist black jumpsuit a seductive vibe, guaranteed success if you ask me! 🙂 Try beautiful summer going out outfits.

When in doubt, especially in terms of colors, go for neutrals like black. I can't emphasize enough that this shade is simply timeless and suits all silhouettes. The best party outfits allow you to make an impression with simplicity. Try to replace your black pencil skirt outfits with mini or midi dresses that follow the line of your silhouette are 'too hot to handle' whereas faux leather leggings, flared pants and jumpsuits are a subtle way to show off your assets. Also you can dress up these outfits for a night out with a pair of statement earrings, voguish stilettos or cute sandals.
Suck it up and wear high-heel sandals to turn this skinny pants and white top set from festival to party chic!
I can't imagine anything more sensual than this off-shoulder white blouse with baggy sleeves and a pair of high-waist jeans. Golden necklaces only add to the amorous vibe. Don't think about some casual shoes to wear with jeans in order to finish this look. Definitely you have to choose something more stylish, more elegant.

My compilation of ideas for an outfit night out, should serve you as an inspo. Note that these are just my 'humble' suggestions 🙂 You can always deviate from the basic rules of minimalism depending on your preferences. Jeans and mini dresses are always go-to style options, however, each season fast-fashion stores and runway designers manage to add a little extra to throw in the mix like jumpsuits or playsuits and mnidi frocks.
Depending on the setting and also how long you plan to stay out with your folks, choose eye-catching or more laid back outfit elements. Some of the daytime sets  can be easily transitioned to the best party outfits with a little help from accessories or to outfits to go out in winter, if you add some extra clothes. Swap flats for high-heels or platforms. Leave your oversized bag at home and sport a clutch. Enjoy these summer going out outfits 🙂 !
We help you make your way through the tens of fashion trends when it comes of club clothes or clubwear dresses. Tell us your tips and opinions about your favorite sets for club outfits 2019. 🙂