32 Cute Outfits With Black Skinny Jeans To Copy This Year
By
|
In general, mixing tops and shoes with black skinny jeans, in order to create cute outfits with black skinny jeans, may not seem such a big problem. However, sometimes I confront with a lack of inspiration. That's why, searching on the internet, I found many inspirational cute outfits with black skinny jeans. I hope that, these examples will help you adapt to your preferences and needs. My aim is to cover different designs of footwear and show you how to wear black skinny jeans in any season. I encourage you to keep some of these ideas at hand for inspiration on both your working days and fun weekends.
Whether you have a moderate selection of "pieces de resistance" in your wardrobe or it's time to make an inventory of tens of clothes designs you own, I advise you to spend a few minutes analyzing your stash. Remember how to wear black skinny jeans with boots, sneakers, shoes or sandals. This is the secret to be able to wear your favorite denim items all through the cold or hot weather season.
Seasonal footwear like sandals, mules and athletic shoes are best shoes to wear with a pair of black skinny jeans during summer. However, wearing numerous casual shoes like: sneakers, converse or even over-the-knee boots is not conditioned by the temperature outside.
Take a modern and adventurous approach to your clothing style by experimenting with a few of the cute outfits with black skinny jeans below!
Cute outfits with black skinny jeans
No matter which are the jeans designs you prefer, chunky heel or flat boots are a 'must have' accessory for the cold season. Light tones are perfect for the warm and dry days whereas black or dark grey is a reasonable option for the wet and moody period. When it comes to heels, adapt your style to various occasions and create different outfits for going out or date outfits for drinks, or, why not, interesting festival outfits for women . Learn how to wear black skinny jeans with boots.
At work, sport the loveliest high-heel leather, suede and even velvet booties. For casual events enjoy the comfort flat combat or wedge classy designs offer. As you see black skinny jeans look super-voguish when matched with these staples. Some of the pictures below, are a good inspiration for creating also winter club outfits. Let's see some ideas about how to wear black skinny jeans.
Wondering how to wear black skinny jeans with flat boots? These three next images might be the perfect inspiration for you. Whether you like wearing black, or maroon or bright colors, you will find beautiful outfits to copy this winter.
themrsgibby
Satiate your appetite for earth tones by investing in a stylish olive bomber jacket or khaki bomber jacket. Construct effortless cute outfits with black skinny jeans using a few basic items like loose and comfy blouses or a fancier top.
Taking a peek at celebrity public appearances and urban style blogs, you'll see that these 'in' women's green bomber jacket designs radiate confidence. Roll or push up the sleeves for a voguish and inspiring look. Oversized cropped designs are ideal for tall fashionistas with an athletic or slender figure. On the other hand, you'll find the lengthened versions sculpted with thinner fabrics, I highly recommend to curvy ladies.
Burgundy is unquestionably a timeless shade whether you opt for the lighter or darker version of this color, you'll manage to add a feminine and contemporary touch to your wardrobe. In addition to the mix and matching with   jeans we dare you to embrace the emerging bomber leather jacket trend! While the material might be a bit stiffer in comparison to smoother polyester, you'll get used to it after a while.
There's not much in the winter boots department that hasn't been presented on the catwalk. So you have tens of footwear designs to choose from and create cute outfits with black skinny jeans! How about keeping the textbook style cold season accessories like leather or suede elegant or casual boots and adding a few extras like a pair of cutesy camel boots and even ugg boots. I know, I know….ugg boots are tricky and seem horrible creations to some of you!
However, why don't you take a look at this ideas about how to wear black skinny jeans with short boots and use these outfits as an inspo. Isn't it, against all odds, super-stylish? It's true this is not a winter clubbing outfit but I still find it stylish. You could always dress like that if you are looking for a first date outfit winter. Probably you've seen celebs walk around in boyfriend jeans and ugg combos, however I prefer the neat looks (I mean skinnies) instead of the baggy and  sluggish sets.
pictures
Black seems an obvious chromatic option, however, dark blue, purple, emerald green and even nudes and pastels are just as fantastic and inspiring. There's literally nothing to not love in these popular accessories. Moreover, they are soooo accessible in price to everyone! So, you have to use them in order to add some color to your cute outfits with black skinny jeans.
There's nothing wrong in wearing style pieces you know and love. A baseball jacket, cropped black pants and fab loafers or flats are simply perfect for a breakfast date.
Master the art of the dating game and put on a white shirt with a feminine detail and a pair of knee-ripped jeans. The cool factor meets elegance if you refine you set with lace-up sandals.
Skinny jeans, crop sweater and a pair of beautiful shoes. Try this combination of black and beige.

Trendsetters from all over the world managed to integrate athletic shoes into mainstream fashion. Next time you feel like throwing your running shoes into your gym bag, stop. Don't do it! I encourage you to invest in a pair of high-quality sneakers that suit your clothing style and chromatic preferences. These cute outfits with black skinny jeans, examples teach you a lesson on how to wear running shoes with skinny jeans. Besides, during autumn, when the weather became chilly, you can incorporate these athletic shoes in cute casual fall outfits.
Now, I would love to tell you that you can match all your jeans to these footwear designs. The truth is, only skinnies and boyfriend jeans look 'hawt' in a team with sporty footwear. You can also integrate these athletic shoes in blue denim shorts outfits or casual date outfits. I am sure you'll create beautiful and trendy outfits.
Along with the hundreds of replicas, millions of people make an effort to honor the brand and purchase original Converse shoes. I haven't heard of one person who regretted this style investment. So go ahead have your own collection of the coolest sporty shoes in various shades and designs! Sport these cute outfits with black skinny jeans and converse if you don't know what to wear on a first date for drinks.
I don't have much to say about this trend. I mean, in a positive sense, Converse shoes proved to be timeless footwear designs along with Oxfords, Chanel slingback and ankle boots. You, simply' can't go wrong by sporting these iconic tennis shoes with black skinny jeans, even if many women consider them more suitable for creating cute summer outfits for girls.
Sandals both flat and high-heel or wedge ones, look no less fashionable when matched with black skinny jeans, instead of wearing them in a white pencil skirt outfit. Ladies who want to look gorgeous and feminine even on a city tour or during the weekend should definitely opt for chunky heel or platform sandals, especially if they are looking for club outfits. I know, sandals are more elegant if you match them in order to create black pencil skirt outfits or black leather pencil skirt outfits, but you can always wear them with skinny jeans.
Gladiator and strappy designs are still going strong as tens of runway collections showed. On the other hand, flats are also on a rise, especially as comfort becomes a priority during the busy and hot summer days. Let me show you some of my favorite summer outfits with jeans for women from fashion bloggers and insta-celebrities!
Distressed jeans allow you to feel cool and comfortable. In case, you want to add a feminine touch to your outfit think of blazer and strappy or lace-up sandals.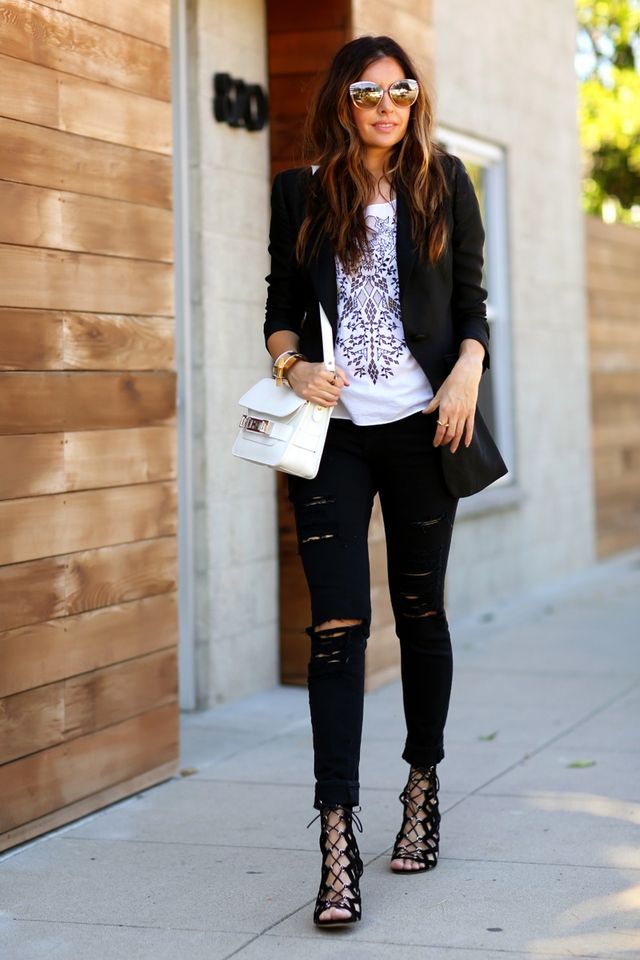 Aiming high when there are plenty of trends to embrace is so much fun. Polish your clothing style by adding a few cool and feminine details. Over-the-knee boots turn heads irrespective of the occasion. Be brave and strip off your prejudices with these winter outfits if you don't know what to wear to a nightclub in winter!
Forget about patent leather, instead, limit yourself to designs sculpted from velvet or suede and make a memorable impression with some cute outfits for dinner dates. Also, I advise you to keep the rest of your outfit simple, unless you don't want to create jeans outfits for parties. Let these style goodies speak for your unique taste! In order to achieve the visual leg lengthening effect wear cute outfits with black skinny jeans in combo with boots over the knee. I do not recommend these boots for summer outfits, but I sure do recommend them for a winter night out outfit.
According to guys an approachable and laid back style is way more convincing than a too dressy and formal look. Therefore, I suggest you to stick to your favorite black skinnies, black turtleneck sweater, knee-high boots and a long coat.
I'm sure you know the feeling that you are simply bored of putting on your pants and the same pair of shoes over and over again. Huh! 🙁 Try to avoid the fashion for 50 year old woman and try something for young peoples. I decided to write this article and line up all these cute ideas about how to wear skinny jeans with boots in order to revive your passion for mixin' and matchin'. That is in fact, the key to love your style and have fun while experimenting with clothes and creating new clubbing outfits with shorts , or jean shorts outfits or cute outfits with skinny jeans.
Accessories have the power to free you from monotony and help you get back in the fashion game! Whether you are a fan of high-heels or you refuse to torture your feet and you try to wear flats as often as possible, you'll find hundreds of amazing outfit ideas about how to wear skinny jeans with boots, that you can easily recreate. No matter your budget, you'll be able to complement your boyfriend, flared, straight or skinny jeans with the coolest and trendiest sneakers, boots or slip-ons. Next time you wonder what are the best shoes to wear with any pair of jeans come back to us!