There was a time when I had no idea about how to wear denim shorts or what to wear with denim shorts in summer! That's bizarre, isn't it? Well, I never liked to wear denim shorts. I always thought it's not for me. And now, probably you are wondering how did I get this idea?
I'm going to answer you shortly: I have an athletic figure body … so, for no reason, I just thought I have to be skinny with long legs to wear an outfit with denim shorts. What made me change my mind and try to find cute outfits with jean shorts and see how I could include them in my wardrobe ? It's simple! I was forced to try on! Recently, my sister gave me as present for my birthday, a pair of denim shorts. In that case, I had no choice! I had to try them and I was surprised to see they looked good on me.
I can not tell you how happy I was!!! It was the perfect outfit for the summer. From that moment I searched on the internet how to pair my denim shorts so I can get a stylish outfit every time I put them on.
I decided that it's time to stop making a fuss about what to wear with denim shorts, specially during summer! Style connaisseurs suggests we should put on a pair of cute summer shorts, a loose T-shirt and a pair of chic sandals. There you go! An effortless and trend-conscious idea about what to wear with denim shorts in summer, a jean shorts outfit that suits all body shapes and personalities.You have so many possibilities when it comes about tops to wear with jean shorts!

Keeping things super-simple is a nice way to melt into the crowd and enjoy the rising temperature. On the other hand, we can take our ensembles to the next level by adding blazers and a pair of heels. Indeed, cute outfits with shorts for summer with a touch of refinement, look spectacular if we want to channel our girly and elegant side.
Must have shorts also feature on the list of essentials when it comes to festivals and beach holidays. Enjoy the confidence that these 'it' pieces offer and draw some inspiration from style influencers or aspiring trendsetters. Shorts fashion continues to provide us with affordable outfit ideas.
The best pieces include distressed and ripped designs and also a selection of vibrant colored or pure white shorts for women. Scroll down to discover how to wear shorts this summer and what does the fashion crowd have in store for us!
What to wear with denim shorts female
1. Denim shorts outfits are flattering if you have a matching colored blazer to mix with. Tennis shoes are a cool and sporty footwear option.
2. Chic summer festival outfits are uber-cool especially if you team up your shorts with a Roch chic tank top, fringe shoulder bags and a pair of ankle boots.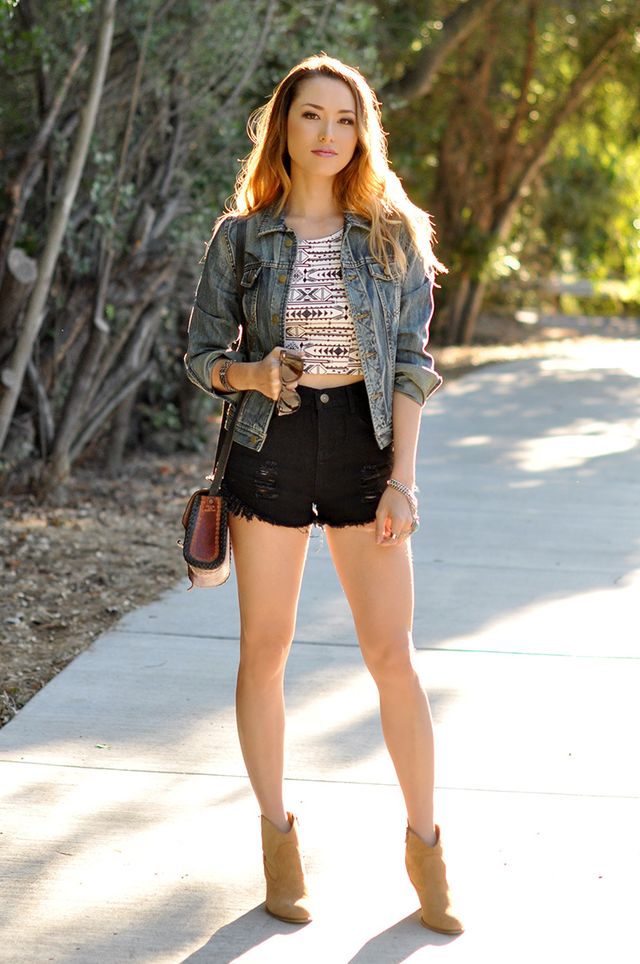 3. Denim shorts for women in black are multi functional pieces you can combine with sleeve blouses in various 'hip' tones. Here is how to wear short jeans with boots during summer!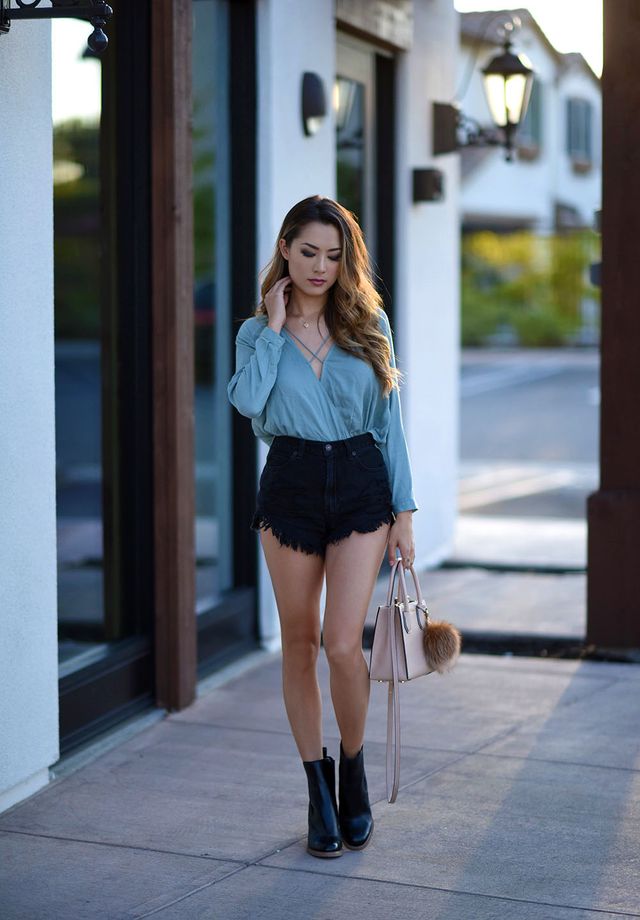 4. Distressed shorts in style and off-shoulder tops scream summer and beach holidays, as for accessories go for oversized matching clutches and fantasy jewelry. It's one of my favorites jean shorts outfits and one of the most interesting summer casual outfits.
5. Your perfectly tanned skin will be gorgeously emphasized with a pair of light wash jeans shorts for women, a flowy blouse and fun bright pink accessories.
6. Enjoy the sun and your vacation by nailing down a similarly simple yet alluring jean shorts outfit idea. Make sure you have at hand a practical straw hat and bag. I don't know…, maybe you should take in consideration to copy this image if you are looking for casual first date outfit ideas.
7. Next time when you want to know what to wear with denim shorts in summer, try to copy this A-list white shirt matched with denim shorts and a pair of flat brown sandals.
8. Striped fine textured shirts offer protection against the burning sun and look fantastic with denim shorts and Boho chic sandals. Copy one of these going out looks for a summer outfit.
9. Put your best fashion foot forward with these amazing summer jean shorts outfits perked up with this shirt with large sleeves and voguish high-heels, in case you were wondering what to wear on a casual date or a party in summer!
10. Delicate pink tops look super-nice in a combo with a pair of short shorts. Choose wedges or flat sandals for a stylist-approved ensemble. Try this beautiful jeans outfits for summer.
11. Get into elegant mood with this black loose-fitting and chic long blazer, a pair of teenier tiny shorts and blue high heels. Don't you think is a perfect summer outfit for a teenage girl?
12. Casual outings don't need no additional preparation. Opt for your favorite printed shirt, a pair of jeans shorts high waist and block colored white tennis shoes. I just love this high waisted denim shorts outfit. The same thing I can say about these women casual shoes to wear with jeans.
13. While on vacation make sure you have at hand a pair of short shorts and a nice blouse one-shoulder top.
14. If you wonder what shorts to wear in summer the answer might sound like a 'no-brainer' but it's obviously denim shorts that look just as fashionable with T-shirts as with thicker jumpers.
15. If you feel comfortable wearing heels during summer make sure you take a glimpse at this cute outfit for going out with denim shorts, a cropped top and simple black sandals. You can always replace the denim shorts with a pair of skinny jeans in order to have a jeans outfit for clubbing. But you can use this picture as inspiration if you want to create a shorts club outfit.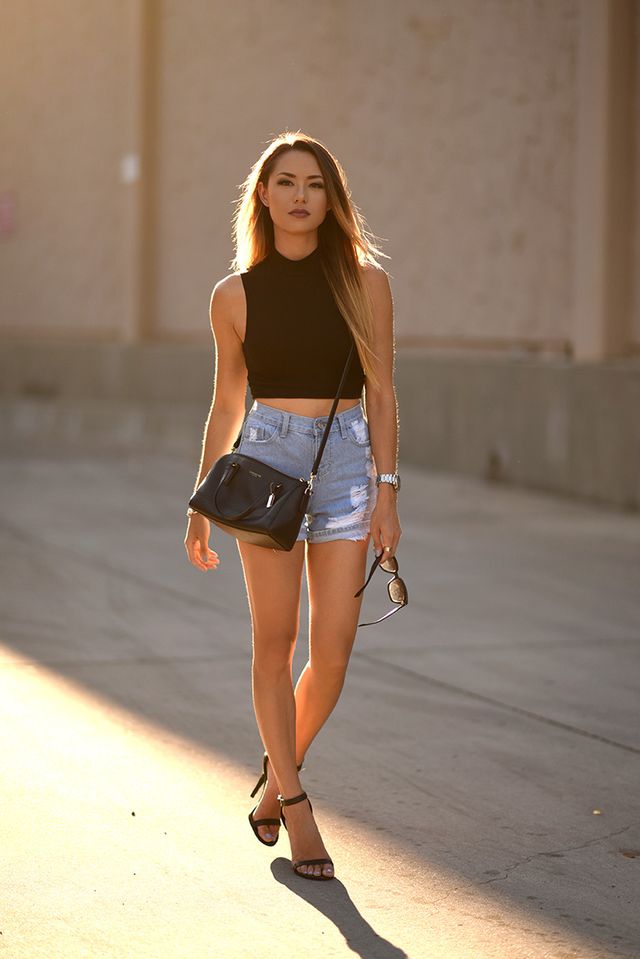 16. A plaid shirt tied around your waist is the perfect accessory to add a festival chic allure to your outfits.
17. In the mood for daring an comfy outfit with a white t-shirt and white tennis shoes? Blue denim shorts are the solution when is hot outside.
18. Smart summer style choices like the pairing of soft and airy tops with denim shorts and block heel boots allow you to feel stylish and comfortable even during the hottest days.
19. Rely on the nonchalant vibe of shorts and flip flops included in the same outfit more so if you're a fan of athleisure looks.
20. We have fallen in love with similar super-stylish short outfit ideas both due to the edgy feel ankle boots offer and also due to the flattering aspect of high-waist shorts. You can choose a pair of these pants in order to create a winter party outfits like in the next image.
21.Upgrade the classic denim short outfit with a Boho touch like the suede boots and jacket. Remember, details make a huge difference!
22. Don't settle for boring outfits even if you're not inspired. Check this simple blouse and distressed shorts when in need of inspiration.
23. Swap hot pants for loose and comfy denim shorts that create a modern air when associated with cropped lace tops and a pair of fun colored stilettos.
24. Establish the perfect contrast in a breezy outfit with a long-sleeve blouse and short shorts. In addition, go for nice ankle boots if you feel comfortable to rock these items during the summer.
25. My favorite outfit so far implies this V-T-Shirt, black scarf, long black cardigan, black boots and bleached denim shorts, a match made in heaven.
26. If you have a summer bod to show off, sport this ripped white jeans shorts outfit with refined looking belts, a nice light pink button down shirt and golden accessories.
27. Light blue shorts are an eye-catcher and can be easily embedded into your outfit if you keep the rest of your ensemble simple with a tank top and wedge sandals, like in the next image.
28. Beat the heat wave with a light white breezy blouse and a pair of short shorts. In addition rely on flat sandals for comfort. Maybe, on hot summer evening you could go for an outfit like this if you wonder what to wear on a first date drinks.
29. The key to high-street jean shorts outfits is definitely a matching pastel colored fine shirt like this one.
30. During colder days or nights make sure you have a nice denim blazer at hand you can pair with jeans shorts and sneakers.
31. Denim shorts never looked so good when combined with a loose and nonchalant knit sweater and booties in a matching color.
32. Pull out your favorite tie waist T-shirt from your wardrobe and wear it with white shorts if you have a nice silhouette to flash.
33. Off-shoulder tops are versatile pieces you can incorporate in short outfit ideas especially if you are not afraid of showing off your toned legs.
34. For a walk on the streets during holidays, consider a nice pair of blue shorts for women and a white shirt with a an off shoulder blouse.
35. Budget- and trend-conscious fashionistas will consider these blue denim shorts, cream ankle boots and the shirt real essentials for the summer season, and why not, also for creating fall outfits for women, when it's warm enough outside. You can always wear this outfit to a music festival.
36. Stay girly and stylish with these cute summer short outfits. Sport a pair of light wash shorts with a nice lavender knit jumper and white shirt.
37. Flip-flops, waist tie tank tops and short shorts are quintessential elements of a summer holiday wardrobe.
38. If you want to stand out from the mass with a light wash denim shorts outfit, nail down this laid-back still ultra-romantic outfit with a white long-sleeve off-shoulder top and light wash denim shorts.
39. The good news is that shorts and high-heels are no longer a 'no-no', especially when we talk about club outfits. Count on fab sleeveless tops and a cute bag to refine your summer outfits with jean shorts outfits.
40. A printed contrasting shirt tied around your waist will add a funky vibe to your super-simple short outfit ideas.
41. A casual green cardigan can instantly perk up a white jean shorts outfit. Keep things simple when it comes to the chromatic of the rest of the set. Take a look at this white denim shorts outfit ideas.
42. Black co-ords dominate the street, go for them both if you are a fan of neutrals and if you would like to opt for the safest style choices. Top your black denim shorts outfit with a nice oversized metallic colored cardigan next time when you don't know what to wear with denim shorts in summer.
43. I  like the idea of a comfy outfit… And I looove the way of mixing casual ripped denim shorts with a loose t shirt and white flat sneakers. It's an outfit that I would wear in every casual day.
44. If you are the kind of girl who likes to be elegant every day, you can still wear your favorite denim white shorts. Pair them with white high heels shoes, white handbag, black stretch blouse and a black coat.
45. So, I continue with another example of a fine outfit with a pair of blue denim shorts matched with high heels elegant sandals and a black top and a black coat.
It's not that hard to land on the monthly best dressed list. All you have to do is to have a few street chic-inspired denim shorts outfits in mind. Explore the potential of shorts for women and choose what to wear with denim shorts in summer. Try to mach them according to designs and shades that flatter your silhouette. Mass-market stores already launched the newest collection of denim goodies. That's a good news for those who have plans for festivals and early summer vacations.
Make these denim shorts for women the central pieces of your day-to-day wardrobe. Invest in a few neutral colored designs. That way you can easily match them with a wide range of long-sleeve blouses, cropped tops or bodysuits. For older women, I recommend the coolest longer high waisted jean shorts in order to create outfits for women over 50 that live the impression of a nice slim waist and curvy tush. Feel free to add your own unique shorts fashion outfit ideas to the ones listed above! Create unique jean shorts outfits!
Which is your favorite jean shorts outfit? Let me know your opinion. I would love to hear it! 🙂