What To Wear On A First Date In Winter
By
|
Maybe, you are not interested to go out for a date when it's cold outside. But meeting with someone you have a crush on, is not quite something to refuse when you are single. Even if it's freezing out there… At list, I won't…! That's why, I like to be prepared. I'm  keeping in my closet a few winter date outfits to choose from. But, even in this case, I wonder what to wear on a winter date. And that's how I have another dilemma: is it worth investing again in a few statement pieces of clothes? I think, most women have found themselves in a situation like this. And the answer is easy: "Yes". As I already said, I like to be prepared and have in my wardrobe different cute winter date outfits. Don't you?
Ok! Maybe I am exaggerating, but you should take a closer look at these fashionable and flirty outfits in bright and neutral tones. Pair them with boots or pointy-toe stilettos for a lux and glamorous winter first date outfit. If you're feeling more drawn to pants and leggings, purchase a few multi functional items. They can be incorporated in club outfits for winter that radiate coolness and laid-back elegance. See examples below and choose what to wear on a first date in the winter for your next date!
Even if it's hard to be trendy when is cold outside, there are so many bloggers who can offer you ideas. All you have to do is to look for the best winter date outfits that suit you well.
What to wear on a winter date
Winter is coming! While some cities are covered with snow others are spared of it. However, these A-list winter date outfits for ladies, allow you to look impeccable. You can be trendy despite the weather conditions. Ponchos with hoodies, thick knit sweaters, midi dresses and tights, look spectacular when combined. Oversized scarves and boots will add a personal touch to your winter date outfits. Stay in the safe zone with minimalist winter wardrobe essentials. Or stand above the crowd with your unique and non-traditional combos.
1. Add some color to your black outfit. Choose to wear a furry coat paired with high heels ankle boots with the same color as the coat.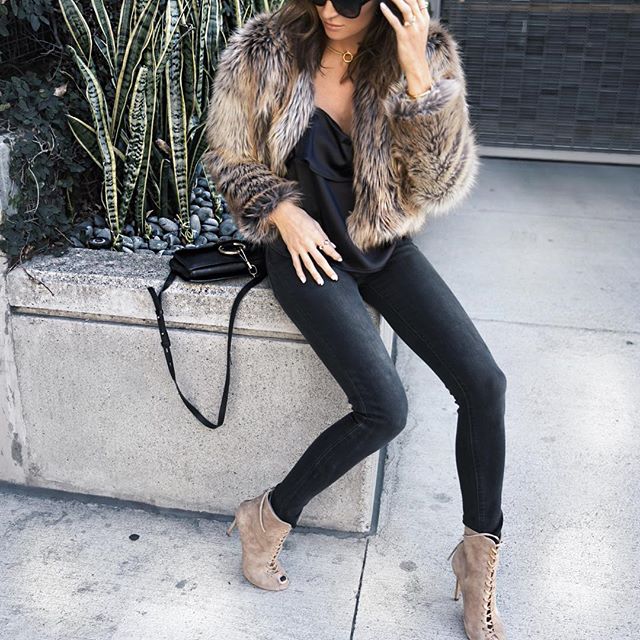 2. A pair of block heels elastic ankle boots with pointed toe and a midi black leather skirt and a black sweater… A perfect black feminine winter date outfit idea. The booties, the sweater and the lack of the jacket … you can copy the picture in order to create fall outfits for women. This look makes me think also to the black leather pencil skirt outfits.

3. Again, a perfect black outfit for a night out!!! Try it if you are a skinny girl… Here you find more ideas about how to wear skinny jeans with short boots for inspiration.

A nice coat, blazer and even knit jumpers can help you adapt your sets to the cold season. Also, don't forget about footwear and bags designs. That add an extra glam effect to your look. You can use these pictures as a inspiration in order to create cute winter date outfits.
4. If you plan to go out and you have go out directly from the office, you should try an outfit like the one from the next image. It's a casual business outfit.
5. Casual, fancy and chic. A perfect winter date outfit with a short black leather skirt. You could replace the leather skirt with jean shorts if you are looking for more denim shorts outfit ideas to create.

6. What a combination!!! I may say is a special one because you won't see one everyday.
7. If you are not the kind of woman who likes to risk with the outfit, maybe you will find inspiration in these images.
fashionvilas.com; www.whowhatwear.co.uk
8. Chic, stylish, perfect… I just haven't enough words to talk about this outfit… I LOVEEE ITTT!!! Drop the leather jacket and you'll have a summer outfit with jeans.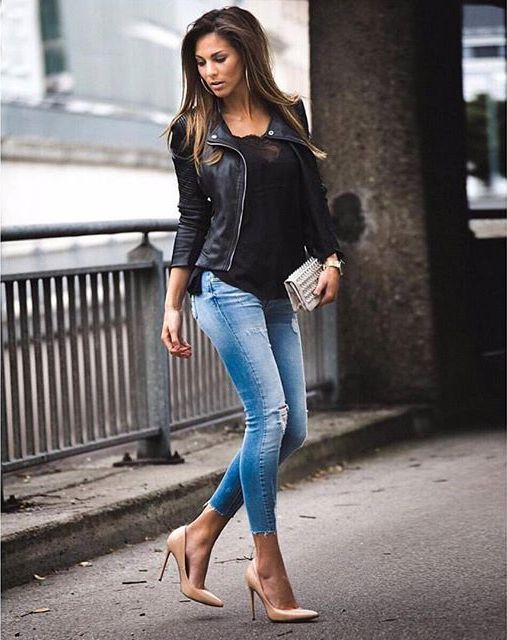 9. Again black, short leather skirt and leather jacket. The small harts on the blouse are perfect for the outfit.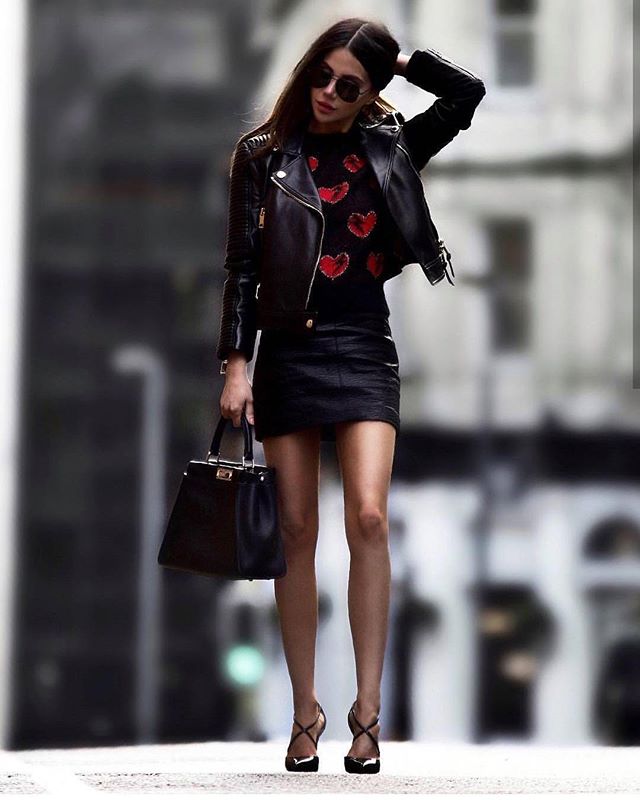 10. Leather seem to have a moment also in the cold season. Therefore, surprisingly hundreds of street wear divas are spotted rocking leather pieces.
11. If you don't want to put aside your favorite leather designs, make sure you find the best ways to sport leather skirts and leather pants during the following months.
12. The trends in winter clothes for women are not always following a well-defined pattern. Seems like fashionistas tend to make a few exceptions. They keep breezy and flirty items in their basic wardrobe for several seasons in a row. 
13. The following outfit is also the result of flirty items that you can wear in any season. Try one like this and you won't have to buy clothes each year or in each season.
14. Short black leather skirt with a sweater in the same color with the boots… What can I say? It's perfect!!!
15. Match your cool designs with tights and ankle or thigh-high boots. The result will be spectacular! 🙂 You'll wear beautiful club shorts outfits or a cool skirt outfit, like this one.

16. There's some magic in the winter scenery. Combined with elevated women winter dresses and evening outfits. I would also copy this look when I wonder what to wear on a dinner date. Would you?

17. Holiday sets will definitely add to the festive atmosphere. Especially if you choose colors and tailoring carefully. 
18. Don't be afraid to turn to magnificent flared dresses and skirts in shades like green, red and metallic tones, or you can keep it black, like this one.
19. If you don't like to wear all black, just add some color with your blouse or your coat.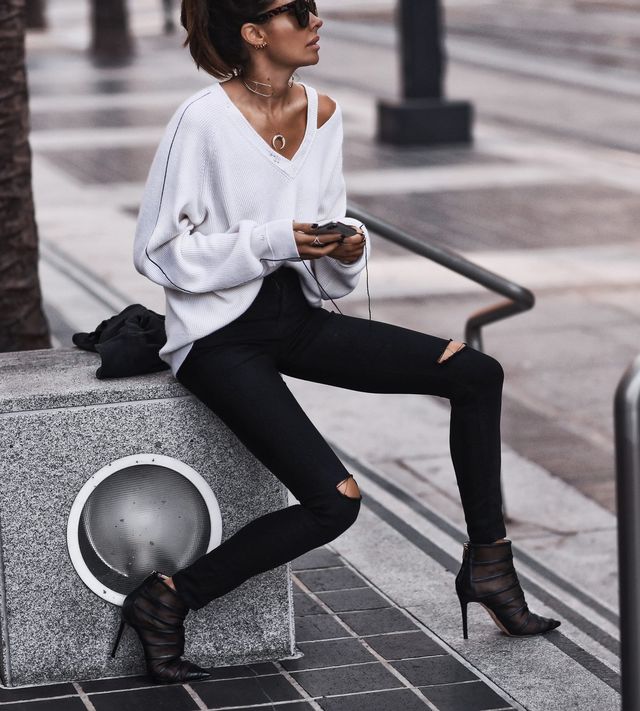 20. You can always use these pictures in order to create cute winter date outfits when is cold outside and you wonder what to wear on a first date casual drinks. That could be a good choice.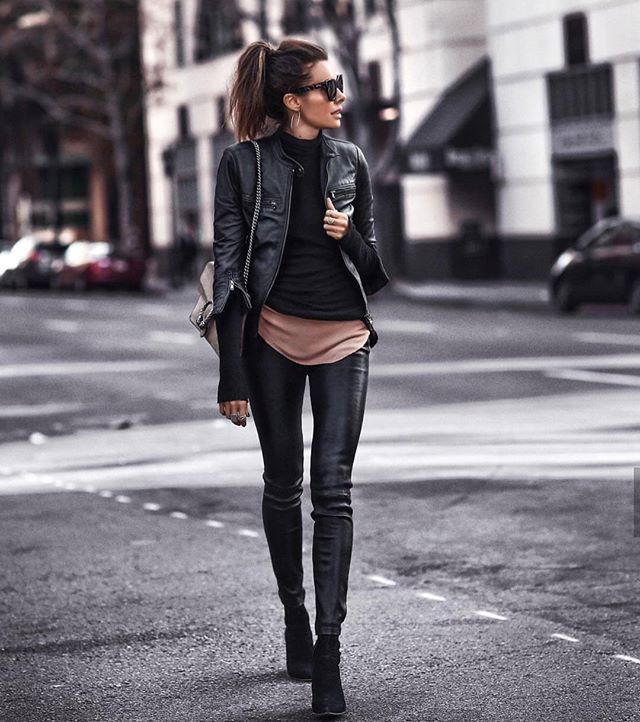 21. All black again and a coat in a contrasting color, like beige. You should copy the look if you think of what to wear on a first date in winter.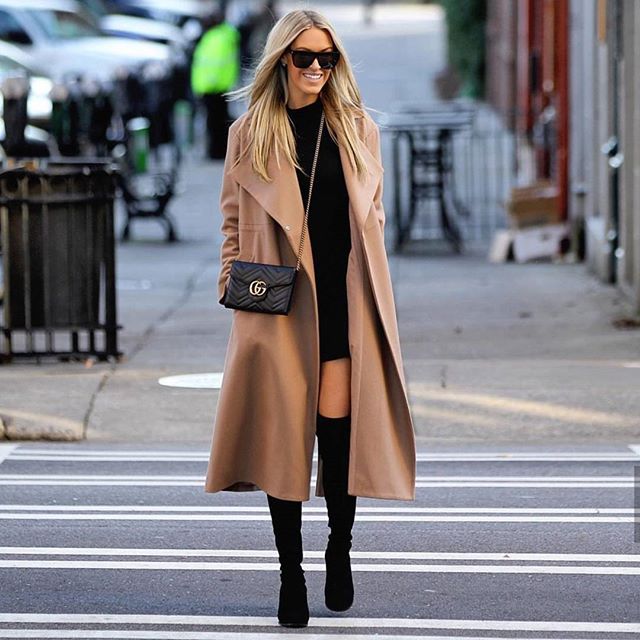 22. Leather pants are perfect for a winter date outfit. For the top, try a long sleeves top with one shoulder off, like in the next image. It's chic and special. Always high heels are something you should add to your outfit.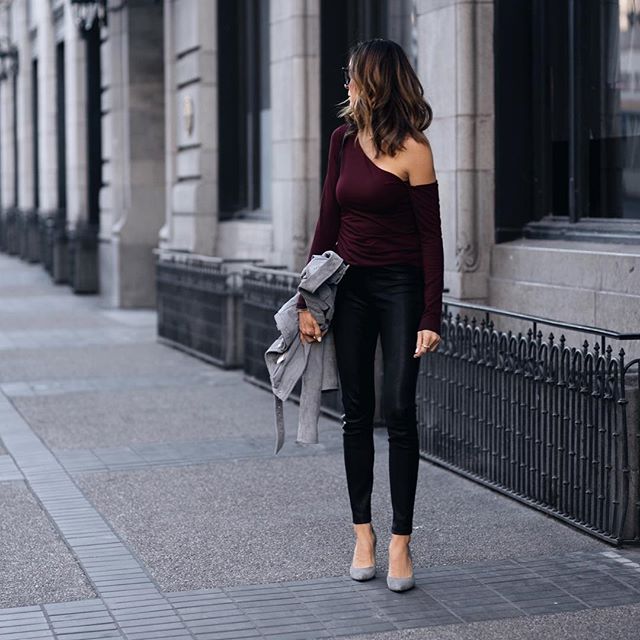 23. Black crop top or a black tank paired with long pants and high heels. It's the most common outfit for a winter night out. Mix this outfit with a clutch and an impressive big necklace in order to add something shiny to your outfit.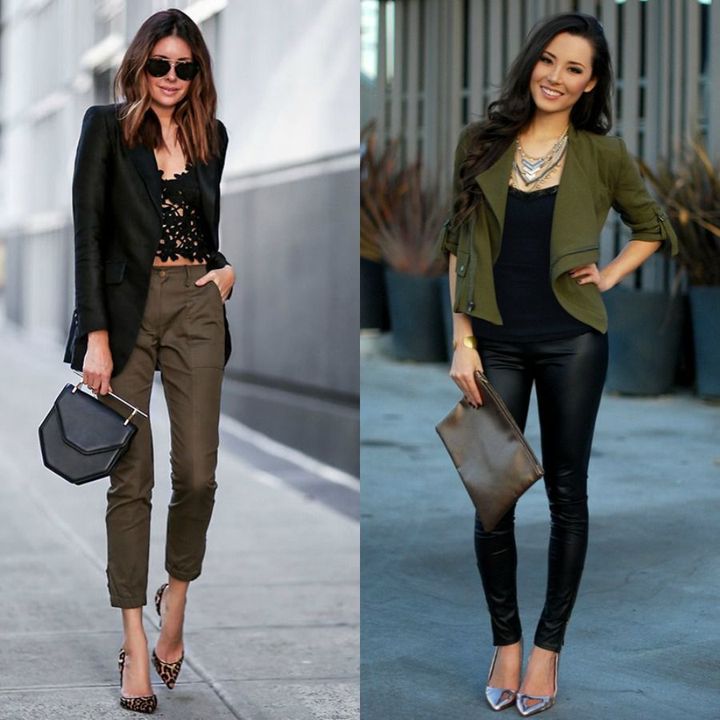 www.bedazelive.com; fashiongum.com
24. If you like wearing short skirts and over knee boots, you could try an outfit as the one from the next picture. Adapt this look to a black pencil skirt outfit, by replacing the short skirt with a black pencil skirt.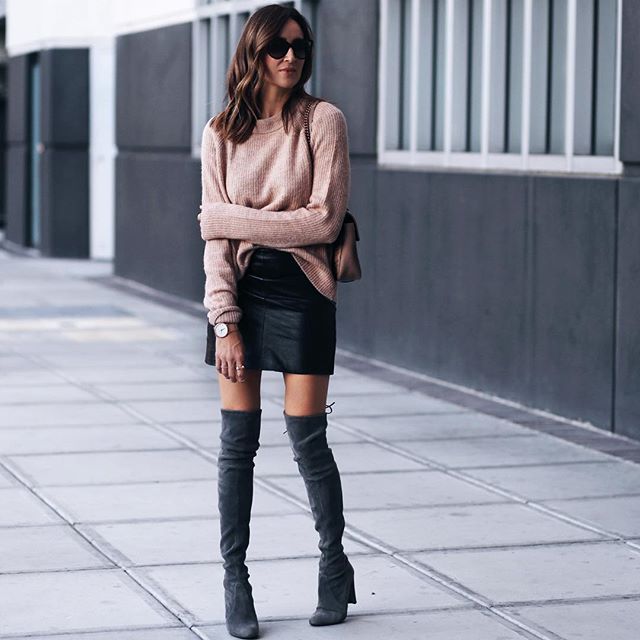 25. You could try a winter date outfit with a skirt and high heels with the same color as the skirt, or a sweater dress matched with a bag with the same color, like in these to images.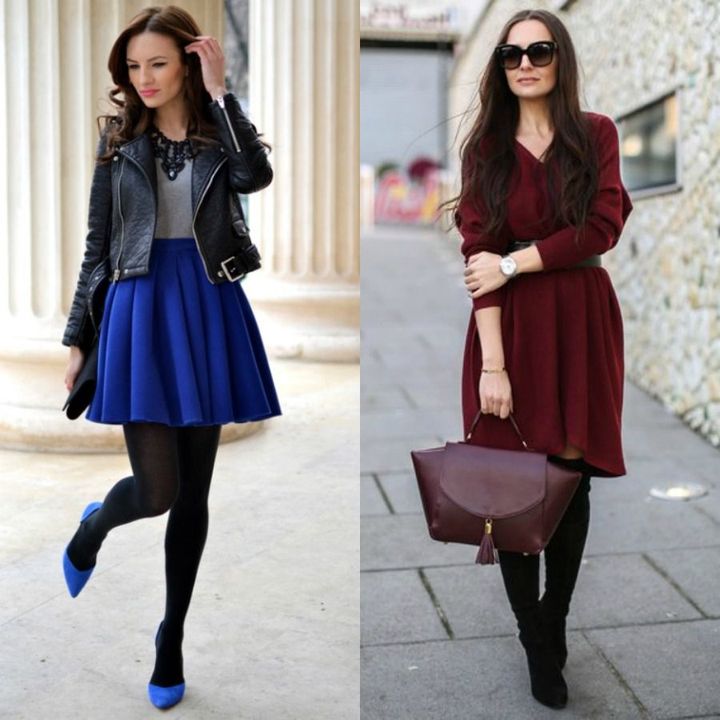 allforfashiondesign.com; www.wmj.ru
26. Long black lace dress or a short white dress mixed with flat ankle boots. A good combination for a nigh out outfit.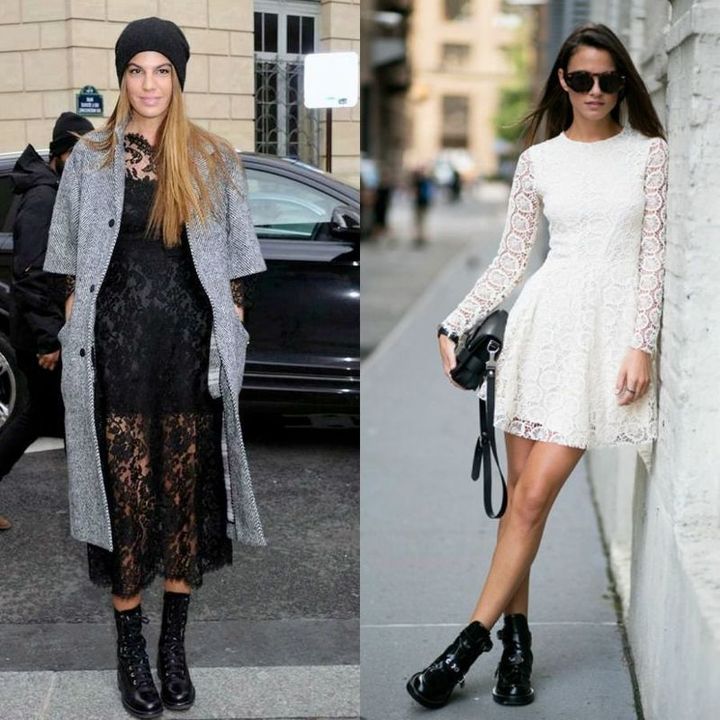 samieze.com; www.instyle.com
27. A short dress which put in evidence your silhouette, paired with boots over knee. These are the perfect winter date outfits that you should try.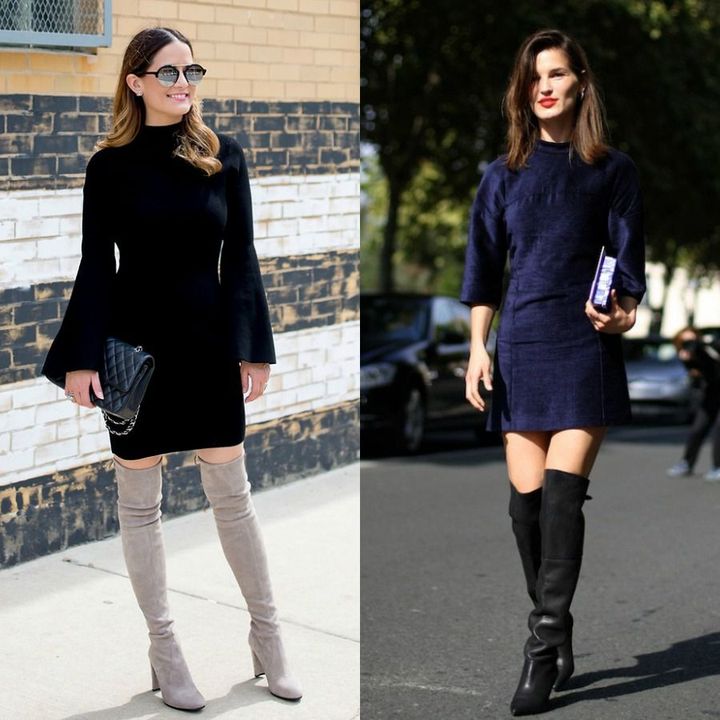 Images:  www.whowhatwear.co.uk; lookbook.nu
28. You could also try something different like in these two images. Adapt the outfit to your personality. That's you should do! The look from the second image, you can use it in order to create summer outfits for teenage girl, because of tulle skirt.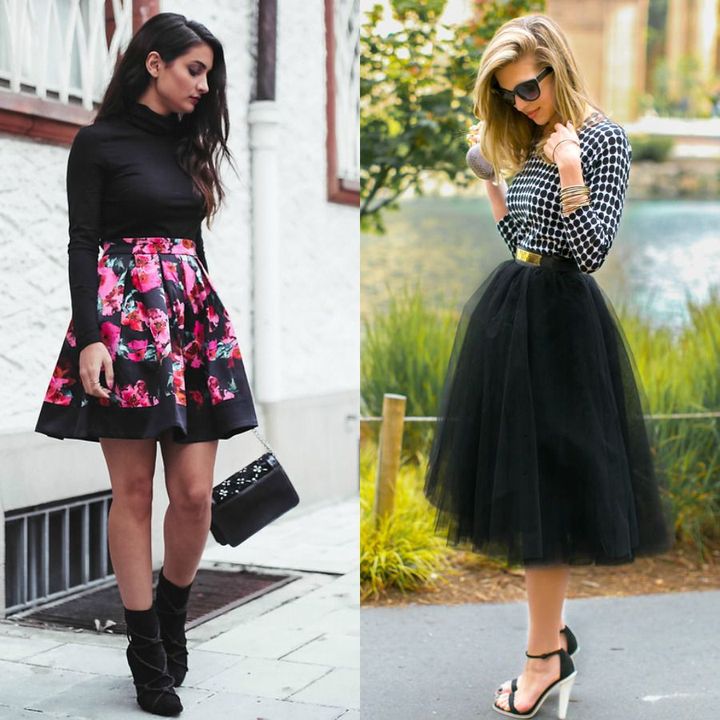 www.justthedesign.com; lookbook.nu;
29. Switch things up a bit! Instead of hunting in stores, for winter fashion must haves you should scan through these winter looks. Bring oversized sweaters and chic tights into the mix. Winter fashion trends are fluid and flexible. Put on different dress designs before making your wish list for winter season clothes.
thegirlfrompanama.com; www.popsugar.com
30. Whether the weather is bellow zero or sunny, you'll be able to use these examples. Create drafts for your style transformation. Experts encourage you to personalize both casual or formal sets with eye-catching accessories like a scarf, a backpack or a nice pair of booties.
tenuestyle.com
31.The outfit puts your silhouette in value without going out a lot, exactly what you want when you're ready for a night of fun in the club. Here you will find also some inspiring ideas for cute outfits with skinny jeans, if interested.
tenuestyle.com; www.outfittrends.com
32. Distressed jeans allow you to feel cool and comfortable. In case, you want to add a feminine touch to your outfit think of blazer and strappy or lace-up sandals.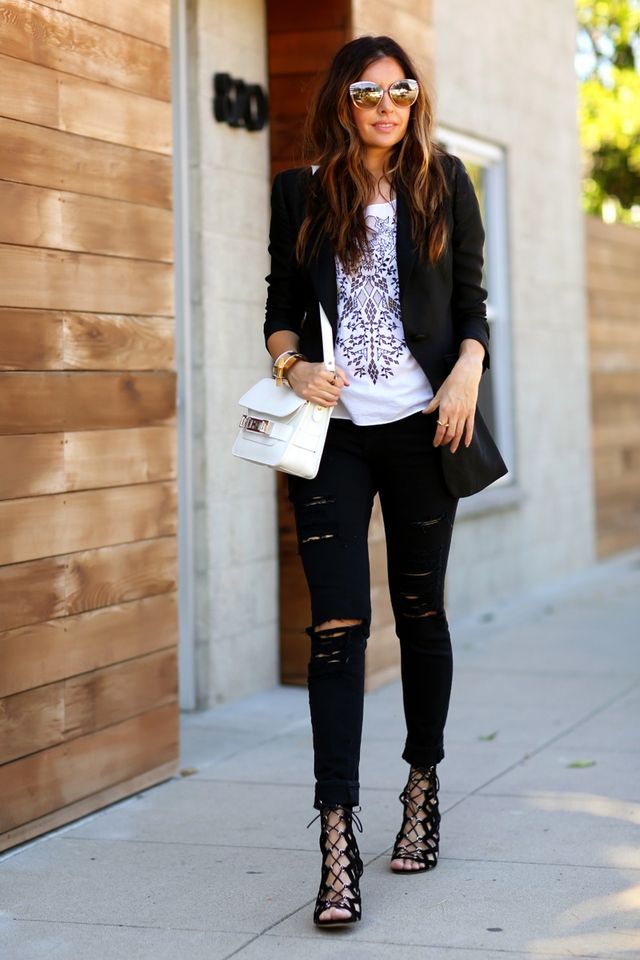 33. Wondering what to wear on a casual date when is cold? A chic coat or jacket can easily perk up your minimalist jeans and T-shirt outfit. An oversized scarf will add romance to your cute date outfits.
34. Double-denim sets can be tricky and might look too utilitarian for a date. However, rolled up skinnies and high-heels will take your fall outfit from boring to fab. If you're not into stilettos consider kitten heels or ballerina flats for a perfect casual first date outfit.
35. In case, you want to add length to your silhouette and wish to flash only a tiny portion of skin, match leather minis with thigh-high suede boots. The white T-shirt preserves the laid back allure of your set.
36. Denim is a no-brainer choice when it comes to daytime looks. Especially if you're in need of what to wear on a first date when its cold. Go for a long-sleeve denim shirt for an effortless set and a pair of black boots for casual going out outfit ideas. Trench is needed if the weather is rainy or windy.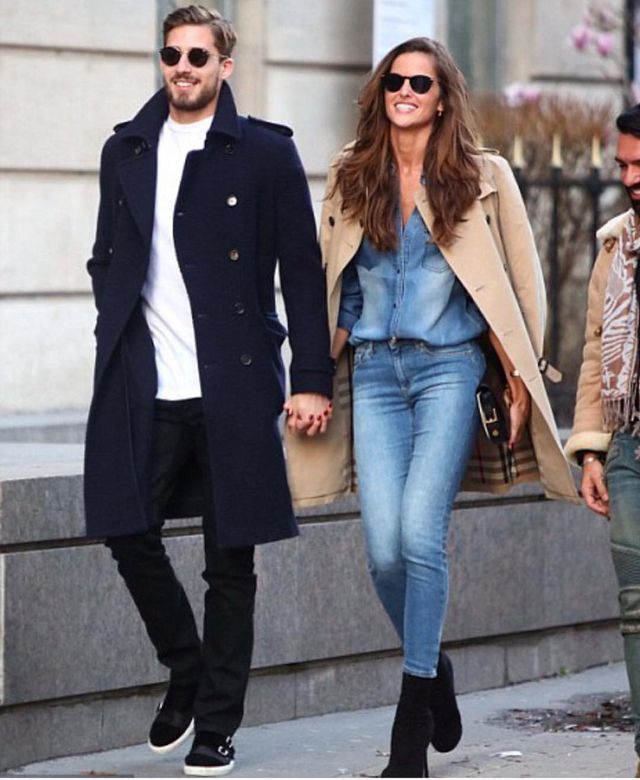 37. Do you meet for an outdoor date? The turtleneck sweater, a leather jacket and a pair of black pants is an easy-to-nail down idea for what to wear on a first date walk in the park.
38. The rule of thumb when it comes to dates is to avoid complicated mix-matching. Go for knit sweaters with cut-out shoulders, ripped skinny jeans and booties to adapt to cold season fashion trends. Find here more inspiration about how to wear skinny jeans with ankle boots.

39. There's nothing wrong in wearing style pieces you know and love. A baseball jacket, cropped black pants and fab loafers or flats are simply perfect for a breakfast date.
40. Choose this outfit if you feel comfortable nailing down a masculine and dandy style outfit. Wearing blazers on your shoulders is pretty dramatic. You can also replace the turtleneck sweater with a more feminine top with a nice V or boat neckline.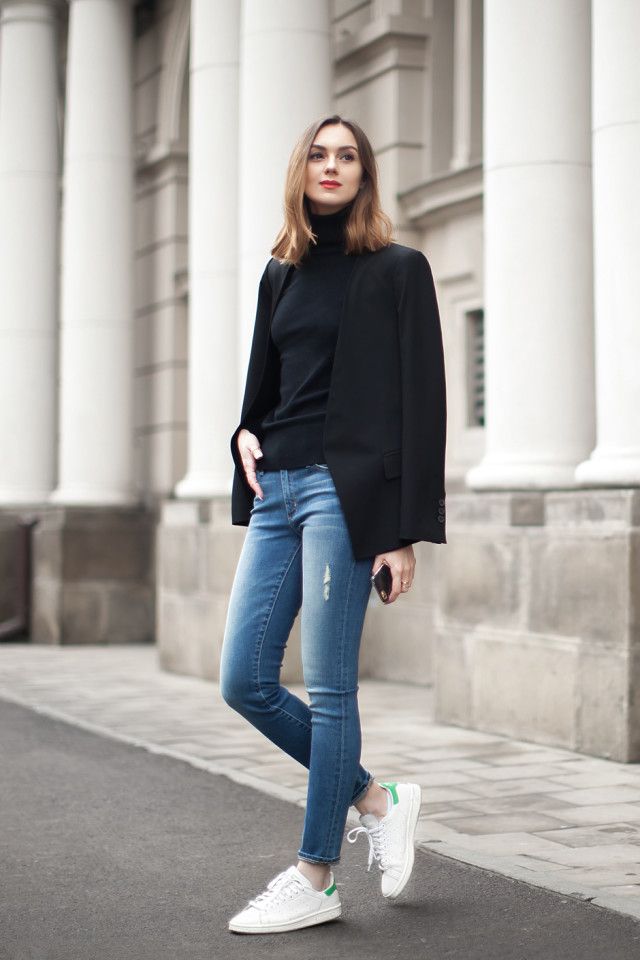 41. Find out what to wear on a first date outside in order to feel confident and attractive. Skinny or straight jeans are a top style choice you can pair with a neutral colored knit sweater, a baseball jacket and the coolest red pumps or flats.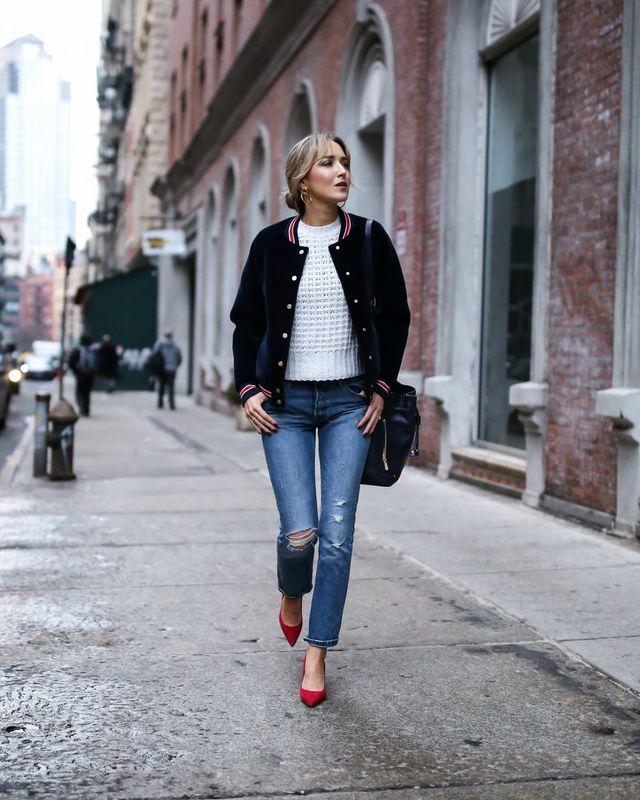 42. According to guys an approachable and laid back style is way more convincing than a too dressy and formal look. Therefore, I suggest you to stick to your favorite black skinnies, black turtleneck sweater, knee-high boots and a long coat.
43. I saw tens of plaid dress designs on the street and runway. Make sure you try on one of these casual frocks in a fitting or fit and flare design to emphasize your waist or curves. A flat boot will only strengthen the leisure factor.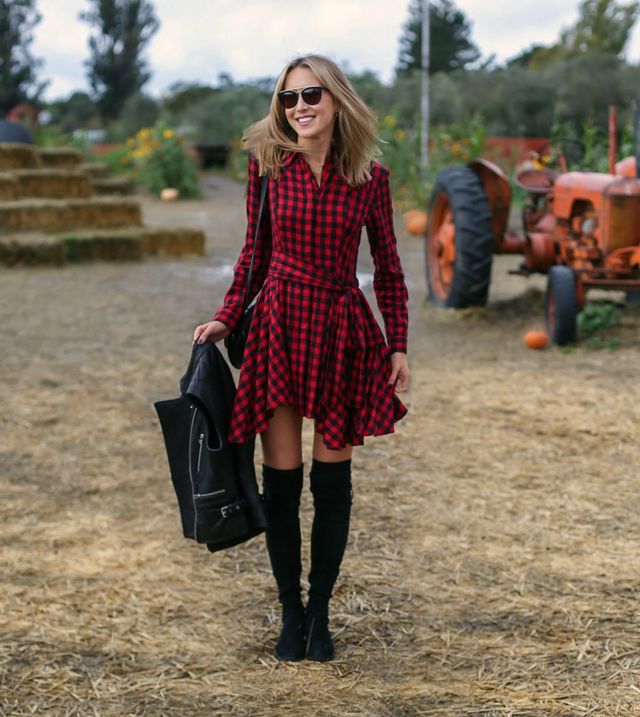 44. The colors for winter are more limited. But that should not be an obstacle to your imagination in fashion. If you chose a totally black outfit for the date you can break the monotony with a coat in a warmer tone. Use a pair of casual shoes if you want to be chic and feel comfortable.

It's not easy to be trendy. But when we talk about winter date outfits, you should make an effort and look gorgeous. You have an excuse when you go to work, but not when we talk about a date. Tell me how do you find these winter date outfits. Do you like them? I wold love to know your opinion.