101 This Year's Best Winter Outfits For Ladies
By
|
Stay tuned for the best winter outfits you have to wear this year. Whether you're preparing for a special event or just for a working day YOU just HAVE TO LOOK FABOULOUS!!! You will find here many inspirational pictures for winter dresses, party outfits or snow cute outfits. All you have to do is to take a look!  These inspirations can help you to put together a fabulous winter street fashion wardrobe like dresses with boots, casual winter outfits for ladies, outfits for school or winter outfits with leggings. The evening events should not be neglected. So, please find examples of night out outfits and winter evening outfits. Even if is hard to find bloggers for plus size fashion, I managed to get some images with beautiful plus size winter outfits.
Winter dresses for women
Fans of comfort and warm clothes will be delighted to sport the coolest knit frocks in neutral shades. In addition to these seasonal goodies, make sure you also try the loveliest velvet winter dress outfits. Pair these outfits with ankle booties, peep-toes or thigh-high boots. Considering how new fashion trends evolve, don't worry. While there will be some innovative design techniques for the upcoming seasons, these two fabrics will stay 'in' for a few more years. Look for sets that are relevant for your personal style! 🙂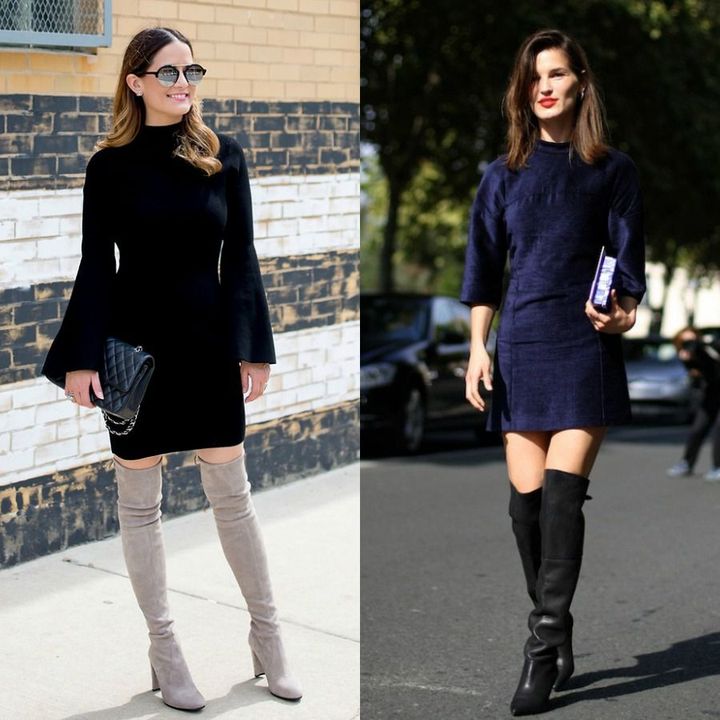 Iamges:  www.whowhatwear.co.uk; lookbook.nu
lookbook.nu
www.styledumonde.com; www.lefashion.com
Ladies party outfits for winter
Street style divas provide us with numerous elevated winter party outfits ideas. Our team's top suggestions include the loveliest flared skirts and velvet dresses. We recommend also to wear jumpsuits sculpted from refined fabrics that suit your silhouette. Map out a well-defined dressing plan for the upcoming events. So you won't feel frustrated when searching for the stylish winter fashion ideas. A nice coat, blazer and even knit jumpers can help you adapt your sets to the cold season. Also, don't forget about footwear and bags designs. That add an extra glam effect to your look.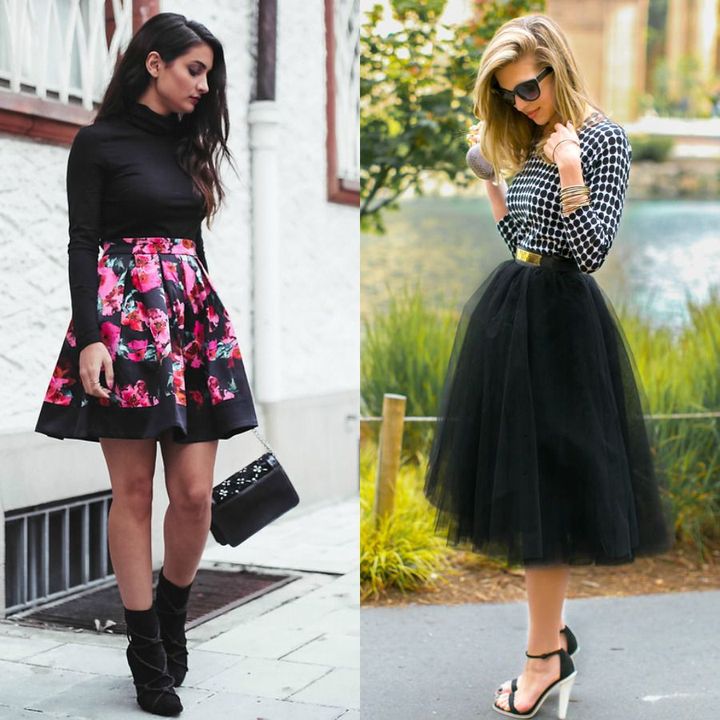 www.justthedesign.com; lookbook.nu;
fashionvilas.com; www.whowhatwear.co.uk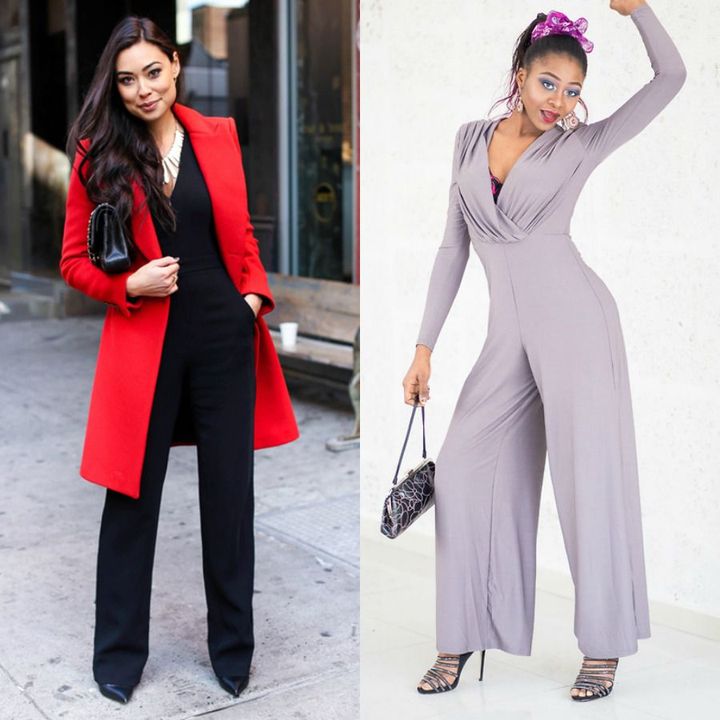 www.bedazelive.com; lookbook.nu
Winter skirt outfits
Start the physical or online store-hopping to find similar winter skirt outfit ideas. The latest trends in fashion, grant you the privilege of sporting endless designs for pencil skirts, flared or straight midi skirts. Instead of sticking to a few winter wardrobe essentials, make sure you expand your wardrobe with a few luxe or casual pieces. We simple adore the combo of fur or leather jackets and knit or pleated skirts. Real win-win options for this year. Spying the prominent blogs of street wear, we got to the conclusion that only your creativity can put limits to winter style matching! Use these images for inspiration in order to create beautiful women's business casual outfits.
www.whowhatwear.co.uk; www.closetfulofclothes.com
thecovetable.wordpress.com
godfatherstyle.com
Winter costume
Make the best of the holiday season with these winter costume ideas. Lose yourself in a new character and opt for extreme and original looks. On the other hand, if you want to preserve your femininity, make sure you go for a princess outfit. These examples give you a general idea on what are the top costumes created or purchased by people all over the world. In the heat of 'Frozen', 'The Grinch' and The Nutcracker make sure you rely on your creativity to copy some of these sets.
www.etsy.com
sequinsandthings.com; cassiestephens.blogspot.ro
www.flattery.ca; videos2watch.com
Winter outfits for teens
These winter fashion ideas are targeted at younger age groups. Teens will be more than willing to test drive some of the coolest fall winter 2017 trends. Knit dresses with tights, denim sets and leggings teamed up with oversized jumpers. Use them as some of the winter outfits for school, high school outfits or casual outfits for outings with friends. Mass-market brands packed their shelves with these on trend staples. Stay true to your age and experiment with neutral or bright tones. Use accessories and mix-matchings that suit your personality. Copy some of these head-to-toe sets or make up your own simple winter outfit! 🙂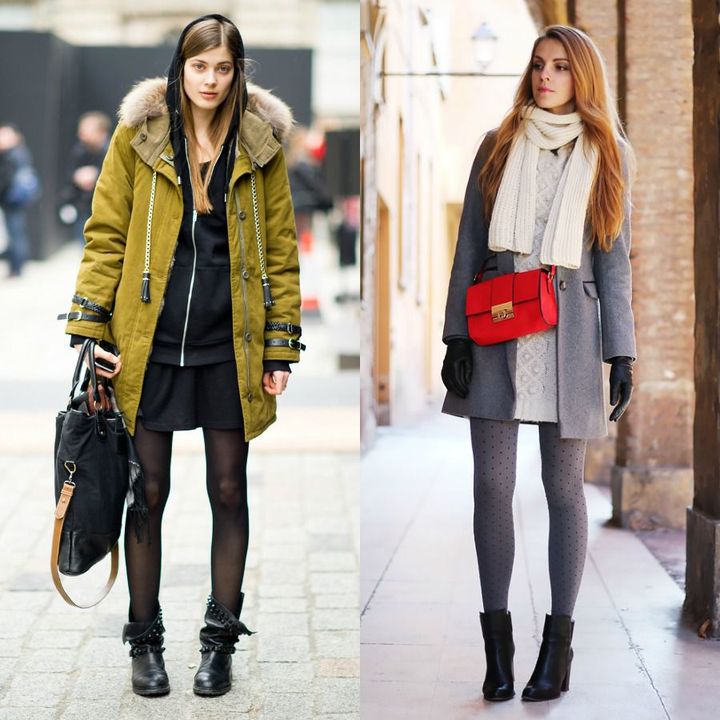 thefashiontag.com; enjoystyles.com
tenuestyle.com
tenuestyle.com; www.outfittrends.com
Night out outfits for women
These winter night out outfits are more relevant than ever during the year. The fast approaching holidays season makes us wonder whether it is worth investing in a few statement pieces. The answer from our team of stylists came quickly: "Yes". Take a closer look at these fashionable and flirty outfits in bright and neutral tones. Pair them with boots or pointy-toe stilettos for a luxe and glamorous winter dressing style. If you're feeling more drawn to pants and leggings, purchase a few multi functional items. They can be incorporated in winter going out outfits that radiate coolness and laid-back elegance. See examples below!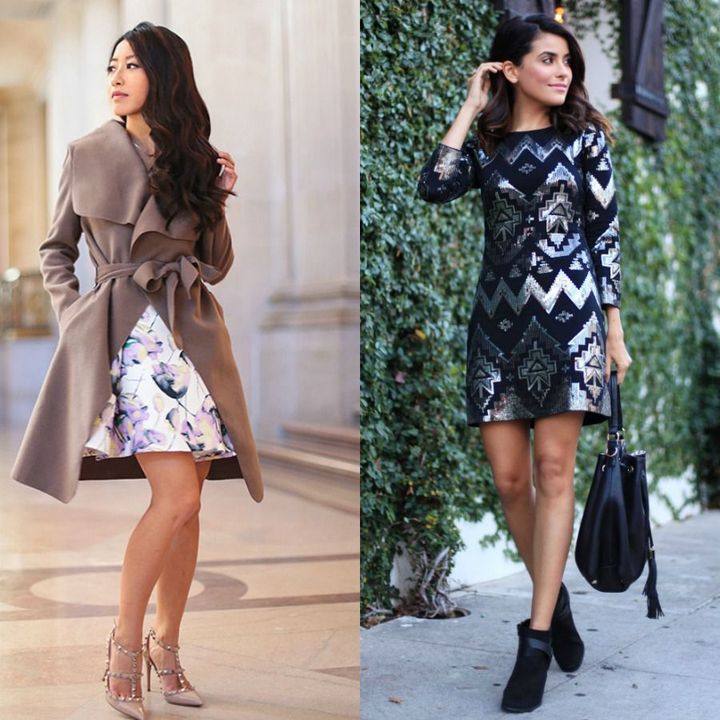 www.bedazelive.com; sazan.me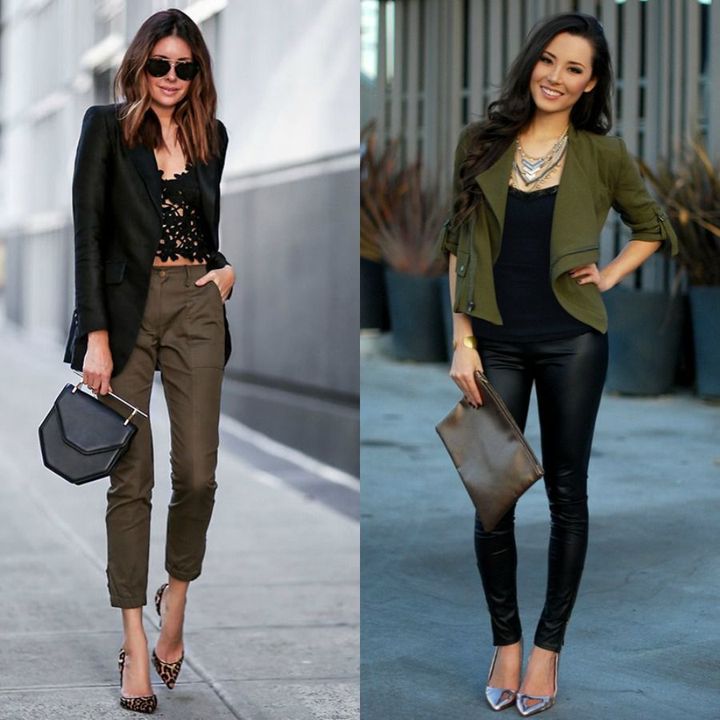 www.bedazelive.com; fashiongum.com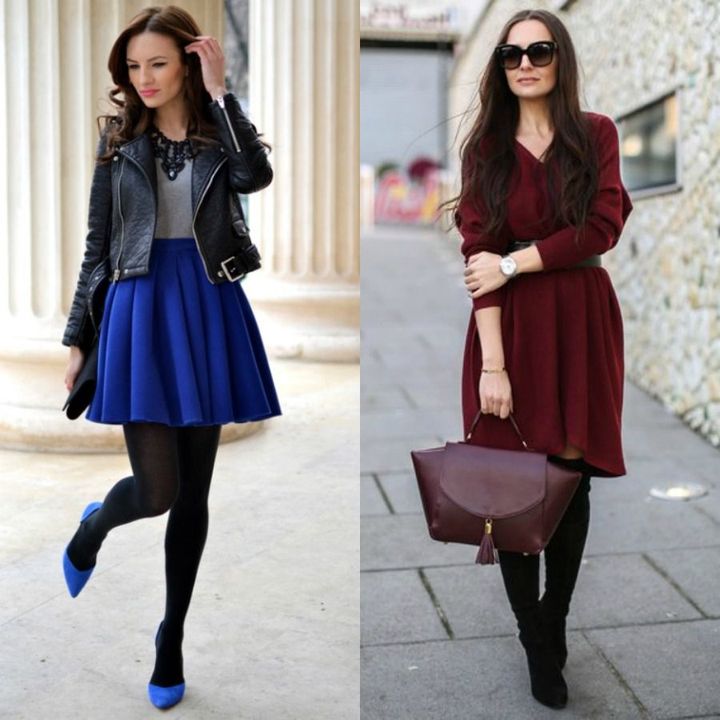 allforfashiondesign.com; www.wmj.ru
Dresses with boots
Our favorite ready-to-wear bloggers are glad to re-wear from time to time some of the inspirational winter dresses with boots outfits. The minimalist dress trends that promote the use of practical and unpretentious fabrics are just as loved and adored by trendsetters as lace or velvet. Lace or velvet create the impression of delicacy and romance. Opt for combat, high-heel ankle boots or thigh-high boots according to your preferences. Complete your stylish winter outfits with bomber or long jackets. Sign up for wait lists at your favorite fast-fashion stores. As a result, you will be able to purchase the newest designs as soon as they land on the shelves.
www.bloglovin.com; fashiongum.com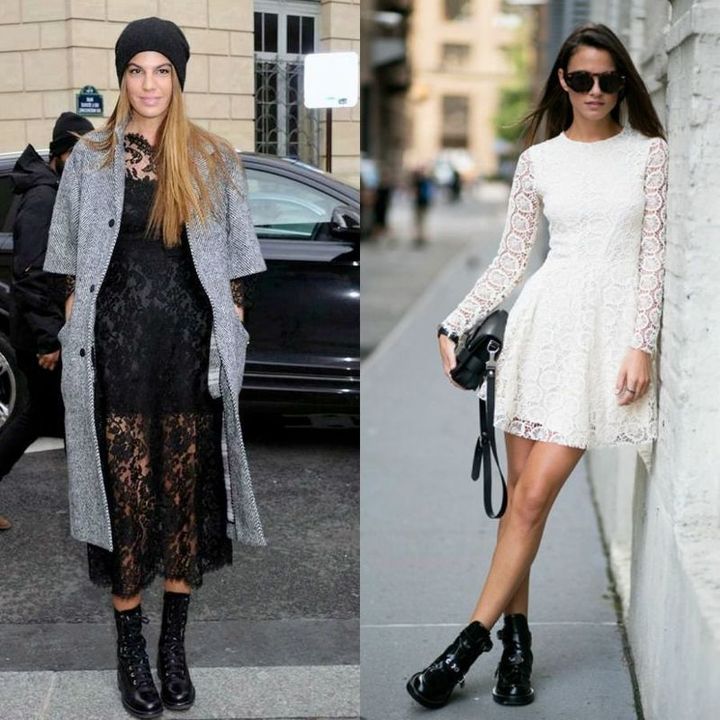 samieze.com; www.instyle.com
designersoutfits.com; thefashiontag.com
Cute snow outfits
Winter is coming! While some cities are covered with snow others are spared. However, these A-list winter outfits 2017 allow you to look impeccable and on trend despite of the weather conditions outside. Ponchos with hoodies, thick knit sweaters, midi dresses and tights, look spectacular when combined. Oversized scarves and boots will add a personal and warm touch to your outfits for winter. Stay in the safe zone with minimalist winter wardrobe essentials 2017. Or stand above the crowd with your unique and non-traditional combos.
mrnewton.net; stylishlyme.com
www.popsugar.com
letsrestycle.com; mrnewton.net
Street fashion
Switch things up a bit and instead of hunting for 2017 winter fashion must haves at online stores. Scan before through these exceptional winter looks. Bring pleated skirts, faux fur jackets, oversized sweaters and chic tights into the mix. Winter fashion trends are fluid and flexible. Put on different pants and dress designs before making your wish list for winter season clothes. Whether the weather is subzero or sunny you'll be able to use these examples as a draft for your style transformation. Experts encourage you to personalize both your casual or formal sets with eye-catching accessories like a scarf, a backpack or a nice pair of booties or women casual shoes to wear with jeans.
thegirlfrompanama.com; www.popsugar.com
www.harpersbazaar.com
www.popsugar.com
Outfits for school
The latest fashion trends for women are present both in the dressing style of mature ladies as well as in the wardrobe of teens. Modern schoolgirls turned away from traditional simplistic looks. They consider that cute outfits to wear to school have to mirror their personality just like their formal or casual sets. Skinny jeans or faux leather leggings are among the top pants options. In addition to these clothes for women you'll also spot tweed or shearling coats, colored beanies and printed jumpers. Lucky for us! The cute winter outfits for school lined up on sensational streetwear blogs are extremely diverse. 🙂
www.listsworld.com; lookbook.nu
lookbook.nu
Source:lookbook.nu
Winter outfits with leggings
In the past season we witnessed the rise of the faux leather leggings to enormous popularity. This item became a must-have piece irrespective of silhouette or age. Millions of women are sporting the coolest denim, cotton or leather leggings in a combination with classy or modern winter wear for women. The safest style option is definitely black. However, you must not give up your hunger for versatility. Avoid the brown, burgundy or printed designs. These all can be integrated into women's winter fashion. Knit sweaters, trench coats and even cropped jackets look amazing when associated with this style trend.
www.harpersbazaar.com; fashion-agony.com
www.popsugar.com; glamradar.com
fashionoon.com; pinsandpalettes.com
Outfits with boots
Despite the fast evolution of seasonal top fashion trends, both flat and high-heeled boots, manage to earn their prestigious spot on the wish list of style experts. It's time to get your hands on the coolest casual or elegant designs. Score the best deals and complete your collection of cute winter outfit ideas. As you see acing the perfect street wear style is not that complicated! All you have to do is rely on the power of basics. Remember, often less is more! 🙂
www.popsugar.com
www.wavygirlhairstyles.com; fashiontrend.yuniarwijananto.com
www.popsugar.com; www.wavygirlhairstyles.com
Casual winter outfits
'Casual' is a term that covers so many styles. Fashion experts include athleisure, minimalism and normcore into this movement. Apparently this is the most appealing dressing style for the majority of trendsetters. For this year, make sure you skim through the fall-winter 2017-2018 fashion trends in winter wear for ladies. Then make plans for a shopping trip. Purchase a few basic leggings or jeans designs, a cool jacket and a few sweaters. That guarantee your success. Both at school or at work. Look for limited edition designs or mass-produced. Find more pocket-friendly versions of these knit dresses, faux fur coats and gorgeous boots! 🙂
Images:lookbook.nu
Pictures:lookbook.nu
Source:lookbook.nu
Winter evening outfits
There's some magic in the winter scenery. Combined with elevated women winter dresses and evening outfits. Glittery glam fabrics, velvet, tulle or satin are only some of our top suggestions. You just can't resist the refinement and delicacy of these outfits. Holiday sets will definitely add to the festive atmosphere. Especially if you choose colors and tailoring carefully. Don't be afraid to turn to magnificent flared dresses and skirts in shades like green, red and metallic tones. You know the upcoming weeks are 'the most wonderful time of the year'! 🙂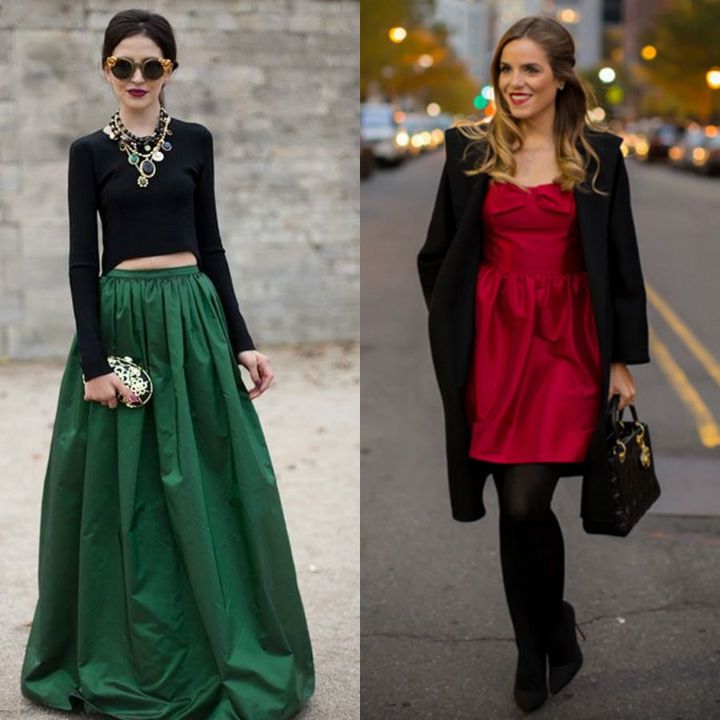 missthin.com; www.popsugar.com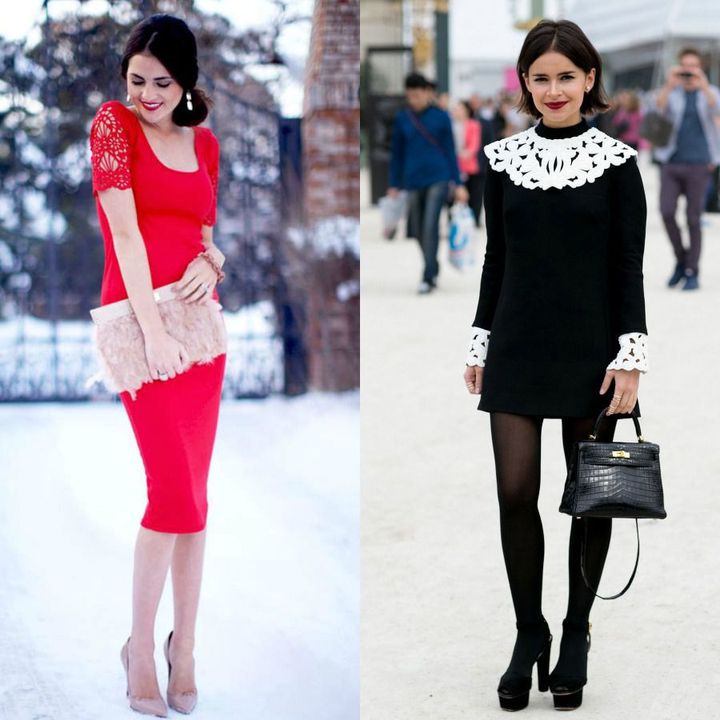 www.wearwild.net; www.bedazelive.com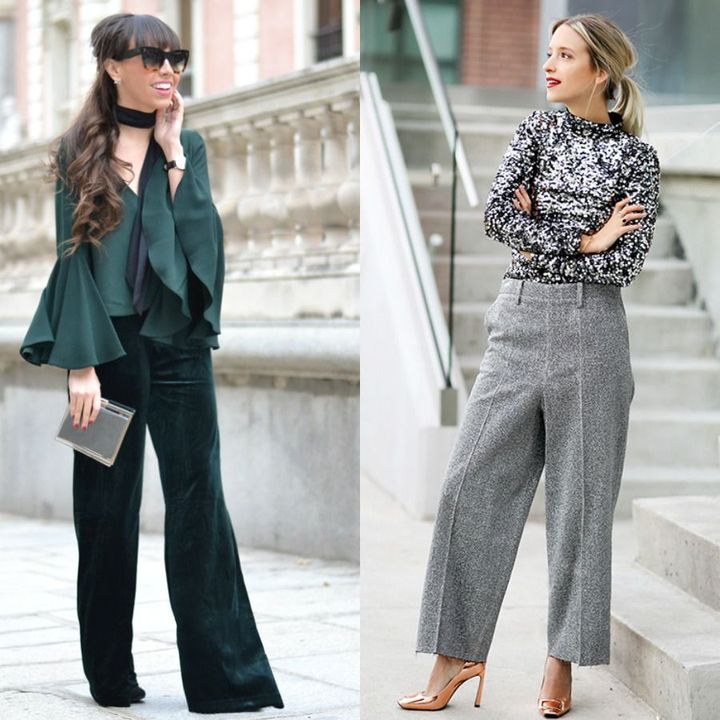 ninavidmarblog.com; www.weddingpartyapp.com
Graduation outfits
We managed to find a few lovely looks for this special event. During the cold season, make sure you complete your winter graduation outfits. Buy additional personalized pieces or outerwear designs. Winter style dresses with long-sleeves are leading the top of outfit options for similar festivities. However, some young fashionistas tend to give the cold shoulder to frock designs. These are trends far fall winter fashion 2017. Instead, they opt for pants suits sculpted from velvet, satin or other pricey fabrics. They do that in order to flash a more non-conformist and cool style attitude. It's your choice whether you join one or the other movement! 🙂
katieskronicles.org; www.blackballad.co.uk
thetreschic.co; www.huffingtonpost.com
www.luxo.co.za; www.runwayribbons.com
You may want to read also about:
Plus size winter outfits
Unfortunately there are not too many curvy fashionista blogs that deal specifically with the winter style trends. However, we managed to find a few A-list ideas that you can also nail down without extra effort. What could be more easier and practical? Sport your favorite pants, skirt or a little black dress with ankle boots. These trendsetters respond to the autumn winter 2017-18 fashion trends with fabulous new ensemble ideas. Stick to tailoring and shades that flatter your silhouette! 🙂
www.natalieinthecity.com; luziehtan.de
stylishcurves.com; luziehtan.de

luziehtan.de; www.outfittrends.com
You may want to read also about:
Winter romper
Rompers seem to have a moment also in the cold season. Therefore, surprisingly hundreds of street wear divas are spotted rocking these summerish pieces. So, if you don't want to put aside your favorite velvet designs, make sure you find the best ways to sport rompers during the following months. The trends in winter clothes for women are not always following a well-defined pattern. Seems like fashionistas tend to make a few exceptions. They keep breezy and flirty items in their basic wardrobe for several seasons in a row. Match your cool designs with tights and ankle or thigh-high boots. The result will be spectacular! 🙂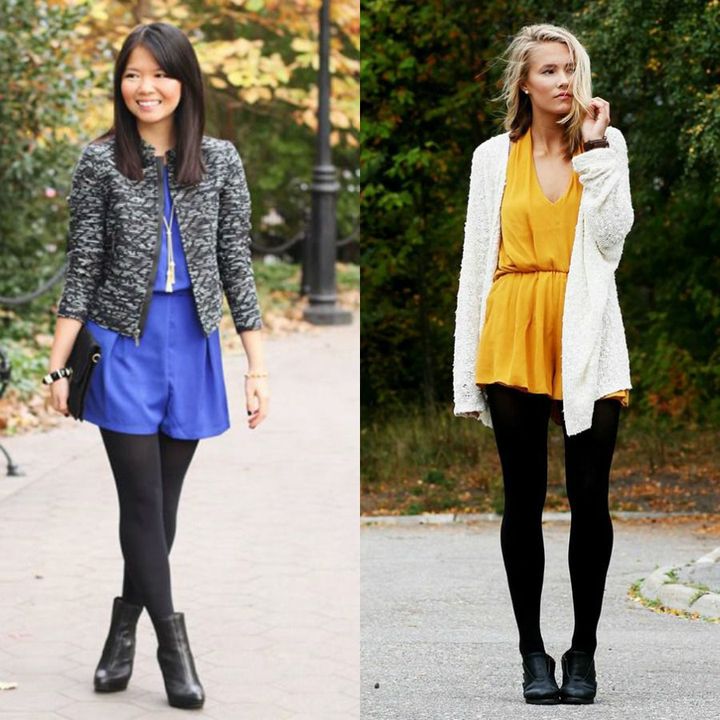 www.gurl.com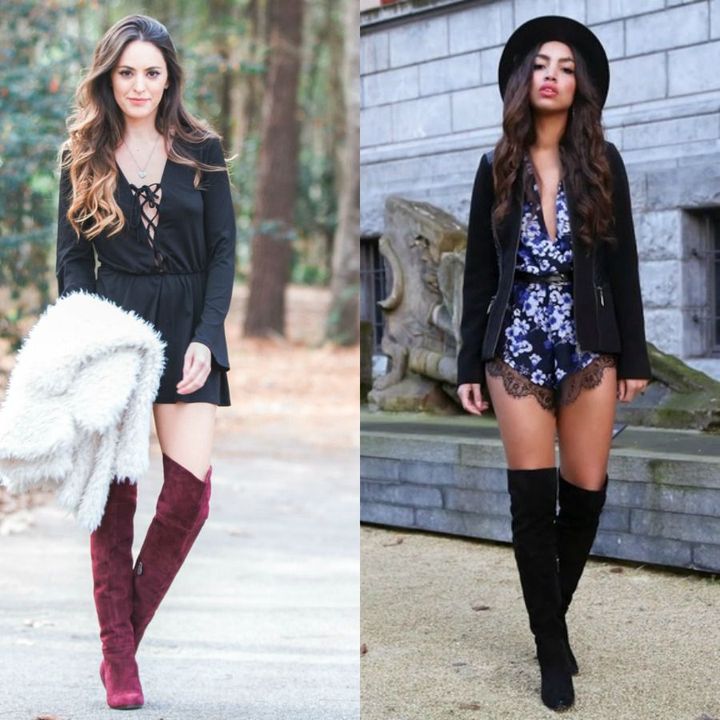 lushtoblush.com; www.chictopia.com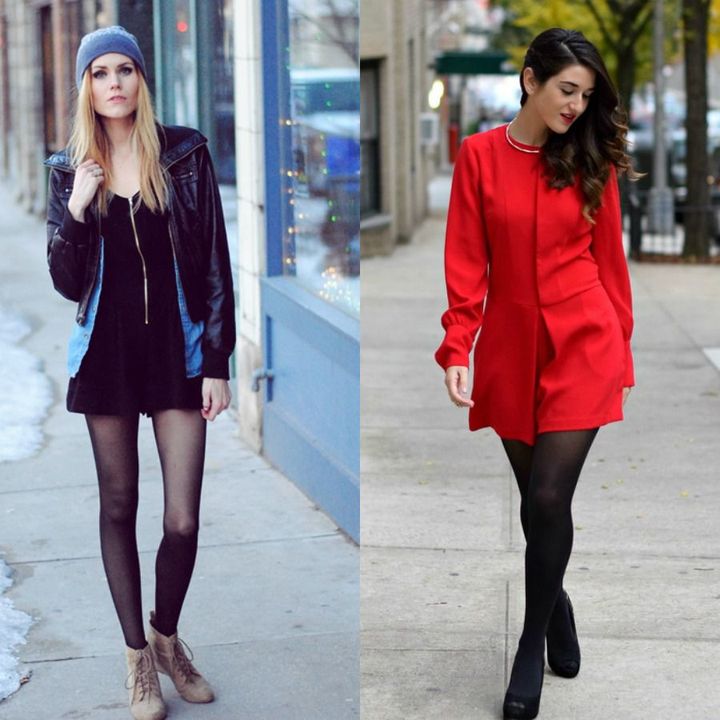 blairbadge.com; www.louboutinsandlove.com
You may want to read also about:
Introduce some of these winter outfits  into your outfit arsenal. Send us your outfit suggestions and write your comments below! 🙂